Disclosure: This article may contain affiliate links. We will make a small commission from these links if you order something at no additional cost to you.
Bucks County, Pennsylvania, is home to 12 historic covered bridges. Most of these are located in Central and Upper Bucks County. However, if you are wanting to see historic covered bridges in Lower Bucks County, there is only one option remaining: Schofield Covered Bridge.
Schofield Covered Bridge is located in Tyler State Park, a 1,700-acre park in Newtown and Northampton Townships. The land that would become the state park was originally farmland, and 10 historic farmhouses are located within the park's boundaries and rented out as private residences.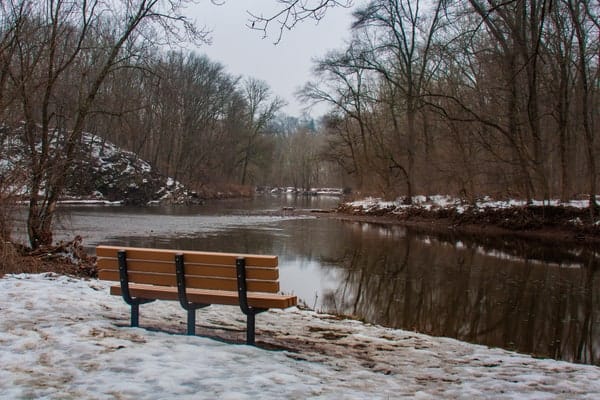 To help the farmers in the area get across Neshaminy Creek, a covered bridge was built in 1873. The bridge, known as Schofield Ford Covered Bridge (or in one source, Twinning Covered Bridge), is 164 feet long, making it the longest covered bridge in Bucks County.
Unfortunately, the bridge was destroyed by arsonists in October 1991. However, so beloved was the bridge that citizens banded together to have it rebuilt, and it opened again to the public in 1997.
During the rebuilding process, the original specifications were followed exactly, with the exception of adding two windows in the middle of the bridge. The Tyler State Park covered bridge was also kept unpainted, which is both historically accurate and unique among Bucks County's covered bridges.
While some may disagree, this attention to detail, the fact that local wood was used, and the fact that a bridge stood in the site for over a century, makes it easy for me to still consider this to be a historic structure.
In addition to being historic, this bridge is also quite beautiful. Set back in a wooded area of the park, it requires about five minutes of walking to reach this bridge from the nearest parking lot. The area around the bridge is popular with hikers, equestrians, and fishermen. It's also not uncommon to see artists painting, drawing, or photographing this beautiful structure.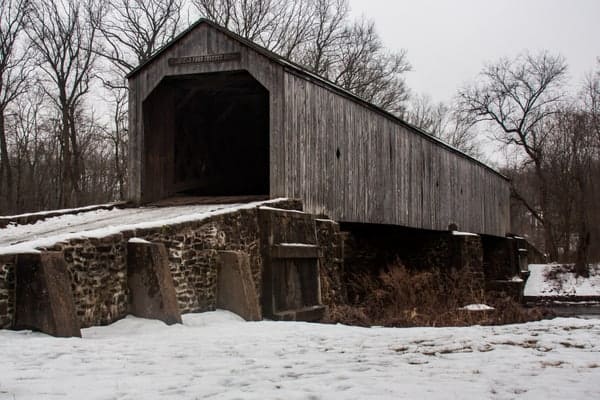 If you're looking for a great covered bridge to visit in southeastern Pennsylvania, you won't want to miss Schofield Ford Covered Bridge. Its beautiful setting makes it well worth visiting.
How to Get to Schofield Ford Covered Bridge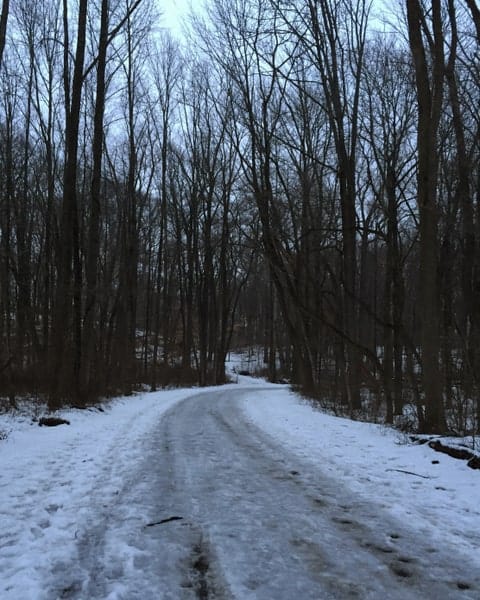 Schofield Ford Covered Bridge is located in the northern reaches of Tyler State Park in Bucks County, PA.
While it is possible to reach the bridge from any of the park's parking lots, the shortest route is from the park's northernmost lot near Bucks County Community College. The parking lot can be found at the following coordinates: 40.245698, -74.978127.
To reach the covered bridge, hike the trail to the right of the parking lot downhill for about a third of a mile to reach the Schofield Ford Covered Bridge. For those that are interested, the bridge is located at the following coordinates: 40.244387, -74.980780.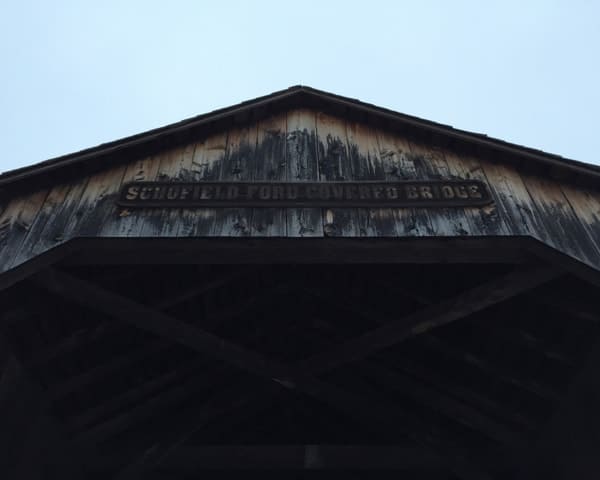 For those interested in spending more time in the park, a variety of hikes can be completed along Tyler State Park's 20 miles of trails. One popular choice is the Neshaminy Trail, which runs along the creek for 2.5 miles.
And, if you want to see more covered bridges, head north towards Doylestown to see the covered bridges of western Bucks County or check out the Bucks County Covered Bridge Society for information on the bridges in the county's northeastern corner. You can also head southwest to see the last remaining covered bridge in Philadelphia.
Click here to see even more great covered bridges in Pennsylvania!
[If you need help using the coordinates listed in this article, read my explanation here.]
See map for other area attractions.