Disclosure: This article may contain affiliate links. We will make a small commission from these links if you order something at no additional cost to you.
Did you know that Cumberland County, Pennsylvania was home to a prisoner of war camp during World War 2?
That's right, Camp Michaux, as it was known, was a secret POW camp from 1943 until 1945. It was so secretive that even most locals at the time didn't know exactly what was happening in the woods of south-central Pennsylvania.
During its 30 months of service, thousands of German and Japanese officers were brought here and interrogated by American military intelligence. However, this is just part of the site's fascinating 250-year history.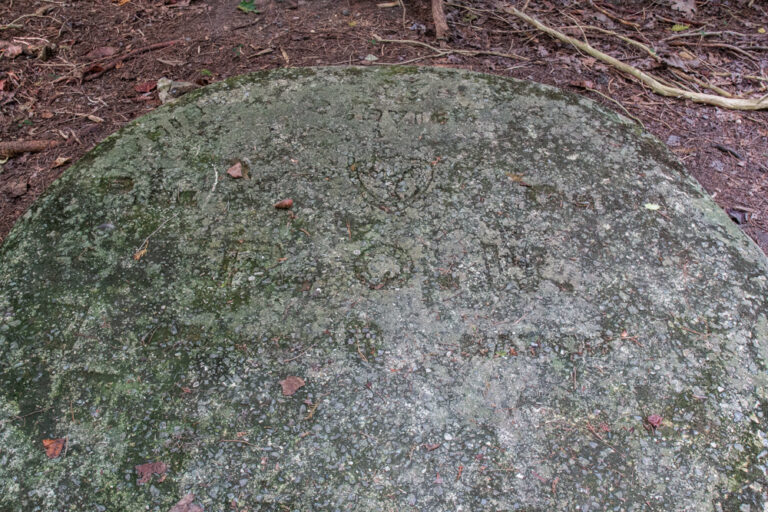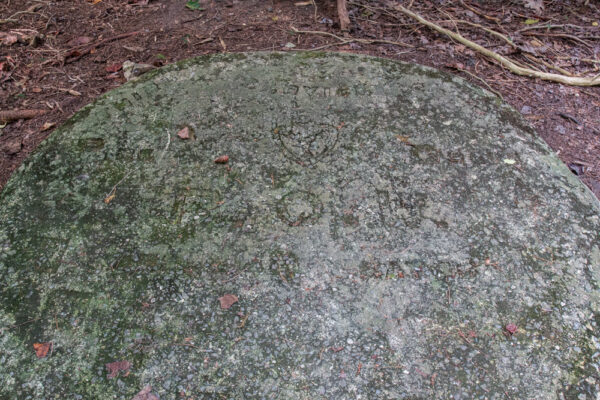 Bunker Hill Farm was established on this land in 1787. It was later acquired by the nearby Pine Grove Furnace to supply both food and supplies for its operation and workers.
In 1933, the Civilian Conservation Corps (CCC) came to this area and had a camp in this spot. Over the next 9 years, the 200 men that lived and worked here built much of the infrastructure in what is now Michaux State Forest, Pine Grove Furnace State Park, and Caledonia State Park. The barracks and infrastructure here made it a perfect spot for a POW camp during World War 2.
After World War 2, the POW camp was closed and the land was sold for use as a church camp and served that purpose from 1948 through 1972. Shortly after the church camp closed, the remaining buildings on the land were auctioned off and dismantled.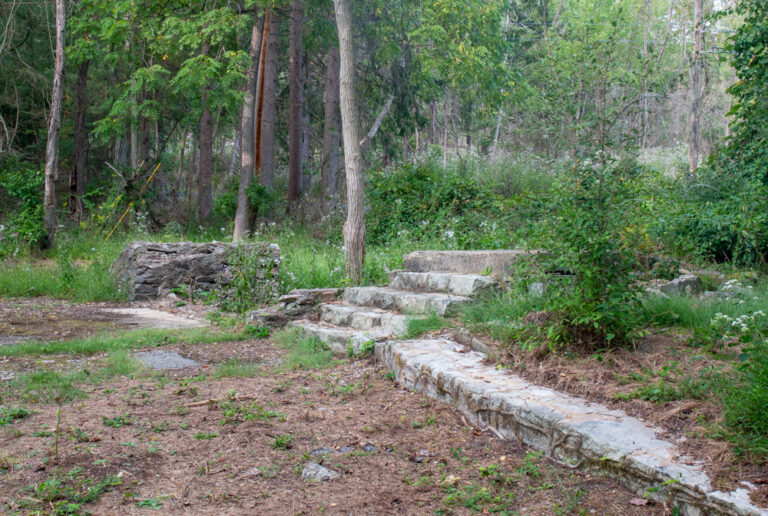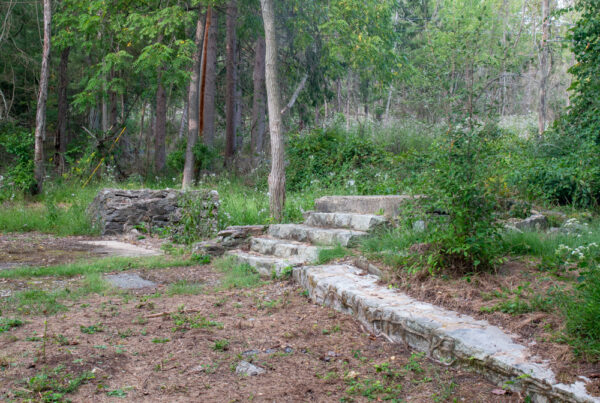 Today, Camp Michaux sits in ruins in Michaux State Forest in Cumberland County, PA, and is one of my favorite abandoned places in PA to explore. While there is little left to see here, this spot has some nice signage and a great online guide that offers a wealth of information for those that want to explore a little-known part of Pennsylvania's history.
Camp Michaux is located just off of Michaux Road near Pine Grove Furnace State Park and the halfway point of the Appalachian Trail. In fact, for many years, the main trail through Camp Michaux was actual a portion of the Appalachian Trail.
Today, the land sees fewer hikers and is quickly being reclaimed by nature. However, there are ruins here that are fascinating to see, especially if you remember to download or print off the great walking tour of the site put together by the Cumberland County Historical Society (whose museum in Carlisle includes a display on Camp Michaux).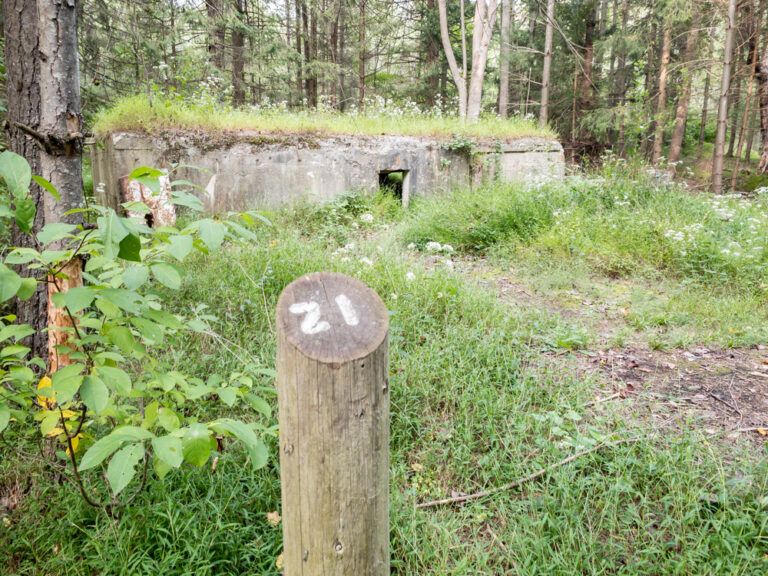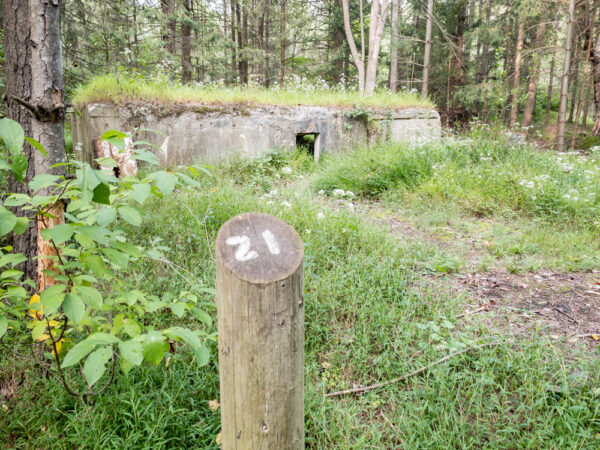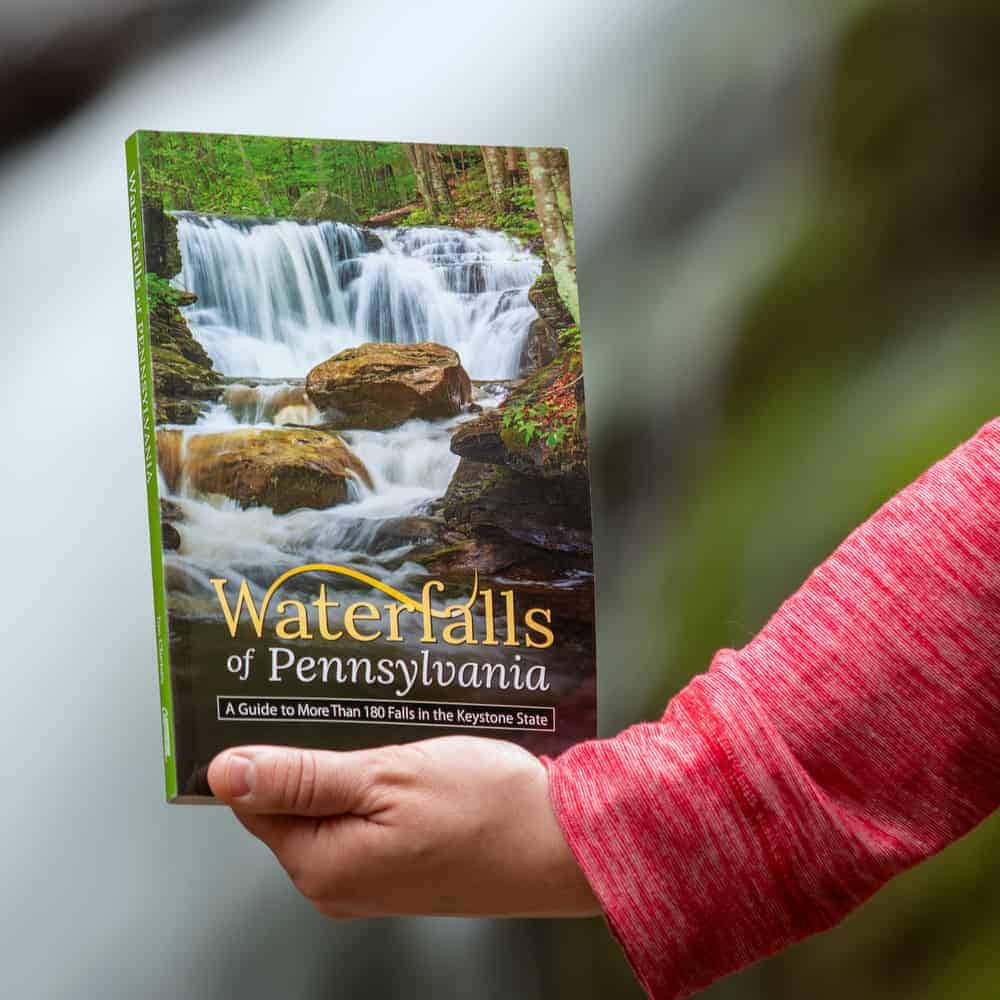 "Waterfalls of Pennsylvania" by Jim Cheney
If you love PA waterfalls, you won't want to miss this waterfall book from Jim Cheney, author of Uncovering PA, featuring more than 180 great waterfalls. Order it now on Bookshop.org or Amazon.
Note that there's no cell service near the camp, so make sure to download the walking tour to your phone before you leave home. And, if you want to have an idea of what you are seeing at the site, I highly recommend getting this free walking tour. It offers a wealth of information about 27 different spots in the former POW camp, including information on the site's history as a farm, CCC camp, and as a church camp.
Camp Michaux is located along Michaux road, and there is a historical marker along the road to mark this spot. There are several parking areas here, but I recommend parking at the lot along Bunkerhill Road just beyond its intersection with Michaux Road.
This parking area can be found at the following coordinates: 40.037292, -77.338445.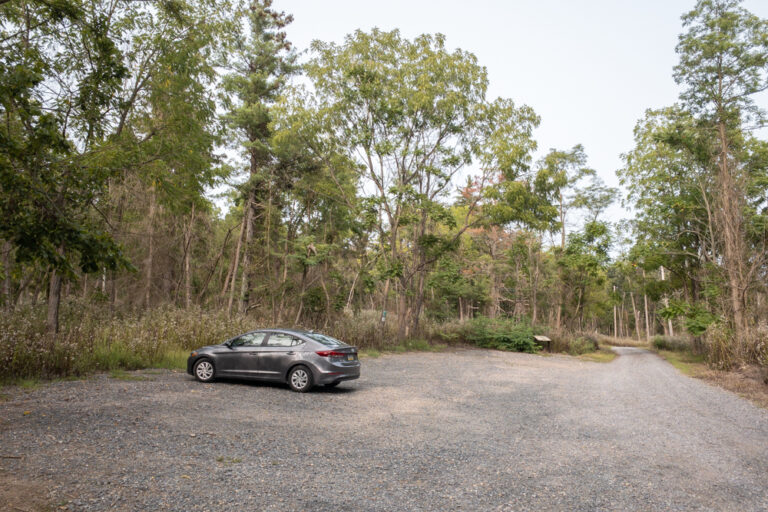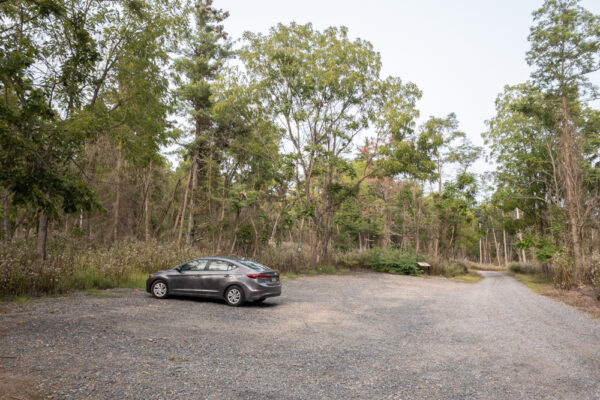 At the far end of the parking area, look for a historical sign. This provides a bit of information about the area. It's also stop 1 on the walking tour.
Adjacent to the sign is a brochure holder that usually has some basic maps of the site. While this is the same map that's in the walking tour guide, I found it helpful to have a paper copy that I could more quickly and easily reference while I was walking around.
From this marker, there are a few options for walking through the land, but I opted to cross Michaux Road and start my hike adjacent to the gate and large historical marker. Since this was the original entrance to the camp, I figured it seemed like a good place to start.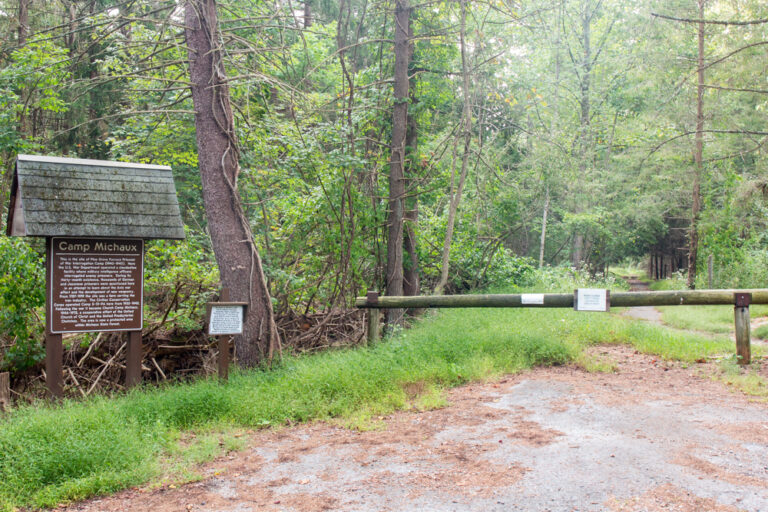 From the gate here, the path through Camp Michaux follows an overgrown road past the ruins of several buildings and monuments.
Along the way, look for the historical signs adjacent to the ruins that you pass. These signs correspond to numbers on both the walking tour and the guide's map and allow you to learn more about the history in each spot.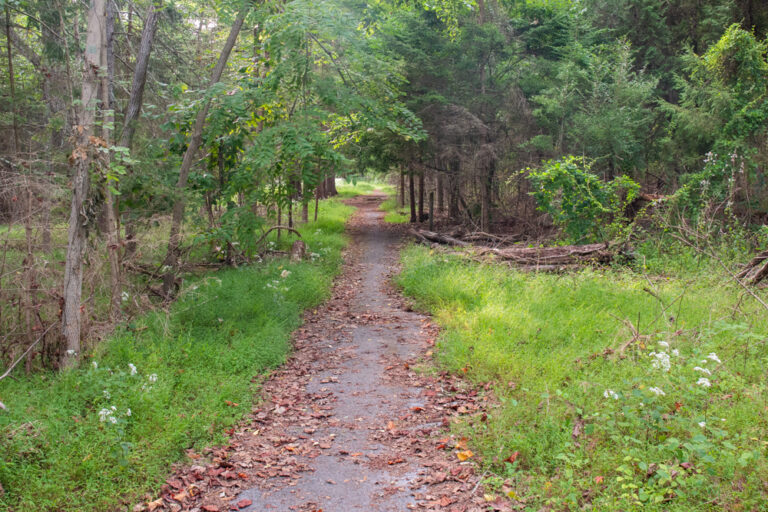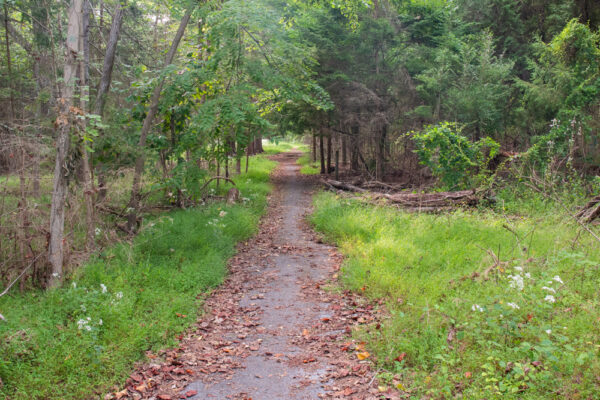 Along this path, I especially enjoyed #9, which was a fountain with a beautiful tree-lined path to it, and #21, which was the ruins of the mess hall and was one of the larger ruins on the site.
While there are more areas to explore, make sure to follow this main trail all the way to marker #19, which about a third of a mile walk from Michaux Road.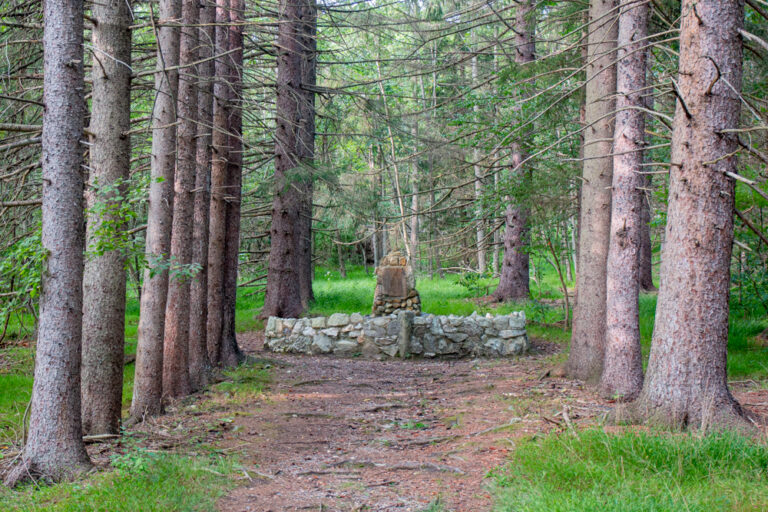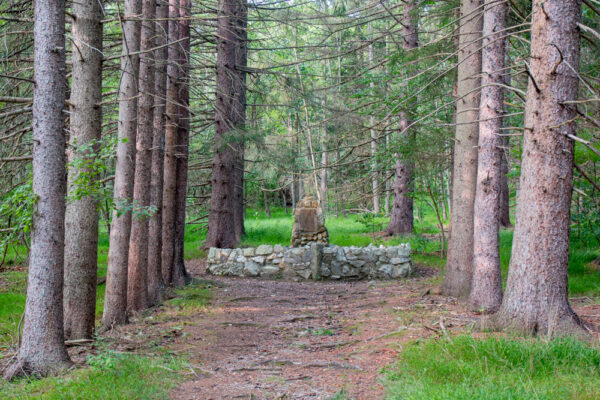 At this spot, you'll find a historic concrete dam that was built by POWs. On the far side of the dam, you can even find an inscription that says "PW. 22.5.45". I found this bit of history to be quite fascinating to see in person.
In addition to the inscription, the dam itself is quite interesting to see. There are two wooden bridges that cross over Tom's Creek and offer access to this area for a closer look. The second bridge is about 8 feet over the water and has no sides, so make sure to use extra caution when crossing this bridge.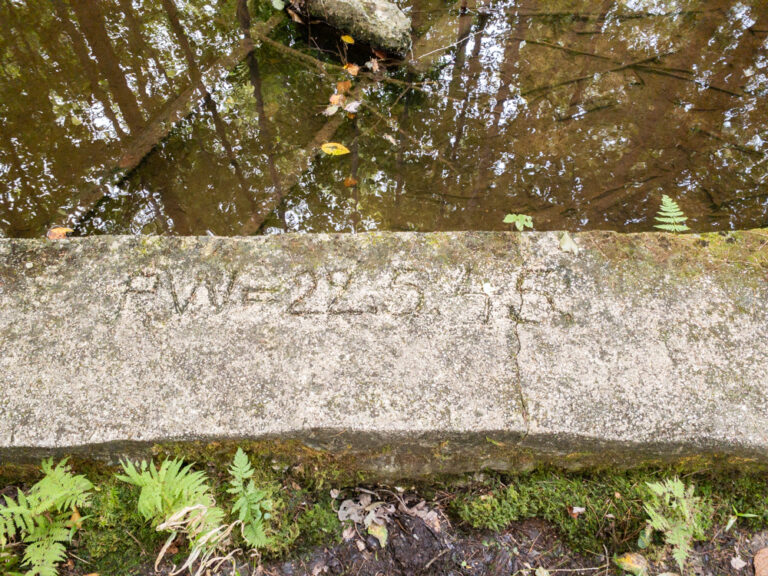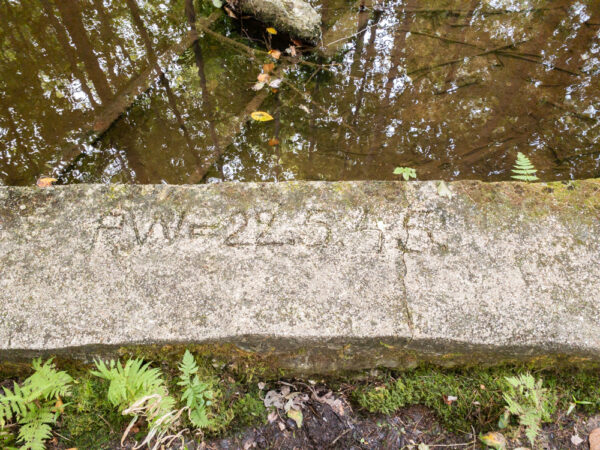 Other than this main path through the camp which passes marker numbers 7-9 and 19-22, there are no defined paths through this area. That makes exploring this former camp a bit challenging at times, and I'd love to see a more defined series of hiking trails established through this area.
Once you've enjoyed the dam, continue your explorations by retracing your steps for a bit. While there are many trails shooting off in every direction, I returned to the fountain at marker #9 and headed deeper into the woods behind this spot.
This led me quickly into the area that served as the POW compound in the 1940s. Along the way, I passed a very cool CCC star that was mostly intact.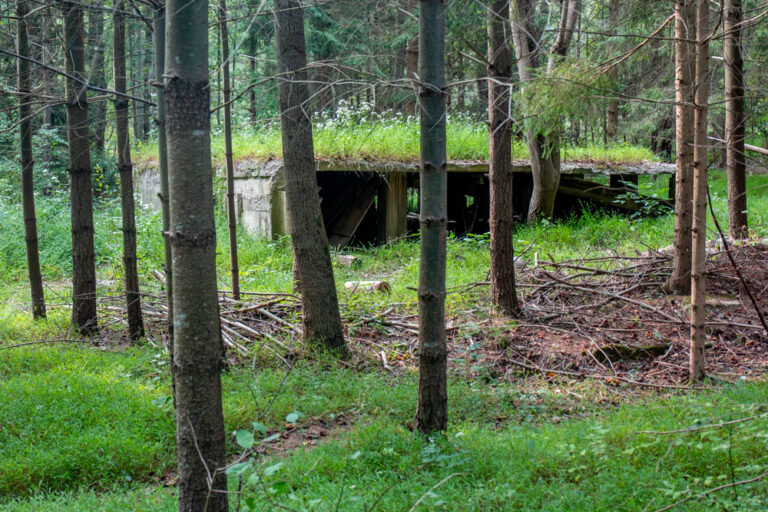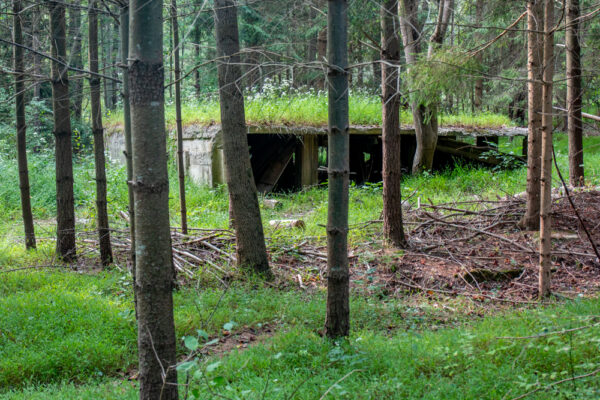 There is little to denote walking into the old compound and only scant ruins of the barracks and other buildings can be seen. Nevertheless, it was interesting to walk past and read about spots 15-17 on the guide and learn more about the history of this area.
Once I finished here, I followed a trail near marker 16 that took me back to the road. However, my visit wasn't yet done.
Just across the road from where I exited the woods, there is a second parking area along Michaux Road.
Adjacent to this parking lot is the ruins of an old stone barn. This barn is over 200 years old and is amazing to see. Sadly, only the ruins of a single stone wall still stand. There used to be an even larger portion of the wall here, but it sadly collapsed in February 2016, leaving only two tall pillars that now stick out from the undergrowth.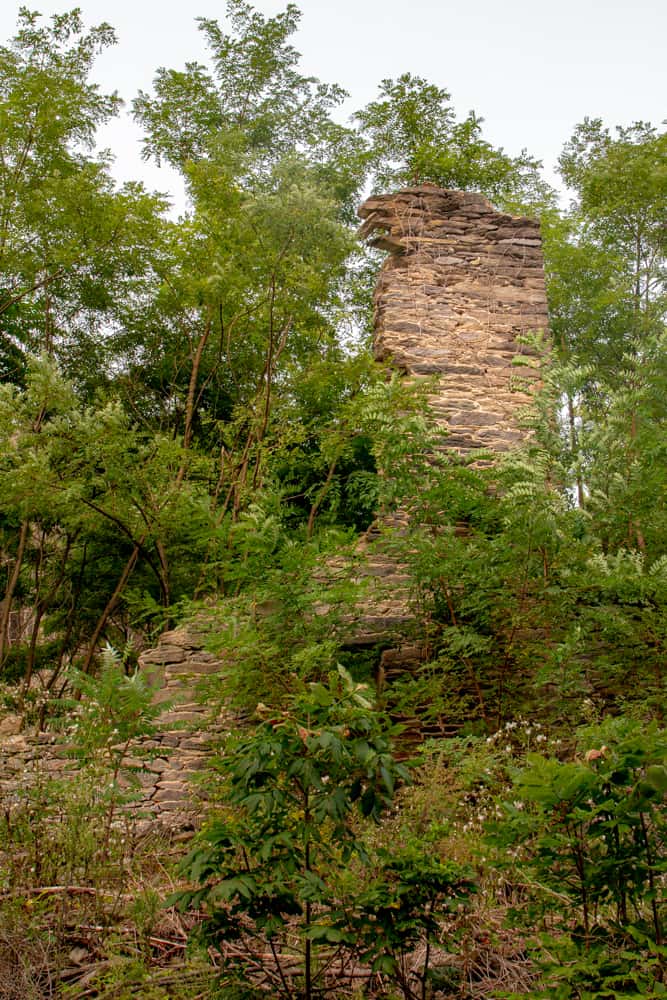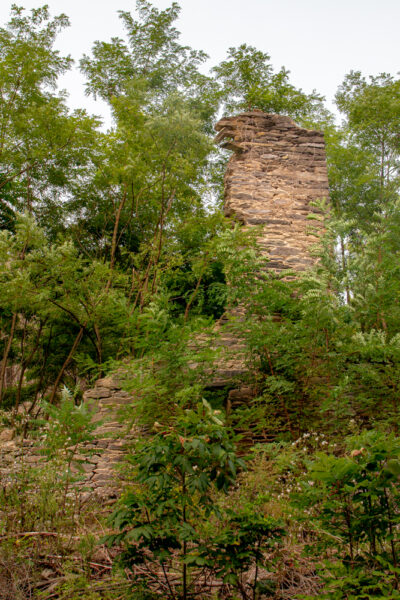 Nevertheless, this is an interesting spot to see while exploring the land.
Beyond the barn ruins, the trail continues past more foundation ruins before returning to the parking area.
Overall, I had a fantastic time exploring the land that was once Camp Michaux, and while the trails were a bit poorly marked and overgrown, the flat land made for easy walking.
Even better, it's rare that you can explore a piece of World War 2 history in Pennsylvania. In fact, the only similar sites I've been to in Pennsylvania are the POW camp in Buchanan State Forest (which has less to see than this camp) the abandoned Alvira Bunkers near Williamsport, which served as storage for munitions during the war.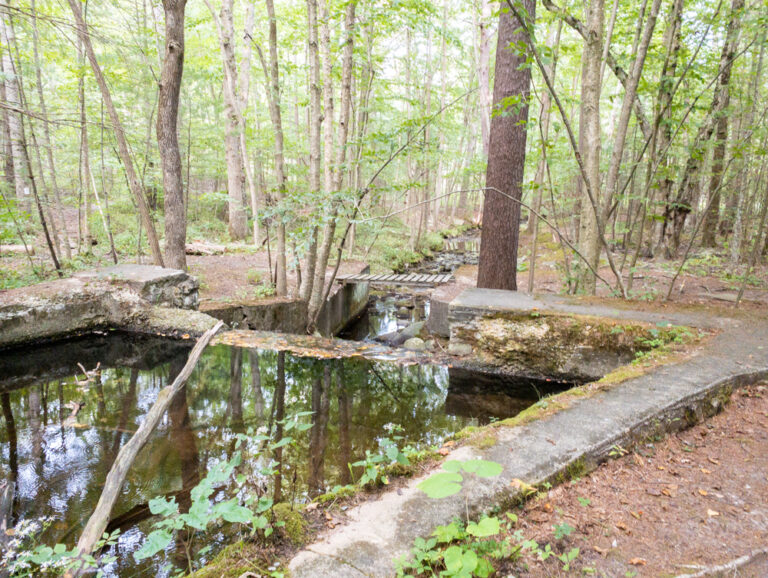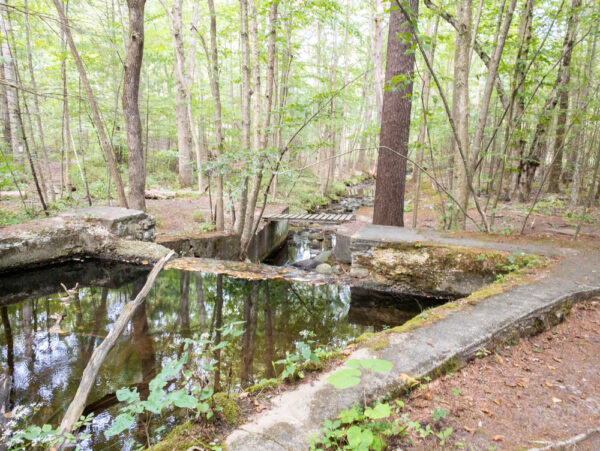 Sadly, little remains of Camp Michaux, so you have to use a bit of imagination while exploring here. Because of that, I highly recommend the self-guided walking tour of the land.
This not only allows offers you the chance to learn more about the history of the area and what you are looking at but also helps to keep you oriented in your hike. With so many crisscrossing trails and no trail markers, it would be easy to get lost here. However, by using the guide's map, you can find your way around a bit more easily (though it should be noted that the faint roads on the map do not specifically indicate trails).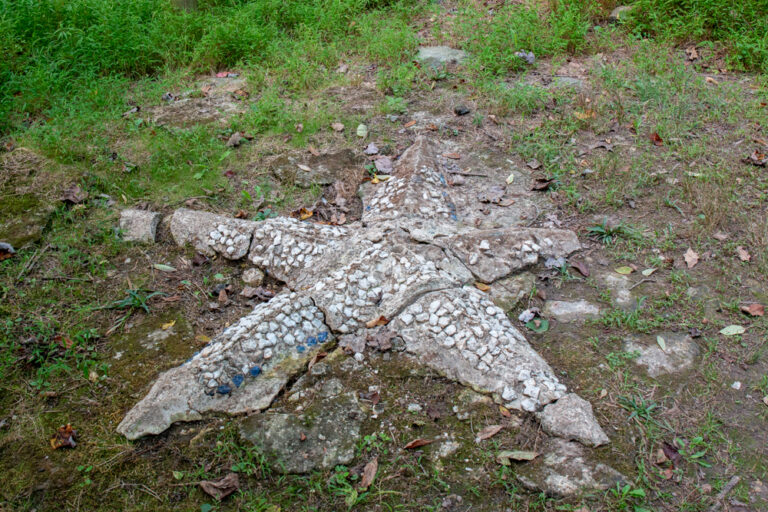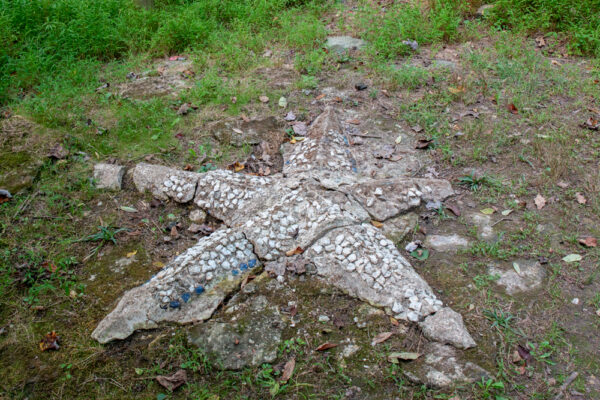 In the future, I would love to see a more defined trail system put in at the Camp Michaux site. This would make it easier to explore the trail system and offer the chance for more people to learn about the history here.
Despite that, exploring this abandoned World War 2 POW Camp is quite fascinating and should be on the list of any history lover exploring Michaux State Forest and Pine Grove Furnace State Park.
Looking for more places to visit nearby? Check out the Appalachian Trail Museum, Hammonds Rocks, Caledonia Falls, and the covered bridges of Cumberland County.
[Click here for information on how to use coordinates to find your destination.]
See the map below for other area attractions.