Disclosure: This article may contain affiliate links. We will make a small commission from these links if you order something at no additional cost to you.
There are many great local parks in Pennsylvania, but few are as beautiful as Sweet Arrow Lake County Park in Pine Grove. Located in Schuylkill County about 45 minutes north of Harrisburg, Sweet Arrow Lake County Park is home to a scenic lake, miles of walking trails, and a disc golf course. However, for me, one of the top reasons to visit is that it's also home to one of the closest waterfalls to Harrisburg, PA.
The waterfall at Sweet Arrow Lake County Park is located adjacent to the dam on the park's southwestern end. While it's likely that this waterfall is at least partially man-made, it doesn't appear man-made at all and is composed entirely of natural-looking rock.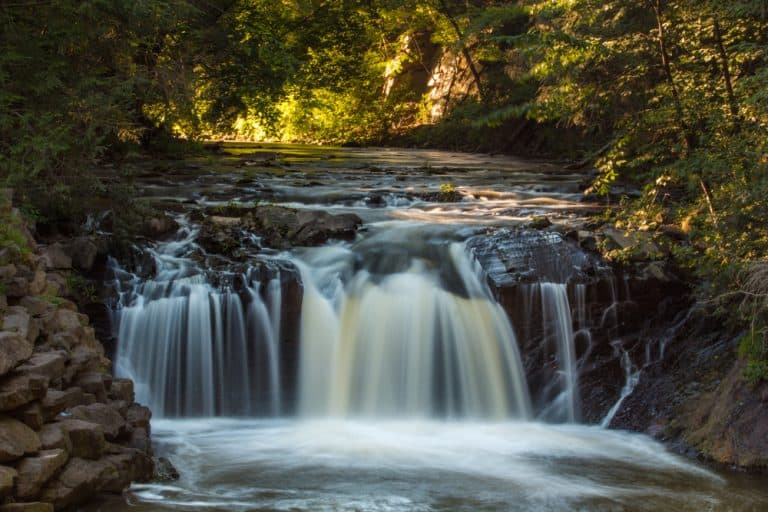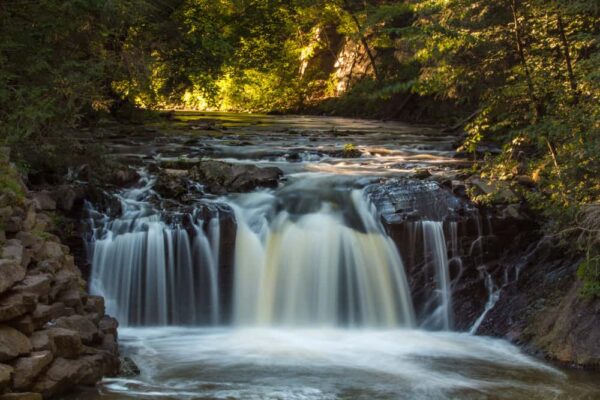 Roughly 12-15 feet in height, this waterfall along Upper Little Swatara Creek is set at a beautiful bend in the creek. This bend allows a variety of different viewpoints for those looking to enjoy this waterfall.
One of the trails at Sweet Arrow Lake Park runs directly over this waterfall, creating both a unique vantage point from which to view the falls and an interesting element to for those taking photos of this waterfall.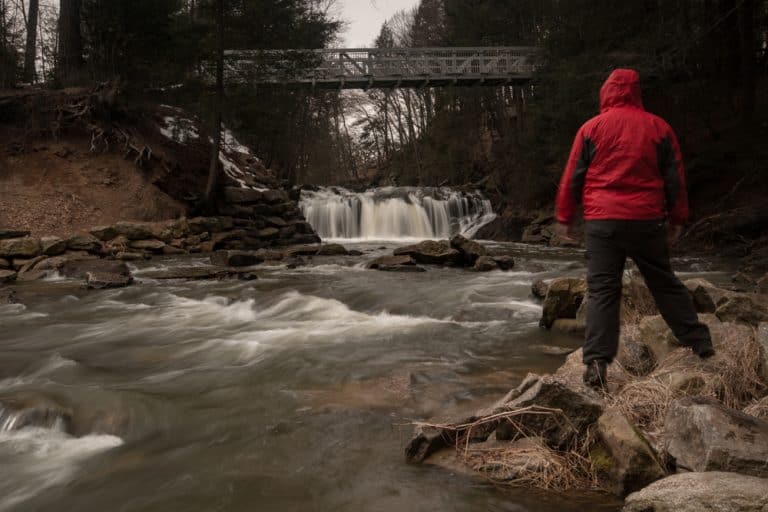 In addition to the waterfall at Sweet Arrow Lake Park, it's home to just under six miles of hiking trails. These trails take visitors through the park's 200 acres and along the lakeshore and wetlands that make up this beautiful Schuylkill County park.
Make sure to take some time to enjoy the beauty of Sweet Arrow Lake and the entire park after exploring this beautiful waterfall. It's definitely worth the short detour while traveling I-81 or a quick drive up from Harrisburg.
How to Get to the Waterfall in Sweet Arrow Lake Park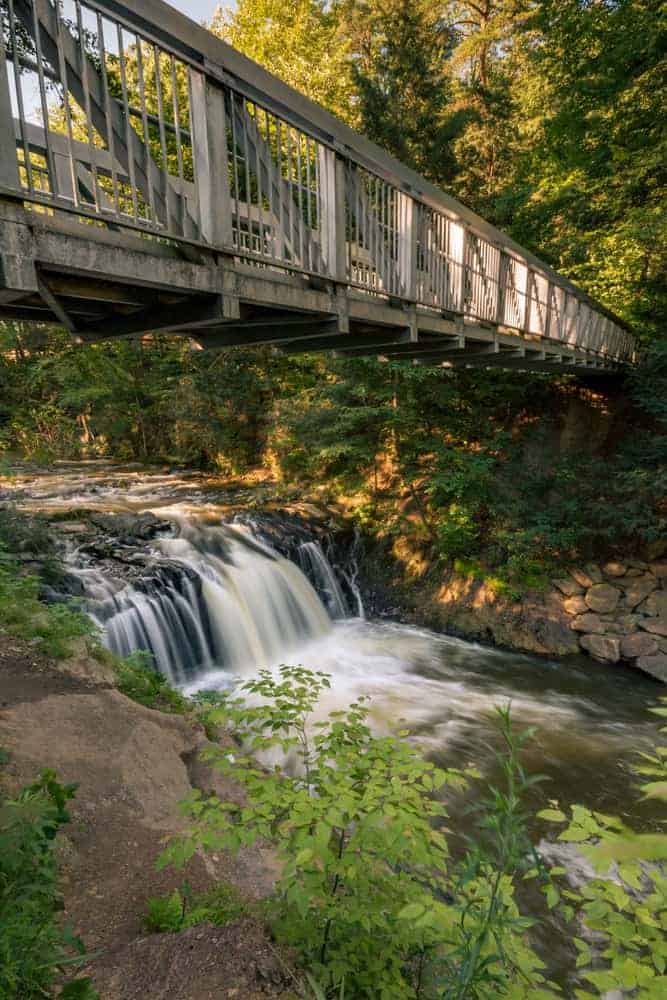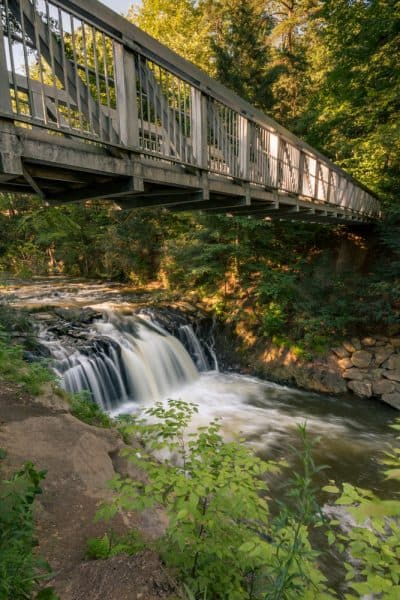 Sweet Arrow Lake Park's waterfall is located in the park's southwestern corner. It is fairly equidistant from both the parking area next to the dam and the parking area near the clubhouse. However, the parking area near the dam is easier and faster to reach if you are coming to the park from I-81.
This parking area can be found at the following coordinates: 40.568746, -76.367417.
From this parking area, follow the aptly-named Waterfall Trail below the base of the dam. This trail will climb a small hill and then pass directly overtop of the waterfall at Sweet Arrow Lake Park. All told, it will take you only a couple of minutes to get from the parking area to the waterfall.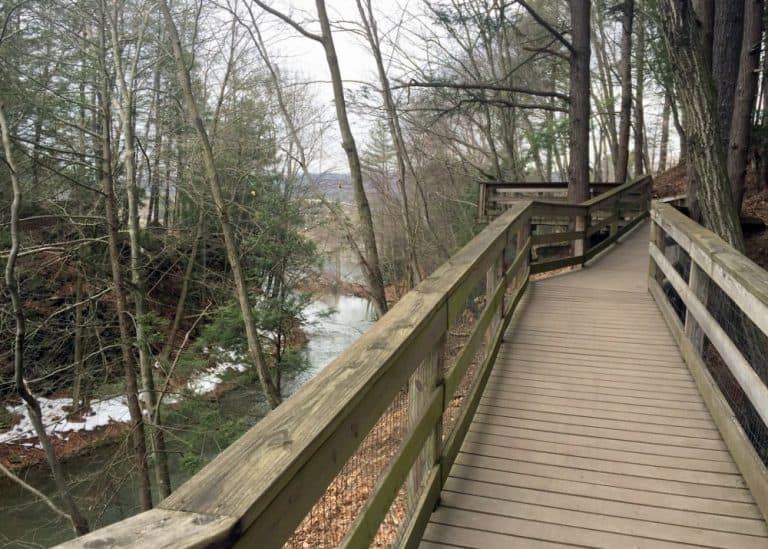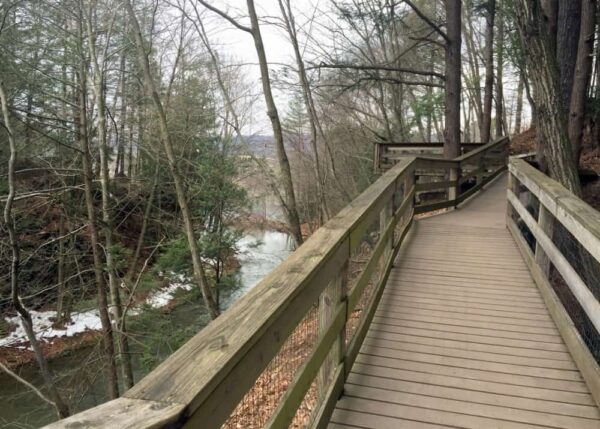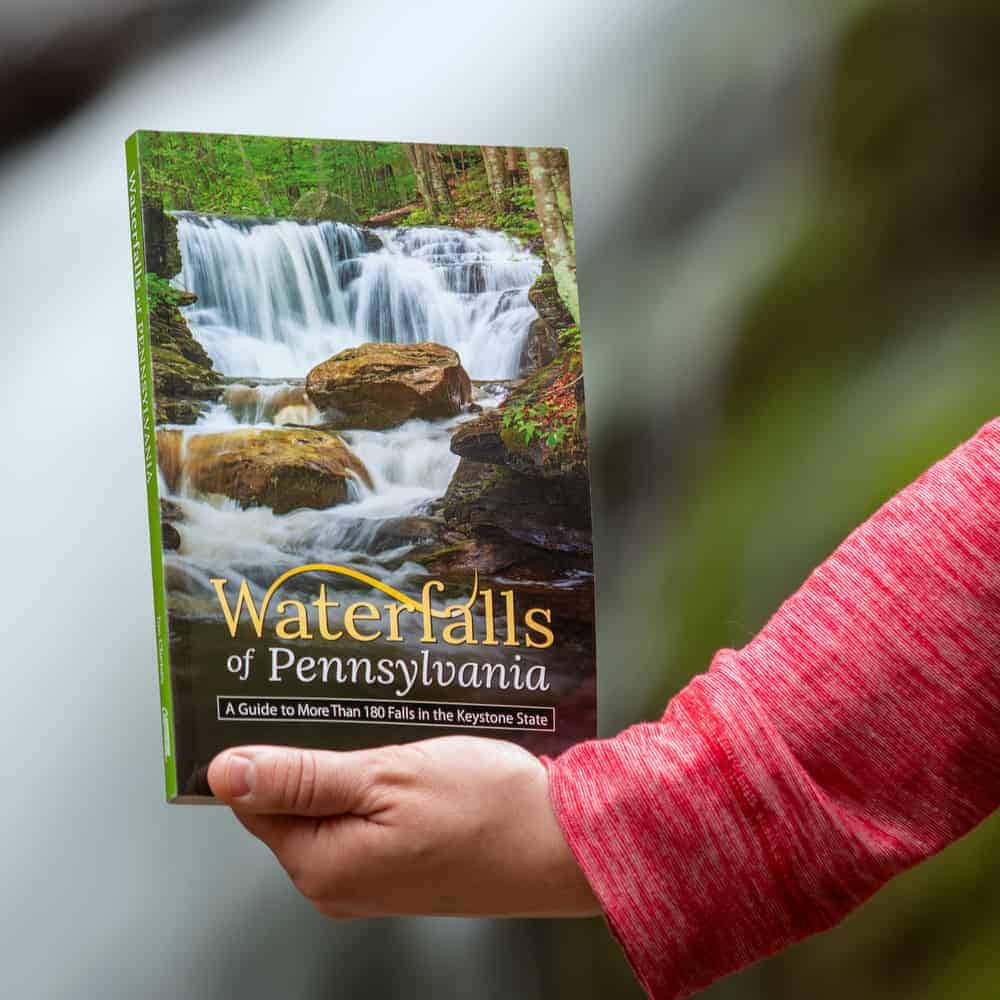 "Waterfalls of Pennsylvania" by Jim Cheney
If you love PA waterfalls, you won't want to miss this waterfall book from Jim Cheney, author of Uncovering PA, featuring more than 180 great waterfalls. Order it now on Bookshop.org or Amazon.
My favorite spot to see this waterfall from, other than from on the bridge itself, is to cross the bridge, turn right, and see it from the banks above where the creek makes a 90-degree turn. This offers a great head-on view of the waterfall.
After checking out the waterfall, make sure to walk up just a bit to check out the park's beautiful lake.
For more information, check out the park's website and their trail map.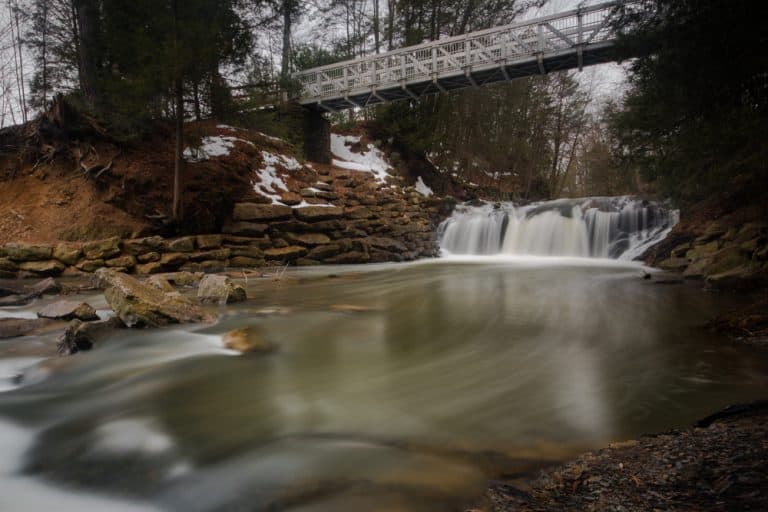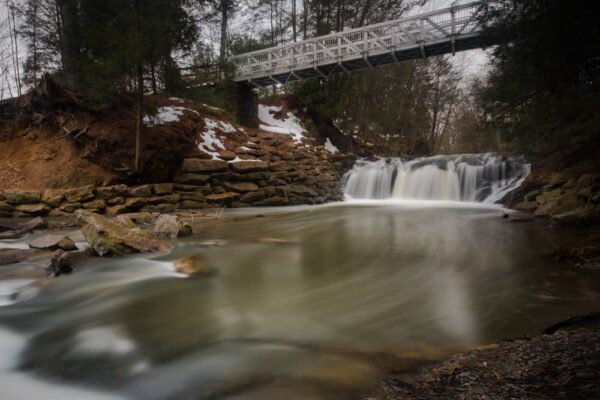 Looking for more places to visit in the area? Check out the two nearby covered bridges in Schuylkill County. Other great choices include Swatara State Park and a tour of the Yuengling Brewery.
Looking for more great waterfalls? Click the link to check out all of the beautiful Pennsylvania waterfalls that are pictured on the site.
[Click here for information on how to use coordinates to find your destination.]
See map for other area attractions.