Please do your best to limit your travels around PA during this time. If you decide to travel, please check the status of the places you are going. Some places around the state are temporarily closed or have changed their hours. We will not be updating individual articles to note these changes. Stay safe and wear a mask!


Visiting Carbon County, Pennsylvania, has been near the top of my to-do list for a while. I've always heard great things about the county, but I'd never had the chance to check it out for myself.
So, on a recent trip to the Lehigh Valley, I decided to head a little north and check out the two remaining covered bridges in Carbon County.
Somewhat surprisingly, the two covered bridges in Carbon County are the only two covered bridges in the entire four-county region known as the Poconos. Maybe I shouldn't have been surprised, but in an area known for rolling hills and romantic charm, I would have expected more covered bridges.
Disclosure: This article may contain affiliate links. We will make a small commission from these links if you order something at no additional cost to you.
The remaining covered bridges in Carbon County, PA are well-worth visiting, however, no matter where you are visiting in the Poconos. Even better, they also aren't that far from the covered bridges in Lehigh County and Northampton County, PA, for those looking to see even more covered bridges during their travels.
The bridges below are listed with the northwesternmost bridge first. If you are coming from Lehigh County or going to Northampton County to view more covered bridges, you'll likely want to visit them in this order. Otherwise, you may want to consider visiting them in reverse order.
Harrity Covered Bridge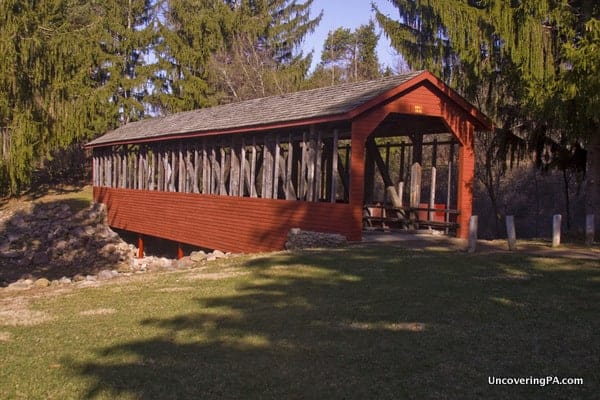 Harrity Covered Bridge, also known as Bucks Covered Bridge, is located in the middle of Beltzville State Park near the borough of Lehighton. The bridge was built in 1841 and spanned 66 feet over Pohopoca Creek.
In the late 1960s, when plans were being made to create Beltzville Lake and flood Big Creek Valley, residents of the valley fought to save the bridge, which would have been flooded when the dam was built.
The Army Corps of Engineers agreed to save the bridge, and according to one account I came across, tried to float the bridge down the lake, without much success. Today, the bridge sits near Beltzville Lake's recreation area, over a small depression in the land.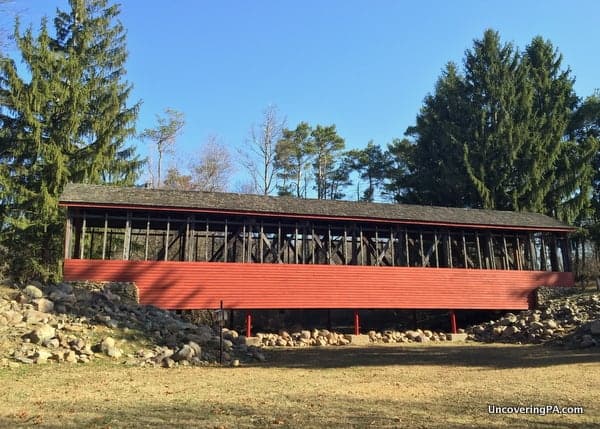 While I always prefer covered bridges to cross water, the setting for Harrity Covered Bridge is quite picturesque. It is certainly one of the nicer settings I've come across for a relocated covered bridge.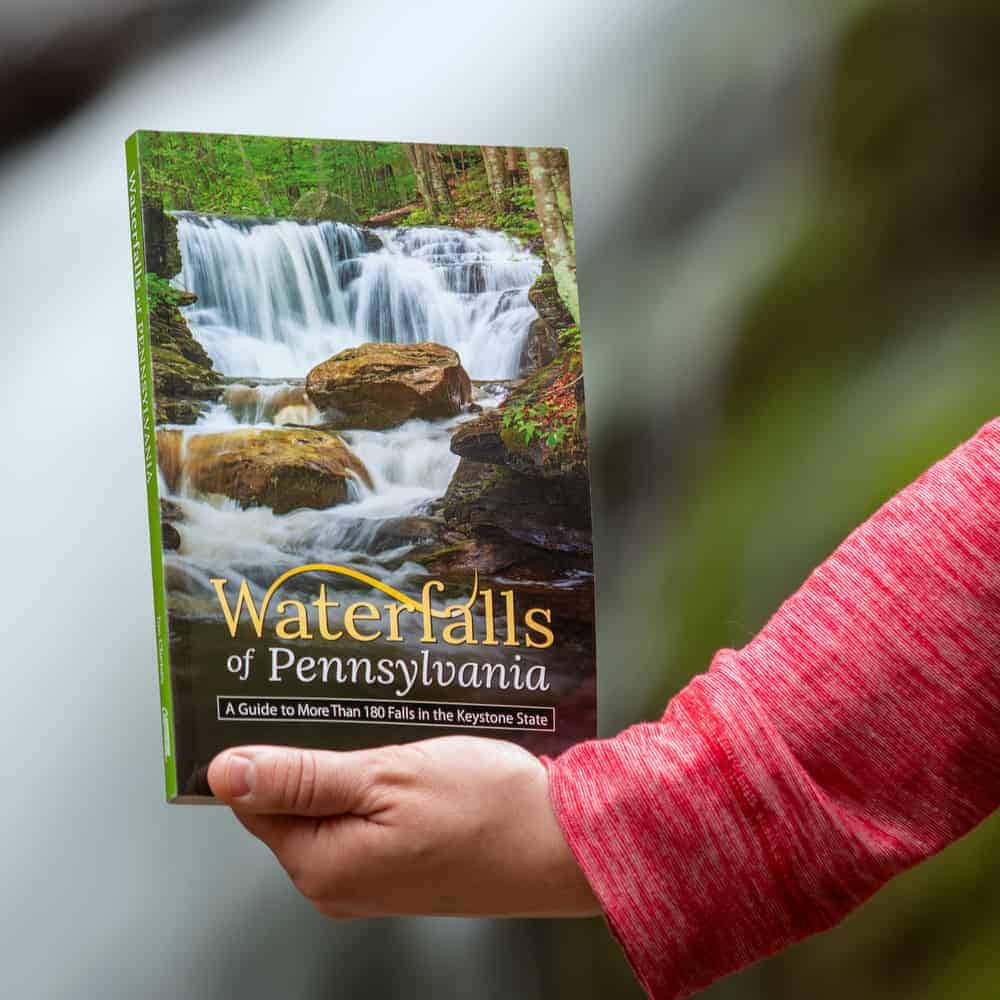 "Waterfalls of Pennsylvania" by Jim Cheney
If you love PA waterfalls, you won't want to miss this brand-new waterfall book from Jim Cheney, author of Uncovering PA, featuring more than 180 great waterfalls. Order it now on Bookshop.org or Amazon.
While visiting, take some time to explore Beltzville State Park. The primary focus is the lake, but there is also a nice waterfall, Wild Creek Falls, located near the opposite end of the lake. The waterfall is marked on the park map and is an easy hike from the road.
Getting There: Harrity Covered Bridge is located in the recreation area at Beltzville State Park. For some reason, it's not marked on the park map but is easy to find. When you get to the recreation area at the park, park your car in the parking lot closest to the beach.
The bridge is visible from the parking lot and only a couple hundred feet away. Coordinates for the bridge are 40.860859, -75.627964.
Little Gap Covered Bridge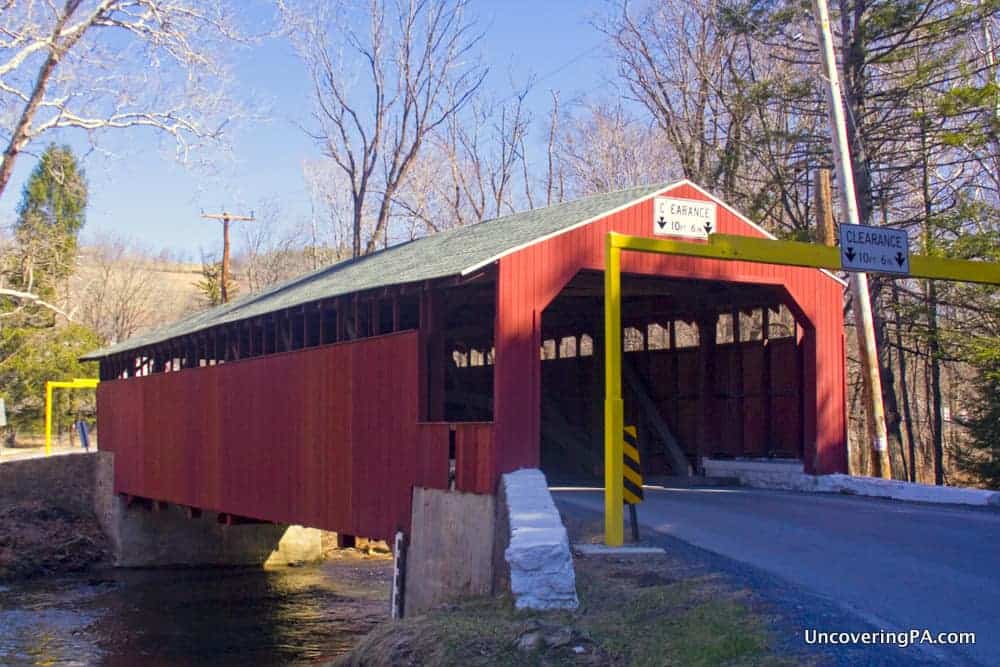 Little Gap Covered Bridge is located in one of the most scenic valleys you'll find in Carbon County. Driving through the valley actually reminded me a bit of my visits to New Hampshire and Vermont.
Little Gap Covered Bridge is located in the quaint village of Little Gap and crosses 73 feet over Aquashicola Creek. Aquashicola Creek is a tributary of the Lehigh River and means "where we fish with the bushnet" in the Lenape language.
The builder and exact date of construction are unknown, but it was built sometime between 1840-1860. It was recently repaired after being hit by a vehicle.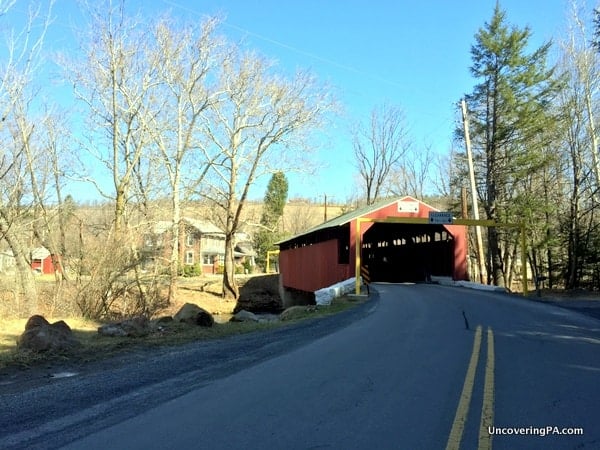 In addition to the bridge, there are several other minor points of interest next to the bridge. On the same side of the bridge with the village is an old, overgrown railroad bridge than spans just a few feet over a small creek.
While not worth the drive by itself, this small bridge is definitely worth finding when visiting the area.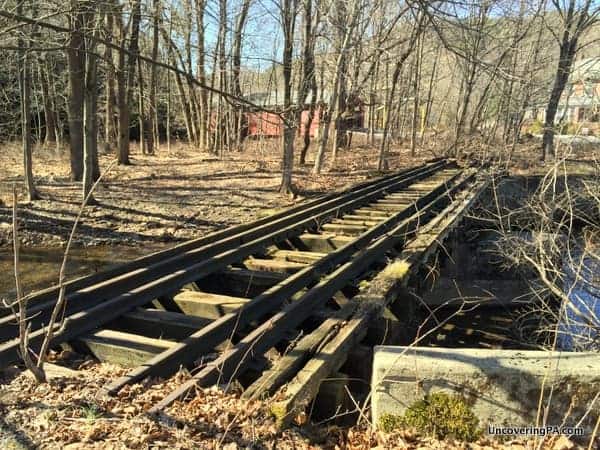 Also of interest, on the opposite side of the creek, about 100 yards from the bridge, is a giant, rusting metal building. I'm guessing this is part of the mine that can be seen on Google Maps, but I have no idea what it's for.
Getting There: Little Gap Covered Bridge is located in a rather rural part of southern Carbon County, PA at the following coordinates: 40.831451, -75.522464.
Parking near the bridge is quite easy as there are large pull-offs near the bridge on both banks, as well as a large parking lot for a business that seems to no longer be open. When visiting, make sure to use caution walking along the road as this bridge seems to get a surprising amount of traffic given its location.
Looking for more places to visit nearby? Check out Wild Creek Falls, Hawk Falls, and the Number 9 Coal Mine.
[If you need help using the coordinates listed in this article, read my explanation here.]
See map for other area attractions.