Disclosure: This article may contain affiliate links. We will make a small commission from these links if you order something at no additional cost to you.
Beltzville State Park in Carbon County, Pennsylvania, is primarily known for its nearly 1,000-acre lake that is popular with both boaters and swimmers, as well as for its covered bridge. However, tucked away in the northeastern corner of the park is a lesser-known highlight of the park: Wild Creek Falls.
Wild Creek Falls is located along the outflow from Wild Creek Lake, a reservoir for Bethlehem, PA. While the lake itself is off-limits, Wild Creek Falls is easily found along a short trail in Beltzville State Park.
From the parking area along Pohopoco Road, a short trail takes you through the park's beautiful forest. The trail to Wild Creek Falls is the blue-blazed Falls Trail and initially follows the same path as the yellow-blazed Christman Trail.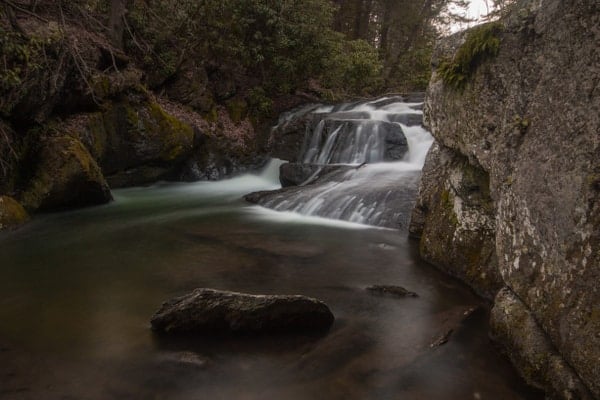 After about five minutes of walking along a pleasant path, the Falls Trail takes a left turn and immediately heads down a short, but steep hill.
At the base of the hill, the trail turns to the left and immediately crosses a very scenic wooden bridge over Wild Creek. Turn left and head upstream to see Wild Creek Falls. The trail passes over some large rocks, and there are a variety of viewpoints that you can get if you scramble around them. If you opt to do this, be careful as the rocks can be very slippery if wet.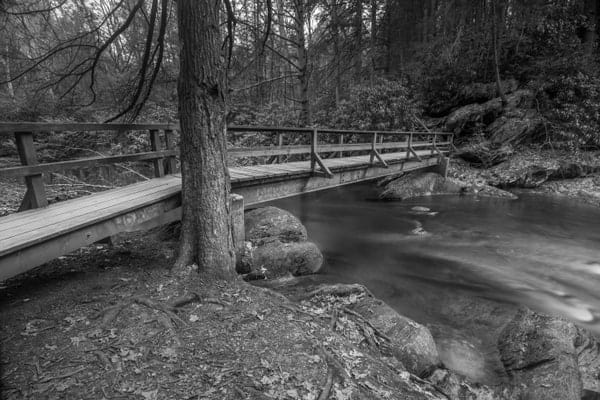 If you follow the trail a bit further, you can get to a nice vantage point looking out over Wild Creek Falls.
Wild Creek Falls is probably only about 12-15 feet in height. However, it has a unique look with the water splitting into two separate falls around a large rock that makes it one of the region's most beautiful waterfalls.
The only real issue with this waterfall is that while there are several vantage points from which to see it, all offer some sort of obstruction that makes getting a perfect view difficult. Still, it's an incredibly scenic spot.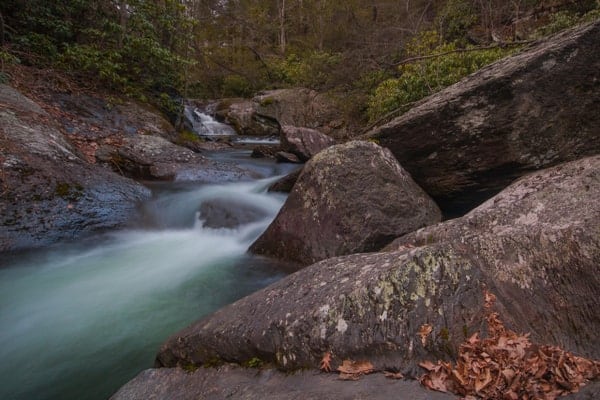 The Falls Trail continues to make a short loop through the forest and back to the bridge over Wild Creek. However, I've never taken it past the waterfall, so I can't comment on the trail itself.
Instead, I've always headed back to the way I came.
If you want another vantage point for Wild Creek Falls, you can also see it from the opposite side of the creek. Just a few hundred feet from the parking lot, the yellow-blazed Christman Trail comes in from the side to meet the trail to the falls.
If you look in the opposite direction, you'll see an unmarked path into the woods.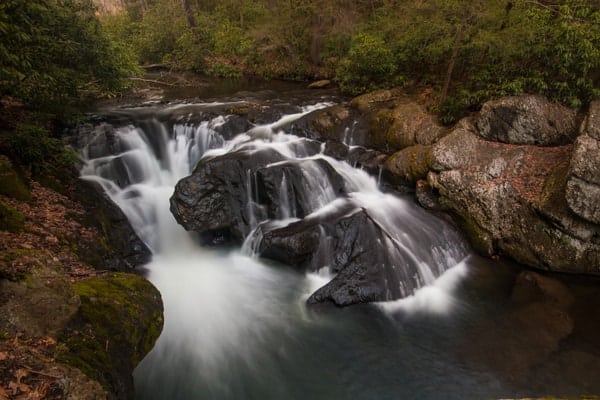 While there isn't much of a trail, the underbrush is usually thin enough that it's not hard to follow. Simply walk downhill towards the creek and you'll quickly come to the top of Wild Creek Falls.
It's worth noting that this vista isn't a good option for anyone uncomfortable with slippery edges, without proper footwear, or children. Slipping here will send you about 15 feet into the water below and could lead to injury. However, it does offer a unique view of Wild Creek Falls.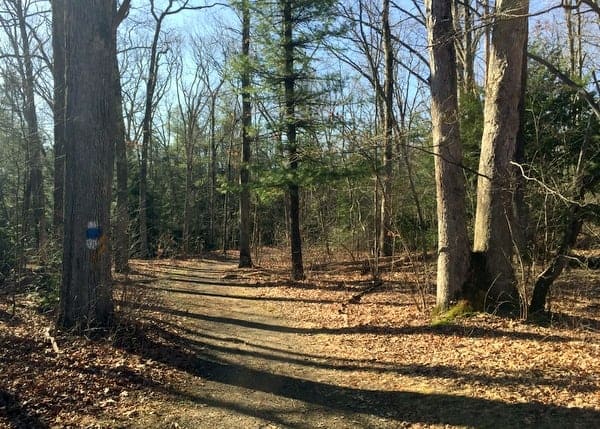 Wild Creek Falls in Beltzville State Park might not be the largest or most beautiful waterfall in Pennsylvania, but if you are looking for something fun to do in the area and want to see a fairly easy-to-reach waterfall, you won't want to miss Wild Creek Falls.
Getting to Wild Creek Falls
Wild Creek Falls is located in the northeastern corner of Beltzville State Park, just a few miles off of both I-476 and Route 209 in Carbon County, PA. The parking area can be found at the following coordinates: 40.890781, -75.563406.
It has a sign marking it as the Wild Creek Trailhead.
Note that, for the last few years, the parking areas close to Wild Creek Falls have been closed Friday evenings to Monday mornings from Memorial Day Weekend to Labor Day Weekend. While the trails themselves aren't closed if you can find another way to reach them, do not try to park at any closed parking areas.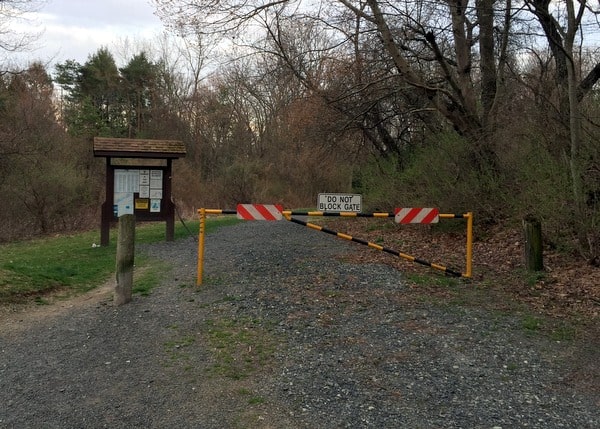 From the parking area, walk past the gate and follow the blue-blazed Falls Trail to Wild Creek Falls. It should take you less than 10 minutes to reach the waterfall.
Want to see more of Pennsylvania's best waterfalls? Check out our Pennsylvania Waterfalls page. You can also check out the top things to do in Jim Thorpe, PA.
[Click here for information on how to use the coordinates in this article to find your destination.]
See map for other area attractions.