Disclosure: This article may contain affiliate links. We will make a small commission from these links if you order something at no additional cost to you.
The Forty Fort Meeting House in Luzerne County is easily one of the most unique buildings in all of Pennsylvania. That's not because of anything flashy. In fact, the meeting house is quite plain. It's also not because of any amazing historical connections. That's not to say that history didn't happen here, but there are no famous figures or events that are associated with the site.
Instead, what makes the Forty Fort Meeting House noteworthy is two-fold. First of all, this meeting house, which was built in 1807, has remained nearly unchanged over the last two centuries. Secondly, this is the only New England-style meeting house ever constructed in Pennsylvania.
Settlers from Connecticut first came to the Wyoming Valley in the late 18th century. A century before, King Charles II of England gave both the colony of Connecticut and William Penn the land claims for what would become northeastern Pennsylvania.
In an effort to solidify their claim to the land, a group of settlers from Connecticut settled in an area along the banks of the Susquehanna River. After fleeing the area after the Wyoming Massacre during the Revolutionary War, the settlers returned, determined to build a life along the river banks.
By the end of the 18th century, the area was home to a community of settlers (one of which was Nathan Denison, whose house you can still visit). Needing a place to worship, these Connecticut settlers decided to build a church. However, given their northern roots, they opted to build a New England-style meeting house.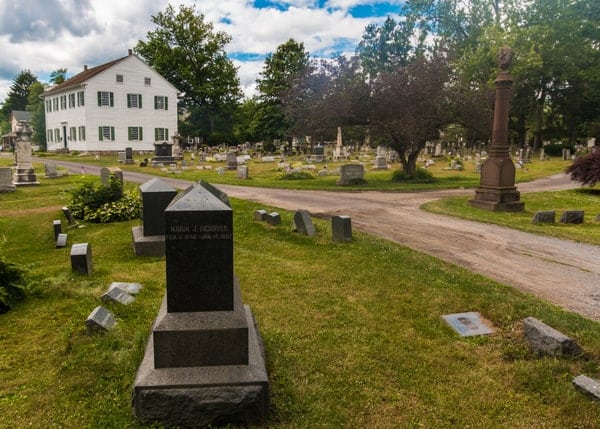 The Forty Fort Meeting House was build adjacent to the community's cemetery and was built in a style that was popular 150 years prior. No one knows exactly why they did this, but it was likely a way for them to bring a bit of New England down to the frontier.
This church was the first completed house of worship in northeastern Pennsylvania and served two different denominations: the Congregationalists and the Methodists. By the 1840s, both congregations had built their own churches, leaving the Forty Fort Meeting House abandoned.
The structure may have been lost to time, but fortunately a grandson of one of the five founders took it upon himself in 1850 to maintain the property. In 1860, the Forty Fort Cemetery Association was created and maintains both the burial grounds and the meeting house.
Today, over 200 years after it was first built, the Forty Fort Meeting House has changed very little from what it looked like originally. In fact, minus a handful of electrical outlets and a small display area, walking into the meeting house feels almost like stepping into a time machine and being transported to 17th century New England.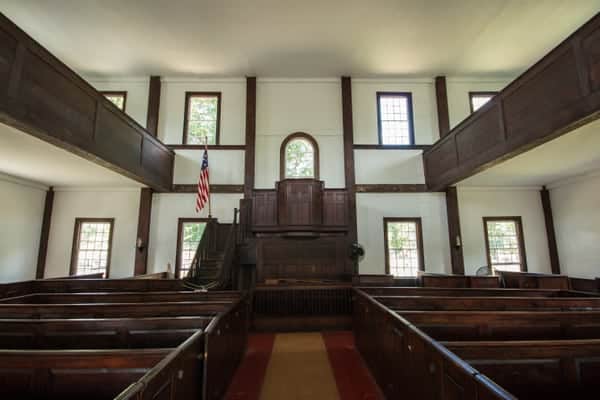 Inside the meeting house, guides offer a short talk about the history of the building, how it was preserved, and point out interesting architectural elements. I found the fact that they still use the building's original key to lock and unlock the front doors to be especially fascinating.
In addition to normal visitation, the Forty Fort Meeting House also features regular concerts and lectures, which can be found on their website. While you are certainly welcome to walk around the cemetery on your own to see the many old gravestones, cemetery tours are also offered a few times during the year.
Visiting the Forty Fort Meeting House is a perfect accompaniment to the Nathan Denison House a short distance away. Both buildings are designed in New England design that was already vintage when these buildings were built. These buildings both offer a unique insight into the history and culture of northeastern Pennsylvania.
If you are looking for things to do near Wilkes-Barre, definitely add the Forty Fort Meeting House to your list.
Note: My visit to the Forty Fort Meeting House was hosted by the association. However, the opinions expressed are my own.
Looking for more places to visit nearby? Check out Paddy Run Falls, Seven Tubs, and a pizza crawl through Old Forge.
---
Forty Fort Meeting House
Hours: Sundays: 1pm-3pm
Memorial Day – September

*Has experienced some closures, please confirm opening prior to visiting

Cost: Adults: $2, Children: $1

Address: 20 River St
Forty Fort, PA 18704
See map below for other area attractions.
---