Disclosure: This article may contain affiliate links. We will make a small commission from these links if you order something at no additional cost to you.
In our daily life, we take many things for granted. One of them is gravity.
We are taught from a young age in our science classes about the law of gravity: what goes up must come down. However, what if that isn't always true?
This was the question I tackled as I found my way driving to a spot known as Gravity Hill near Bedford, Pennsylvania. (There's also a Gravity Hill in Pittsburgh and a Gravity Hill near Harrisburg!)
As a child, I had visited a gravity hill in the northeast, but felt sure that my feeling of wonder must have been mistaken. After all, a car can't travel uphill. Can it?
After following the surprisingly well-marked signs into what felt like the middle of nowhere, I finally came upon the spot. On the ground, a giant "GH Start" and "GH Finish" had been spray-painted on the pavement. After checking for traffic, I got out of my car for a quick inspection. While I didn't have a level with me, I can certainly say that the car appeared to be slanted downhill from every direction I could think to look.
Finally, I hopped back in my car for the moment of truth. Putting my car into neutral, I hoped I wouldn't be disappointed, but secretly thought that I would be. However, much to my amazement, my car started to reverse up the hill! Faster and faster I went until I was reaching enough speed to activate my fasten seatbelt chime.
Honestly, I have to say that I was really amazed by this phenomenon. Is it the result of an optical illusion? Or maybe it's some cosmic force that we don't understand. You'll have to visit Gravity Hill in Bedford County and decide for yourself.
Getting to Gravity Hill in Bedford County
Gravity Hill in Bedford County is fairly easy to find if you know where you are going. Since the directions are quite specific, I'll refer you to the fantastic ones offered by the Bedford County Visitors Bureau on their Gravity Hill website.
Another option is to put the following approximate coordinates into your GPS: 40.111298, -78.692849. While they aren't exact, they will get you very close to Gravity Hill.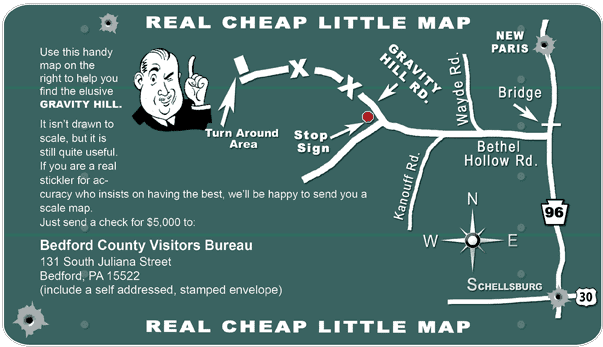 While you're at Gravity Hill, make sure you drive a bit further to experience the second, unmarked Gravity Hill located just down the road.
[Click here for information on how to use the coordinates in this article to find your destination.]
If you've been to Gravity Hill in Bedford County, what's your theory for how it works? I'd love to hear your thoughts in the comment section below.
Looking for more spots to visit in the area? Check out the Fort Bedford Museum, Coral Caverns, the covered bridges of Bedford County, and the hiking trails at Bedford Springs Resort.
See map below for other area attractions.