Disclosure: This article may contain affiliate links. We will make a small commission from these links if you order something at no additional cost to you.
For a long time, visiting the German Christmas markets has been near the top of my travel bucket list. I can't really explain why I want to visit so much, they just look really amazing, almost magical.
So, I was really excited when I heard that Bethlehem, Pennsylvania, has its very own German Christmas market, or Christkindlmarkt.
Known as Christmas City USA, Bethlehem is a logical place for a traditional German Christmas market. After all, Bethlehem, as with much of Pennsylvania, has strong German roots, and nothing says German Christmas more than a Christmas market.
I arrived at the Christmas market in the early afternoon of the market's first weekend.
Held on the grounds of the old Bethlehem SteelStacks, which is also home to the National Museum of Industrial History, the setting of the abandoned steel factory is quite an imposing one, making it almost feel like I was walking into an evil North Pole than a cheery Christmas market.
Nevertheless, I mustered the courage to walk in, sure I would see screaming elves fleeing the steelworks being chased by a maniacal Santa Claus (okay, maybe I didn't really think that, but they could have a really good haunted house there).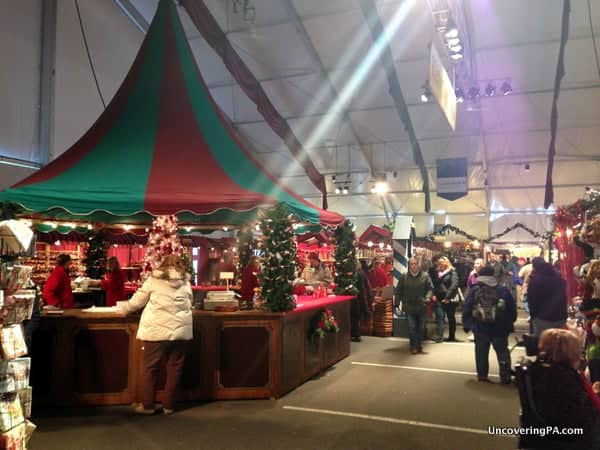 Inside the Christkindlmarkt, I was really surprised to see a great festive atmosphere. Christmas decorations were both strung above the booths and available for purchase in several different areas.
The collection of hand-made German Christmas handicrafts were the best I had seen outside of the Christmas Haus in New Oxford, and the stall of Russian Christmas items were definitely worth checking out.
Otherwise though, the Christkindlmarkt mostly featured the types of stalls that you would expect to see at a craft show in Pennsylvania: a few photographers, a winery, several stalls of hand-crafted wood items, and of course, the ubiquitous bathroom refinishing company.
That's not to say that the vendors there didn't have some great items. Overall, I was really impressed with the quality of the items displayed at the market. However, I had a few issues with my visit.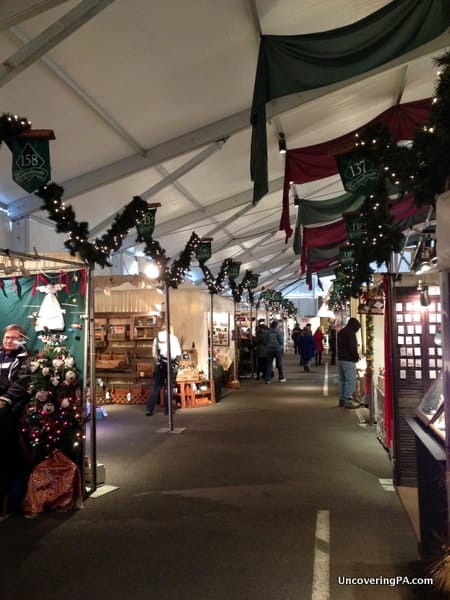 First of all, traditional German Christmas markets are usually held outdoors and in town centers. So, I was expecting Bethlehem's Christkindlmarkt to be held in downtown Bethlehem. Quaint wooden stalls lined up along the roadway, strung together by glowing Christmas lights.
Instead, what I got was two large tents with little charm on the outskirts of town.
I also was expecting the Christkindlmarkt to be much larger. Given that it was recognized by Travel and Leisure Magazine as one of the top Christmas Markets in the world, I would have assumed that it would have featured hundreds of stalls, many traditional German dishes, and authentic Gluhwein.
Instead, what I saw was mostly an imitation of what I was expecting.
What makes me so baffled about Bethlehem's Christkindlmarkt is that they have such a great foundation to pull off something really amazing. Driving through downtown Bethlehem, I was impressed by the quality of the shops and the quaintness of a town appropriately known as Christmas City USA. I even put together a list of my favorite things to do during the Christmas season in Bethlehem.
If they moved the Christkindlmarkt downtown, where it would be surrounded by colorful shops and beautiful historic buildings, it would instantly be better. Maybe throw in some wooden stalls that are so typical of German Christmas markets, keep the event going into the evening, and focus on creating an authentic atmosphere with the food, drinks, and music, and the market would become an outstanding destination.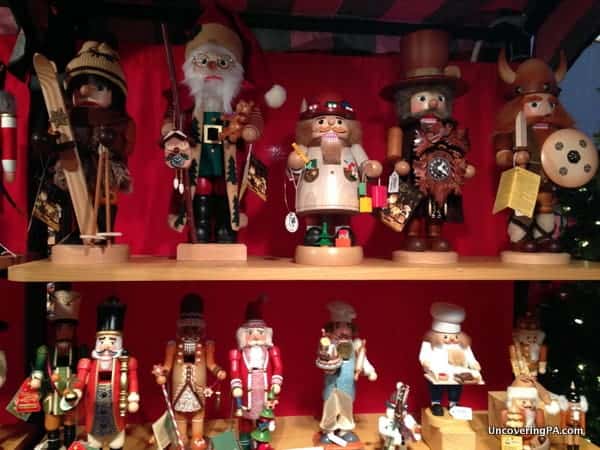 Instead, it's barely indistinguishable from any of the hundreds of craft shows that dot the landscape of Pennsylvania throughout the holiday season. And the mixed reviews on Trip Advisor tell me that I'm not the only one that feels this way.
It seems to me that one of its biggest competitors, the Pennsylvania Christmas and Gift Show in Harrisburg, is a much better choice for many visitors. Costing less and featuring three times as many vendors, the Christmas and Gift show seems like the logical choice for anyone living west of Allentown. (The Christmas and Gift Show even has German Christmas goods offered by the Christmas Haus in New Oxford).
Don't get me wrong, I enjoyed my time at Bethlehem's Christkindlmarkt; however, it's definitely not nearly as amazing as I was expecting it to be. So, given the market's small size and high admission cost, my opinion is that the Christkindlmarkt isn't really worth visiting.
Visiting Bethlehem's Christkindlmarkt
In 2023, Bethlehem's Christkindlmarkt is open Thursdays to Sundays from November 17 – December 17. Thursdays and Sundays, it's open from 10am until 6pm, and on Fridays and Saturdays, it's open 10am to 8pm.
Admission ranges from $11-$12 depending on the day. Advanced tickets can be purchased on their website.
(Article updated October 2023 to reflect dates and pricing for the 2023 Bethlehem Christkindlmarkt.)
Note: My visit to Bethlehem's Christkindlmarkt was hosted by the Lehigh Valley Visitor's Bureau. However, the opinions expressed in the post are my own and weren't subject to review.
See map for other area attractions.