Disclosure: This article may contain affiliate links. We will make a small commission from these links if you order something at no additional cost to you.
One of the things on my travel bucket list is to take a trip to Germany during the holiday season to visit their fantastic Christkindl Markets. However, while I'm waiting for that opportunity, there are several great Christmas Markets in Philadelphia to tide me over.
The two main Christmas Markets in Philadelphia are located in Center City at Love Park and Dilworth Park.
Both offer great shopping, delicious food, and fun activities for the entire family to enjoy. If you are looking for unique gifts from Pennsylvania and around the world, you don't want to miss these markets while spending Christmas in Philadelphia.
Christmas Village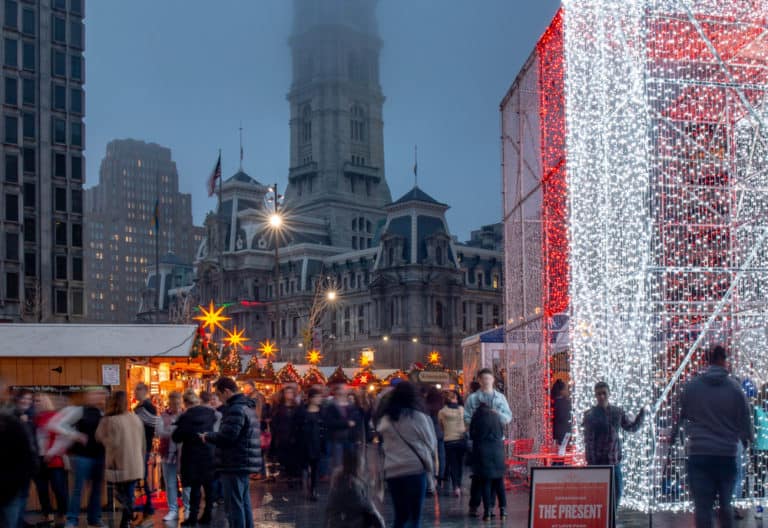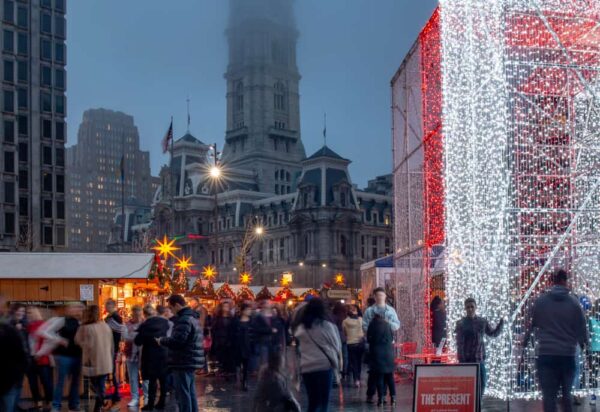 The larger of the two markets is Christmas Village, which is located in LOVE Park. Run by Germans with experience managing Christkindl markets in Germany, Philadelphia's Christmas Village strives to be the most authentic Christmas Market in Pennsylvania, and other than the fabulous Mifflinburg Christkindl Market, it might just be.
The Christmas Village was first opened in 2008. From 2008 through 2010 and in 2016, the market was held around City Hall. From 2011-2015 and 2017 to the present, it has been located in Love Park.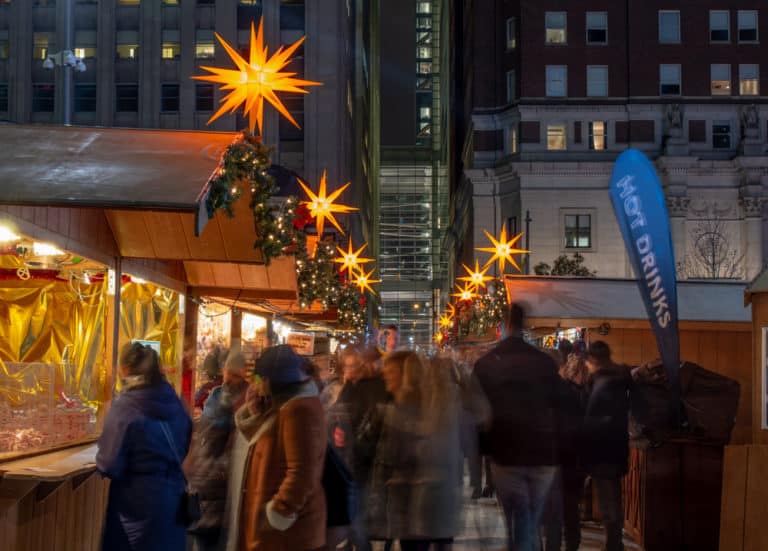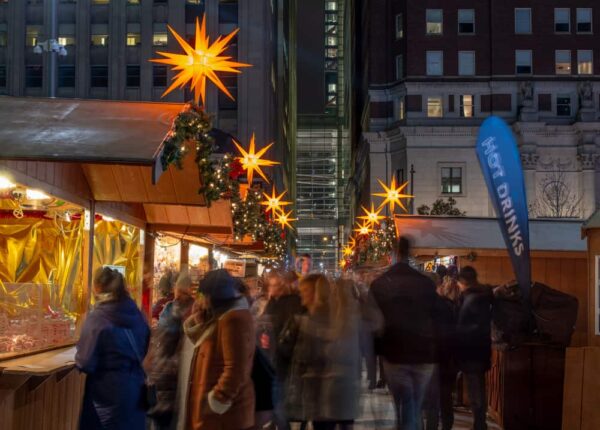 The village is open daily from November 18, 2023 through Christmas Eve (it is also open the Saturday and Sunday before Thanksgiving for a preview weekend).
While it opens several days prior, the official opening ceremony for the market is always held the Sunday after Thanksgiving. This is when you can meet the traditional Christkind, see Santa Claus, and enjoy the illumination of the Christmas tree.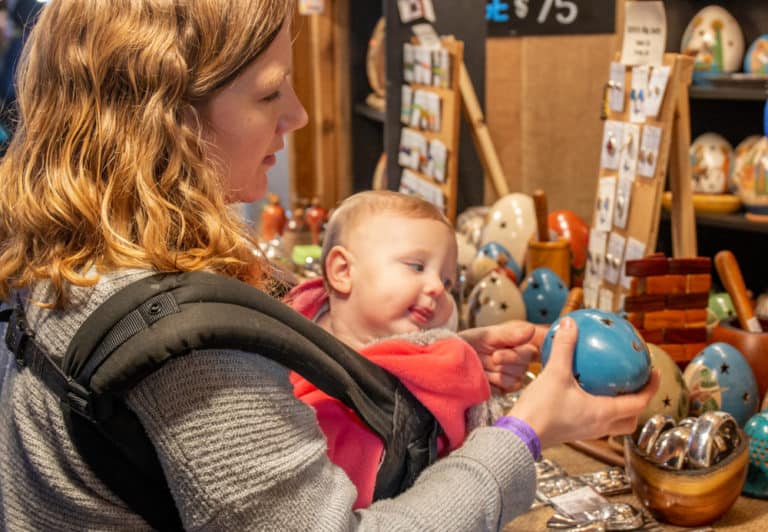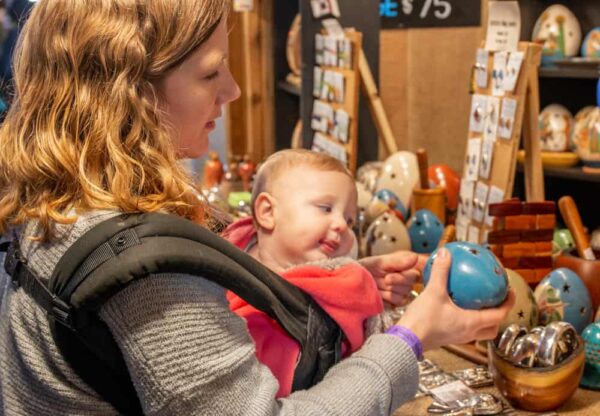 There are roughly 80 stalls set up around LOVE Park. These sell a bit of everything including German Christmas decorations at Kathe Wohlfahrt, clothing, artwork, and food. If you are looking for a great present to give someone, there's a good chance you'll be able to find something here.
The Christmas Village in Philadelphia is also the perfect spot to get a bite to eat if the shopping makes you hungry.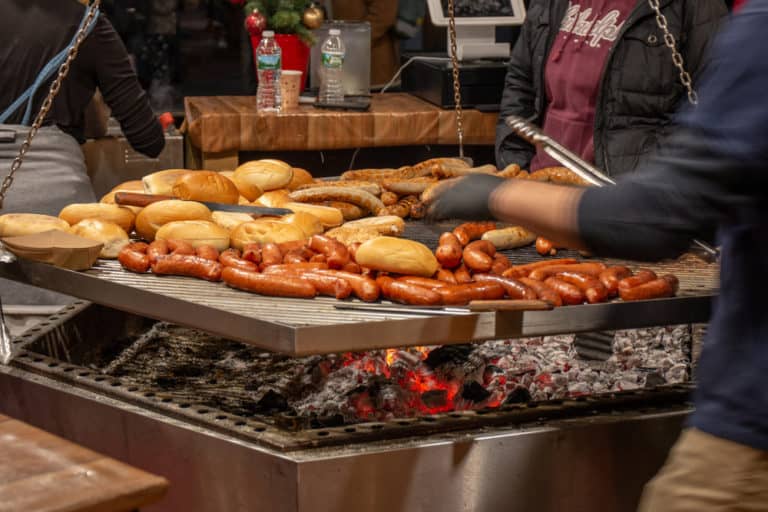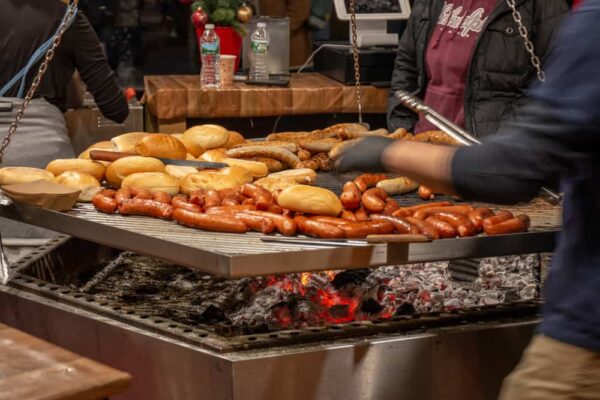 The highlights are traditional foods from authentic German Christkindl Markets such as bratwurst, crepes, Döner Kebap, and Spaetzle. Don't miss the chance to try one (or all) of these traditional foods while enjoying this Christmas Market in Philadelphia.
While at the Christmas Village, you can also try some delicious drinks, including mulled wine, known in Germany as Glühwein, and amazing hot chocolate. For those looking for something cooler in temperature, there is a beer garden that serves a variety of local beers.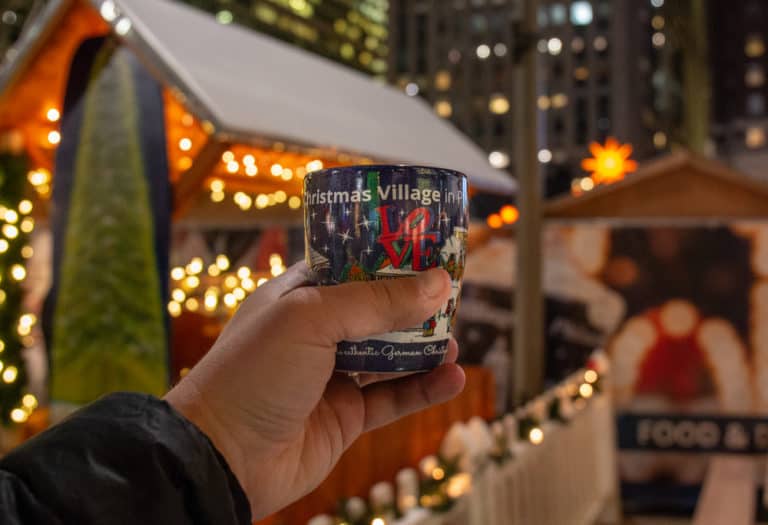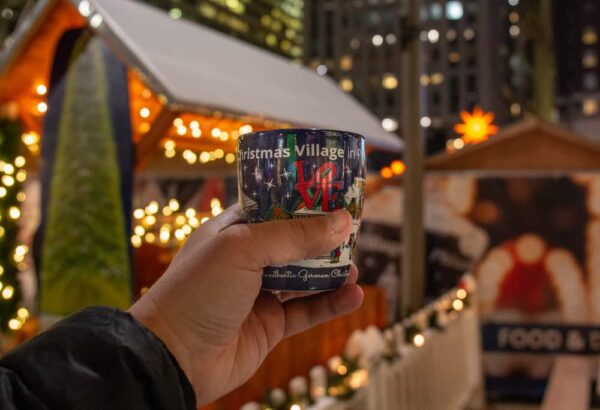 While at the market, don't miss the live entertainment on the stage in the center of the park. There are regular concerts throughout the season including everything from traditional music to rock music.
Adjacent to the stage, kids can visit with Santa. I caught a glimpse of Santa as I walked by, and to be honest, I was super impressed with the quality of his appearance and demeanor, and I'd definitely recommend a visit with Santa here if you are looking for a great (the real) Santa to visit.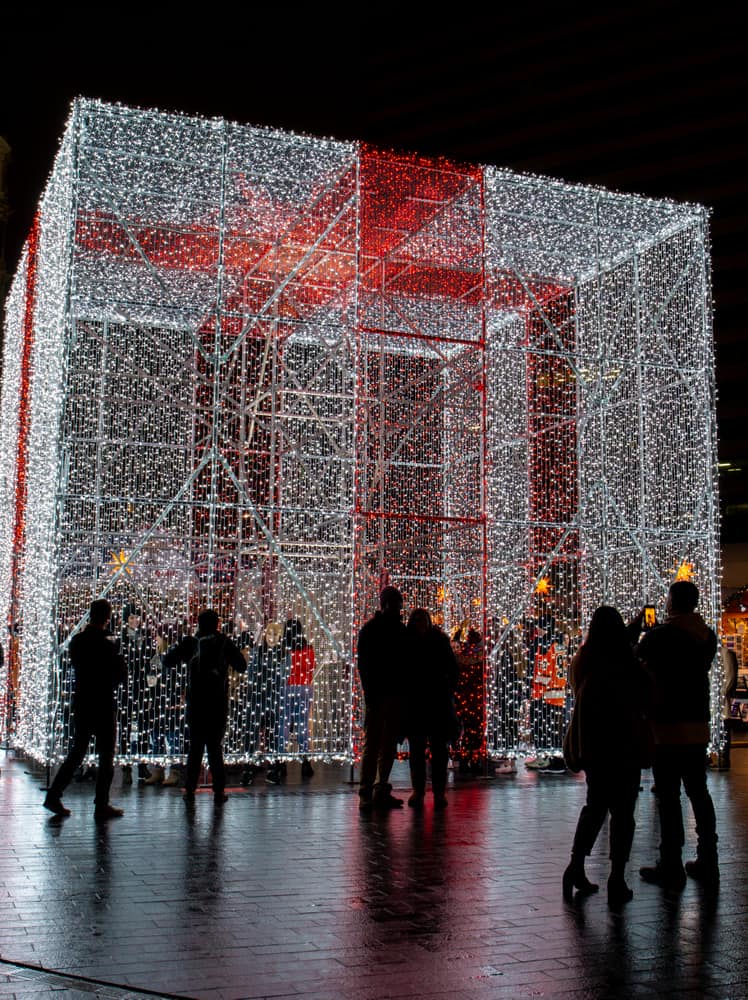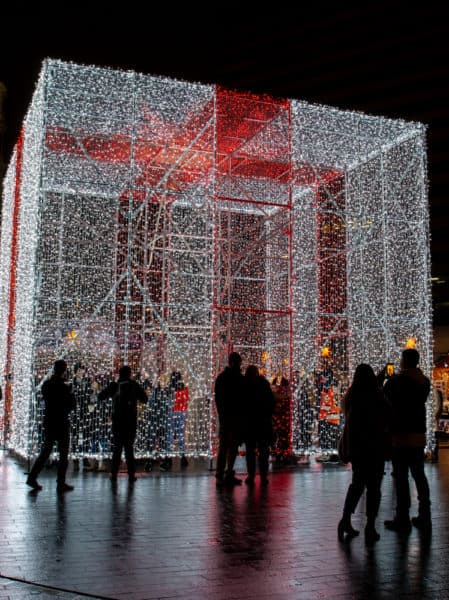 Santa's cabin is adjacent to the coolest feature at the Christmas Village in Center City Philadelphia: The Present.
This 27-foot lit box is made of more than 5-miles of stringed lights (100,000 lights in total) and is quite an impressive sight to see. If you are looking for the best spot to take a Christmasy photo in Philly this year, don't miss this beautiful spot as its one of the best places to see Philadelphia Christmas lights.
Made in Philadelphia Market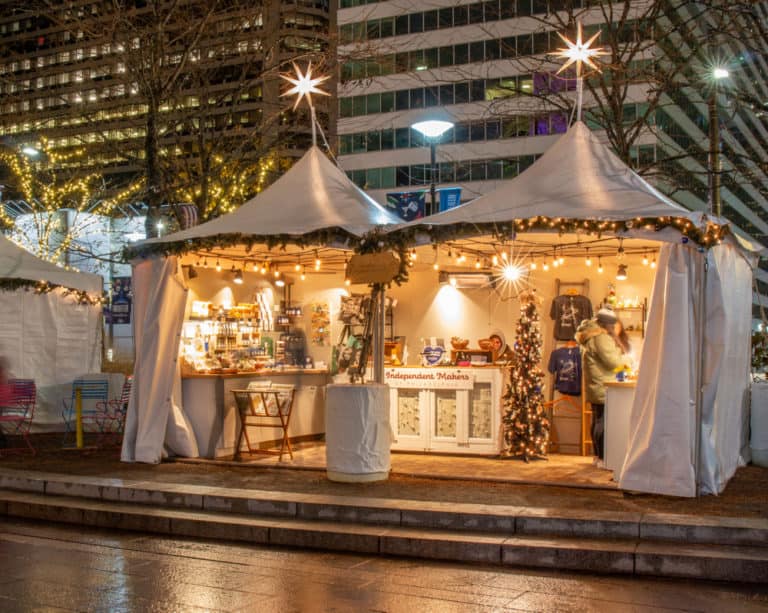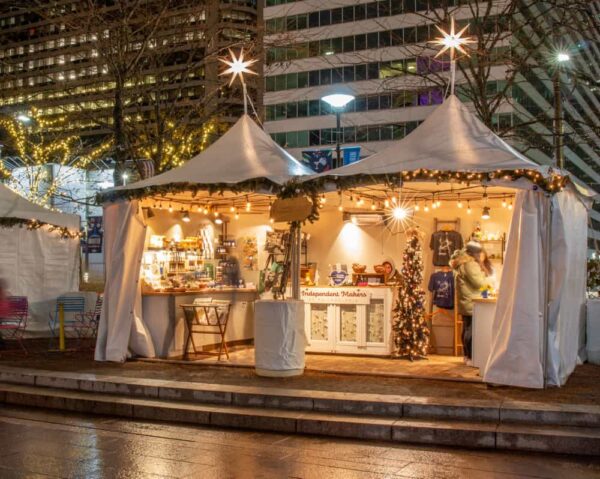 Diagonally across the intersection of 15th Street and JFK Boulevard is Dilworth Park. This park surrounds City Hall and is home to another great Christmas Market in Philadelphia to visit this holiday season.
There are approximately four dozen stalls along the western side of City Hall that make up the Made in Philadelphia Holiday Market. These vendors sell a variety of art, foods, and handmade products that are made in and around Philly.
The stalls here are open daily from the Saturday before Thanksgiving through New Year's Day. That makes them a great spot not only during the Christmas season but also during the Mummers Parade on January 1.
Other Attractions at Dilworth Park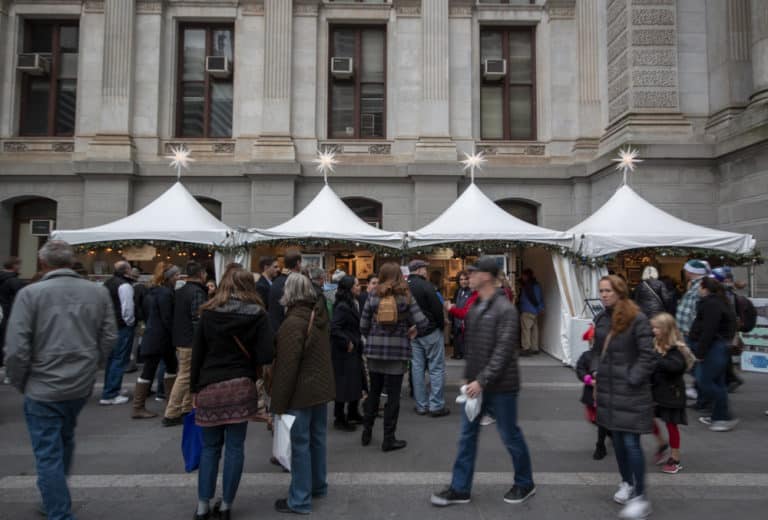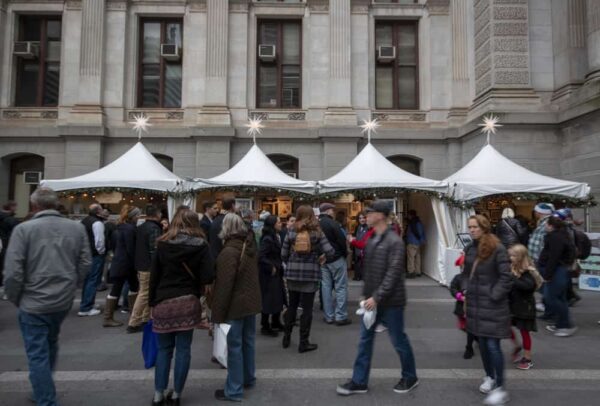 While there are some great stalls and opportunities for shopping at Dilworth Park, the main attractions at this Christmas market are the activities.
The most popular spot here is Rothman Ice Rink. This large, outdoor ice skating rink offers the chance to go skating in the shadow of City Hall while enjoying the beauty of this Christmas Market in Philadelphia.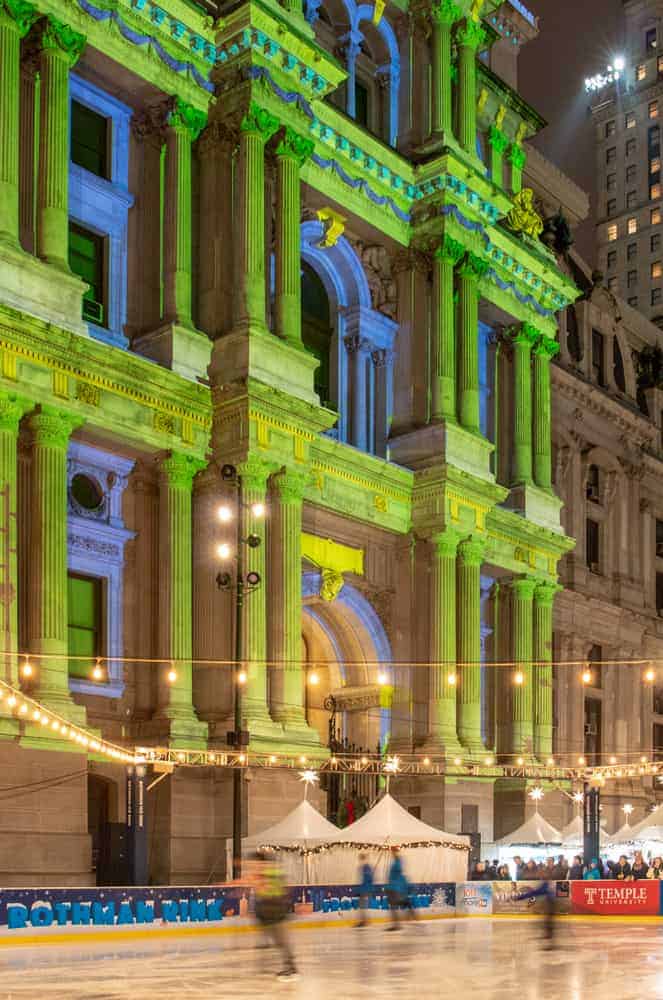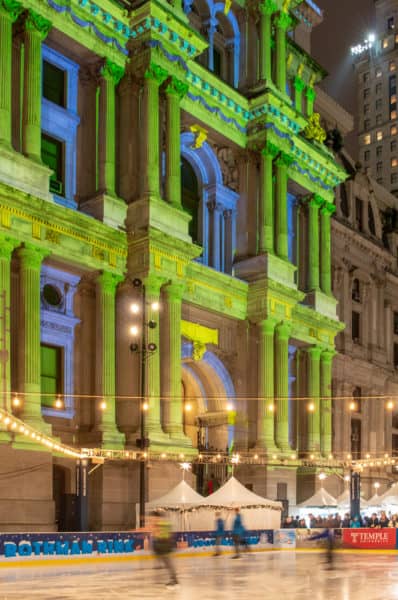 The ice rink is open daily from early November through late February each year.
Next to Rothman Ice Rink is the Rothman Cabin. This heated room serves delicious food and drinks (both alcoholic and non-alcoholic). If you aren't interested in the German foods at the Christmas Village, this is a great spot to get something different.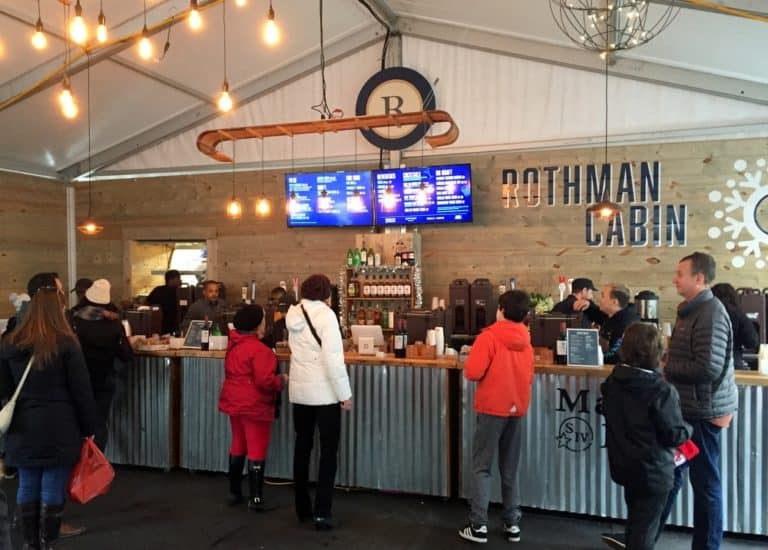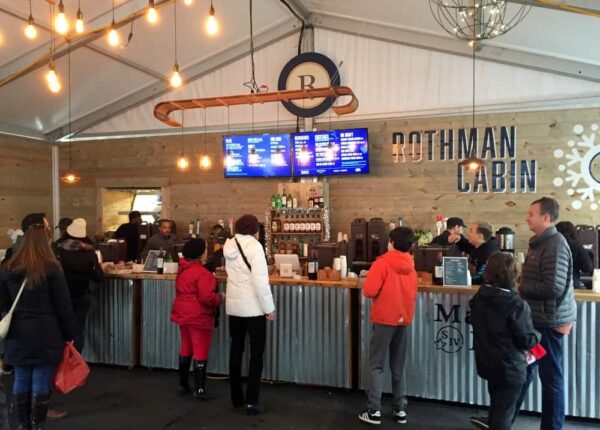 The cabin also offers a great place to warm up on a cool day and is typically less crowded than the food stalls in LOVE Park.
In the courtyard at the center of City Hall is another small collection of vendors and a fun carousel. To be honest, the rides on this carousel struck me as really short, but it is a fun ride for kids of all ages. There is also a Ferris wheel that's been added to the park for 2019.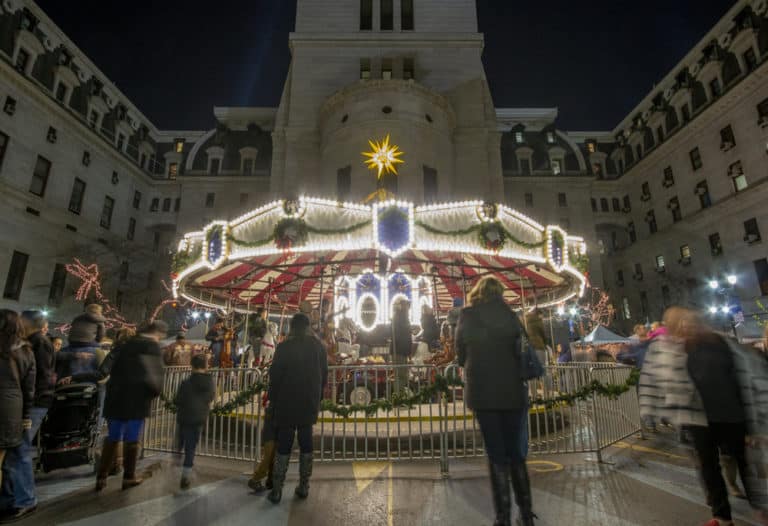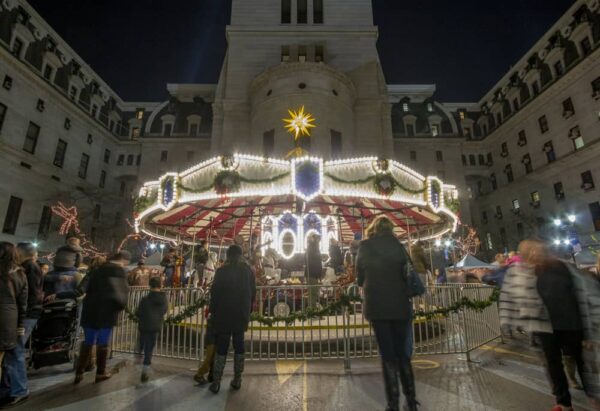 If you are visiting after dark, make sure you don't miss the large Christmas tree on the northern corner of City Hall and the light show on the western facade of the building.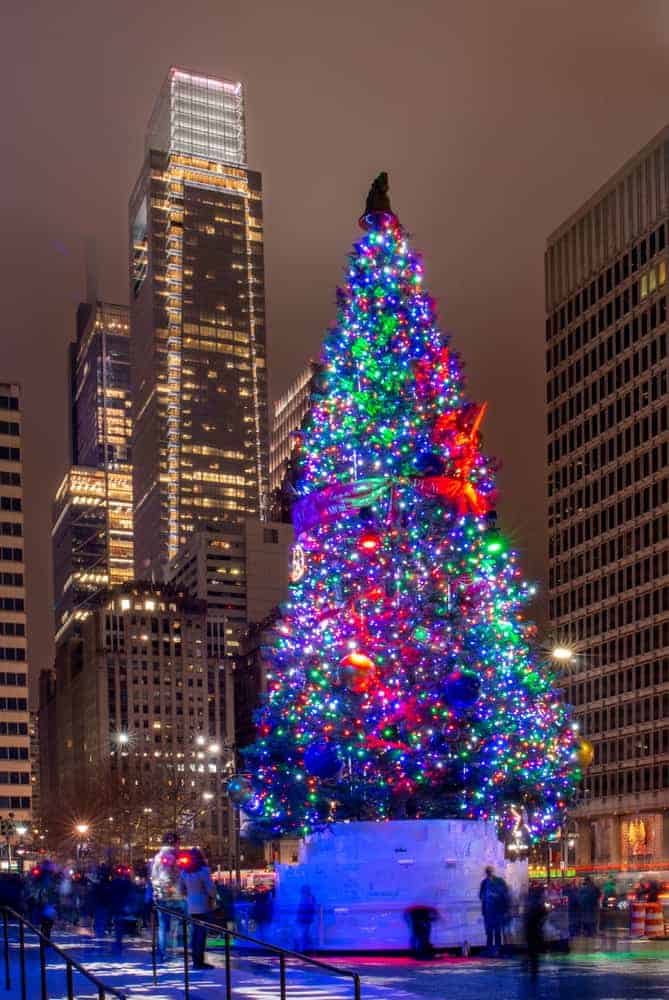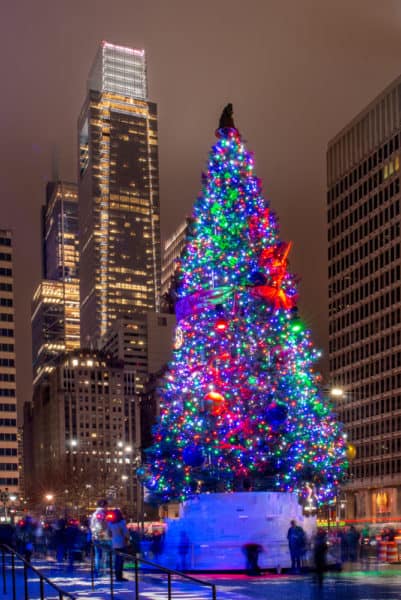 Final Thoughts on Visiting the Christmas Markets in Philadelphia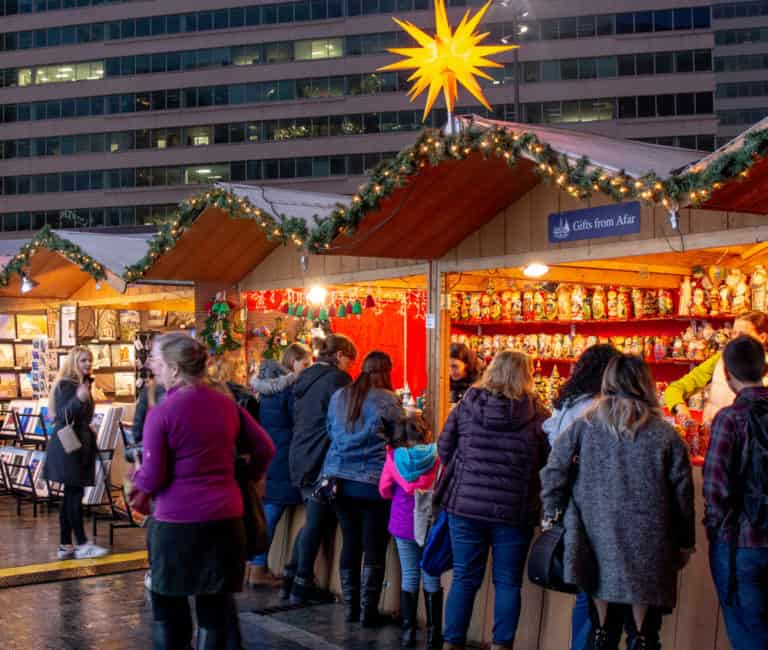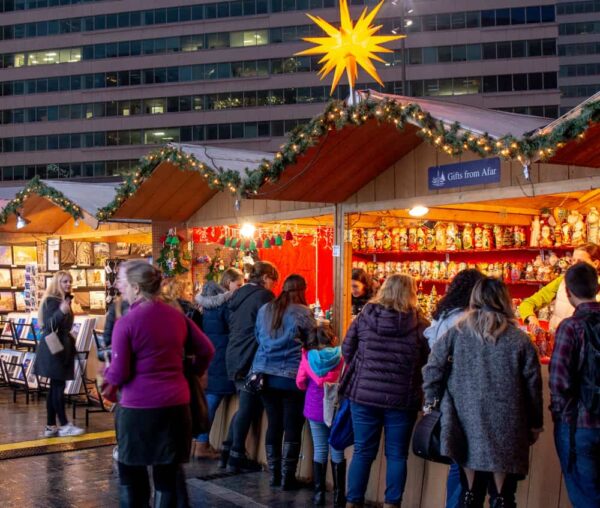 While there are many great things to do in Philly during the holiday season, the Christmas Markets in Philadelphia's Center City are among my favorites.
Whether you are looking to check a few people off of your holiday shopping list, want to enjoy some delicious food, or just want to take in the sights and sounds of the season, these markets are great destinations for the whole family.
If you plan to visit, I highly recommend visiting on a weekday as the markets and other attractions can get quite crowded on weekends. if you must go on a weekend, early in the day tends to be a bit quieter. While it's quite magical after dark, it's also very crowded.
Looking for more holiday cheer in Philadelphia? Check out the nearby Christmas shows at the Wanamaker Organ and the Byers' Choice Christmas Museum. There is also a lot to do in Philadelphia on New Year's Eve!