Disclosure: This article may contain affiliate links. We will make a small commission from these links if you order something at no additional cost to you.
There are many fantastic Christmas destinations in Pennsylvania, but few are open year-round for those looking for festive fun in any month. However, the Byers' Choice Christmas Museum in Bucks County is one of the few that is.
Byers Choice is most well known for its line of Byers' Carolers. These whimsical dolls are the creation of Joyce Byers.
In the 1960s, she began to handcraft Carolers, first for her own home and later for family and friends. Finally, at the urging of her family, she started selling her Byers' Carolers in a few stores.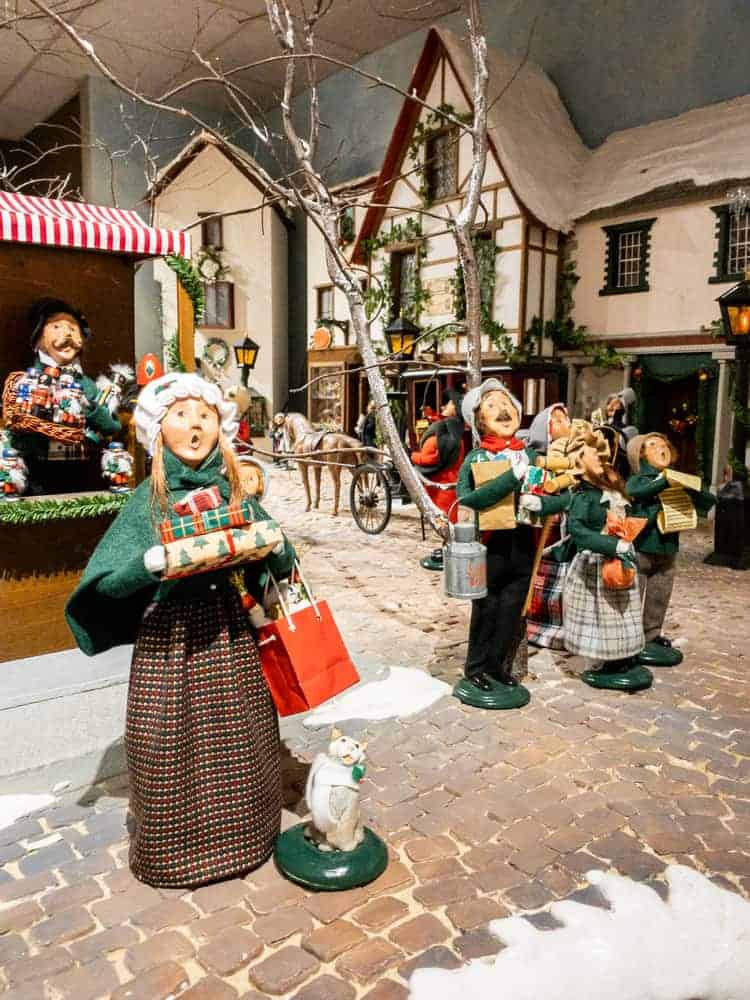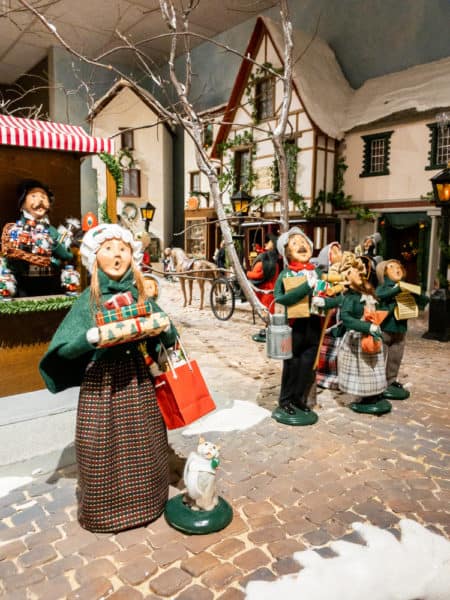 Today, the Carolers are sold in stores throughout the United States and around the world, and the company employs 50 artisans who still handmake these holiday decorations from their factory in Chalfont, Pennsylvania.
Having seen the Byers' Carolers for many years in my parent's holiday decorations, I was excited to visit their museum and factory near Doylestown, PA.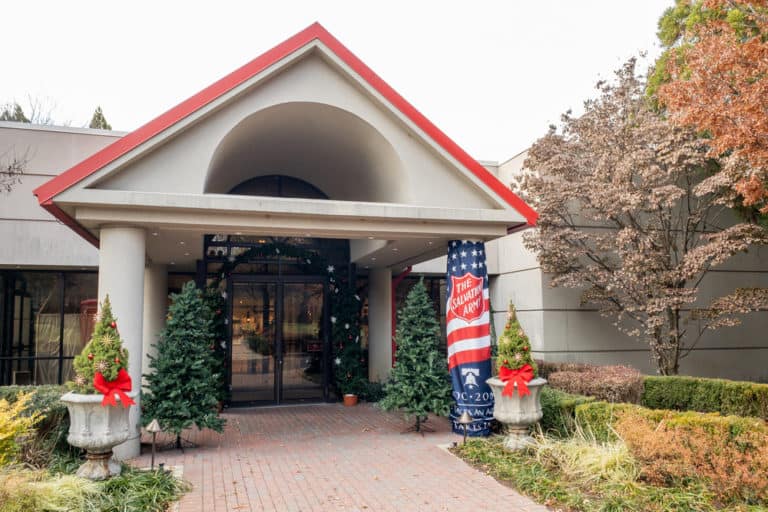 From the outside, the Byers' Choice building is relatively non-descript, save for a few decorations that were lining the road on the way in. Inside, the building houses the company's offices, their factory, a store, and a museum.
Despite the outside looking rather plain, walking through the doors of the building was like stepping back into a Dickensian-era world.
Heading straight takes you into a large store that sells many Byers' Carolers and other holiday knick-knacks. However, we opted to start our visit to the right.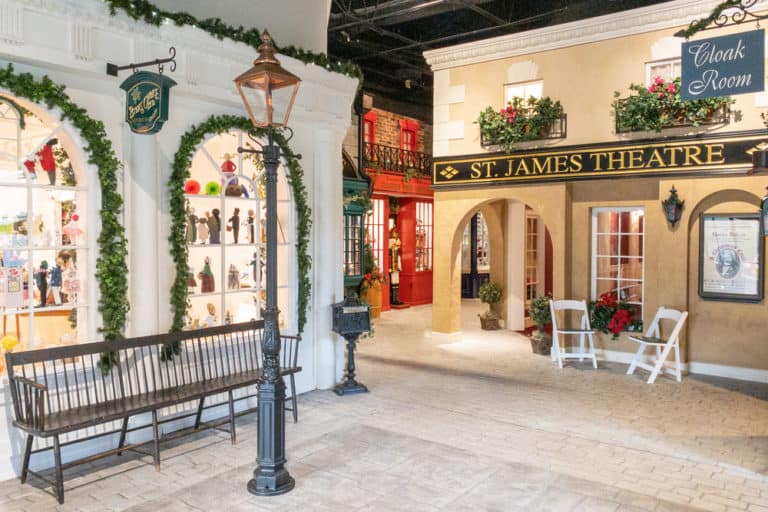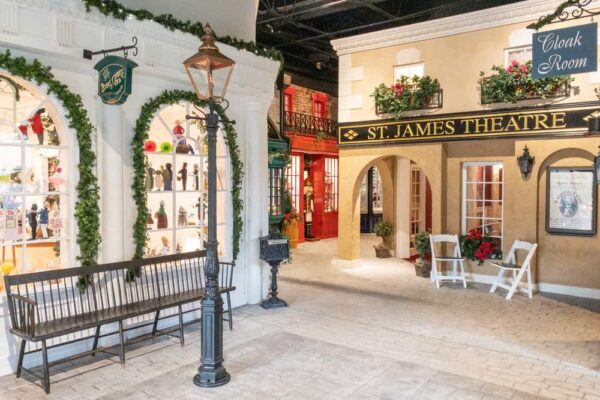 Here, my family and I found a Victorian-era streetscape that has been incredibly recreated with a lot of attention to detail.
The first area to check out is a theater that shows a short video about the history of Byers' Choice. The video provides a lot of great information but is definitely showing its age.
Further down the Victorian streetscape, there is a clothing shop filled with prop clothing you can try on so that you can look just like a Byers' Caroler. My young son had a lot of fun trying on the different clothing here.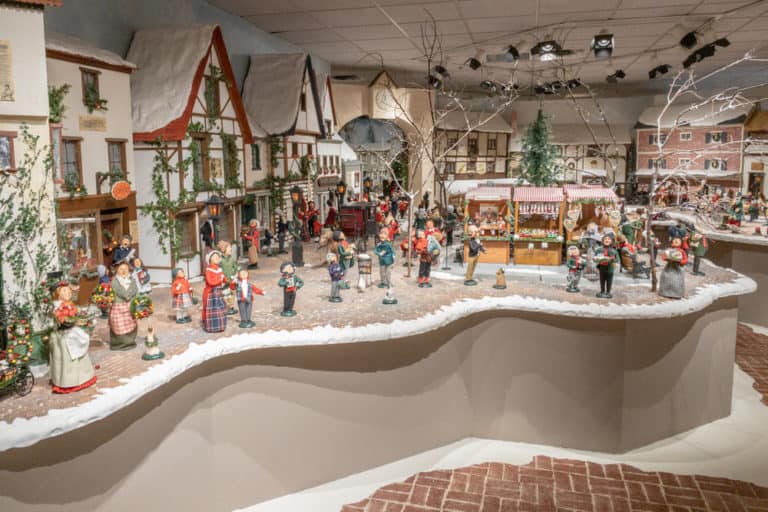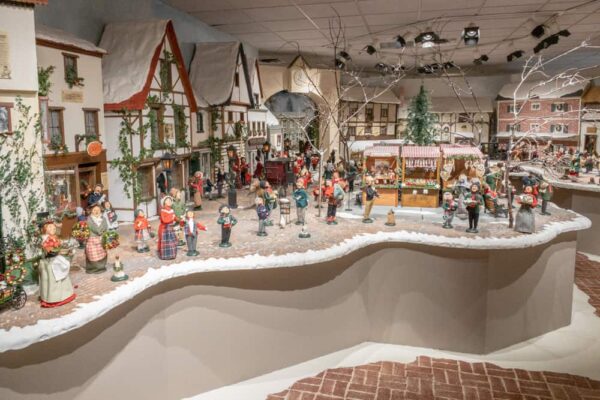 The museum itself is really neat and features a set of large dioramas that each feature dozens or even hundreds of Carolers in various settings. All told, there are eight large rooms with these displays, each themed around a different subject.
My children really enjoyed seeing the different scenes and noticing the many intricate details in each of the dioramas. Of course, these displays aren't just for children. In fact, anyone that likes Byers' Carolers will no doubt appreciate these displays and might even take a few ideas home for how to display their own collection.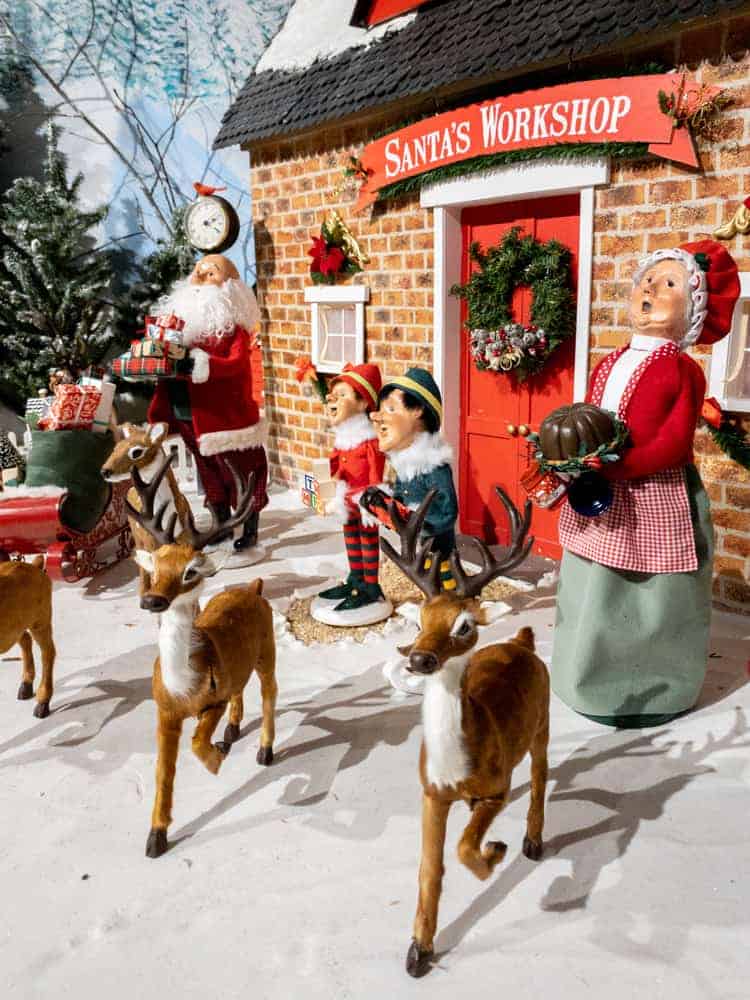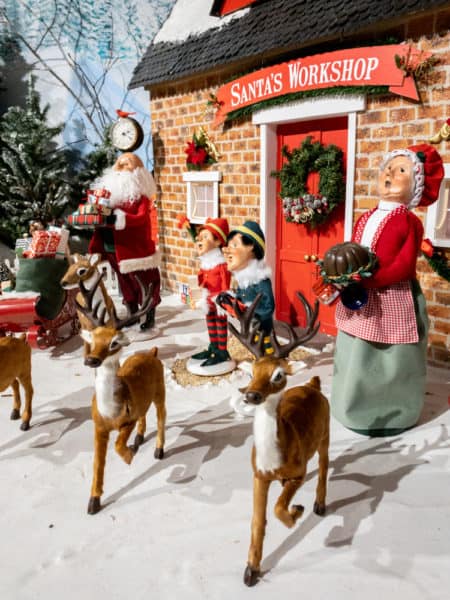 Within the museum, there is also a platform that allows visitors to get an overview of the factory floor.
From this observation deck, you can see a large chunk of the Byers' Choice factory. Directly below the windows, there were several artisans working on assembling the Carolers, which was really neat to see. Sadly, photos were not allowed in this part of the museum.
Note, that the workers here don't work on weekends, so its best to visit on a weekday, if possible.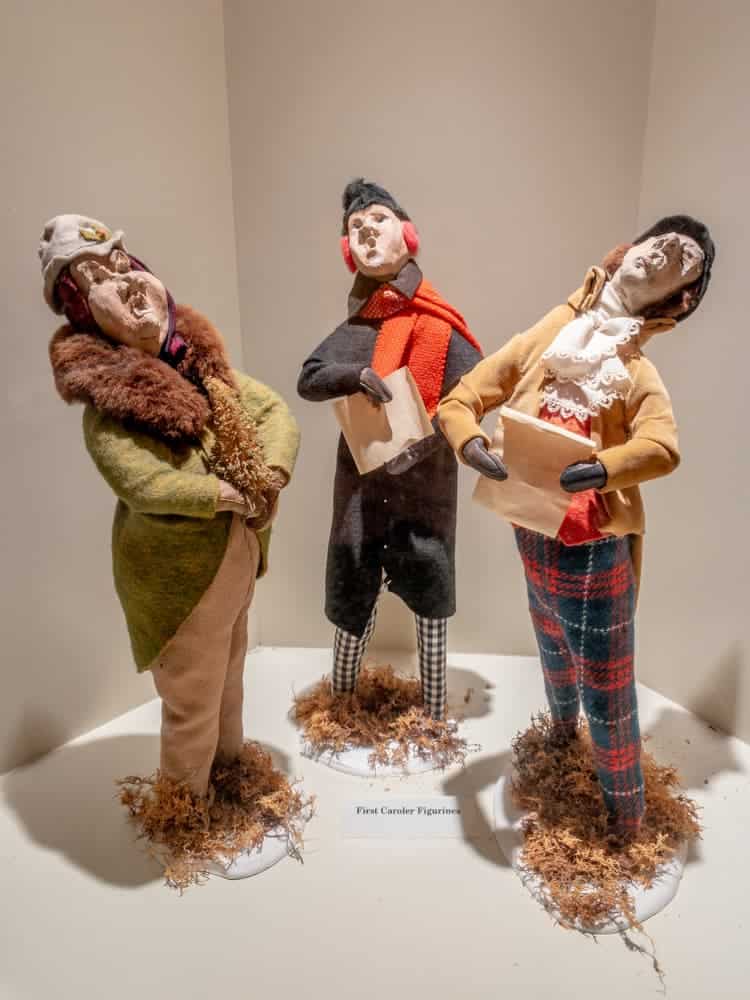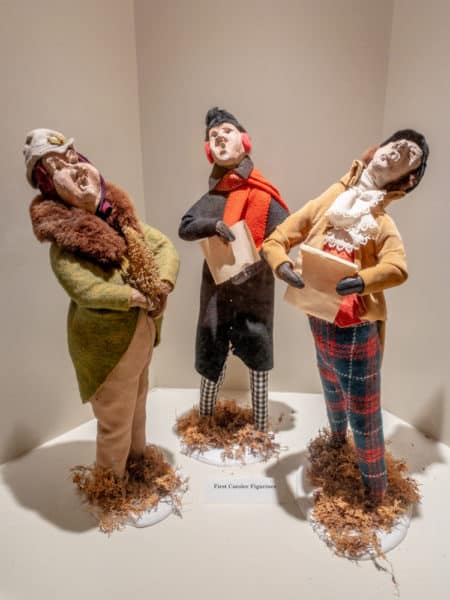 In the room next to the observation deck, don't miss the small display case that features the three original Byers' Carolers made in the 1960s. It's amazing to see how far they have come over the years.
The museum also features a room that displays more than 200 nativity sets from around the world. These range in size, age, and style, but it's really interesting to see how many different cultures interpret this event. Don't miss the large nativity set that was hand-carved in Naples, Italy in the 1780s.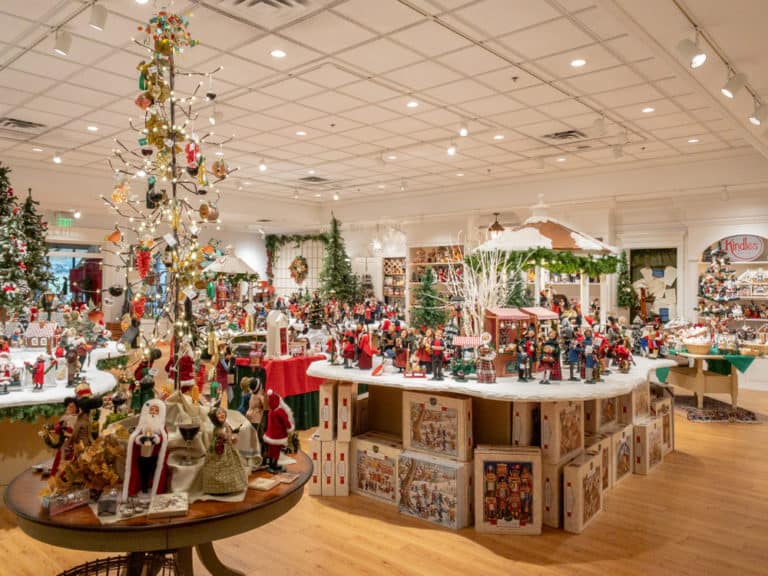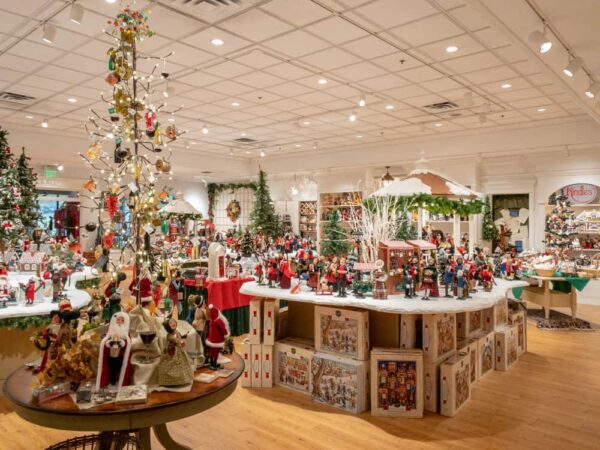 Overall, I really had a great time visiting the Byers' Choice Christmas Museum. Even as someone who only has a passing interest in their Carolers, I enjoyed seeing the many dioramas and watching the workers craft them in the factory.
However, if you are a collector of these popular Christmas decorations, you are sure to have a fantastic time browsing this amazing holiday museum no matter the season.
Looking for more places to visit nearby? Check out the Moravian Pottery and Tile Works, the covered bridges of Bucks County, and the Michener Museum.
---
Byers' Choice Christmas Museum
Hours: Monday-Saturday: 10am-5pm

Sunday: 12pm-5pm

Cost: Free

Website: ByersChoice.com

Address: 4355 County Line Road
Chalfont, Pa 18914
See map below for other area attractions.
---