Disclosure: This article may contain affiliate links. We will make a small commission from these links if you order something at no additional cost to you.
Located in north-central PA, the Pennsylvania Grand Canyon is an area known for its amazing vistas and challenging hiking trails. And, while a few of its waterfalls are well known, especially those in Leonard Harrison State Park, there are many other waterfalls in the gorge that range from little-known to practically unknown, such as Water Tank Run Falls.
Another one of these little-known waterfalls is Chimney Hollow Falls, which is located on the western side of the canyon near its northern end and Route 6. While this a beautiful 40-45 foot waterfall, it's largely unknown. In fact, I mentioned I was heading there to the owner of a local inn, and he had no idea where I was talking about.
However, keep reading, and you'll have everything you need to know to find this hidden gem.
Chimney Hollow Falls is located on Owassee Slide Run, a small tributary of Pine Creek. It is accessed via an off-trail hike off of Owassee Road and is within the boundaries of Tioga State Forest.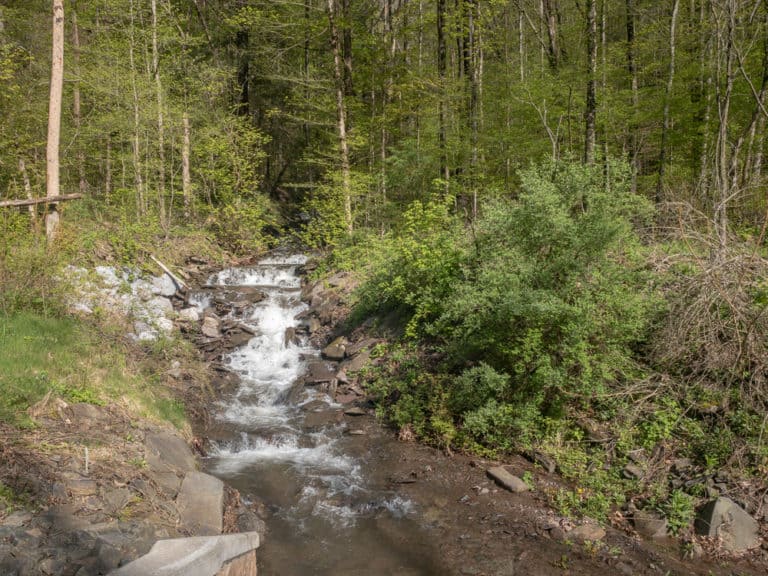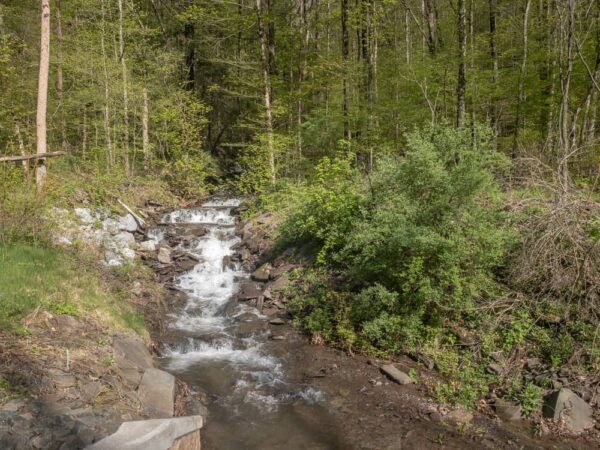 From the road, the stream on which Chimney Hollow Falls is located looks very tiny. While this waterfall is somewhat seasonal, it's very rare for the stream to look like it can support a large waterfall from the road.
However, a short tenth of a mile up the banks of Owassee Slide Run will show you that it is in fact big enough to support a gorgeous waterfall.
Picking your way along the banks of Owassee Slide Run is challenging, but not impossible. On the day I visited, I started hiking up the right side of the creek when facing upstream.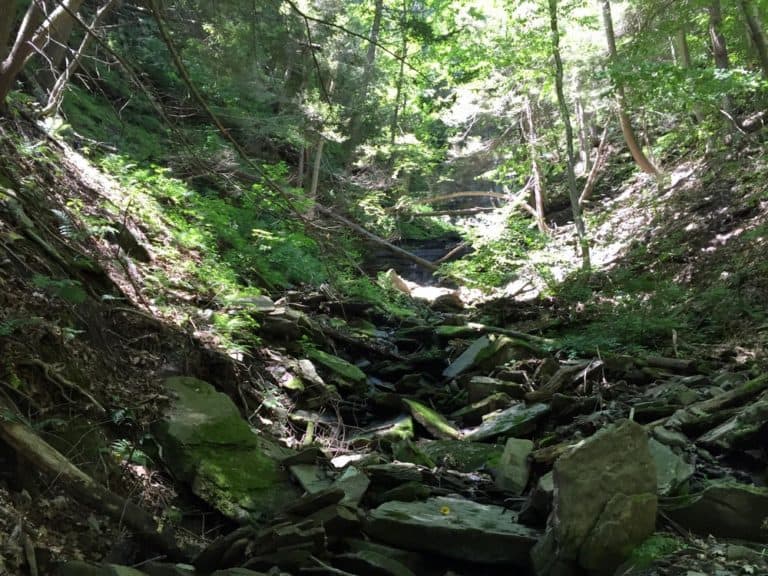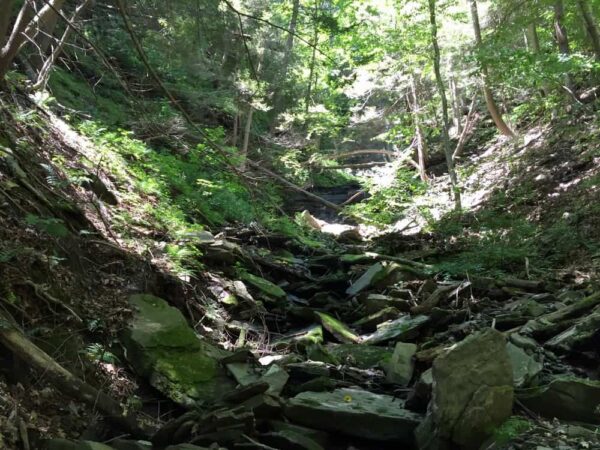 I was able to get a few hundred yards towards the falls before I had to carefully cross the stream (getting my feet wet in the process), and then continue my hike up the left bank all the way to the waterfall.
Chimney Hollow Falls has two drops. The first is around 8-10 feet in height while the second one you'll encounter heading upstream is around 40 feet tall.
Depending on the water levels, it may or may not be possible to get close to the falls.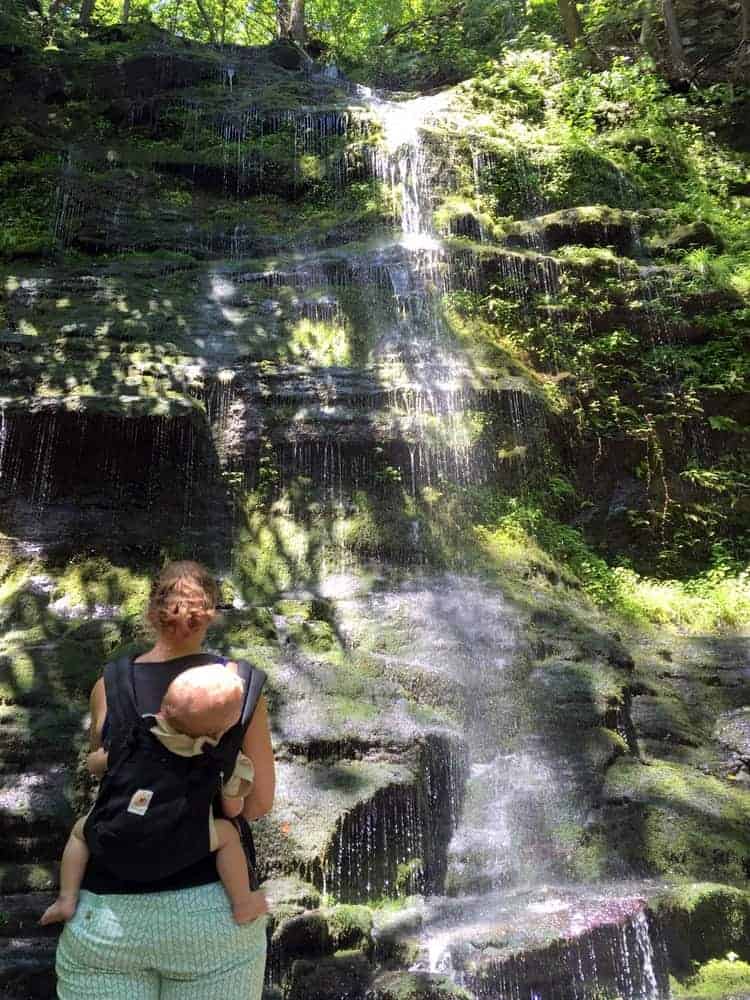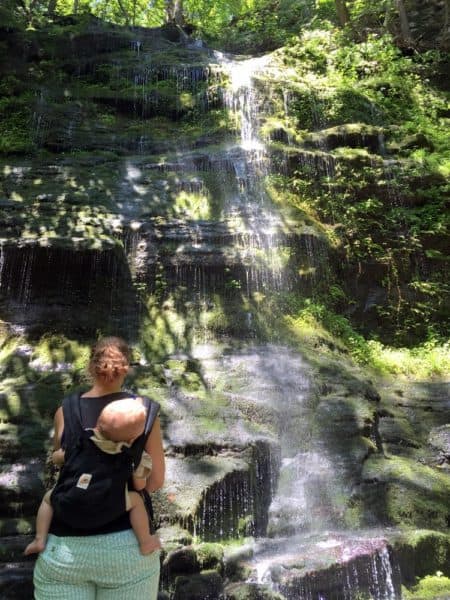 The first time I visited Chimney Hollow Falls in the Pennsylvania Grand Canyon, water levels were quite low, and I was able to hike right up to the base of the falls.
During my second visit, however, water levels were much higher, and thanks to that and a few blowdowns along the creek, I had to view the waterfall from further away. Make sure to be aware of your capabilities and remember that you have to head back down the stream at the end of your time at the waterfall.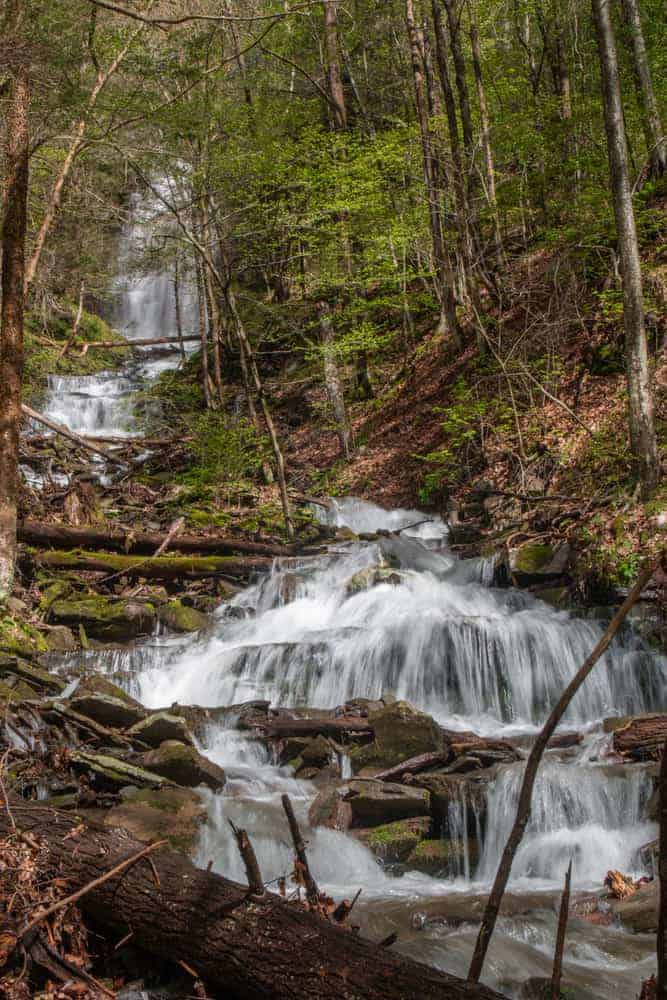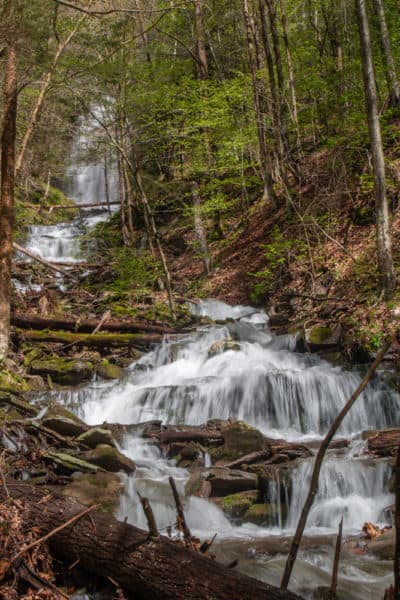 Without a doubt, Chimney Hollow Falls is one of the hidden gems of the Pennsylvania Grand Canyon. If you find yourself looking for an adventure and are visiting when water levels are high, make time to visit this beautiful spot.
How to Get to Chimney Hollow Falls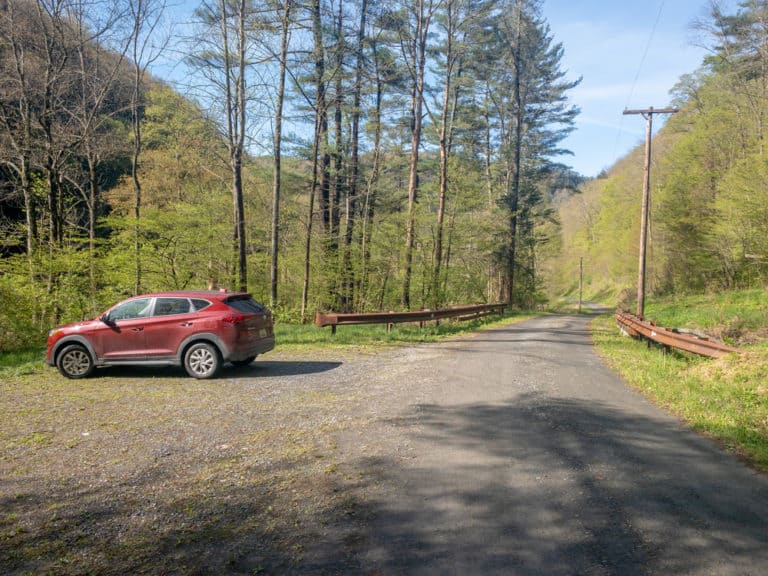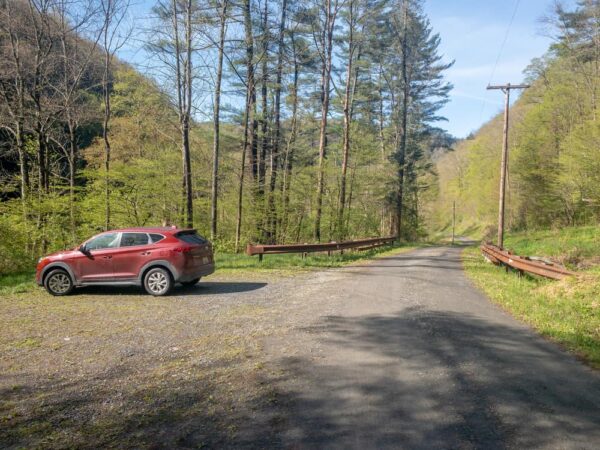 Chimney Hollow Falls is located on the northern edge of the Pennsylvania Grand Canyon in Tioga County and is just below the popular Barbour Rock Trail.
From Colton Road, which runs from Route 6 along the western edge of the canyon to Colton Point State Park, take the first left onto Owassee Road.
This dirt road travels steeply downhill until it reaches the shores of Pine Creek. It's worth noting that the road is not raised far above the creek, and if the water levels are higher than around 4 feet, there is a chance the road will be impassable as the creek will have rushed over it.
If this is the case, do not attempt to continue on to the waterfall.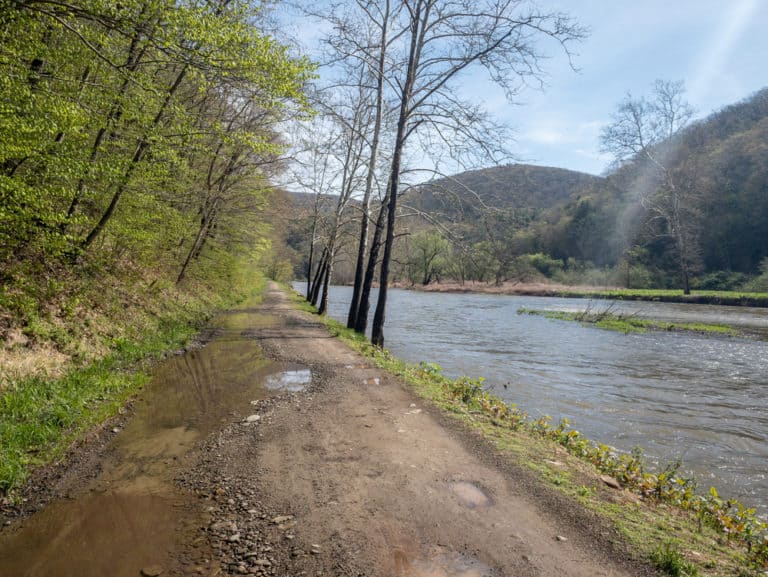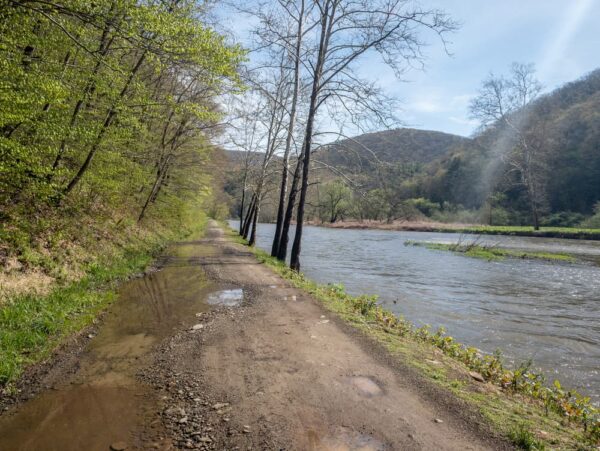 It should also be noted that Owassee Road is heavily rutted. While it may be passable in a car, I wouldn't recommend trying to do so and instead only tackling this road with a higher-clearance vehicle.
If you've made it this far, the parking area for Chimney Hollow Falls is located 1.3 miles from Colton Road. Park just prior to the first bridge you come to on the road, which is at the following coordinates: 41.721211, -77.441898.
From here, it's around a tenth of a mile up the stream to the base of this beautiful waterfall in the Pennsylvania Grand Canyon.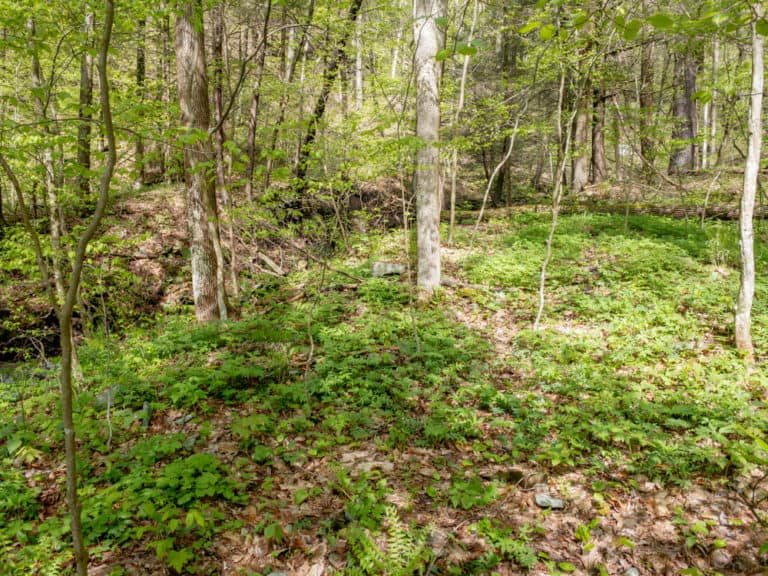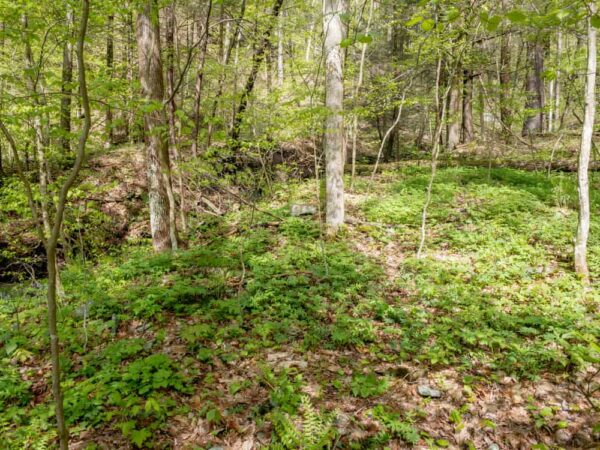 For those that use them, Chimney Hollow Falls can be found at the following coordinates: 41.722443, -77.443894.
Again, as a reminder, there is no trail to the base of Chimney Hollow Falls. While it is a relatively easy bushwhack, it likely will require at least one stream crossing and climbing over both slippery rocks and blowdowns.
Always use caution and know your limits when visiting.
Looking for more great nearby spots? Check out the Pine Creek Rail Trail, the Pennsylvania Lumber Museum, the Bohen Falls Trail, and the Coudersport Ice Mine.
[Click here for information on how to use coordinates to find your destination.]