Disclosure: This article may contain affiliate links. We will make a small commission from these links if you order something at no additional cost to you.
There are several Pennsylvania towns that are perfect destinations to get you in the Christmas spirit. However, few can match the beauty and charm of Indiana, Pennsylvania.
Located a little over an hour outside of downtown Pittsburgh, Indiana might be best known for the university that sits in the heart of the town, but it also can lay claim to being one of the most Christmasy places in all of America.
Every year, the Christmas season in downtown Indiana, Pennsylvania, kicks off with the "It's a Wonderful Life Festival and Parade" on the Friday night before Thanksgiving. Over the course of an hour, dozens and dozens of local clubs and businesses walk their decorated floats through downtown Indiana, waving to the crowds and throwing candy to the waiting kids on the sidewalks.
(Note: For 2020, there are still events and holiday decorations in downtown Indiana, PA, but they will not be hosting their annual It's a Wonderful Life Parade)
There's even a Jimmy Stewart impersonator dressed as "It's a Wonderful Life" protagonist, George Bailey.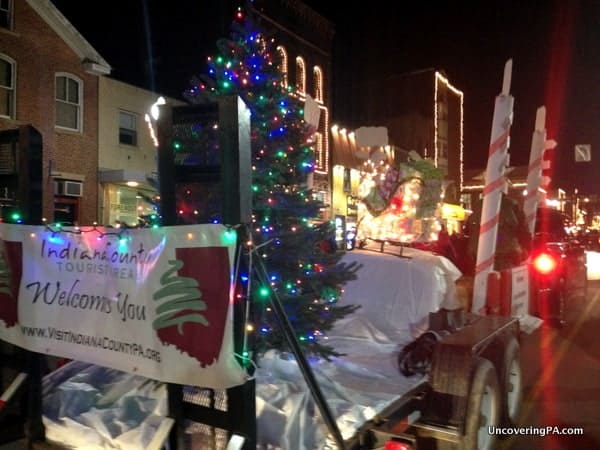 In many respects, the parade is simply a large local parade, the type that you could find in many towns across Pennsylvania. However, because of the quaintness of Indiana, the parade feels like the kind of parade that George Bailey would be proud of. And, like George Bailey, the parade seems somehow special and unique, despite its relative humbleness.
Following the parade is a tree lighting ceremony, complete with Christmas carols and roasted marshmallows. During the evening, many of the shops and restaurants downtown remain open late, creating a festive atmosphere throughout the entire downtown area.
After the parade, head to the old Indiana Theater in downtown for a showing of "It's a Wonderful Life."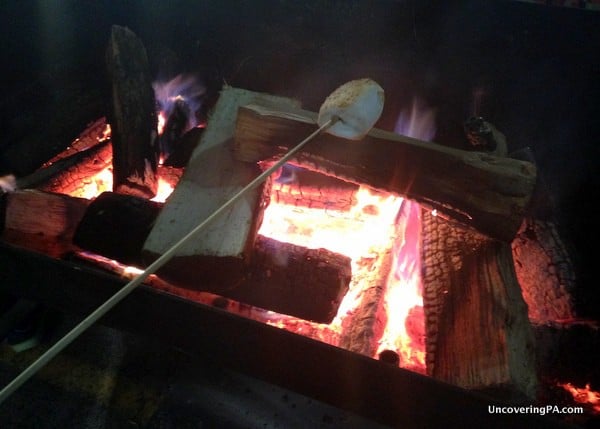 Even if you can't make it to the parade, however, visiting Indiana, Pennsylvania, at Christmastime is still worth it.
For those looking for a bit more of the "It's a Wonderful Life" inspiration, The Jimmy Stewart Museum is located in downtown Indiana. Since Stewart grew up in the town, it has always had a special connection to him, making the museum a logical extension of his legacy.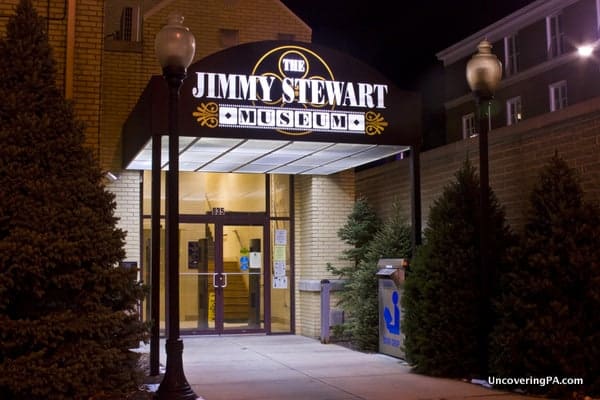 While the museum is worth visiting at any time of the year, the holiday season is a popular time thanks to the holiday decorations. It's a great place to visit for anyone that wants to learn more about the actor's life and legacy.
Even better, during the Christmas season, the museum plays "It's a Wonderful Life" on weekends in their on-site theater. Giving you the chance to see the movie while surrounded by Stewart's memorabilia.
After visiting the museum, take a stroll down Philadelphia Avenue, the main artery through the town's downtown area. All along the street are quaint, small-town shops set up with beautifully decorated windows.
You'll not only find a good meal and a great cup of coffee to keep you warm (try Caffe Amadeus), but you're also sure to find some great gifts for your family and friends.
Another great Christmastime activity in Indiana County is visiting a Christmas tree farm. Known as the self-dubbed "Christmas Tree Capital of the World," Indiana County, Pennsylvania, has 17 Christmas tree farms.
At several of the farms near downtown Indiana, visitors can not only pick and cut down their own tree, but they can also enjoy the farm's Christmas shop.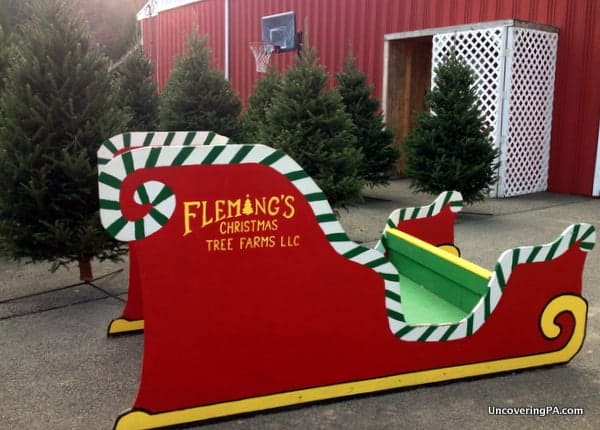 Overall, I was really impressed with Indiana, Pennsylvania, as a Christmas destination. If you are looking for a quaint town to visit this holiday season, I doubt you'll find anywhere more Christmasy than Indiana, PA.
Note: My visit to Indiana, Pennsylvania, was hosted by the local visitor bureau. However, the opinions expressed are my own.
Looking for more holiday destinations? Check out the best Christmas lights in Pittsburgh, Holiday Lights on the Lake in Altoona, and our favorite towns to visit during Christmas in PA.
If you love this classic film, check out the It's a Wonderful Life Museum in Seneca Falls, New York.
See map for other area attractions.