Disclosure: This article may contain affiliate links. We will make a small commission from these links if you order something at no additional cost to you.
Pittsburgh is a great city to visit any time of the year, but there's no question that my favorite time is in the autumn. This is, in large part, because the various elevations around the area make it possible to see peak fall colors near Pittsburgh for at least three weeks in October.
During my years of traveling PA, I've made many autumnal visits to western Pennsylvania to see some of the best fall foliage in Pennsylvania.
Here are some of my favorite places to see fall foliage near Pittsburgh, PA, including spots in every direction from the city.
When to See Fall Colors Near Pittsburgh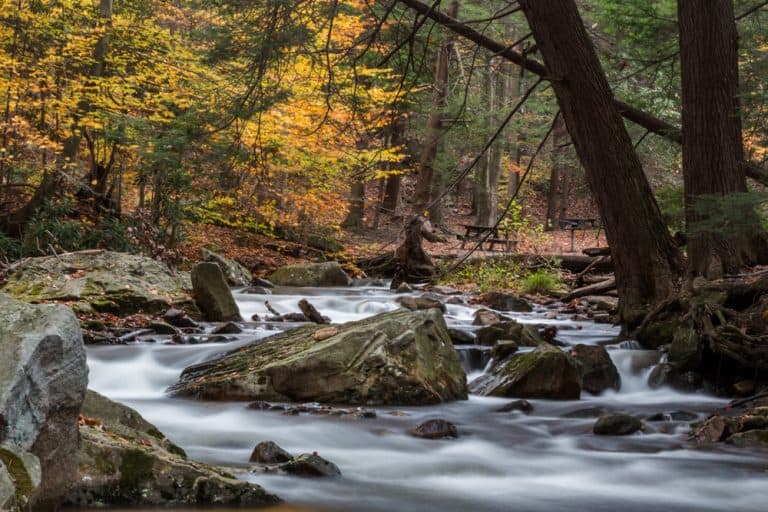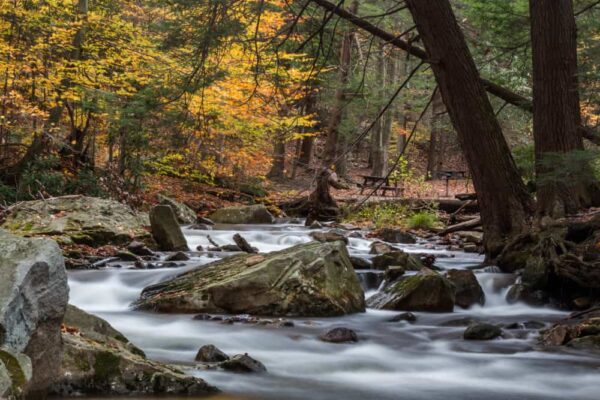 The exact timing of fall foliage season varies from year to year based on factors like temperature and precipitation. However, generally speaking, spots north and southeast of the city will peak during the second or third week of October, while spots in the city or to the south and west will peak in the third or fourth week of the month.
Keep in mind, as well, that elevation can play a factor here, too. Higher elevation spots will peak up to a week earlier than nearby spots at a lower elevation, so this means that you really can see peak fall foliage near Pittsburgh through most of October and even into November if you pick the right spots to visit.
Best Places to See Fall Colors Near Pittsburgh
McConnells Mill State Park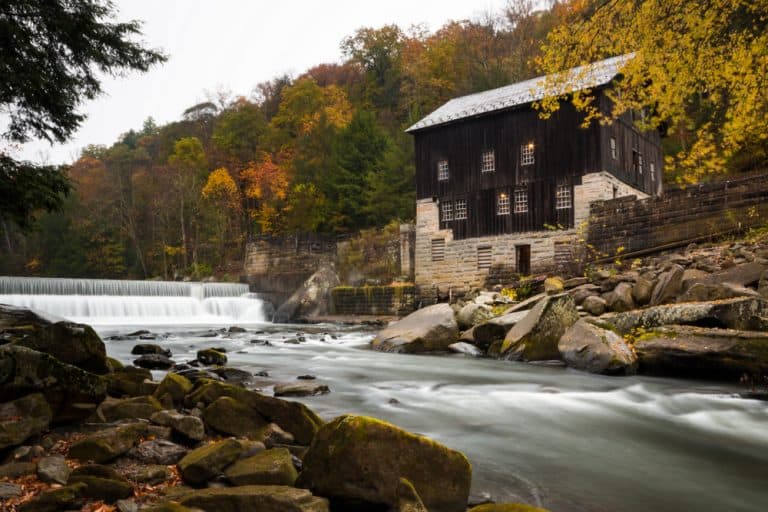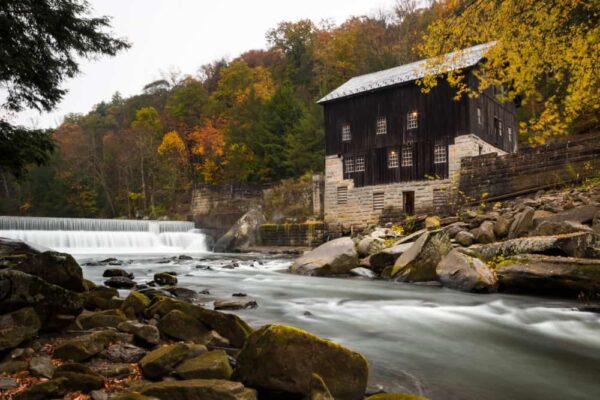 McConnells Mill State Park is located approximately one hour north of Pittsburgh and is situated in a narrow valley carved by Slippery Rock Creek. That gives the park its long and narrow shape as it primarily follows the creek.
There are many great opportunities for outdoor exploration here including a historic covered bridge and mill, several fantastic waterfalls, great rock climbing, and more.
In the fall, I like to stick to the area around the covered bridge, as well as the Slippery Rock Gorge Trail which follows the creek for over six miles.
Ohiopyle State Park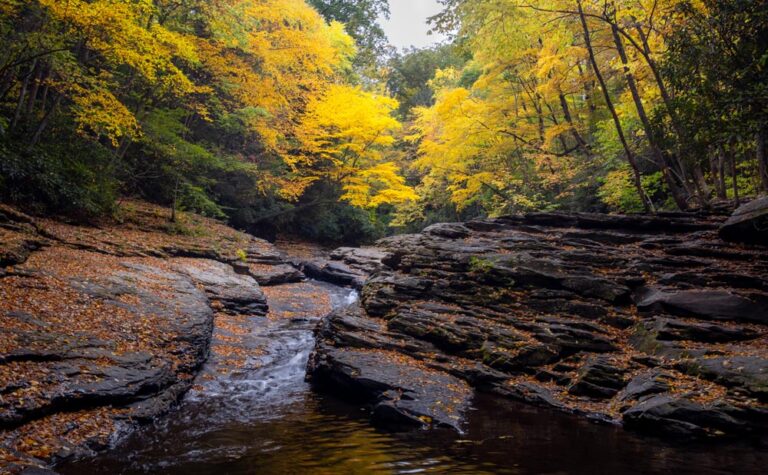 There are more than 120 state parks in Pennsylvania but few can compare with Ohiopyle State Park, which is located about 90 minutes southeast of Pittsburgh.
Ohiopyle State Park is one of the largest parks in PA and follows close to the Youghiogheny River. The highlights here are the incredible waterfalls like Ohiopyle Falls and Cucumber Falls, as well as several great vistas, and a charming small town in the center of it all.
Ohiopyle State Park tends to have peak foliage about a week or two before Pittsburgh, so it makes a great spot to visit in early to mid-October.
Mount Washington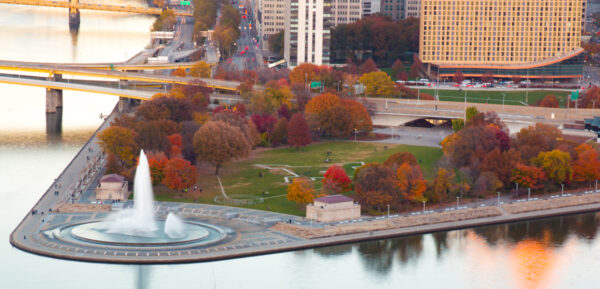 If you've spent any time in Pittsburgh, you certainly know about the incredible view from atop Mount Washington. And, if you are looking to enjoy the city bathed in fall colors, there is no better spot to visit.
Mount Washington offers views of the Pittsburgh skyline that rival those of any other natural urban vista in the world, and the forested hillsides come alive with brilliant colors during the second half of October. Combine this with the beautiful trees in Point State Park and you've got a must-visit spot to see fall colors in Pittsburgh.
Cedar Creek Park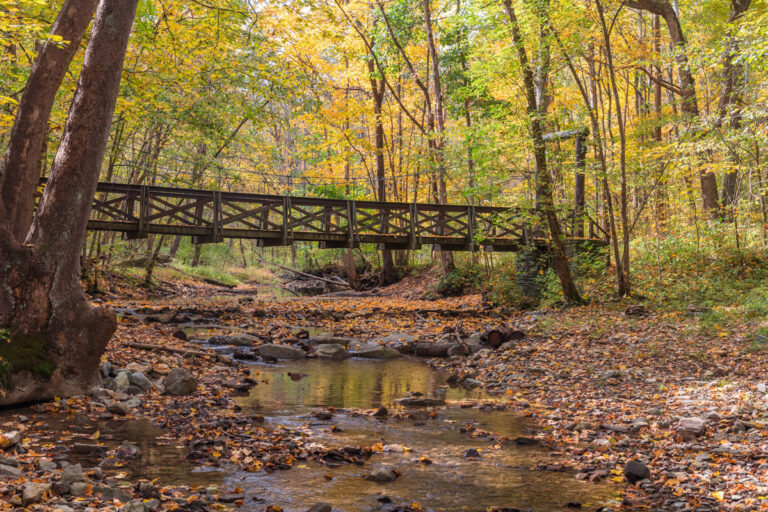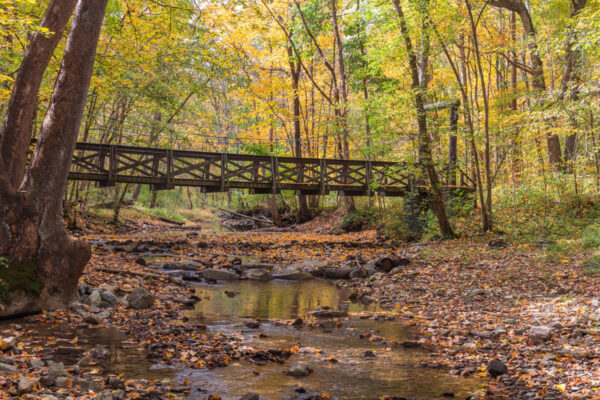 Cedar Creek Park is a park in Westmoreland County along the Youghiogheny River, less than an hour southeast of downtown Pittsburgh. If you really wanted to epic fall foliage trip, you could take your bicycle onto the Great Allegheny Passage, which passes through this park, as well as the aforementioned Ohiopyle State Park and Point State Park.
While there is a lot to do in this 500-acre park, I like to concentrate my time along the 1.5-mile trail through the Cedar Creek Gorge. This easy hike passes through an incredible woodland and features two fun swinging bridges.
There are also great views along the river for those looking for even more.
Moraine State Park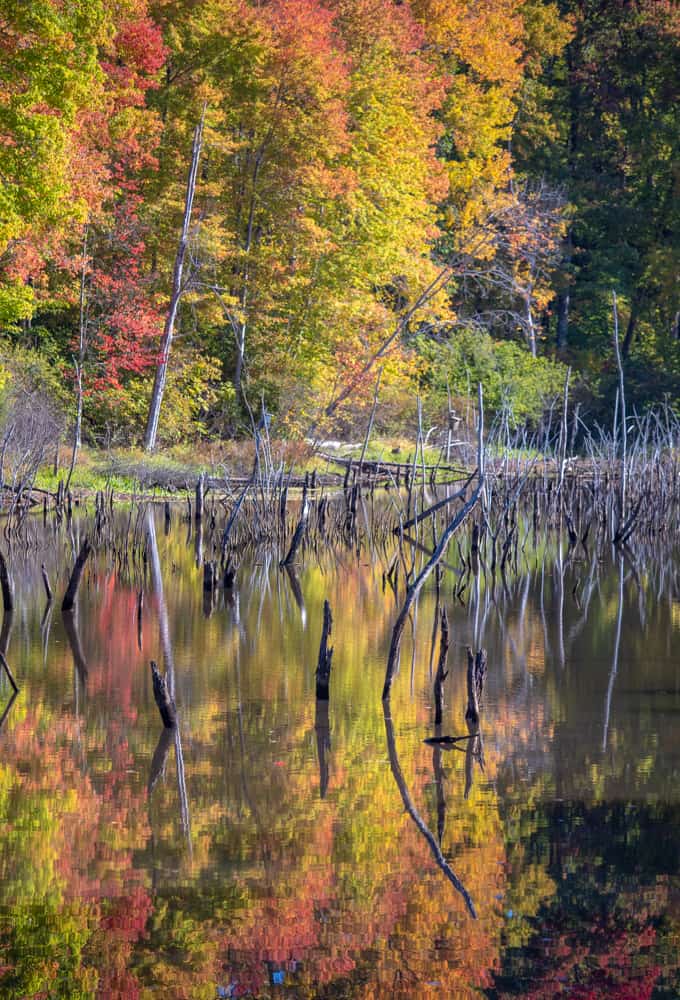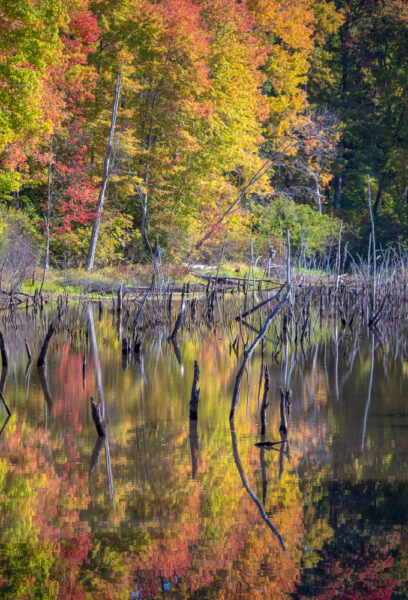 Moraine State Park is located about an hour north of Pittsburgh, just a few miles east of McConnells Mill State Park. However, while McConnells Mill is located in a narrow gorge and largely forested, Moraine State Park is centered around the massive Lake Arthur and provides a lot of variety to the outdoor experiences available.
While the trails here lack specific highlights like some other parks, they are still quite scenic, especially the Sunken Garden Trail, and are a great way to spend a bit of time on a beautiful autumn day.
Most people, however, visit the park to enjoy the lake, either on a boat or by relaxing on the shoreline, and the fall colors here do not disappoint.
Frick Park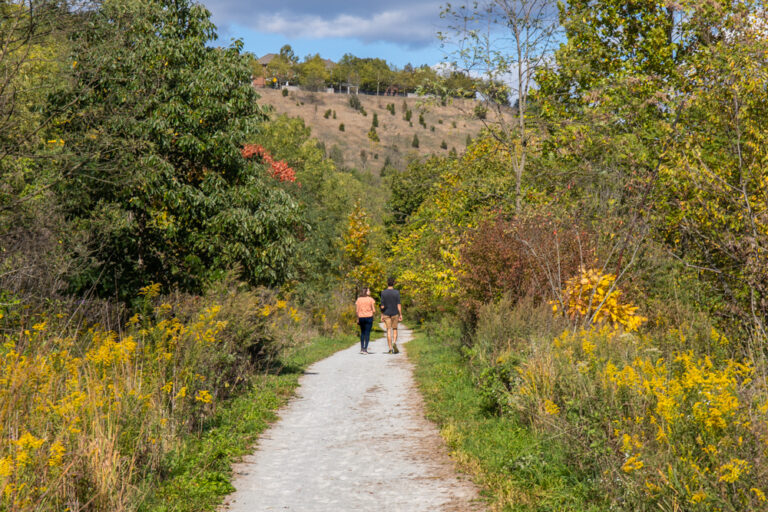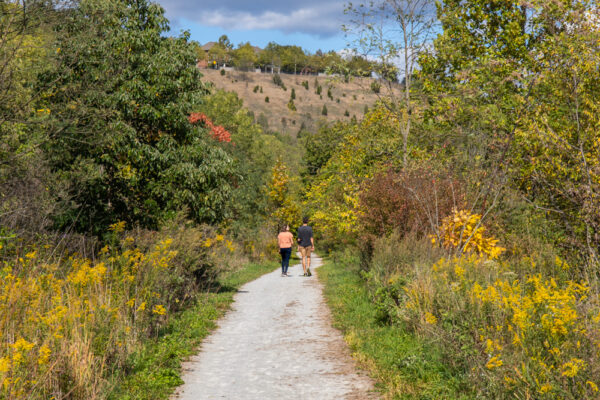 If you want to see fall colors in Pittsburgh but don't want to go far, Frick Park is an excellent choice.
Located in the city limits, Frick Park is more than 600 acres in size, which makes it the largest park in the city. That also means there are a lot of opportunities to really get away from the hustle and bustle of Pittsburgh and enjoy some outdoor recreation.
Great hikes in the autumn include the Falls Ravine Trail and the Nine Mile Run Trail.
Raccoon Creek State Park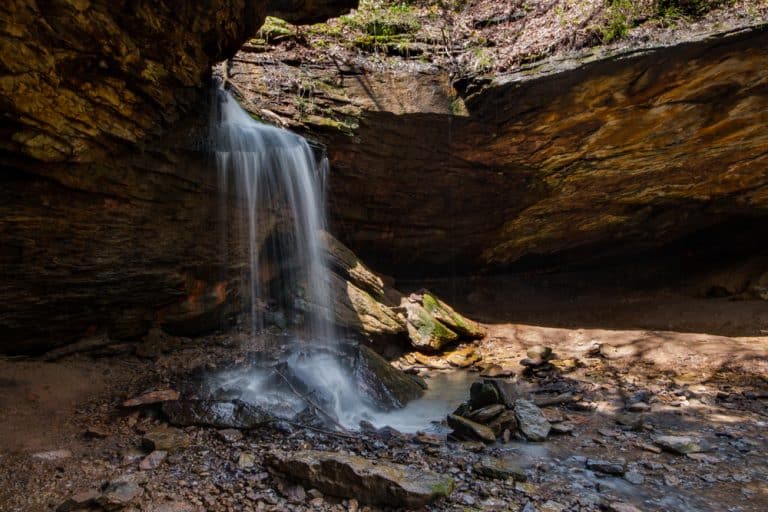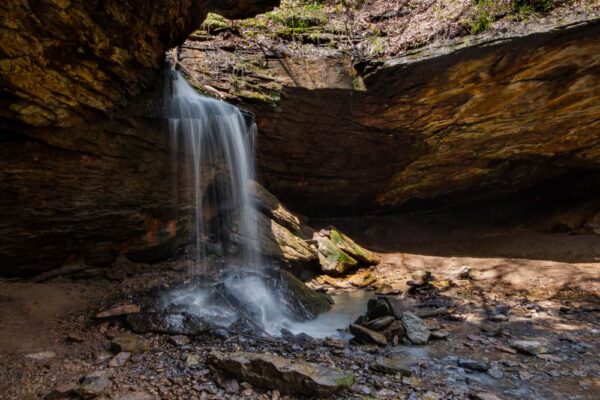 Raccoon Creek State Park is a fantastic place to explore a short distance west of downtown Pittsburgh.
This park is home to a beautiful lake, a wonderful wildflower preserve, and one of the most unique waterfalls near Pittsburgh (Frankfort Mineral Springs Falls), all of which are beautiful spots to explore in the autumn.
At 7,500 acres, there are a lot of places to explore fall foliage in the park Forest Trail and Heritage Trail making for great day hikes to experience the colors of autumn.
Quebec Run Wild Area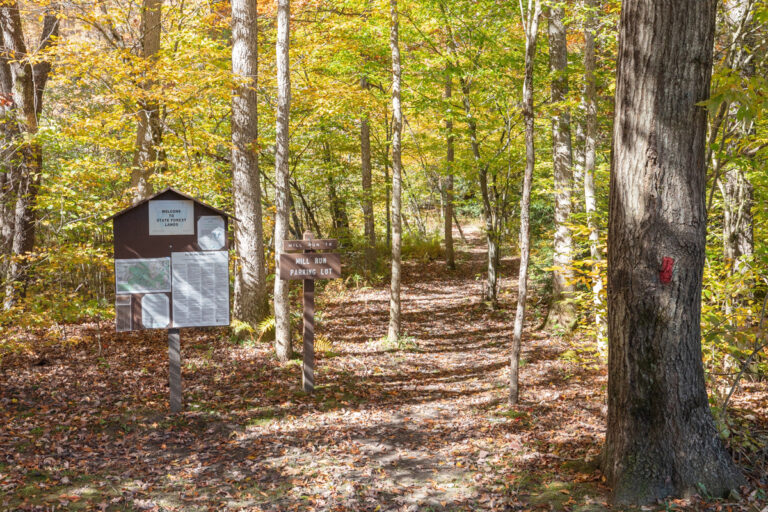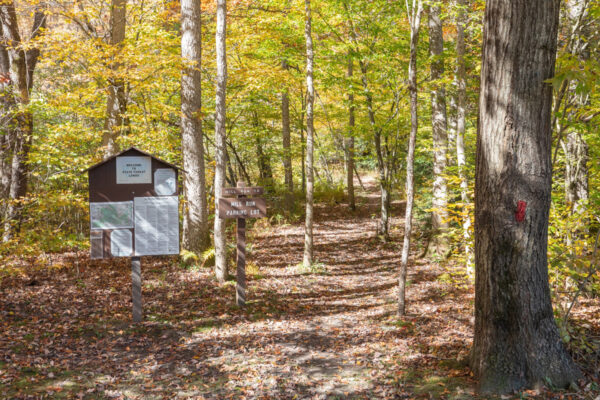 Want to really get away from the crowds this fall? Take a hike at the Quebec Run Wild Area in Fayette County.
This 7,500-acre parcel of Forbes State Forest features 25 miles of trails that interconnect. That makes this area perfect for an autumn day hike or even a backpacking trip to see fall foliage in the Laurel Highlands.
What's great about hiking here is that not only is the fall foliage fantastic deep in the woods of the Laurel Highlands, but you'll also largely have this place to yourself (I didn't see or hear anyone else during my autumn hike.)
Todd Nature Reserve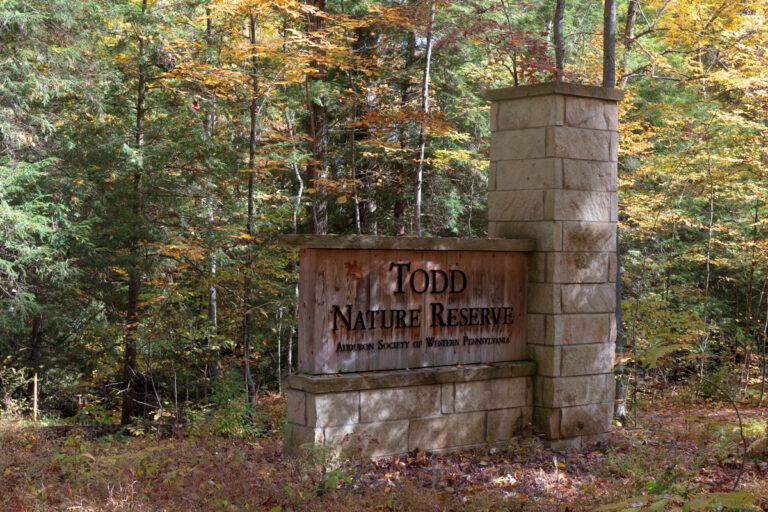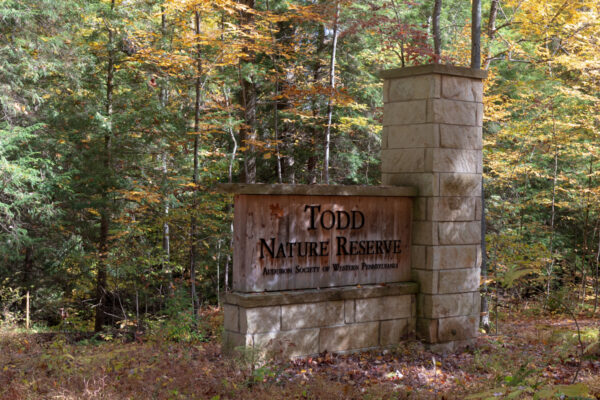 Todd Nature Reserve in southern Butler County is one of the region's most popular birding areas, but it's also a great spot to visit to see fall foliage in western Pennsylvania.
There are several great trails through the park, and it's easy to put together hikes of several miles through this woodland. Highlights of hikes here include a small waterfall, a rock outcropping, and a serene woodland that comes alive in the autumn.
Plus, if you're lucky, you might also see a great variety of bird species.
North Park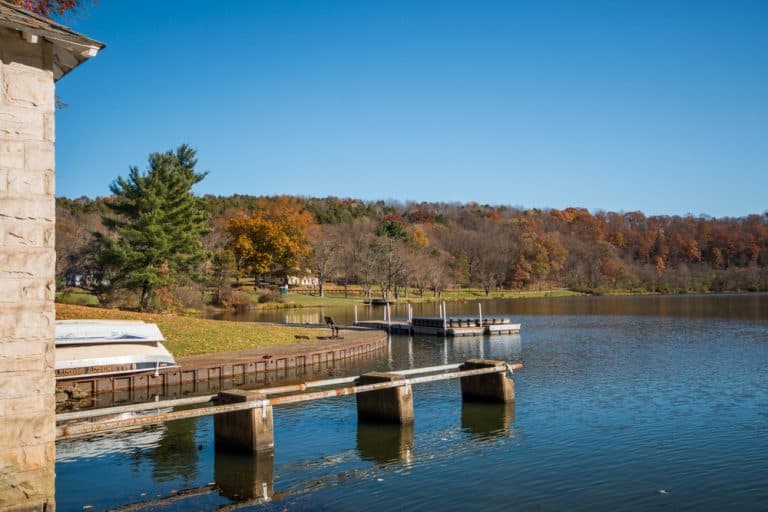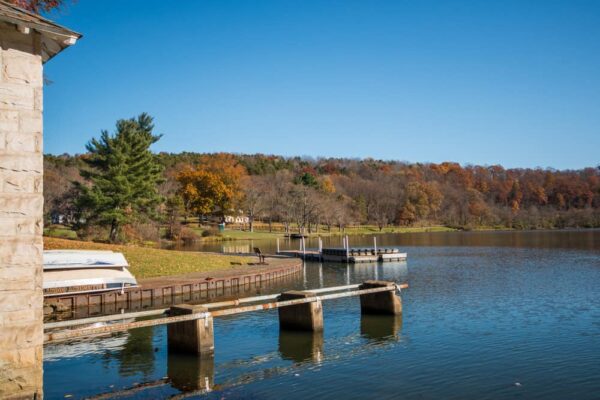 Another great spot to see fall foliage near Pittsburgh is North Park.
Located, quite appropriately, north of the city, this is the largest park in Allegheny County, which makes it perfect for exploring during fall.
There are a ton of things to see in this park, including a gorgeous lake, some fantastic wooded hiking trails, abandoned buildings, and much more. So, whether you go for a hike or simply drive through the park, you are sure to see fabulous fall colors.
Laurel Hill State Park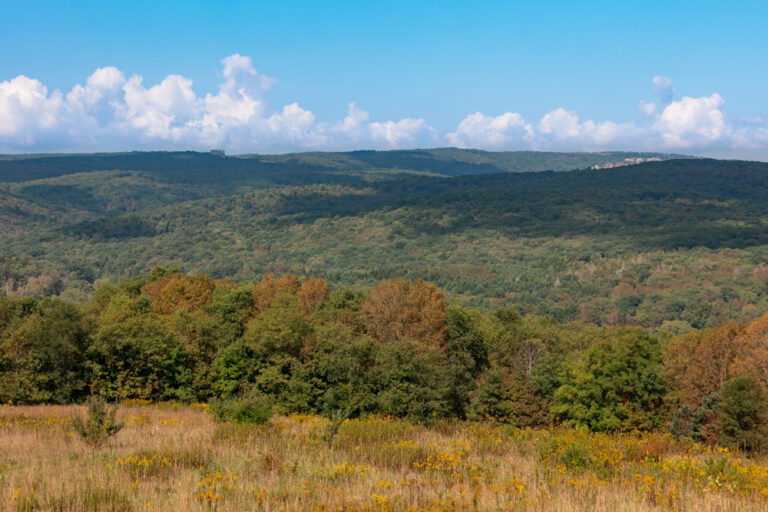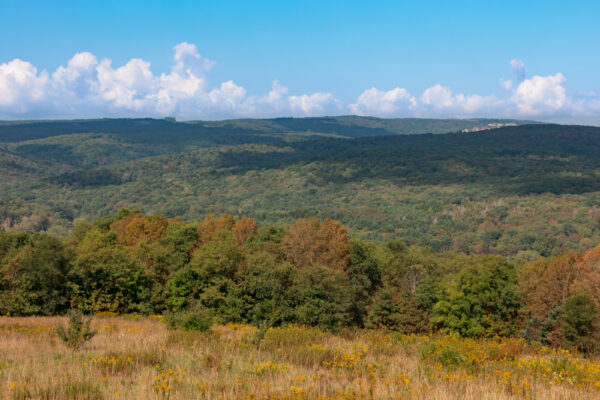 Laurel Hill State Park is the furthest spot from Pittsburgh on this list, but it's truly worth the drive if you love fall colors.
Laurel Hill State Park has more than 4,000 acres to explore, including one of the largest lakes in the Laurel Highlands. When the trees surrounding the lake are coated in fall colors, it's truly a site to behold.
One of my favorite autumn hikes is to Jones Mill Run Dam. This spot is not only historic and beautiful in its own right, but the hike to here is along incredible trails and very colorful in the fall.
And, before you leave, make sure to also take in the view from the Laurel Hill Overlook Tower.
What are your favorite places to view fall foliage near Pittsburgh, PA? Let us know in the comments below.
Looking for more things to do in western PA? Check out the best things to do with kids in Pittsburgh, Pittsburgh's top breweries, and a northwestern PA waterfall road trip.