Disclosure: This article may contain affiliate links. We will make a small commission from these links if you order something at no additional cost to you.
If you love Christmas lights, Pittsburgh is a fantastic destination. Throughout the downtown area, there are many fantastic spots to enjoy the beauty of the holiday season.
Beginning on Light Up Night on the Saturday before Thanksgiving and continuing through New Year's Day, there are many great opportunities to enjoy beautiful displays during Christmas in Pittsburgh.
Here are a few of my favorite spots in and around downtown Pittsburgh to enjoy great lights and decorations during the holiday season.
1. PPG Place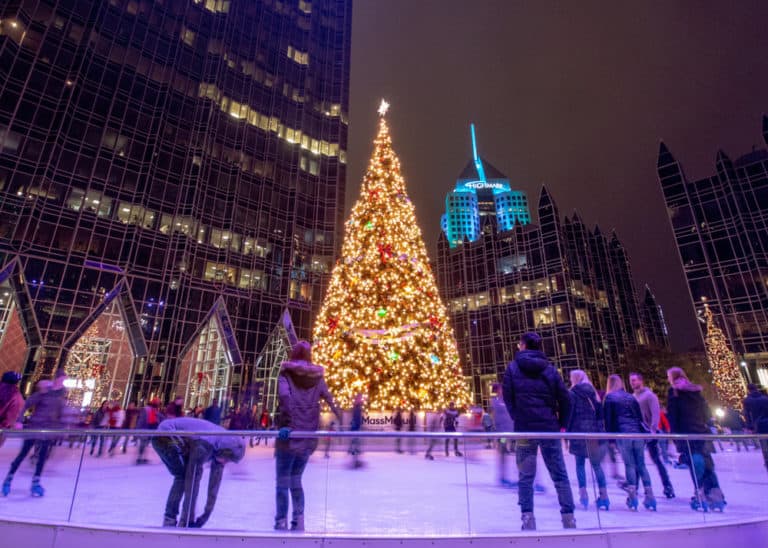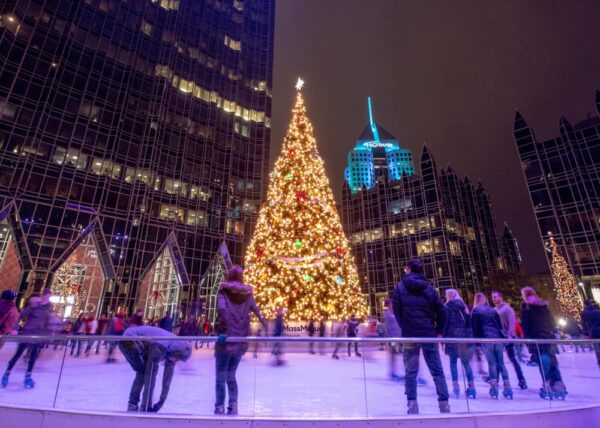 In the center of PPG Place, a brilliant black glass structure and one of the most recognizable buildings in the city, is a popular public square that is filled with festive charm.
The highlight of PPG Place's Christmas celebration is the 65-foot Christmas tree in the center of a beautiful ice skating rink. Like most city skating rinks, it's on the smaller side and often crowded, but if you want to go for a festive skate, this is the place to do it.
Of course, you can also stand on the sidelines and simply enjoy watching the skaters go by and the twinkling lights of the PPG Christmas tree in downtown Pittsburgh.
2. Spirits of Giving From Around the World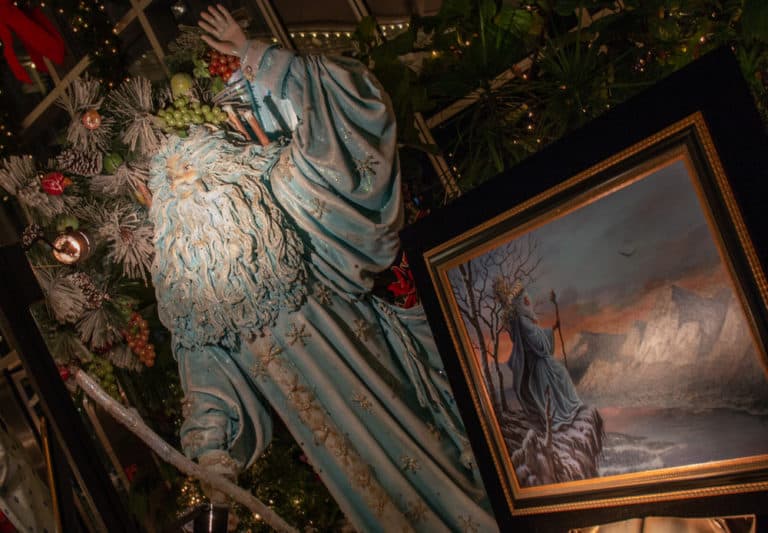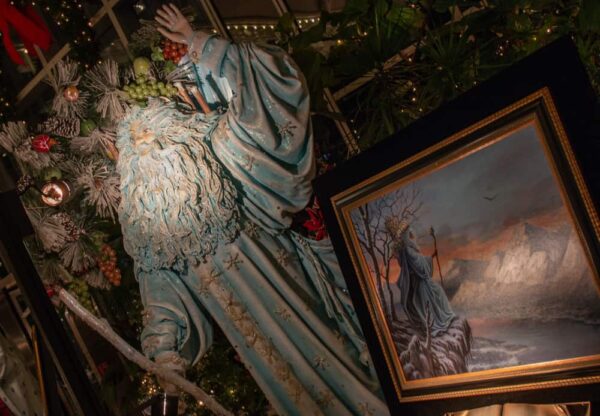 PPG Place is also home to the Spirits of Giving Around the World exhibition.
This exhibition features life-size recreations of Santa Claus-esque figures from around the world. Each display includes information about a traditional character from a culture and a brief description of them. They are then depicted in both a painting and a life-size figure.
These figures are located in the lobby of One PPG Place, as well as in the exterior windows of Two PPG Place along 4th Avenue.
This display makes PPG Place not only a great place to experience the holidays in downtown Pittsburgh but also a nice place to warm up on a chilly evening.
3. Unity Tree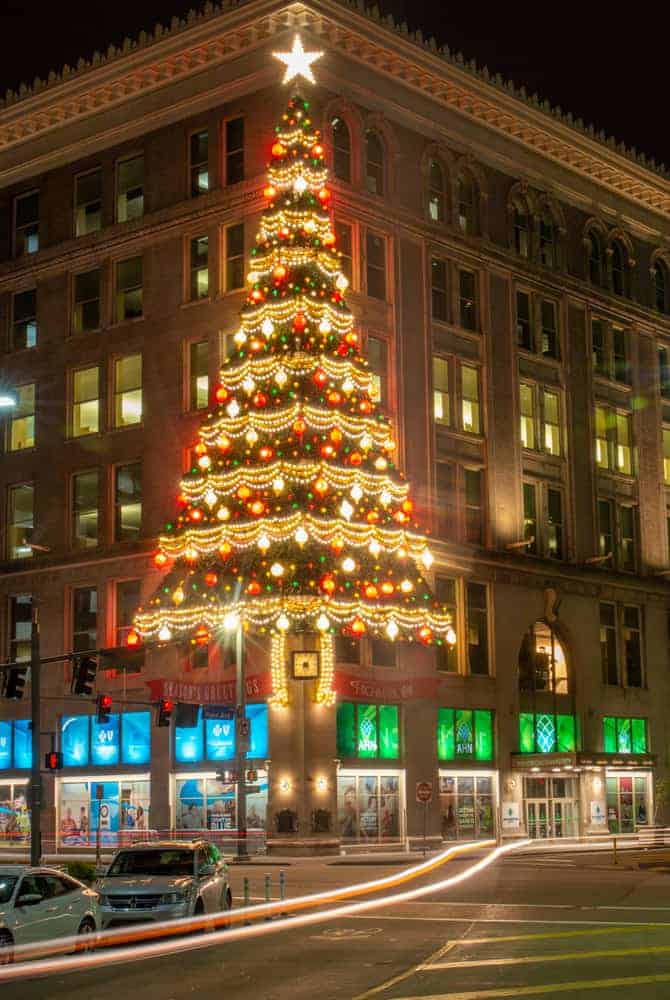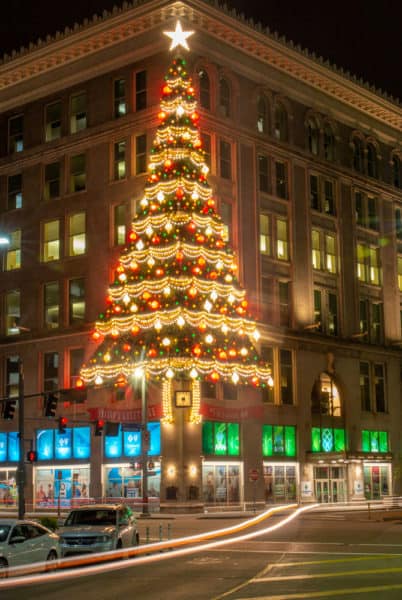 The Unity Tree, better known to locals as the Horne's Tree because it graces the former Horne's Department Store Building, might be my favorite spot for Christmas lights in Pittsburgh.
This unique tree adorns the corner of the Horne Building at the intersection of Stanwix Street and Penn Avenue in the heart of downtown Pittsburgh. This 6-story tree covers both sides of the building's corner, creating one of the most interesting holiday displays in Pennsylvania.
If you have a chance to be in Pittsburgh for Light Up Night, I highly recommend checking out the tree lighting here because it's the only tree that's lit with its own fireworks show.
4. Holiday Market in Market Square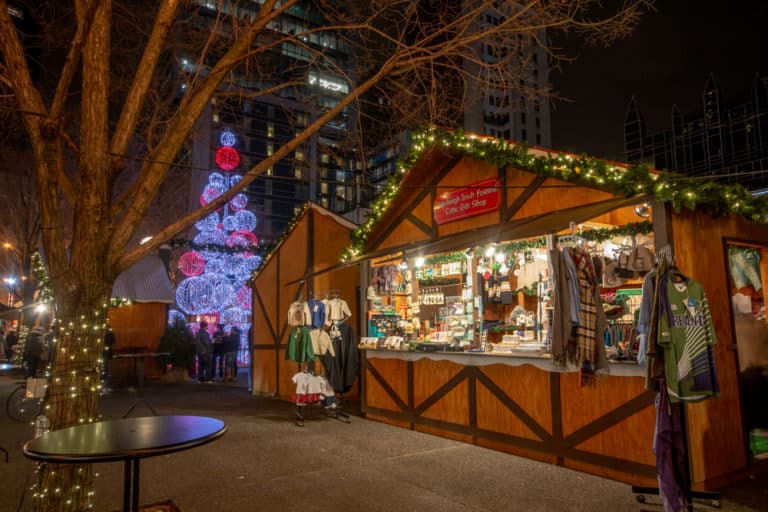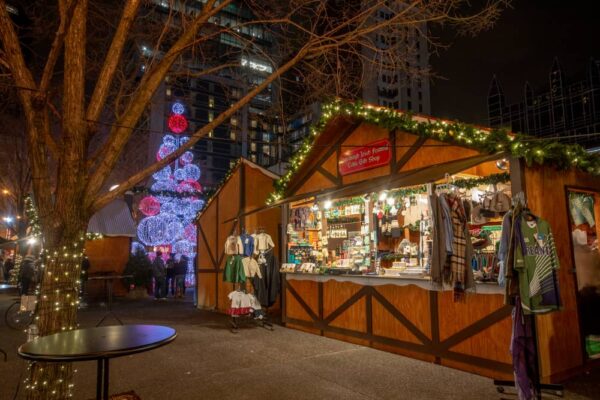 If you're looking for Christmas gifts, there are few better places to visit in Pittsburgh than the Holiday Market in Market Square. Featuring dozens of vendors who rotate out throughout the season, this German-style Christmas market offers everything from delicious foods to authentic European Christmas decorations and handmade gifts.
Held from November 18-December 24 for the 2022 season, the Holiday Market also features live entertainment, photos with Santa, and a unique Christmas tree.
5. Winter Flower Show at Phipps Conservatory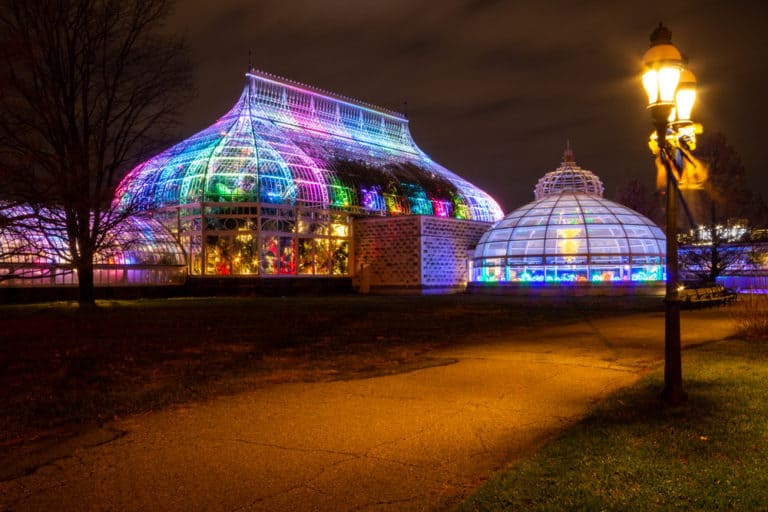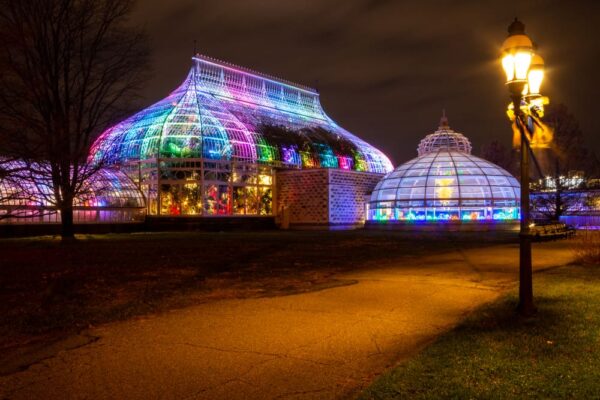 The Winter Flower Show at Phipps Conservatory and Botanical Gardens in Oakland is one of the region's best light displays. Whether you visit during the day or at night, there's a lot to see here from beautiful flowers to incredible lights.
However, even though you can see some lights during the day, this spot really comes to life in the evening as tens of thousands of lights are lit both within and outside the conservatory.
Even if you don't go inside, the light show that occurs on the exterior of the building is worth taking the time to experience if you want to see some of the most beautiful Christmas lights in Pittsburgh, PA.
6. Tree at the City-County Building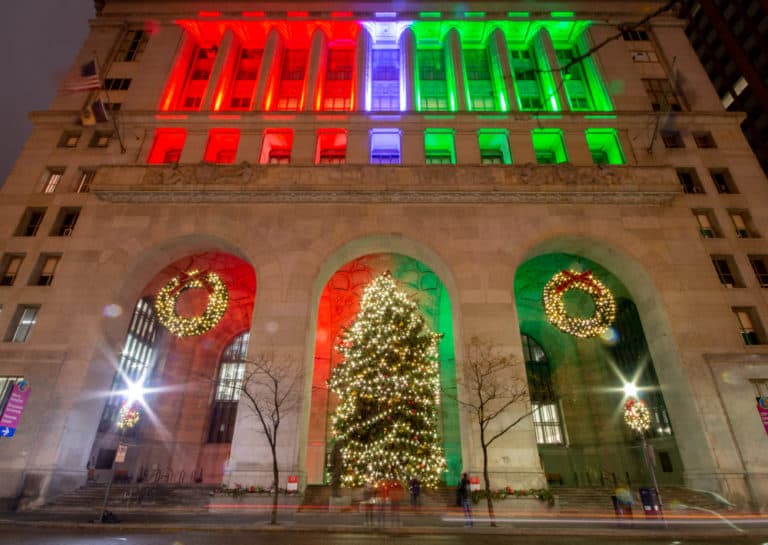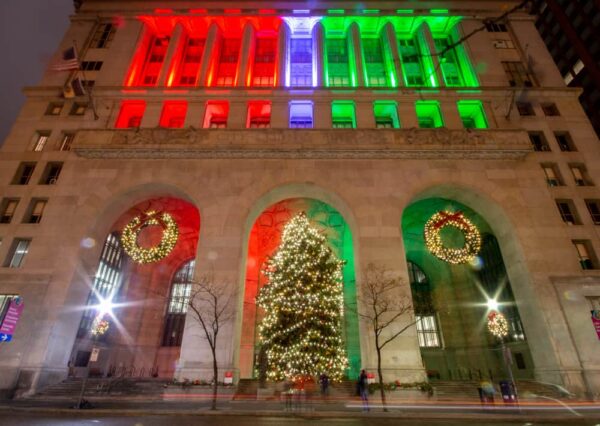 Continuing a more than 100-year tradition, the City-County Building lights a beautiful Christmas tree in downtown Pittsburgh. At approximately 60 feet in height, the tree here is always one of the largest in the city.
In addition to the tree, the building is adorned with festive green and red Christmas lights making this one of the most festive buildings in downtown Pittsburgh.
7. Pittsburgh Crèche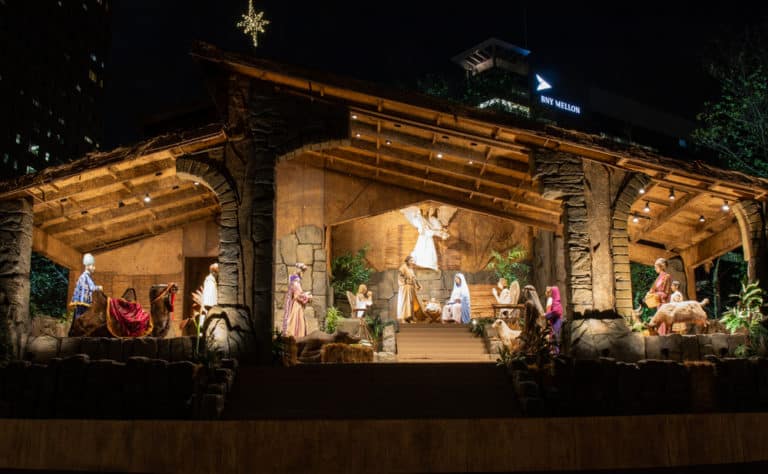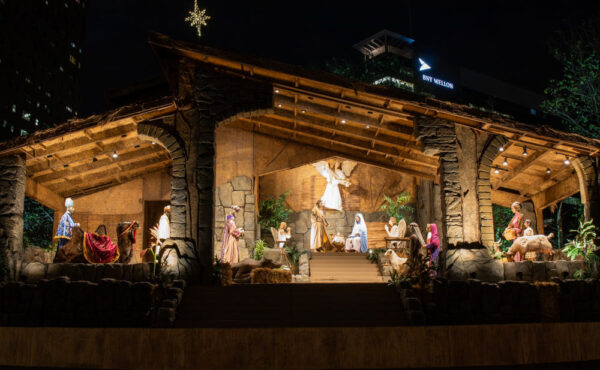 The Pittsburgh Crèche is a large nativity scene located in the plaza below the U.S. Steel Tower. On display every year since 1999, the Pittsburgh Crèche is the only authorized replica of the nativity scene at St. Peter's Cathedral in Vatican City.
This is likely the largest nativity scene you've ever seen at 64 feet across and 42 feet in height. All told, there are 20 large figurines in the Crèche including Mary, Joseph, and baby Jesus.
8. Christmas Tree at the Point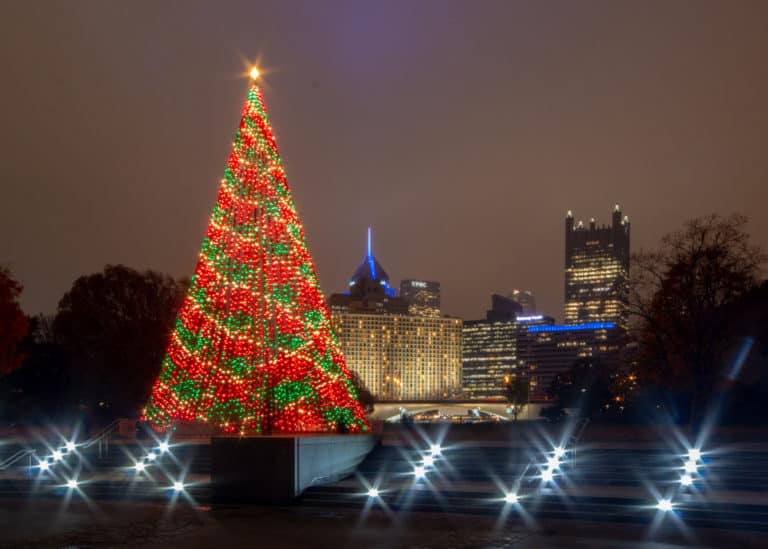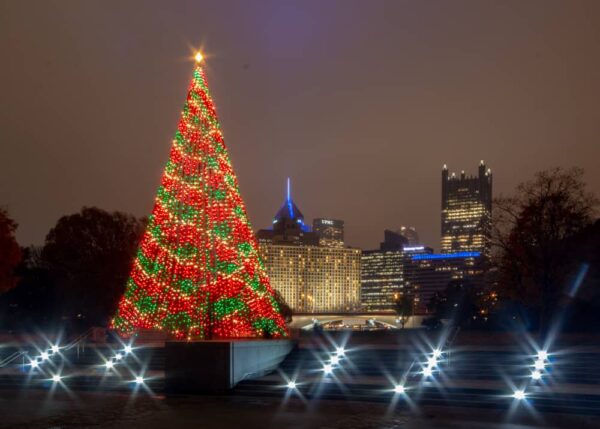 Note: There is no tree in Point State Park in 2022. However, I've been told that it should return in 2023.
The Christmas tree in Point State Park might be the most photographed holiday lights in Pittsburgh. That's because this tree is visible in nearly any photograph taken from popular spots like Mount Washington and the West End Overlook.
This beautiful tree isn't a tree at all, but rather a collection of string lights around a metal pole. Nevertheless, this festive decoration is one of the most beautiful spots in Pittsburgh during the holiday season.
9. Holiday Pop-Up Bars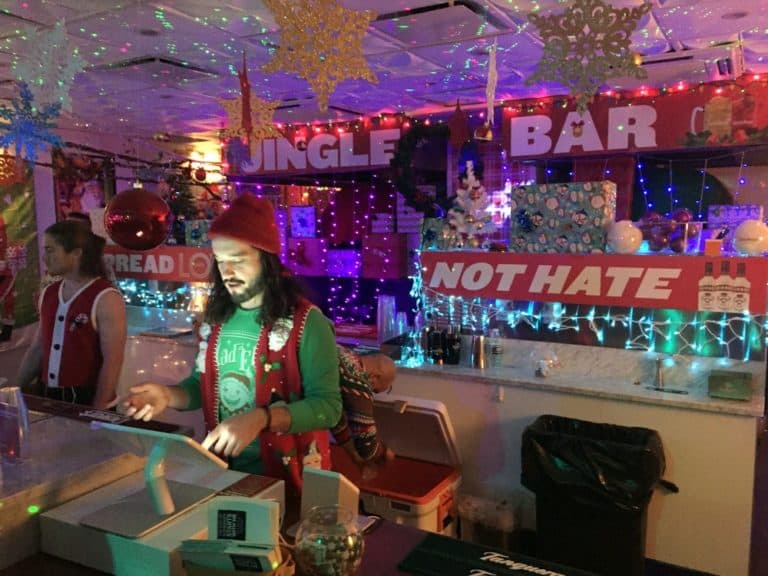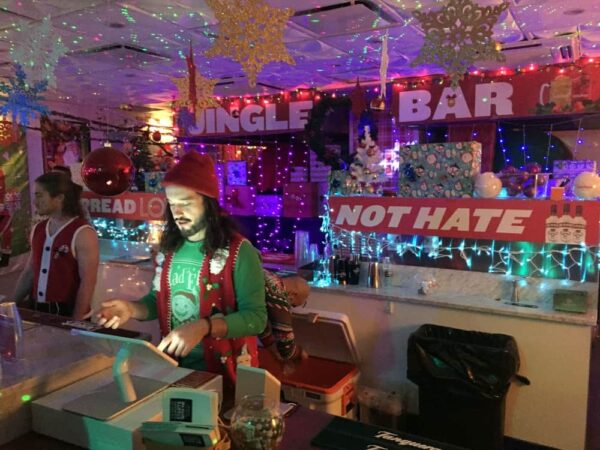 If you want to get a drink with a bit of festive charm, you are in luck. Downtown Pittsburgh is home to four Christmas-themed pop up bars.
While the most popular of these is undoubtedly Miracle on Liberty, it's always packed, so instead, I decided to check out Jingle Bar.
Walking into Jingle Bar feels like walking into a tackily decorated Christmas present (in a positive way, of course). Decorations are heavily scattered throughout the bar, and all the people working there are adorned in festive attire.
The drinks here are on the pricey side, and while they have festive names and ingredients, they are somewhat underwhelming.
Nevertheless, if you are looking for a festive drink in Pittsburgh, don't miss these pop-up bars as they offer a fun and unique atmosphere that's worth experiencing.
10. The Cathedral of Learning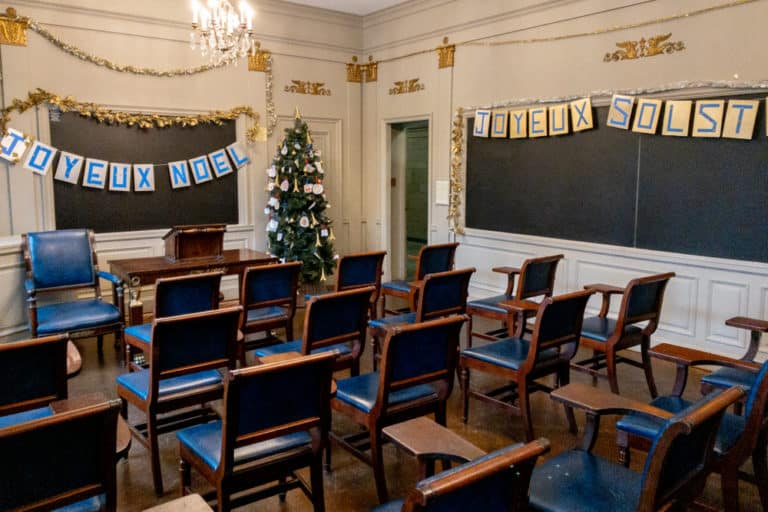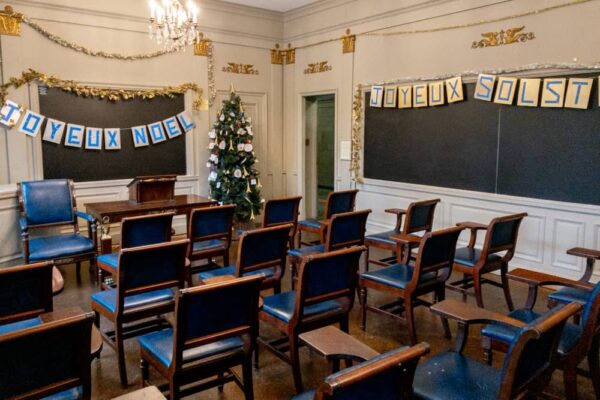 (Note: The Cathedral of Learning will be offering an in-person Holiday Open House from 12-4pm on December 4, 2022.)
If you are wanting to experience the best of Christmas in Pittsburgh, don't miss the great displays in the Nationality Rooms at the Cathedral of Learning on the campus of the University of Pittsburgh.
The 31 National Rooms on the building's first and third floors have been designed to showcase the history and culture of country's that have been impactful on the immigrant story of the city. During the holiday season, many of the rooms are adorned with holiday decorations that represent how that country celebrates Christmas and the holiday season.
Even better, there are also some incredible decorations in the public areas of the building that you won't want to miss.
11. Christmas Tree at Heinz Field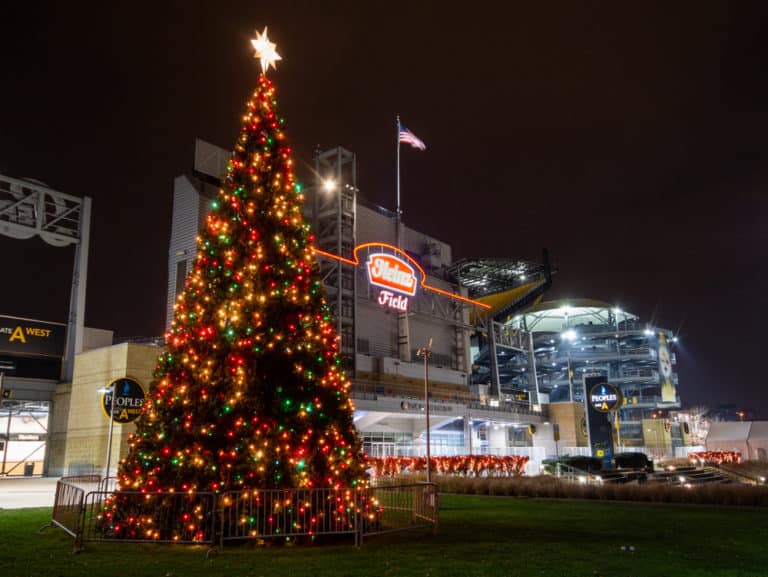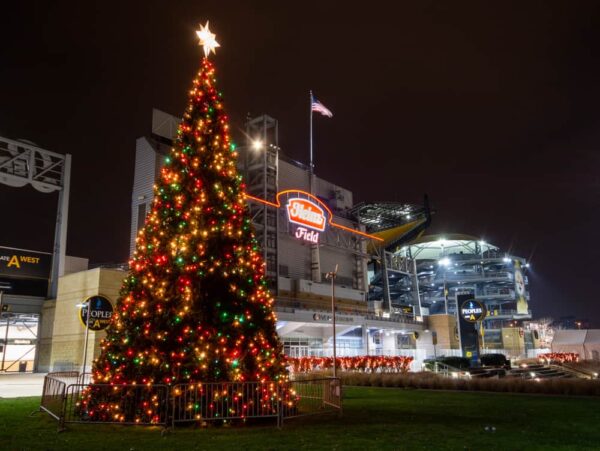 While it's on the North Shore and not downtown, the tree outside of Heinz Field is easily one of the most beautiful places to see Christmas lights in Pittsburgh. This tall tree is easily visible from North Shore Drive, or you can walk up for a better look.
Truthfully, the entirety of Heinz Field is quite beautifully adorned with lights and is worth checking out during the holiday season in Pittsburgh.
What's your favorite spot to experience Christmas in Pittsburgh? Let us know in the comments section below.
Looking for more great things to do during Christmas in Pennsylvania? Check out our top picks in Philadelphia, Bethlehem, Lancaster, and Harrisburg. Or take the short drive up to Kraynak's Christmas in Hermitage, Shadrack's Christmas Wonderland in Butler County, Christmas Light Up Celebration in Clinton, and Overly's Country Christmas near Greensburg.
And, if you're looking for something to do that's not really holiday season-related, visit the Western Pennsylvania Model Railroad Museum for one of their open houses.