Disclosure: This article may contain affiliate links. We will make a small commission from these links if you order something at no additional cost to you.
I've checked out many drive-through holiday lights in PA over the years, but for several reasons, the Christmas Light Up Celebration in western Allegheny County is among my favorites.
The Christmas Light Up Celebration is set up in Clinton Community Park in Clinton, PA, which is just a few miles from the Pittsburgh International Airport and about 30 minutes west of downtown Pittsburgh.
The Christmas Light Up Celebration has been held annually since 1993 and continues to grow in size. All of the money made from this event is donated to charity, which means you can enjoy some festive holiday lights and support some great local causes.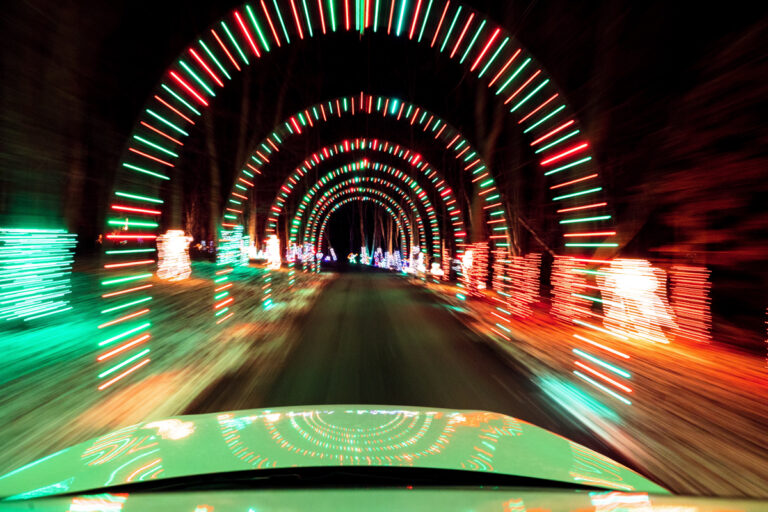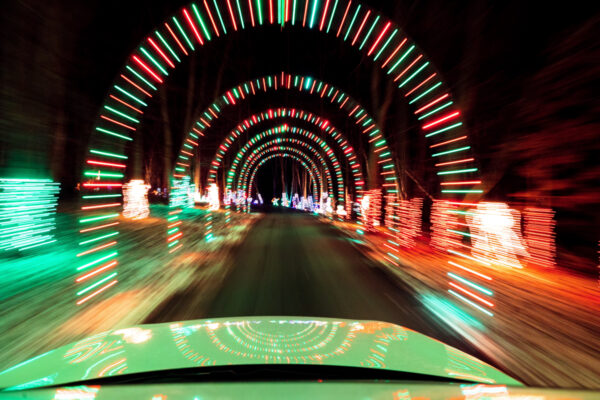 The best part though is that at only $10 per car (Cash only), this is seriously one of the best bangs for your buck if you are looking to see Christmas lights in PA.
The one-mile driving route through Clinton Community Park starts near the park's entrance along Route 30 (Lincoln Highway). If you visit on a less popular night, it might be easy to miss the entrance, so make sure to keep an eye out. If you visit on a busy night, there will likely be many other cars turning into the park.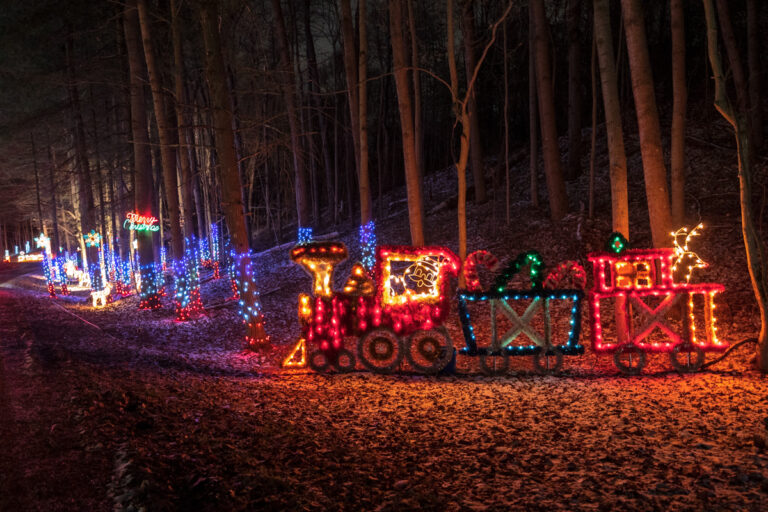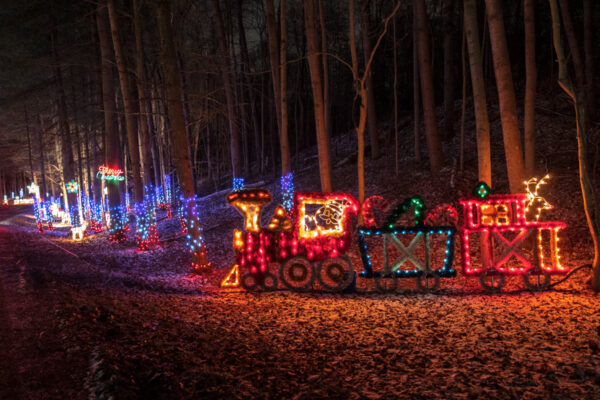 As with all holiday light shows, this one can get quite busy, especially on Saturday nights and on all nights the closer you get to Christmas. If possible, visit early in the season and on a weeknight. I visited on opening night (the Saturday after Thanksgiving) about an hour after it opened, and there was no line to get in, but this is likely because that Saturday night coincides with Light Up Night in downtown Pittsburgh.
Another benefit of visiting on a slow night is that they might let you drive through a second time for free. While this is never guaranteed, if there is no line, and you want to go through the lights again, just ask before paying, and they may let you. This is always up to the discretion of the volunteers, so be aware that they might say no.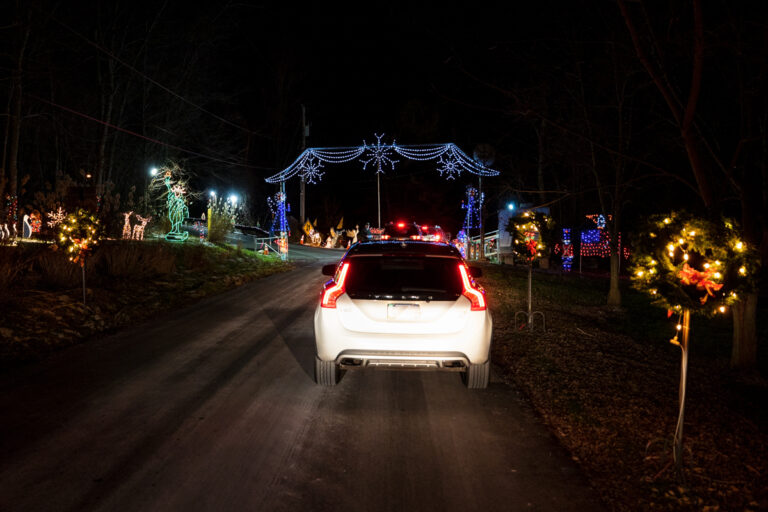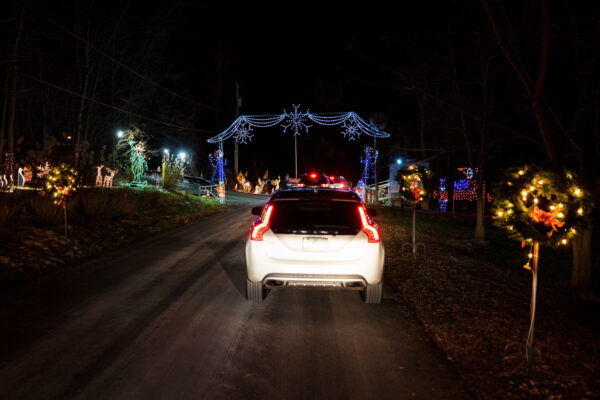 The driving route through the lights is a circle and starts and ends at the same spot. Interestingly, you pay on your way out. Again, make sure you have $10 in cash with you.
The light displays at the Christmas Light Up Celebration in Clinton are really well done and fall into three main groups: static light displays, moving lights, and lit wooden cutouts. These are all well done and the diversity of displays really makes this a neat spot.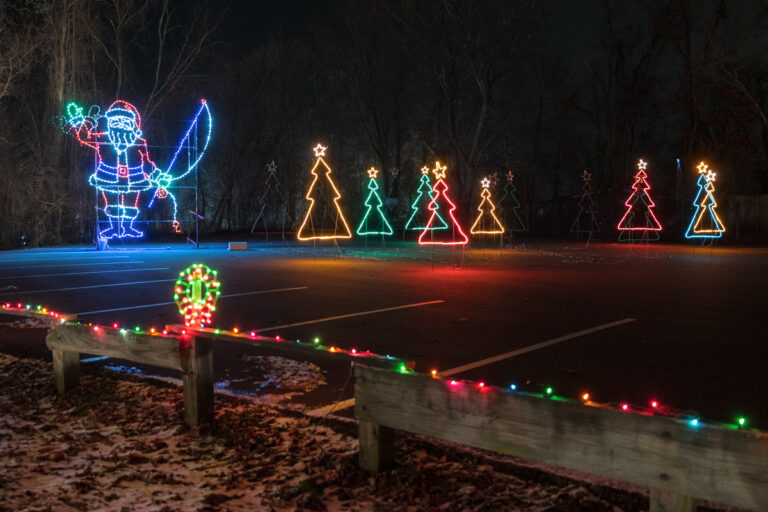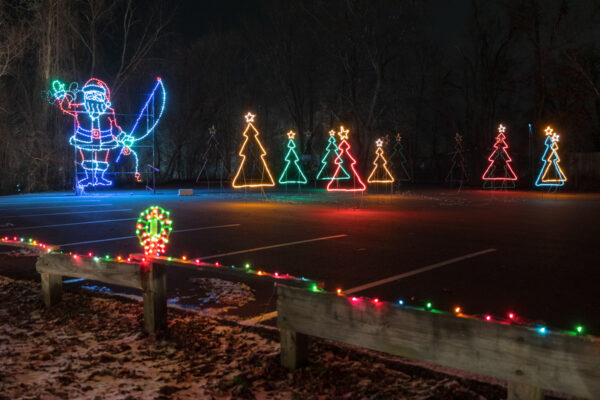 Obviously the most popular, especially with kids, is the moving displays, which tell stories through lights that turn off and on. While these are only a small portion of the lights here, they are really well done and numerous enough that you aren't far from them at any time.
The static light displays are also very nicely done, especially because much of the display area is along a wooded road. Trees are wrapped up to about 4-5 feet off the ground and many other lights are placed in and around the woods, creating some really magical scenes.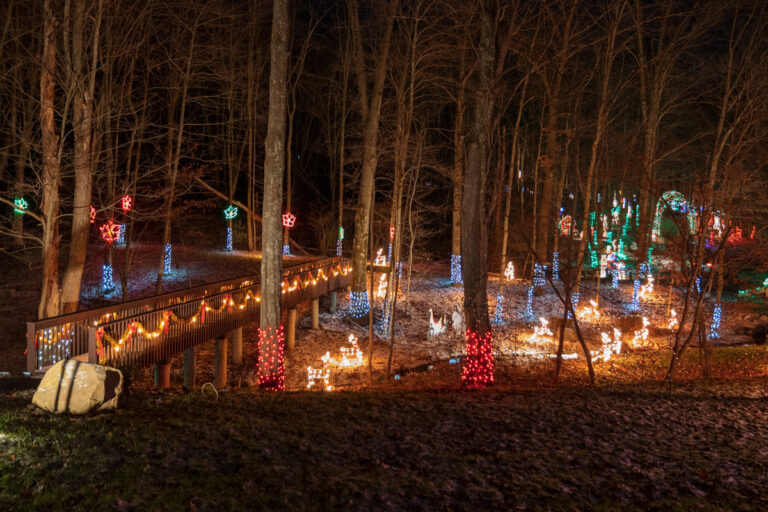 For me, these areas were the best parts of the display and were quite different from the types of scenes you see at other drive-through displays in western PA, such as Shadrack's Christmas Wonderland north of Pittsburgh.
The static wooden displays are also very well done and can be found throughout the space. I especially enjoyed the wooden carollers on the park's stage!
That being said, the large Noah's Ark setup struck me as a bit out of place for a Christmas light show, even though it was very well done and rather impressive in size.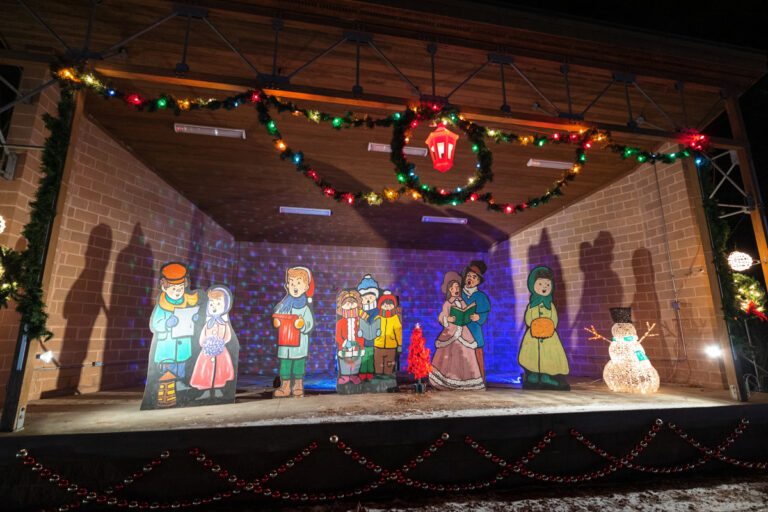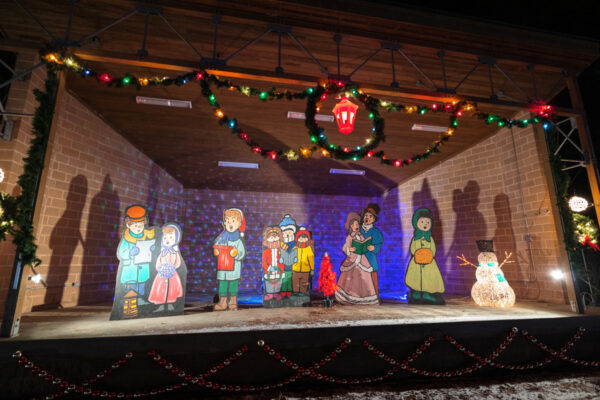 It is worth noting that, compared to many of the other light displays I've visited around PA, there are a relatively large number of religious lights and displays here. While it's only a small portion of the display, it was something that my wife and I both noticed. Obviously, whether this is a positive or a negative is up to you.
Another neat feature of this display was the Christmas trees near the end.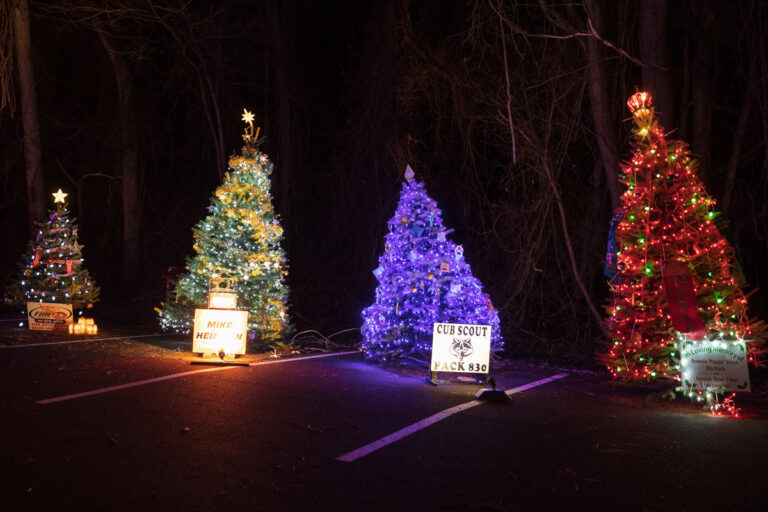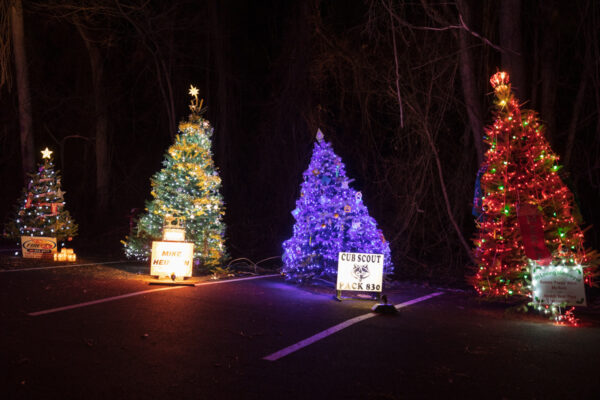 As you reach the end of the show, right before the aforementioned Noah's Ark, you'll see dozens of Christmas trees decorated either by businesses or by local residents, often in memory of a loved one. The diversity of these trees was really fun to see as each is decorated uniquely.
I would have loved to have been able to get out for a closer look at each tree, but obviously, for safety reasons, you must stay in your car.
While I really loved the Christmas Light Up Display, if I had one criticism, it would be the music setup.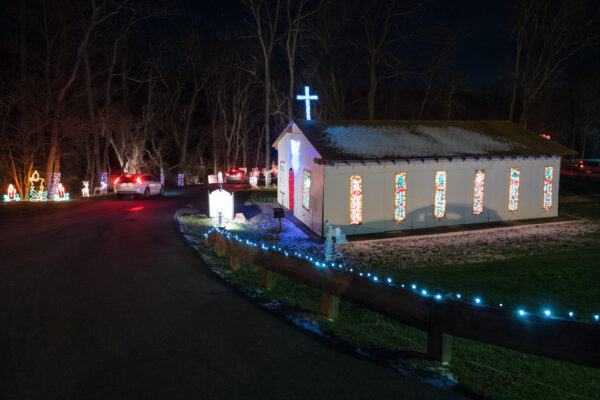 Like many other holiday-season light shows, Christmas Light Up Celebration has its own music. However, the music here isn't run through a radio station. Instead, it's pumped through speakers along the route.
This means that in some places, the music is quite loud, while in other places, you can barely hear it. It also means that you have to drive with your windows open if you want to hear the supplied music.
That being said, none of the lights here are synched to the music, so you could bring your own holiday music and enjoy the display without missing anything. Just note that if you listen to other music but keep your windows open, your music will likely be overpowered every few minutes by the speakers.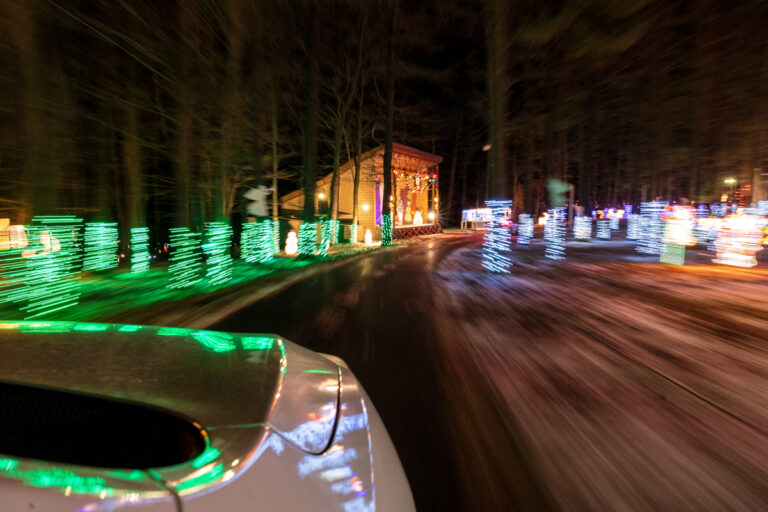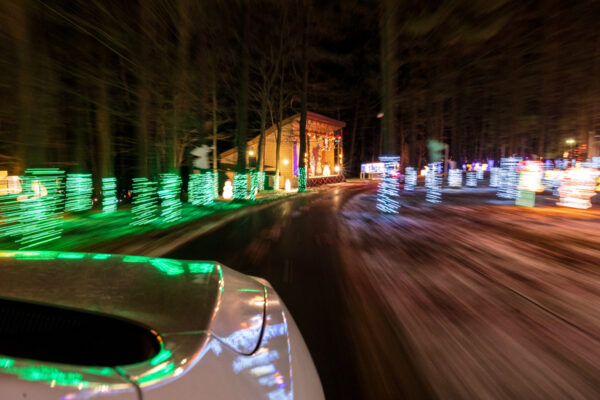 Ultimately, though, that's just a minor critique, and overall, I can't say enough about the Christmas Light Up Celebration. The display here is among the best I've seen in western PA, and, given that many other light displays in PA cost $30-50 per car, the $10 entrance fee makes this a fantastic deal.
If you are looking for something Christmasy to do in PA and are anywhere near Allegheny County, this is a light display I highly recommend.
Looking for even more things to do nearby? Check out Frankfort Mineral Springs Falls, the covered bridges of Washington County, and Overly's Country Christmas.
---
Christmas Light Up Celebration
Hours: Daily: 5p-10p
Open 11/19/22 – 1/1/23

Cost: $10 per car
CASH ONLY

Website: Facebook.com

Address: 600 Clinton Park Dr
Clinton, PA 15026
See map for other area attractions.
---