Disclosure: This article may contain affiliate links. We will make a small commission from these links if you order something at no additional cost to you.
Pennsylvania is home to many incredible things to do at Christmastime, and, some of the best are the drive-through Christmas light displays scattered throughout the state.
These displays are great because you can see these lights from the comfort, safety, and warmth of your car while listening to festive Christmas music.
Here are some of the best drive-through Christmas displays in Pennsylvania to enjoy this holiday season.
(Note: These displays can get quite crowded, especially on weekends and close to Christmas. I recommend either visiting as soon as they open in the evening or visiting on a weeknight early in the season, if possible. Many are also open for a few days after Christmas.)
Hershey Sweet Lights in Hershey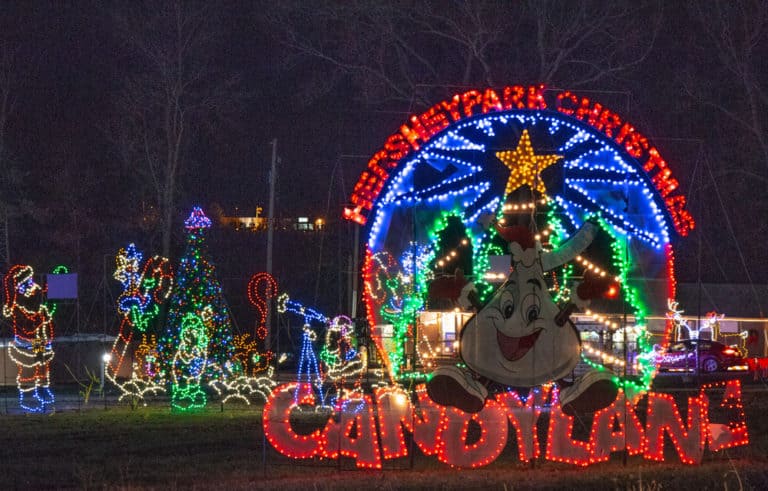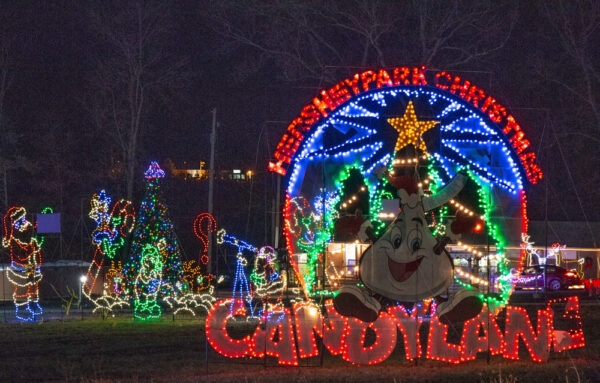 Located in Hershey, PA, Hershey Sweet Lights is a festive drive-through Christmas display that you won't want to miss.
Open to the public since 2003, Hershey Sweet Lights features a two-mile driving path behind the Hotel Hershey and is close to other holiday attractions in Hershey, including Hersheypark's Christmas Candylane. It is said that the display contains over two million lights, making it one of the largest Christmas light displays in Pennsylvania.
Holiday Lights on the Lake in Altoona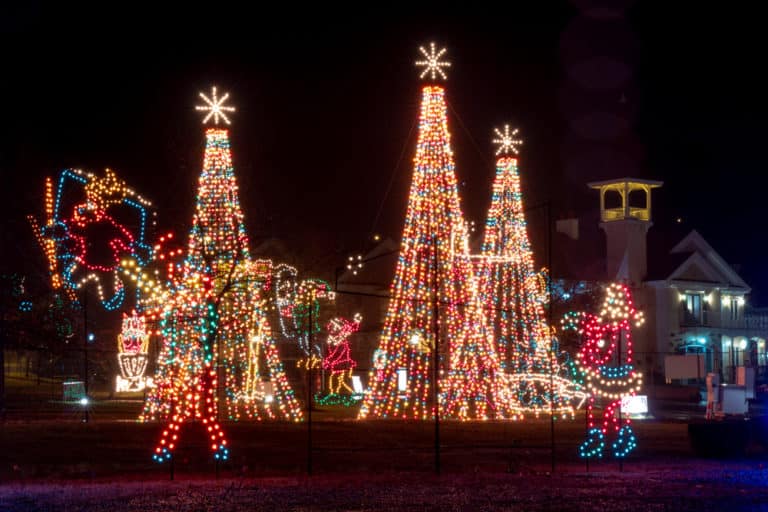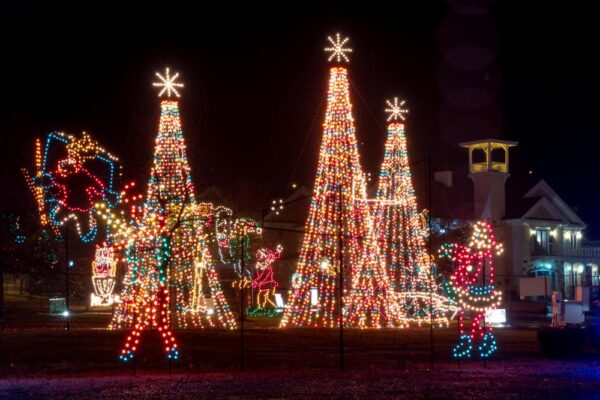 Holiday Lights on the Lake in Altoona's Lakemont Park has been delighting Central PA residents for more than two decades.
This 50-acre display features an incredible number of lights scattered around fields and on some of the park's most popular rides. Here, you can see festive holiday scenes that are sure to delight the entire family.
Even better, nearly every bit of space is filled with lights, but it's done in such a way that it isn't overwhelming.
Shadrack's Christmas Wonderland in Butler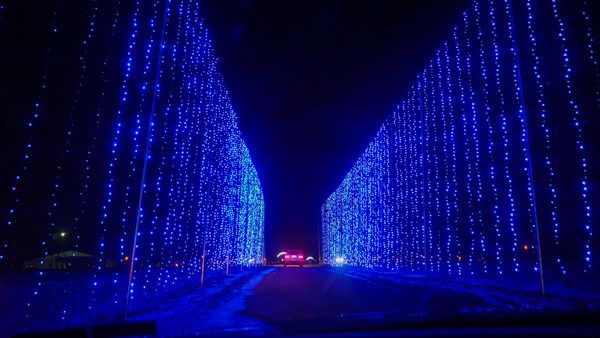 Shadrack's Christmas Wonderland is located on the Butler Fairgrounds in western Pennsylvania.
This light display is actually one of seven Shadrack displays in the United States. However, even though this isn't a locally-owned Christmas attraction, it's still a great display to visit if you are looking for drive-through Christmas lights near Pittsburgh.
Shadrack's display is more than two miles long, half of which is choreographed to music you can listen to through your radio. One highlight is the 300-foot light tunnel that you can drive through along the course.
Joy Through the Grove at Knoebel's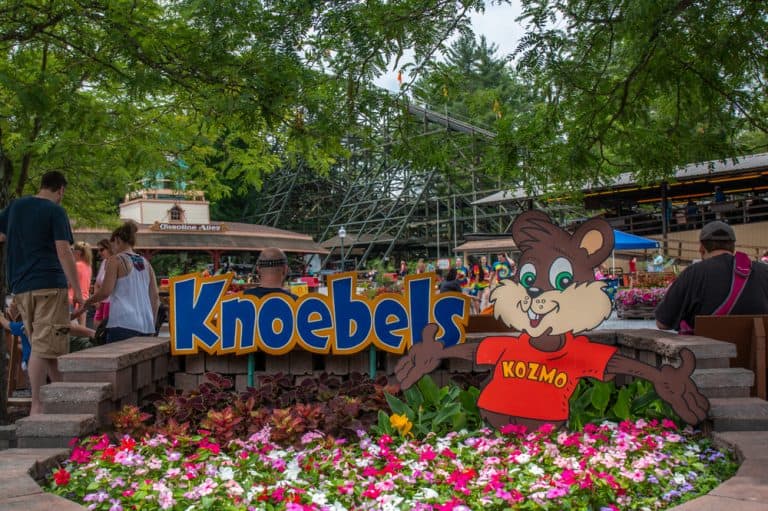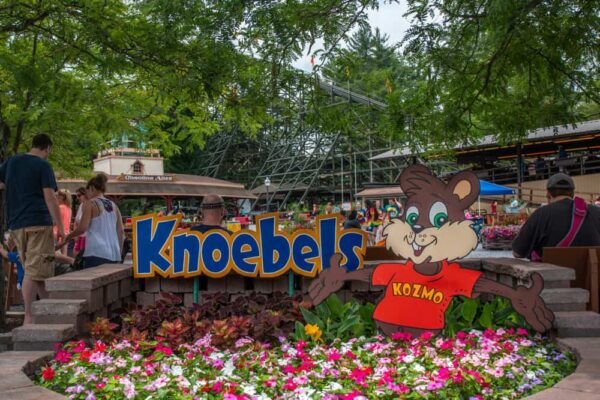 New in 2020, Knoebel's Amusement Park has opened their park to a drive-through attraction known as Joy Through the Grove.
While the park's rides aren't open, visitors can drive through the park and the adjacent campground to see more than 400 festive light displays.
In addition to the drive-through display, there will also be a Christmas Village where you can get out and visit Santa's workshop, buy a Christmas tree, or try a selection of Knoebel's famous food.
Overly's Country Christmas in Greensburg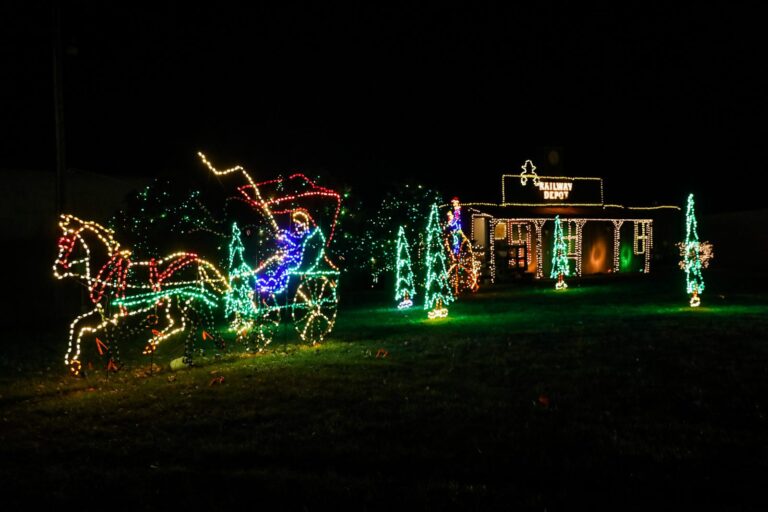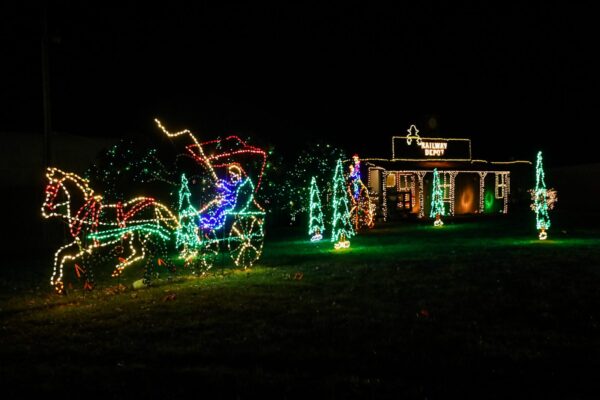 Overly's Country Christmas at the Westmoreland County Fairgrounds near Greensburg, one of the most festive towns in Pennsylvania, has been a popular local attraction since the 1960s. And, while it's normally a walk-through attraction, they are changing it to a drive-through attraction for 2020.
They have expanded and changed the layout for this year to accommodate cars and to provide a beautiful display for those that love Christmas lights. Along the way, you can wave to Santa, try to spot the Grinch, and listen to beautiful Christmas Carols.
Dutch Wonderland Holiday Lights in Lancaster
While Dutch Wonderland in Lancaster is usually open at Christmastime, they will be closed this year. Fortunately, you can still enjoy some fun at their new Holiday Lights drive-through display.
Located at the nearby Old Mill Steam Campground, this 1.5-mile display features hundreds of thousands of beautiful lights that you can see from the comfort and safety of your car.
After seeing the lights, you can stop at Dutch Wonderland's castle for some treats, visits with Santa, and even a train ride.
Shadybrook Farm's Holiday Light Show in Yardly
Located in Bucks County, Shadybrook Farm's Holiday Light Show is a popular Christmas attraction near Philadelphia.
Their light show features more than three million lights, making it among the largest light displays in the state. Visitors can either drive through the display or take a wagon ride through it.
In addition to the drive-through display, there is also a walk-through area, visits with Santa, campfires for smores, and more.
Zoo Lights in Pittsburgh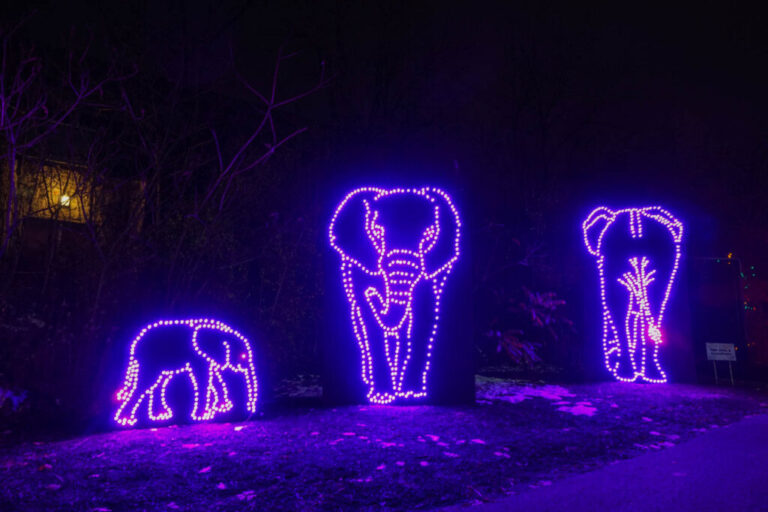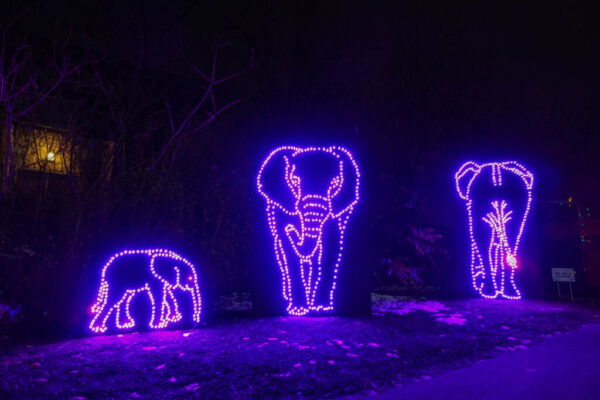 New in 2020, Zoo Lights will be filling the Pittsburgh Zoo with a lot of festive cheer.
Visitors are led around the display with a self-guided audio tour, which you can listen to here if you want to get a taste of the experience before you go. While you are driving around, you won't just see many beautiful lights, but you'll also see special guests, like Daniel Tiger, and might even see some of the zoo's real animals.
Holiday Light Spectacular in Scranton
Every holiday season, Scranton's Nay Aug Park comes to life with their Holiday Light Spectacular.
This is one of the few free admission drive-through Christmas light shows in Pennsylvania (though donations are accepted).
In the park, there are more than 100 light displays and tens of thousands of lights set up to go along with Christmas music you can listen to on your radio. You can also drop off letters for Santa at his mailbox or visit with him on select nights.
In addition to the free light display, there are also a few paid activities including horse-drawn carriages, tractor-pulled hayrides, and concessions.
The Miracle on South 13th Street in Philadelphia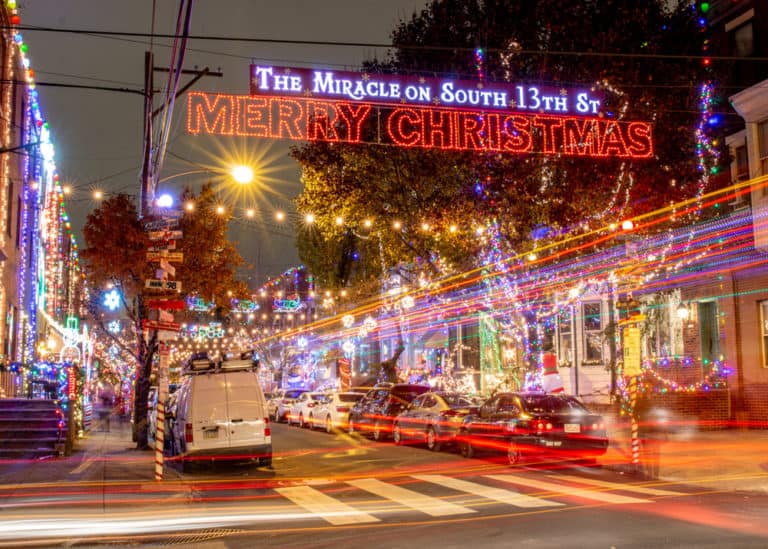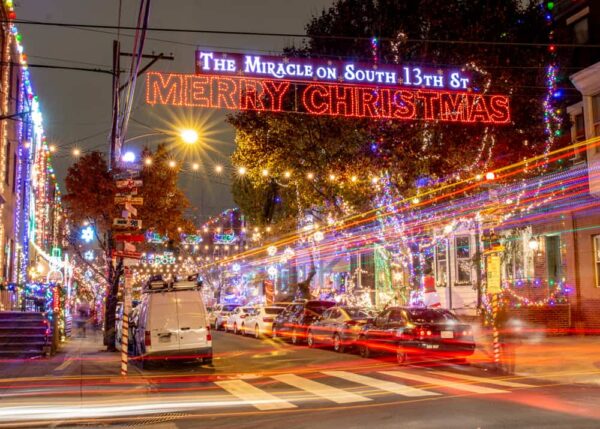 Another great free holiday display is the Miracle on South 13th Street in Philadelphia.
While this display is the shortest drive-through display (it's only a block long) there are tens of thousands of lights decorating nearly every house on the block. There are also interactive elements, window displays, and more.
Without a doubt, this is one of the best things to do at Christmastime in Philadelphia.
Holiday at Burgess in Titusville
The largest park in the northwestern PA community of Titusville comes alive every year with the Holiday at Burgess display.
This drive-through display features many fun and whimsical displays including reindeer, toys, and more scattered throughout the park. Lights are placed around both the park's pond and playground ensuring a lot of beauty for those in this corner of Pennsylvania.
Christmas Spirit Light Show in Lancaster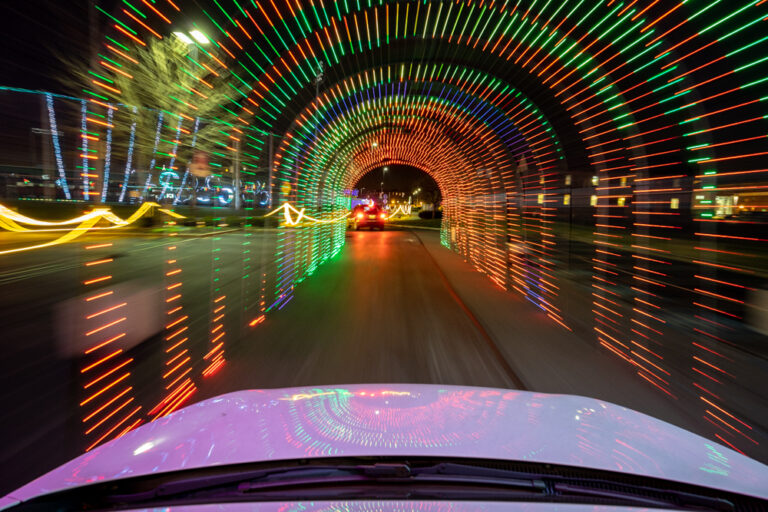 Located around Clipper Magazine Stadium near downtown Lancaster, the Christmas Spirit Light Show is one of the best things to do at Christmas in Lancaster.
Drive through a holiday wonderland that's a mile long, past many festive scenes, and through several tunnels. Even better, many of the lights are synchronized with the display's music, which adds a lot of fun to the show.
Presque Isle Lights in Erie
Presque Isle State Park in Erie is one of Pennsylvania's best parks, and in 2020, they are lighting up the park for a free drive-through Christmas light display.
Known as Presque Isle Lights, this event is new this year and features light displays scattered all along the 13-mile road through this park in northwestern PA. Lights and scenes will be set up throughout much of the park so you are sure to enjoy many beautiful displays in a unique setting.
Also, keep an eye out for the beautiful nighttime skyline of downtown Erie while driving through the park after dark.
Herr's Christmas Light Display in Nottingham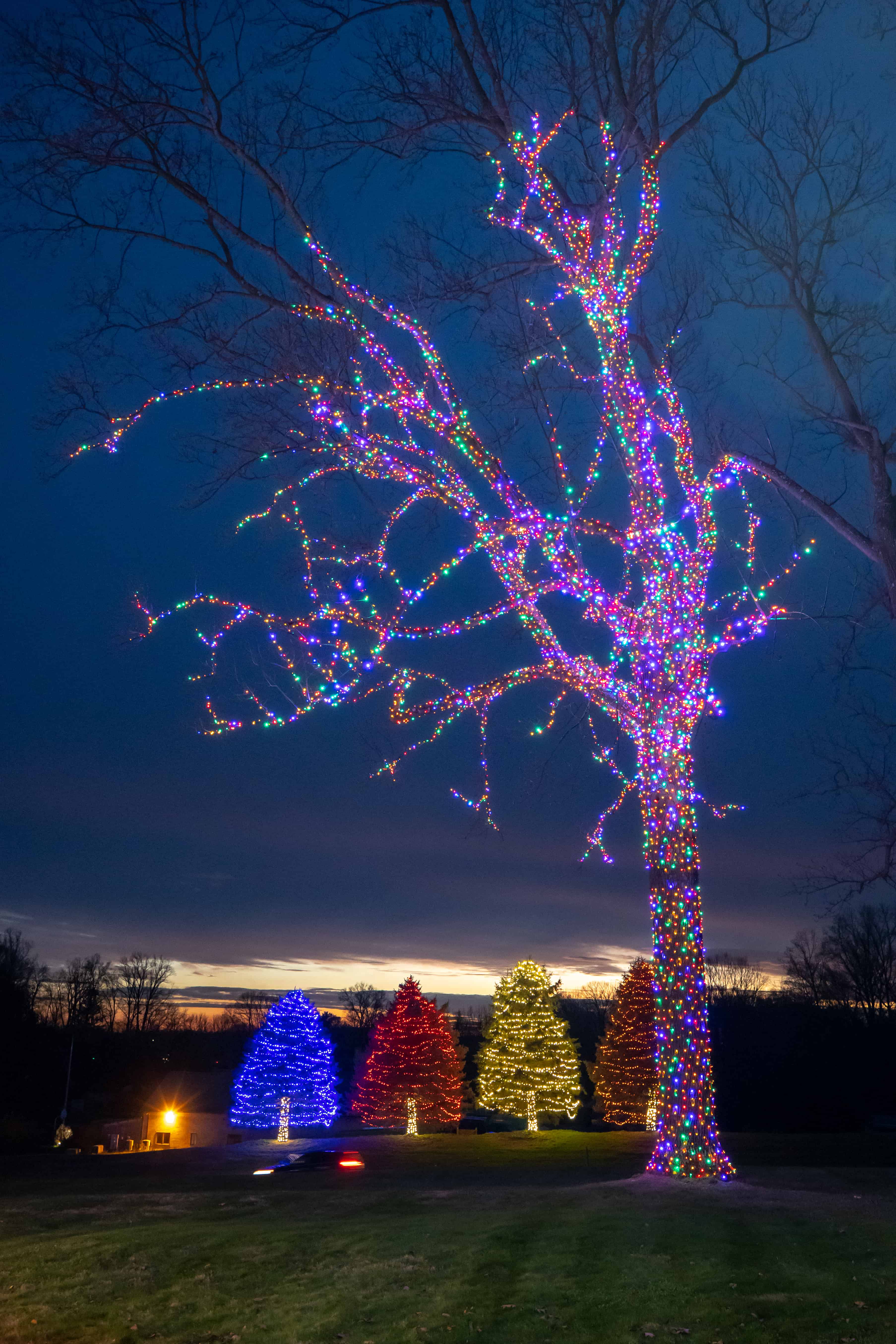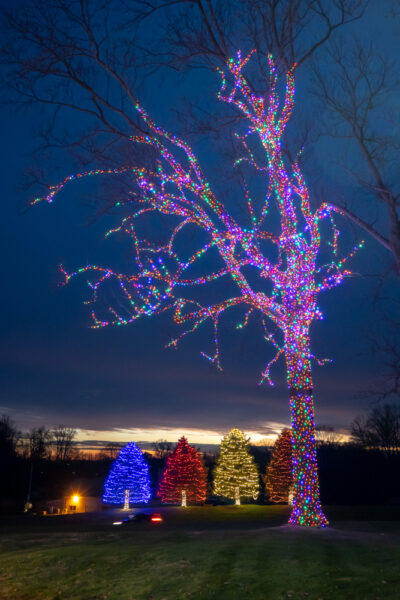 Located in Chester County at the Herr's snack food factory, you'll find the Herr's Christmas Light Display. This display has no admission cost, so is a great option for those looking to save a bit of money.
The lights at Herr's are scattered around the corporate campus and feature many festive sights to enjoy. In fact, it is said that there are more than 600,000 lights on display here every year.
Festival of Lights in Tunkhannock
Located at the Stone Hedge Golf Course a few miles east of Tunkhannock you'll find the Festival of Lights.
Here, cars drive a 2.5-mile path through a beautiful light display along the golf course. Drive past many lit-scenes ranging from the festive to the whimsical, all of which are sure to put you in the holiday spirit.
After your drive, you can get out and explore activities like s'mores, a marketplace, and food vendors.
Christmas Light-Up in Clinton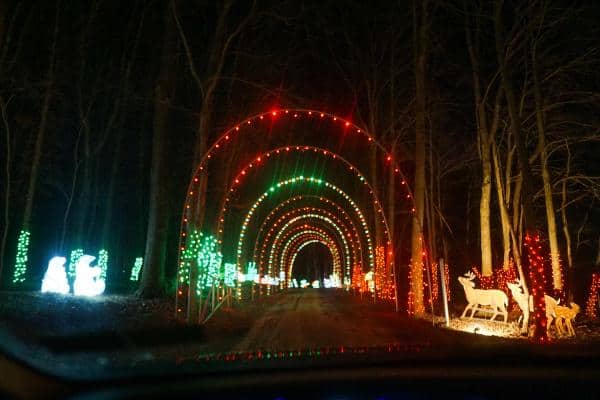 Christmas Light-Up is one of the lesser-known drive-through Christmas light displays near Pittsburgh. However, that makes it a great choice if you are looking to see something new or are looking to avoid the crowds at some other displays!
Christmas Light-Up has been bringing festive cheer for nearly three decades and has a great one-mile driving path through a wooded setting.
As you drive through the display, you'll see many festive scenes and figures, as well as many beautiful Christmas trees that have been decorated for the holidays.
Forest of Lights in Friendsville
Located in northeastern PA, Forest of Lights is held at the Tall Pines Players Club in Friendsville.
At the Festival of Light, lit displays are spread out over a mile-long road through this golf club and offer the chance to get holiday cheer in a safe entertainment. While visiting, you'll drive past many fun and festive sights.
It's is hoped that their popular Santa's Village will reopen in 2021. However, in 2020, kids can leave letters for Santa at the end of the experience.
Do you have a favorite drive-through Christmas light display in Pennsylvania? Let us know in the comments below.
Want to see even more incredible spots during the holiday season? Check out Koziar's Christmas Village, Kraynack's Christmas display, and the best Christmas lights in Pittsburgh.