Disclosure: This article may contain affiliate links. We will make a small commission from these links if you order something at no additional cost to you.
I've visited dozens of Christmas attractions in Pennsylvania over the years, and one spot that was recommended over and over was Overly's Country Christmas in Westmoreland County.
Overly's Country Christmas is held at the Westmoreland Fairgrounds, a few miles south of Greensburg, PA. It has been operating since 1956 when Harry Overly first set up his light display at his home in Armburst, PA.
For the next 35 years, the display was set up at Overly's home, eventually expanding to seven acres in size. Eventually, though, as the display grew, it was time to find a new home, and in 1993, the display found its permanent home at the Westmoreland Fairgrounds, a few miles east of where the display got its start.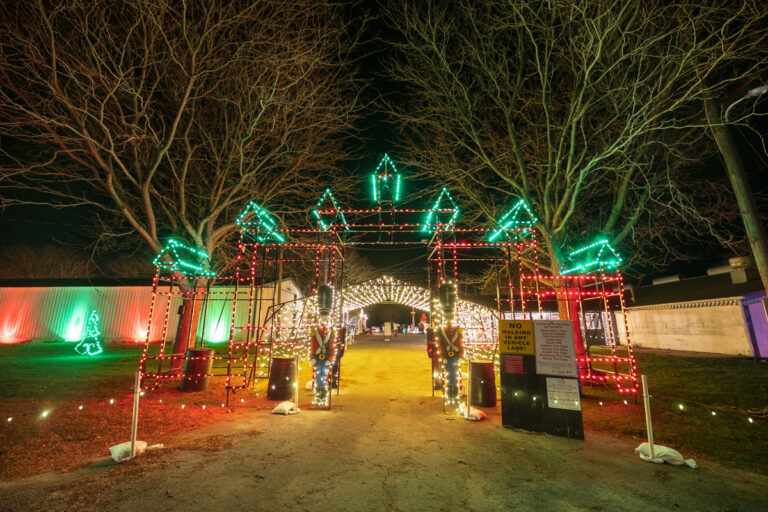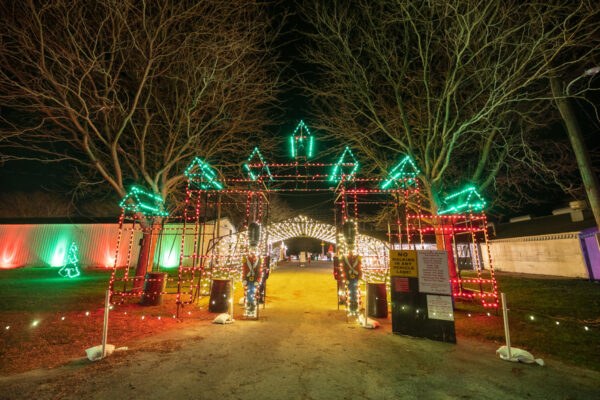 Today, Overly's Country Christmas is run by a non-profit and mostly utilizes volunteers to set up and run this popular Christmas attraction in the Laurel Highlands. Net proceeds from the event are donated to families in need throughout the community, which is a great way to spread holiday cheer throughout the year.
I had a chance to visit Overly's Country Christmas early in the season, which is definitely my top recommendation for this site. Waits of several hours are not uncommon, especially on Saturday nights after Thanksgiving, especially if you opt to go through the drive-through light display and park in the closer lot. But a bit more on that later.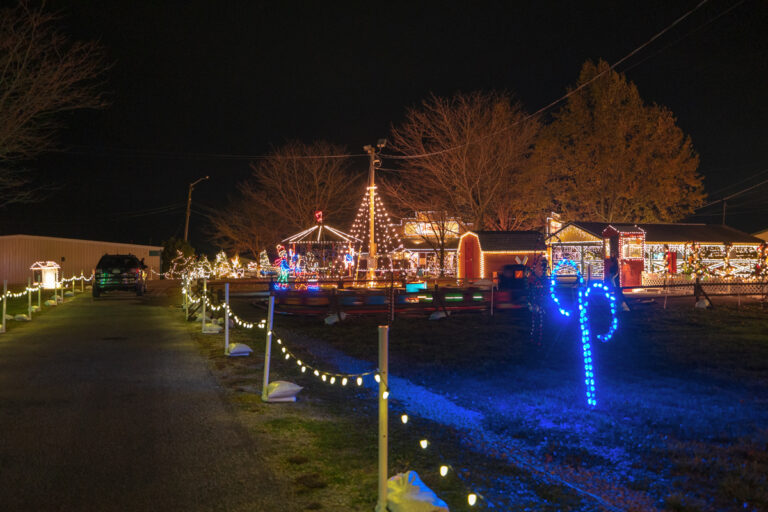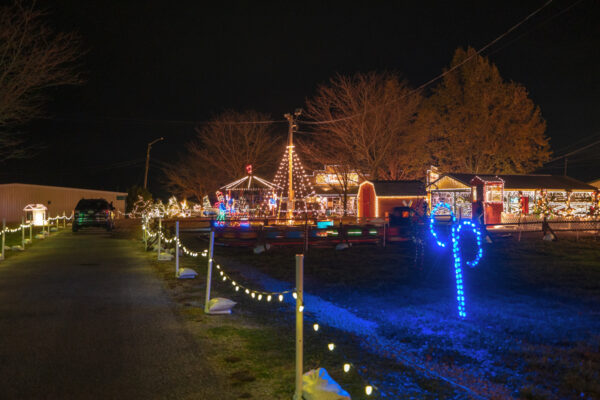 There are two parts to Overly's Country Christmas, though they are connected: a drive-through light display and a walk-through light display, which is known as the Christmas Village
The drive-through display is open to those parking in the paved lot near the entrance to the Christmas Village. This drive-through area is quite short and doesn't have a ton of lights, so don't come expecting a large drive-through display like you'll find at Shadrack's north of Pittsburgh or Holiday Lights on the Lake in Altoona.
Instead, this is more of a slightly decorated roadway to give you some festive cheer as you head toward the main parking area.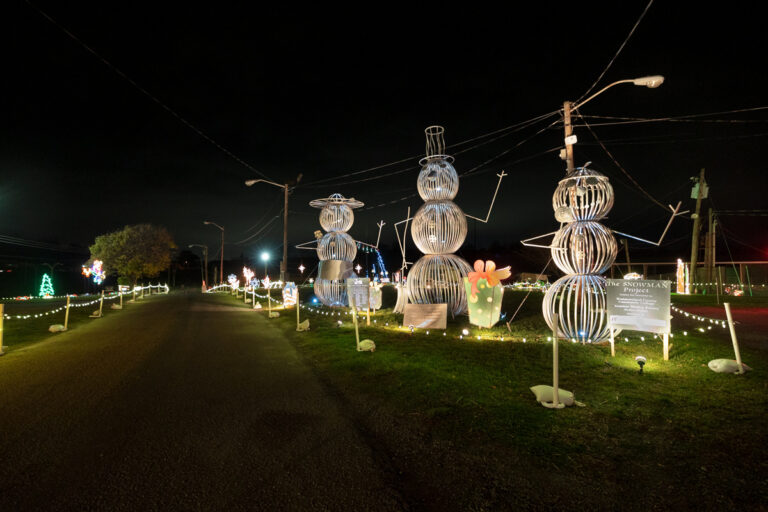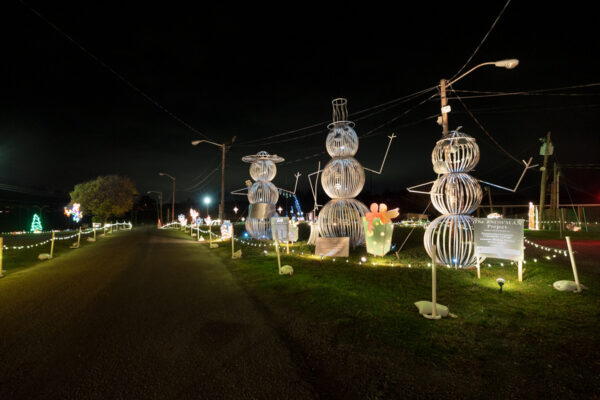 On most nights that Overly's Country Christmas is open, driving through this display is the only option available for visitors and, in 2022, costs $25 per car (Cash only) for up to eight passengers.
If you are visiting on a busy night, the line to drive through here and get closer parking can be quite long. Because of this, many opt to park in the fields near the display in an area known as the Park at Your own Risk Lot. If you park here, you'll pay $5 admission per person to enter Overly's. (Cash only)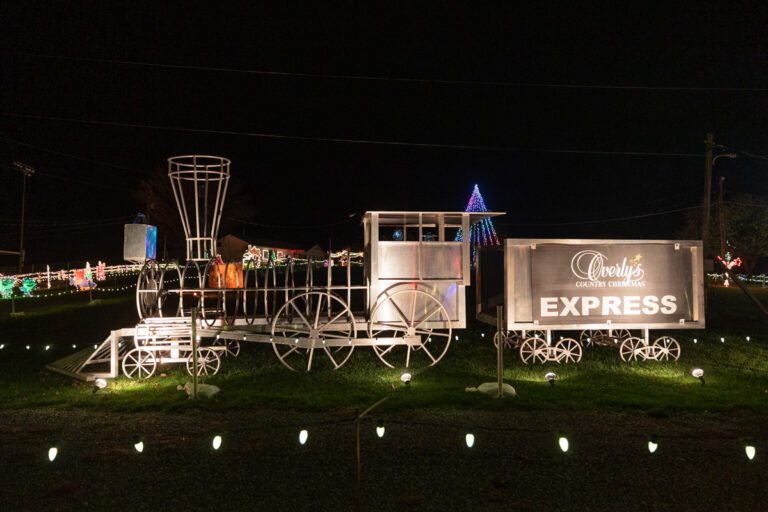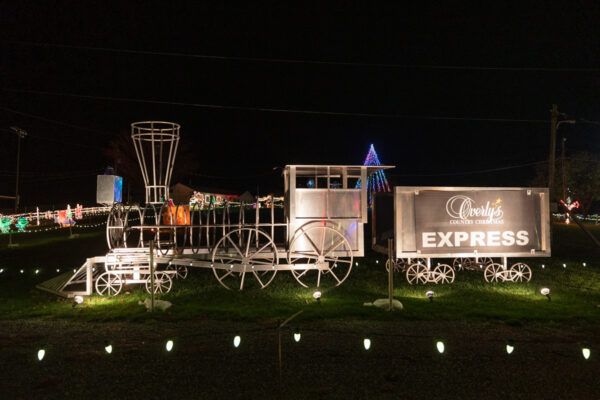 To be perfectly honest, unless there is no line and you have four or more people in your vehicle, I would skip the drive-through portion of Overly's if you have the option to park in the other lot. While it's not poorly done, the display is short, and it really isn't worth paying much extra for, especially if you also have to wait.
In fact, if you are visiting with 1-3 people in your car, it might make sense to visit on a busier night when the outer lots are open as it will save you money during your visit to pay only $5 per person.
Regardless of where you park and how much you pay, the walk-through portion of Overly's Country Christmas is the same, and you can actually see most of the drive-through lights in the not-to-far distance from inside the Christmas Village.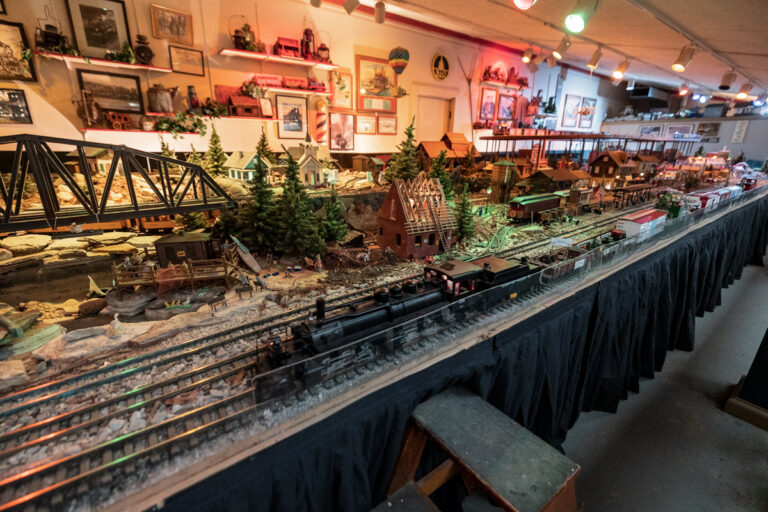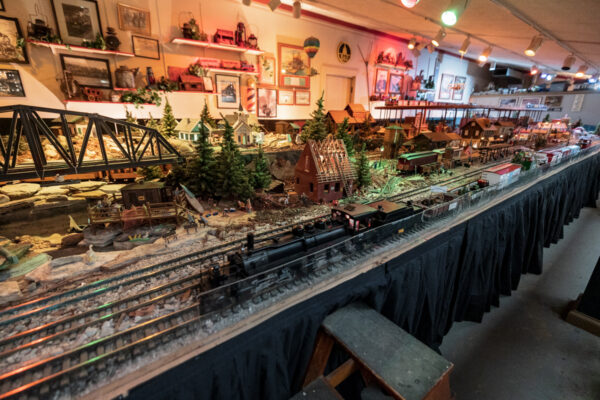 Inside Overly's Country Christmas, you'll see some fun attractions including a well-done model railroad, a small playground, and visits with Santa, all of which are included in your admission (Though they do ask for a $5 donation if you want to take photos with Santa.)
Visitors can also ride on a miniature train or take a tractor ride around the lights for a small additional fee.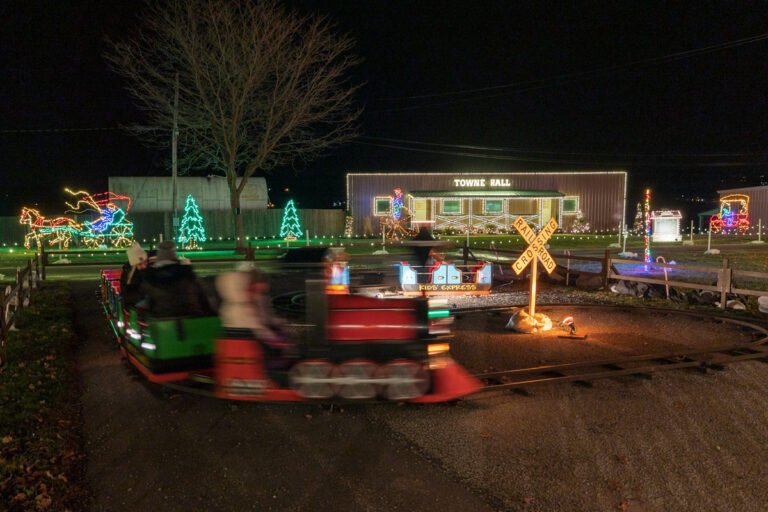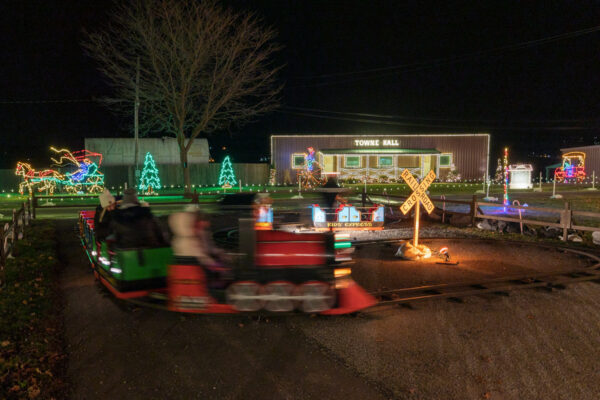 The highlight here, however, is the fun displays throughout the space. These include giant snowmen and angels, a nativity set with a few living barnyard animals, and even some talking Christmas trees. You might even see the Grinch causing mayhem throughout the village.
There is also a bonfire, which is a great way to warm up on a cold night.
In addition to lights, there are also several food and snack spots near the entrance to Overly's Country Christmas, and I was impressed by the reasonable prices of the items here. I only got hot chocolate (which was tasty) during my visit, but the food I saw looked good for the money, and I probably would have planned to eat dinner here had I known about the options available. (Cash only)
There is also a general store on site that sells a variety of holiday decorations, local craft items, and various knickknacks. I definitely enjoyed browsing the store and picked up a few fun items, though I could see it getting very crowded in the store on a busy night.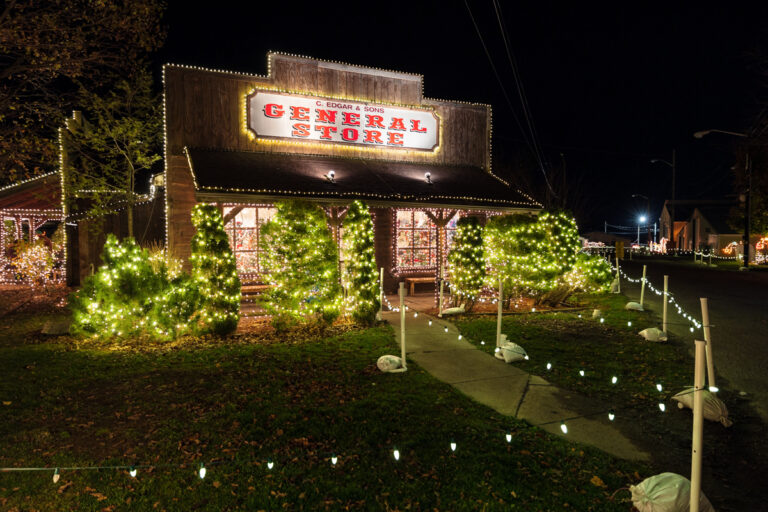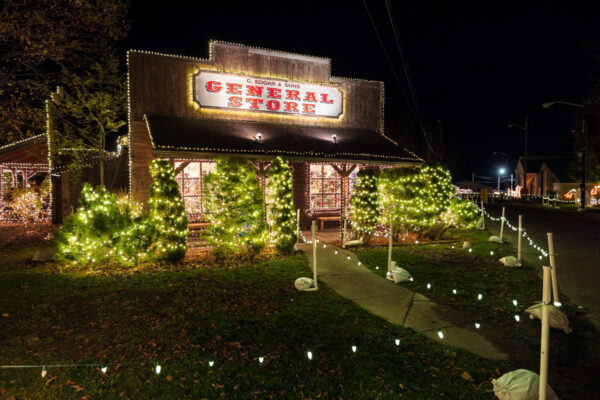 Overall, my family and I had a fun evening at Overly's Country Christmas, though I do have a few caveats that I feel are worth noting.
First off, Overly's Country Christmas is quite small. In fact, I'd venture to say that it might be the smallest outdoor Christmas attraction I've visited in PA. I could see this space getting packed very quickly on a busy night. So, if you must visit when large crowds are expected (Saturday nights and/or close to Christmas), I definitely recommend arriving early, possibly even before they open, to make sure you can get in before the crowds.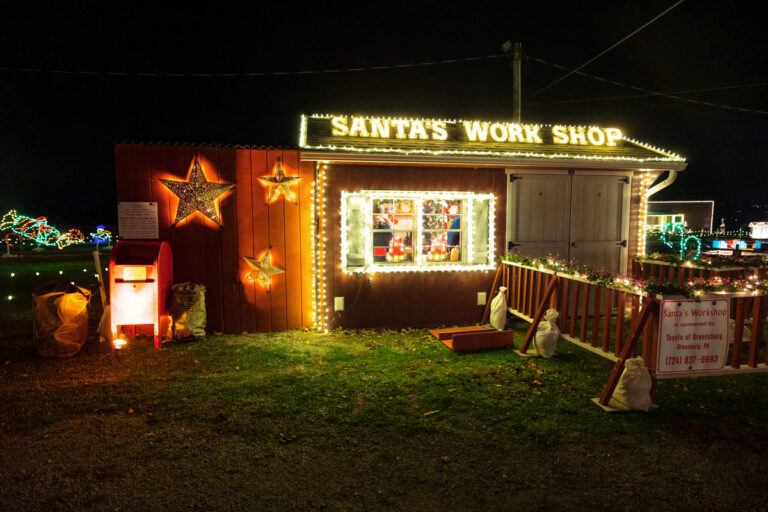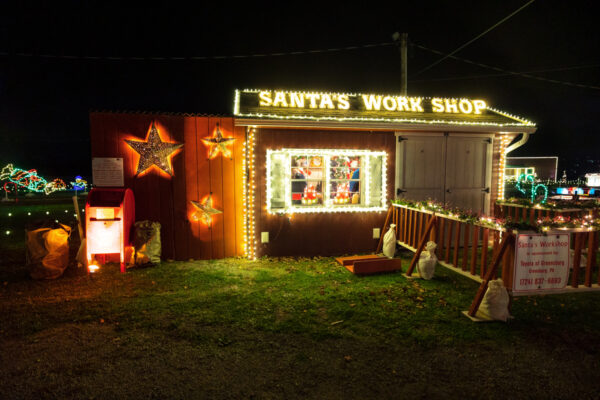 On a related note, arriving early will help alleviate the wait times if you are interested in paying the $25 per carload to do the drive-through display and park in the closer lot. Sometimes these lines can be 2+ hours and, in my opinion, waiting that long is simply not worth it.
However, if there is a long line, you can often park in the Park at Your Own Risk Lot, and walk into the event, paying just $5 per person (which will be cheaper for many visitors).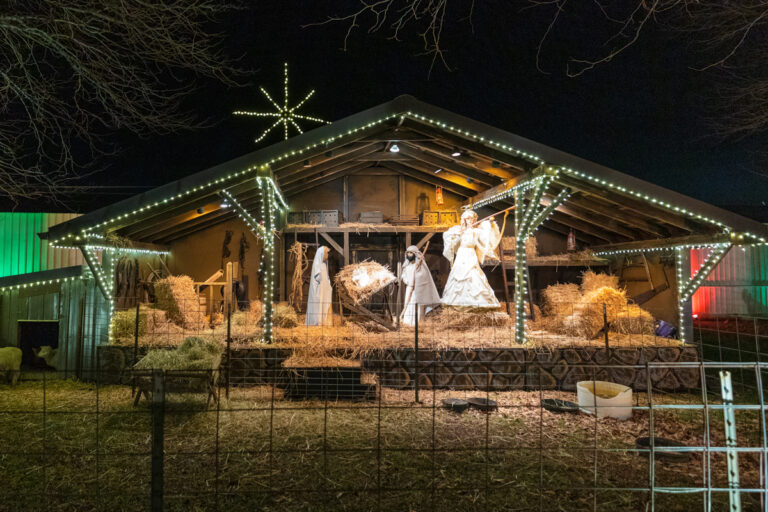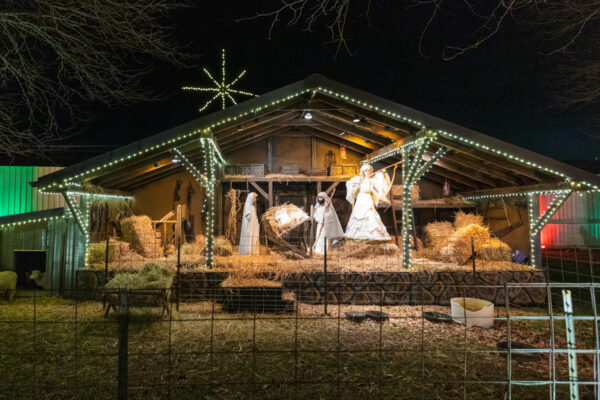 As stated above Overly's isn't overly (no pun intended) large. Because of this, I feel like it's not worth a long drive to visit. If you find yourself near Greensburg and Westmoreland County, this is definitely a fun and festive spot to check out, especially if you are visiting with kids. However, I personally wouldn't drive down here from Pittsburgh, as there are a lot of great places to see Christmas lights near the city.
So, with those caveats out of the way, I do definitely give Overly's Country Christmas a qualified recommendation for those looking for some festive fun in southwestern PA.
Looking for more places to visit nearby? Check out the hometown of TV's Mister Rogers, the Big Mac Museum, and the Westmoreland Museum of American Art.
---
Overly's Country Christmas
Hours: Opens at 5:30 pm
Days and closing times vary.
Open 11/17/22-12/30/22

Cost: $25 per car
$5 per person on select nights

Website: Overlys.com

Address: 116 Blue Ribbon Lane
Greensburg, PA 15601
See map for other area attractions.
---