Disclosure: This article may contain affiliate links. We will make a small commission from these links if you order something at no additional cost to you.
Despite bordering counties like Somerset, Indiana, and Washington that have many covered bridges, Westmoreland County, Pennsylvania, is home to only one remaining covered bridge: Bells Mills Covered Bridge.
Bells Mills Covered Bridge is located in the southwestern part of the county, within a few miles of the Youghiogheny River and Allegheny County to the west, and both Interstate 70 and the Pennsylvania Turnpike to the east. Despite its proximity to the Pittsburgh suburbs and several busy interstates, however, the area surrounding Bells Mills Covered Bridge is surprisingly peaceful.
Bells Mills Covered Bridge was built in 1850 and was designed with a Burr arch truss. The length of the bridge appears to be up for some debate, as I've seen listings for it between 90-107 feet long, with no two sources listing the same length. These sort of discrepancies crop up from time to time, though usually in regards to a bridge's age, not its length.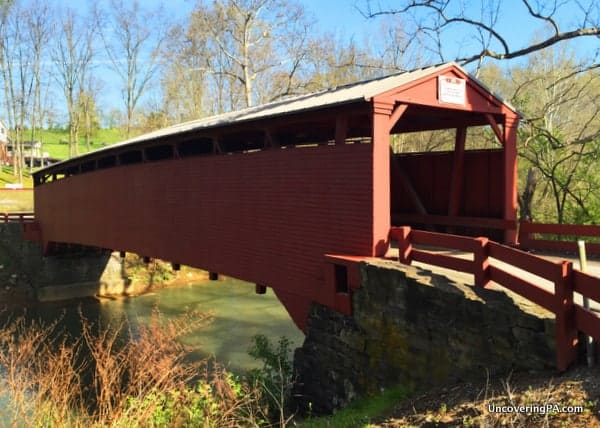 Bells Mills Covered Bridge spans Sewickley Creek, the dividing line between Sewickley Township and South Huntingdon Township. The bridge is painted in the barn red color that's so common to the covered bridges of Pennsylvania. Otherwise, the bridge looks fairly typical, though the picket fencing that extends from either end of the bridge adds a very attractive touch.
The bridge was added to the National Historic Register in 1980 and was completely rebuilt in 1988. It was also repaired in 2009 after a fire.
Overall, Bells Mills Covered Bridge is a worthwhile stop in Westmoreland County. Whether this is your first covered bridge or hundredth, its peaceful, easy-to-reach setting and status as the last covered bridge in the county make it a great place to visit.
How to Get to Bells Mills Covered Bridge
Bells Mills Covered Bridge is located in southwestern Westmoreland County, near the small town of Yukon, Pennsylvania, and roughly 3 miles from Interstate 70. There is a large pull-off on the western side of the bridge at the following coordinates: 40.219344, -79.710551.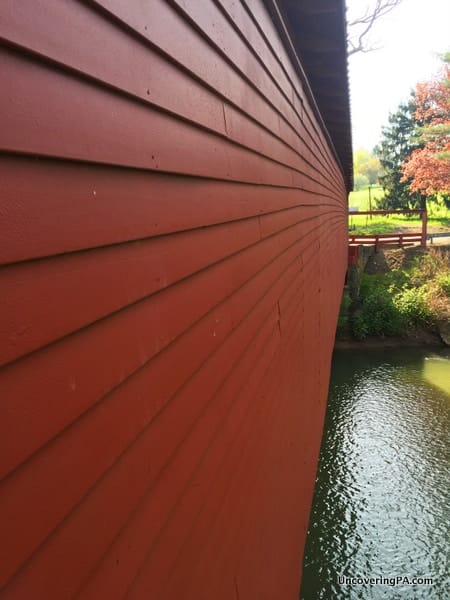 While the bridge is located in a fairly rural area of the county, there is a house next to the bridge, and signage makes it clear that the bridge is surrounded by private property. This makes it a bit difficult to photograph the bridge or get a good look at it from the side. However, the bridge itself is public property and is quite beautiful to look at.
[Click here for information on how to use coordinates to find your destination.]
See map below for other area attractions.