Disclosure: This article may contain affiliate links. We will make a small commission from these links if you order something at no additional cost to you.
While I love both easy-to-reach waterfalls and waterfalls along established trails, there is something extra fun about exploring waterfall creeks that have no trails. There are several of these types of streams in the McIntyre Wild Area of northern Lycoming County, Pennsylvania, but few contain a waterfall as majestic as Hounds Run Falls.
Hounds Run Falls is located along Hounds Run, a tributary of Rock Run, one of the most beautiful streams in all of Pennsylvania. This 40-foot waterfall cascades over the mountain in a series of channels, and when flowing well, can be heard before it is seen.
Unlike Miners Run, the next stream to the west, there is only one major waterfall on Hounds Run. However, for waterfall lovers like myself, there are few better waterfalls in the area to visit.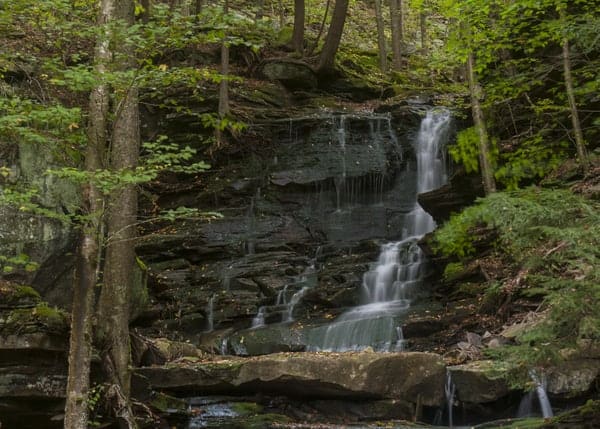 After parking your car at the trail head (directions below), visiting Hounds Run Falls is as simple as getting into the creek and hiking upstream. There is no trail that follows alongside Hounds Run, and there is simply no way to keep your feet dry.
While the stream doesn't usually rush too quickly, make sure to use special care when hiking in the stream, especially during periods of high water. One wrong move will send yourself and your camera gear into the stream.
The area around the waterfall has little to no cell phone reception, and it's entirely possible that you won't have help for days, so please be very cautious about venturing into this area, especially alone.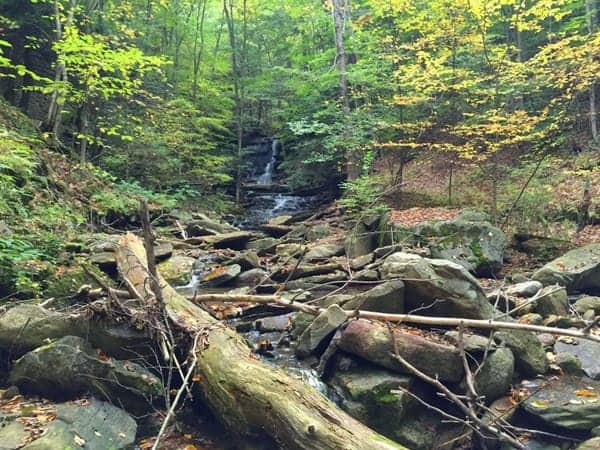 The hike to Hounds Run Falls is a little less than half a mile, but hiking in the stream will take you longer than hiking on land. Be prepared with additional time to reach the falls. If you keep to the stream, you don't have to worry about missing this one at all.
A little under half the distance to Hounds Run Falls, you will encounter a small waterfall of maybe 3-5 feet in height. This is a beautiful little waterfall that showcases well the beauty of what's to come. The steps of the falls also made for a handy way to get up and continue along Hounds Run.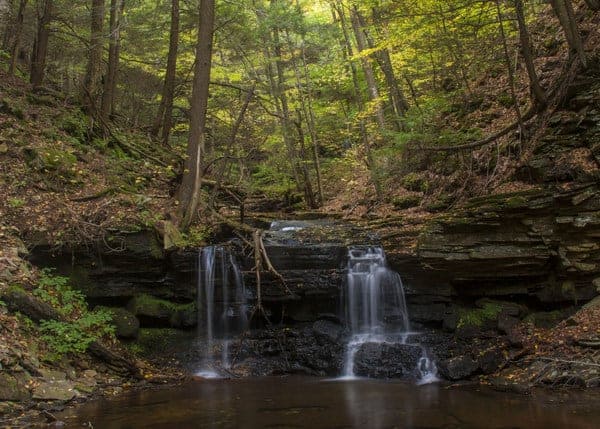 The main falls can be seen for a good distance before reaching it. Getting to the small series of drops below the main falls is fairly simple, but climbing higher to the base of Hounds Run Falls can be quite tricky. Make sure to use your best judgment here and remember that help is not likely to find you in this part of Loyalsock State Forest.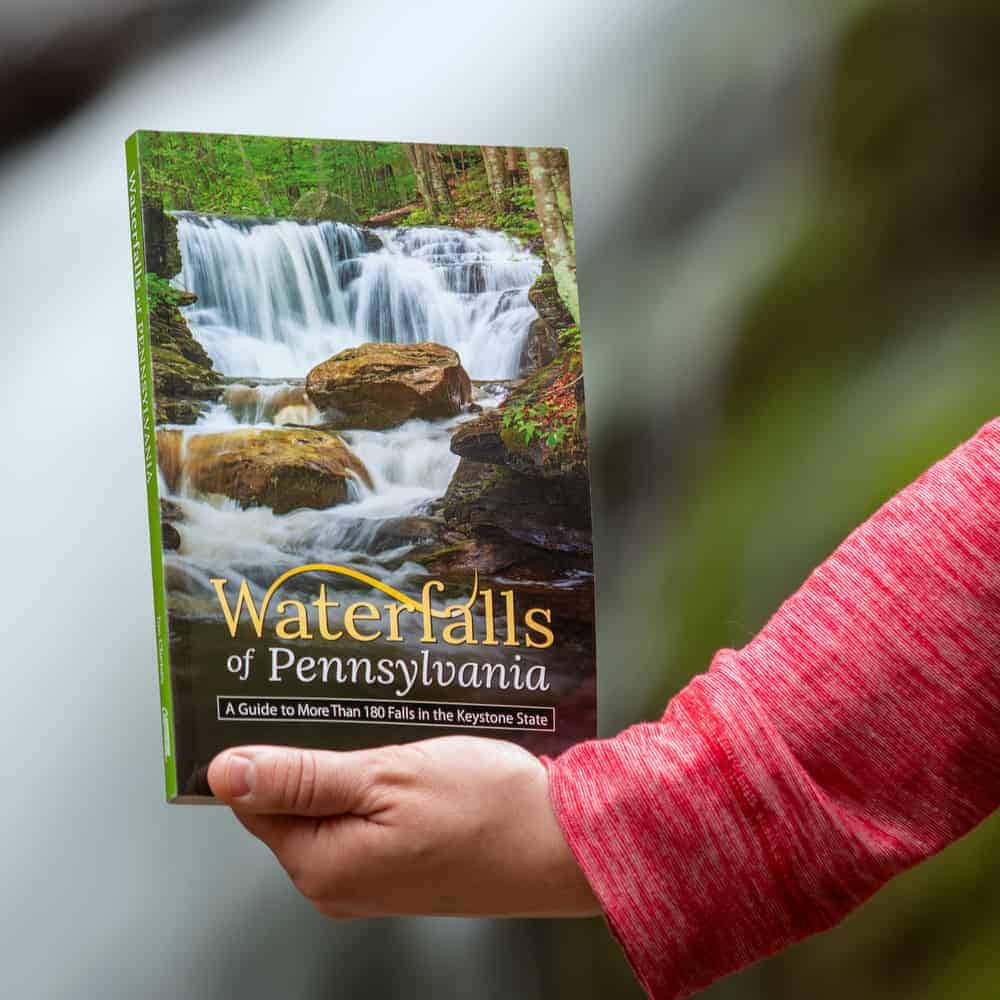 "Waterfalls of Pennsylvania" by Jim Cheney
If you love PA waterfalls, you won't want to miss this waterfall book from Jim Cheney, author of Uncovering PA, featuring more than 180 great waterfalls. Order it now on Bookshop.org or Amazon.
However, those that are able to make the hike to Hounds Run Falls are rewarded with one of the most beautiful waterfalls in all of Pennsylvania's Susquehanna Region. If you love waterfalls and are comfortable with a challenging creek hike, you won't want to miss this.
How to Get to Hounds Run Falls
Hounds Run Falls is located in the McIntyre Wild Area in the Lycoming County portion of Loyalsock State Forest. The closest populated area to the waterfall is the small town of Ralston.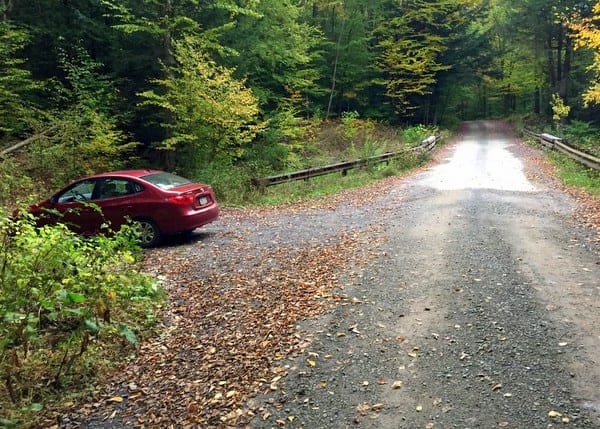 The parking area for Hounds Run Falls is located along Rock Run Road, just prior to its intersection with Yellow Dog Road. The parking area can be found at the following coordinates: 41.533556, -76.894247. If coming to the area without a GPS, Hounds Run Falls will be the second bridge that you come to if traveling Rock Run Road from Route 14 and Ralston.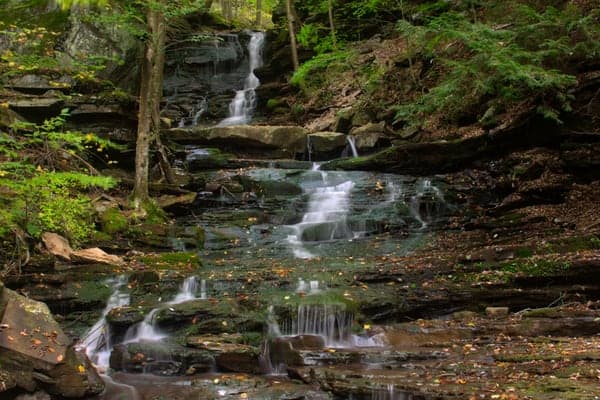 From here, head upstream for a little less than a mile to see Hounds Run Falls. For those with handheld GPS units, you can find Hounds Run Falls at the following coordinates: 41.537106, -76.898126.
While in the area, make sure to check out the fantastic waterfalls of Miners Run, which are just one stream closer to Ralston, Dutchman Run Falls, and the incredible views from Band Rock Vista. Also don't miss Jacoby Falls which is located only a short drive away.
[Click here for information on how to use the coordinates in this article to find your destination.]
See map below for other area attractions.