Disclosure: This article may contain affiliate links. We will make a small commission from these links if you order something at no additional cost to you.
When I travel to an area, even one that I've been to before, I'm always on the lookout for fun and unique spots to check out that are a bit off of the beaten path. So, on an autumn trip to Greenwood Furnace State Park, I also took the opportunity to check out Stone Mountain Hawk Watch.
Stone Mountain Hawk Watch is a fantastic overlook that's located deep in Rothrock State Forest along the Huntingdon County and Mifflin County line.
While this spot is most popular during the autumn for watching for migrating hawks and for seeing some of the most beautiful fall foliage in PA, visitors can check it out any time of the year to enjoy both the birds and the incredible views.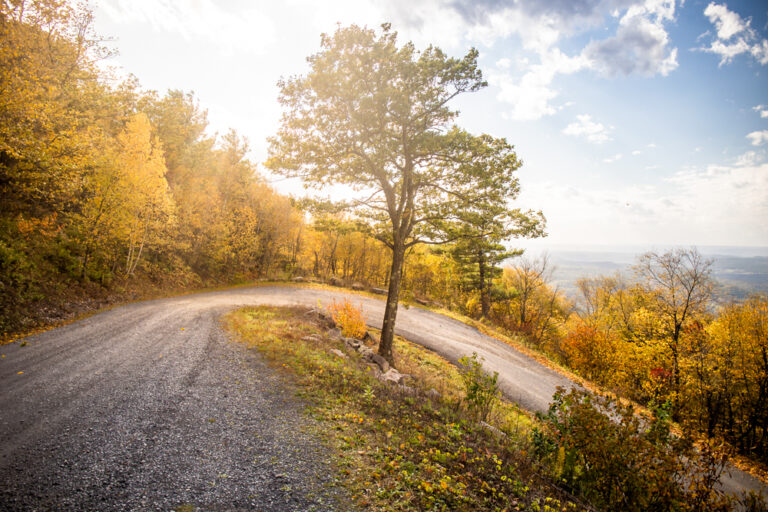 The Stone Mountain Hawk Watch is located approximately a third of a mile from Allensville Road, a curvy and hilly but well-maintained gravel road in Rothrock State Forest. In fact, even before you get to the top of the mountain, you'll be able to see some pretty incredible views if approaching from the west.
The parking area is located at the top of Stone Mountain and is big enough for at least 10-12 vehicles. The parking area can be found at the following coordinates: 40.568986, -77.828596.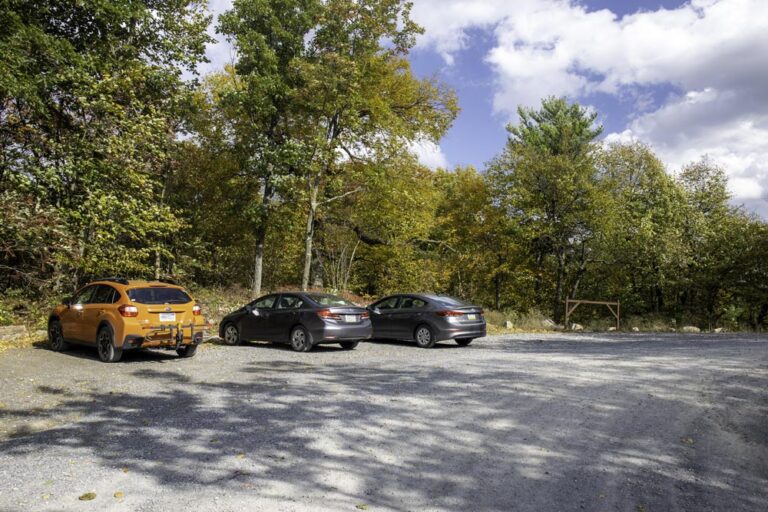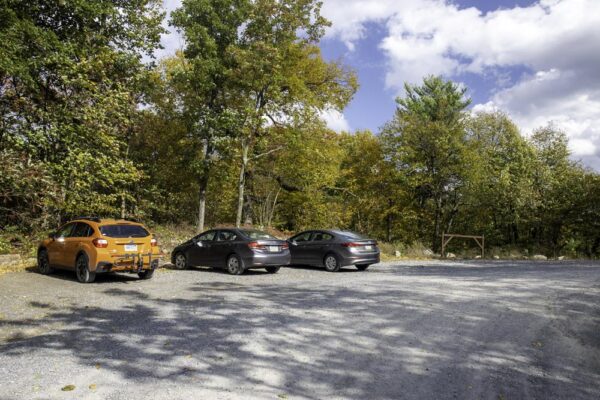 When I visited this spot in the fall of 2020, the road up from Greenwood Furnace State Park was in good condition and passable in a car. You find also find your way here either from Route 26 in Huntingdon County or Route 665 in Mifflin County. I haven't personally driven these roads to check their condition, but would imagine they would be good options as well given the nature of the site.
From the parking area, look for the trailhead on the left side of the parking lot. (Don't hike down the gated road on the right side of the parking area.) This trail is to Standing Stone Trail, an 80-mile trail popular with backpackers.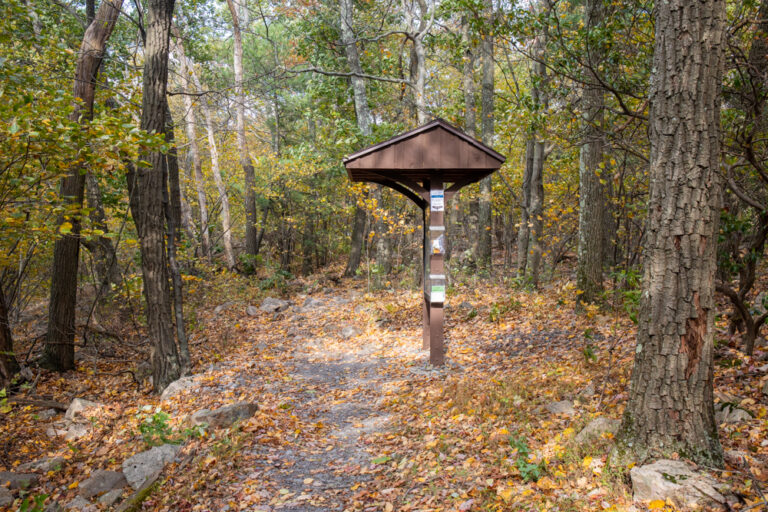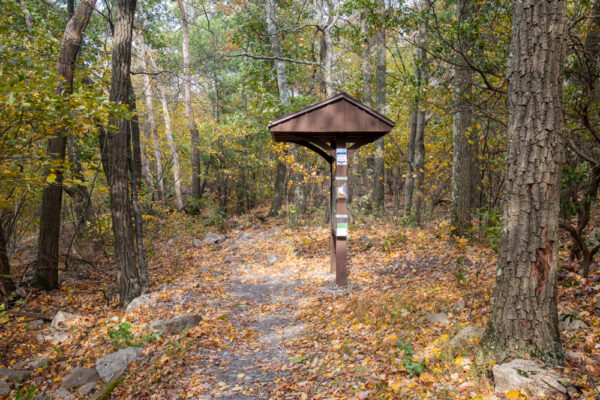 At the trailhead, there is an information sign that offers a bit of history of the area. There was also an annual count of raptors that had been seen at the overlook. While it hadn't been updated in a few years, it was still interesting to get a rough idea of how many and what type of birds migrate through the area each autumn.
From the trailhead, it's approximately a third of a mile back to the hawk watch platform.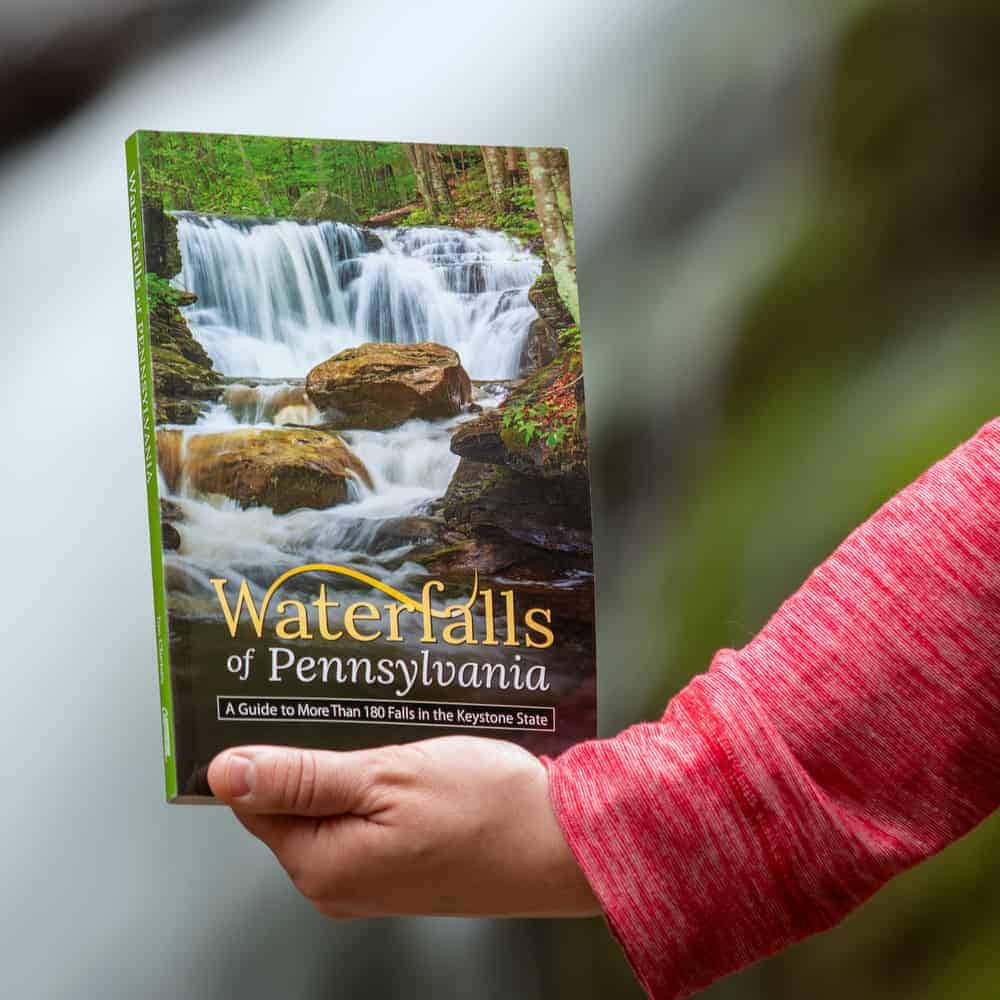 "Waterfalls of Pennsylvania" by Jim Cheney
If you love PA waterfalls, you won't want to miss this waterfall book from Jim Cheney, author of Uncovering PA, featuring more than 180 great waterfalls. Order it now on Bookshop.org or Amazon.
The trail follows orange blazes through the forest, and while there isn't much elevation gain or loss since you are already atop the ridgeline, you'll soon come to learn why this area is known as Stone Mountain.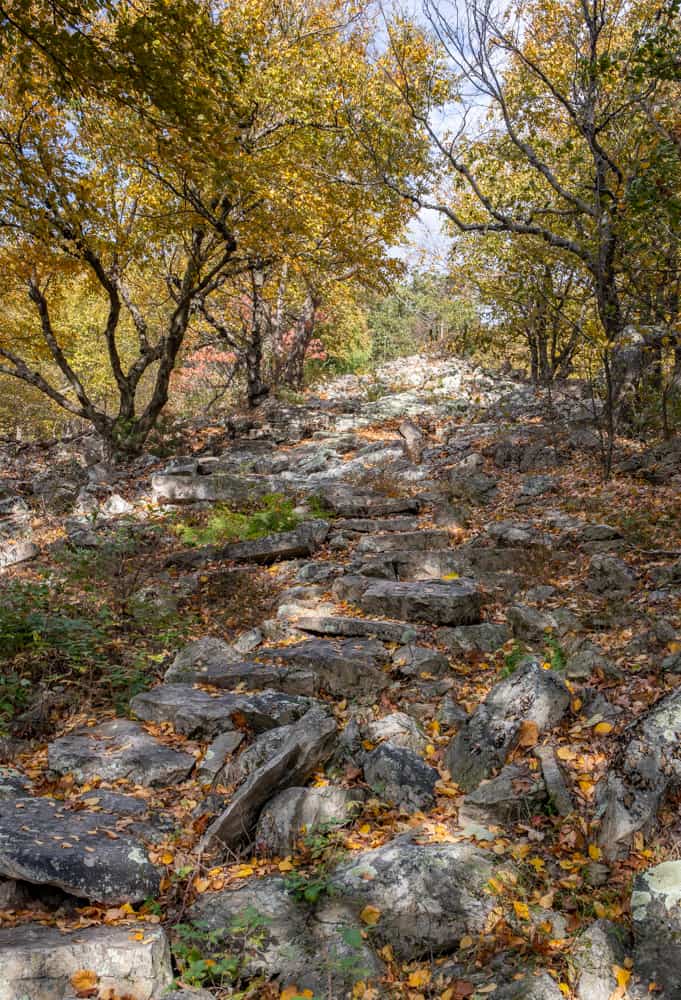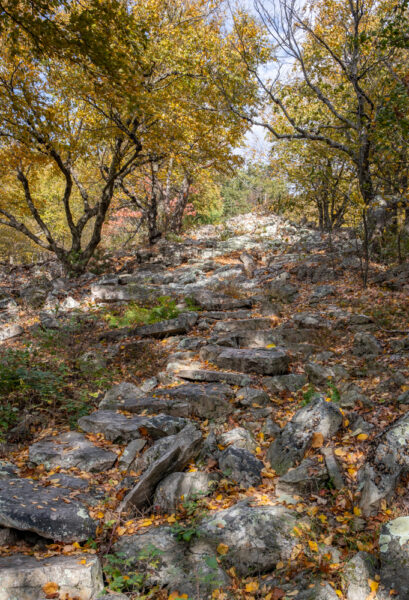 For much of the trail, you'll be hiking directly over large stones, which makes for somewhat tedious hiking. That makes what would otherwise be an easy trail into a difficult one.
That being said, if you don't have an issue with uneven terrain, it's not too challenging. However, I could see these rocks being slippery if conditions were wet, so use caution.
After a third of a mile, the orange-blazed trail reaches a wooden sign pointing to the right for the Hawk Watch. At this point, head right instead of continuing left on the Standing Stone Trail.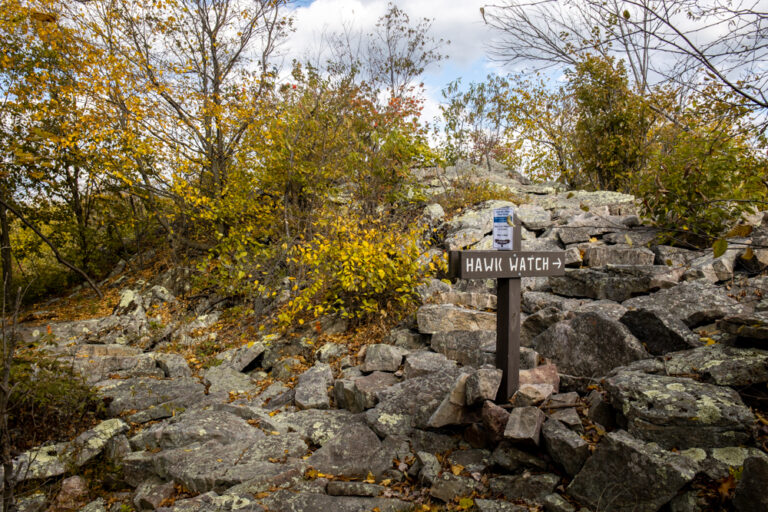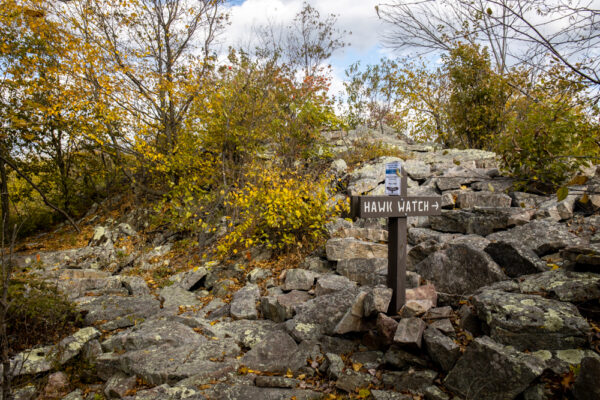 From the trail turn off, it's a short walk up another bed of boulders to the wooden platform atop the hill. For those use coordinates, the Stone Mountain Hawk Watch platform can be found at the following coordinates: 40.571754, -77.826403.
This platform was built in 1995 and is maintained by the Juniata Valley Audobon Society.
On every weekend and on most weekdays from September through November, volunteers can be found on the platform counting the number of migrating raptors that they see.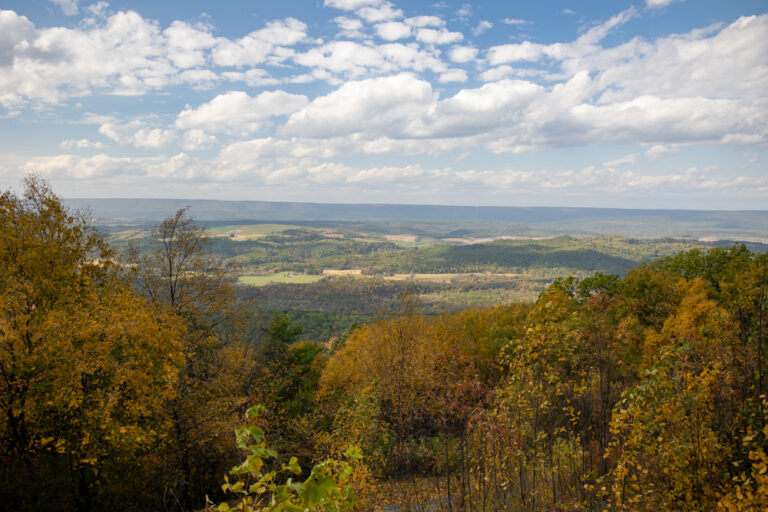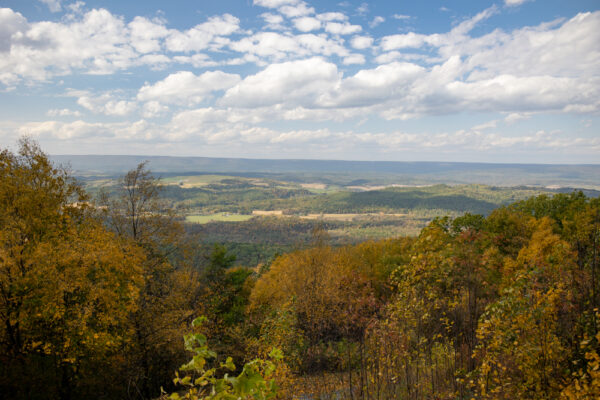 So, while you are unlikely to have this spot to yourself during that time frame, it is a great time to visit to see both the raptors and the beautiful fall foliage.
That being said, no matter when you visit, there's a lot of beauty to enjoy at this spot (though you probably don't want to drive on the roads if there is snow and ice on the ground).
From the wooden platform, there is nearly a 360-degree view with only a few tall trees blocking the sightlines in certain directions.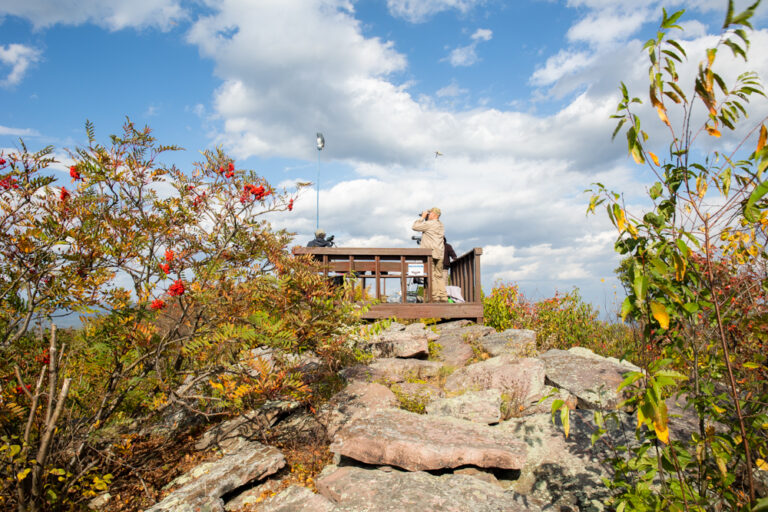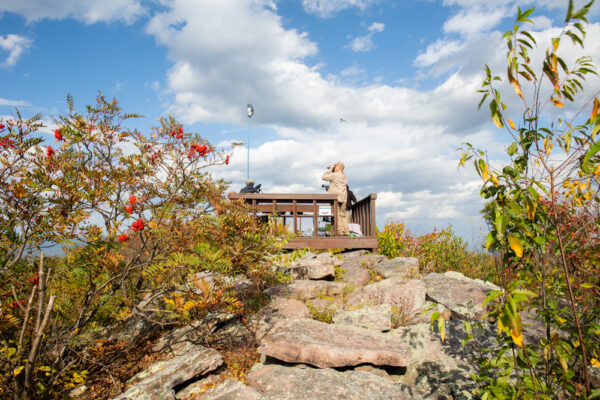 Looking to the east, you'll see Big Valley and its seemingly endless farmland. Meanwhile, looking to the west, you'll see Stone Valley, which is largely forested. No matter which way you look, however, you are in for real beauty in nearly every direction.
This is truly one of the best scenic vistas in Pennsylvania.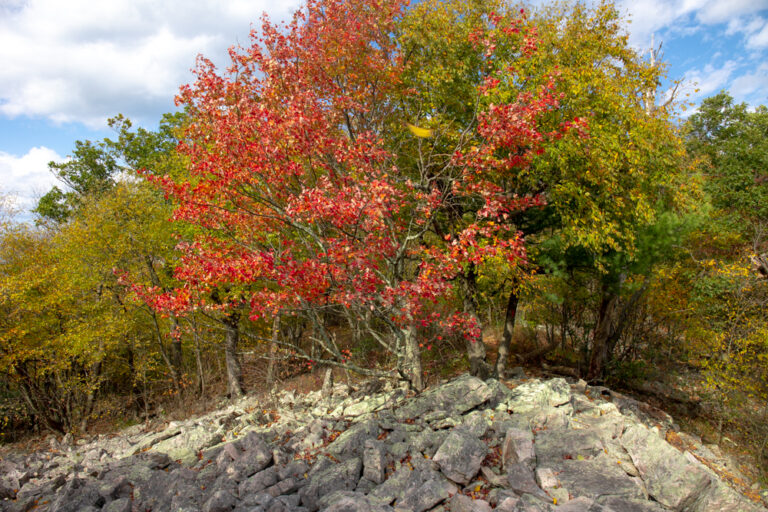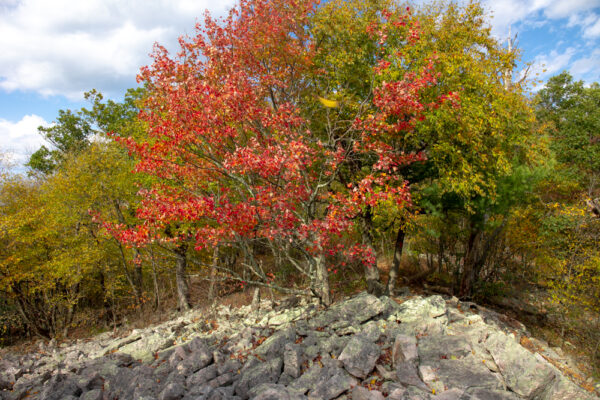 Once you've had a chance to enjoy the views and the bird watching, simply retrace your steps back to your car, or continue further down the Standing Stone Trail for a longer hike.
Ultimately, the Stone Mountain Hawk Watch is a great spot to visit any time of the year, but even more so in the autumn. However, whenever you visit, you are sure to enjoy both the great views and the fun hike up to this beautiful viewing platform.
Looking for even more places to visit nearby? Check out the Alan Seeger Natural Area, Indian Lookout, the Isett Heritage Museum, and Shaver's Creek Environmental Center.
[Click here for information on how to use the coordinates in this article to find your destination.]