Disclosure: This article may contain affiliate links. We will make a small commission from these links if you order something at no additional cost to you.
Despite its close proximity to Harrisburg, Perry County, Pennsylvania, isn't known as a tourism hotspot. In fact, it's one of the least visited counties in the state. However, in addition to its natural beauty, Perry County is home to more covered bridges than all but four counties in Pennsylvania.
These 14 covered bridges are (almost) all in fantastic shape, and a tour is a great way to explore rural Pennsylvania.
In this article, I'm going to cover the four most northeastern covered bridges in the county. These bridges stretch from Liverpool in the north to Duncannon in the south, and are all located in close proximity to either Routes 15 or 322.
The covered bridges in this article are listed north to south, though they can be done just as easily from the opposite direction. If you do visit them in the opposite direction, they connect very well to the covered bridges of Juniata County or the covered bridges of Snyder County, with both of their southernmost bridges less than 20 minutes from Red Covered Bridge.
Red Covered Bridge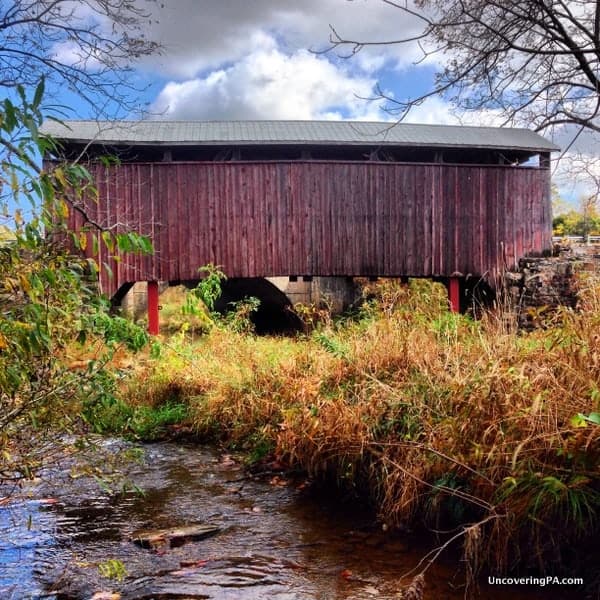 Located on the outskirts of Liverpool, a few miles from Route 15 and the Susquehanna River, Red Covered Bridge is one of the most scenic bridges in the area. At 55 feet, it's the shortest covered bridge in Perry County. According to most sources, it's listed as crossing Wild Cat Creek (or Wildcat Creek), but Google Maps labels the creek as Bargers Run.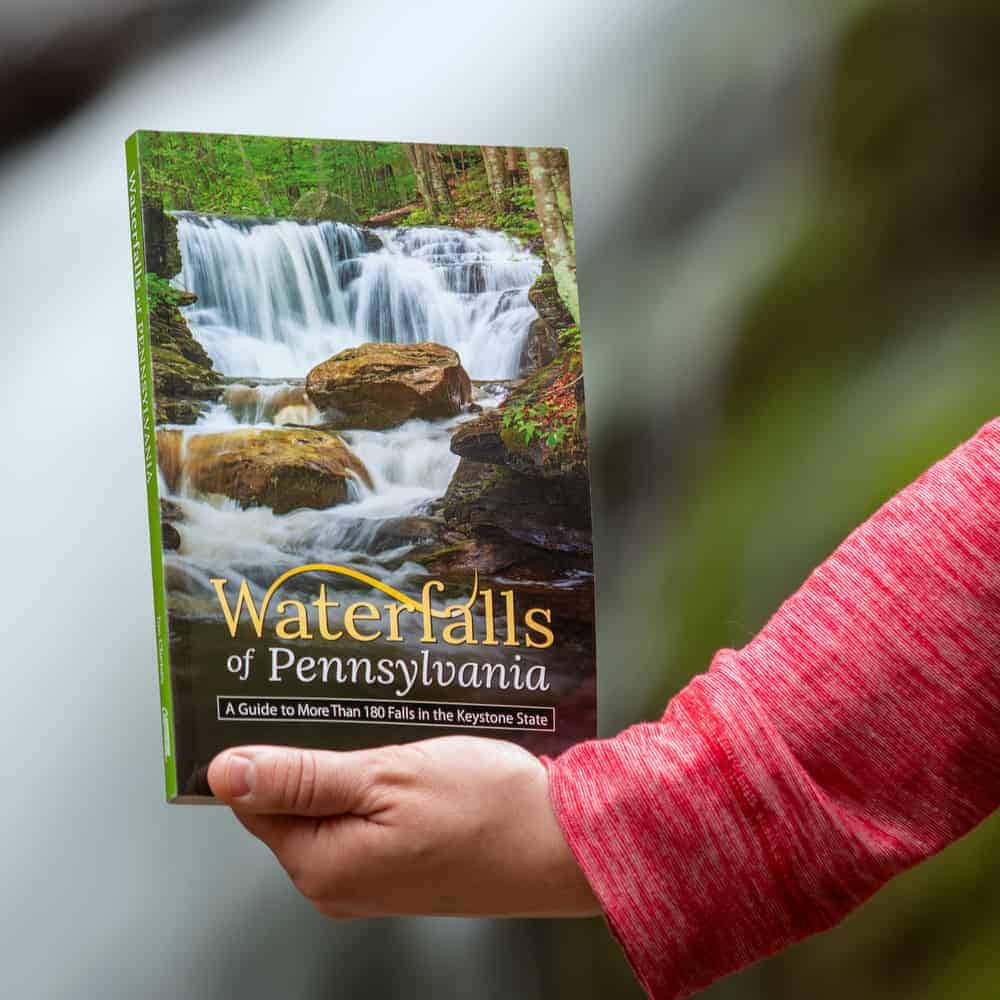 "Waterfalls of Pennsylvania" by Jim Cheney
If you love PA waterfalls, you won't want to miss this brand-new waterfall book from Jim Cheney, author of Uncovering PA, featuring more than 180 great waterfalls. Order it now on Bookshop.org or Amazon.
The bridge was built in 1886, but has since been bypassed by PA Route 1005. While it appears that the bridge may now be located on private property, the bridge is not posted, so walking up to the bridge seems to be allowed. However, should you rather, it's possible to get a good view of the bridge from the road.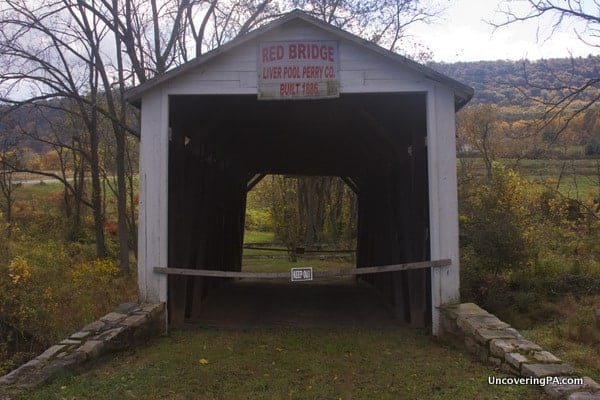 Getting There: Red Covered Bridge is located in northern Perry County, The bridge is less than two miles off Route 15, about halfway between Harrisburg and Sunbury. The bridge is located at the following coordinates: 40.567946, -77.015197.
There is a pull-off that can accommodate a car or two on the side of the road that the bridge is on.
Fleisher's Covered Bridge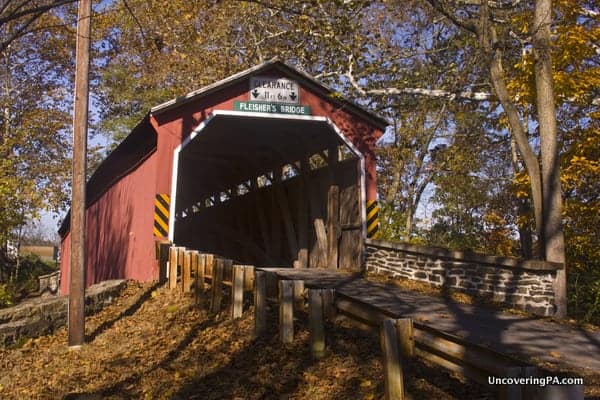 Fleisher's Covered Bridge is located just outside of Newport, less than a mile from the Perry County Fairgrounds. This is the only bridge on this list that is open to traffic.
Fleisher's Covered Bridge was built in 1887 and spans 125 feet over Big Buffalo Creek. While there is plenty of posted private property around the bridge, there is ample room for those that want to photograph or look at the bridge to get a variety of angles.
Getting There: Fleisher's Covered Bridge is located roughly two miles from the center of Newport, Pennsylvania, along the same road at the Perry County Fairgrounds, at the following coordinates: 40.489474, -77.158112.
Room for a car or two to pull off is available before crossing the bridge.
Clay's Covered Bridge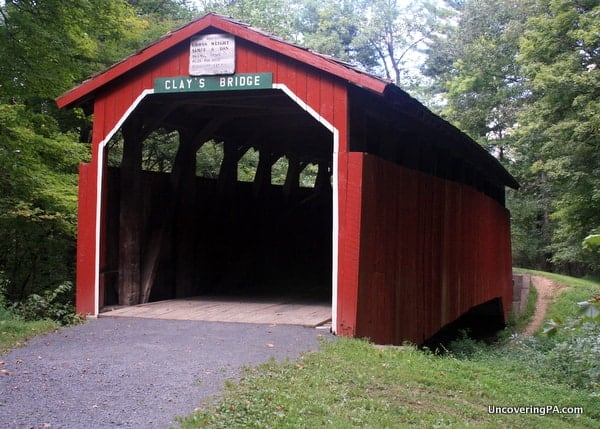 Clay's Covered Bridge (also known as Wahneta Covered Bridge) is located along the hiking trails of Little Buffalo State Park. Its current location, over a typically dry creek bed in the Little Buffalo Historic District is quite scenic. The wooded area is home to Shoaf's Mill, with its still operational water wheel, and an old train car.
Clay's Covered Bridge is 82-feet long and was built in 1890. It was moved to its current location when Holman Lake was created. The bridge originally crossed Little Buffalo Creek and was located one mile to the west.
Getting There: Clay's Covered Bridge is located in the middle of Little Buffalo State Park, just below the earthen dam. The closest parking area is near the entertainment pavilion and about 500-600 feet from the bridge. The parking area is located at the following coordinates:40.455572, -77.171113. (The bridge is located at 40.455607, -77.170056, for those that are interested.)
To get to the bridge, park in the lot and head away from the dam and back towards Shoaff's Mill.
Dellville Covered Bridge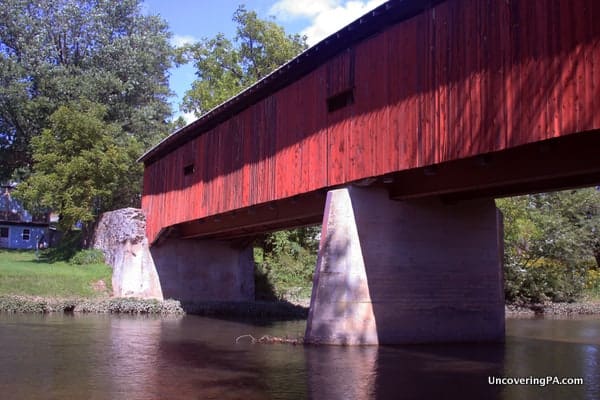 Dellville Covered Bridge was once one of the most beautiful covered bridges in all of Pennsylvania. Unfortunately, it was destroyed in an arson fire in November 2014, just a few months after I visited for the first time. I opted to include it on this list in memorandum and because they are hoping to rebuild this historic structure. At the time of publication, the charred remains of the bridge are still in place, which is very sad, but quite interesting to see.
Dellville Covered Bridge is located a few miles outside of Duncannon. The bridge spans 174 feet over Sherman Creek, making it the longest (and the widest) covered bridge in Perry County. It was built in 1889.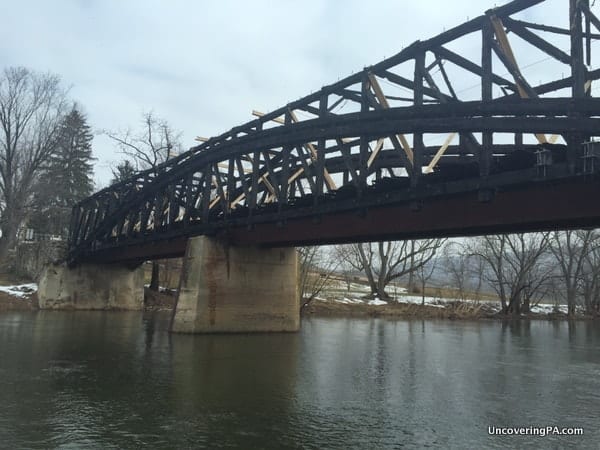 Getting There: The remains of Dellville Covered Bridge are located about 10 miles outside of Duncannon at the following coordinates: 40.363870, -77.116808. The bridge has a small parking area, but it has been made inaccessible by the destruction of the bridge.
To view the bridge now, you'll have to park along the side of the road. The shoulder here is just wide enough for smaller cars. Use caution if you are walking along the road or viewing Dellville Covered Bridge from the roadway overpass as this is a heavily trafficked road.
[Click here for information how to use the coordinates in this article to find your destination.]
See map below for other area attractions.