Disclosure: This article may contain affiliate links. We will make a small commission from these links if you order something at no additional cost to you.
Pennsylvania has a long baseball history dating back to the start of the sport, so it's no surprise that there are 19 Baseball Hall of Famers buried within the state. While the majority of these Hall of Famers are buried in Pittsburgh and Philadelphia, one of the biggest names is buried in Union County, Pennsylvania.
Christy Mathewson was born in Factoryville, Pennsylvania, a small community in Wyoming County, PA, in 1880.
He lived in northeastern Pennsylvania throughout his childhood and attended the nearby Keystone Academy (now Keystone College). He also got his first taste of semi-professional baseball, pitching for Factoryville against Mill City at the age of 14.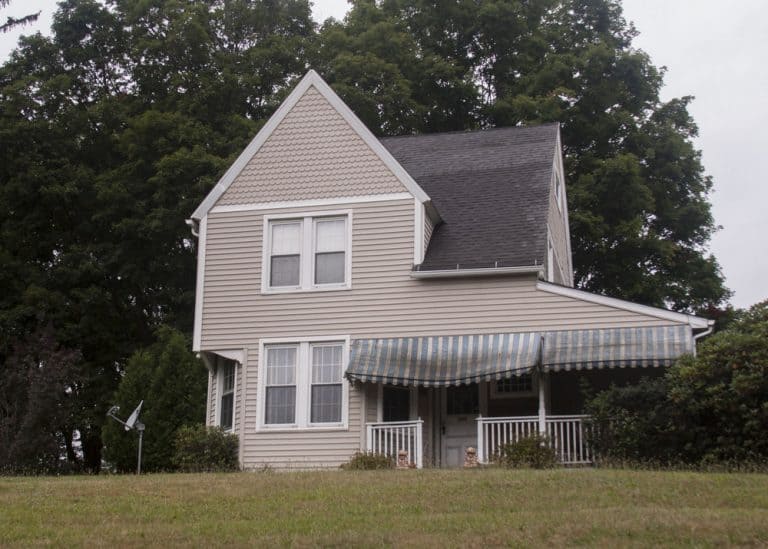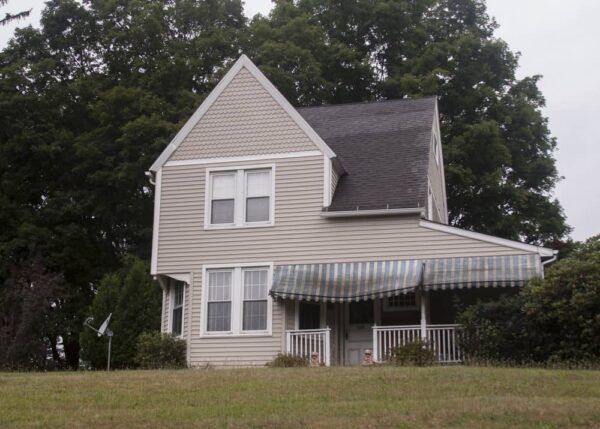 The borough of Factoryville has honored Mathewson by naming a park after him, creating a mural, putting a small statue near their baseball fields, and hosting an annual Christy Mathewson Day each August. His childhood home is also still standing on Mathewson Terrace.
For college, Christy Mathewson attended Bucknell University in Lewisburg, Pennsylvania. While there, he played for their baseball team. He also played for minor league teams in Honesdale and Meridian, Pennsylvania.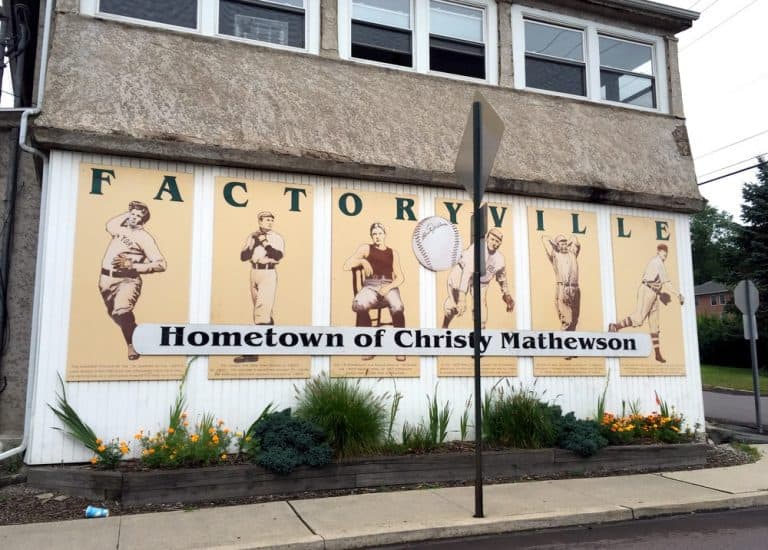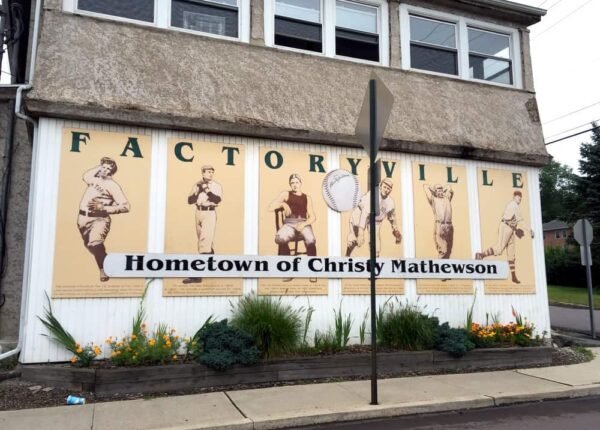 Mathewson began his Major League career in 1900 with the New York Giants and finished in 1916 with the Cincinnati Reds. Mathewson became known as one of the greatest pitchers in the history of baseball and still ranks among the top 10 in many statistical categories.
Mathewson enlisted in the Army during World War 1 and served in the U.S. Chemical Warfare Service with Ty Cobb. While in France, Mathewson was exposed to chemical weapons. This damaged his lungs and caused him to catch tuberculosis.
He died of the disease in 1925 at the age of 45 in Saranac Lake, New York.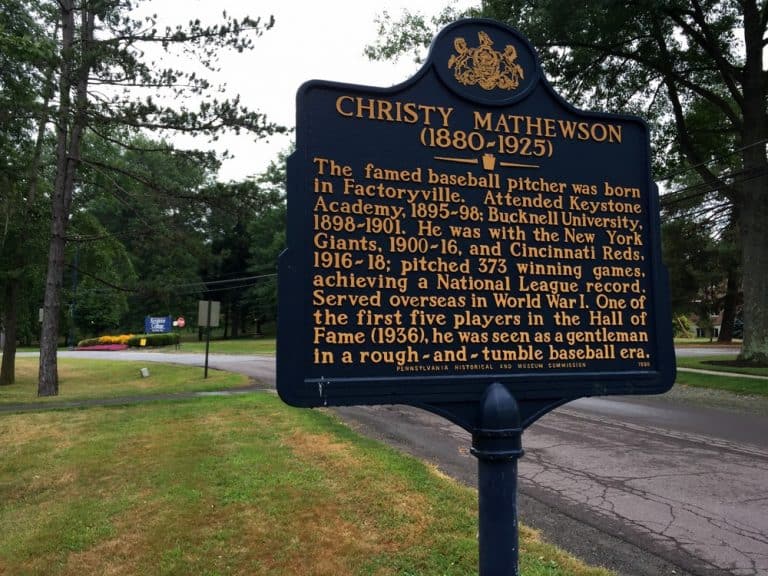 Mathewson's death shocked the country, with many papers devoting their front pages to his passing. The Oklahoma City Oklahoman said, "He was loved as no other American athlete has been loved." Before game two of the 1925 World Series in Pittsburgh, the flags were lowered to half staff and the 43,000 fans in attendance sang "Nearer My God to Thee."
Mathewson was elected to the inaugural class of the Baseball Hall of Fame in 1936 with over 90% of the vote. He was the only one of the five players elected to not live to see his induction.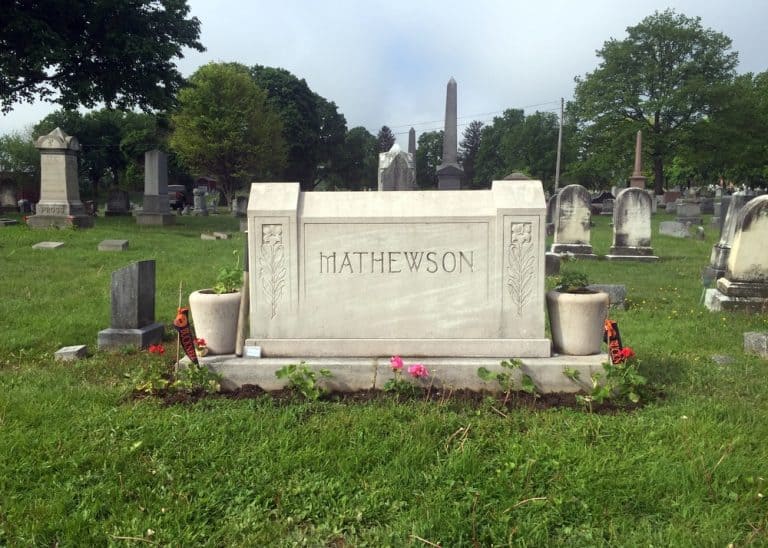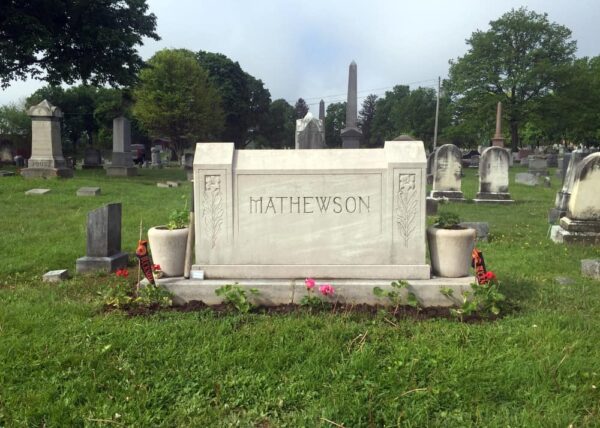 Mathewson was buried in Lewisburg Cemetery adjacent to Bucknell University. Shortly before his passing, he had told his wife that he wanted no fuss at his funeral, and there is no record that I could find of any elaborate event or well-known attendees
Mathewson's grave is located in the middle of the cemetery near the road. It features a large, but simple marble gravestone with the word "Mathewson" across it. During my visit, the grave was decorated with trinkets including a baseball bat, a baseball, and several Bucknell University pennants.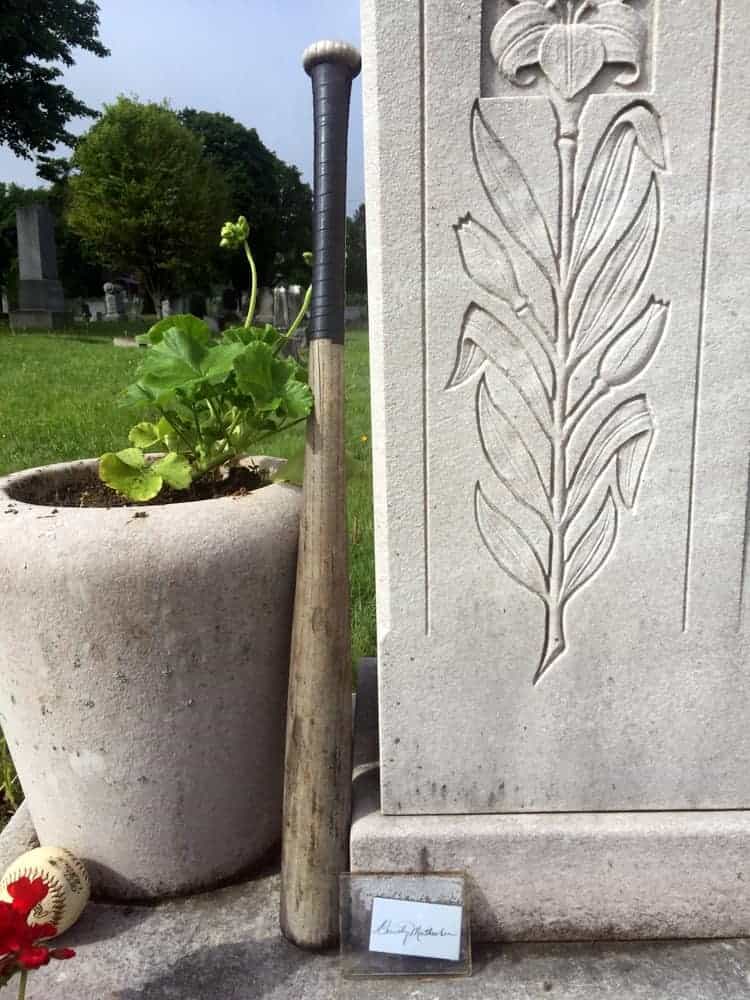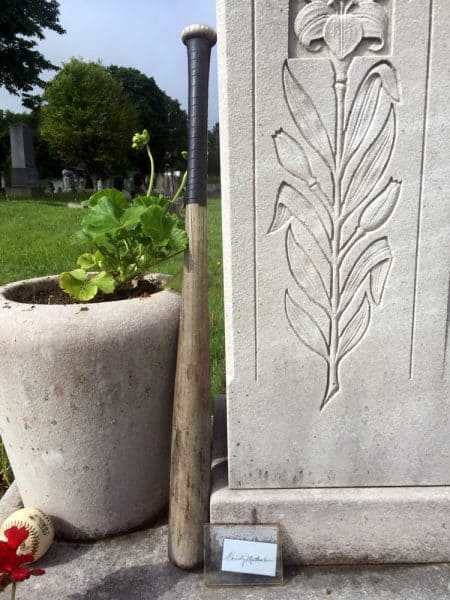 Christy Mathewson is one of the best known Baseball Hall of Famers buried in Pennsylvania. Located just off of Route 15 in Lewisburg, his grave is a worthwhile destination for baseball fans wanting to pay their respects.
Christy Mathewson's grave can be found in Lewisburg Cemetery at the following coordinates: 40.957694, -76.888078.
If you love baseball, don't miss the nearby Little League World Series, the World of Little League Museum, and the Baseball Hall of Famers buried in the Scranton/Wilkes-Barre area. Sports fans also won't want to miss Muhammad Ali's Deer Lake Training Camp.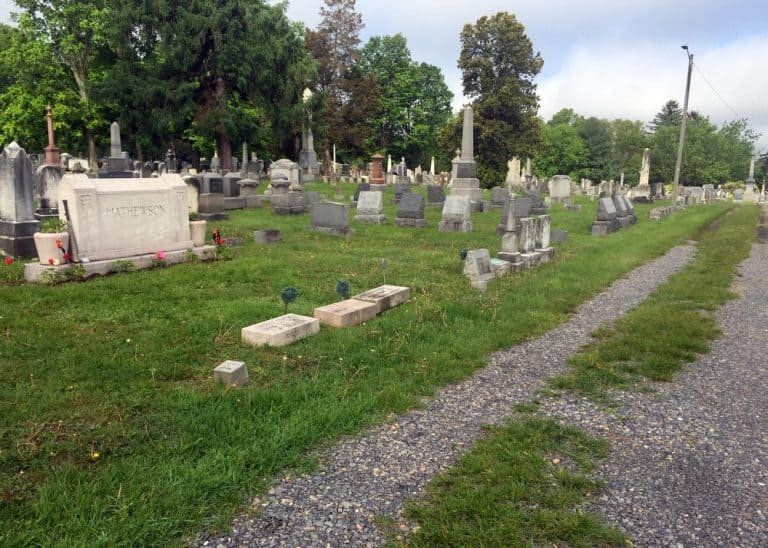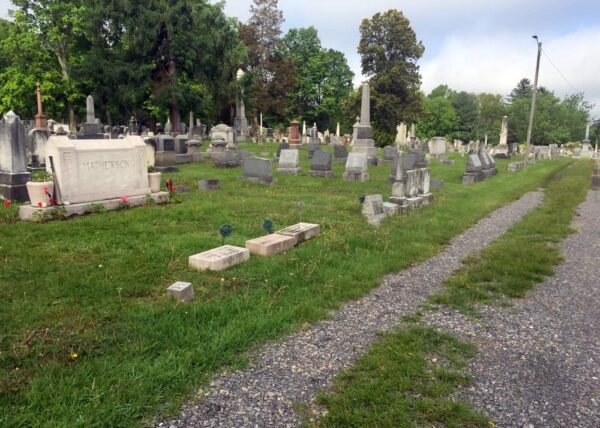 [Click here for information on how to use coordinates to find your destination.]
See map below for other area attractions.