Disclosure: This article may contain affiliate links. We will make a small commission from these links if you order something at no additional cost to you.
Snyder County, Pennsylvania might not be on the radar for many travelers to the state, but if you are looking for a great collection of covered bridges, along with several very interesting points of interest, a visit to Snyder County might be worth it.
The covered bridges of Snyder County are all publicly owned, which means they are all quite accessible for visitors and well maintained. This is in stark contrast to the two privately owned covered bridges in Juniata County, which are in serious need of reconstruction.
Of these four bridges, the first two are located near East Oriental Covered Bridge, which spans from Juniata County to Snyder County, making them an easy add-on when visiting the covered bridges of Juniata County. The other two are located just outside of Beavertown, a half-hour drive away. However, in addition to the bridges, there are two great reasons to make the complete journey to see all four covered bridges. I'll explain more below.
Because of their close proximity, visiting these four bridges can be very easily combined with a visit to the four covered bridges in Juniata County. Because of this, I'm putting these bridges in a logical order after you visit the last bridge on that tour, East Oriental Bridge. They also connect well with the 14 covered bridges in Perry County.
However, if you just opt to visit the covered bridges of Snyder County, the entire route will take about 40 minutes as you drive the 25 miles between the stop.
Coordinates have been provided for each bridge. To use them, simply copy/paste them into your GPS. Also, you can take a look at the map provided at the bottom of this article. The covered bridges of Snyder County are denoted by red pins, while the ones in Juniata County are blue, and two points of interest worth stopping for are marked with yellow pins.
North Oriental Covered Bridge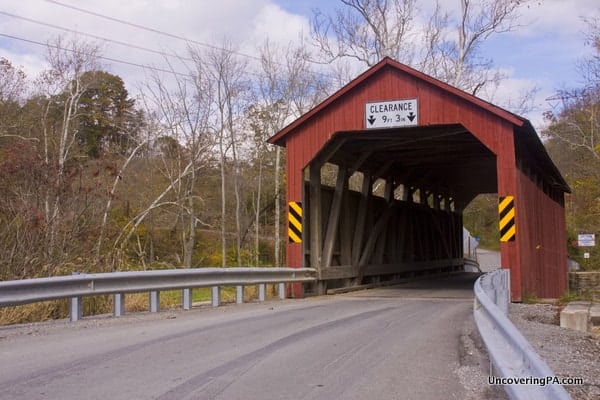 North Oriental Covered Bridge, also called Beaver Covered Bridge or Curry's Corner Bridge, is one of two that span the Mahantango Creek, the border between Snyder and Juniata Counties. However, unlike East Oriental Bridge, this covered bridge is in nice shape and still used by daily traffic.
The original bridge was built in 1908, but was rebuilt in 1987 after being damaged by a truck. While the bridge is only 62-feet long, it sits in a scenic spot and is well-worth visiting.
While the bridge is publicly owned, the land around it is all marked as private property, so it's best to view the bridge from the road. Bear in mind, that while traffic on the road doesn't appear to be very heavy, it is best to use extreme caution when standing on the road.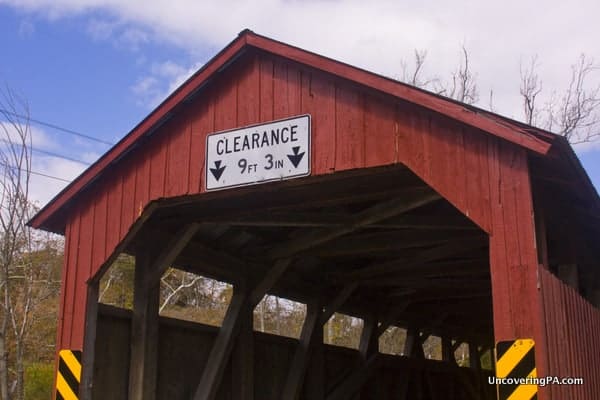 Getting to North Oriental Covered Bridge: There is no parking area for the bridge, but there are several places where a car can safely pull off the road. The best space appears to be on the Snyder County side of the bridge. The coordinates for the bridge are 40.661849, -77.011231.
Aline Covered Bridge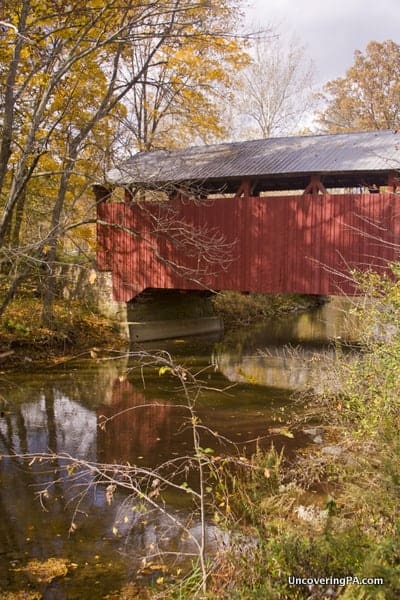 Also known as Meiserville Covered Bridge, this bridge is my favorite of the four in Snyder County. Located adjacent to the rather busy Route 104, this bridge has been bypassed by a newer bridge, leaving it sitting in an awkward location along the roadway. However, if you can get past the roadway noise, the bridge is quite pleasant and beautiful to look at.
Originally built in 1884, the 70-foot bridge was bypassed by a newer bridge in 1982. Inside the bridge is a picnic table, which makes this a great place to relax and have a bite to eat.
It really is a shame though about the bridge's location. I'm not a fan of moving covered bridges unless absolutely necessary, but this is one of the more distracting settings I've come across for a bridge.
Getting to Aline Covered Bridge: Aline Covered Bridge is located right next to Route 104, 4.5 miles north of Route 11. If you are traveling along the road between Liverpool and Port Trevorton, this makes a great place to stop for a bit.
Space to pull your car off the road can be found on Aline Church Road (T333), just after you cross the North Branch of the Mahantango Creek. From there, use caution, as you will have to walk back over the bridge and along the road to reach the bridge itself. Coordinates for the bridge are 40.6761667, -076.9791667.
Lunch Stop: Cruiser's Cafe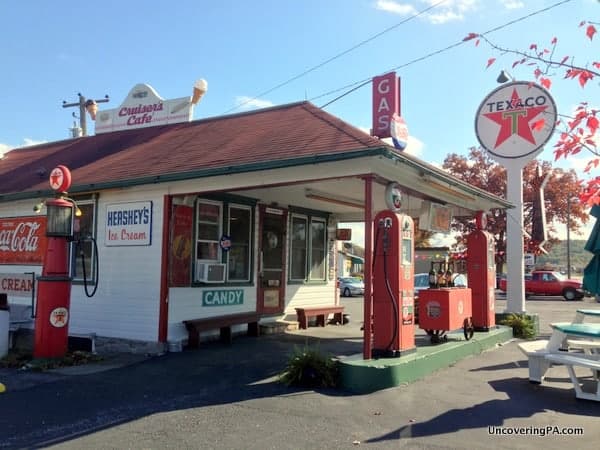 While traveling the route, I stumbled across Cruiser's Cafe, a 50s-era diner on Route 104, between Aline Covered Bridge and Dreese's Covered Bridge. I was super impressed with the kitchiness of the cafe and really enjoyed the good and relatively inexpensive food.
If your journey to the covered bridges of Snyder County has left you feeling both hungry and nostalgic, this is a great place to stop for a meal or a quick snack. (This isn't a paid endorsement of any kind. I just really liked this place!)
If you want to visit, Cruiser's Cafe is located at the intersection of Route 104 and Route 35 in Pleasant Mills, Pennsylvania. As you are driving north of Route 104, it's hard to miss the old-timey diner and gas station. However, if you want to make sure you don't miss it, Cruiser's Cafe's address is 8448 Route 104, Mount Pleasant Mills, Pennsylvania.
Dreese's Covered Bridge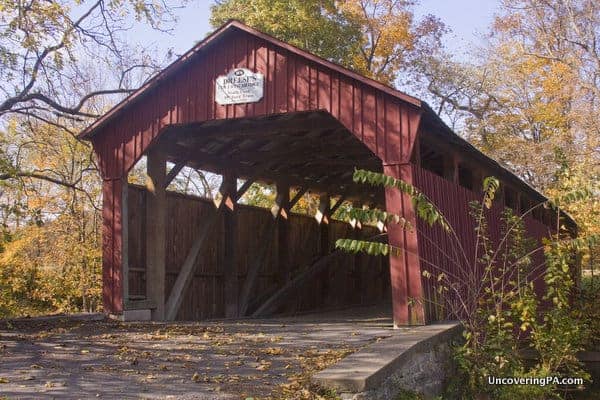 The next covered bridge on our itinerary is one of two located around Beavertown, Pennsylvania. Dreese's Covered Bridge, which is also known as Beavertown Covered Bridge, spans 95 feet over Middle Creek.
The bridge has been bypassed by another bridge, so you can no longer drive across it. However, there is a nice pull-off at the bridge that can fit several cars, and the area around the bridge is quite well maintained. The original bridge was built in 1870, but it was rehabilitated to its current state in 2001.
For some odd reason, there is conflicting information about the length of this bridge, with two sources listing it at 95 feet and another at 103 feet. Either way, it's a beautiful bridge that is well-worth checking out.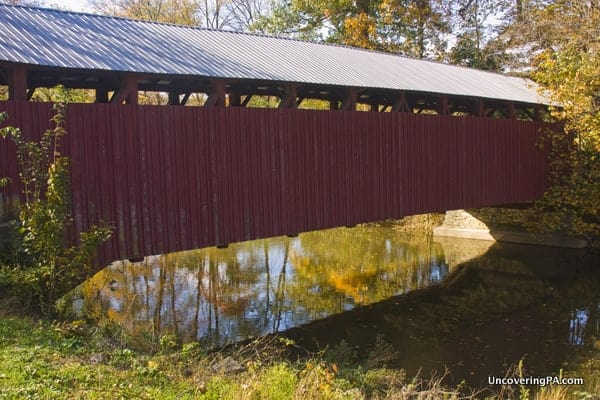 Getting to Dreese's Covered Bridge: Dreese's Covered Bridge is located just a few miles outside of Beavertown off of Route 522. As stated above, there is a nice pull-off next to the bridge for cars, making this the easiest bridge to park at in Snyder County. The bridge can be found at the following coordinates: 40.775358, -77.145106.
Davy Jones' House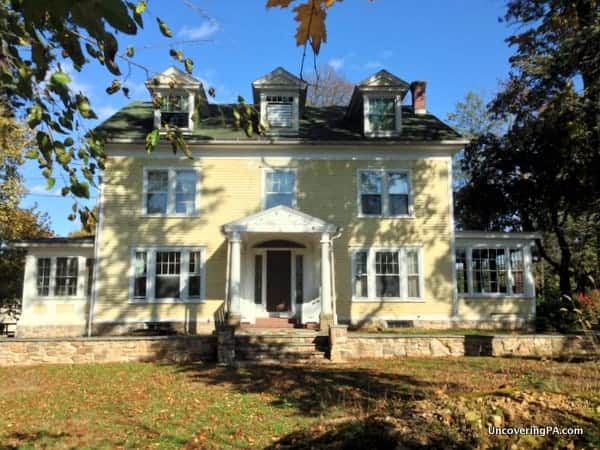 Did you know that Davy Jones, lead singer of 60s-rock group The Monkees lived the last 20 years of his life in Beavertown, Pennsylvania? If you're like me, it's likely that fact comes as a bit of a surprise, but it's true.
Jones died in February 2012, and his house is now up for sale. The large home sits on a residential street, about a third of a mile off your path along Route 522 in downtown Beavertown. The stately, yellow home bears no mention of Jones' time there, but at the time of my visit, there was a small bouquet of flowers by the entrance gate.
If you decide to visit the home, bear in mind that you are in a residential area, and respect the private property, whether posted or not.
For those looking to visit, Davy Jones' former home is located at 301 S Center St, Beavertown, Pennsylvania 17813.
Klinepeter Covered Bridge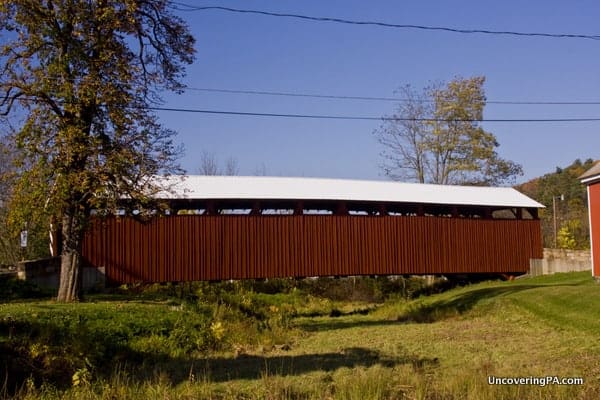 The last of Snyder County's four covered bridges is Klinepeter Covered Bridge, also known as Gross Covered Bridge. At 105-feet long, it's the longest remaining covered bridge in Snyder County and one of two in the county that cars can cross.
This bridge has been well maintained, but unfortunately sits over a small run-off ditch instead of a stream. While I understand why bridges are occasionally moved to ensure preservation, I always find them to be much less scenic if they aren't over water.
In this case, Klinepeter Covered Bridge was moved one mile southeast of its original location and rebuilt in Beaver Springs in 1982. The bridge originally was built in 1871 and spanned Middle Creek. A damming project along the creek necessitated the bridge's move in order to keep it from being lost.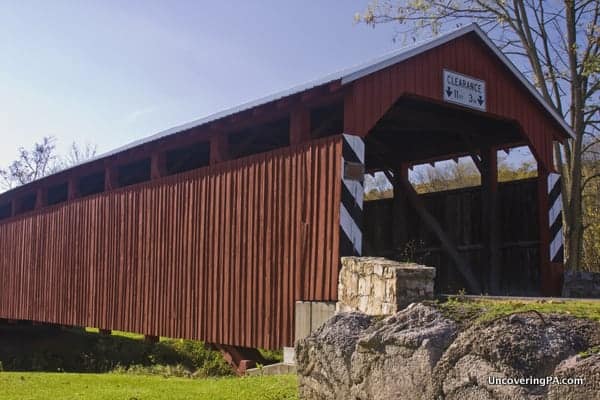 Getting to Klinepeter Covered Bridge: Klinepeter Covered Bridge is located in an industrial area of Beaver Springs. There appears to be no designated parking for the bridge, but given the nature of the area, there is ample parking available around the bridge. The bridge can be found at 40.7470000, -077.2116667.
If you are looking to visit more covered bridges, this trip pairs well with visiting the four covered bridges in Juniata County, Pennsylvania.
For reference, on the map below, the covered bridges of Snyder County are marked with red pins, the covered bridges of Juniata County are marked with blue pins, and the two points of interest mentioned above are marked with yellow pins.
Looking for more places to visit nearby? Check out T&D's Cats of the World, Reeds Gap State Park, Woodward Cave, and Rusty Rail Brewing Company.
[If you need help using the coordinates listed in this article, read my explanation here.]
See map below for other area attractions.