Disclosure: This article may contain affiliate links. We will make a small commission from these links if you order something at no additional cost to you.
While the glittering ball in New York City's Times Square might get a lot of attention around the world, here in Pennsylvania there is a huge variety of places you can countdown the new year.
Even better, many of the things dropped throughout Pennsylvania are a bit on the wacky side, commemorating a local industry or idiosyncrasy.
Here's my list of the 10 craziest things dropped in on New Year's Eve in Pennsylvania:
A Pickle in Dillsburg
In Dillsburg, a small town south of Harrisburg, the tradition is to drop a pickle from the top of a fire truck to celebrate the new year. Now in its 21st year, the event starts at 4:30pm with kids activities and culminates with the dropping of "Mr. Pickle" at midnight and fireworks.
Interestingly, the town of Mt. Olive, North Carolina also drops a pickle on New Year's Eve.
A Mushroom in Kennett Square
Kennett Square is known as the "Mushroom Capital of the World", so it seems fitting that they will drop a mushroom this New Year's Eve. The 700-pound, 7.5-foot tall stainless-steel mushroom will drop at the culmination of the "Midnight in the Square" festival that starts at 9pm.
This is the first year of what is likely to become a new town tradition.
A Wrench in Mechanicsburg
In celebration of the mechanics who settled in the area & founded Mechanicsburg, this Pennsylvania borough has been dropping a galvanized steel wrench at the stroke of midnight since 2003. The actual drop takes place in front of the Washington Fire Company each year.
This family-friendly event offers a 2-hour kids program as well as music and a silent auction.
A Beaver in Beavertown
It makes sense that a town named "Beavertown" would drop a beaver on New Year's Eve. And that's exactly what happens in this Snyder County borough. For the fourth time, Beavertown will be dropping a 6-foot long beaver made of styrofoam and fake fur from a 75-foot tall fire truck ladder.
Fireworks will follow the drop.
Bologna in Lebanon
In addition to the usual bologna, a 6-foot, paper mache likeness of The Bologna Ranger will also be lowered at midnight in the town of Lebanon this upcoming year. This year's festivities will be held in a new location on South Eighth Street between Cumberland and Chestnut Streets.
In addition to the drop, partygoers will also be able to enjoy DJ music, salsa dancing, and a flash mob.
A Strawberry in Harrisburg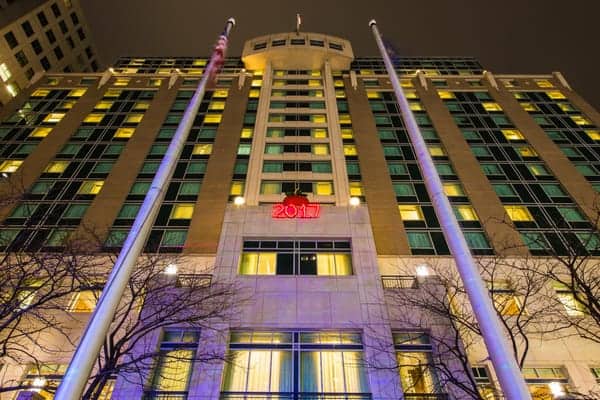 The dropping of a strawberry in Harrisburg might be one of the most peculiar events in the state. While strawberries are grown nearby, Harrisburg isn't particularly known for strawberries, and there is no major industry in the area related to the fruit.
Instead, according to the tourism bureau's website, Harrisburg drops a strawberry in recognition of its (not that exciting) Strawberry Square shopping center.
It's a rather odd reason, but the event, now more than 25 years old, is quite popular in the region. After the strawberry is dropped, there is a brief fireworks show in downtown Harrisburg.
A Bottle of Yuengling Beer in Pottsville
Back to things that make a bit more sense; the town of Pottsville drops a bottle of Yuengling beer each year for New Year's Eve.
Home to the Yuengling brewery since 1829, the oldest continually operating brewery in America, Pottsville's beer bottle drop has continued to be a very popular event.
A Marshmallow Peep in Bethlehem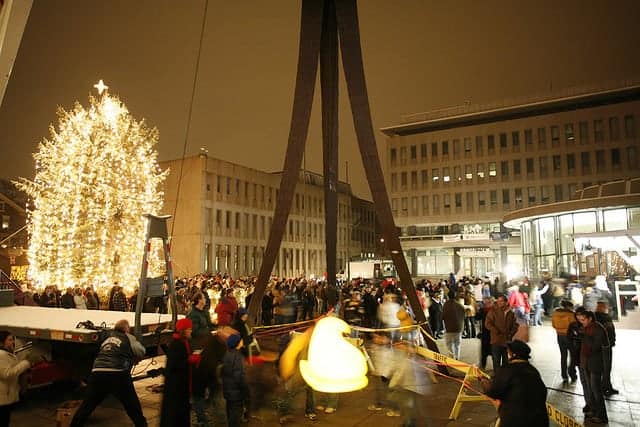 As the home to everyone's favorite marshmallow chicks, Bethlehem quickly switches from "Christmas City USA" mode and drops a giant marshmallow Peep on New Year's Eve.
There are a ton of activities going on both December 30 and 31st at the Steel Stacks in Bethlehem, which culminates in the dropping of the Peep at 5:15pm on New Year's Eve.
An Ice Cream Cake in McVeytown
For the last few years, the small Mifflin County community of McVeytown has dropped a giant ice cream cake to ring in the new year. The cake is dropped in the parking lot of the local fire station from the ladder of a fire truck.
Everyone ringing in the new year with the drop will get a baby ice cream cake to celebrate.
A Ball of Recycled Materials in Pittsburgh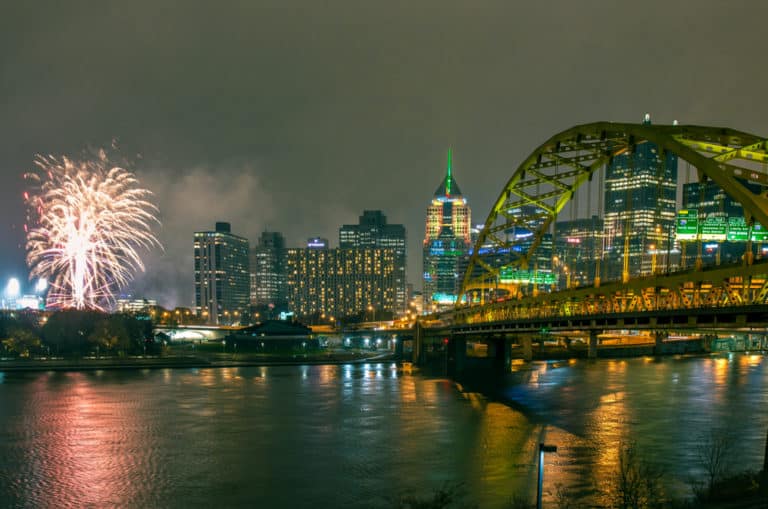 Once known as one of the dirtiest cities in the world, Pittsburgh has revitalized itself into one of the country's most underrated cities. So, it makes sense that Pittsburgh would honor that tradition by showing their "green" side.
Called the "Future of Pittsburgh", the ball is a 1,000 pound lit orb made entirely out of recycled materials. The First Night event includes a parade and many activities in the downtown cultural district.
Bear in mind that this isn't an exhaustive list of crazy things dropped on New Year's Eve in Pennsylvania. There are many more crazy celebrations all over Pennsylvania, including a light bulb in Sunbury, an Indy Car in Carlisle, a kettle in McLure, a rose in both York and Lancaster, and many more.
If you want a full list of weird things dropped on New Year's Eve in Pennsylvania and around the entire USA, check out this great list from Wikipedia.
Check out our top suggestions for the best things to do in Philadelphia on New Year's Eve and how to experience the Mummers Parade in Philly on New Year's Day.