Disclosure: This article may contain affiliate links. We will make a small commission from these links if you order something at no additional cost to you.
One of my favorite things about writing this blog is uncovering something special that few know about. Often, these unknown destinations have been around for years, but sometimes, I get to discover places that are brand new. Now, not every new destination that I visit seems primed to becoming something special, but Disobedient Spirits in Indiana County seems ready to breakout.
I had the opportunity to get a sneak peek at their operation a few weeks before they opened for sales and tastings in 2014 , thanks to the Indiana County Visitors Bureau.
Disobedient Spirits is located on a small-town main street in the borough of Homer City. Seeing a modern distillery among the fabric of a small town is a bit odd to be honest. And, some in the town thought so as well, fighting everything from the distillery's name to zoning. However, the permits were eventually approved. And, with the transformation of an abandoned grocery store, Disobedient Spirits has rejuvenated a portion of this tiny borough.
Disobedient Spirits draws its name and inspiration from history. In 1794, frustrated with taxes on their whiskey, settlers in western Pennsylvania started a rebellion against the United States government. Known today as the Whiskey Rebellion, this short lived fight had little lasting change, but did create a few interesting footnotes in history.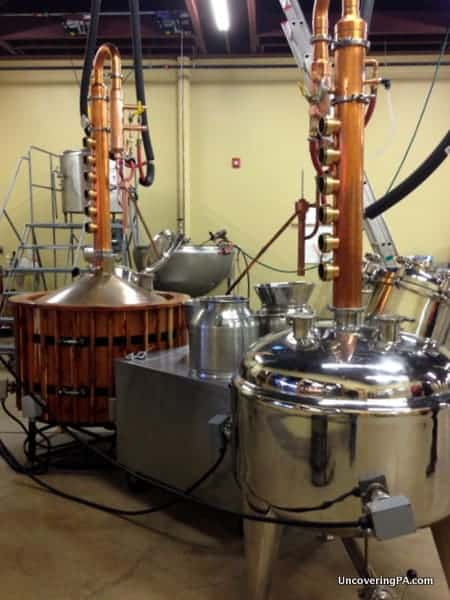 Walking into their building on Homer City's main business street, I was impressed at the openness of their facility. The tasting room has a modern feel, but with a few touches of natural wood to give the facility a very homey feel.
Your eye is instantly drawn to the large tasting bar at the back of the room. The wooden stools were made by a local woodworker and have a unfinished feel that contrasts with the modern facility. Behind the bar, the colorful mural combines the company's logo with a graffiti-esque rendering of the Constitution.
To the left of the tasting bar is a large picture window through which you can see the distilling operation. Several stills sit near the window, while the back of the room is used for storage and bottling. The distilling area is a bit bare at the moment, but that means that Disobedient Spirits has plenty of room for future expansion.
As with any visit to a distillery, winery, or brewery, the most important part is what the product tastes like. Disobedient Spirits offers a lines of flavored vodkas and brandies, as well as a premium vodka. Unfortunately, when I visited, no brandies were available for tasting. Even worse, since distilleries are limited to providing three samples during your visit, I was only able to try a small portion of their flavored vodkas.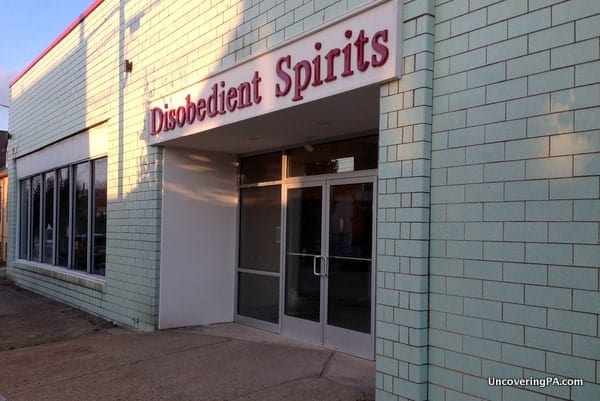 My first tasting was of their premium blue corn vodka. Personally, I'm not a huge fan of straight liquor, so I'm not an expert on what good vodka tastes like. However, it did seem to taste a bit smoother and less harsh than your standard liquor store vodka.
What I really enjoyed, though, was the two flavored vodkas that I had the chance to try. The orange vodka had a pleasant citrus flavor, and while it might not have been smooth enough for me to drink straight, I think it would be excellent in the right mixture.
As a beer lover, I knew my last sample had to be their hop-infused vodka. The first sensation you'll notice from this vodka is the strong smell of the hops. In many ways, it had a smell similar to a strong IPA. The flavor of the hops was less pronounced when actually tasting the liquor, but added a different flavor to the vodka that made it quite unique. I haven't seen hop-infused vodkas anywhere else, and I would definitely recommend this one for beer lovers.
As I said at the start, I'm excited to see where Disobedient Spirits goes in the future. They seem primed for big things given the quality of their initial products. If you're visiting Indiana County, take the time to stop by the distillery and sample some of their spirits.
Note: My visit to Disobedient Spirits was hosted by the Indiana County Visitor Bureau. However, the opinions expressed are my own.
Looking for more? Check out Blackbird Distillery in nearby Brookville and Levity Brewing in Indiana.
---
Disobedient Spirits
Hours: Wednesday-Saturday: 12pm-9pm
Cocktail Bar: Wednesday & Thursday: 4pm-9pm; Friday & Saturday: 4pm-10pm

Website: DisobedientSpirits.com

Address: 30 South Main Street
Homer City, Pennsylvania 15748
See map for other area attractions.
---