Disclosure: This article may contain affiliate links. We will make a small commission from these links if you order something at no additional cost to you.
When I first started uncovering the many great things to see and do in Pennsylvania, I was surprised to learn that the state was home to the largest elk herd east of the Rockies. Truth be told, I was even surprised that there were elk this far east.
However, before European settlers came to the Americas, elk herds roamed across much of the east coast. As more and more settlers pushed west, the number of elk diminished. By the 1870s, there were no elk left in Pennsylvania.
Between 1913 and 1926, in an effort to rebuild the elk population in Pennsylvania, 177 elk were released in 10 different Pennsylvania counties. Over the coming years, the elk population would decline to a low of less than 50. However, proper management of the species has resulted in an estimated population of about 1,000 in 2018 according to the Pennsylvania Game Commission.
While these elk are part of a different sub-species than those that used to roam the state, they have been so successful in their reintroduction that they are now a tourist attraction in the Pennsylvania Wilds.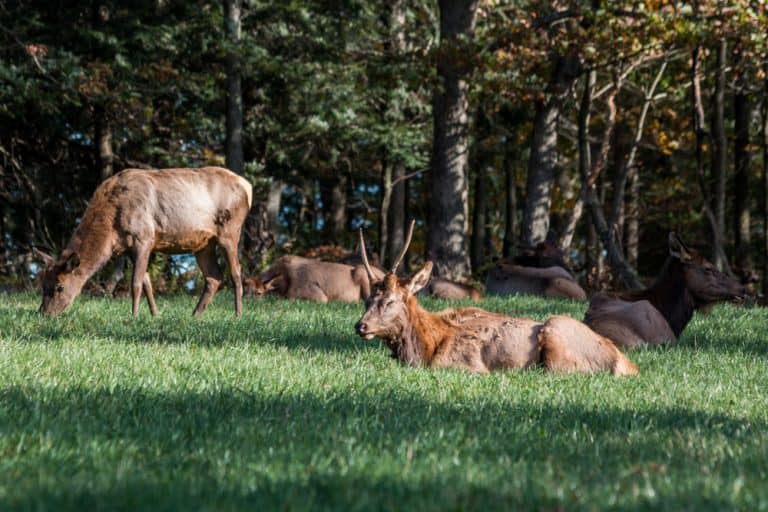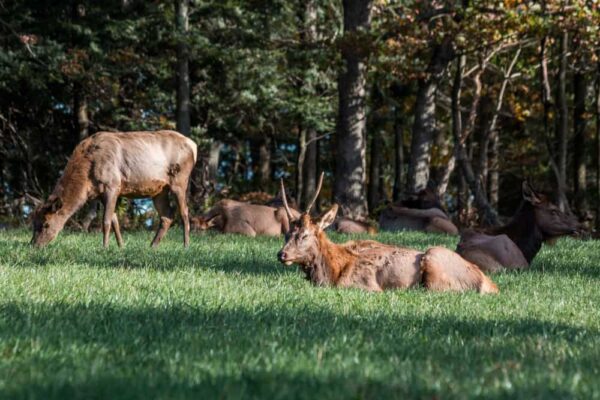 Wanting to learn about the herd and hopefully see some elk for myself, I took a trip to the Elk Country Visitor Center in Benezette. The Elk Country Visitor Center isn't your normal visitor center. Sure, you can pick up brochures here for many of the attractions in the area, but this visitor center is actually a tourist attraction by itself.
Sitting on a hill above the small town of Benezette, the Elk Country Visitor Center sits in the heart of elk country. It is not at all uncommon to see elk meandering around the grounds of the visitor center, thanks in part to the food plots and favorable habitat.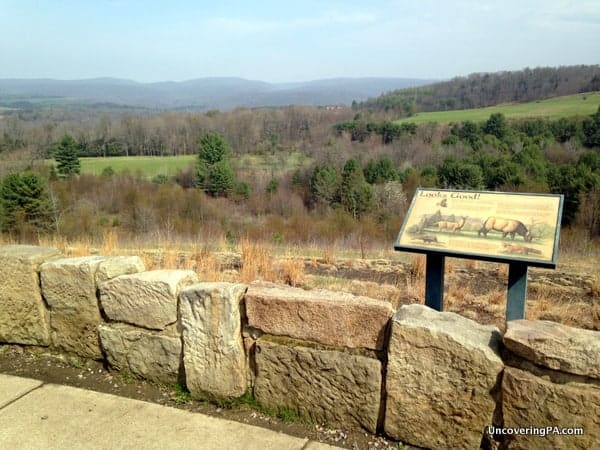 The grounds of the visitor center also have several trails that meander through the surrounding area that provide great vantage points for viewing the elk as they graze in pastures.
Inside the Elk Country Visitor Center, there is small museum filled with information on the elk herd, as well as several taxidermied animals. The museum is definitely geared toward hands-on activities for kids, but it still provided me with great information about the history of elk in Pennsylvania.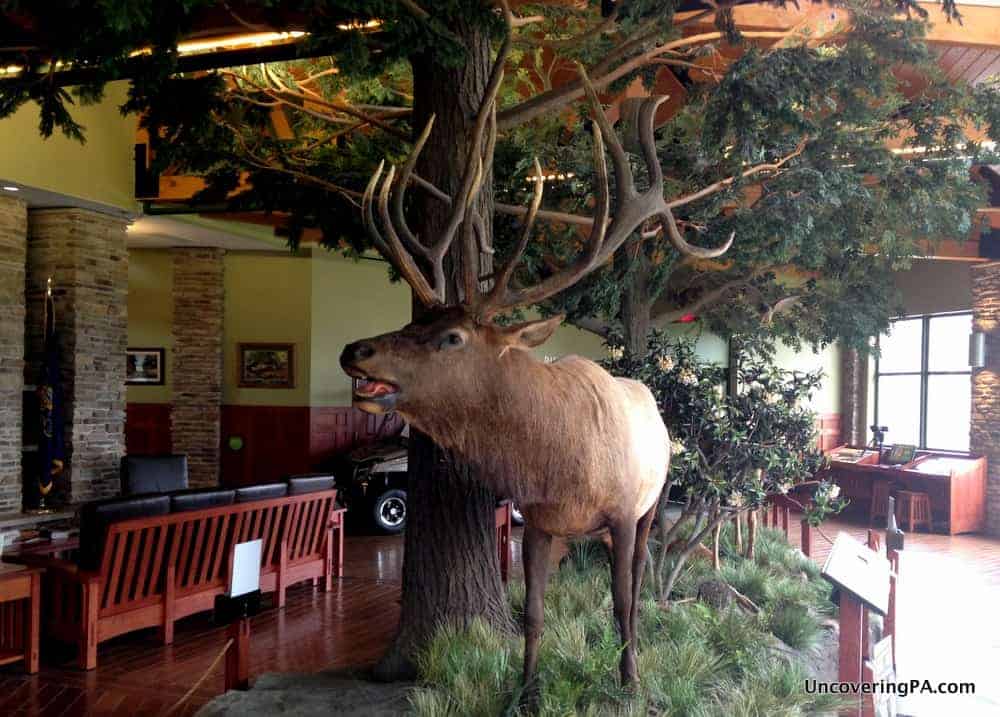 The visitor center also offers a 4D theater and carriage rides for those interested, for a small fee. There is also a gift shop. Should all your elk viewing leave you a little famished, the elk jerky in the gift shop is definitely an ironic choice.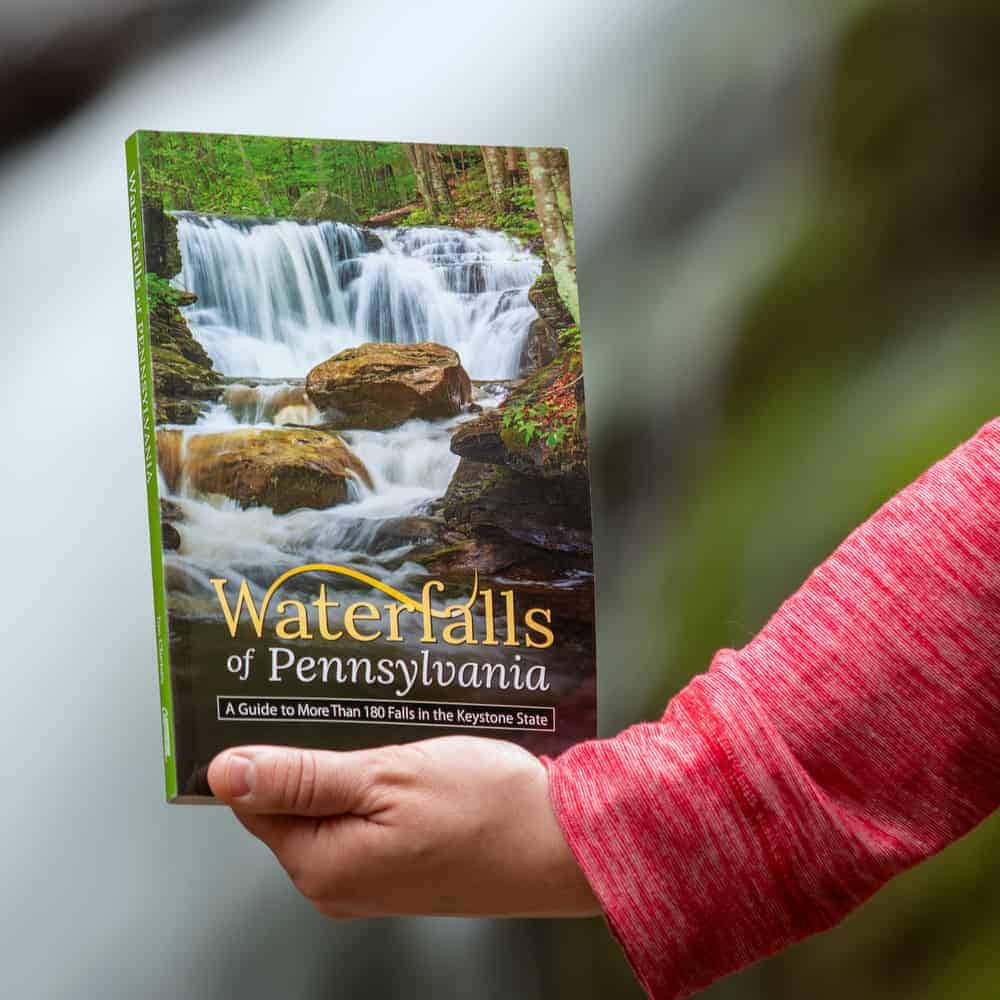 "Waterfalls of Pennsylvania" by Jim Cheney
If you love PA waterfalls, you won't want to miss this waterfall book from Jim Cheney, author of Uncovering PA, featuring more than 180 great waterfalls. Order it now on Bookshop.org or Amazon.
It's worth noting that this isn't a zoo and you're dealing with wild animals. Therefore, it's entirely possible that you might not see any elk at the Elk Country Visitor Center. That, unfortunately, was my experience during the two visits I've made to the center.
However, there are many other great spots where you can also try to see the elk near Benezette, Pennsylvania. From the visitors center, there are several viewing areas that can be accessed by turning right out of the center and following Winslow Hill Road.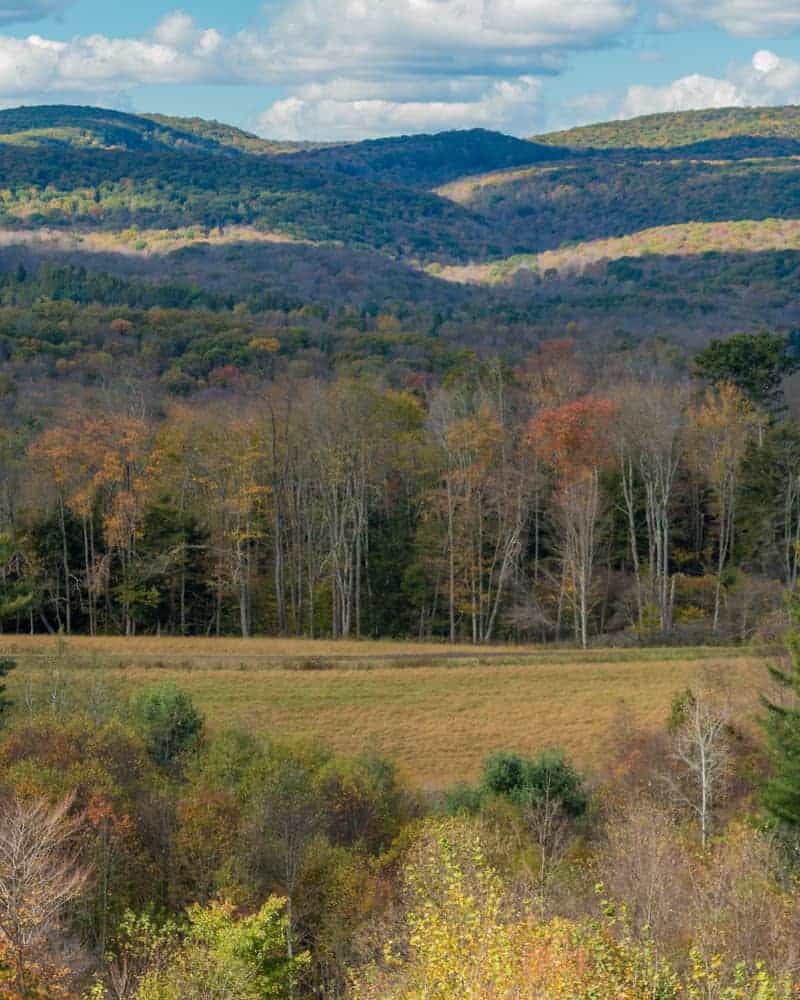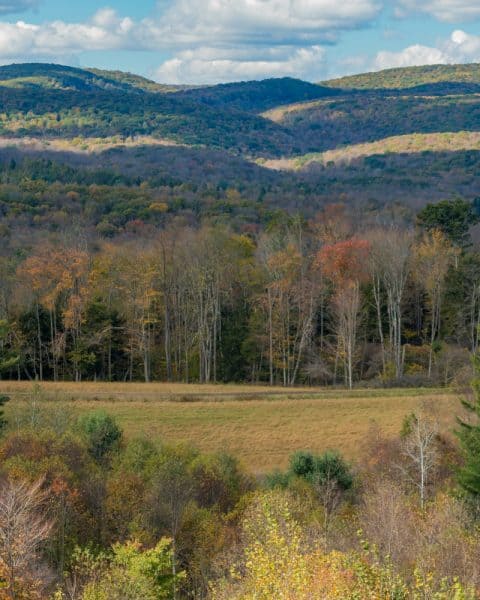 Here, there are several parking lots that overlook areas where elk can often be found. The best time to see the elk is either right after sunrise or right before sunset, but I was able to see a few elk during the middle of the day on a recent visit.
In addition to the chance to see elk, several of these viewing areas also offer commanding views over the Elk County countryside.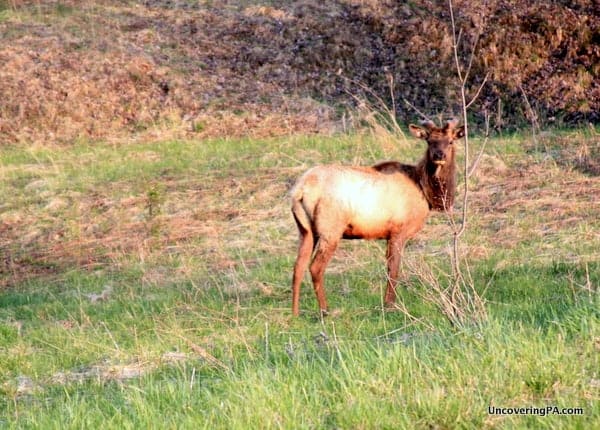 Of course, these are wild animals, and they can often be found in seemingly random spots. In fact, the first elk I ever saw was in a home's backyard in the town of Benezette.
It's also worth noting that, while the area around Benezette is widely considered to be the best for elk viewing, the elk do roam throughout much of the Pennsylvania Wilds and surrounding area, so you never know where you will find an elk during your travels. In fact, while still relatively close, I had my best elk encounter during my first visit along a quiet road close to downtown Saint Marys.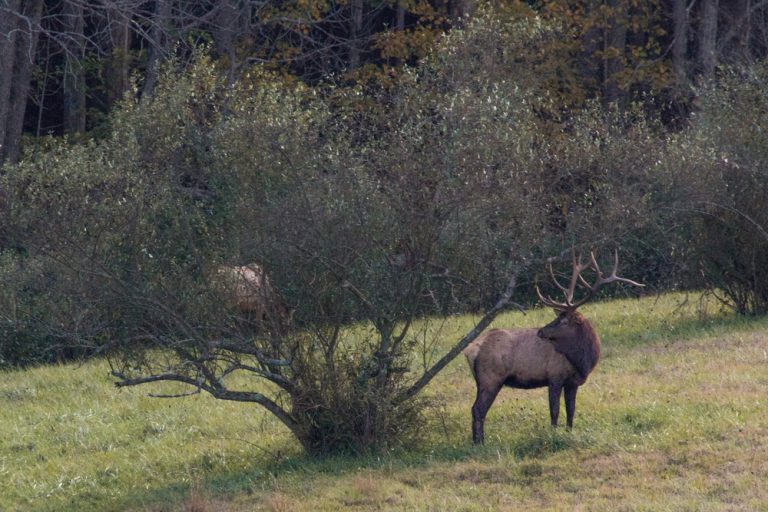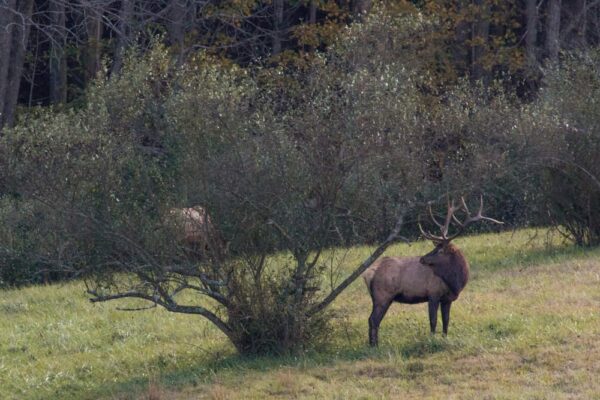 All in all, a visit to Benezette, the Elk Country Visitor Center, and the rest of Pennsylvania's elk region is a fantastic way to learn more about these beautiful animals. And, while there are no guarantees, your odds of seeing several of these beautiful animals is highly likely.
In fact, I found the experience so great that I consider Elk County to be one of the best places in PA for outdoor adventure.
When to visit the Elk Country Visitor Center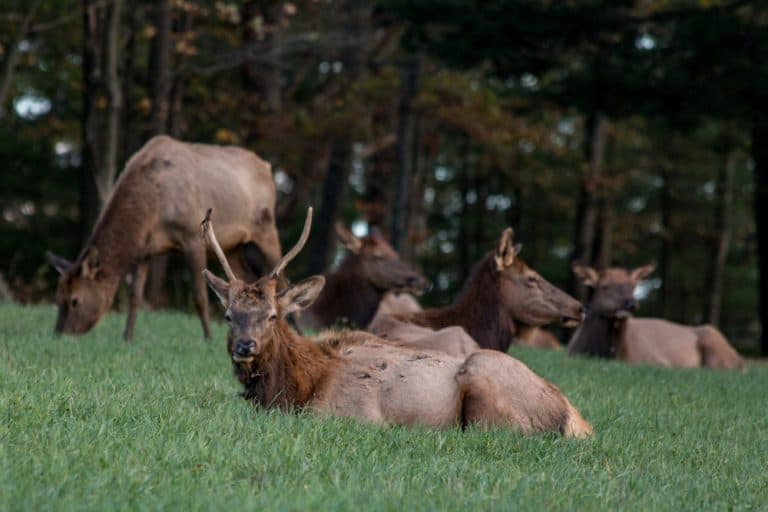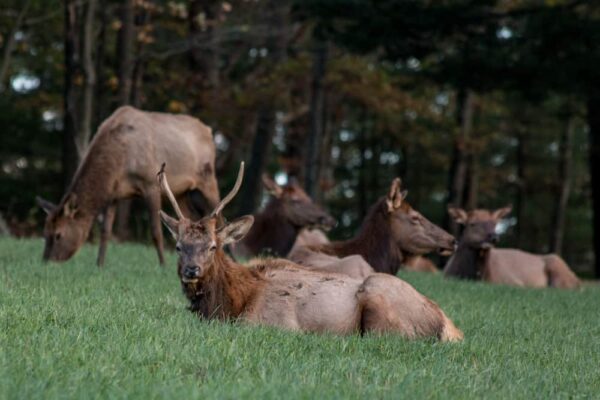 If you do visit, the best time to view elk is during dawn or dusk, though it's possible to see them at any time of the day. Many like to visit in the early fall to see the bull elk with their full antlers, however, anytime during spring or summer can offer great chances to see elk.
Viewing elk during the winter months is possible, but they are often hunkering down to stay warm, and viewing them can be a bit more difficult.
When visiting Elk Country, bring binoculars with you as the elk often keep their distance from visitors. A large zoom lens is recommended for those looking to take photos.
Of course, never approach the elk or attempt to touch or feed them. These are wild animals and people have been injured getting too close to these beautiful animals.
If you can't make it up to the area, the PA Game Commission typically runs a live-stream Elk Camera in early fall so you can view the elk rut from the comfort of home.
Looking for more adventures in the area? Try hiking in the Marion Brooks Natural Area, visiting Parker Dam State Park, seeking out Table Falls in the Quehanna Wild Area, or touring Straub Brewery in Saint Marys.
---
Elk Country Visitor Center
See map below for other area attractions.
---