Disclosure: This article may contain affiliate links. We will make a small commission from these links if you order something at no additional cost to you.
Located in the northwestern corner of Pennsylvania along the shores of Lake Erie, the area around the city of Erie is well known for its many delicious wineries. However, those looking for great breweries in Erie, PA are in luck as the city is home to many fantastic options.
I had a chance to personally visit each of the breweries in Erie that are listed below and discovered that while some were better than others, this is definitely a fantastic destination for anyone that loves beer.
So, the next time you are looking for something fun to do in Pennsylvania's Great Lakes Region, head over to a few of these great spots.
Erie Brewing Company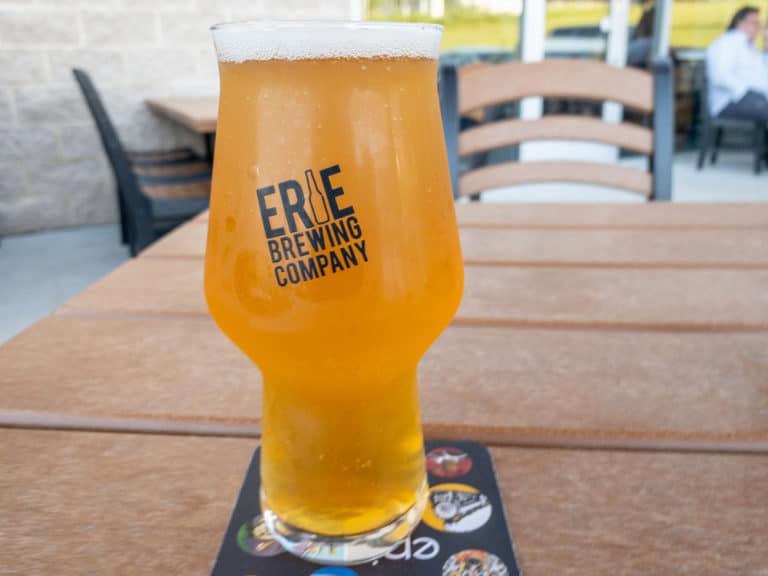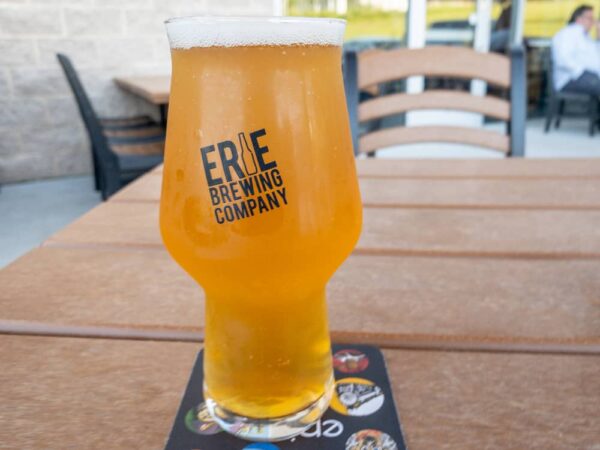 Erie Brewing Company is the oldest and likely the largest brewery in Erie, PA. First opened in 1994 as a small brewpub, they now run an impressive tasting room just east of the downtown area.
Compared to some other breweries, Erie Brewing Company's beers tend to be a bit less unique, but they are still tasty, and the brewery has even won three awards at the Great American Beer Festival. During my visit, I had a chance to try two of their beers, which combined with bottled beers I had tried in the past, were all quite good.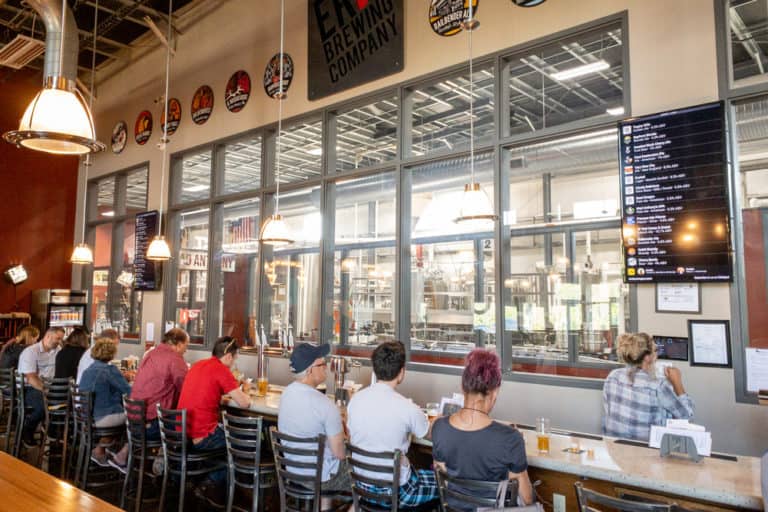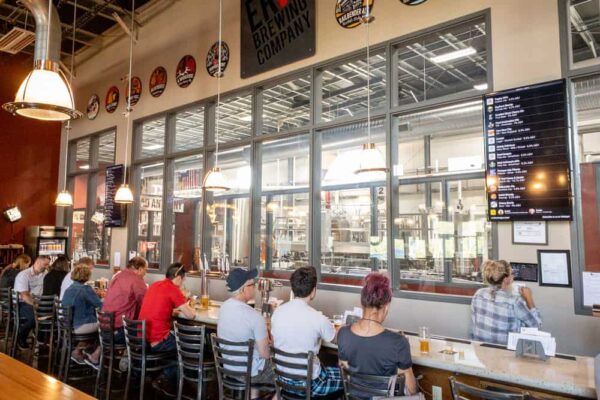 Their large tasting room features both indoor and outdoor seating. They also have a self-guided tour area for those wanting to learn how their beer is made.
Within the taproom, there is a stand for John's Wildwood Pizza, which offers delicious pizza and other pub food. While there, make sure to get the fries, which are fantastic.
Erie Brewing Company is located at 6008 Knowledge Parkway.
Black Monk Brewery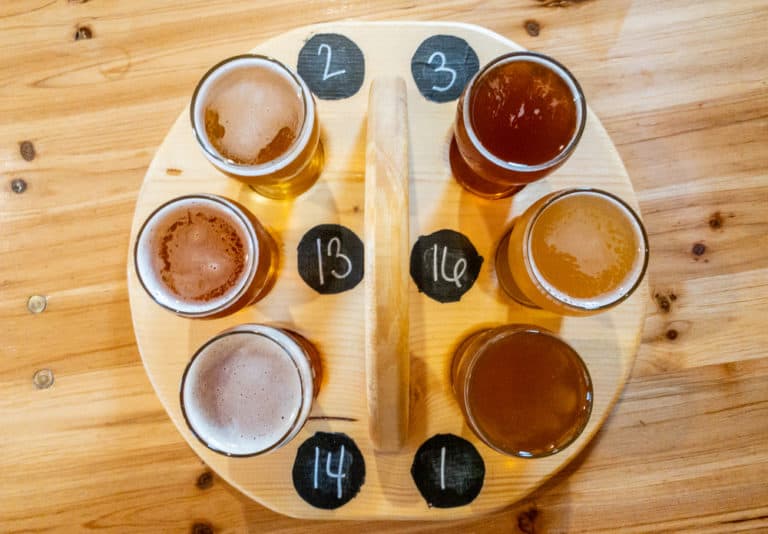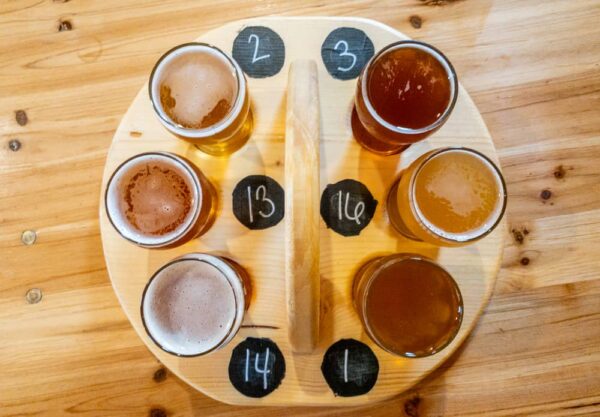 Black Monk Brewery is located in west Erie near the entrance to Presque Isle State Park and Waldameer Park. They feature a very delicious selection of Belgian-style beers. However, with 17 beers on draft the day I visited, they also offer a nice variety of other styles, including some very good IPAs.
Black Monk's tasting room is rather basic and features both indoor and outdoor seating. While they don't have on-site food, they do have food trucks visit on select days and offered free popcorn for visitors.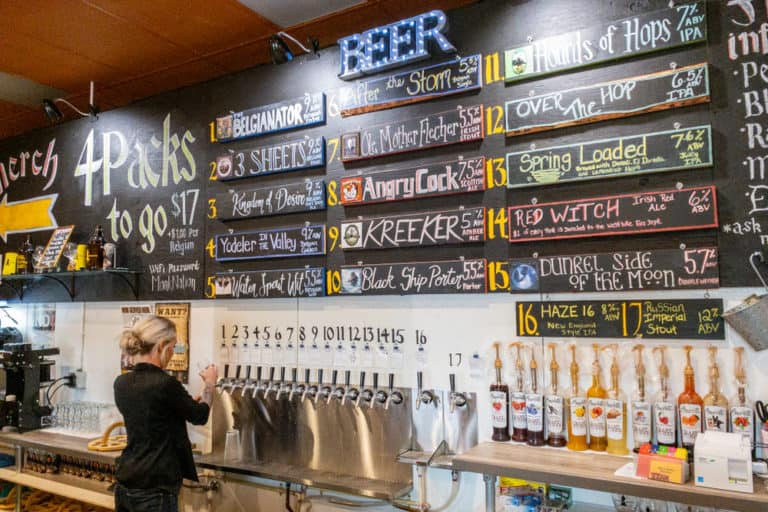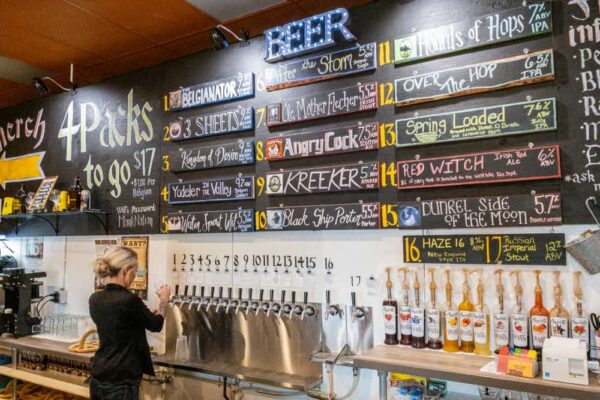 During my visit, I opted to try three Belgian beers (Three Sheets Belgian Ale, The Belgianator Tripel, and Kingdom of Desire Dark Strong Ale), two IPAs (Spring Loaded Juice IPA and Hazy 16 New England IPA), and Red Witch Irish Red Ale. All of these beers were quite impressive, and I definitely could have stayed to have another if I had the time.
Of all the breweries in Erie, Black Monk is definitely one of my personal favorites.
Black Monk Brewery can be found at 3721 West 12th Street.
Erie Ale Works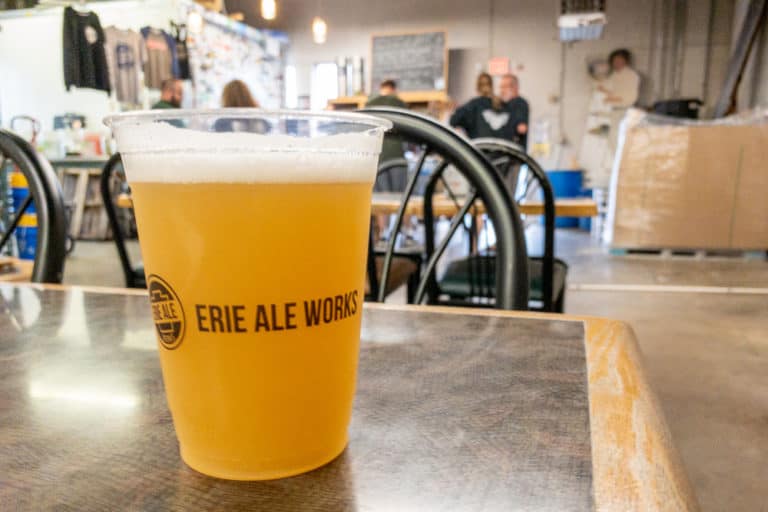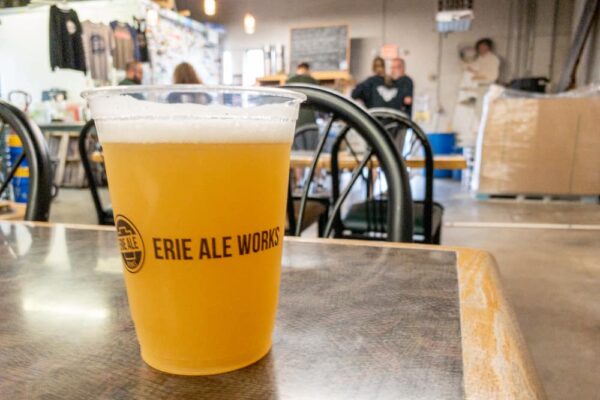 Erie Ale Works is located in two converted garages in downtown Erie. This gives their tasting room a warehouse feel, though the space is still inviting.
During my visit, there were only six beers on tap, giving Erie Ale Works a smaller selection than the other breweries I visited in the city. Of the beers on tap, most were ales of some sort. However, that appears to have been more a product of when I went as looking over their current selections shows that they do offer more variety typically.
Compared to some of the other breweries I visited, I wouldn't say that Erie Ale Works was among my favorites. However, they still offered some tasty beer, and I'd love to go back again and try a few more of their beers.
Erie Ale Works can be found at 416 West 12th Street.
The Brewerie at Union Station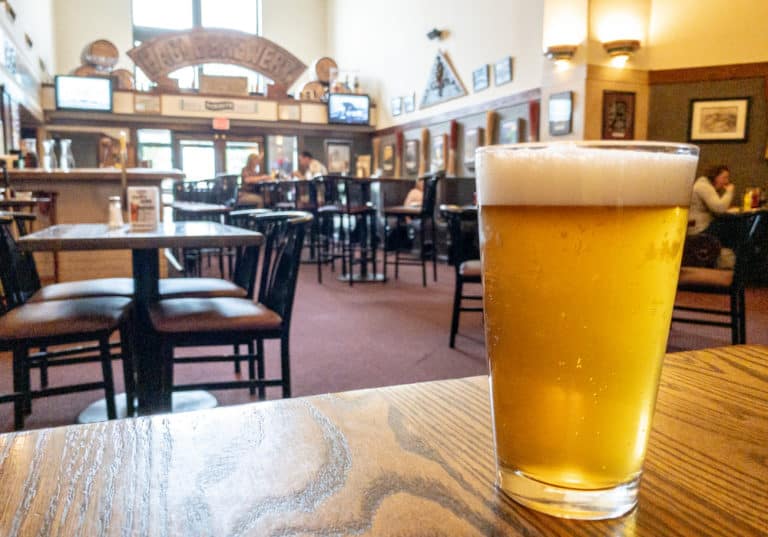 Of all the breweries I've visited in Pennsylvania, I don't think any have had a cooler setting than The Brewerie at Union Station. That's because the brewery is located inside Union Station which still is served twice daily by Amtrak.
The brewery is located in a portion of the building that is unused by trains today but was once a focal point of the train station in years past. Throughout the space, you'll find many historic details that have been preserved, and I really enjoyed wanding the space during my visit.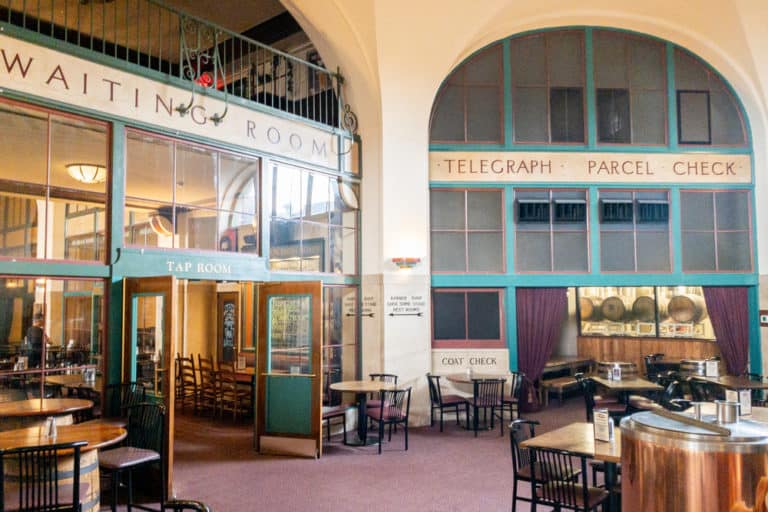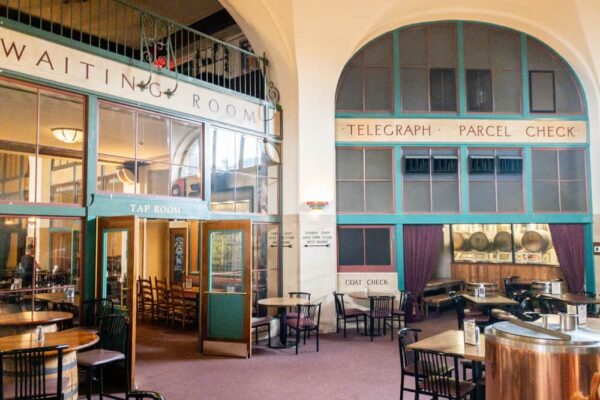 To be perfectly honest, the beers at The Brewerie at Union Station were probably my least favorite of the ones I tried in the area. However, that doesn't mean they were bad, and the quality of the setting here makes this a perfect spot to stop for a beer if you love history and historic architecture.
They also feature some very inventive seasonal beers, several of which I'd love to try on a future visit to Erie.
The Brewerie at Union Station is located at 123 West 14th Street.
Nostrovia Brewing Company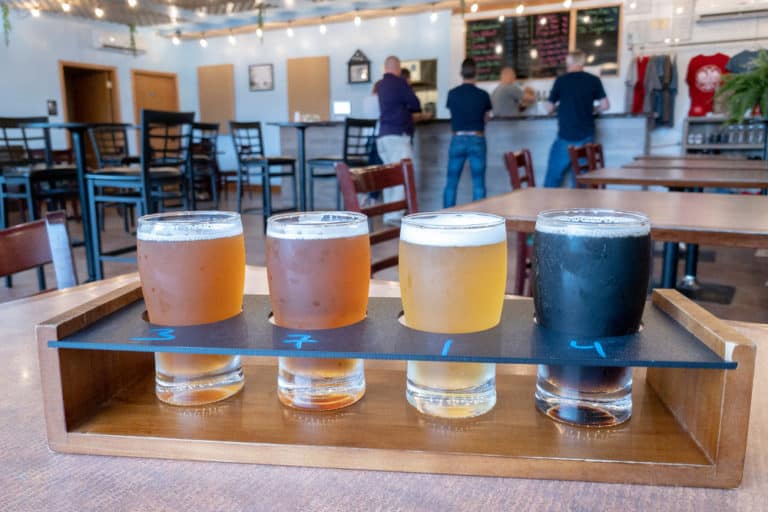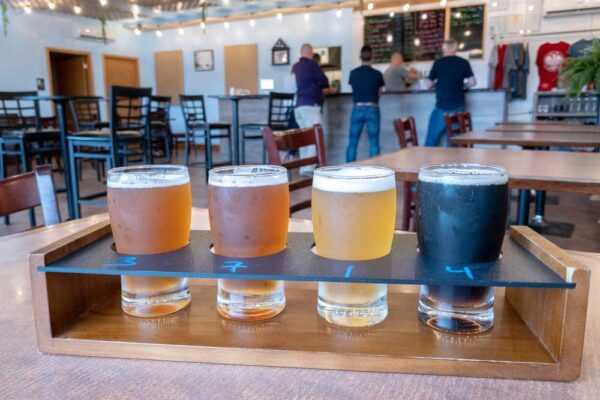 Nostrovia Brewing Company is located four miles east of downtown Erie in what appears to be an old convenience store. While their taproom is fairly basic, the large front windows make the brewery feel very inviting.
My visit was just a few months after their April 2019 opening, and the beers tasted a bit like they were still perfecting the recipes. That's not to say they were bad, because they weren't, but they reminded me of several other new breweries that I've visited in the past.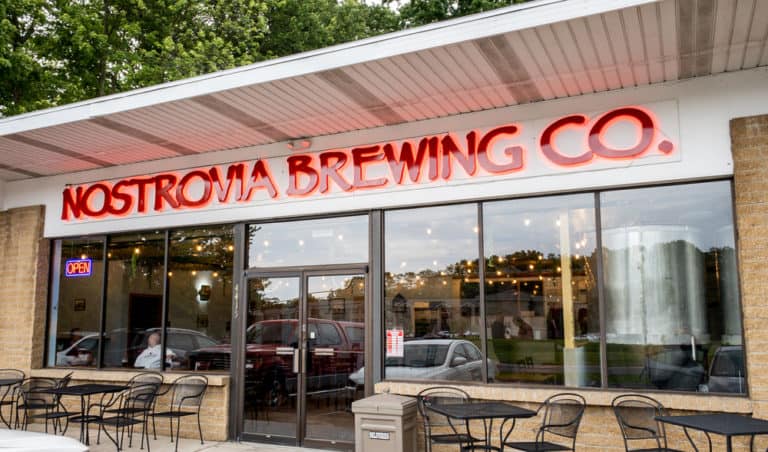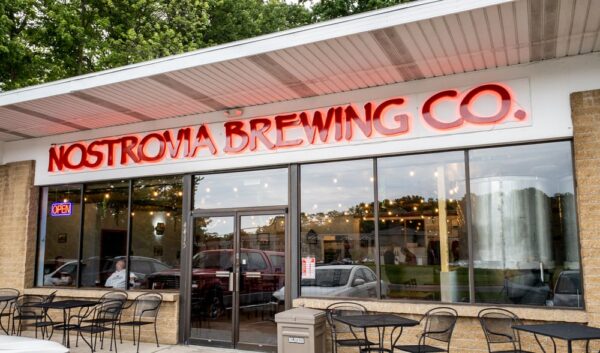 During my visit, there were nine beers on tap, and I got a sampler with their IPA, American Pale Ale, Hefeweizen, and the Oatmeal Stout. While the IPA and APA were slightly sweet for my taste, the coffee flavor in the Oatmeal Stout was quite tasty.
I'm excited to see how this spot grows over the years and will definitely be back to try it again in the future.
Nostrovia Brewing Company can be found at 4415 East Lake Road.
Lavery Brewing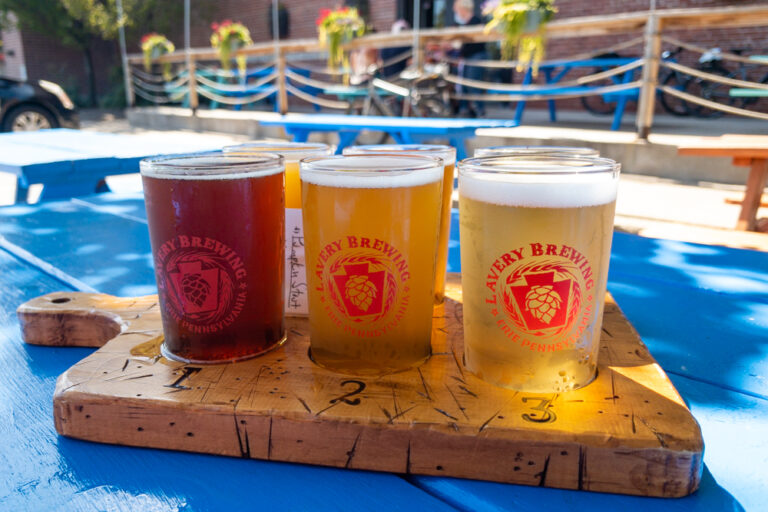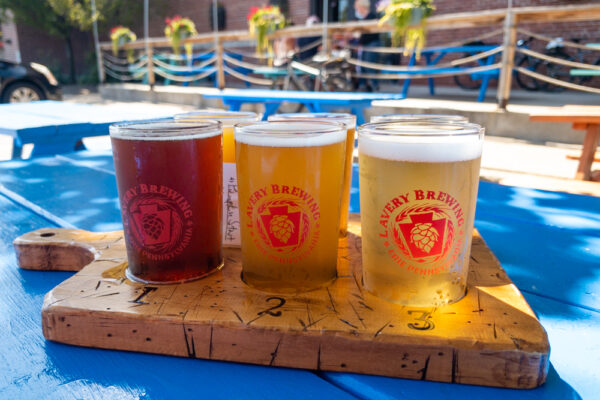 Lavery Brewing is another brewery located in downtown Erie. Their tasting room is one of the smaller ones in the area and can get quite crowded in the evening and on weekends, so try to visit this one outside of peak hours if you can.
During my visit, they featured roughly a dozen different beers that spanned a variety of styles and even featured a few inventive options. In fact, the Massive Mango IPA was my personal favorite of the ones that I tried because it hit a perfect balance of being both fruity and bitter.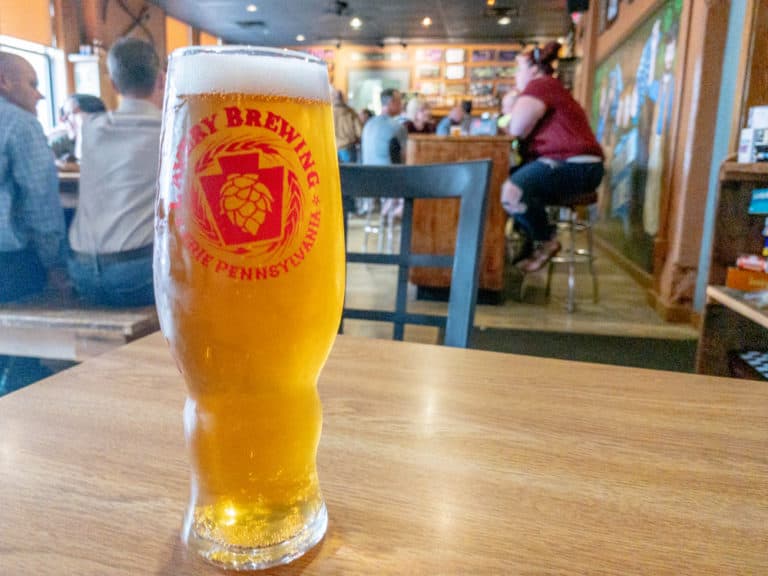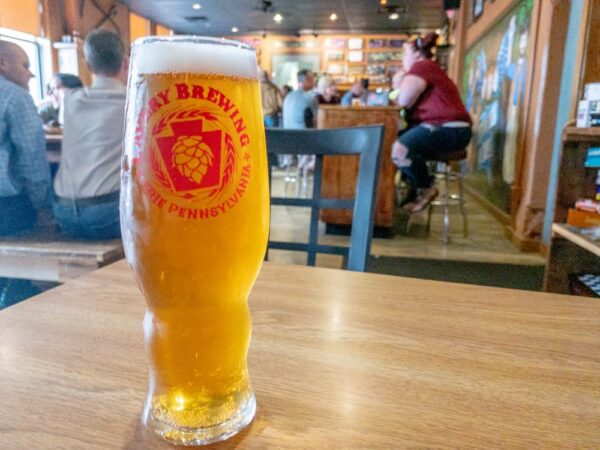 Lavery also features a full menu, and while their food gets great reviews online, I didn't have a chance to eat there, so I can't comment on the quality of the food.
Lavery Brewing can be found at 128 West 12th Street. They also have a second location in Titusville, PA.
Twisted Elk Brewing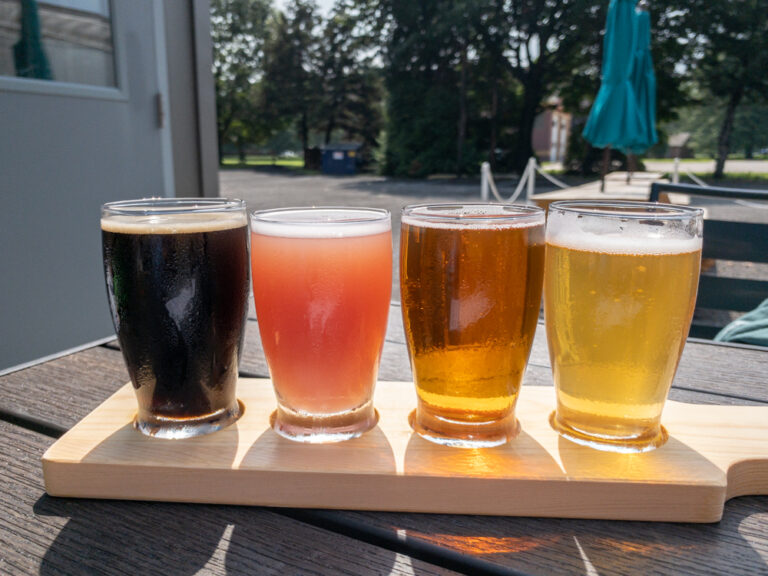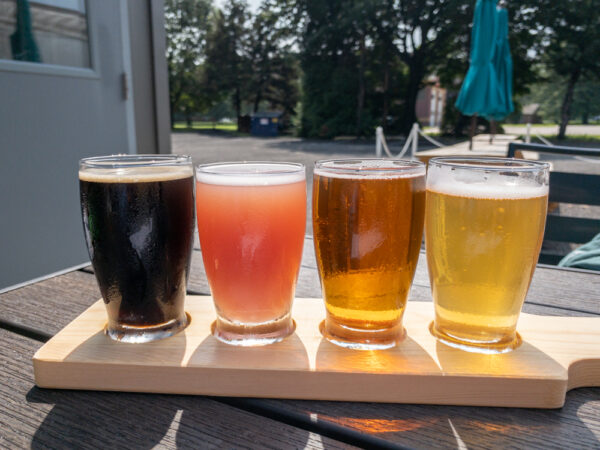 Twisted Elk Brewing is located in western Erie County approximately 15 miles from downtown Erie. This brewery opened in early 2021 and features both an inviting indoor space and some great outdoor seating for nicer days.
During my visit, I had a chance to try six different beers of the 11 they had on draft (They also had one seltzer). While they offered a nice mix of typical styles, I really liked that Twisted Elk had some unique beers.
During my visit, I had a chance to try a few of their unique offerings including the Apple Pie Ale (brewed with Granny Smith apples, vanilla, and cinnamon), the Grape Goddess Fruit Beer (which was brewed with local grapes, a great nod to that industry), and the Kona Dream Stout (which was aged with Royal Kona coffee beans and vanilla). All three of these beers were quite good.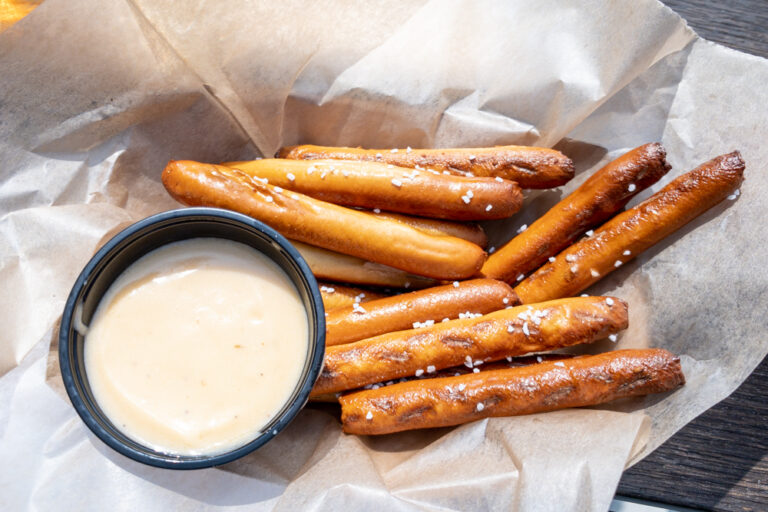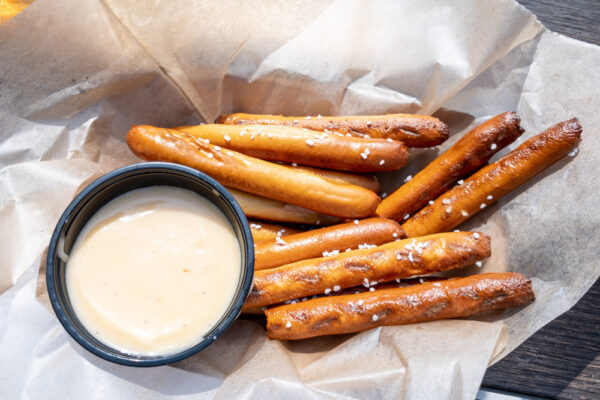 Not surprisingly, their more typical beers were also quite good including the Forbidden Monastery Belgian Style Ale and the Ale-N-Vaison New England IPA.
Twisted Elk also offers a full menu, though I only had a chance to try their pretzel fries with beer cheese, which were quite yummy.
While it's a bit of a drive from the other Breweries in Erie, PA, this is definitely a neat spot to seek out when in the area.
Twisted Elk Brewing is located at 10139 West Lake Road in Lake City.
John Russell Brewing Company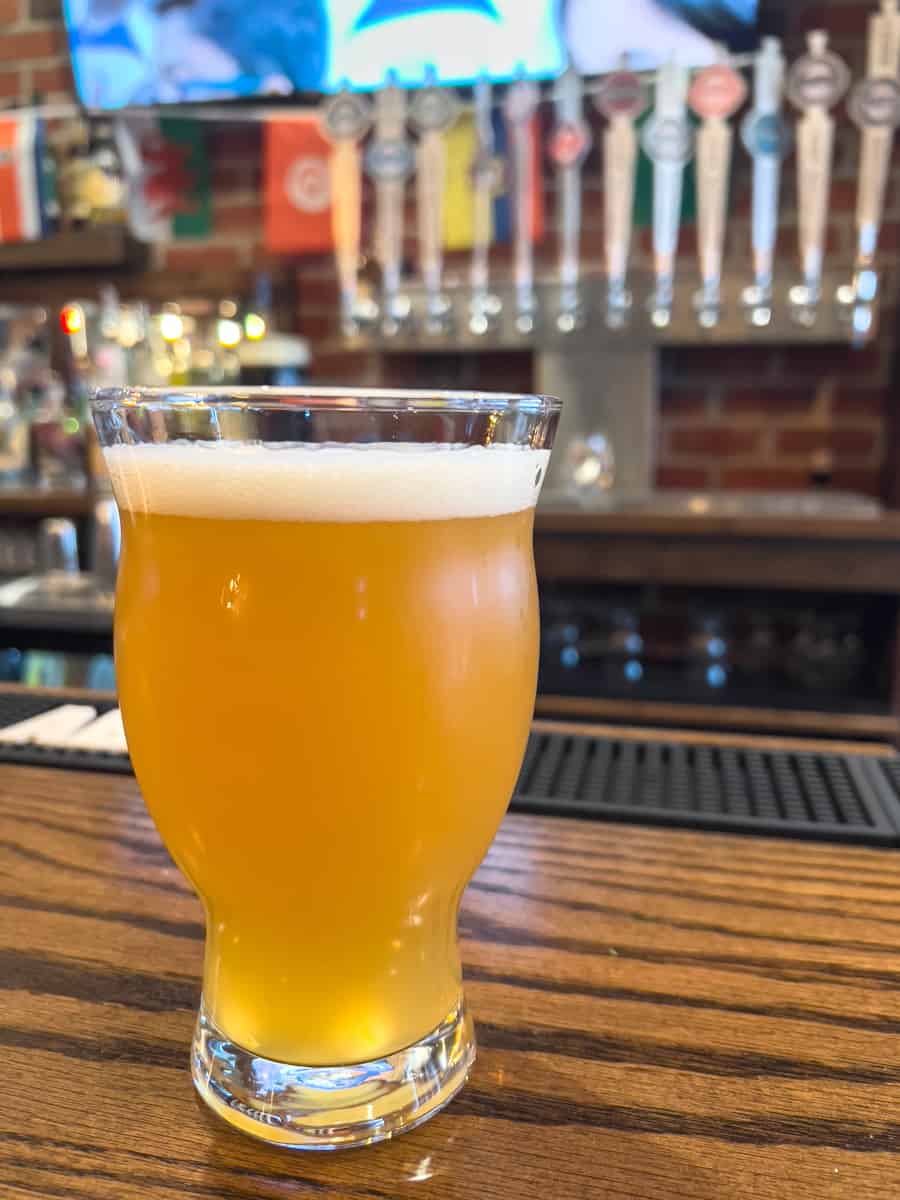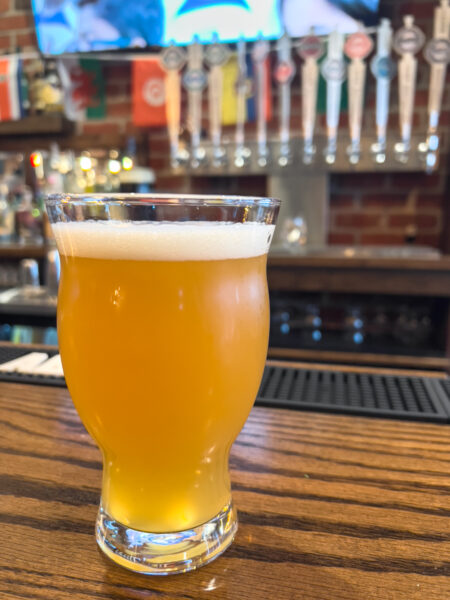 John Russell Brewing Company is located in a business front at the end of a small strip a few miles south of downtown Erie. While the location might not make you think that you can get great local food and beer here, looks can be deceiving.
The beer here is actually quite tasty, and I had a chance to try several of their 11 beers on draft during my visit. For those looking for something different, they also offer craft beers from other brands on their draft list as well.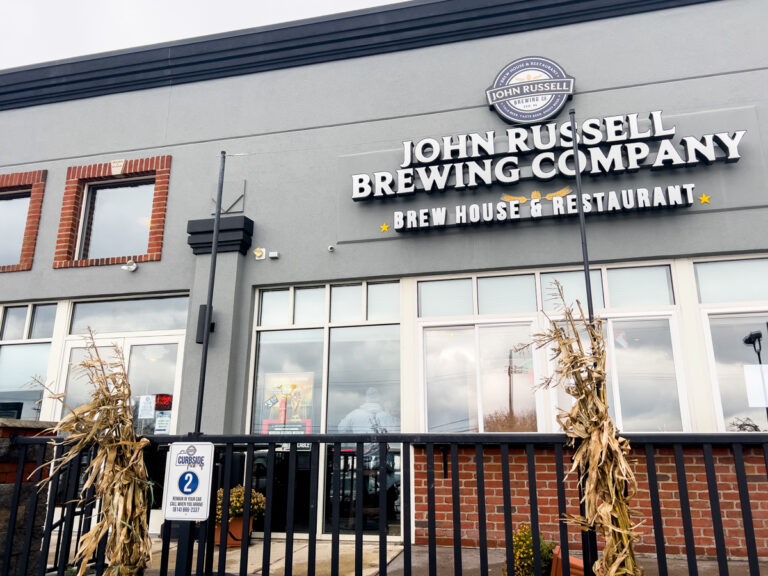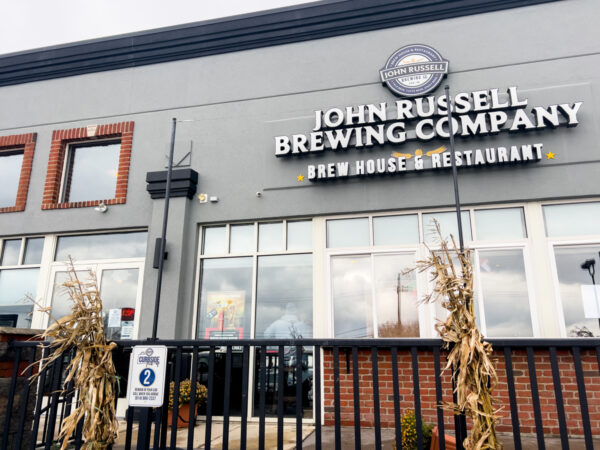 During my visit, my two favorites were the Pursue Your Hoppiness IPA and the Humburg No More Winter Ale, both of which were excellent and had a lot of great flavor.
I also had a chance to get some food here, and while my burger was relatively unremarkable, the fries that can with it were very good.
John Russell Brewing Company is located at 7520 Peach Street in Erie.
Voodoo Brewing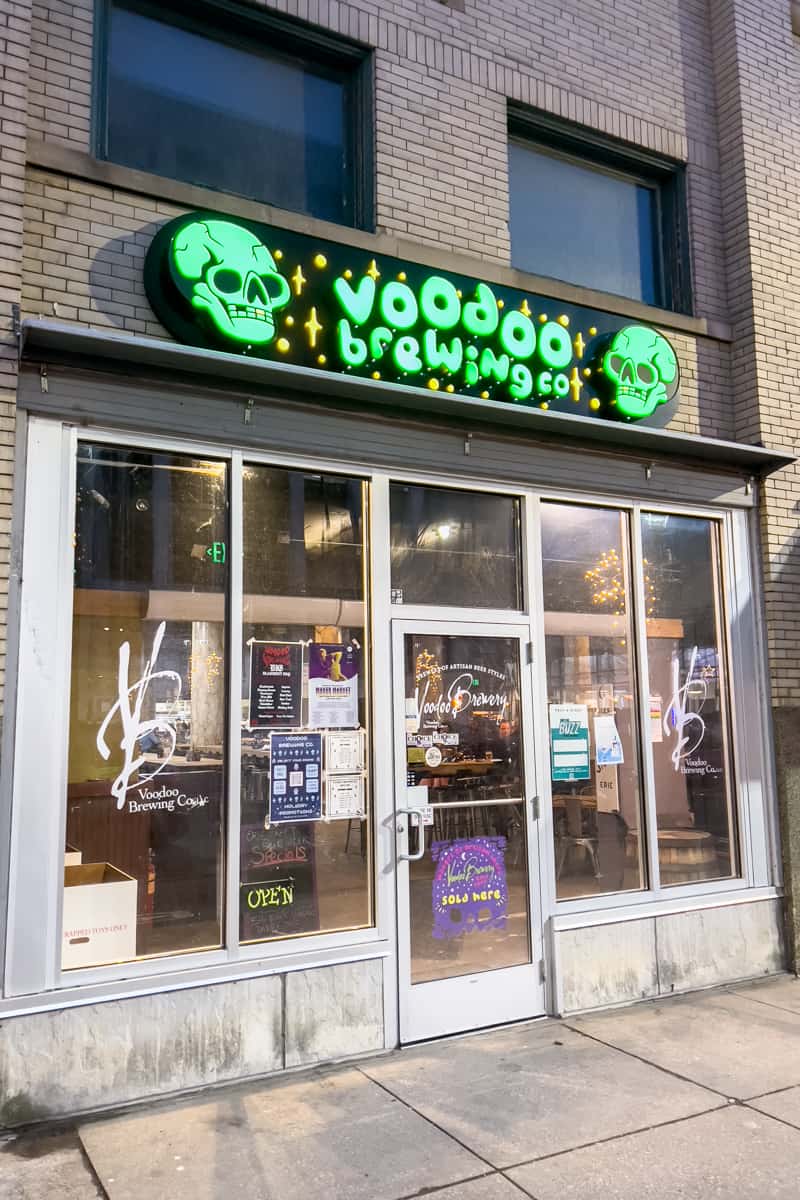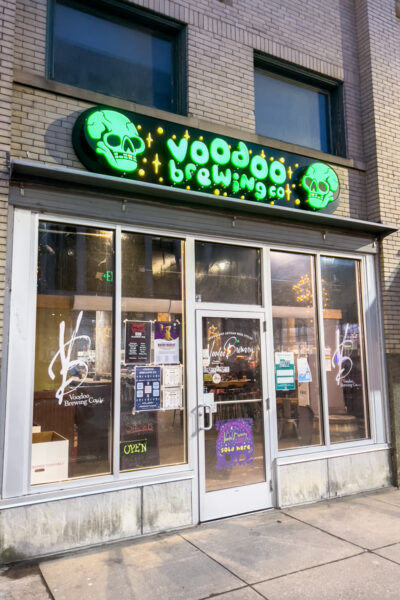 Voodoo Brewing Company is one of my favorite breweries in Pennsylvania, and while they are technically based in nearby Meadville, they are a local PA craft brewery, so I'm including their taproom in Erie on this list.
Voodoo Brewing is known for its inventive beers and its funky atmosphere, both of which combine together to make a great drinking experience. I always enjoy their IPAs and barrel-aged beers. In fact, their seasonal Blossoming Down Under IPA is easily among my favorite PA beers of all time.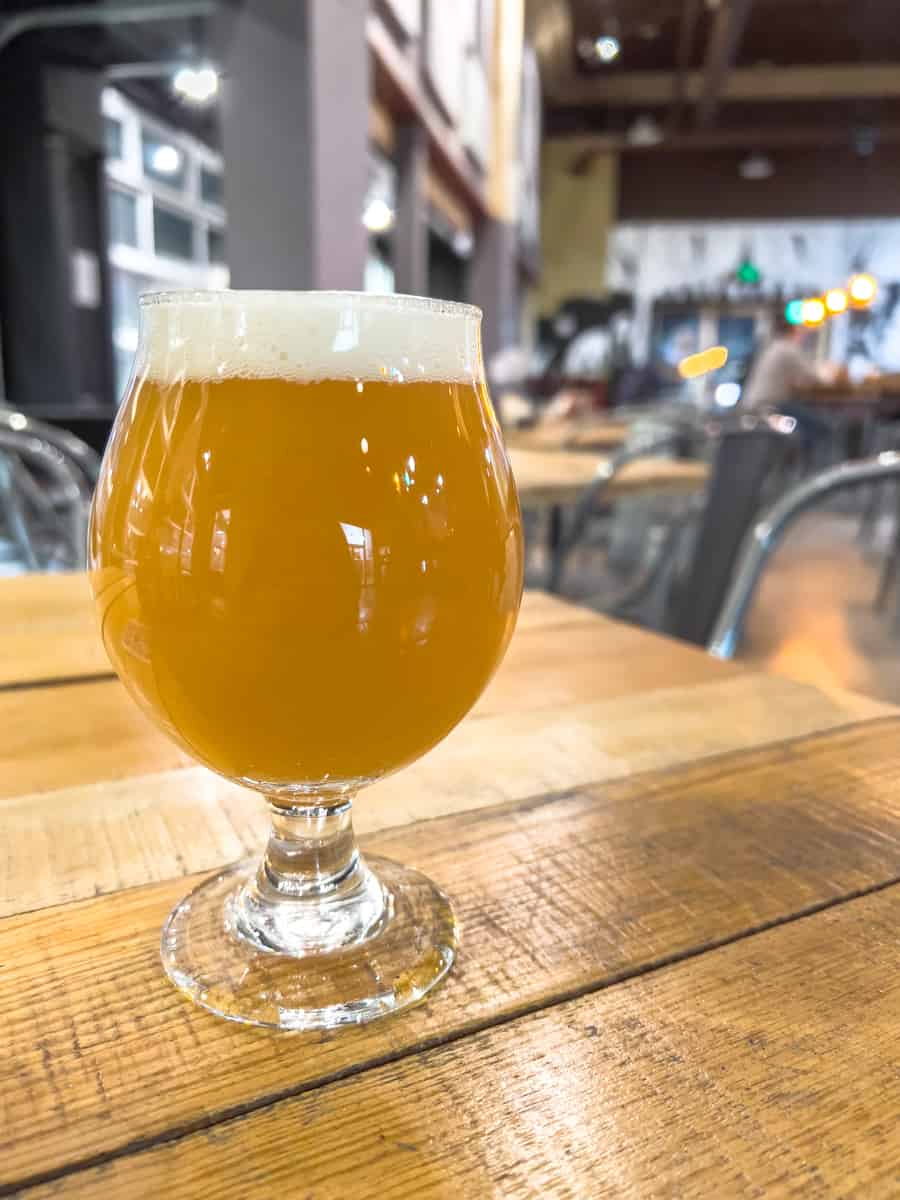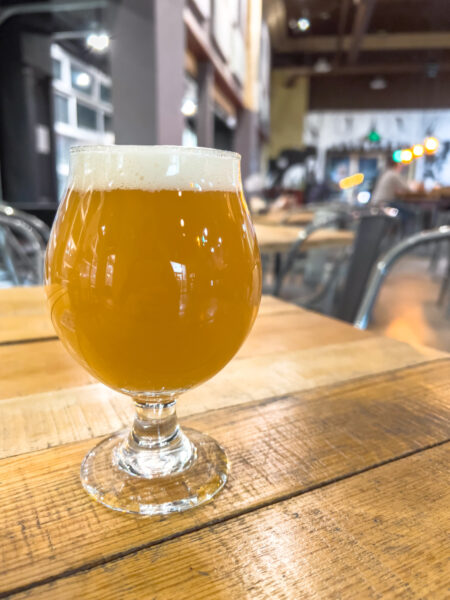 The taproom here is absolutely massive, and huge garage door-like windows can be opened on nice days to let in fresh air. This spot is also within walking distance of many of the downtown Erie attractions including Perry Square, the Warner Theater, the Erie Insurance Arena, and UPMC Park.
Voodoo Brewing is located at 101 Boston Store Place. They also have brewpubs in Meadville, Pittsburgh, State College, and Lancaster.
Looking for even more great Pennsylvania breweries? Check out our favorite breweries in Pittsburgh, Philadelphia, Lancaster, and Harrisburg. You can also drive out to Warren to check out Bent Run Brewing.