Disclosure: This article may contain affiliate links. We will make a small commission from these links if you order something at no additional cost to you.
Pennsylvania is home to many great factory tours. While many of these tours are concentrated in York County, that doesn't mean that there aren't great factory tours in other regions of the state. Recently, I had the chance to take the Herr's Snack Factory Tour in Nottingham, Pennsylvania, and had a great time learning about how their popular snacks are made.
Herr Foods began making potato chips in 1946 in Lancaster County, Pennsylvania. After a devastating fire at their factory in 1953, the company moved a few miles away to Nottingham in Chester County, Pennsylvania. Since then, they've expanded their factory many times over, but they still make snack foods in this corner of southeastern Pennsylvania.
In 1989, Herr's opened a visitor center next to their factory and have been offering tours of the facility ever since.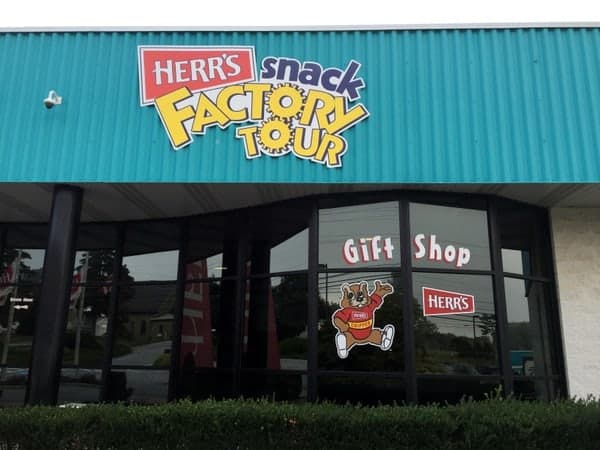 The one-hour tour takes visitors through a variety of production areas and showcases several different types of snack food made in the factory.
Tours start with a 10-minute video that highlights the history of the company. While it's a bit dated, the video does offer great information about the company's history and the products that they are currently making.
From the theater, visitors are led through five different areas of the factory. It's worth noting that parts of the tour are conducted outside, as you make your way from building to building. Therefore, you may want to dress for the weather should it be cold or rainy.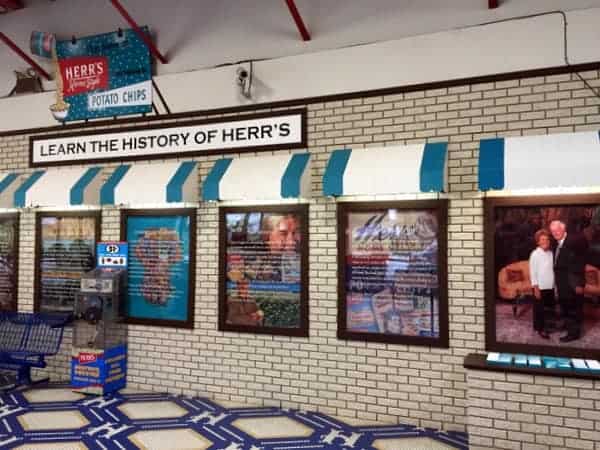 Stops along the tour include the chance to see pretzels, tortillas, popcorn, and potato chips being made. There's also a chance to see the factory's warehouse from above and watch as Herr's snack foods are packaged. This is definitely a very impressive sight.
Along the way, guides give visitors information about what they are seeing and explain the process of making each snack. Viewing of the process is primarily through windows. While it would be nice to be on the factory floor like on the Martin's Potato Chips Factory Tour, you can still get a great view of the factory through the windows, and you don't have to wear a hairnet.
Despite the large group size, guides do a good job of being heard and the windows are large enough that everyone can get a good view of the factory floor. At several stops, videos highlight aspects of production that can't be seen, and the guides narrate these videos, offering a nice peek into an otherwise hidden area.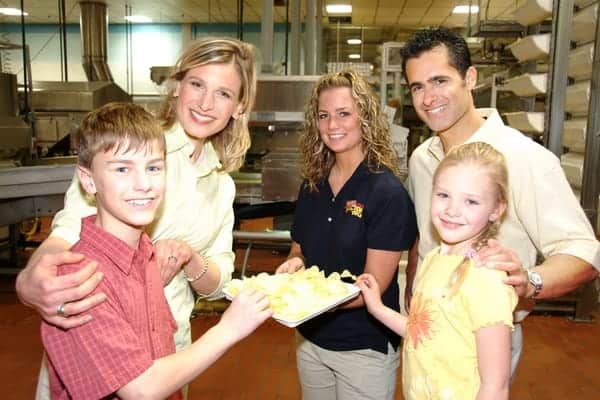 Without a doubt, the highlight of the tour are the hot potato chips right off the line. Guides duck onto the factory floor and pull chips directly from the processing line. These hot chips are a real delight. If you've never had a hot and fresh potato chip, you're in for a real treat.
Overall, I very much enjoyed my tour of the Herr's Factory in Chester County. It offered a great overview of how their snack foods are made, and it was neat to see onto the factory floor. I also greatly enjoyed my free bag of chips that they handed out at the end of the tour.
If you are visiting during the holiday season, make sure to stick around after dark for the fantastic and free Herr's Christmas Lights.
Looking for more to do in the area? Check out the Julius Sturgis Pretzels tour, go hiking in the Nottingham Serpentine Barrens, or tour the area's covered bridges.
---
Herr's Factory Tour
Hours: Monday-Thursday: 10am-2:45pm
Tours must be booked in advance.

Cost: Adults: $8, Children: $4
Overlook: Free

Website: Herrs.com

Address: 271 Old Baltimore Pike
Nottingham, PA 19362
See map for other area attractions.
---