Disclosure: This article may contain affiliate links. We will make a small commission from these links if you order something at no additional cost to you.
During my travels around Pennsylvania, I've visited many beautiful churches. Some have been majestic (like Heinz Chapel in Pittsburgh). Some have been plain, but beautiful (such as Gloria Dei Church in Philadelphia). And some have been very historic (like Christ Church in Philadelphia). However, none were quite like Bryn Athyn Cathedral.
Bryn Athyn Cathedral is located in a small community in Montgomery County, Pennsylvania, just outside of the Philadelphia city limits. The Bryn Athyn Historic District is home to two beautiful homes, Glencairn and Cairnwood, which resemble European castles. Fittingly, a large cathedral was built that looks like it could have been plucked from the European countryside and placed in southeastern Pennsylvania.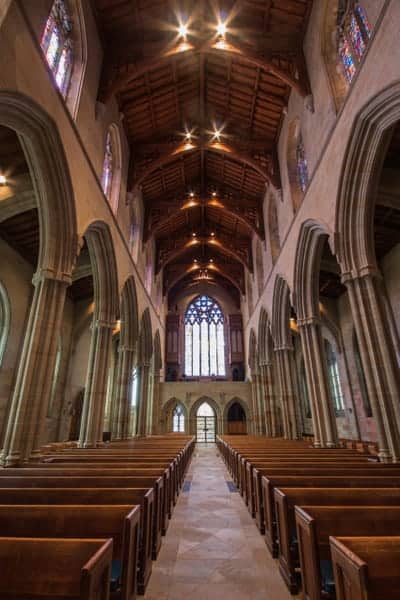 Construction on Bryn Athyn Cathedral was started in 1913. The land and much of the funds for the cathedral was donated by John Pitcairn, founder of Pittsburgh Plate Glass Company. Pitcairn had built his home, Cairnwood, on a hill near the site of the building.
When construction began, a design firm was retained to create plans. However, as Raymond Pitcairn, John Pitcairn's son, became more involved in construction, the design firm because less involved. Raymond Pitcairn had no formal architectural experience, but just like Henry Chapman Mercer in nearby Doylestown, Pitcairn had a good eye for design.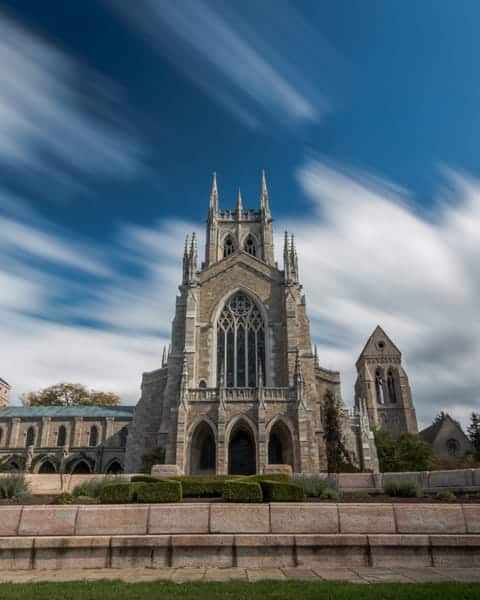 Instead of relying on blueprints, Pitcairn and his builders would construct scale models of the building, tweak their designs with added embellishments and unorthodox designs, and then construct the building off of these models. This method of building resulted in a cathedral that was a mix of architectural styles and filled with intentional asymmetrical and irregular designs. It is even said that there are no straight lines or right angles in the cathedral.
Bryn Athyn Cathedral was dedicated in 1919, though construction continued until 1929 and work on the stained glass windows wasn't largely completed until the 1940. Today, it remains the episcopal seat of The General Church of the New Jerusalem.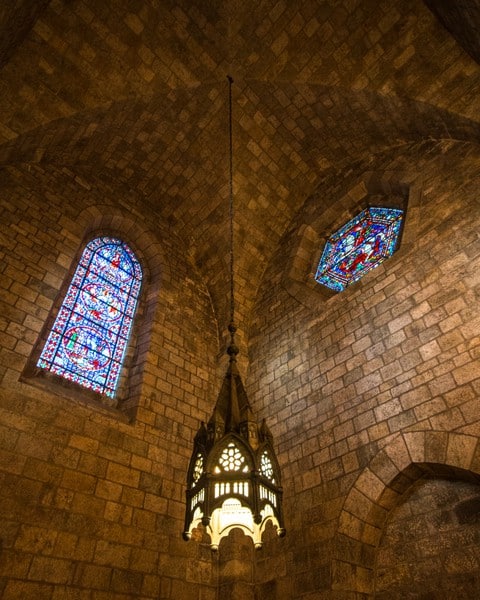 From the outside, this cathedral is incredibly impressive. Before heading in, take some time to circle the outside of the church and admire the beauty and craftsmanship from the outside. It is said that this church somewhat resembles Gloucester Cathedral in England (which was a filming location for the Harry Potter series).
Visitors are welcome to tour the cathedral most afternoons, and guides are sometimes on hand to offer guided tours. The church's lobby feels like a medieval castle with tall ceilings and stone walls. Against the wall is a wooden cabinet that contains all of the original keys for the cathedral. Each key is unique and handmade of Monel, a metal made of nickel, copper, and other metals. Considered very strong, this material is very difficult to work with, making the intricacies of the keys that much more amazing.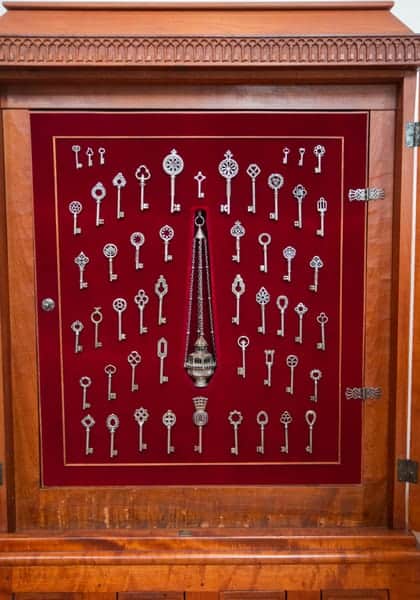 The interior of the cathedral's nave is at least as impressive as the exterior, if not more so. In some ways, it reminded me of the grandeur of Heinz Chapel in Pittsburgh, with light streaming through the stained-glass windows overhead.
These windows were created using a medieval method of glass making that involves mixing pigments and metallic oxides into the metal, and then blowing individual pieces of glass at varying thicknesses. This process created amazingly beautiful windows throughout the cathedral. Many of the windows feature Biblical scenes, but others are geometric shapes. Guided Bryn Athyn Cathedral tours offer information about the Biblical scenes featured in each window.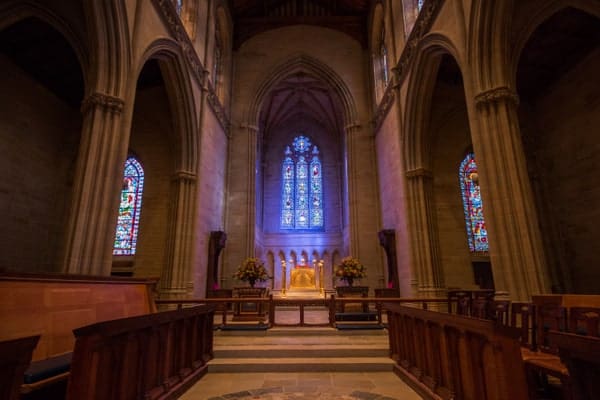 Without a doubt, you could spend hours inside Bryn Athyn Cathedral and not see every detail of this amazing structure. Given that the building was designed by the Pitcairns, who had an avid interest in historical religious art, particularly from Europe (Their collection is now housed at nearby Glencairn), it's not surprising that this cathedral feels like it was lifted out of the European countryside and placed north of Philadelphia.
It's this feel, combined with the beauty of the area, that make the Bryn Athyn Cathedral a fantastic destination for lovers of architecture, history, or curiosities.
---
Bryn Athyn Cathedral
Hours: Open Tuesday-Sunday: Tours begin at 1:15pm & 2:30pm
Closed during church events

Cost: Donation of $5 per person suggested

Website: BAHistoricDistrict.org

Address: 900 Cathedral Rd
Bryn Athyn, PA 19009
See map for other area attractions.
---