Please do your best to limit your travels around PA during this time. If you decide to travel, please check the status of the places you are going. Some places around the state are temporarily closed or have changed their hours. We will not be updating individual articles to note these changes. Stay safe and wear a mask!


If you love salty snack foods, then there's no better destination for you than York County. Home to three of the biggest snack food companies in America, the snack food factory tours in York County are a great way to spend the day.
While there are more than 20 free factory tours in York that you can visit, three of the best are done by snack food companies: Martin's Potato Chips, Snyder's of Hanover, and Utz Potato Chips. (Other great tours in York include Bluett Bros. Violins and Sunrise Soap Company.)
You can certainly do just one of them to round out a great day in York or Gettysburg, or you can do all 3 on the same day (Tuesdays only). Whatever you decide to do though, know that each is unique, and you'll learn something new, even if you do all three on the same day.
Disclosure: This article may contain affiliate links. We will make a small commission from these links if you order something at no additional cost to you.
Here's a bit more about 3 of the best food factory tours in York County:
Martin's Potato Chip Factory Tour
The tour at the Martin's Potato Chip factory is the closest to York and, in my opinion, the best of the three snack food tours. Only offered by reservation on Tuesdays, the tour is the only one of the three that actually lets you onto the factory floor.
While this does give you a great feel for the factory, the loud noise can make it a bit hard to hear your tour guide. However, you do get to sample chips fresh off the production line, so this more than makes up for any negatives in my opinion.
For more information, check out my full review of the Martin's Potato Chip Factory Tour.
Snyder's of Hanover Factory Tour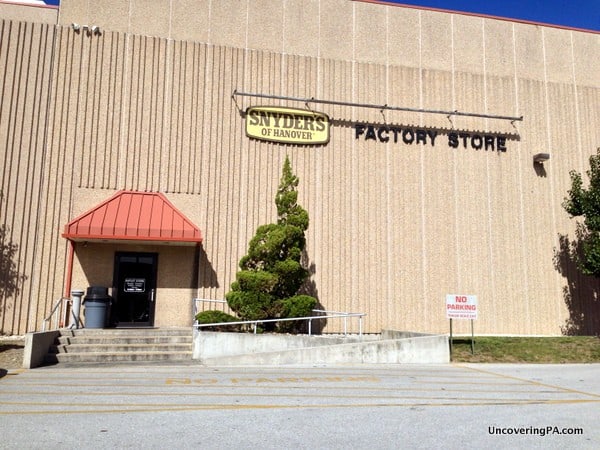 Of all the snack food companies in Pennsylvania, Snyder's of Hanover is the largest. Even more impressive, they are the largest pretzel manufacturer in the world!
Because of this, their factory tours tend to have large group sizes and are a bit more impersonal than the others.
Tours take place is a circa 1980s hallway overlooking the factory floor. While this gives you a great overview of the factory below, the large group sizes and small windows make it a bit difficult to fully understand the process of making pretzels.
That being said, it's worth taking the Snyder's of Hanover factory tour just to see the sheer size of their operation.
Read my full review for more information on taking the Snyder's of Hanover Factory Tour in York County.
Utz Potato Chip Factory Tour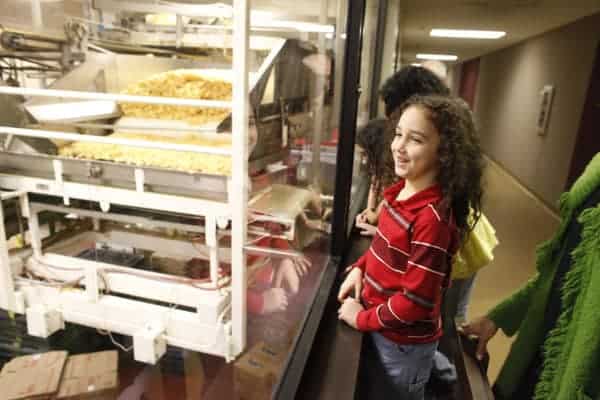 Utz Potato Chips is another huge snack food company in Pennsylvania Dutch Country, and their factory tour is definitely worth checking out.
Unlike the factory tours at Snyder's and Martin's, the Utz factory tour is self-guided. Utilizing a series of large windows and audio narration, the Utz factory tour gives you the chance to experience the factory at your own pace. I was also surprised how well the narration explained the steps in the potato chip making process.
The main advantage of the Utz tour, however, is that it's open more days a week than the other tours, and since you don't have to make a reservation.
Click the link for more information on visiting the Utz Potato Chip Factory Tour.
Looking for more great factory tours in Pennsylvania? Check out Herr's Snack Foods, Pulako's Chocolates, BWP Bats, and Martin Guitars.
Want to visit even more factory tours in Pennsylvania? Click the link to find even more!
See map for other area attractions.