Disclosure: This article may contain affiliate links. We will make a small commission from these links if you order something at no additional cost to you.
McConnells Mill State Park in western Pennsylvania's
Lawrence County
is home to many beautiful spots. However, one of the most beautiful is Alpha Falls.
Alpha Falls (also called Spillway Falls or Gardiner Falls in some sources) is located in the eastern corner of McConnells Mill State Park, and while it is featured on the park's map, it's very often overlooked.
This is likely because it's a bit away from the main part of the park, as well as Alpha Falls being a bit seasonal in its flow. However, Alpha Falls is the tallest waterfall in McConnells Mill State Park and is very beautiful when it's flowing.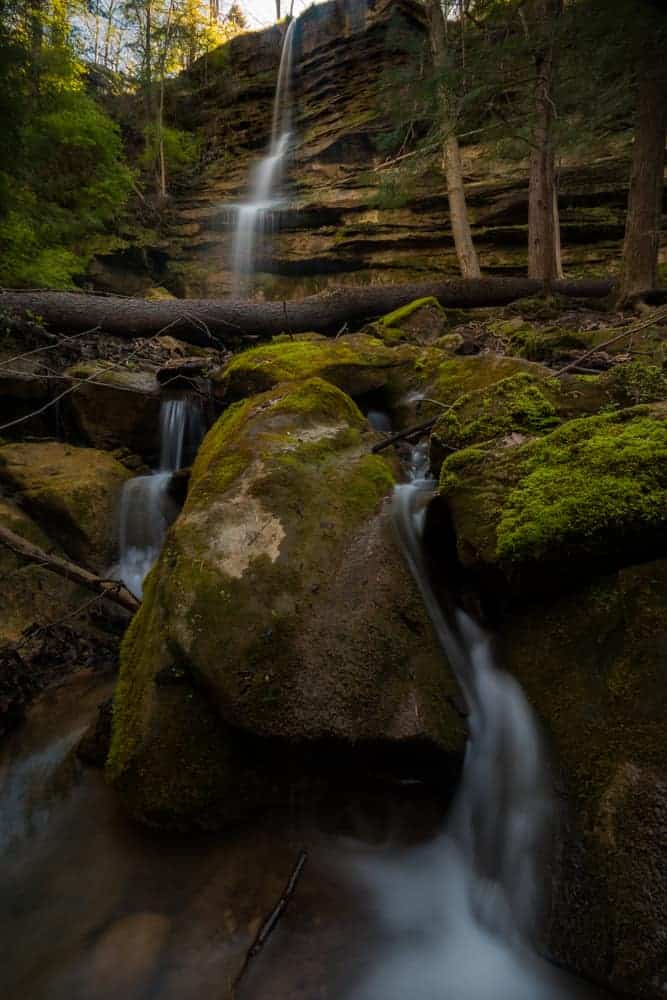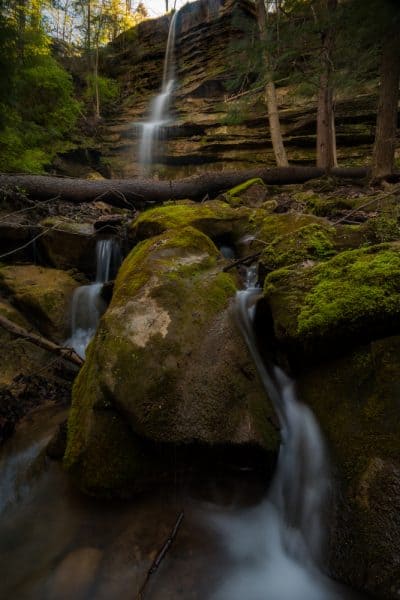 I had the chance to visit Alpha Falls during my second visit to this state park. While you can hike to Alpha Falls from McConnells Mill Covered Bridge on a trail along Slippery Rock Creek, I opted to park in a small area atop the falls.
From directly above the top of the fall, the unnamed creek that feeds it looks rather paltry even when the waterfall is flowing reasonably well. According to literature put out by the state, Alpha Falls is located at the edge of a hanging valley. This type of valley occurs "where the mouth of the tributary valley occurs on a cliff above a much deeper valley."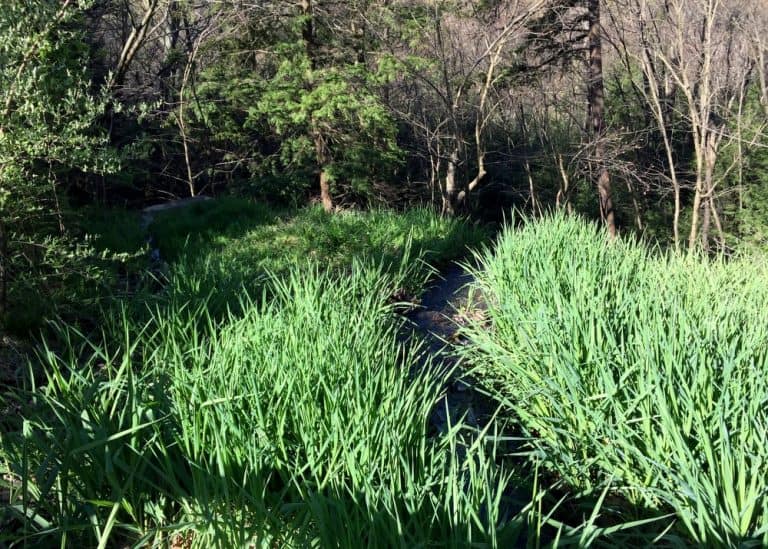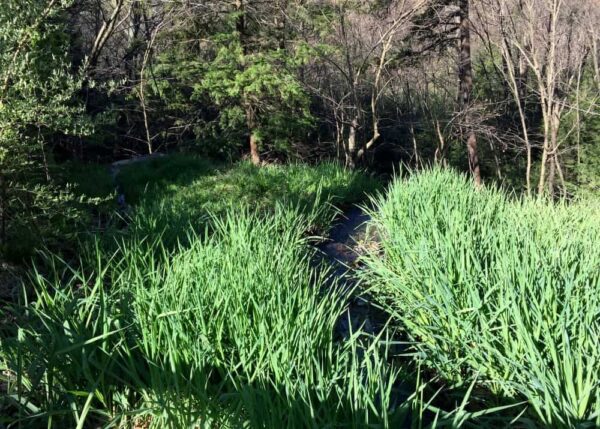 In this case, the water flows through Alpha Pass before dropping 50 feet at Alpha Falls. The waters then continue to tumble down a series of small drops before flowing into Slippery Rock Creek.
To reach Alpha Falls, take the trailhead located at the parking area. This is both the Alpha Pass Trail and the North Country Trail (which runs 4,600 miles from New York to North Dakota).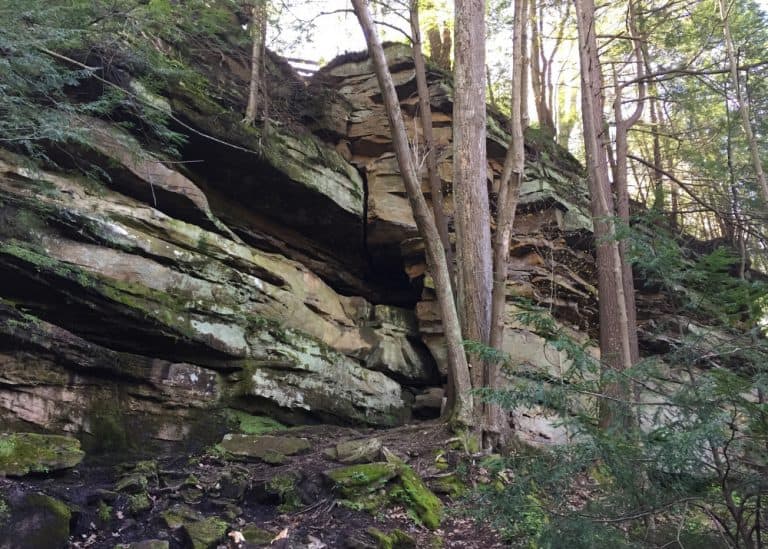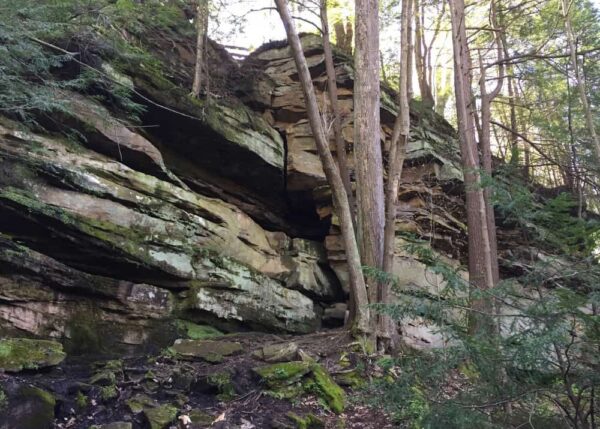 This trail follows a short series of switchbacks and steps down towards Slippery Rock Creek. After a short distance, the railing opens up at the bottom of the cliff. Looking along the cliff to your right (to your left if walking up from Slippery Rock Creek), you'll notice an obvious, but unmarked trail.
Follow this trail for less than 100 yards to the base of Alpha Falls.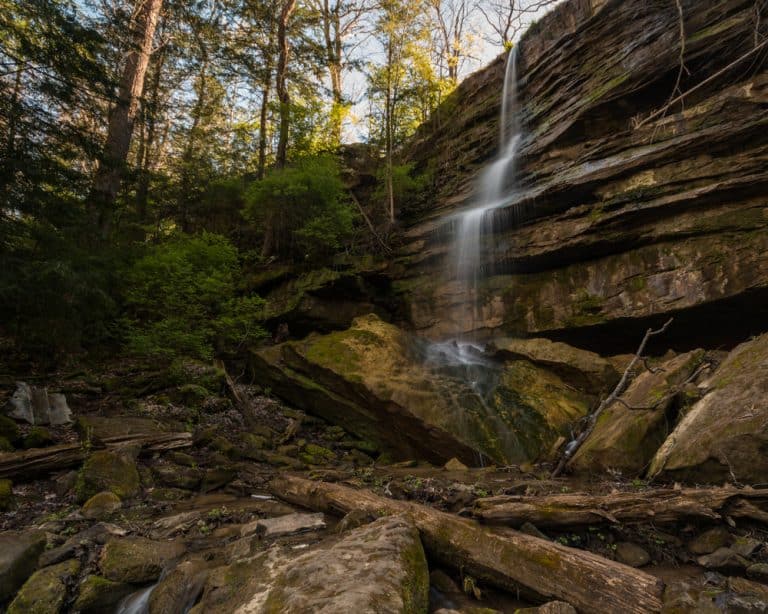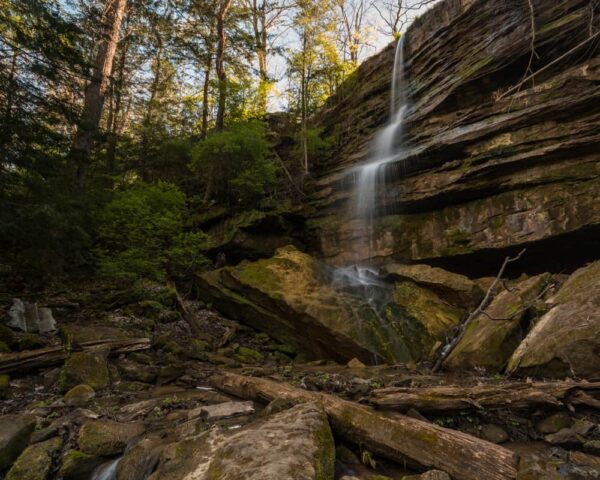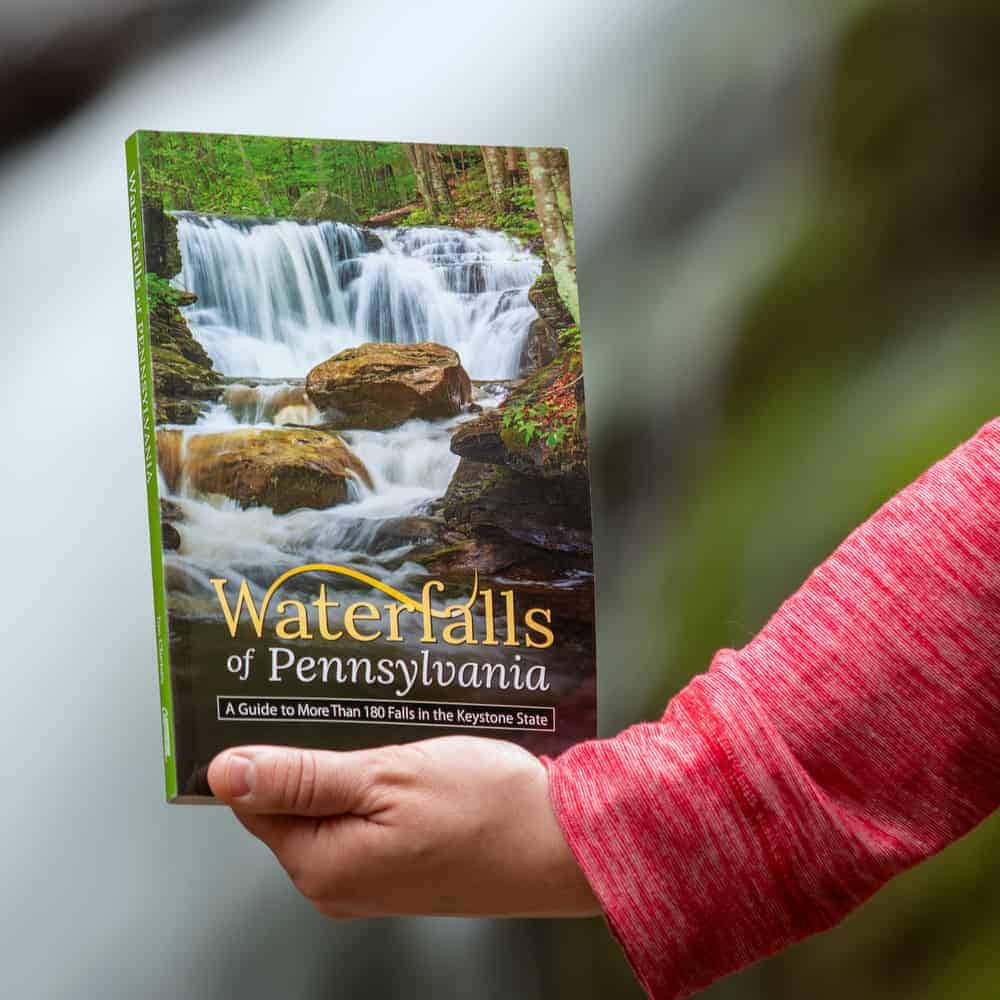 "Waterfalls of Pennsylvania" by Jim Cheney
If you love PA waterfalls, you won't want to miss this waterfall book from Jim Cheney, author of Uncovering PA, featuring more than 180 great waterfalls. Order it now on Bookshop.org or Amazon.
While Alpha Falls is often dry, when water levels are higher in the spring or after a good rain, it is a very impressive waterfall that shouldn't be missed when visiting McConnells Mill State Park.
How to Get to Alpha Falls
Getting to Alpha Falls in McConnells Mill State Park is quite easy. Park at the small lot along McConnells Mill Road that is located at the following coordinates: 40.960248, -80.168834.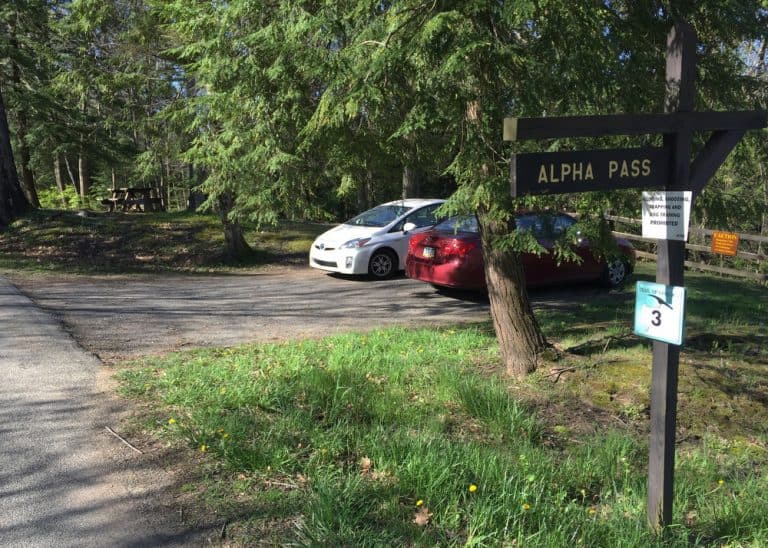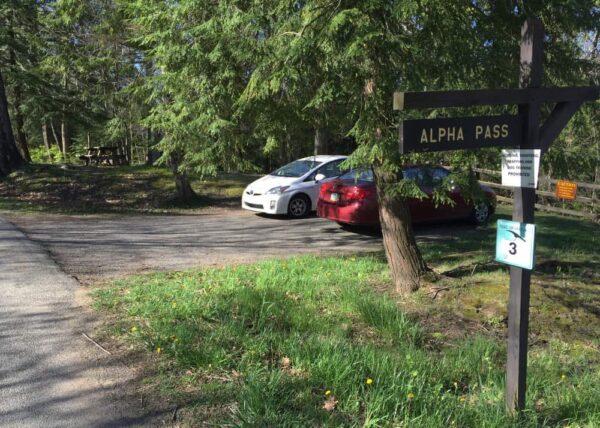 Follow the main trail to the bottom of the cliff and then follow the unmarked trail on the right to the base of the falls. Alpha Falls can be found at approximately the following coordinates: 40.960646, -80.169171.
The falls can also be reached by hiking along the Alpha Pass Trail from the McConnells Mill Covered Bridge area.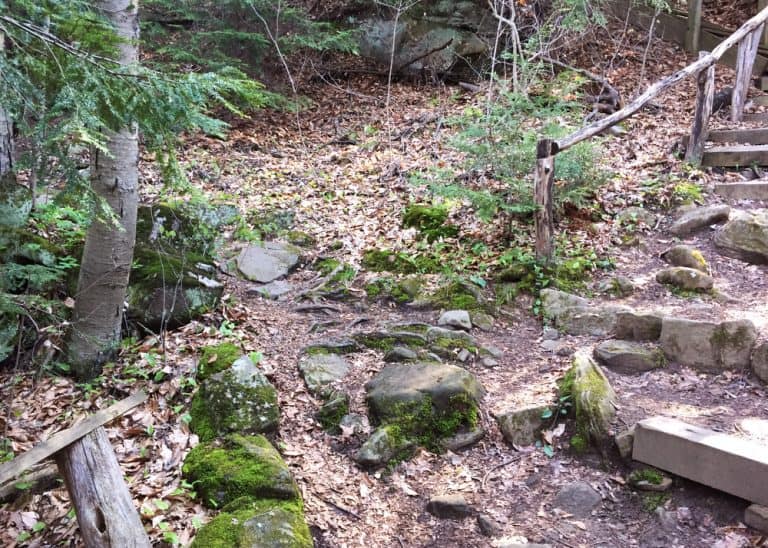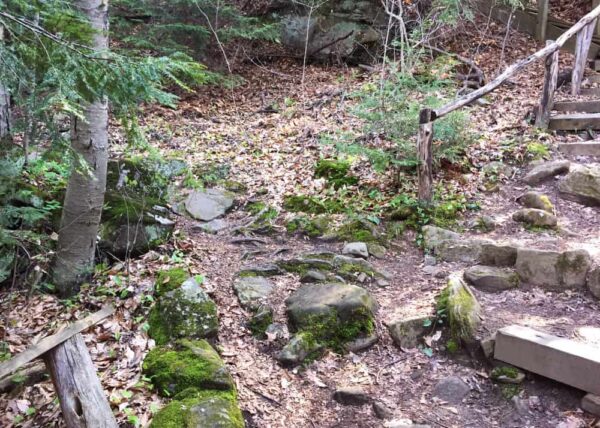 It's also worth noting that the official park map shows Alpha Falls in the incorrect place. While it is close to where their marker is located, it is not on Slippery Rock Creek, but rather on a small stream that feeds the creek on the eastern bank.
Also, while in the area, don't miss the park's other great waterfalls including Hell's Hollow Falls, Grindstone Falls, and Breakneck Falls. You can also take a short drive to visit Jennings Environmental Education Center.
Want to see more of Pennsylvania's best waterfalls? Check out our Pennsylvania Waterfalls page!
[Click here for information on how to use the coordinates in this article to find your destination.]
See map below for other area attractions.