Disclosure: This article may contain affiliate links. We will make a small commission from these links if you order something at no additional cost to you.
There are many beautiful
state parks in Pennsylvania
, but without a doubt, McConnells Mill State Park is one of my favorites. From rushing waterfalls to historic structures, there are many great things to do in the park.
Whether you've never been to this state park near Pittsburgh or have been visiting for many years, there are more than enough things to do at McConnells Mill State Park to keep you busy. Here are a few of my favorites.
McConnell's Mill Covered Bridge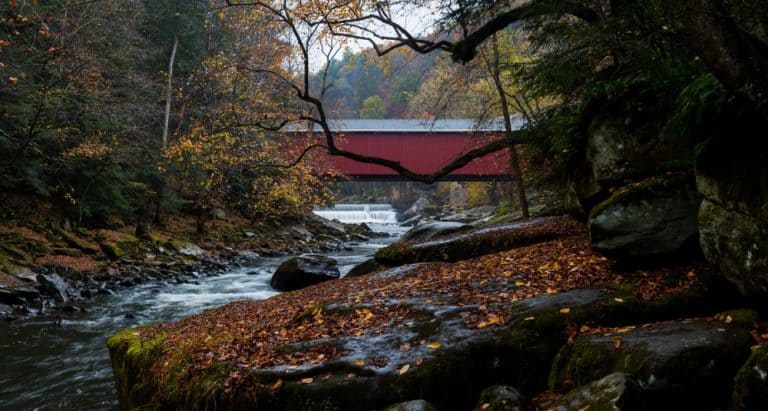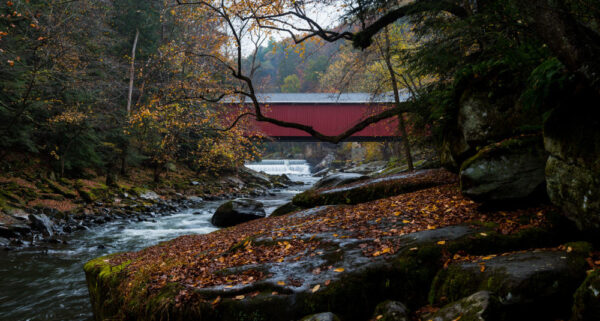 Possibly my favorite spot in the park is McConnell's Mill Covered Bridge. Having been to over 200 covered bridges in Pennsylvania, this remains, in my opinion, one of the most beautiful in the entire state.
McConnell's Mill Covered Bridge spans Slippery Rock Creek and was built in 1874. The bridge utilizes a rare Howe truss system, making it an interesting bridge to see even if you've visited many other covered bridges around the state.
McConnell's Mill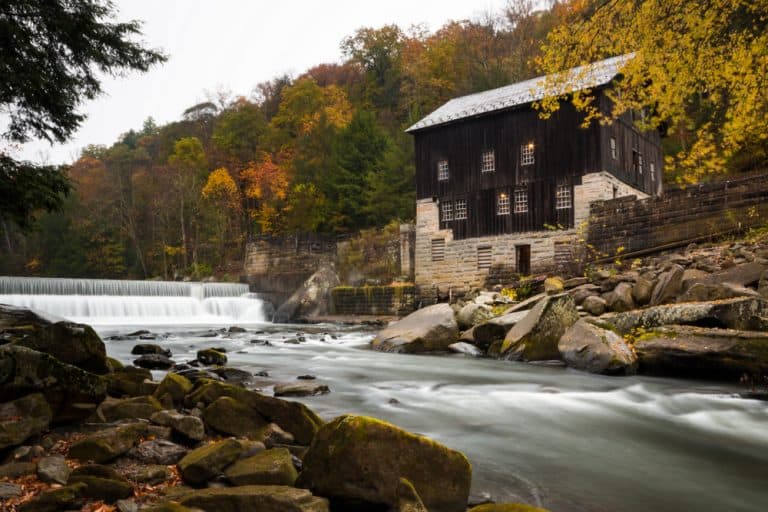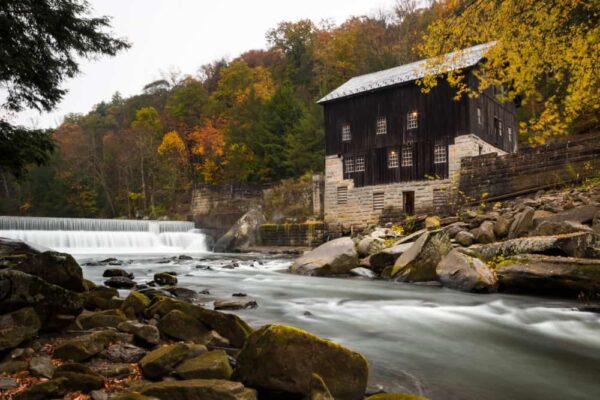 McConnell's Mill sits adjacent to the park's covered bridge and a beautiful dam and dates to 1868 (replacing an older mill that was destroyed in a fire). The mill was used as a gristmill and originally had a working waterwheel that powered it at one point.
When Thomas McConnell purchased the mill in 1875, he updated the machinery, making the mill one of the first in the country to use rolling mills. It would cease operations in the late 1920s.
Today, McConnell's Mill is not only a beautiful focal point in the park but also features several interesting displays. The interior of the mill is open Wednesday to Sunday from Memorial Day Weekend through late September.
Interestingly, the mill was featured prominently as one of the filming locations in Pennsylvania for "The Pale Blue Eye" starring Christian Bale, which was released in December 2022.
Hell's Hollow Falls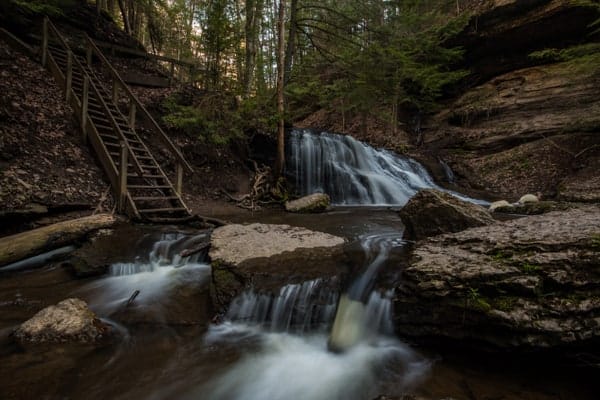 Hell's Hollow Falls is the most popular waterfall in McConnells Mill State Park. While it is not the tallest waterfall in the area, it's one of only two on the park map and is quite easy to reach.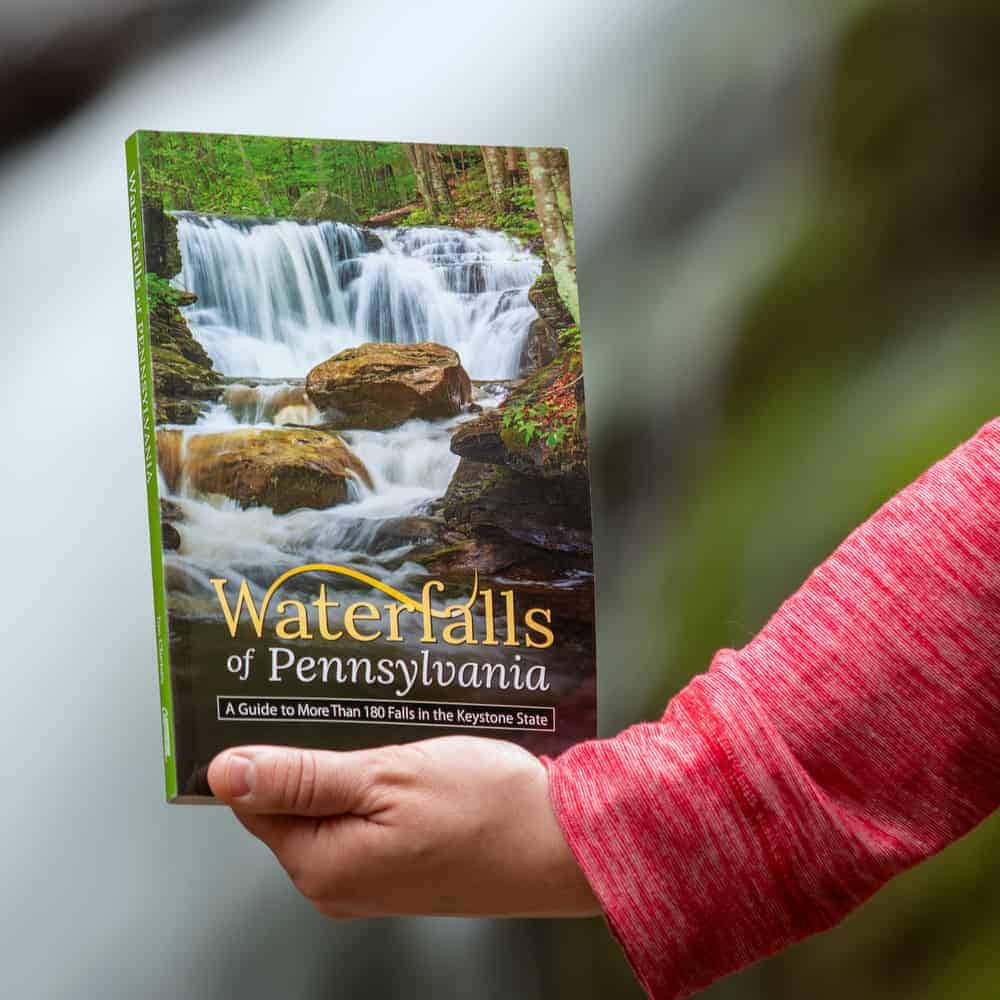 "Waterfalls of Pennsylvania" by Jim Cheney
If you love PA waterfalls, you won't want to miss this waterfall book from Jim Cheney, author of Uncovering PA, featuring more than 180 great waterfalls. Order it now on Bookshop.org or Amazon.
A half-mile hike along a relatively flat trail takes you to the top of the falls. Along the way, notice how the stream has carved a small gorge into the ground.
Adjacent to Hell's Hollow Falls is the remnants of a historic limestone kiln and a set of steps that take you to the bottom of the falls. If the waterfall is flowing well, it may be hard to get a great view without getting your feet wet, but it's worth checking out regardless.
Alpha Falls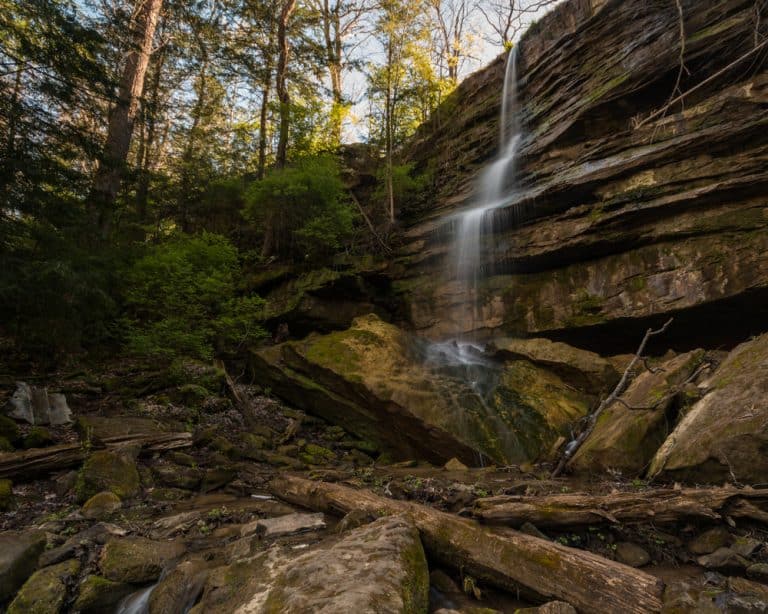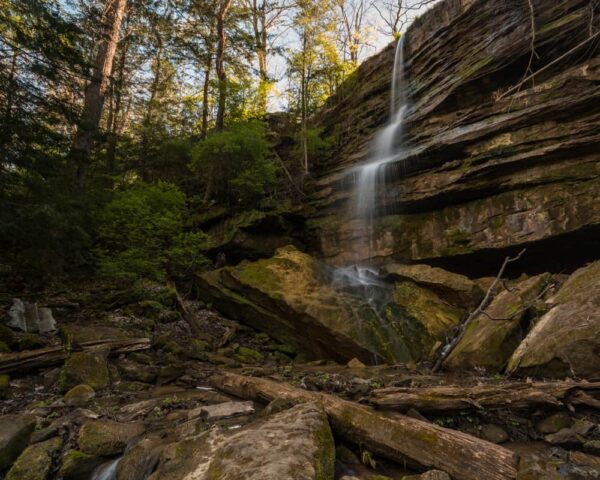 Alpha Falls is the second waterfall shown on the park map and is located in the northern reaches of McConnells Mill State Park. It is the tallest waterfall in the park.
Alpha Falls drops over a tall cliff face and is quite impressive when it is flowing well. Unfortunately, the stream that flows over the falls is quite small, so Alpha Falls only flows well during periods of high water. If water levels are lower, Alpha Falls probably won't be flowing very well, but the high cliff walls here are still worth a look.
Cleland Rock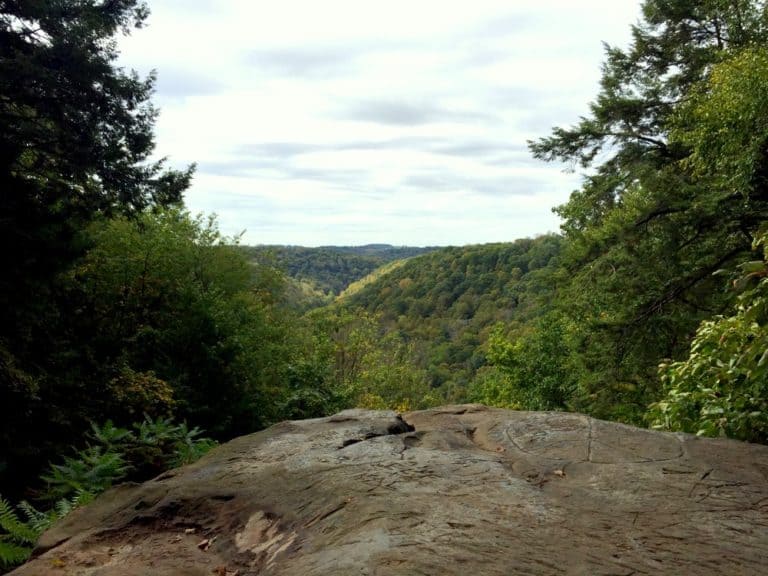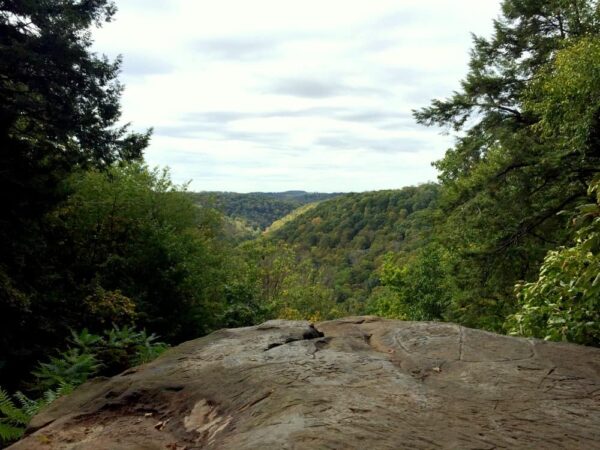 McConnells Mill isn't a park that is known for overlooks, but one impressive view can be found at Cleland Rock.
This sandstone outcropping sits at the deepest point of the Slippery Rock Gorge and offers an impressive view of the forested hillsides surrounding the stream far below.
There are no trails that run to the rock, but there is room to park your car just steps from the vista. It's worth noting that the gravel road that leads to the vista isn't very well maintained, and while I was able to visit in my car, make sure you are careful on the road.
Breakneck Falls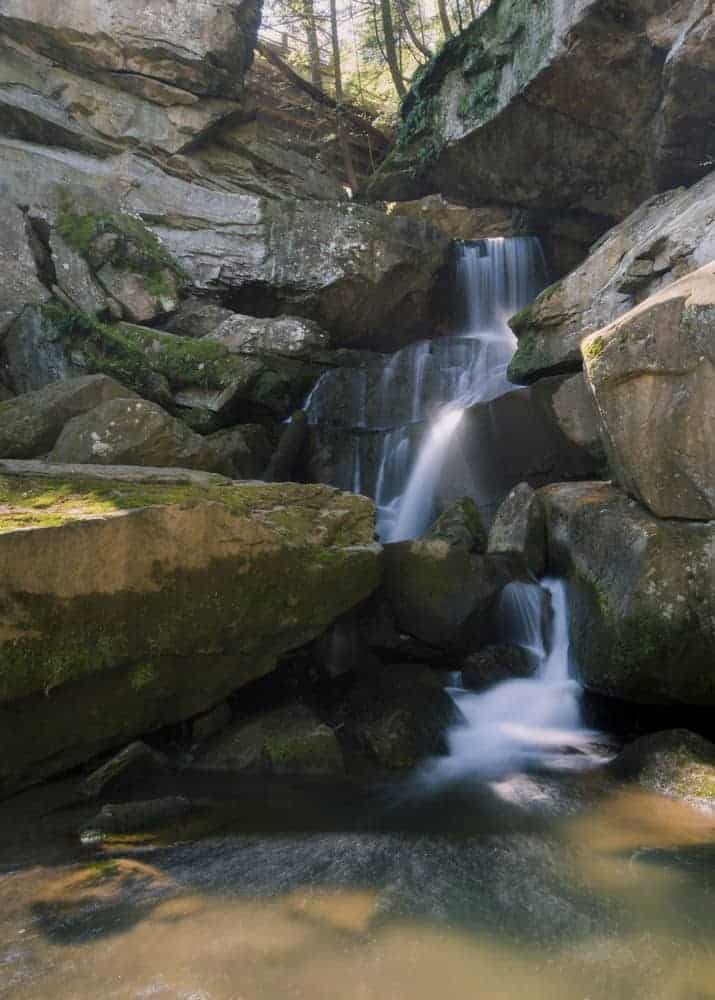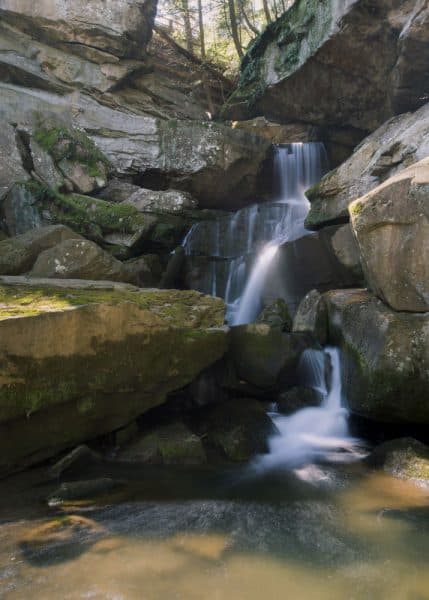 For many years, people sought out Breakneck Falls because of its great beauty. However, visiting it was difficult and somewhat dangerous. Fortunately, in recent years, the park has built an official trail to the waterfall that makes it much easier to see.
At Breakneck Falls, water cascades down a series of drops directly underneath an old bridge. All told, Breakneck Falls is probably about 25 feet in height with rock walls that tower even taller.
While it isn't the best waterfall in the park, its impressive setting more than makes this a great spot to visit.
Slippery Rock Gorge Trail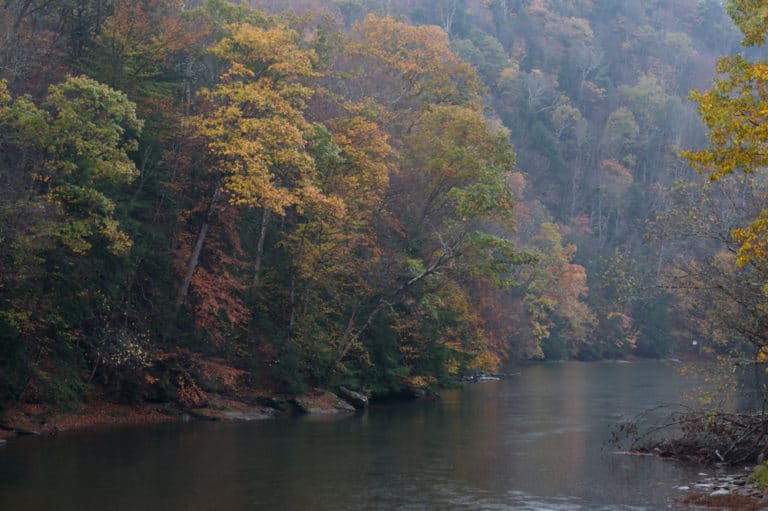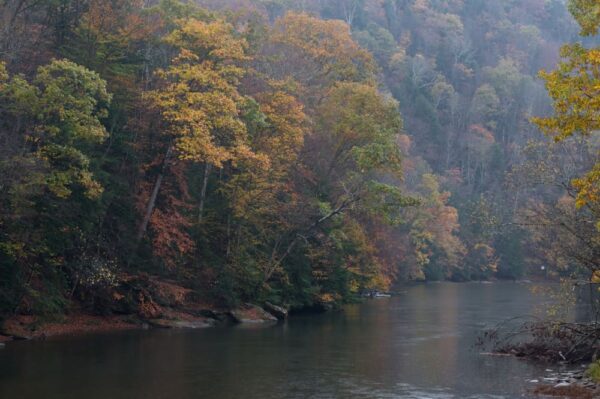 The Slippery Rock Gorge Trail is a six-mile trail (12.5 miles roundtrip) that runs primarily along Slippery Rock Creek. Starting from the same parking lot as the trail to Hell's Hollow Falls, the trail passes through some of the most beautiful scenery in all of the park, including secluded portions of the gorge.
The trail ends at Eckert Bridge, where you can extend the hike even further by adding a hike on the equally beautiful Kildoo Trail.
The Slippery Rock Trail is also part of the 4,600-mile North Country Trail which passes through the park on its route from New York to North Dakota.
Grindstone Falls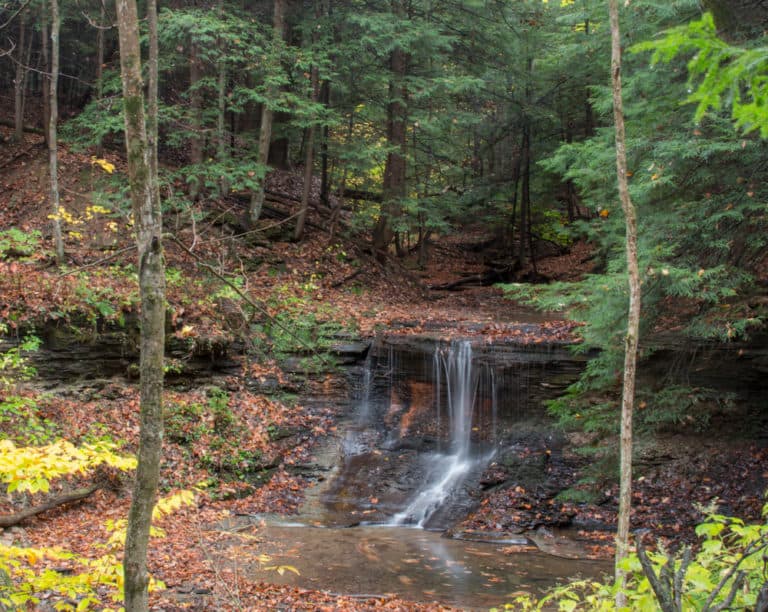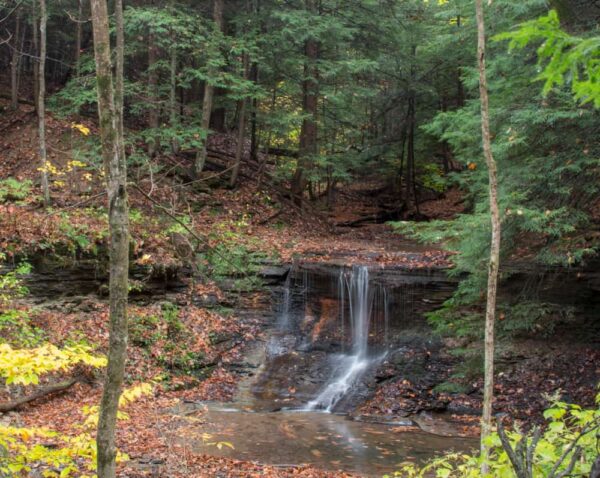 Grindstone Falls is possibly the least-known waterfall in the park. Located along Grindstone Run, there are no official trails that run to the waterfall. However, a surprisingly well-established path runs from a water tower on Mountville Road directly to the waterfall.
Grindstone Falls isn't overly tall, probably 10 feet in height at the most, but is a scenic and peaceful spot for those looking to get away from the crowds that can be present at other areas of the park.
Kildoo Falls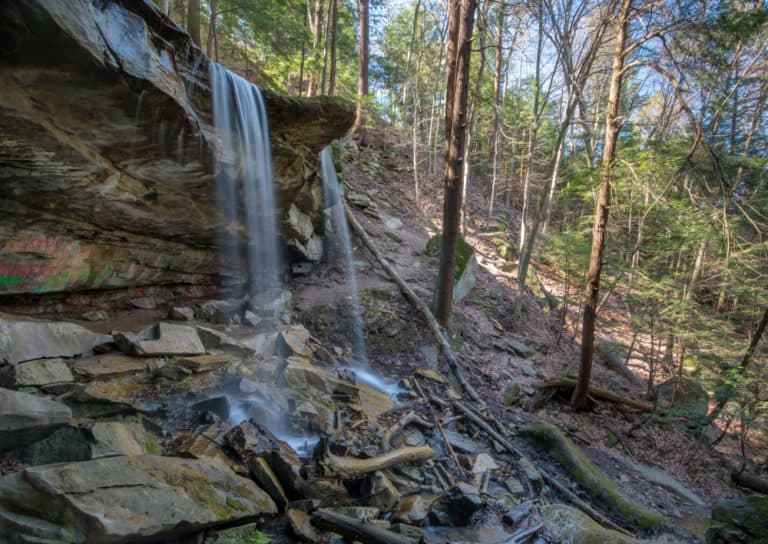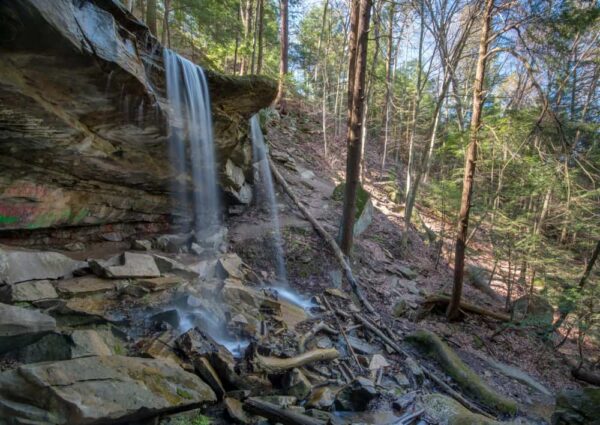 Kildoo Falls is another hidden waterfall in McConnells Mill State Park. Located under Kildoo Bridge near the historic mill and covered bridge, Kildoo Falls reminded me of Adams Falls in Linn Run State Park. That's because both waterfalls typically have a thin stream or two of water flowing off a cliff face with a small area behind the falls.
It should be noted that Kildoo Falls is another dangerous area and the rocks here can be quite slippery. If you visit the falls, use extreme caution and don't attempt to climb the rocks around the falls themselves.
White Water Boating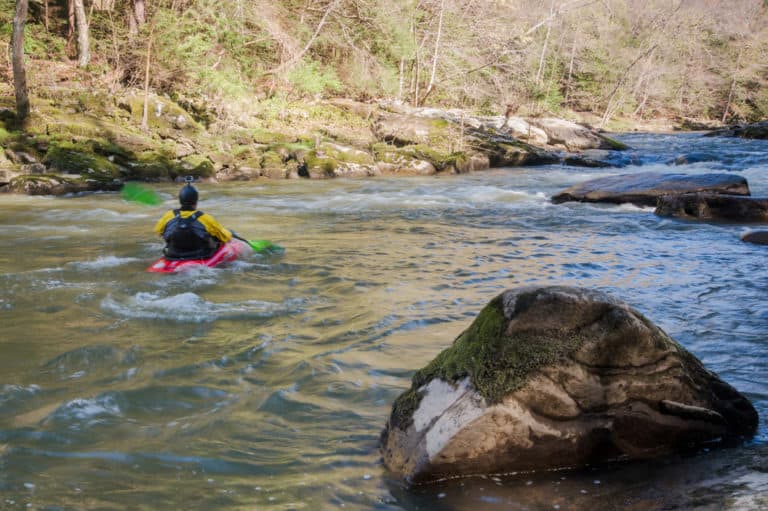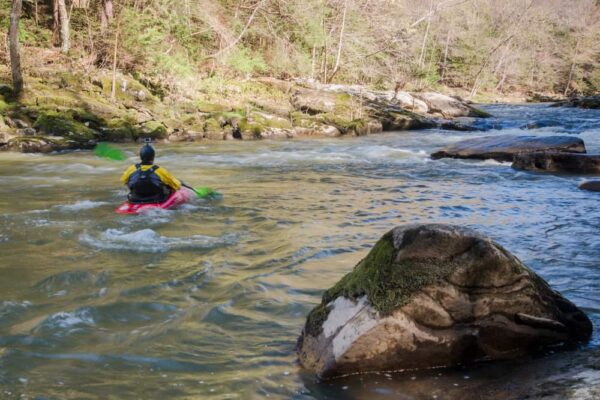 Slippery Rock Creek is a waterway known for its Class II and III rapids and is a popular spot for white water boating. While no operators currently offer public trips here (you'll have to go to Ohiopyle State Park for that), those with experience and their own kayak can often be found tackling the creek.
The most popular white water run on Slippery Rock Creek starts at the Route 422 bridge north of the park and continues to Harris Bridge. Note that if you are boating the creek, a portage is required around the dam at McConnell's Mill, and running it is illegal.
Do you have other favorite things to do at McConnells Mill State Park? Let us know in the comments section below.
Looking for other great things to do in the area? Check out the Harlansburg Station Museum, the Sunken Garden Trail, Jennings Environmental Education Center, or Big Run Falls.
Check out our map below for other nearby things to do.