Disclosure: This article may contain affiliate links. We will make a small commission from these links if you order something at no additional cost to you.
McConnells Mill State Park in
Lawrence County
is known for being one of the most beautiful
state parks in all of Pennsylvania
. And, while many focus their attention on the area around
McConnell's Mill Covered Bridge
and the Slippery Rock Gorge, there are
great sights to see throughout the park
. One of these is Hell's Hollow Falls.
Of all the waterfalls I've come across in Pennsylvania, I don't think that any have as interesting a name as Hell's Hollow Falls.
The name seems to either be related to the fact that the stream disappears below ground at some point along its course or to an early traveler who referred to the place as Hell. Either way, this unique name belies the beauty of Hell's Hollow Falls in Pennsylvania's McConnells Mill State Park.
McConnells Mill State Park is quite long and narrow as it primarily follows Slippery Rock Creek. Because of this, a roundabout drive is necessary to reach the parking area for Hell's Hollow from the main portion of the park. Even so, this parking lot can fill up on busy weekends, so arriving early is a good idea.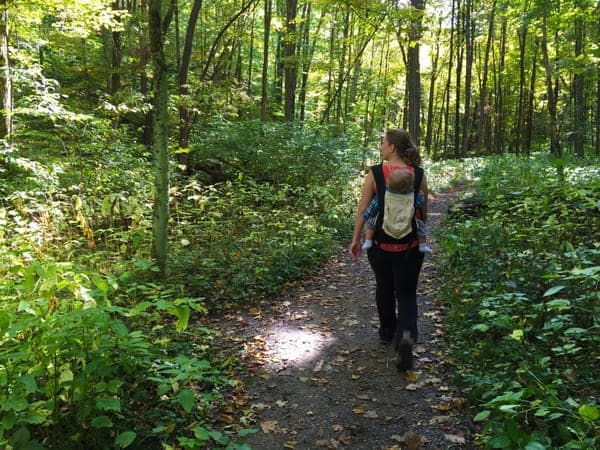 It's a half-mile hike from the parking area to Hell's Hollow Falls. The trail is wide and there is little elevation gain, making this a fairly easy trail, though it can be slippery in spots, especially around the falls.
Along the way, Hell Run cuts a scar across the land, with the stream running a few feet below ground level in a narrow flume. At one point this was covered. However, the roof caved in in the past, making it appear almost like a waterslide. I can't recall seeing any other stream quite like this one in Pennsylvania.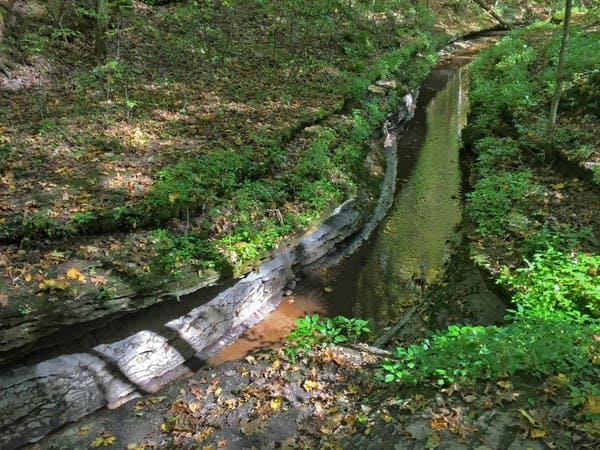 If you look carefully, you can also notice several sinkholes along the way that have been created by the limestone underneath the surface of this hollow. Just before reaching the waterfall, there is also a limestone and iron quarry.
Getting down to the bottom of Hell's Hollow Falls is quite simple thanks to a nice wooden staircase next to the falls. Nevertheless, use caution in the area of the waterfall, as the rocks can be quite slippery.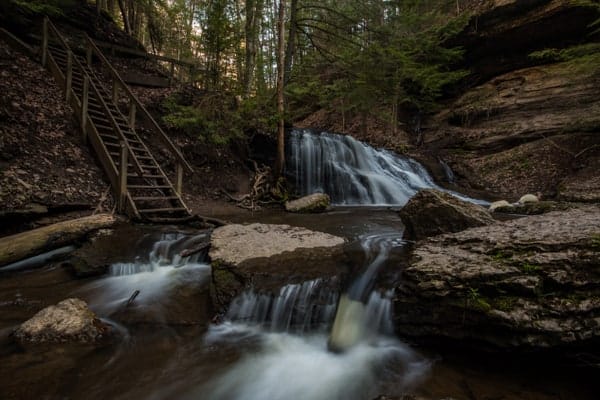 Hell's Hollow Falls is not a large waterfall, standing only about 10-15 feet high and twice as wide. However, what it lacks in height it makes up for in beauty.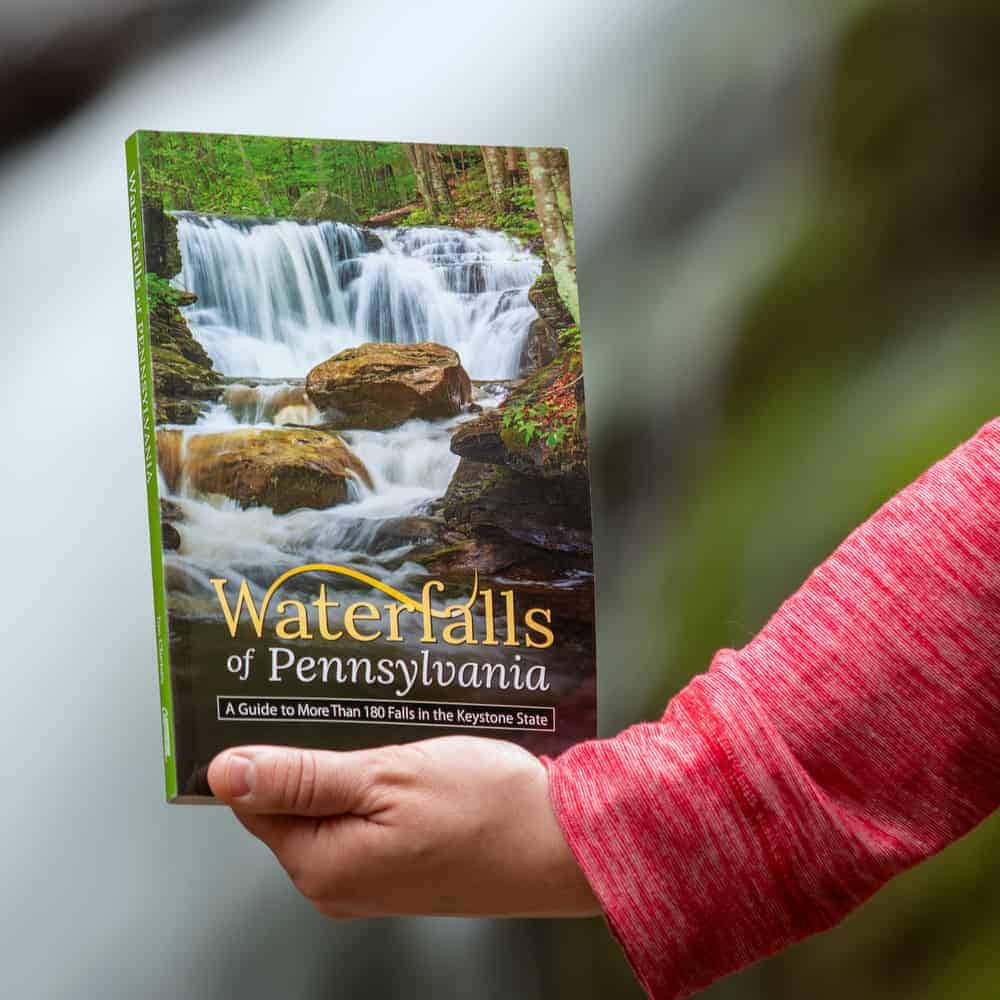 "Waterfalls of Pennsylvania" by Jim Cheney
If you love PA waterfalls, you won't want to miss this waterfall book from Jim Cheney, author of Uncovering PA, featuring more than 180 great waterfalls. Order it now on Bookshop.org or Amazon.
Even if water levels are low, as they were when I visited for the first time, this is still a very beautiful waterfall to see. However, if you can see this waterfall during periods of higher water, I highly recommend it.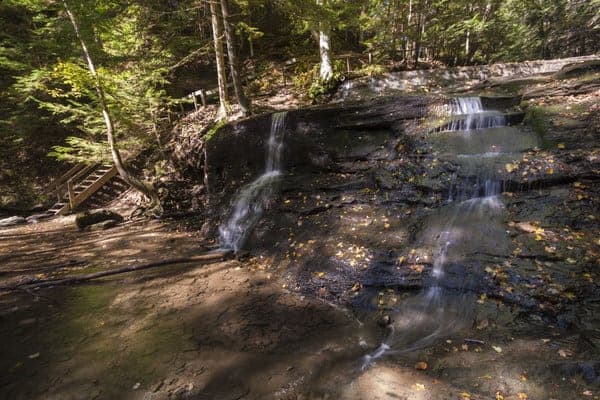 Just to the side of the waterfall are the remains of a brick-lined limekiln. This bit of history next to the waterfall adds to the beauty of the area in my opinion and makes one more reason to make the short hike to Hell's Hollow Falls.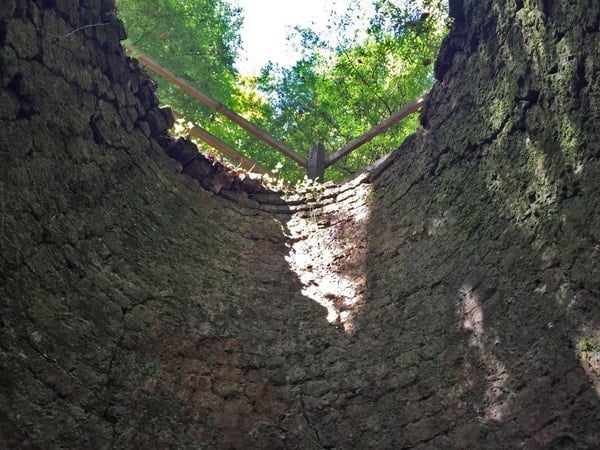 While Hell's Hollow Falls might not be the tallest or most impressive waterfall in northwestern Pennsylvania, it's a great reward at the end of a short, but uniquely beautiful hike through Hell's Hollow in McConnells Mill State Park of Lawrence County, PA.
How to Get to Hell's Hollow Falls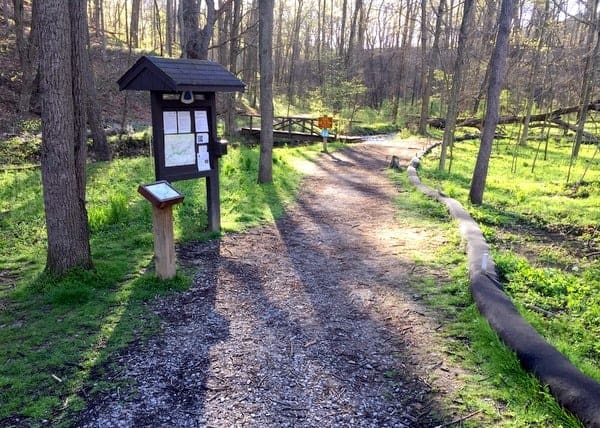 Hell's Hollow Falls is located on the western edge of McConnells Mill State Park, just a few miles outside of New Castle, Pennsylvania. The parking area for the waterfall can be found at the following coordinates: 40.931377, -80.239996.
From the parking area, it's an easy half-mile hike to the waterfall. The trail is easy to follow, but make sure to stay right at the split about a tenth of a mile into the hike, and then follow along the creek until you reach the Hell's Hollow Falls.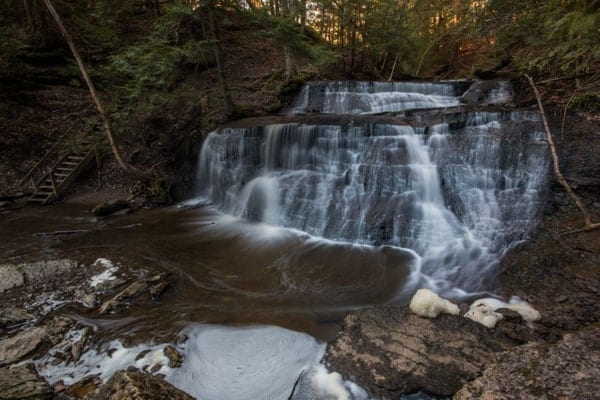 It's also possible to reach the waterfall by hiking from McConnell's Mill and the McConnell's Mill Covered Bridge area along the Slippery Rock Gorge Trail. If you opt to go this route, it's about a six-mile one-way hike from the mill and bridge area to Hell's Hollow Falls.
While in the park, make sure you also check out some of the other waterfalls including Alpha Falls, Grindstone Falls, and Breakneck Falls. Or take the short drive to hike PA's only preserved prairie.
Want to see more of Pennsylvania's best waterfalls? Check out our Waterfalls in PA page!
[Click here for information on how to use the coordinates in this article to find your destination.]
See map below for other area attractions.