Disclosure: This article may contain affiliate links. We will make a small commission from these links if you order something at no additional cost to you.
There are many great spots in western Pennsylvania's McConnells Mill State Park. Some are well known, like McConnell's Mill Covered Bridge and Hell's Hollow Falls. However, there are other spots that aren't even featured on the park map. Breakneck Falls is one of the latter.
Breakneck Falls is located south of the covered bridge and old mill, just under Breakneck Bridge, which is on the map. The area is marked for rock climbing, and the cliffs around the falls would definitely lend themselves to this outdoor activity. However, for those that love waterfalls, this is a great spot to visit as well.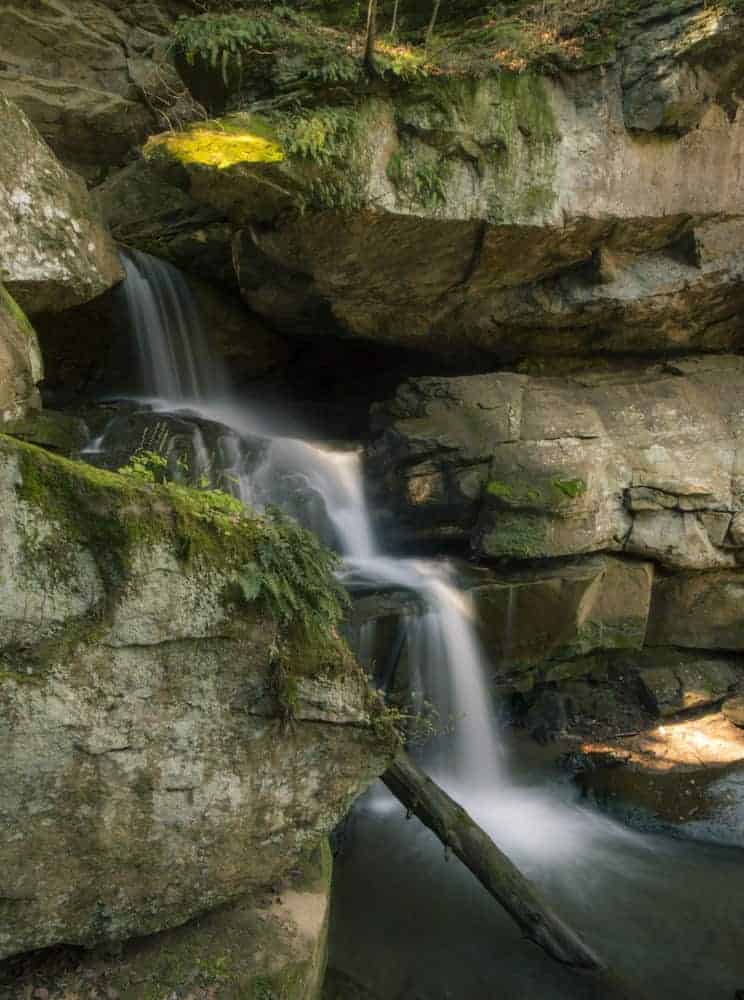 For many years, Breakneck Falls was very difficult to reach and required a rather sketchy descent down a near-vertical slope to reach its base. Fortunately, in recent years, an official trail has been built to this waterfall that makes it a relatively easy waterfall to get a glimpse of (though getting close to it is still a bit of a challenge).
At some point, this trail is likely to be added to the park's map, but as of now, doesn't appear to have been included yet. Because of that, these directions for how to get to Breakneck Falls will come in especially handy.
Where to Park for the Breakneck Falls Trail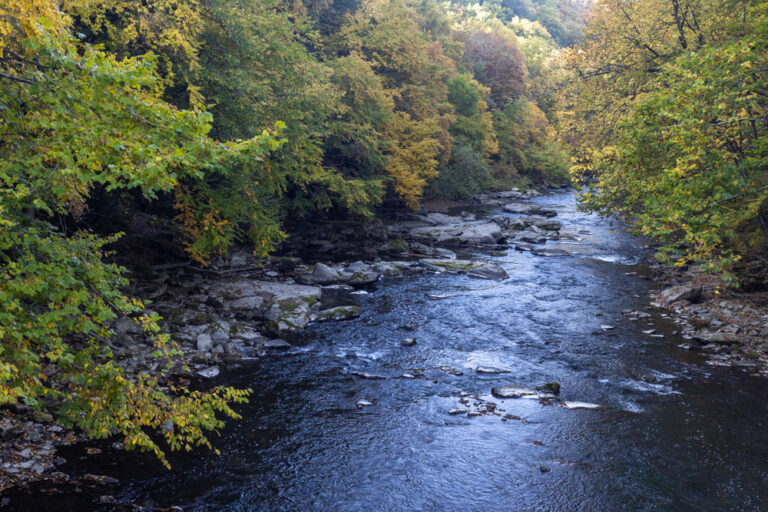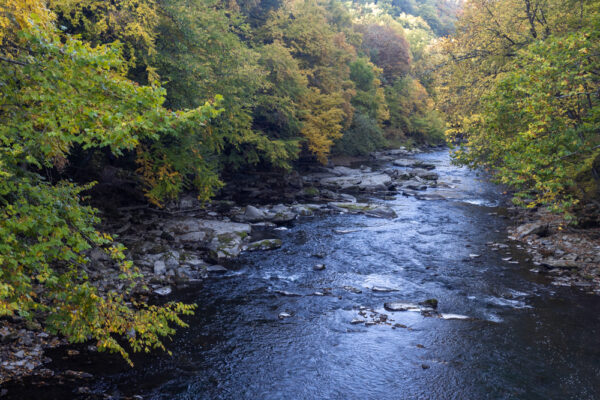 Breakneck Falls is located in McConnells Mill State Park in Lawrence County. It is about an hour north of Pittsburgh and 10 miles east of New Castle, PA.
While you could hike in from further away, there are three areas near Breakneck Falls where you can park your car.
The closest spot is a small area at the very end of Cheeseman Road. Right before Eckert Bridge, you'll see a gravel parking area big enough for a few cars at the following coordinates: 40.940404, -80.176075.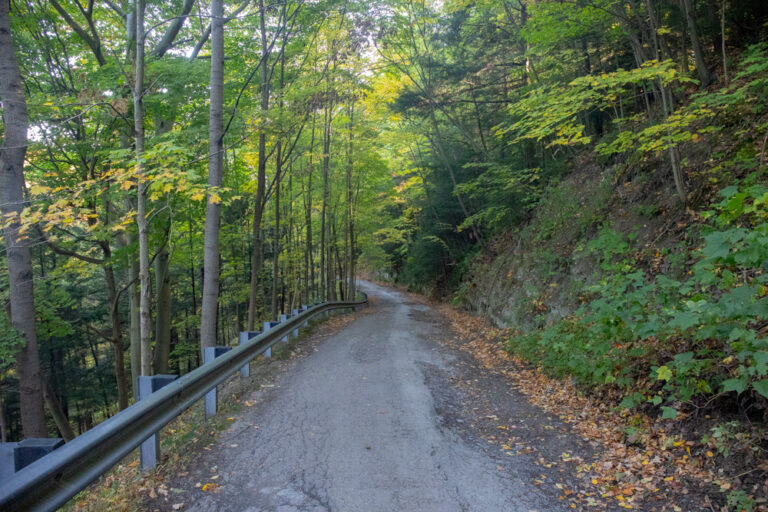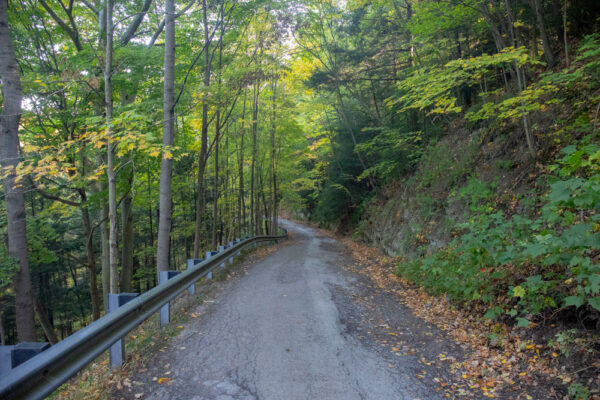 It's worth noting, however, that the last 0.2-miles of the road are very narrow, steep, and quite rutted. Because of this, I only recommend those in high-clearance vehicles attempt to park in the lower area. This last quarter-mile is also closed during the winter.
If you are unable to park in the lower area, the next best spot (and the best spot for standard cars) is at the top of the hill adjacent to Breakneck Bridge at the following coordinates: 40.937597, -80.178215.
At this point, you'll find space for several cars to safely park near the closed entrance to the bridge. Just make sure that you don't block the road at all when parking here.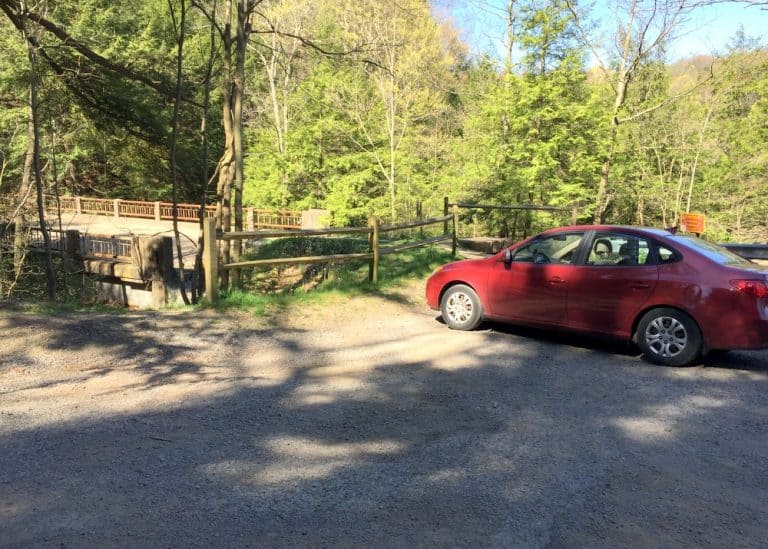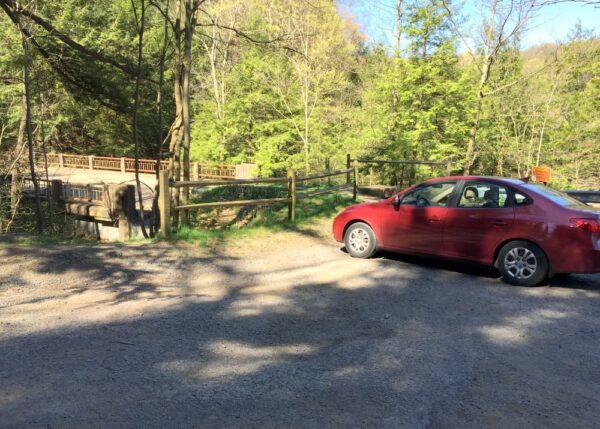 From here, you'll just follow the road downhill for 0.2-miles to reach the lower parking area and the trailhead for the Breakneck Falls Trail.
The third close option is at a state park parking area along Cheeseman Road a bit further away from the waterfall at the following coordinates: 40.937382, -80.176257.
While this spot requires the longest walk to reach the trailhead (about a third of a mile), it is the largest parking area and should have space for your vehicle.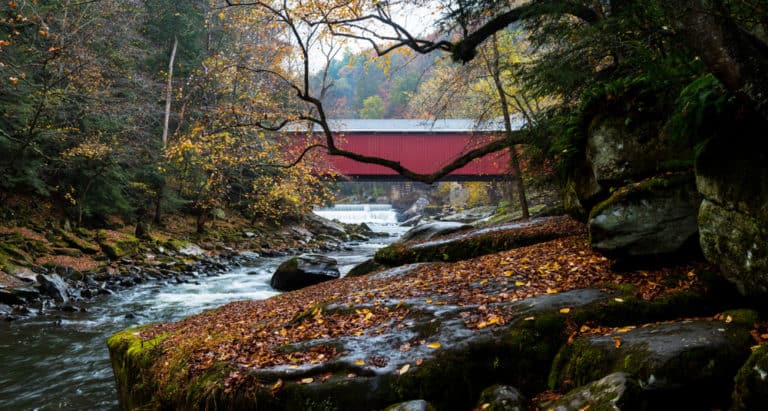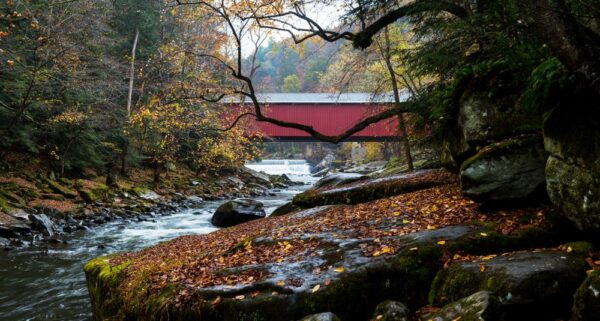 A final option, if you don't mind hiking, is to take either the Kildoo Trail or the Slippery Rock Gorge Trail (depending on the side of the river you are on) from McConnell's Mill Covered Bridge. These trails offer great hikes along the park's beautiful waterway and are each about a mile from the covered bridge to the start of the Breakneck Falls Trail.
If you make a mistake and park at the opposite end of Breakneck Bridge Road, near Cleland Rock, it's a six-tenths of a mile walk along this abandoned road to Breakneck Bridge, and then another two-tenths of a mile to the trailhead.
[Click here for information about how to use the coordinates in this article to find your destination.]
Hiking to Breakneck Falls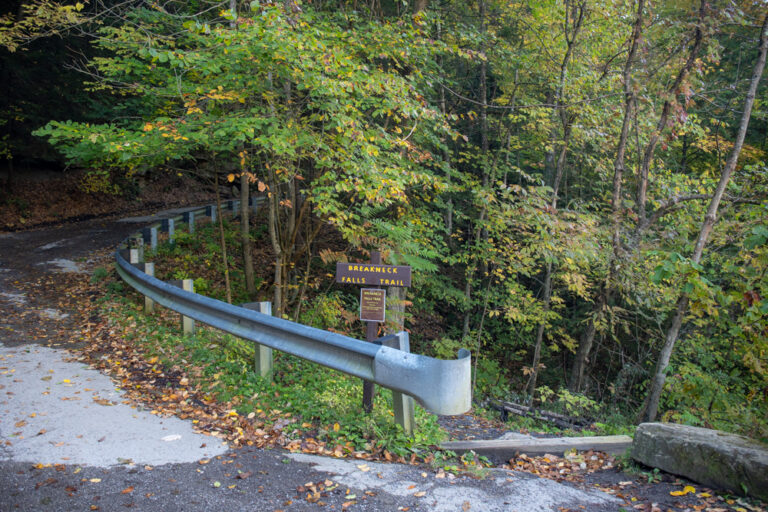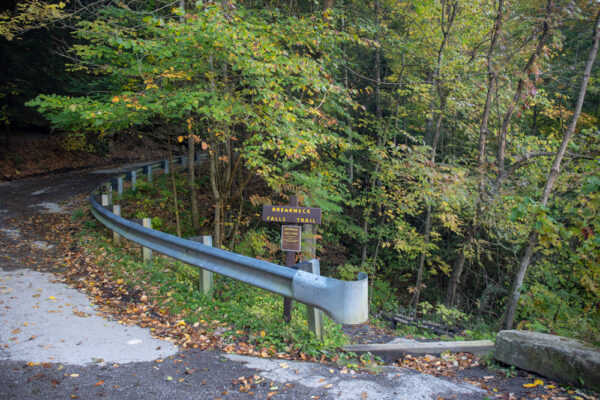 Regardless of where you park, you'll want to head to the end of Cheeseman Road to start your hike. Unless you hiked in on the Slippery Rock Gorge Trail, you do not need to cross Eckman Bridge as the trail is one the same side of the bridge that you parked on.
That being said, the views from Eckman Bridge are quite stunning, so it's worth taking a minute to enjoy them.
The Breakneck Falls Trail follows Slippery Rock Creek downstream for about a quarter-mile on its way to Cheeseman Run and Breakneck Falls. Overall, this trail is relatively easy, though there are some large rocks along the trail that you'll need to find your way over or around.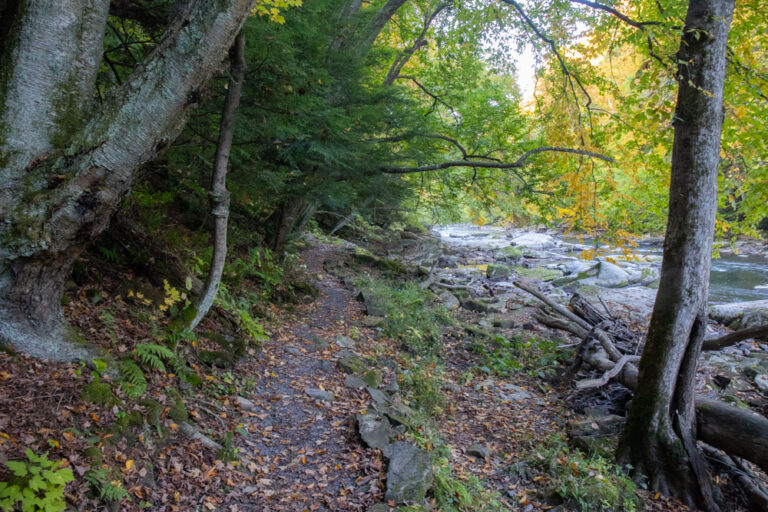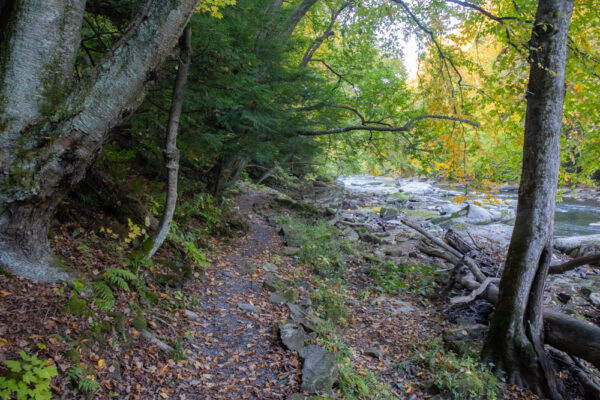 You'll also have near-constant views of the creek and there are even spots where you can get close to the water. If you do, be very careful as this is a deceptively powerful creek and, as the name implies, the rocks can be slippery.
People have died after simply losing their footing on the rocks here. In a similar vein, do not hike this trail if it is covered by the creek in times of especially high water.
After about a quarter-mile of hiking, the Breakneck Falls Trail reaches Cheeseman Run. There is no bridge here and depending on how much water there is, you may or may not be able to cross here without getting your feet wet.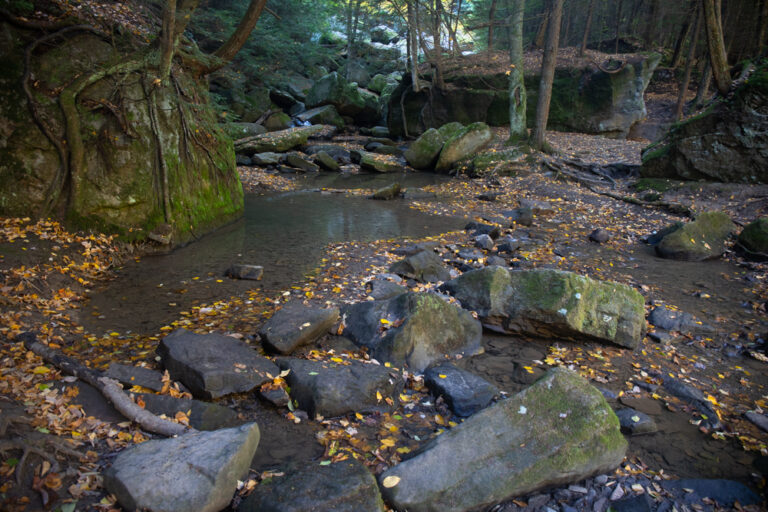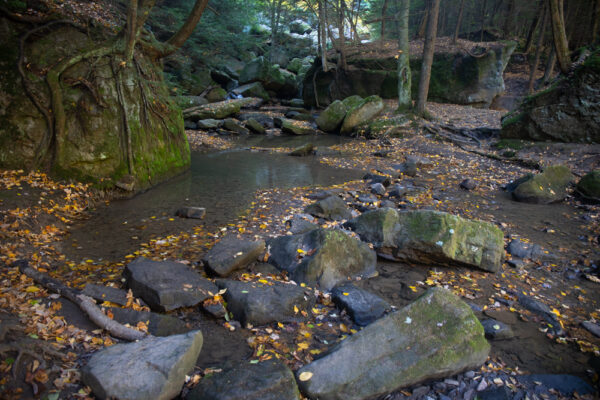 Fortunately, both sides of the creek offer nice views of Breakneck Falls, so you don't have to cross the stream if you don't want to.
From the point where the trail meets Cheeseman Run, you will likely be able to hear but not see Breakneck Falls as the waterfall is about 50-75 yards upstream.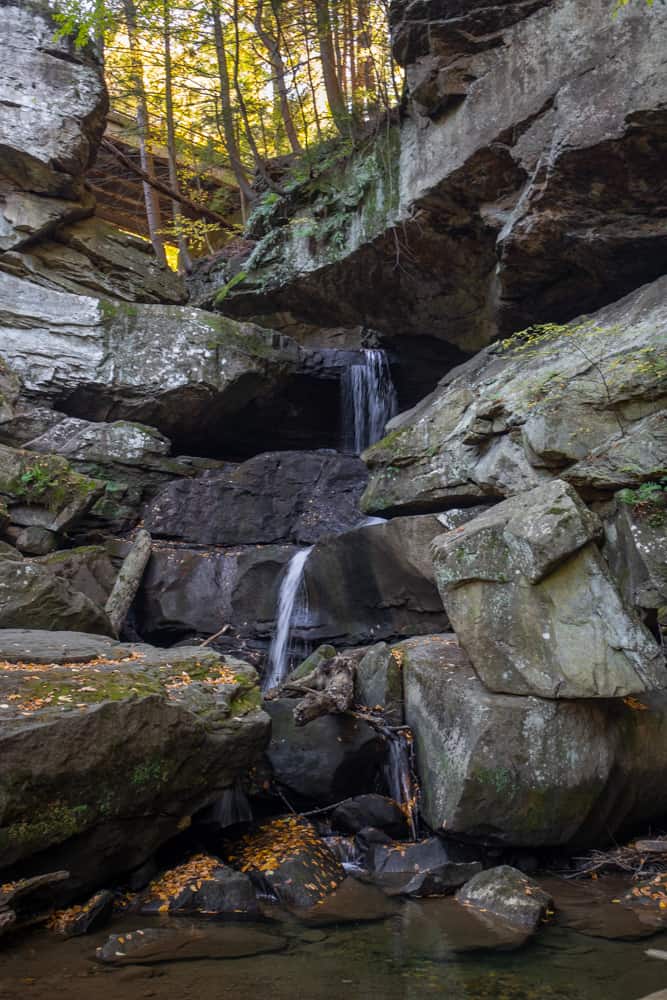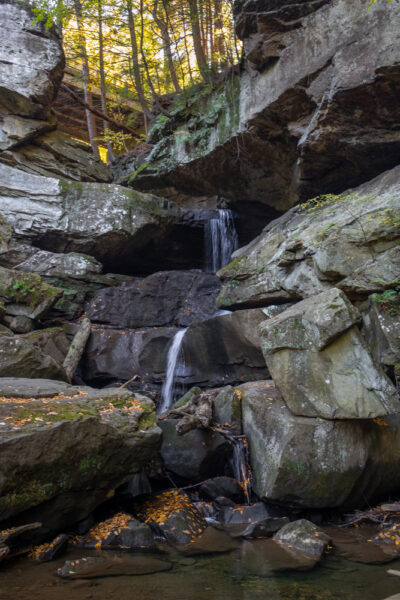 The entire area around Breakneck Falls is surrounded by giant boulders, so you'll have to wind around them to reach the waterfall. There doesn't appear to be a specific trail at this point, so just go the way that looks best to you.
Breakneck Falls is roughly 25 feet in total height spread between three drops. The cliffs along the stream climb at least twice that height, though, creating quite a magnificent scene.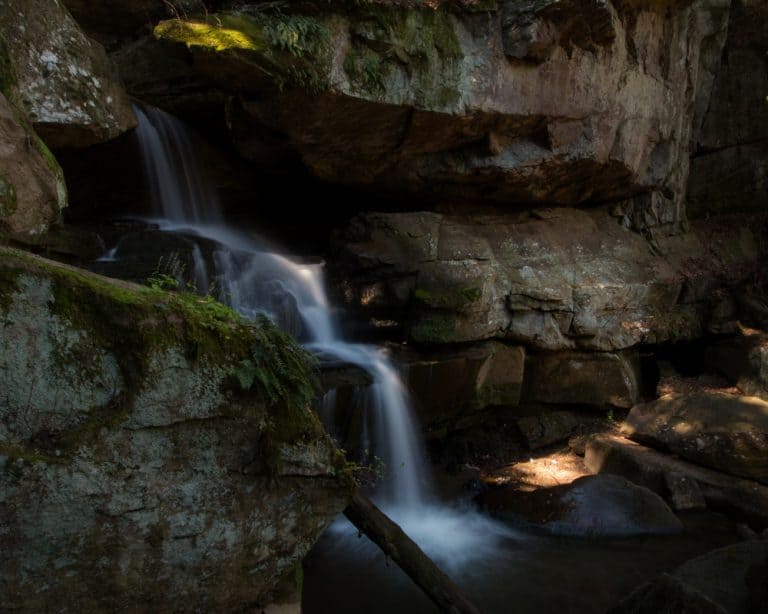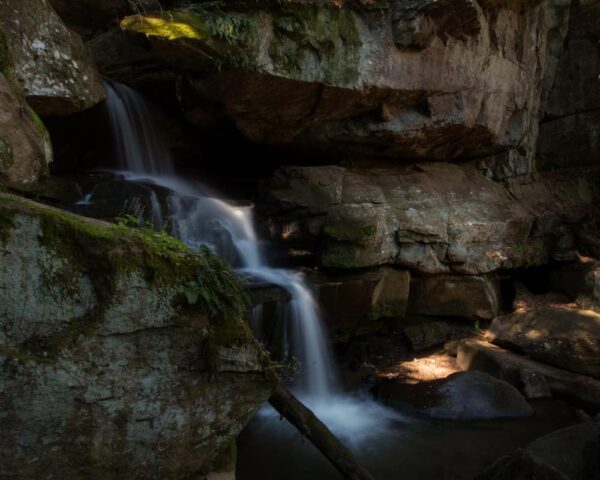 Because of the shape of this waterfall, this is a spot that's going to look best at times of high water, though it does tend to have water flowing throughout the year. And, even if the waterfall isn't flowing well, the giant cliffs and boulders that surround the waterfall make for a fantastic scene.
Once you've had your fill of enjoying Breakneck Falls, simply retrace your steps back to your car.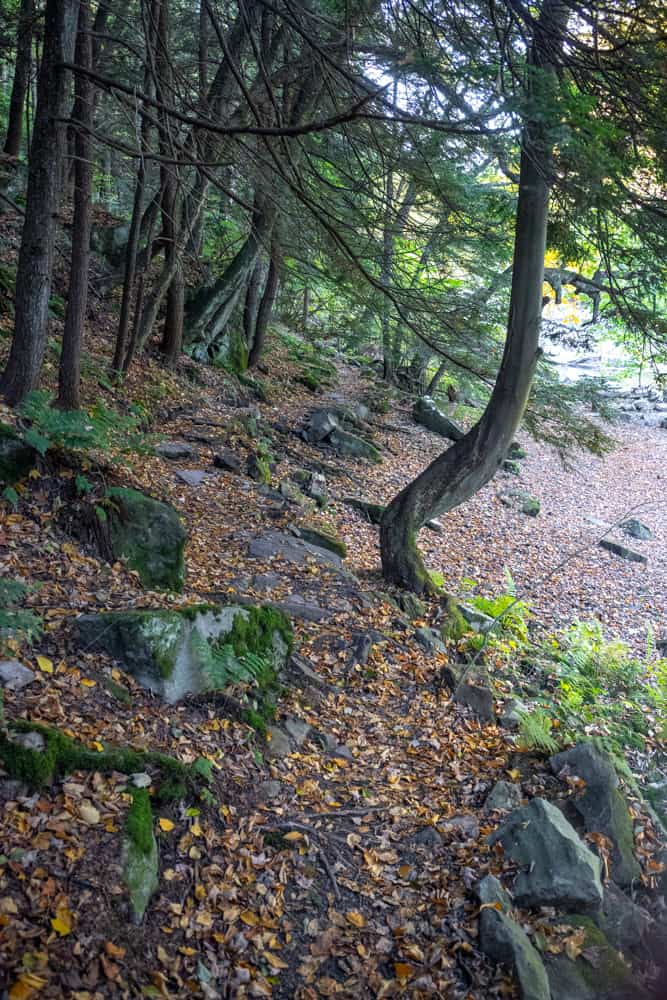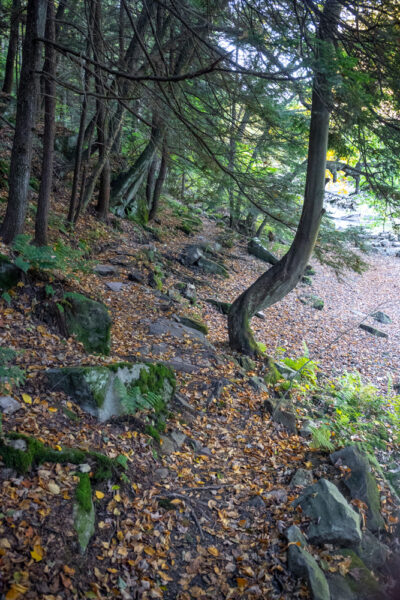 While Breakneck Falls isn't the most impressive waterfall in western Pennsylvania, it is quite a beautiful spot and, thanks to the new hiking trail, definitely worth the short hike to see.
And, while in the area, make sure to check out the other waterfalls in McConnells Mill State Park including Hell's Hollow Falls, Grindstone Falls, and Alpha Falls.
Looking for even more great spots to visit in the area? Check out Jennings Environmental Education Center, the Sunken Garden Trail in Moraine State Park, and Big Run Falls in New Castle.