Disclosure: This article may contain affiliate links. We will make a small commission from these links if you order something at no additional cost to you.
McConnells Mill State Park in Lawrence County is one of my favorite parks in all of PA. The park is home to several well-known spots like McConnell's Mill Covered Bridge and Hell's Hollow Falls. However, the park still has several hidden gems that you won't find on the park map and where you're unlikely to see other people.
Grindstone Falls is one of these gems that's hidden deep in the park's woods. However, if you know where to look, this waterfall is fairly easy to reach and one of the best things to do in McConnells Mill State Park.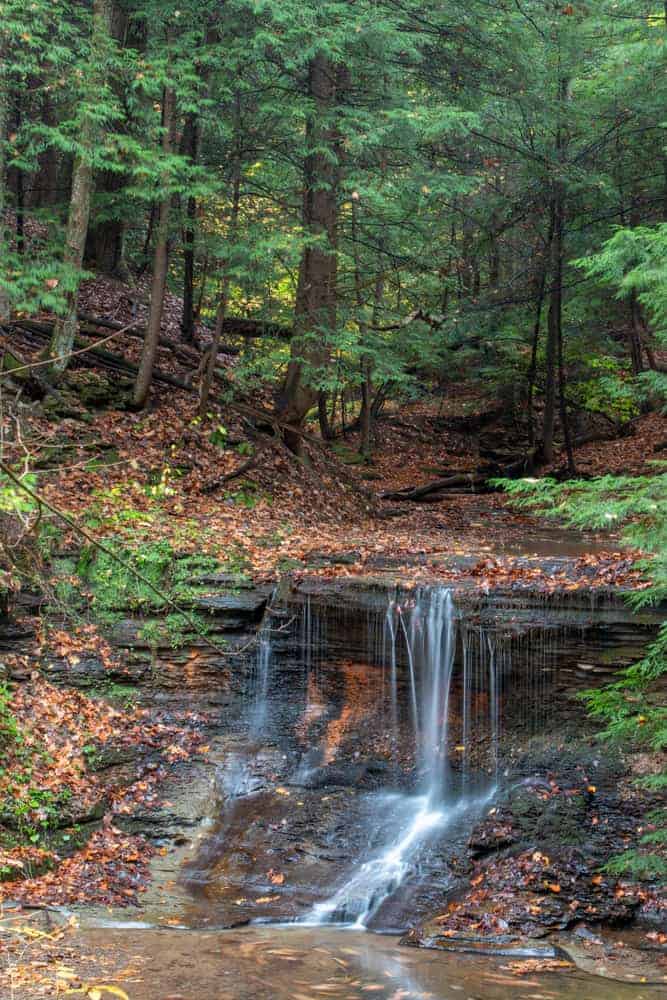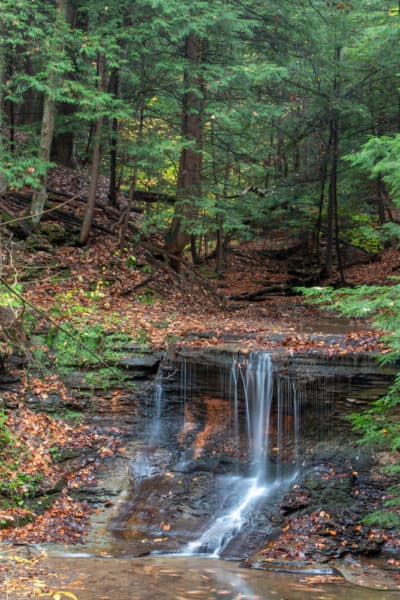 Grindstone Falls is located off of Mountville Road along Grindstone Run, a tributary of Slippery Rock Creek. It is in the southern part of the park several miles from the other popular spots in the park, though not too far from Cleland Rock.
The trail to the waterfall isn't overly difficult, but be aware that while you are on the park's land and along a well-trodden path to the falls, there are no markings along the route.
From the parking area (more info below), return to the road and turn right. Walk along the road for 500 feet until you come to a gated road on your right.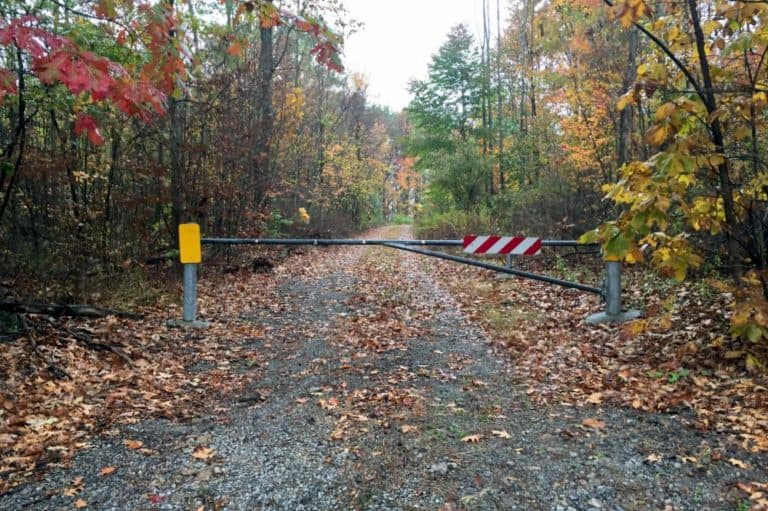 Walk past the gate and walk for a couple hundred feet until you come to a clearing with a tower. Keep the tower on your right, and walk to the back left corner of the clearing where you'll find an obvious, but unmarked trail (about 10 or 11 o'clock if you look at the clearing as a clock).
This trail winds its way slightly downhill for about 0.4 miles taking you directly to Grindstone Falls. Shortly before you reach the waterfall, the trail makes a right turn and soon after that, you can see the waterfall.
The trail itself comes out a bit above the waterfall, and there is no obvious way to get to the base of the falls. Pick out which way seems best to you if you want to get down to stream level. However, the view from the trail is quite nice if you are fine being a bit back from the waterfall.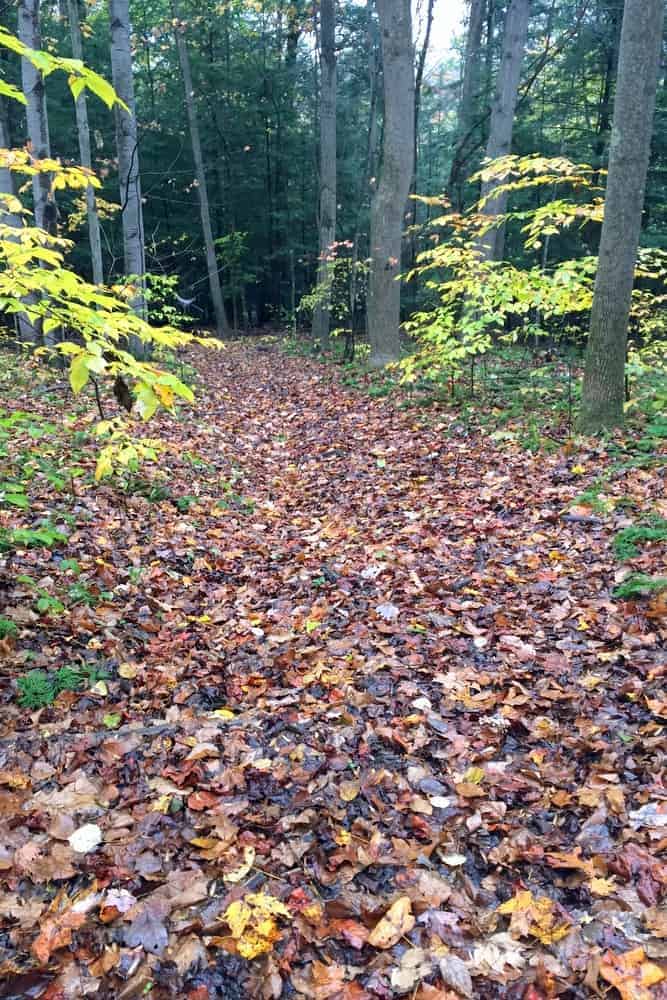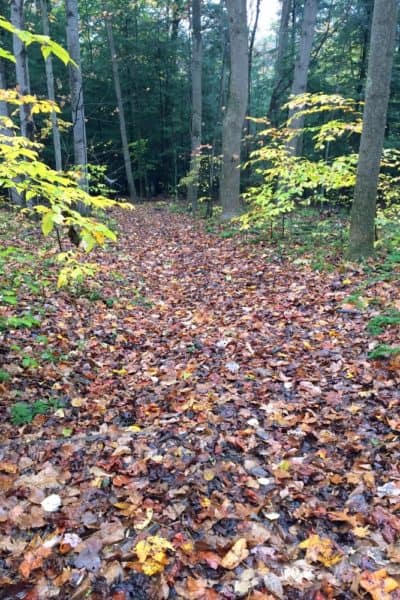 Grindstone Falls itself is about 8-10 feet in height, and roughly as wide as it is tall, though this can vary a bit depending on water levels.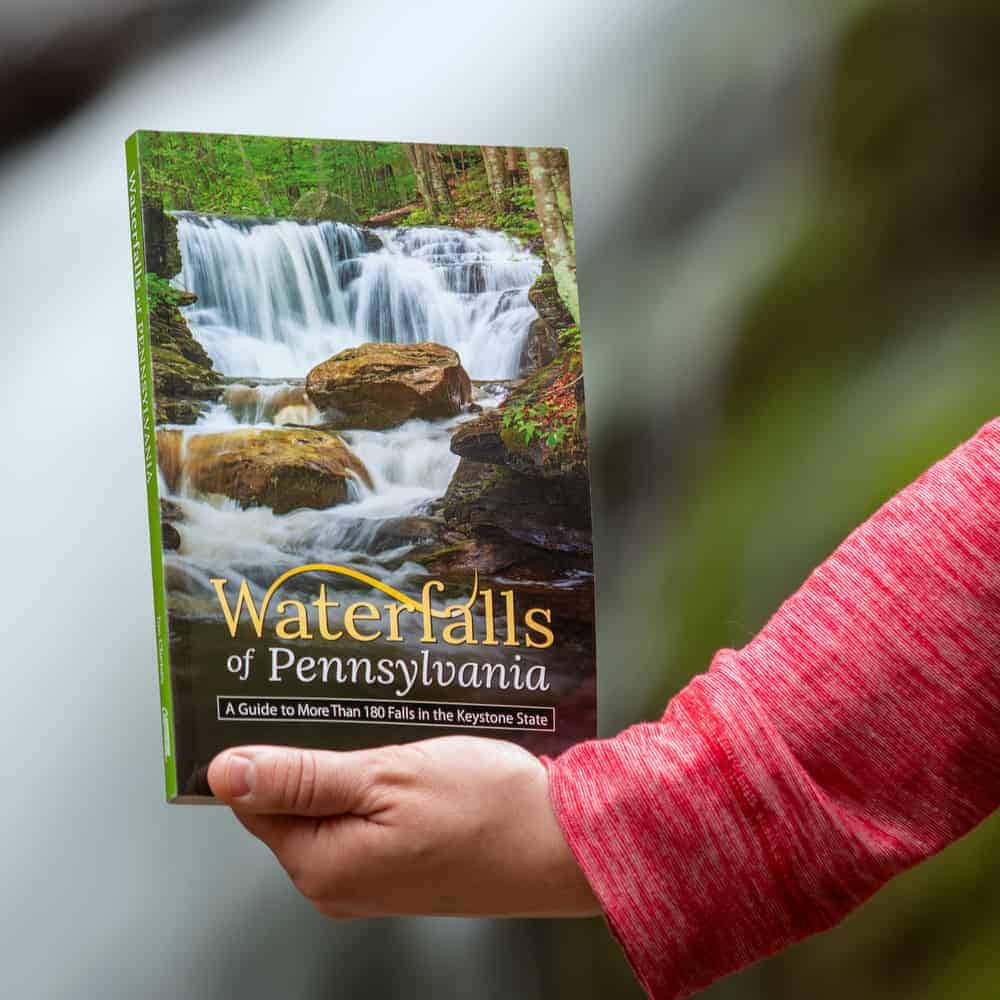 "Waterfalls of Pennsylvania" by Jim Cheney
If you love PA waterfalls, you won't want to miss this waterfall book from Jim Cheney, author of Uncovering PA, featuring more than 180 great waterfalls. Order it now on Bookshop.org or Amazon.
The water here flows off in a beautiful sheet, especially when water levels are high, making this one of the most beautiful waterfalls in McConnells Mill State Park, even if it's one of the shortest.
Once you've had your fill of the waterfall, head back to the trail for the half-mile hike back to your car.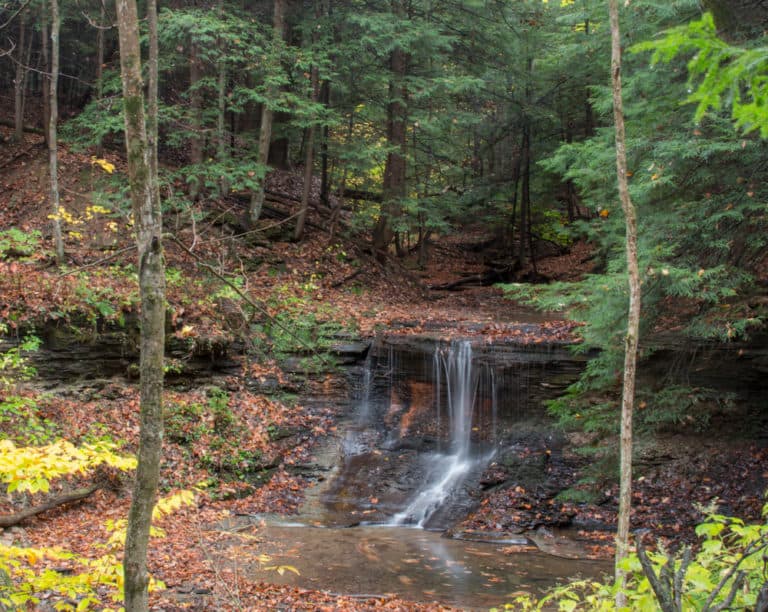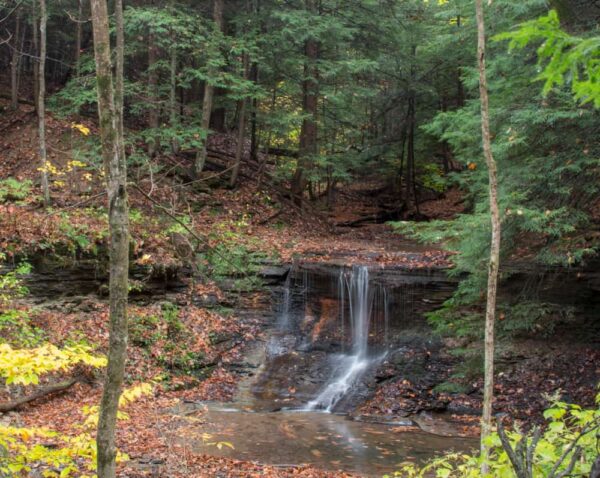 I've done a lot of unmarked hikes to waterfalls in Pennsylvania's state parks and forests. However, few have been as easy to reach as Grindstone Falls. In fact, it's so easy to reach and the trail so established that I'm quite frankly shocked that it's not on the park map.
However, if you are looking for a quiet spot to get away from the crowds you'll find at other spots within this popular park, consider the short hike to Grindstone Falls.
How to Get to Grindstone Falls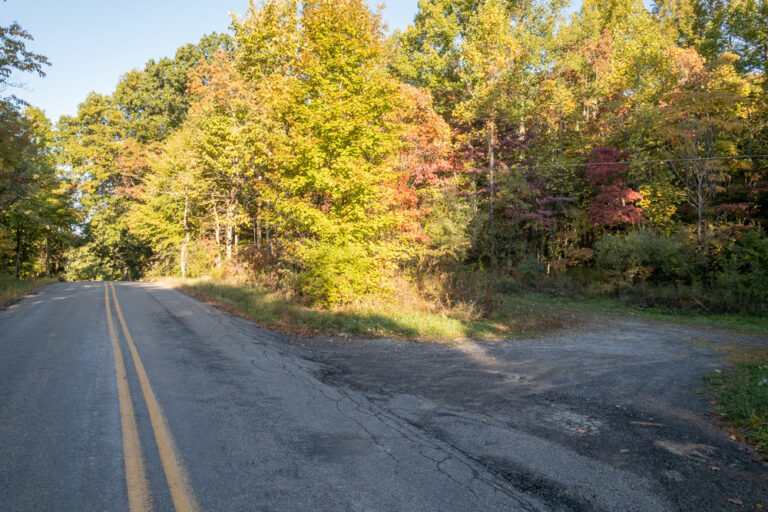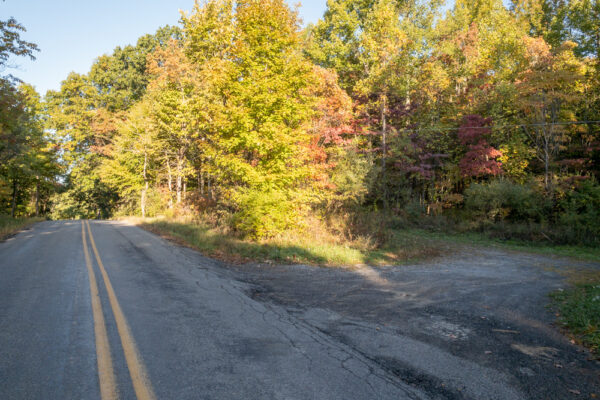 The parking area for Grindstone Falls is located along Mountville Road in Lawrence County, PA. The best place to park is an unmarked dirt area that can be found at the following coordinates: 40.911071, -80.195397.
From this lot, turn right onto Mountville Road and walk about 500 feet west.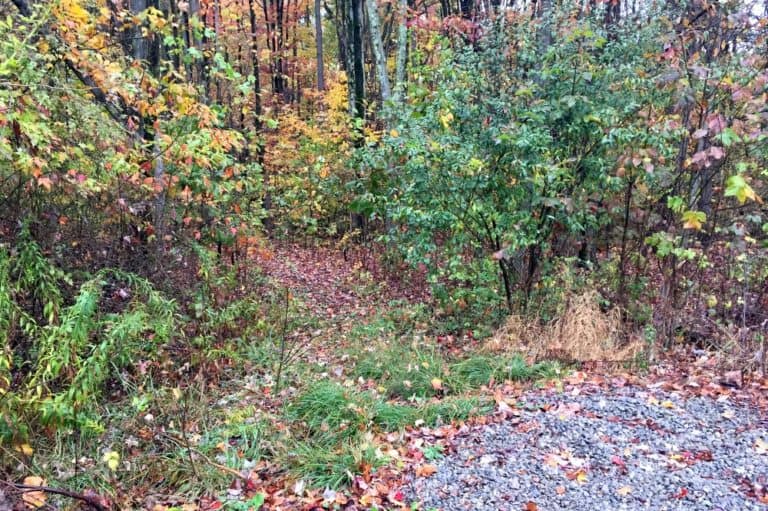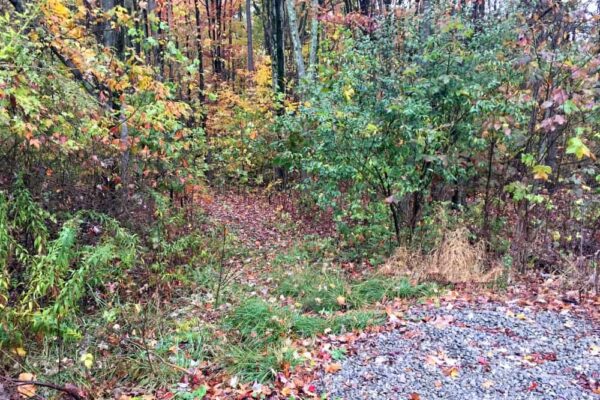 Directly across from Nye Road, you'll see a gated road. Turn up this road and follow the directions listed above. (Do not park in a way that blocks the gated access road.)
For those that use them, Grindstone Falls can be found at the following coordinates: 40.915472, -80.194500.
Looking for more places to visit nearby? Check out Breakneck Falls, Alpha Falls, and Harlansburg Station.
[Click here for information about how to use the coordinates in this article to find your destination.]