Disclosure: This article may contain affiliate links. We will make a small commission from these links if you order something at no additional cost to you.
During my many visits to the Pennsylvania Wilds, I've had the opportunity to stay in some great hotels in Wellsboro, PA, as well as the surrounding area.
These accommodation options are perfect for those looking to head out to explore nearby spots like the PA Grand Canyon or for those traveling along the popular Route 6.
So, the next time you are looking for a place to stay in Wellsboro itself or a Pennsylvania Grand Canyon hotel, I've got you covered with a few great options from my many visits to Tioga County.
Penn Wells Hotel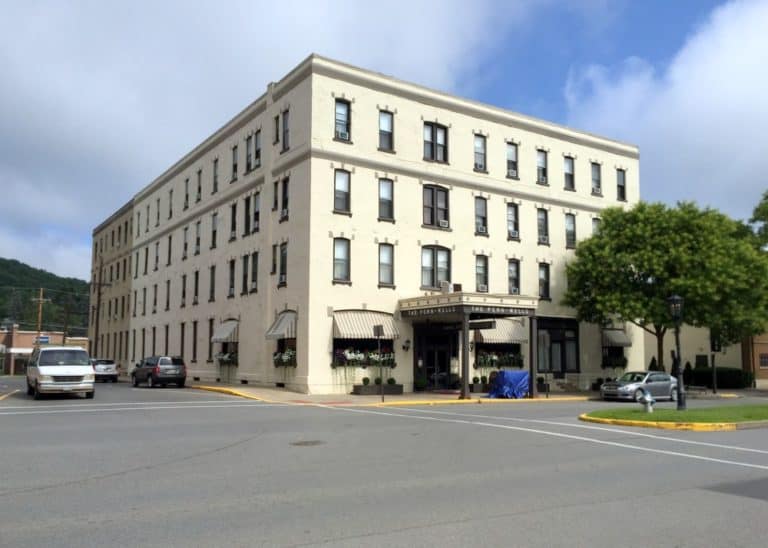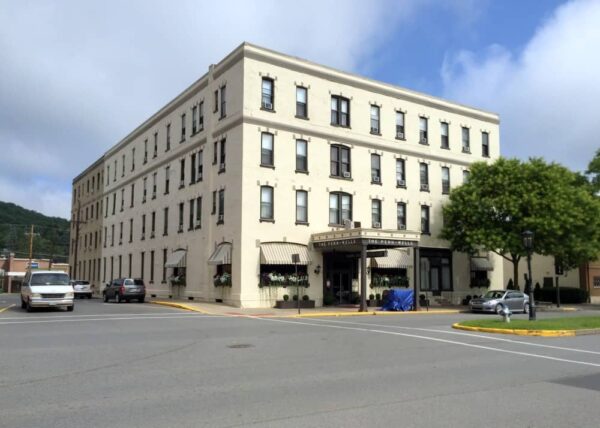 Located in the heart of downtown Wellsboro, the Penn Wells Hotel is the most historic property in town, dating back more than 150 years.
It is also probably the nicest place to stay in Wellsboro and offers very well-appointed rooms that tie in the hotel's history with modern amenities. The hotel also features a bar, restaurant, and swimming pool.
Check reviews of the Penn Wells Hotel on TripAdvisor or get current pricing for the hotel.
Penn Wells Lodge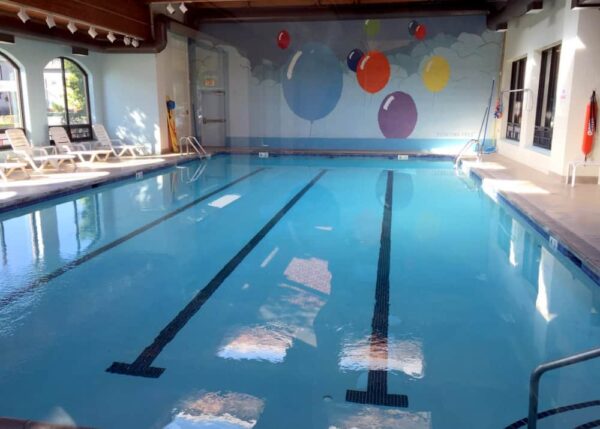 Located just a few doors down the street from the Penn Wells Hotel, the Penn Wells Lodge is a modern hotel that offers all the amenities you'd expect from a nice place to stay. While it lacks the historical charm of the hotel, the rooms are quite nice. The property also features a great pool.
While it's not a name-brand hotel, the Penn Well Lodge is the closest hotel you'll find to one in the area around Wellsboro.
Check reviews of the Penn Wells Lodge on TripAdvisor or get current pricing here.
Canyon Motel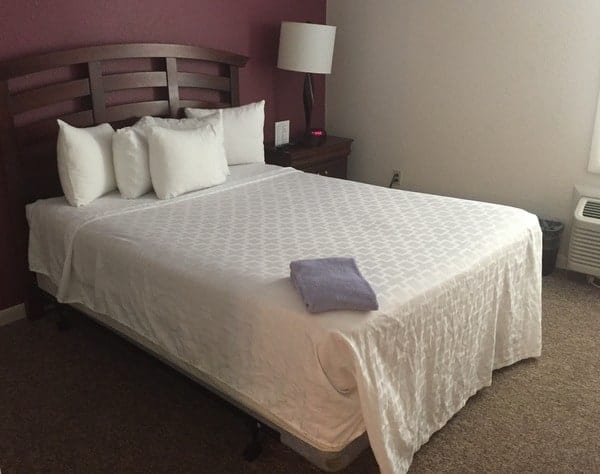 The Canyon Motel is also located in downtown Wellsboro and is the town's highest-rated hotel on TripAdvisor.
The Canyon Motel is unique in that it features a combination of normal hotel rooms, as well as several suites that feature full kitchens and are perfect for those wanting to do long-term stays or needing to prepare food.
While the motel is a bit light on amenities, it does have a great indoor pool and the rooms are nicely maintained.
Check reviews of the hotel on TripAdvisor or get current pricing for the Canyon Motel.
State Park Campgrounds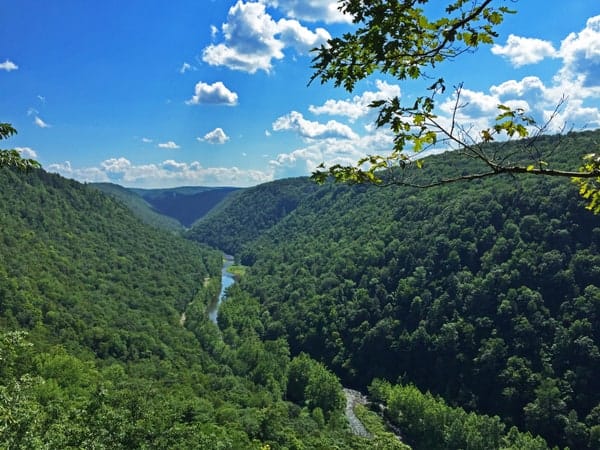 There are several state park campgrounds near Wellsboro that offer campsites for those looking for something a bit more rustic.
The most popular state park in the area is Leonard Harrison State Park. This park features approximately two dozen camping spots with a mixture of electric and non-electric sites. The campground also features a bathhouse.
Across the canyon from Leonard Harrison is Colton Point State Park. This park is more rustic than others and its campground reflects that. Not only is there no bathhouse here, but all 25 spots are first-come, first-served. So, if you want to get a spot here, make sure to arrive early, especially on busy weekends.
The 85-spot campground at Hills Creek State Park east of Wellsboro is probably the most popular campground in the region.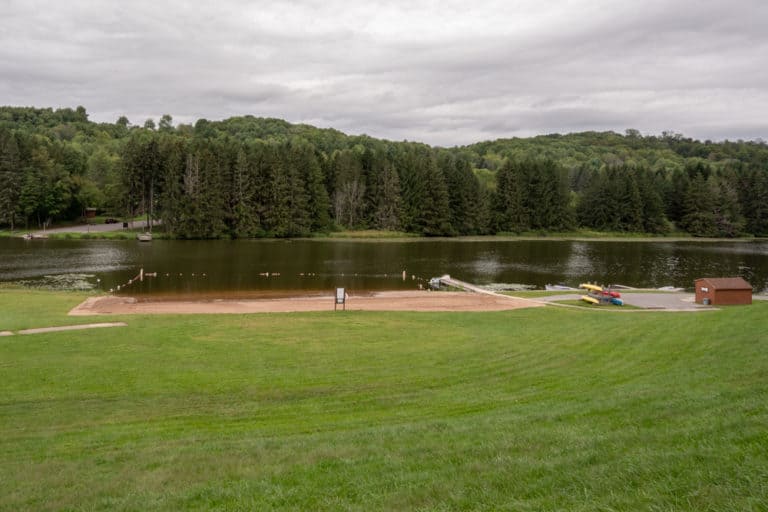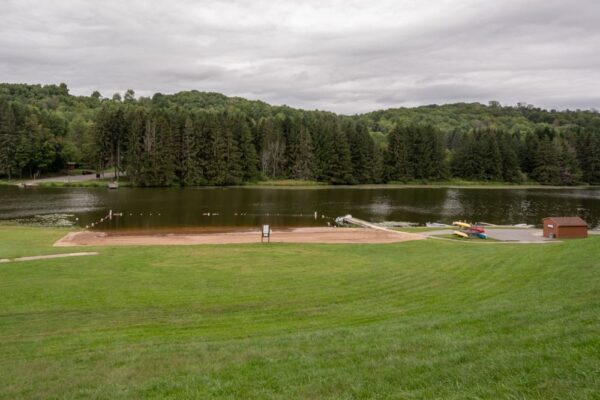 This campground features multiple bathhouses, as well as cabins for those that don't want to camp in a tent. The park also features several miles of hiking trails and a lake for swimming, boating, and fishing.
All three of the listed campgrounds are open from mid-April through late October. The cabins at Hills Creek State Park are open year-round.
All bookings for PA State Park campgrounds are done through Reserve America. Find out more information and make bookings at Leonard Harrison State Park and Hills Creek State Park.
Coach Stop Inn and Tavern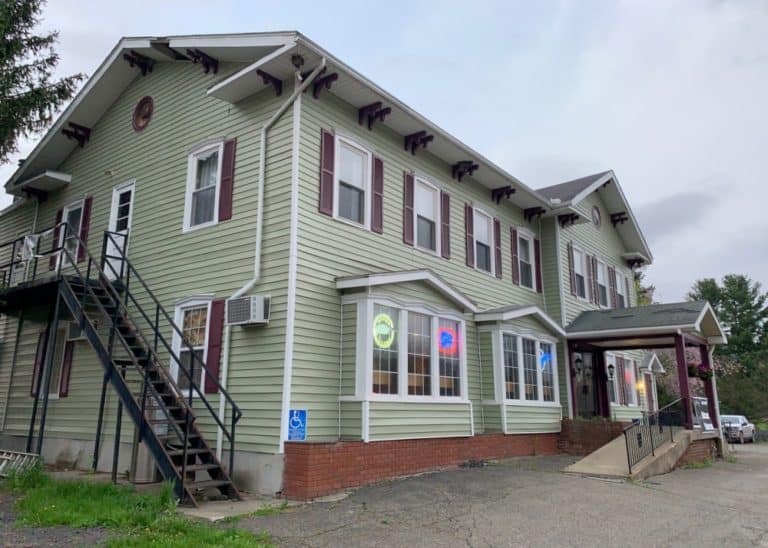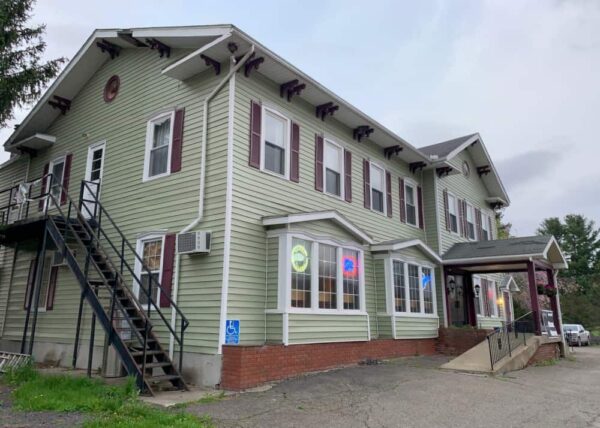 The Coach Stop Inn and Tavern is a basic, but clean hotel along Route 6 near Wellsboro. It is located close to Pine Creek making this a great PA Grand Canyon hotel.
While the hotel doesn't feature many amenities it's the perfect spot for exploring the canyon and biking the Pine Creek Rail Trail.
As the name implies, there is a restaurant and bar on the first floor of the inn.
Check reviews on TripAdvisor or get current pricing for the Coach Stop Inn and Tavern.
Tiadaghton Campground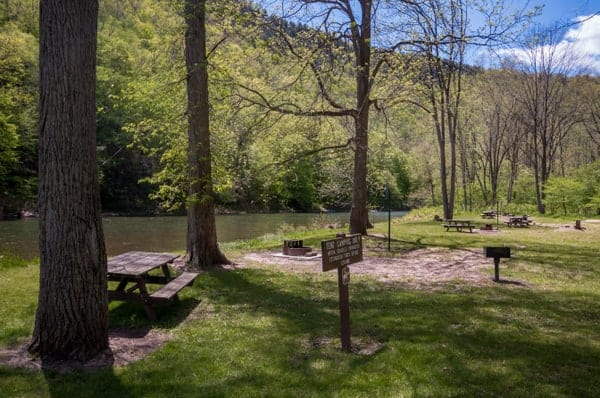 Located on the Pine Creek Rail Trail a few miles north of Blackwell, this is one of the most picturesque campgrounds I've ever seen.
The campground is located in a secluded area along the bank of Pine Creek. While there is a road that leads to this spot, cars aren't allowed to stay overnight, so the road can only be used to bring in or out supplies and for cleaning crews.
That makes this campground a perfect place to stay overnight while biking the Pine Creek Rail Trail.
You are allowed to stay at the Tiadaghton Campground for free for one night, but a permit must be obtained beforehand through the state forest office.
Hotel Manor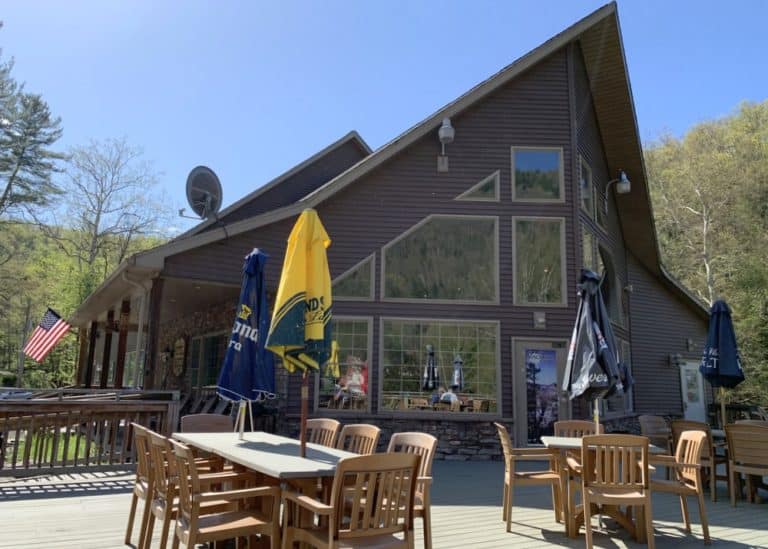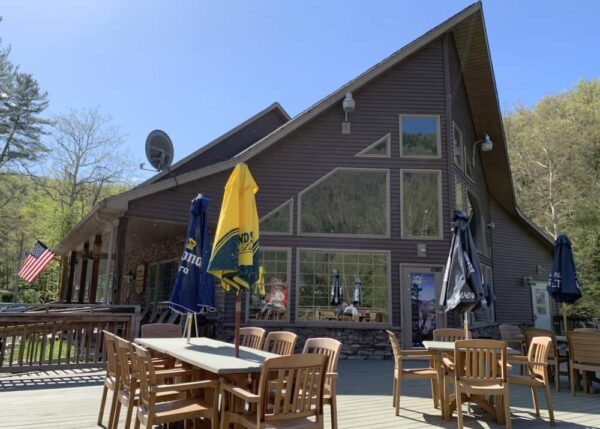 Hotel Manor is located a good distance south of Wellsboro, but if you have spent the day exploring the region and are heading south, this is the perfect place to stay the night or simply enjoy a great meal.
This hotel and restaurant are located in the sleepy community of Slate Run within the canyon.
The hotel portion of the business features 10 rooms which appear to only able to be booked through their website. However, you can check out reviews on TripAdvisor before going.
If you aren't looking for somewhere to stay (or if you are staying here overnight), Hotel Manor features a great restaurant with an amazing deck overlooking the canyon and Pine Creek. I've enjoyed many meals here after a long day of hiking or biking in the area.
If you prefer to stay in a name-brand hotel, the closest properties can be found in Mansfield and Williamsport. There are also a lot of great VRBOs in and around Wellsboro.
Looking for more things to do in the area? Check out the best breweries in Tioga County, Cherry Springs State Park, Sand Run Falls, and the Tioga Central Railroad.