Disclosure: This article may contain affiliate links. We will make a small commission from these links if you order something at no additional cost to you.
Jacoby Falls is one of those waterfalls that will either look spectacular when you visit it or like nothing. There really doesn't seem to be any in between.
That's because Jacoby Falls frequently has very little water flowing over its edge. However, if you can catch this waterfall at the right time, it's truly one of the most beautiful waterfalls in Pennsylvania. And, while it's not as tall as nearby Angel Falls, it's also one of the tallest waterfalls in the area.
Jacoby Falls is located in Lycoming County, north of Williamsport, Pennsylvania. The trailhead for the falls is located a short distance off of Route 87 on Wallis Run Road.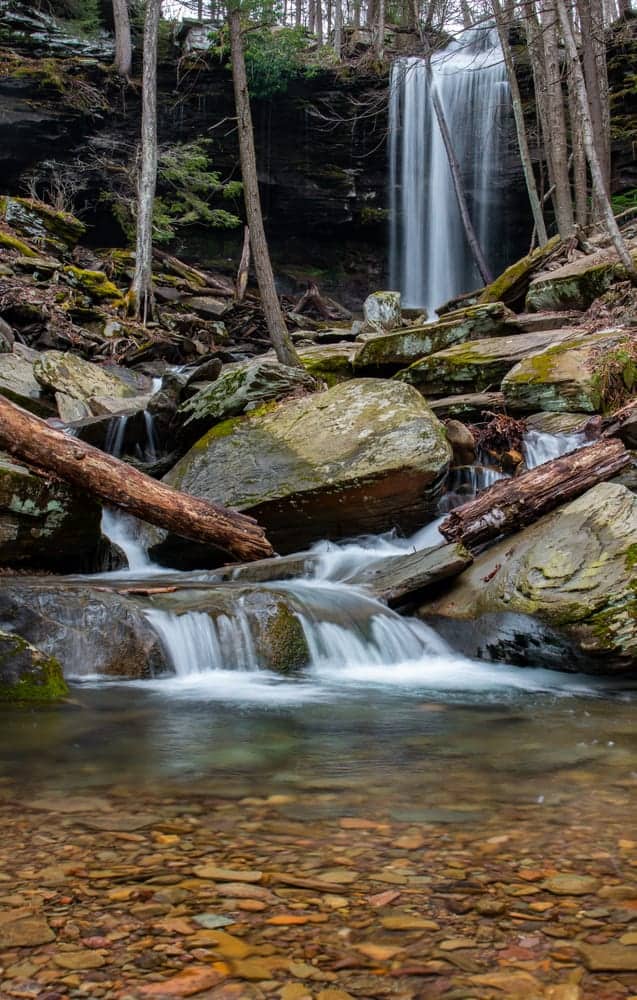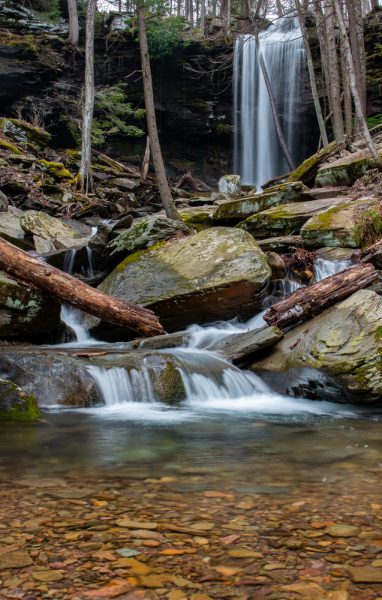 This parking area is labeled Cotner Farm, but unfortunately, I was unable to find any of the history of the area's name. If you know more about why it's called this, please let me know as I'm always very interested in the history of these places.
There is a single trail that leads you on a 1.6-mile hike through Loyalsock State Forest. It starts as a narrow wooden boardwalk for the first 200 or so feet over the marsh. While this boardwalk is solid, it does tend to move around a bit, so use care as you walk on it as you might end up with a soggy foot otherwise.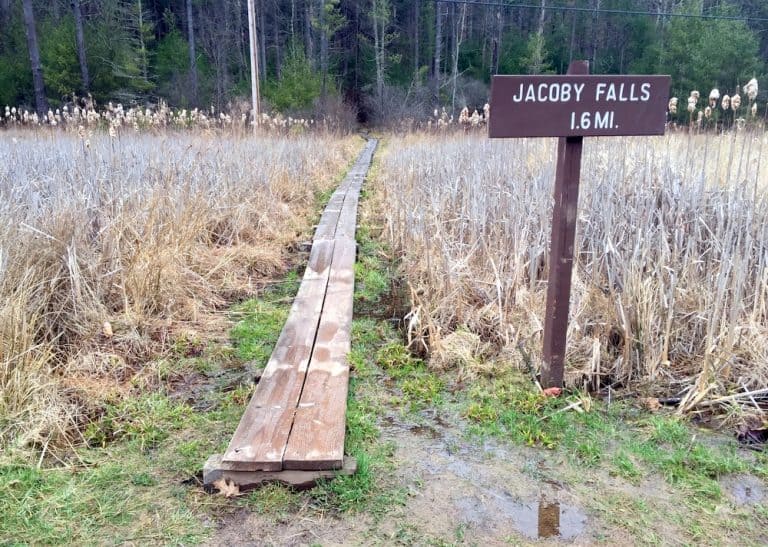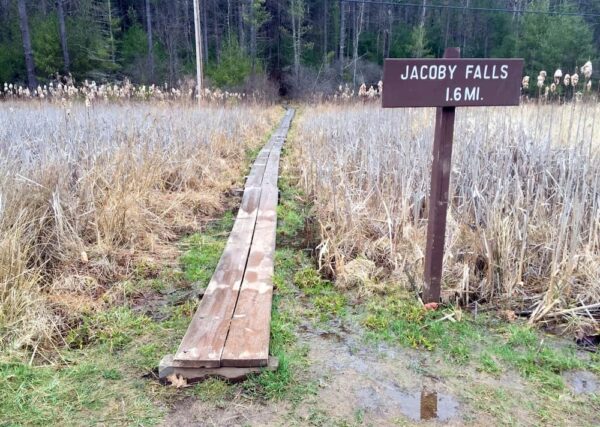 The Jacoby Fall Trail is blazed yellow and is relatively easy to follow for most of its route. The trail ascends 400 feet as it climbs through the undulating woods on its way to the falls. However, it honestly never feels like there's much of an incline, and I was surprised to discover it was that significant when I checked my GPS.
Along the way, the trail crosses one stream and several other areas that are often quite wet and muddy. If water levels are high enough that the waterfall is flowing well, it may be hard or even impossible to keep your shoes dry on the hike to Jacoby Falls.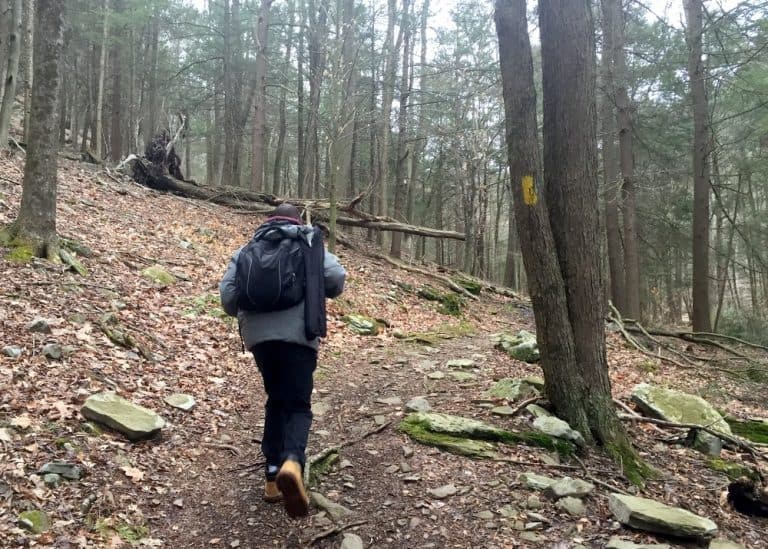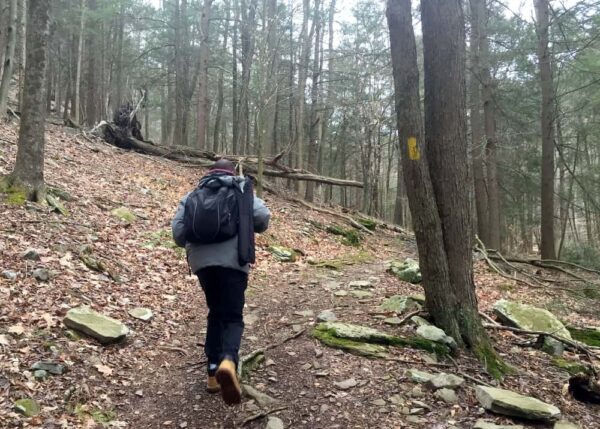 Roughly two-thirds of the way into the hike, the trail connects with a pipeline roadway. Parts of the trail continue to follow along next to the roadway. Eventually, the trail and road become one and the same.
After walking along the roadway for a short distance, you'll come to a yellow aerial marker that reads "095". At this point, look to your left to see the yellow-blazed Jacoby Falls Trail once again break from the roadway and stays on the left-hand bank of Jacoby Hollow Run.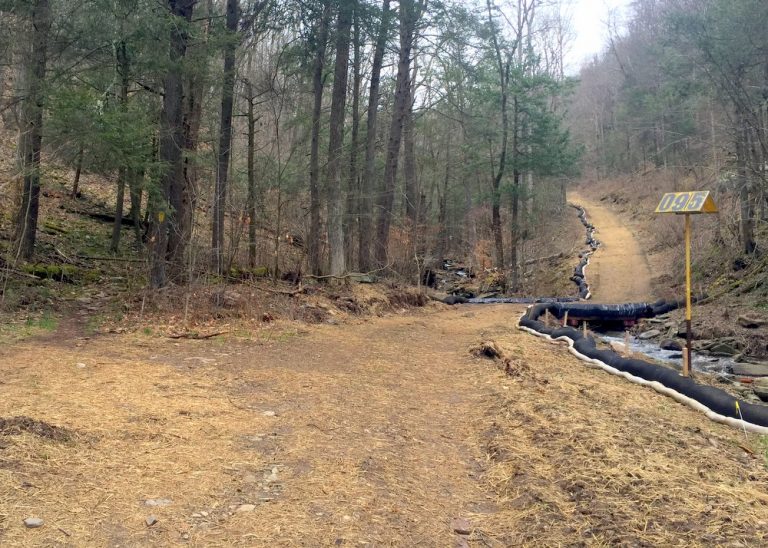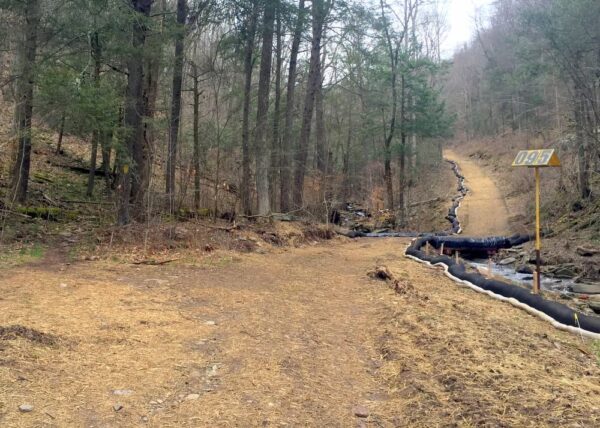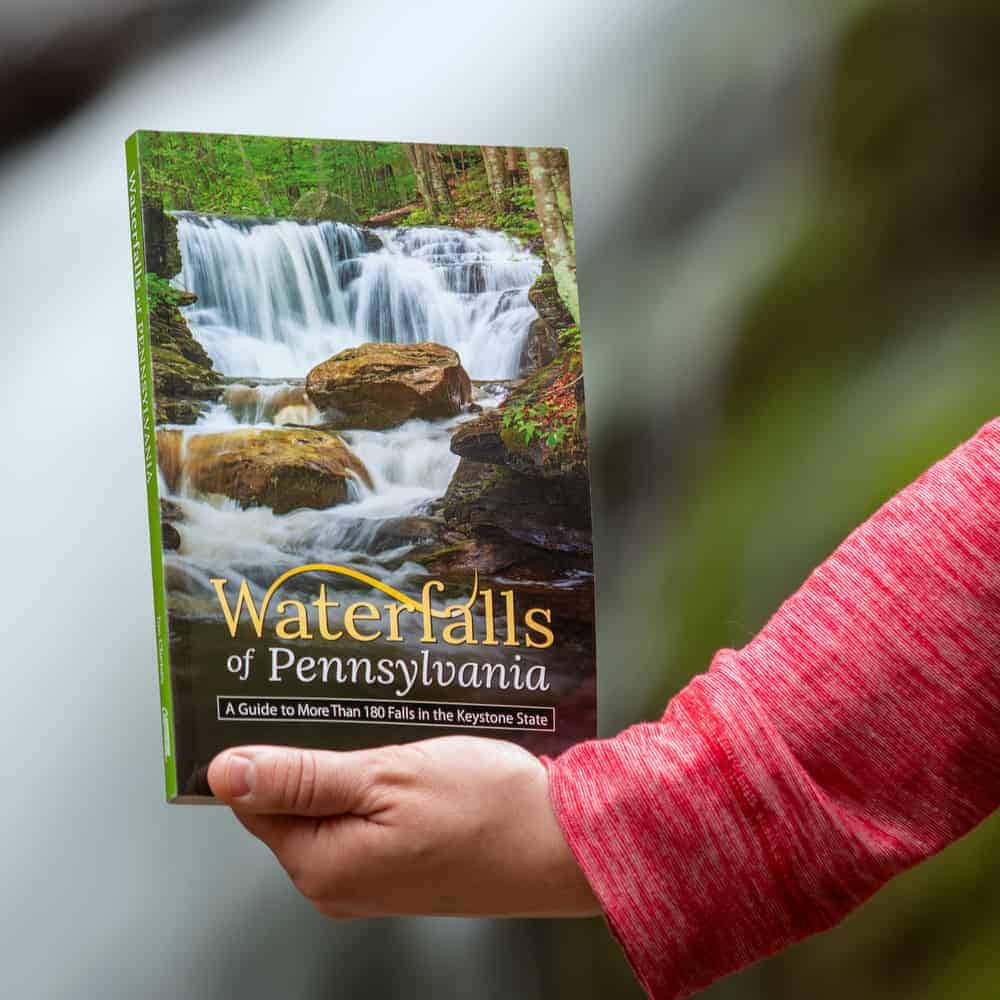 "Waterfalls of Pennsylvania" by Jim Cheney
If you love PA waterfalls, you won't want to miss this waterfall book from Jim Cheney, author of Uncovering PA, featuring more than 180 great waterfalls. Order it now on Bookshop.org or Amazon.
From this point, it's only a few hundred yards at most back to the base of Jacoby Falls.
Jacoby Falls is a 29-foot waterfall that plunges off the cliff into an impressive hollow. There isn't a pool at the base of the falls. Instead, there is a large grouping of rocks that can be slippery if wet.
There are a variety of vantage points from which to view this great waterfall and the cliffs that surround it, so make sure to take some time to explore this beautiful spot.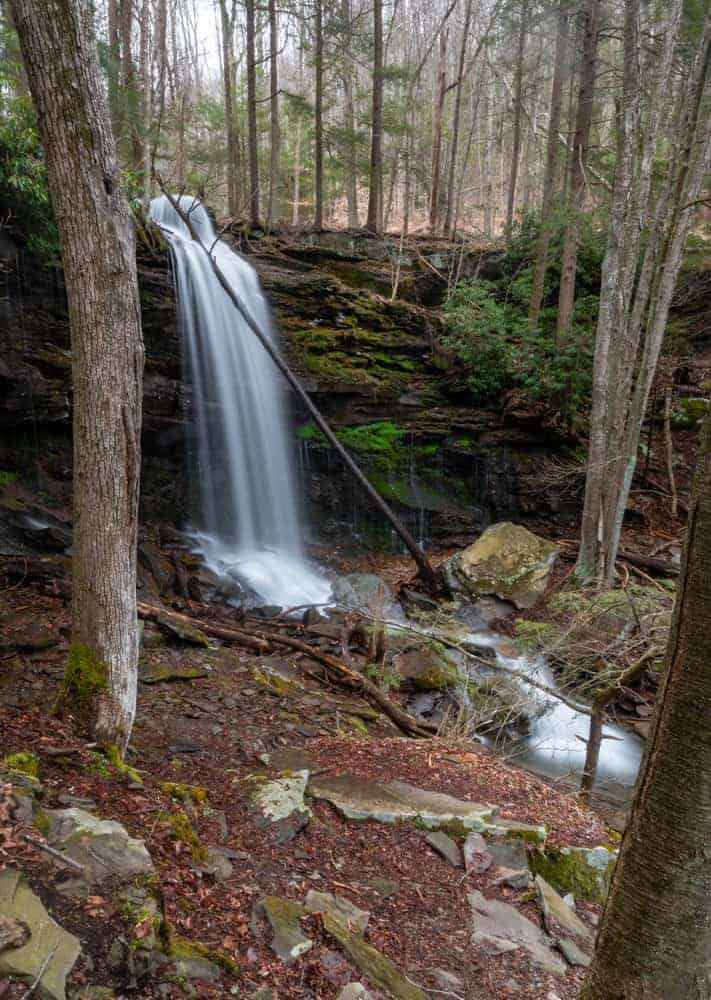 If you want to see the waterfall from above, return to the pipeline road, and follow that uphill to the top of the falls. If you opt to go to the top of Jacoby Falls, use extreme caution as a fall from here wouldn't be fun.
To return to your car, simply turn around the follow the trail in the opposite direction. A narrow post that says "Please Stay on Trail" helps to make sure that you don't miss the turn off for the Jacoby Falls Trail from the road. Make sure to look for this easy-to-miss sign as the roadway doesn't continue back to the parking area.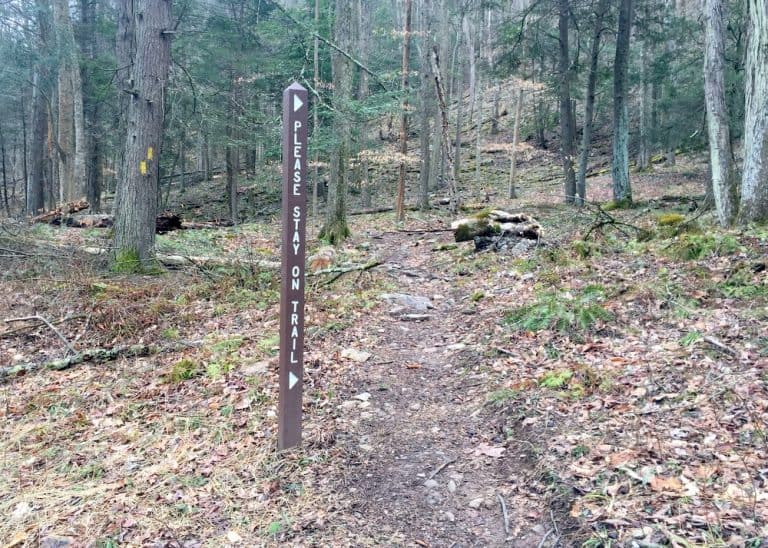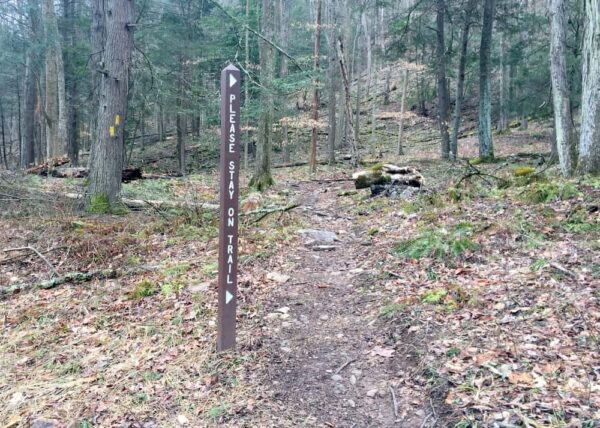 Overall, hiking to Jacoby Falls in Loyalsock State Forest is a great option for those looking to view the region's best waterfalls and those that love great hikes to waterfalls. However, make sure you do it during the spring thaw or shortly after a major rainstorm as this waterfall is often reduced to a trickle during dryer months.
How to Get to Jacoby Falls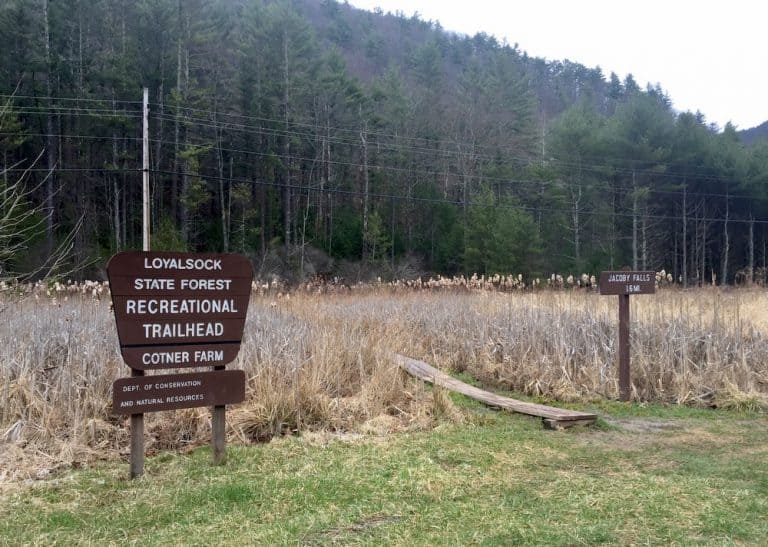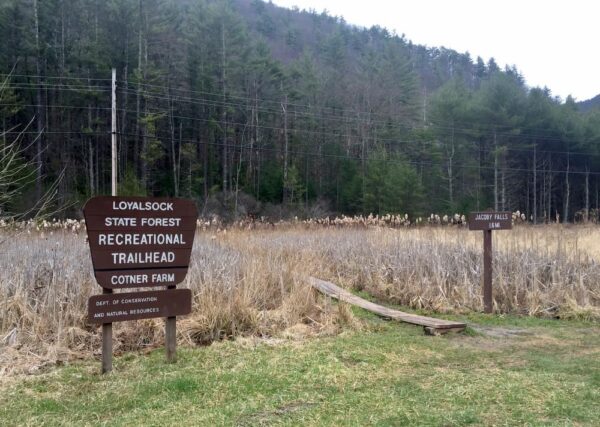 Jacoby Falls is located north of Williamsport, PA, in Loyalsock State Forest. The parking area for the waterfall is located on Wallis Run Road, 4.4 miles off of Route 87. Known as Cotner Farm, it can be found at the following coordinates: 41.376842, -76.920294.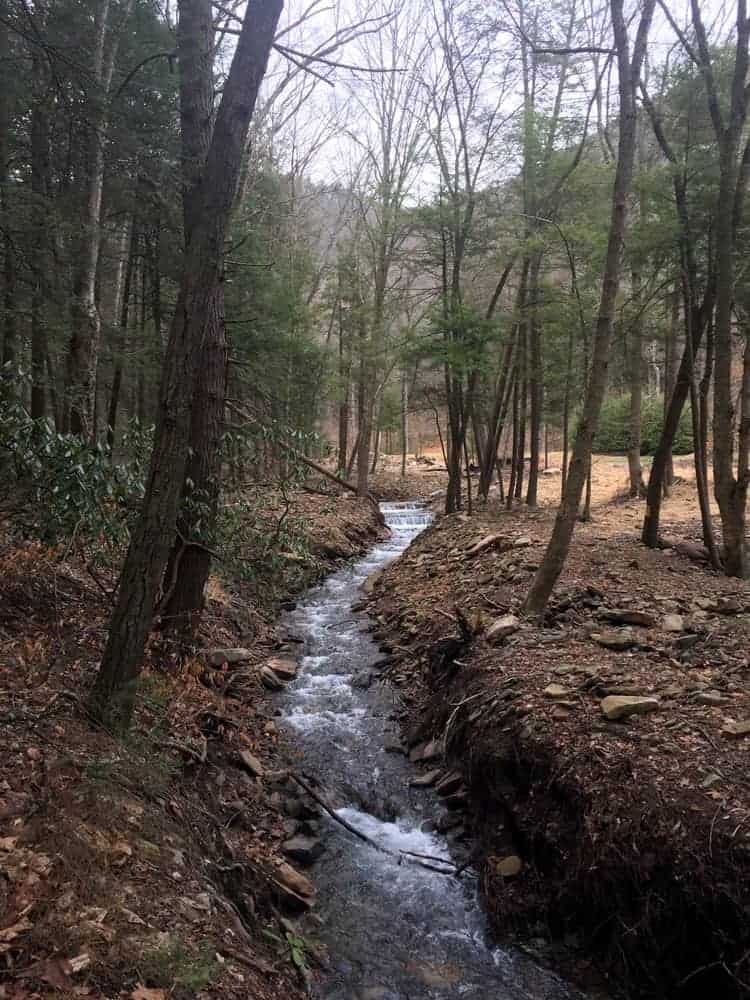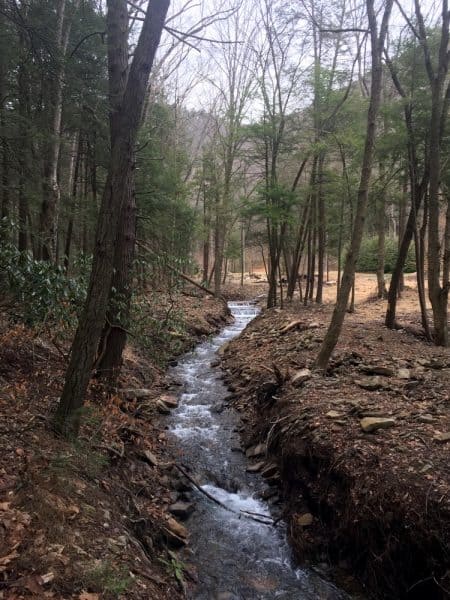 Follow the obvious trail for 1.6 miles to Jacoby Falls. Jacoby Falls itself can be found at the following coordinates: 41.390067, -76.901433.
The PA DCNR also puts out a decent map with more information on this hike.
Looking to explore more waterfalls in the area? Check out the waterfalls of Miners Run, Hounds Run Falls, and Ketchum Run Gorge.
[Click here for information on how to use coordinates to find your destination.]
See map below for other area attractions.