Disclosure: This article may contain affiliate links. We will make a small commission from these links if you order something at no additional cost to you.
One thing that really surprised me when I started looking for waterfalls to visit in Pennsylvania was the lack of waterfalls in South Central Pennsylvania. Given all the mountains we have in the area, I figured there would be some good ones to be found. Sadly, that's not the case.
However, when I was looking for things to do on my road trip to Centralia, Pennsylvania a few years ago, I stumbled across Swatara Falls.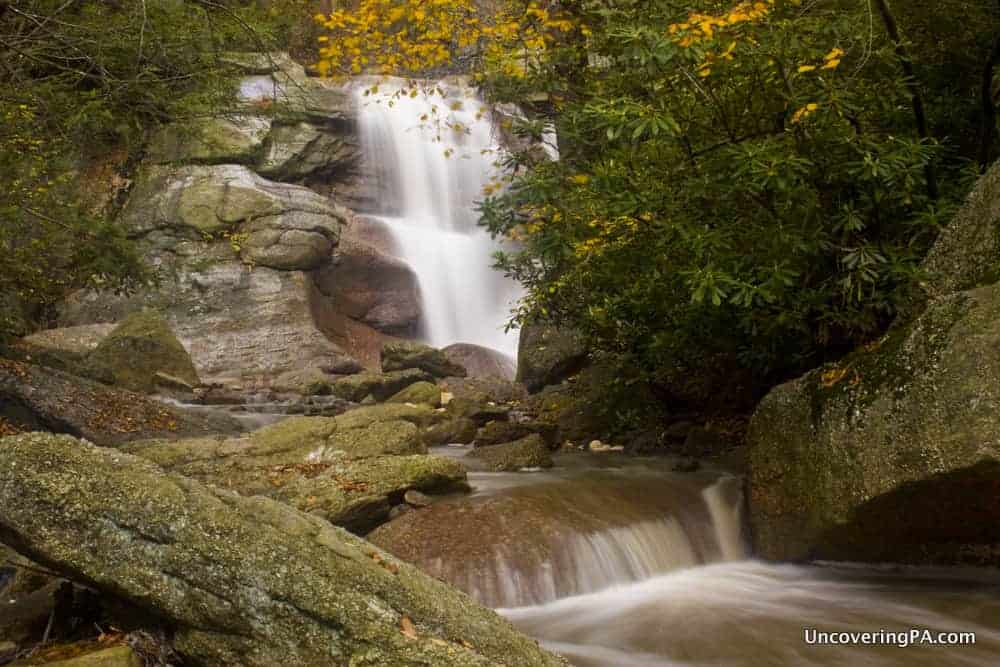 Swatara Falls is located near the headwaters of Swatara Creek. This creek is a major tributary of the Susquehanna River and passes through Swatara State Park and past Indian Echo Caverns before reaching the river in Middletown. Along the way, kayaking the creek is a lot of fun, or you can search out Sweet Arrow Falls and two covered bridges along a tributary.
After hiking for about fifteen minutes, I started to hear the familiar sound of falling water. Continuing down the trail a few more minutes, I rounded a bend and saw Swatara Falls before me. It was awesome!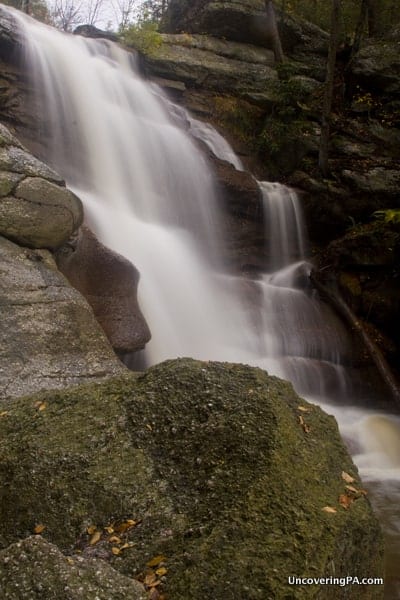 Despite only having a height of roughly 25 feet, Swatara Falls is by far the highest waterfall for a good distance. During the spring thaw or after a lot of rain, Swatara Falls runs very nicely. However, if it has been dry recently, this waterfall can be little more than a trickle.
Swatara Falls is near the headwaters of Swatara Creek, which runs 70-ish miles before passing Indian Echo Caverns and draining into the Susquehanna River just south of Harrisburg. It's tributaries are also home to great finds like Sweet Arrow Lake Park and the covered bridges of Schuylkill County.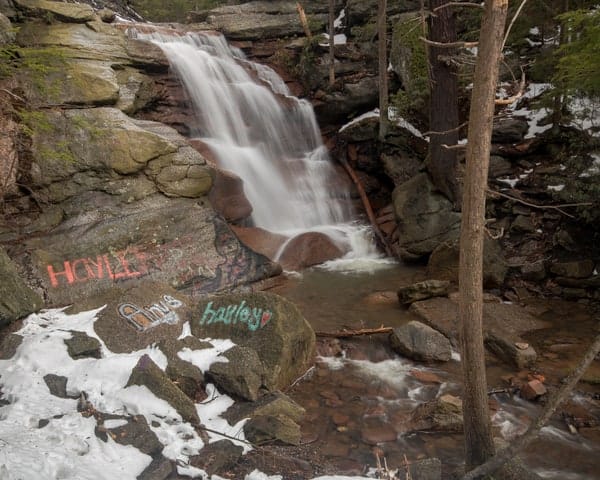 In addition to being one of the only waterfalls around, there is a lot to explore around Swatara Falls.
There used to be a rope along the rocks to the left of the falls, but that is no longer there. While it's still possible to scramble up the rocks, it's much easier to cross the creek below the falls and climb up the far bank.
If you follow Swatara Creek upriver for about 200 feet, you'll come to a second small waterfall. While I didn't discover this waterfall during my first visit, I was excited to stumble across it during my second visit to Swatara Falls. Despite Upper Swatara Falls being only about 7 feet high, it is quite beautiful. This is definitely a great place to check out if you can, especially for photographers.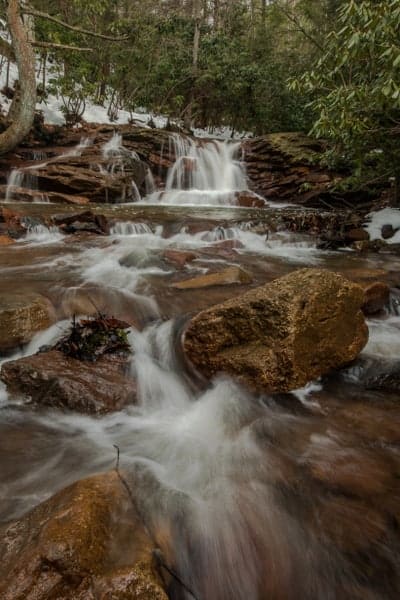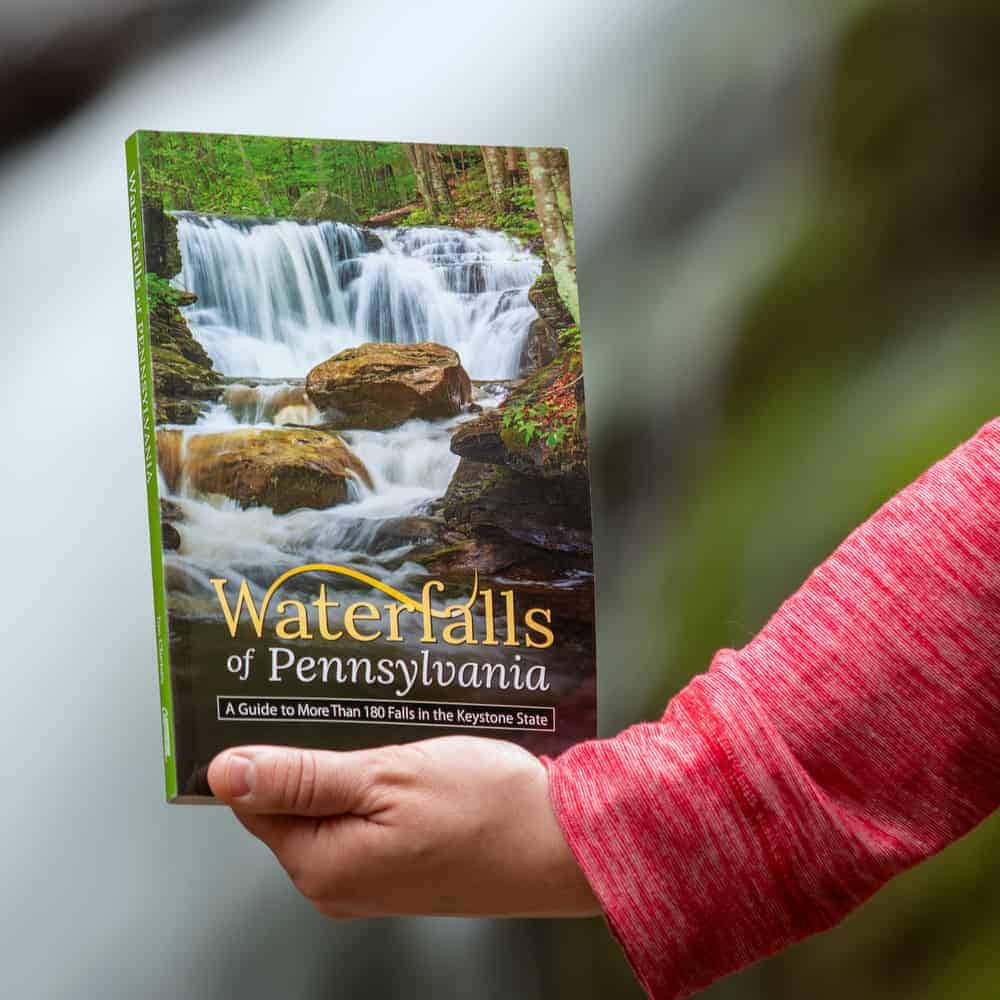 "Waterfalls of Pennsylvania" by Jim Cheney
If you love PA waterfalls, you won't want to miss this waterfall book from Jim Cheney, author of Uncovering PA, featuring more than 180 great waterfalls. Order it now on Bookshop.org or Amazon.
While it may not be the most impressive waterfall in Pennsylvania and it has been marred with some graffiti in recent years, visiting Swatara Falls is still worthwhile. This is a very beautiful portion of Pennsylvania's Susquehanna Region and offers a chance to enjoy some off-the-beaten-path nature.
How to Get to Swatara Falls
Sadly, at the request of the property owners, the directions to Swatara Falls have been removed.
For those that own waterfalls, I implore you to share these beautiful areas with others and either allow respectful hikers to visit or consider donating/selling the land to the state or a preservation group so that we all can enjoy scenic spots in Pennsylvania.
Want to see more of Pennsylvania's best waterfalls? Check out our Pennsylvania Waterfalls page!
See map for other area attractions.