Disclosure: This article may contain affiliate links. We will make a small commission from these links if you order something at no additional cost to you.
Every summer, the eyes of the nation turn to the small borough of South Williamsport, Pennsylvania, as the best Little League baseball players from around the world compete for the Little League World Series Championship.
Started by Carl Stotz in 1939 across the Susquehanna River in Williamsport, Little League baseball has grown to become the largest organized youth sports league in the world, with leagues in every state and more than 80 countries.
The league's signature event, the Little League World Series, is nationally broadcast each year from the Howard J. Lamade Stadium, located on Route 15. This event draws the eyes of the world, and tens of thousands of spectators make their way to this free event every August.
With this rich tradition spanning more than 75 years, it's no wonder that there is a museum dedicated to the league history, ideals, and famous alumni.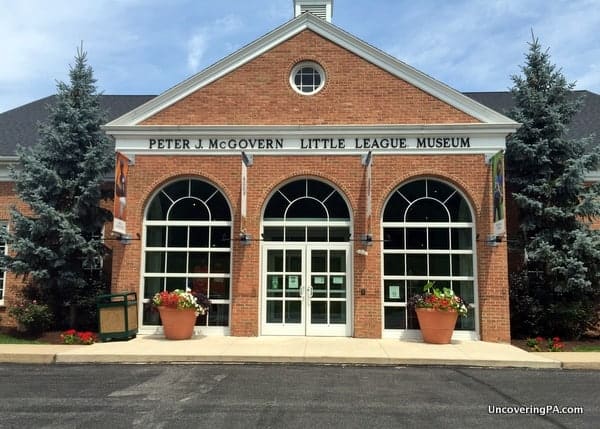 Opened in 1982, the World of Little League, also known as the Peter J. McGovern Little League Museum, is home to a wide array of memorabilia related to the league, along with great interactive exhibits for kids and adults alike.
Located on a hill above Lamade Stadium and next to the headquarters of Little League International, the museum is a great destination for those looking to learn more about the history of the organization.
Visits to the museum start with a seven-minute video about Little League. I found it a bit strange that the video talked about the ideals of the organization and not its history, but it was well done.
Moving into the museum itself, there is information about the history of Little League. The museum features items dating back to the founding of Little League in 1939, including paperwork and equipment used in the first seasons of Little League baseball. There is also a section about safety and how Little League has advanced the safety of youth baseball over the years.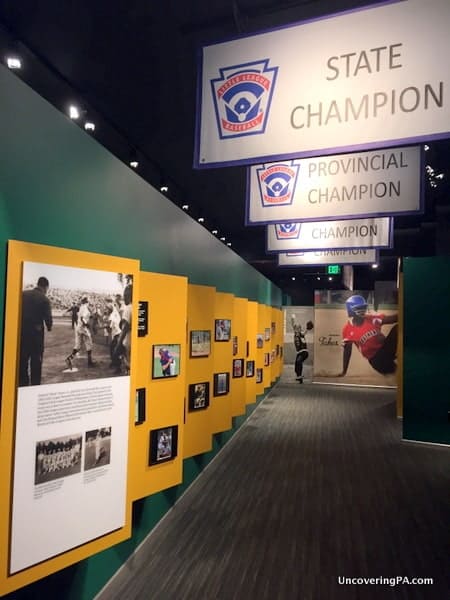 The rest of the museum can be broken down into roughly three areas, which are intertwined with each other as you move through the museum.
The first focuses on the traditions and ideals of Little League Baseball. Here, information is provided on the different levels of Little League, from baseball to softball and even the Challenger division. There is also a great video about the ideals of Little League, and how it has affected America. This video had obviously been updated recently, as it included video from 2014 World Series phenom, Mo'ne Davis.
The second area of the museum contains interactive exhibits that are fun for both kids and adults. There is a running area to test your speed moving from one base to another, an area to test your reaction time to ground balls, and even a wall to test how high you can jump.
During my visit, there were kids, teenagers, and even adults testing their skills in these fun interactive exhibits. While it would have been nice to have things like a radar gun for pitching or even a batting cage, these interactive exhibits are a great way for kids of all ages to enjoy the museum, especially if they aren't interested in the history and memorabilia.
The last section of the museum focuses on memorabilia related to Little League. Here, they have Little League uniforms and equipment used by professional baseball players like Gary Carter and Mike Mussina (a Williamsport native).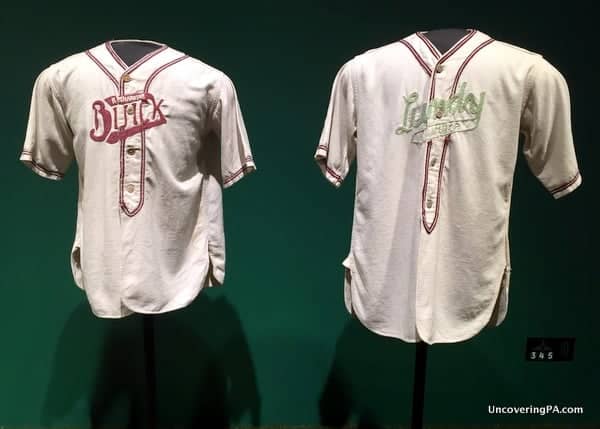 There is also a uniform worn by Babe Ruth while playing games in Japan. While there is seemingly no connection to Little League, it is still very cool to see a uniform worn by Ruth.
Another baseball great featured in the museum is Ty Cobb. While he was born too early to play Little League baseball, he was a supporter of the league in his later years, and even came to several of the early tournaments in Williamsport. The museum has a ball signed by Cobb, along with the hat he wore while attending the series.
Before exiting the museum, there is a section called the Hall of Excellence. This commemorates former Little Leagues players that have gone on to great success in a variety of fields. Inductees include baseball greats (Tom Sever, Cal Ripken, Jr.), politicians (President George W. Bush, Vice President Joe Biden), celebrities (Bruce Springsteen, Kevin Costner), and many more both well-known and little-known people who've gone on to great things.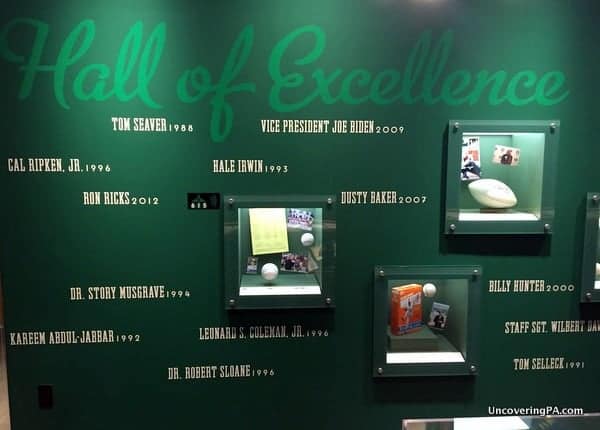 After exiting the museum, take a few minutes to check out the official Little League store. Then, head downhill behind the museum to get a great look at Howard J. Lamade Stadium, where the games of the Little League World Series are held each August.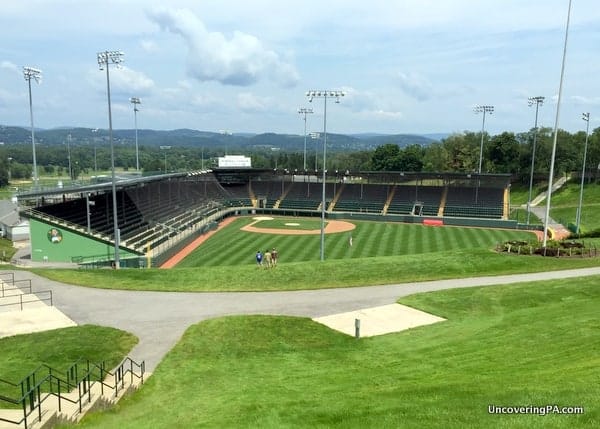 It might be tempting to think that the World of Little League Museum is just for kids. However, as someone who played Little League baseball and still loves the game today, I very much enjoyed my visit to the museum.
If you have any interest in the history of baseball or just want to learn more about a great American institution, a visit to the World of Little League Museum is a great way to spend a few hours, no matter what the season.
Note: My visit to the World of Little League was hosted by the museum. However, the opinions expressed are my own.
Looking for more things to do in Williamsport, PA? Check out the Taber Museum, Clyde Peeling's Reptiland, and the waterfalls of Rock Run.
---
World of Little League Museum
Hours: Thursday-Monday: 9am-4pm

Closed Tuesdays & Wednesdays

Cost: Adults: $8, Children: $4

Website: LittleLeague.org/learn/museum.htm

Address: 525 Montgomery Pike (US-15)
South Williamsport, PA 17702
See map below for other area attractions.
---