Disclosure: This article may contain affiliate links. We will make a small commission from these links if you order something at no additional cost to you.
One of my favorite areas of Pennsylvania to explore is the McIntrye Wild Area of northern Lycoming County. This part of the state is filled with many hidden waterfalls, such as those you'll find on Miners Run and Hound Run, as well as Rock Run, one of the most beautiful streams in PA.
However, located high above this waterfall-filled valley, you'll also find one of the best scenic overlooks in Pennsylvania: Band Rock Vista.
Band Rock Vista is located just past the end of the very bumpy McIntrye Road and provides incredible views of the Lycoming Creek Valley.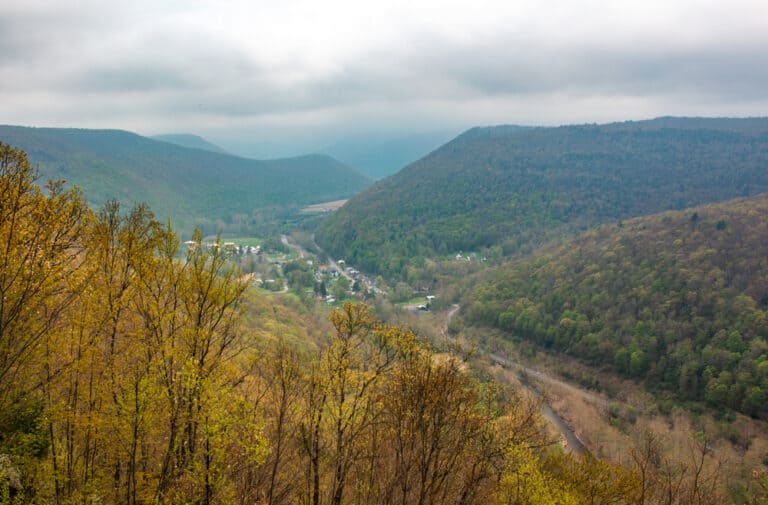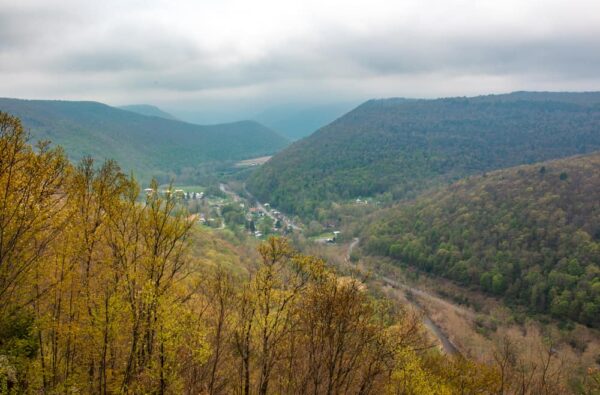 This vista is said to have gotten its name because, for over a decade in the early 20th century, bands would play atop this rock every Sunday, serenading the valley far below. Today, the bands might be long gone, but the incredible views still remain.
As I said, Band Rock Vista is located at the end of McIntrye Road. It should be noted right up front that this is a VERY bumpy and narrow road. I was able to make it most of the way to the vista in my SUV, but I wouldn't even dream of tackling this road unless you have a high-clearance vehicle.
Even then, use caution while driving on the road. I actually pulled over and parked about a half-mile before the road's end and walked the rest of the way due to some large divots in the road. Beyond where I parked, I'd say the road is only passable in an off-roading vehicle.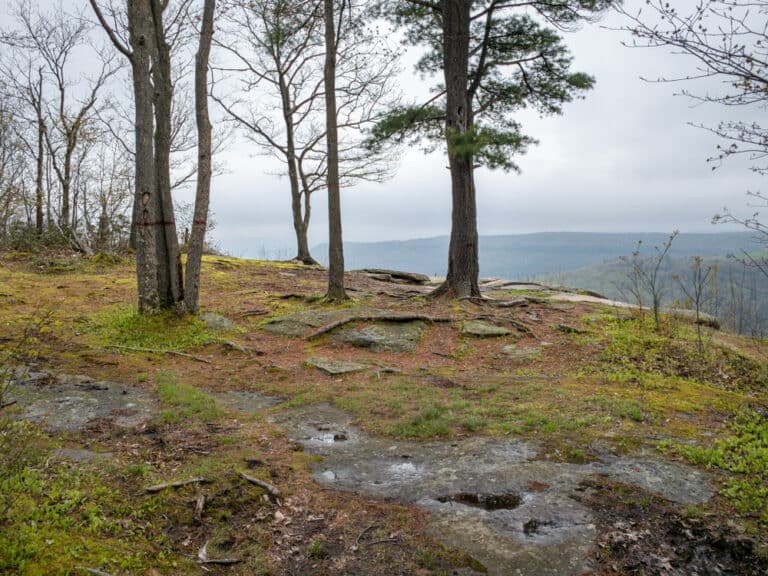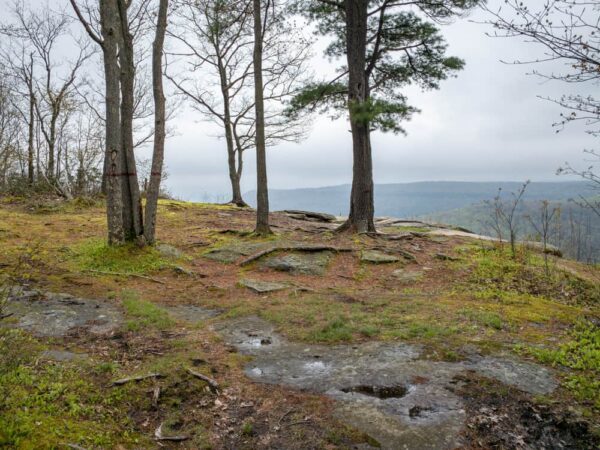 Nevertheless, Band Rock Vista is an incredible spot to visit, and if you can summon the courage (and an appropriate vehicle) to tackle the road, you will definitely be rewarded at the end of your journey.
How to Get to Band Rock Vista
To reach Band Rock Vista, head into the McIntyre Wild Area of Loyalsock State Forest from Route 14 in Ralston PA on Thompson Street.
Half a mile after crossing Lycoming Creek, you'll come to a fork in the road. Take the fork to the left and start heading uphill. This road is not maintained in the winter.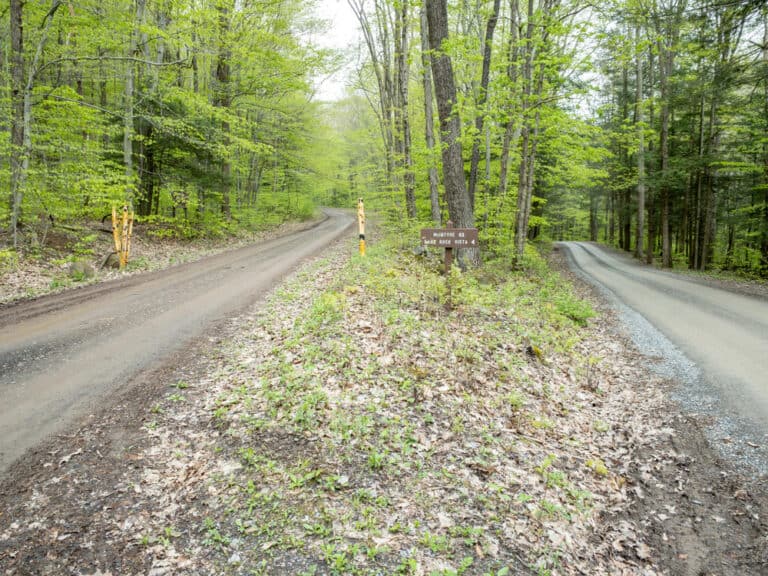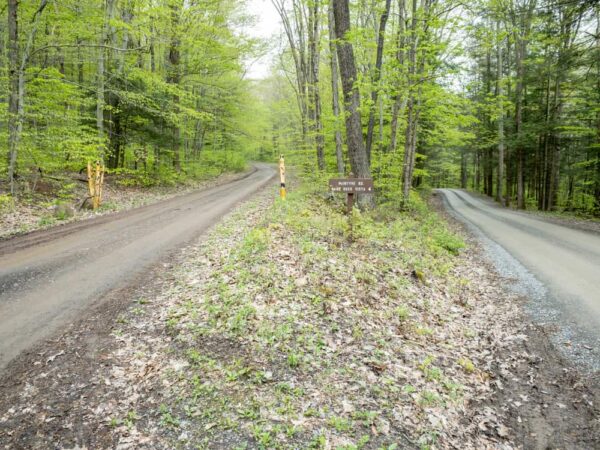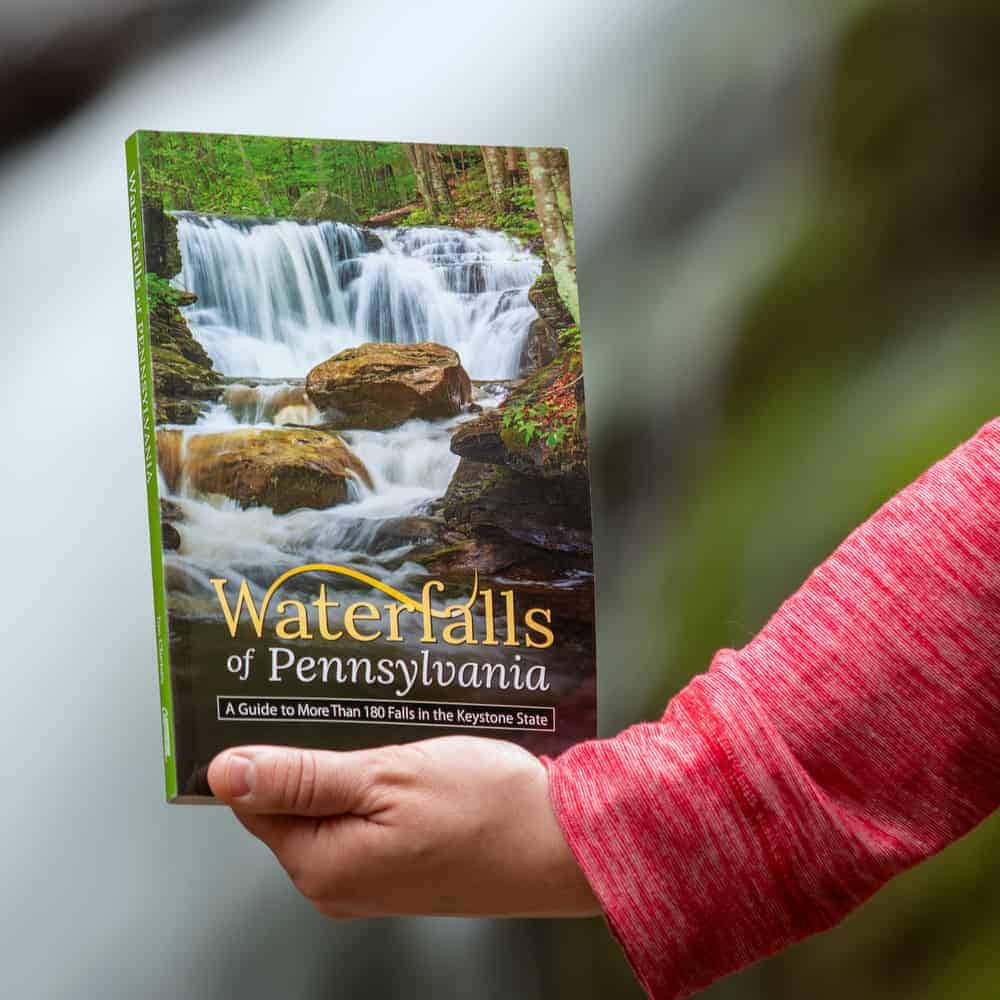 "Waterfalls of Pennsylvania" by Jim Cheney
If you love PA waterfalls, you won't want to miss this waterfall book from Jim Cheney, author of Uncovering PA, featuring more than 180 great waterfalls. Order it now on Bookshop.org or Amazon.
This road will wind its way 900 feet up the hillside in the next 4.5 miles. Along the way, there are several pull-offs for various trails or hunting areas, but there are no other roads.
Again, this road is narrow, so use caution and keep an eye open for oncoming traffic.
It is also VERY bumpy, and I want to emphasize again that you don't want to tackle this road in a standard car. Even in a high-clearance vehicle, use caution as some of the ruts are surprisingly deep.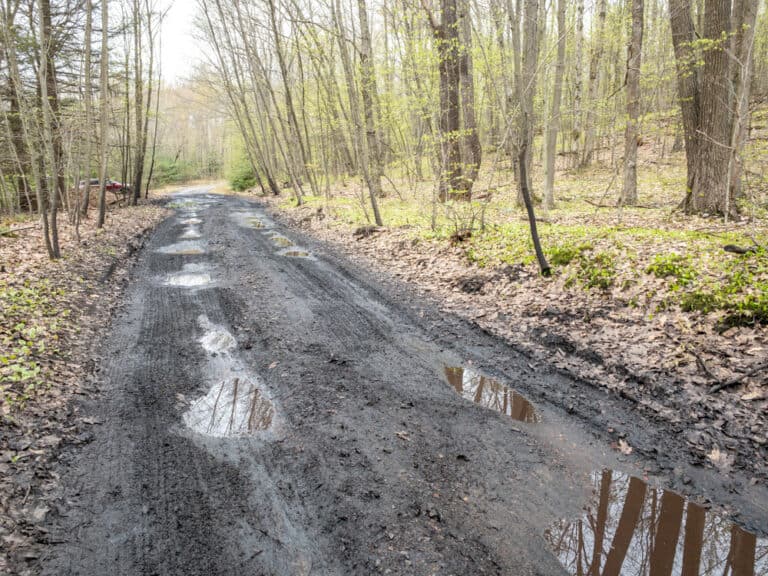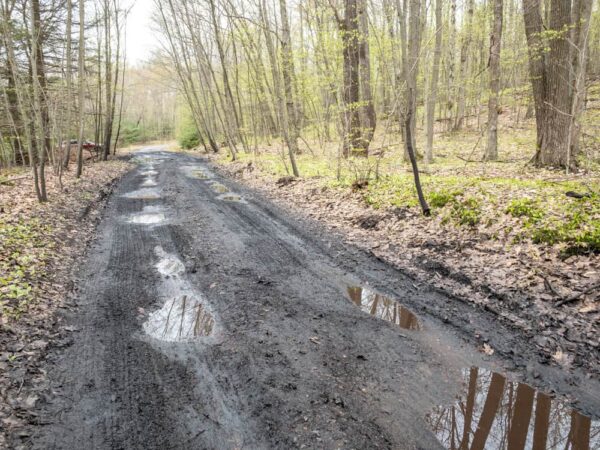 When I visited, I actually parked at a large pull-off on the right side of the road about half a mile from the vista at the following coordinates: 41.525550, -76.941550. This spot is 3.8 miles from the fork in the road at the bottom of the hill.
Beyond this point, I could tell the ruts got much larger, and most were filled with water, making it impossible to judge their depth. While the road does continue nearly all the way to the vista, I definitely recommend you go no further than where you are positive you can make it.
From the point where I parked, I continued walking up the road. It was a relatively flat half-mile walk to the vista.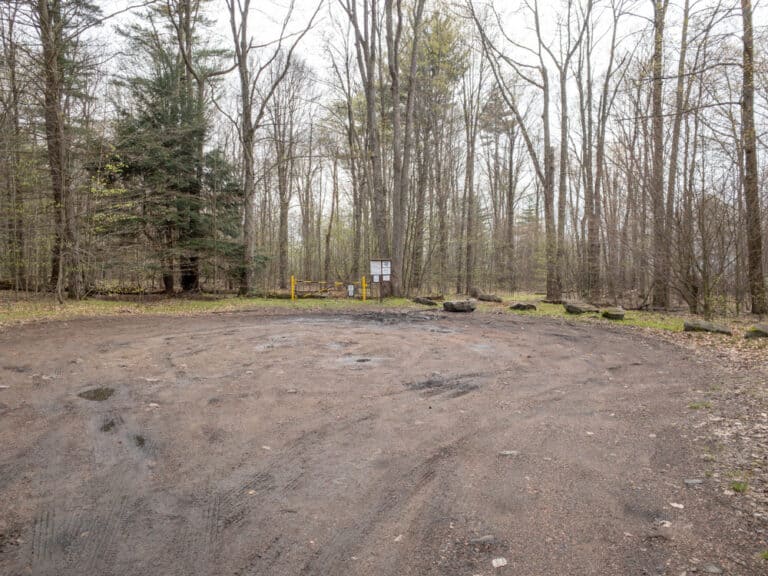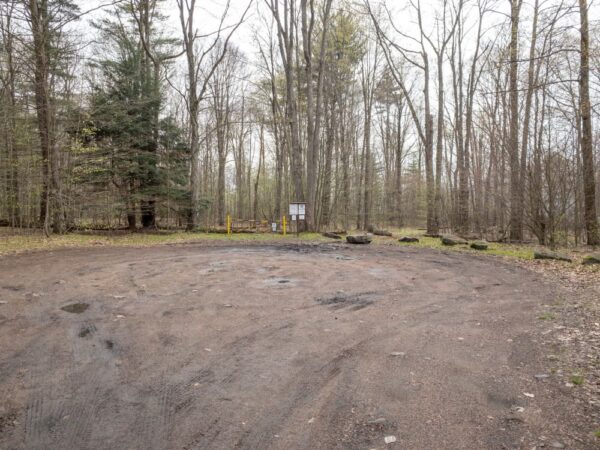 Just before reaching the vista, I reached the end of the road and a small parking area. From here, an unmarked, but obvious path leads about 100 yards further to this incredible rock outcropping at the following coordinates: 41.520141, -76.945543.
From Band Rock Vista, the views are simply breathtaking, and you can see for miles to the south and to the west. Over 900 feet below you, you can see the community of Ralston and the Lycoming Creek.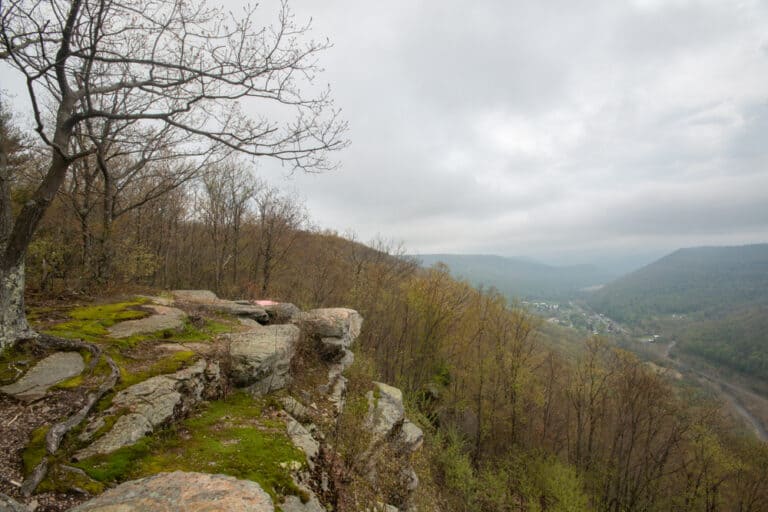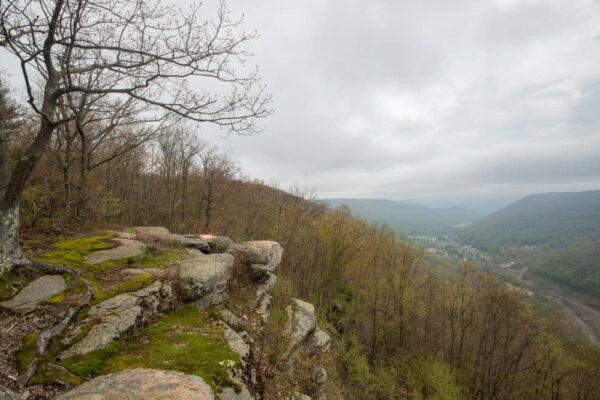 Without a doubt, this is one of the most impressive overlooks in Pennsylvania, especially given how close you can get to it in a high-clearance vehicle.
If you have a chance to check this spot out, I definitely recommend it, but one last time, use extreme caution and only a high-clearance vehicle to drive up the road.
(If you don't have access to a high-clearance vehicle, the book "Hiking the Endless Mountains" has a nice option that features a short road walk after completing the hike up Miners Run.)
Looking for more things to do in Lycoming County? Check out Dutchman Run Falls, the covered bridges of Lycoming County, and Jacoby Run Falls.
[Click here for information on how to use the coordinates in this article to find your destination.]