Disclosure: This article may contain affiliate links. We will make a small commission from these links if you order something at no additional cost to you.
There are few more beautiful summer destinations in Pennsylvania than Presque Isle State Park in Erie. This 3,000-acre sand spit features 13 beaches and receives over four million visitors every year, more than any other state park in Pennsylvania.
While there is much to discover on land, such as Presque Isle Lighthouse, the park's many channels and long coastline make it a perfect option for exploration by water.
There are a variety of ways to explore the waterways around Lake Erie, from Presque Isle Boat Tours to fishing trips and even water taxis. However, in my opinion, the best way to get a truly intimate experience for the beauty and nature of Presque Isle is to kayak or canoe through its many beautiful waterways.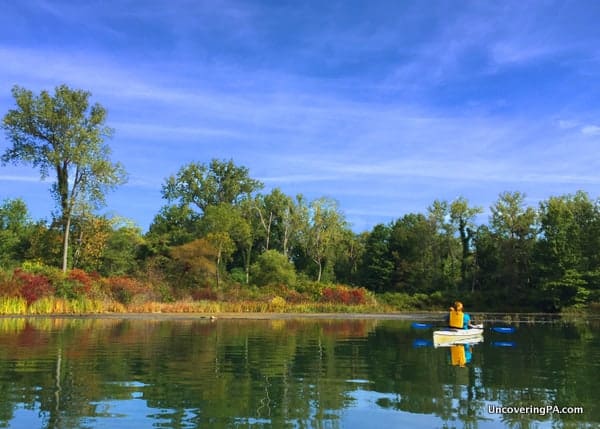 Thanks to help from Visit Erie, I was able to go on a kayaking tour around Presque Isle State Park with Presque Isle Boat Rental.
To be honest, I was a bit nervous getting in. While I have kayaked in the past, I had never done it on such a large body of water or one that had swells to contend with.
I was pretty positive that my lack of experience and poor balance would send me into the lake for sure. Fortunately, that didn't happen, in part because our guide ensured that everyone in our group was in a kayak that suited their experience level.
Our tour around Presque Isle covered two very different areas in and around Misery Bay near the end of the park. After spending a few minutes getting accustomed to the peaceful and quite beautiful creek that we started in, we headed out towards the bay.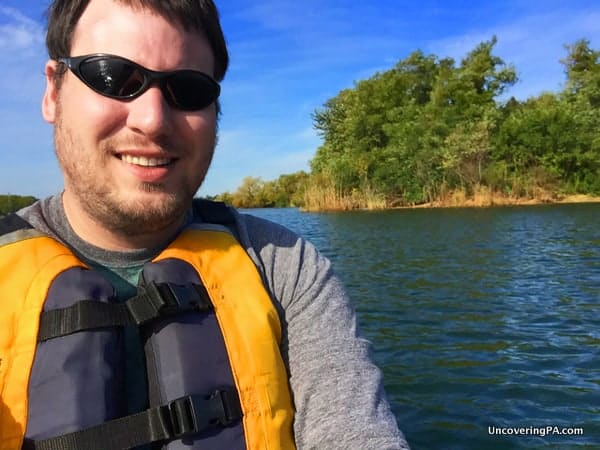 Our trip straight across the bay took a bit getting used to, as the lake swells rocked me from side to side once our group approached the middle of Misery Bay.
Our destination was Horseshoe Pond on the southwestern edge of Presque Isle. In this secluded bay, there are a group of privately owned houseboats that float along the shores. These homes, I'm told, are very regulated and sell very quickly when placed on the market.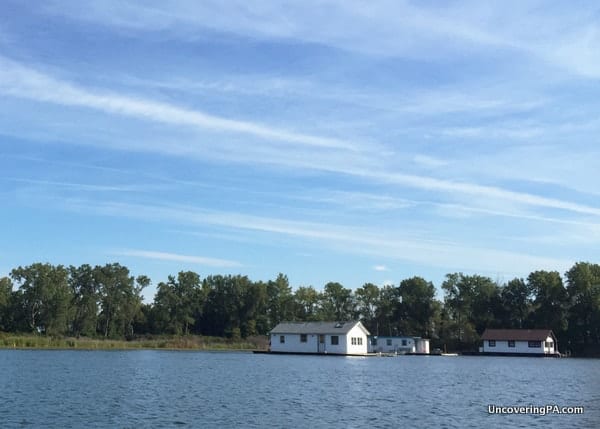 After paddling a bit around Horseshoe Pond, it was time to return back across Misery Bay. I began my paddle towards the Perry Monument. The return trip across Misery Bay was much easier than my initial crossing, and I was happy to see how quickly I adjusted to the bay's swells.
Once across the bay, I took some time to admire the Perry Monument from the water before returning to the channels of Presque Isle. Many of the waterways here are located out of sight of the roads, making for a very peaceful and unique kayaking experience. Unlike my experience crossing the bay, or even my previous experience on creeks, paddling through here was very easy.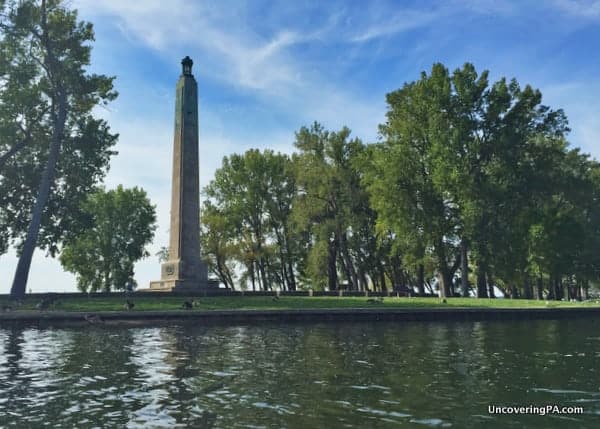 All too soon, it was time to turn to shore to further explore Presque Isle by land. However, I really can't emphasize how great it was to explore the park by water. What's even better is that this unique experience is accessible to all skills levels.
Beginners or those looking for a peaceful experience can navigate the channels and small lakes that crisscross the interior of Presque Isle State Park. On the other hand, those looking for a more unique and adventurous experience can paddle along the edge of Presque Isle and across its many bays.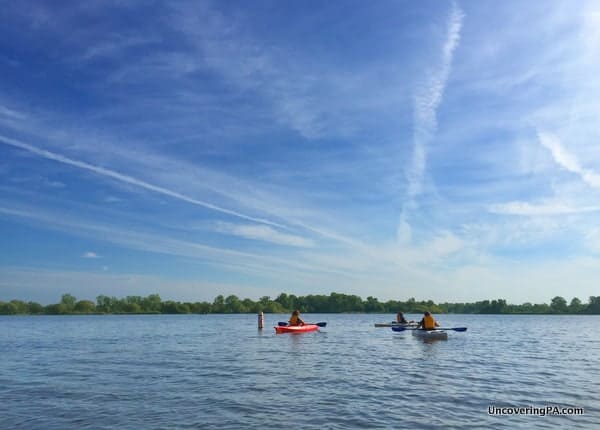 While you can certainly bring your own kayak, you can also rent kayaks, canoes, and stand-up paddleboards by the hour from Presque Isle Boat Rental. They even offer guided tours for those that want to learn a bit more about the area or would like a more experienced rower to accompany them on their trip.
On the other hand, if you'd rather not go out on your own boat, the park offers free pontoon boat tours during the summer from a dock adjacent to the kayak rental area.
However you decide to travel, though, exploring Presque Isle State Park in Erie by boat is a fantastic way to get a better appreciation for this amazing summertime destination.
Note: My kayak trip around Presque Isle State Park was hosted by Visit Erie. However, the opinions expressed are my own.
A little nervous about getting on the water? Explore Erie, PA in other ways at the Ridge Environmental Center, Erie Bluffs State Park, and Erie Bicentennial Tower. Or, if you want even more kayaking, try Swatara Creek in Hershey.
See map for other area attractions.
---