Disclosure: This article may contain affiliate links. We will make a small commission from these links if you order something at no additional cost to you.
In many ways, Presque Isle State Park seems like God's apology to Erie for the area's terrible winters. That's because Presque Isle is a summer playground that offers a ton of fantastic activities for any outdoor lover. Whether you live in the area or are just looking for a great summer destination, Presque Isle is a great choice.
Presque Isle (which means "almost an island" in French), is a peninsula that juts out into Lake Erie from the city of Erie, Pennsylvania. The peninsula was used by Native Americans prior to the arrival of European settlers and was the site of British, French, and American forts in the 18th and early 19th centuries.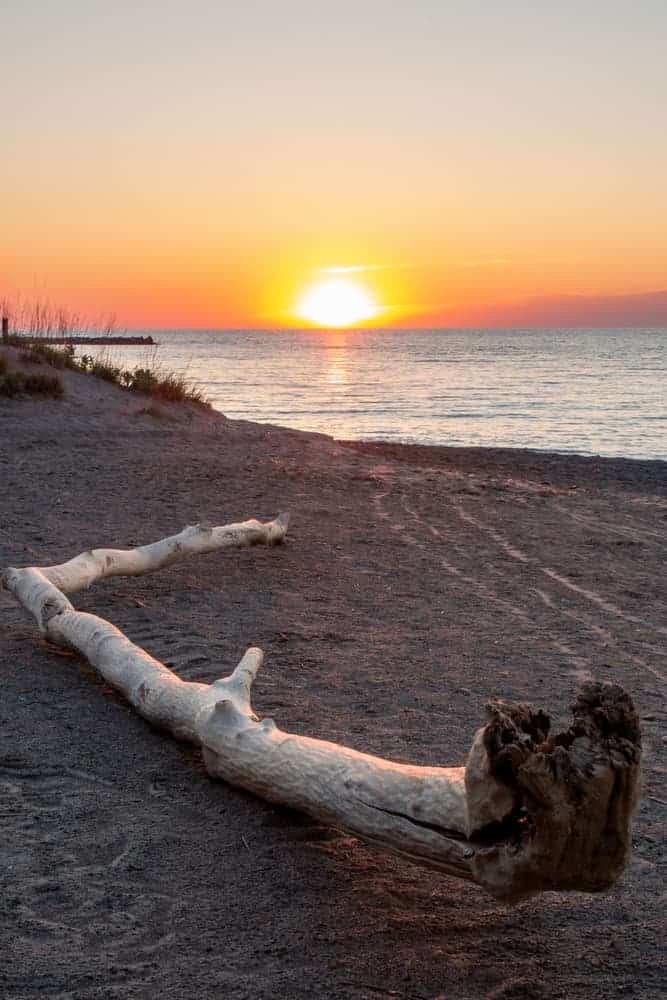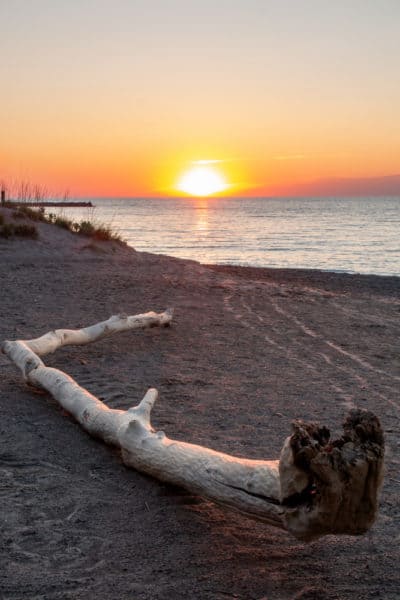 Today, Presque Isle State Park receives more than four million visitors a year, making it the most visited state park in Pennsylvania. Whether you love relaxing on the beach, learning about history, or being active, there are a lot of great reasons to visit this park in the Great Lakes Region of Pennsylvania.
Here are a few of my favorite things to do at Presque Isle State Park in Erie, PA.
The Presque Isle Beaches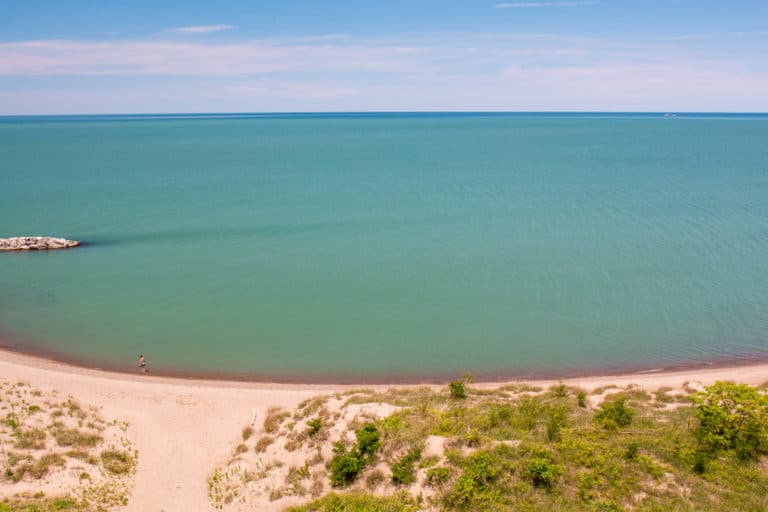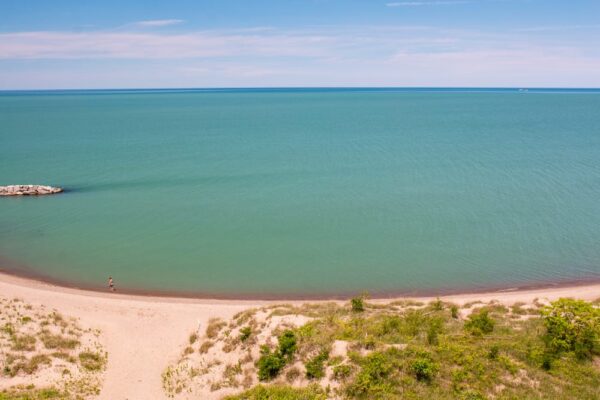 If you love beaches, you'll love Presque Isle State Park. There are a total of 13 different beaches at Presque Isle, each with its own unique character. Whether you love sunbathing, walking the beach, or playing in the sand, Presque Isle's beaches are sure to provide you with a ton of enjoyment.
The beaches are all on the lake side of the park (as opposed to the bay and city side) and offer waves for those that enjoy playing in the water. Beach 11, which is the furthest beach from the entrance, is protected by the geography of the peninsula and is especially popular with families.
While all the beaches are sandy, they each offer different amenities such as changing rooms, food stands, volleyball courts, and more.
Swimming in Lake Erie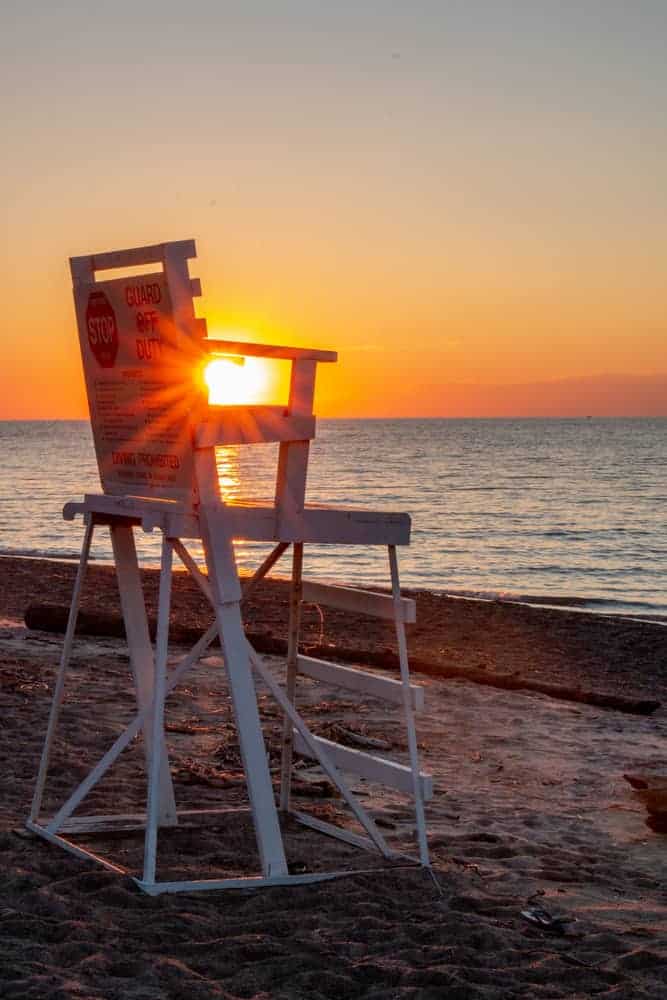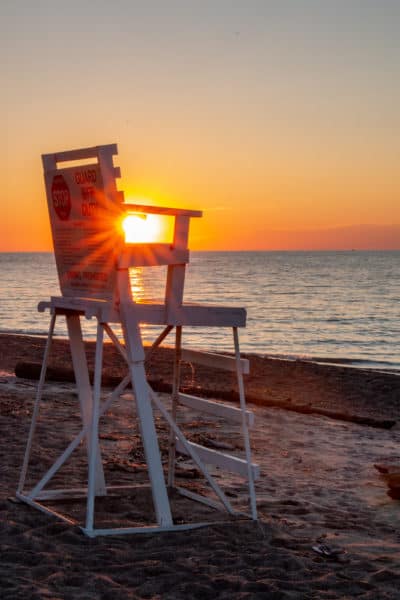 While the Presque Isle beaches are open daily from dawn to dusk, swimming is only allowed during hours that lifeguards are present.
Swimming in the lake offers the chance to enjoy its surprisingly warm waters and cool off on a hot day. The water here is quite refreshing and the small waves make it very different from swimming in the many other lakes in PA.
Lifeguards are on a duty from Memorial Day Weekend through Labor Day from noon to 7:30pm. A few of the beaches don't have lifeguards, so you'll have to stick to the land in those spots throughout the year.
Presque Isle Boat Tours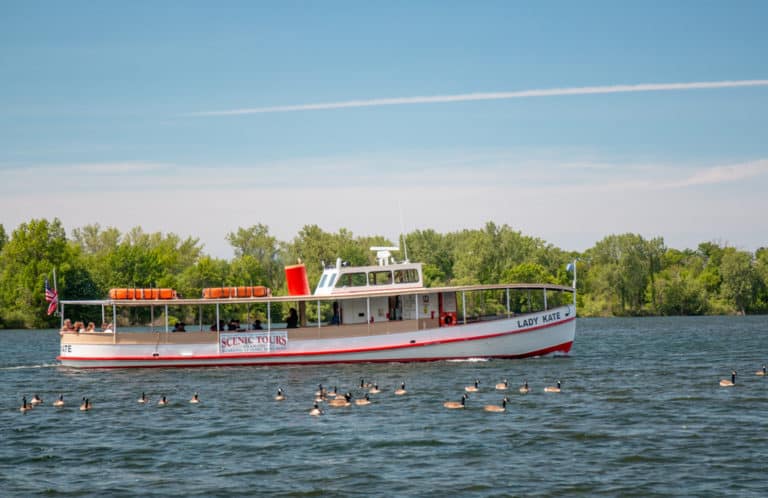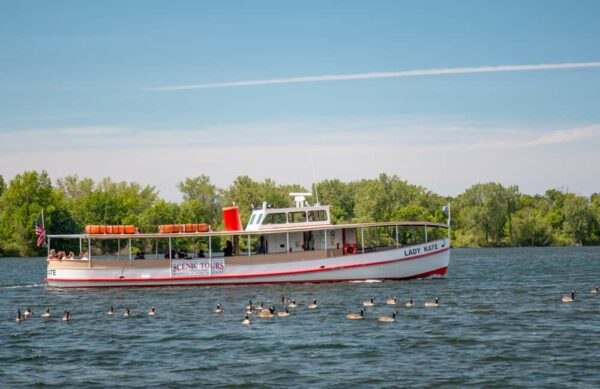 Presque Isle Boat Tours' Lady Kate is a touring boat that docks near the Commodore Perry Monument in Presque Isle State Park. Tours are offered several times daily during the summer months, as well on weekends in spring and September.
Sightseeing tours are approximately 90-minutes long and travel through Misery Bay, Presque Isle Bay, and even out onto Lake Erie. Along the way, guides offer narration of the various sights around Presque Isle and the history of the area.
If you want to get out on the lake and don't have your own boat, these tours are a great option.
Presque Isle Lighthouse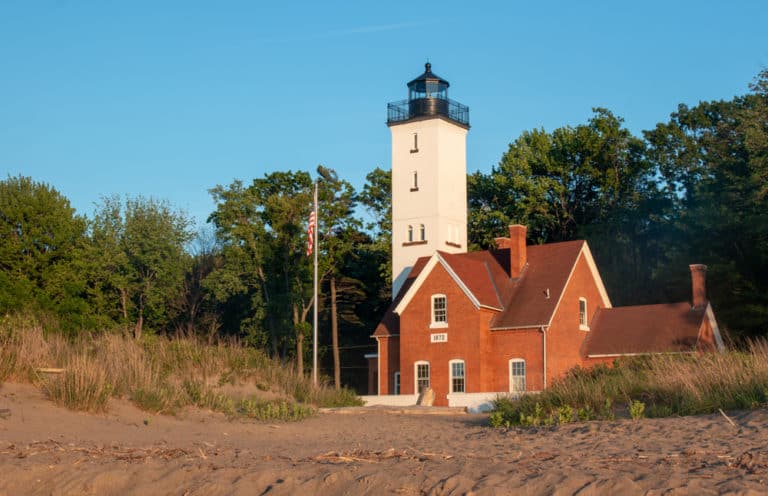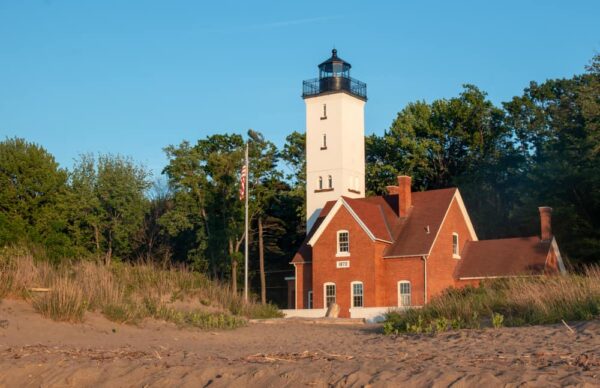 Presque Isle Lighthouse is one of the most beautiful and historic spots in Presque Isle State Park. This lighthouse dates back to the 1870s and still serves as a navigational beacon for passing ships.
For a small fee, visitors can go inside the lighthouse keeper's home and learn more about the history of the area and what life was like on Presque Isle before its development. Then, visitors can climb the steps to the top of the tower for a panoramic view of Lake Erie and the park.
Kayaking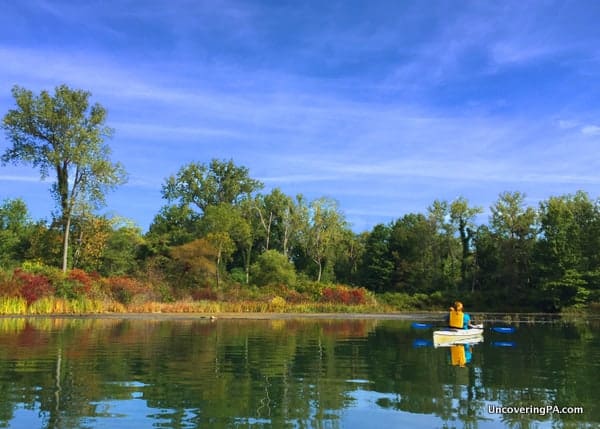 Kayaking in Presque Isle is an absolutely fantastic warm-weather activity. There are many spots to put in your own boat, or you can rent a kayak near Graveyard Pond.
Thanks to the shallow ponds that are located in the interior of Presque Isle State Park, this is a perfect activity for any experience level and allows you to see parts of the park that are unreachable by land.
If you're feeling a bit braver, you can also take your kayaking out onto Misery Bay, Horseshoe Pond, or Presque Isle Bay.
Bird Watching
Birdwatchers are in for a treat as birding at Presque Isle is another very popular activity. Over 300 different avian species have been documented in the park, making this one of the best spots to go bird watching in all of Pennsylvania.
While many birds summer at Presque Isle, its location along the Atlantic Flyway makes it an especially great spot to visit in the spring or fall when birds are migrating through the park.
Hiking Trails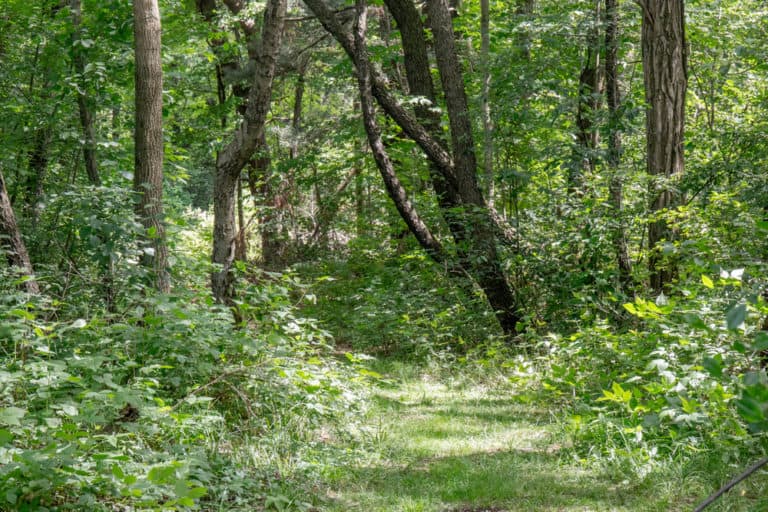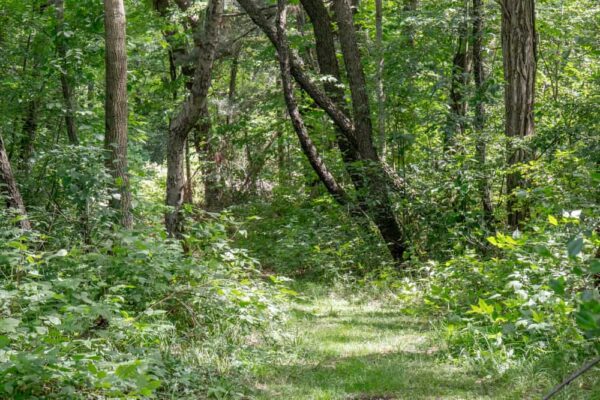 While most visitors to the park head straight to the water, there are 11 miles of hiking trails in Presque Isle State Park that can be explored.
Given the park's relatively flat geography, these trails aren't overly difficult but do offer access to some of the quieter areas of Presque Isle. If you are looking for wildlife or simply want to enjoy some of the park's unique landscapes, make sure to pack your hiking boots with your swimsuit.
It is worth noting, however, that Presque Isle's trails can be marshy or entirely underwater when the lake is high, so make sure to check which trails are open before heading out.
The Amazing Sunsets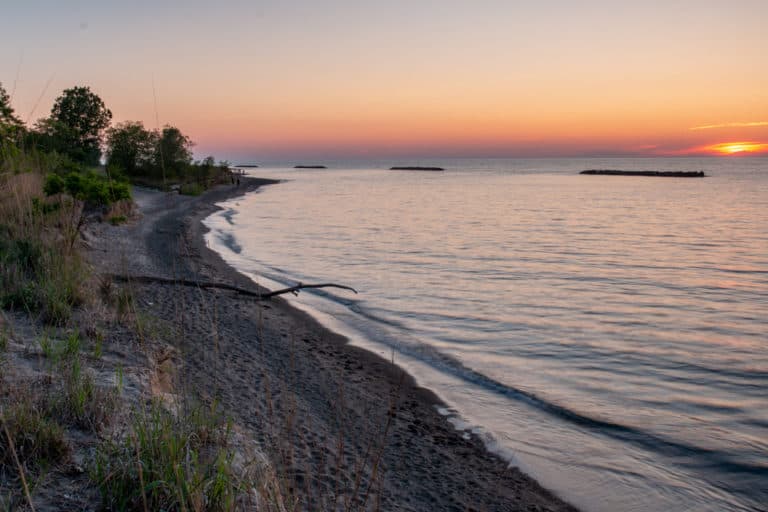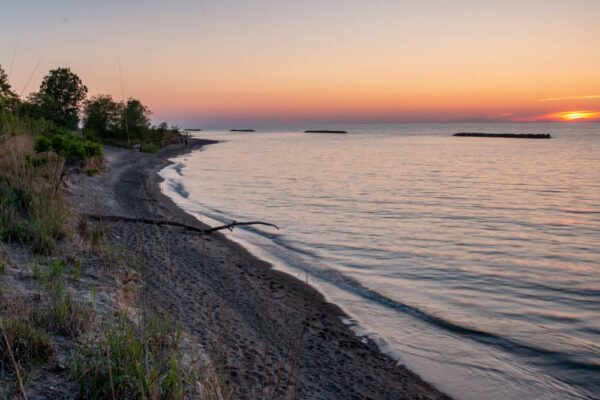 If there is one thing Presque Isle is known for beyond its great beaches and boating, it's the amazing sunsets you can see from the park.
From nearly all the beaches, there is an unobstructed view to the west, and many people visit the park in the evenings simply to enjoy watching the sunset over the lake.
While there really isn't a bad spot from which to watch the sunset, Sunset Point between beaches #9 and #10 is especially popular.
After a fun day exploring the best things to do in Presque Isle State Park, take a few minutes to enjoy a fantastic sunset.
Commodore Perry Monument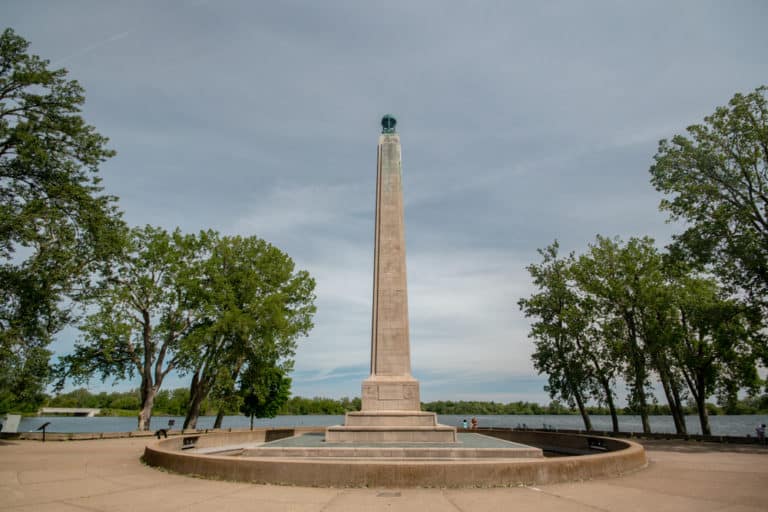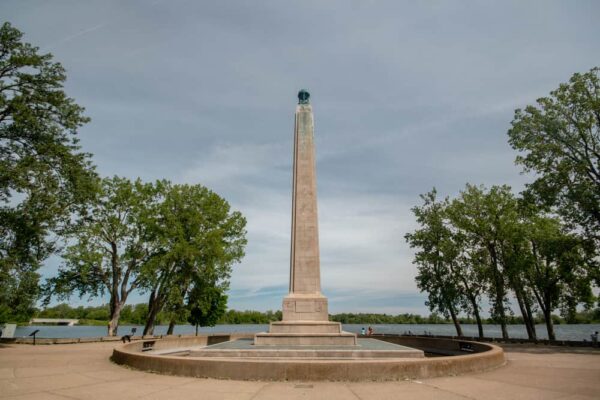 The Commodore Perry Monument is located along Misery Bay and commemorates the Battle of Lake Erie during the War of 1812. While the battle actually occurred off the shores of Put-in-Bay, Ohio, the fleet was based in Presque Isle Bay.
Signage around the monument tells the story of the fleet and its commander, Commodore Oliver Hazzard Perry. While the information here isn't as complete as what you can find at the Erie Maritime Museum, it offers a great overview and allows you to learn about the history in the spot where it happened.
Pontoon Boat Tours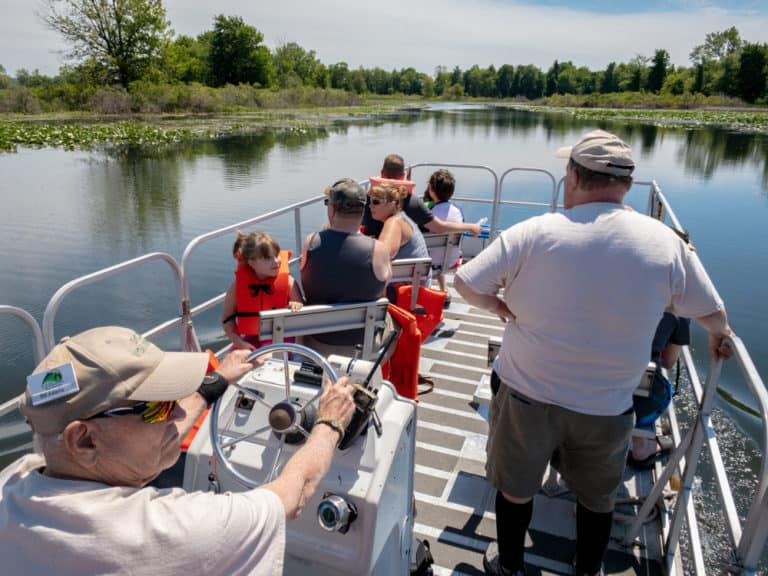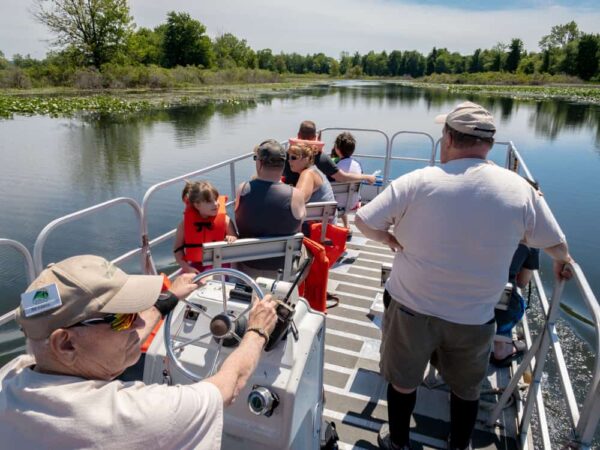 One hidden secret of the park is that there are free boat tours of Presque Isle. Run by park volunteers, the Pontoon Boat Tours leave from a dock adjacent to the kayak rentals near Misery Bay.
Offered four times daily from Memorial Day Weekend through Labor Day (plus a fifth evening tour on Wednesdays and Fridays), these 50-minute tours take up to 16 guests onto Misery Bay and the ponds in the interior of Presque Isle.
There is no pre-registration for these tours and sign-ups start 30 minutes prior to the tour time, so make sure to arrive early as they fill up quickly.
Fishing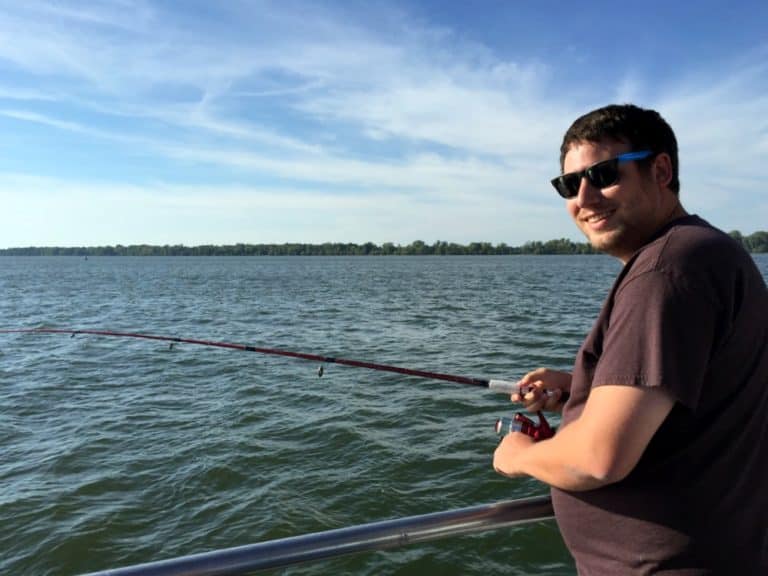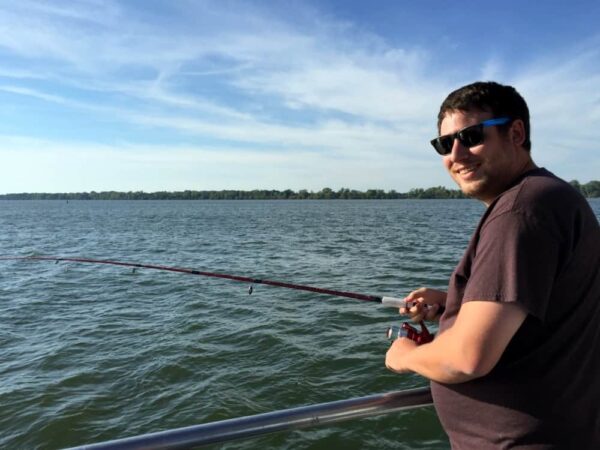 Fishing at Presque Isle State Park is incredibly popular. Throughout the day, many people can be spotted in the prime spots trying to catch some of the many fish that inhabit the waters here. Common species include bass, walleye, perch, and steelhead.
You can also go ice fishing during the winter once the ice is thick enough.
Note that a Lake Erie fishing stamp is required in addition to a standard PA fishing license.
North Pier Light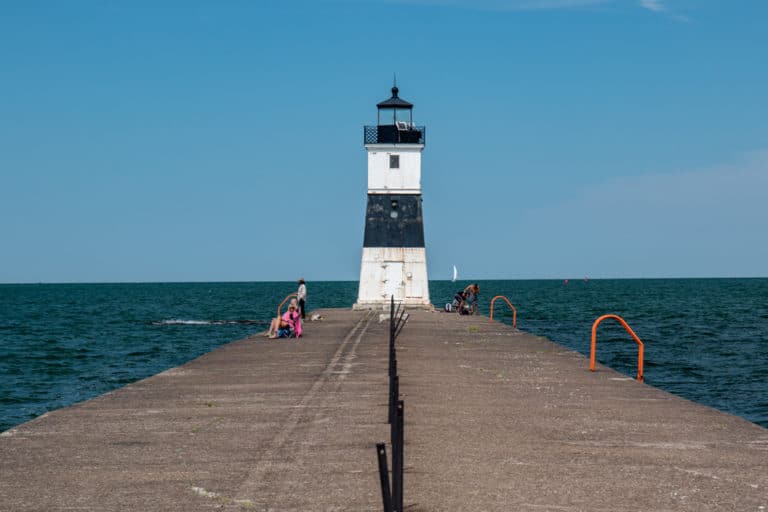 The North Pier Light is located, believe it or not, on North Pier. This is along the narrow channel that leads from Presque Isle Bay out to Lake Erie.
In addition to being a very popular fishing location, you can walk out onto the concrete pier for a close look at this navigational beacon.
While you can only see it from the outside, this is an incredibly scenic spot in the park and is also a great spot to watch boats sailing in and out of the harbor.
Biking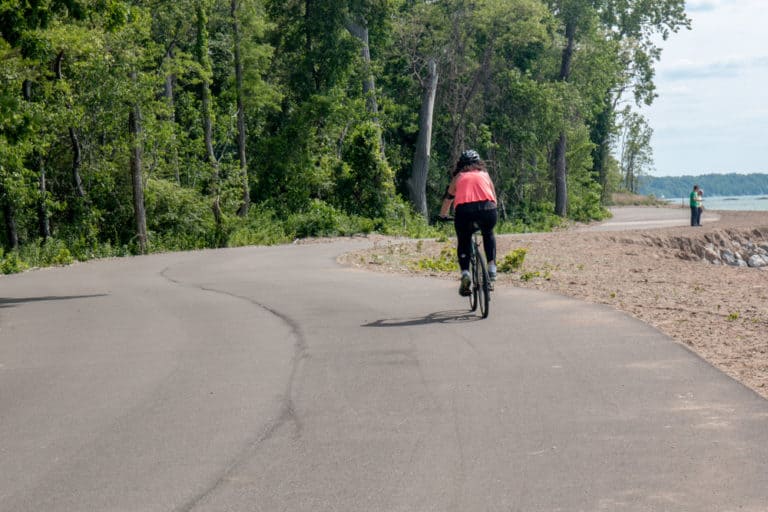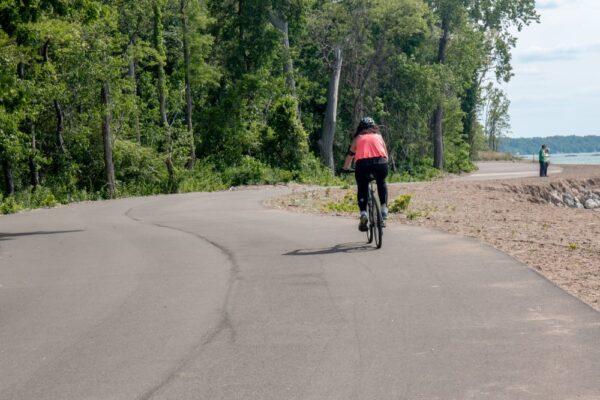 Thanks to the flat terrain, there are few better ways to explore Presque Isle than by bicycle. In fact, there are 13.5 miles of bicycling trails throughout the park.
Known as the Karl Boyes Multi-purpose National Recreation Trail, the biking trail at Presque Isle completely encircles that park. The trail follows the main roads through the park but is mostly separated from the road, which makes it safe for the whole family.
For those without a bicycle, Yellow Bike Rentals near the Waterworks Pumphouse rents bikes, tricycles, and even four-wheeled surreys.
Tom Ridge Environmental Education Center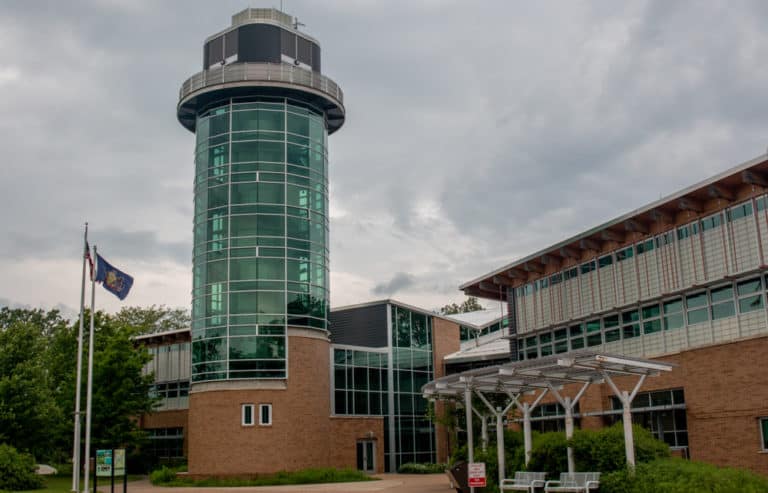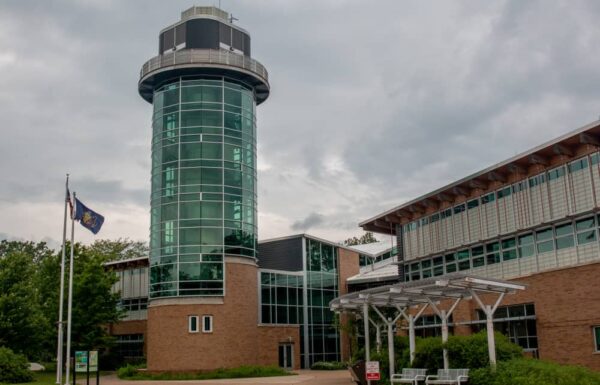 Located adjacent to the entrance to Presque Isle State Park is the Tom Ridge Environmental Education Center. Not only does this serve as the park office, but it also features a fantastic museum, observation tower, and movie theater.
The museum and observation tower are free and offer a chance to learn more about the history and geology of Presque Isle. The museum is incredibly well done and offers information and activities for both kids and adults.
The movie theater is nearly as large as an IMAX screen and shows a variety of educational programs throughout the day for a small fee.
If you happen to be in Erie on a rainy day, this is one of the best things to at Presque Isle State Park when the weather isn't cooperating.
Winter Activities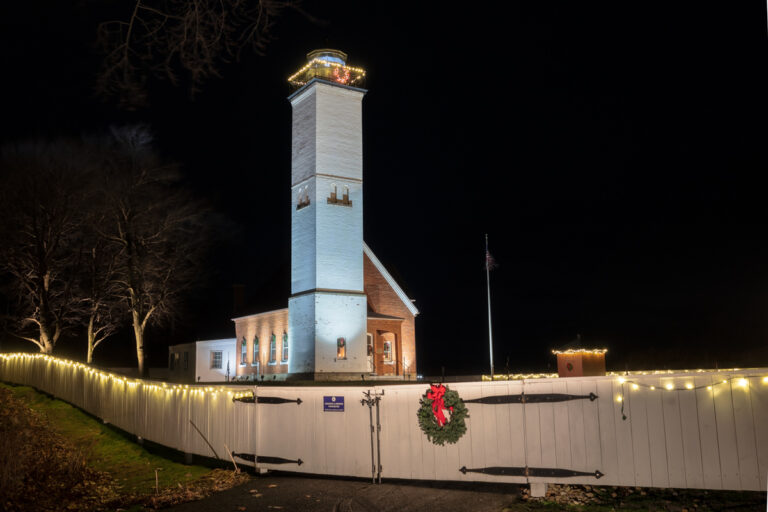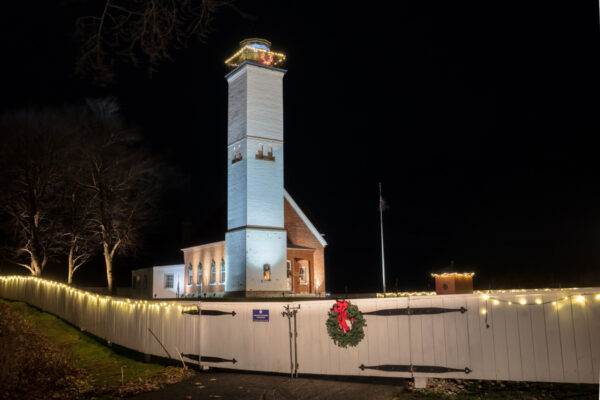 While Presque Isle State Park is most popular during the summer, it's also a fun place to visit during the winter.
During this time of year, the park and lake are typically covered by ice and snow, creating many unique ways to explore the area.
Popular wintertime activities at Presque Isle include cross-country skiing, ice fishing, and ice skating. There is also a great holiday season light display, known as Presque Isle Lights that you can check out in December.
Where to Stay Near Presque Isle State Park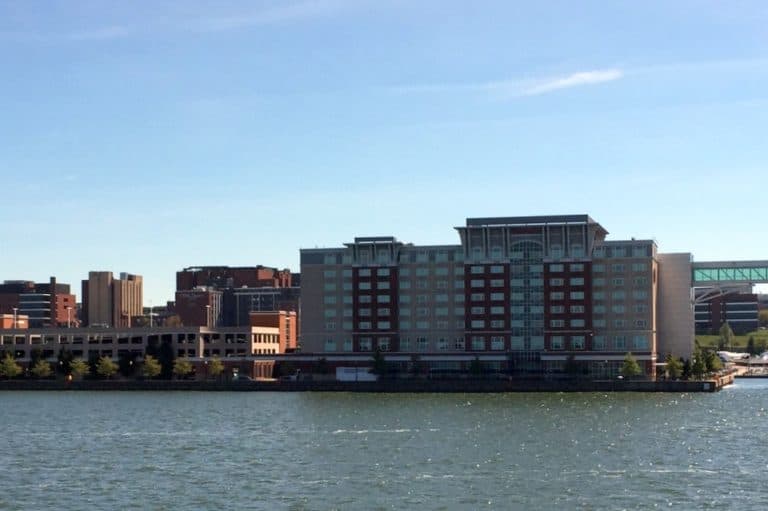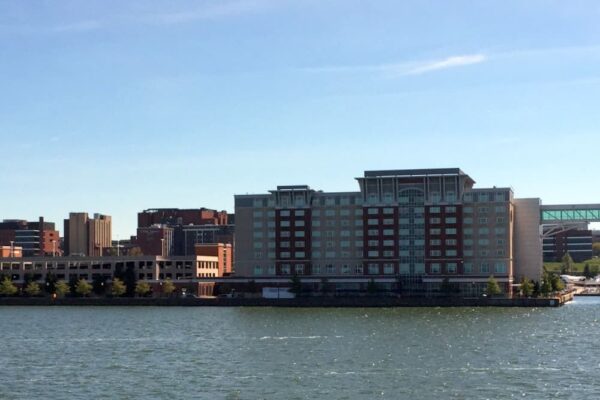 With so many things to do at Presque Isle State Park, you might be wondering where to stay overnight.
Unfortunately, there is no campground at Presque Isle State Park, but there are many places to stay in Erie just minutes away from the park.
I've personally stayed at the Sheraton Erie Bayfront and the Cobblestone Inn and Suites, both of which offer great views of Presque Isle State Park from some rooms and are a short drive from the park.
If you want to be as close to the park as possible, Red Carpet Inn and Comfort Inn are both just a few blocks from the entrance and have good reviews.
If you are looking for somewhere to camp at Presque Isle, Sarah's Campground is located adjacent to the park and offers camping sites (including some on the beach) and RV spots. Sarah's also features a very popular spot to eat near Presque Isle.
Looking for more things to do in Erie? Check out Waldameer Park, the Erie Bicentennial Tower, Erie Bluffs State Park, the best breweries in Erie, and the covered bridges in Erie.