Disclosure: This article may contain affiliate links. We will make a small commission from these links if you order something at no additional cost to you.
Pennsylvania is filled with hundreds of fascinating historical sites, but none of them are quite like Old Bedford Village in Bedford, PA.
Old Bedford Village is a living history museum that was first opened to the public in 1976 to celebrate America's bicentennial. The village was constructed on former farmland that was cut in two due to the construction of I-99 and the village still sits wedged into a narrow valley between I-99 and the Pennsylvania Turnpike.
Because of the construction of I-99, the land that would become Old Bedford Village was totally inaccessible. Ultimately, this problem was solved by moving Claycomb Covered Bridge, one of the 14 historic covered bridges in Bedford County, to this site to cross the Raystown Branch of the Juniata River.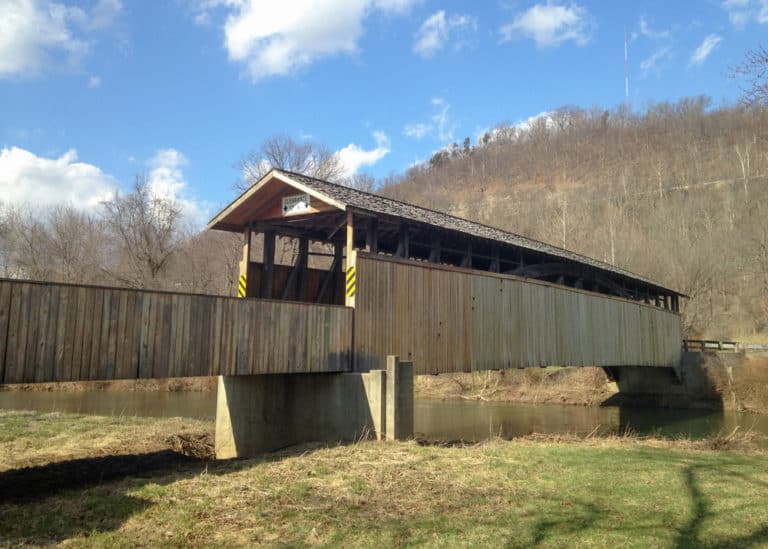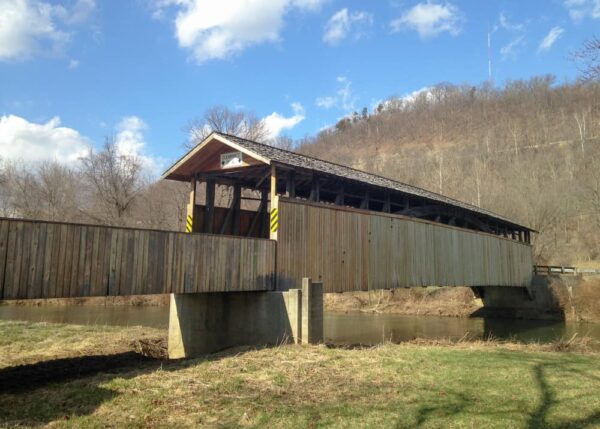 This bridge makes a perfect entrance to the village because it, like many of the structures here, is historic but was moved to this location from somewhere else within the county. And, while you can visit the bridge without actually going into the village itself, Old Bedford Village is definitely an interesting spot to explore.
Old Bedford Village consists of approximately 40 structures that help to tell the story of 18th and 19th-century life in the Allegheny Mountains. All told, the site covers approximately 150 years of history in its buildings and displays.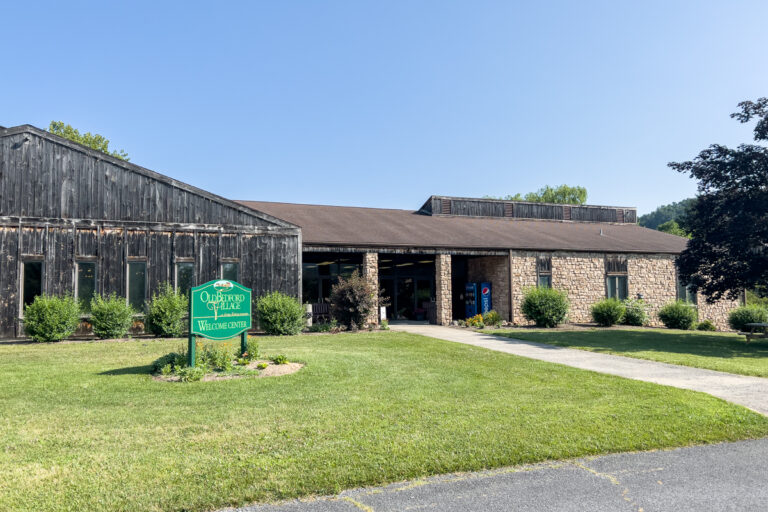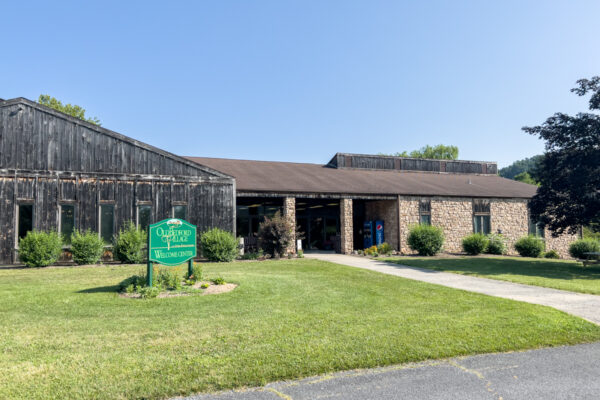 What's interesting about Old Bedford Village is that unlike most living history museums, such as Colonial Williamsburg in Virginia, this site isn't telling the story of one era. As you walk the counterclockwise path through the village, you will encounter buildings from a variety of eras, which allows you to see the progression of architectural styles and lifestyles within the buildings.
It's also noteworthy that while many of the buildings here are authentic historic structures, others were constructed on-site to replicate something specific while other structures were altered to fit in with the site.
While this fact doesn't really take away much from the overall historical education, those with a keen eye for detail may notice some small things that look out of place while exploring the grounds.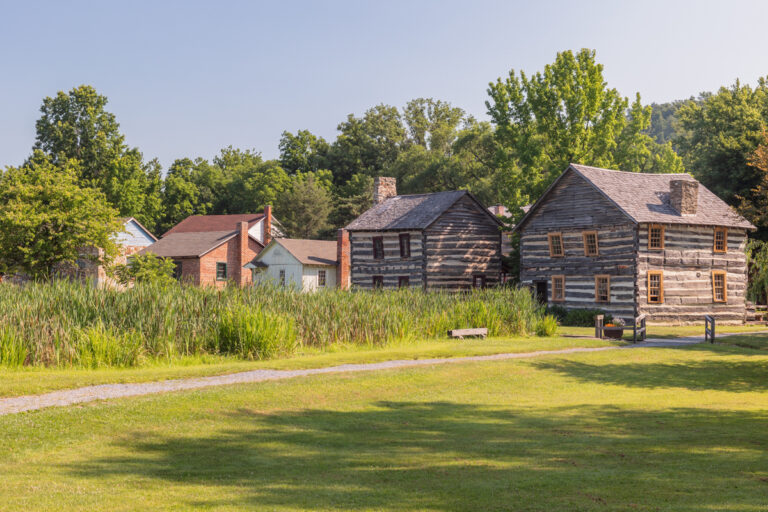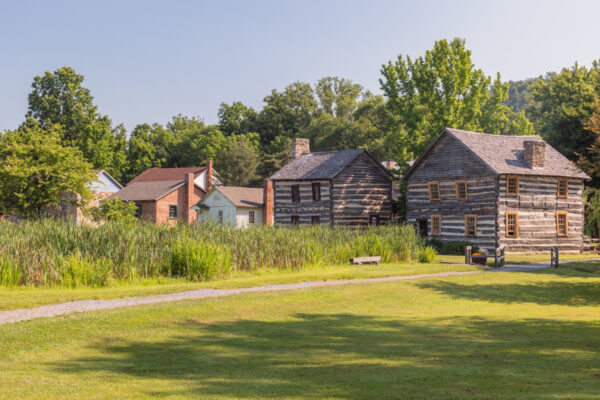 Visits to Old Bedford Village are by self-guided tour, but you'll find costumed interpreters throughout the site, typically stationed inside of the village's buildings. The exact location and number of these docents depend on the day that you visit, and during my visit, there were a total of six buildings that were manned.
If you visit on a weekend or during an event, you may have even more interpreters to enjoy during your time here.
In the first building on the grounds, there is typically always someone who provides not only a nice overview of the site and its history but also information on the building that they are standing in.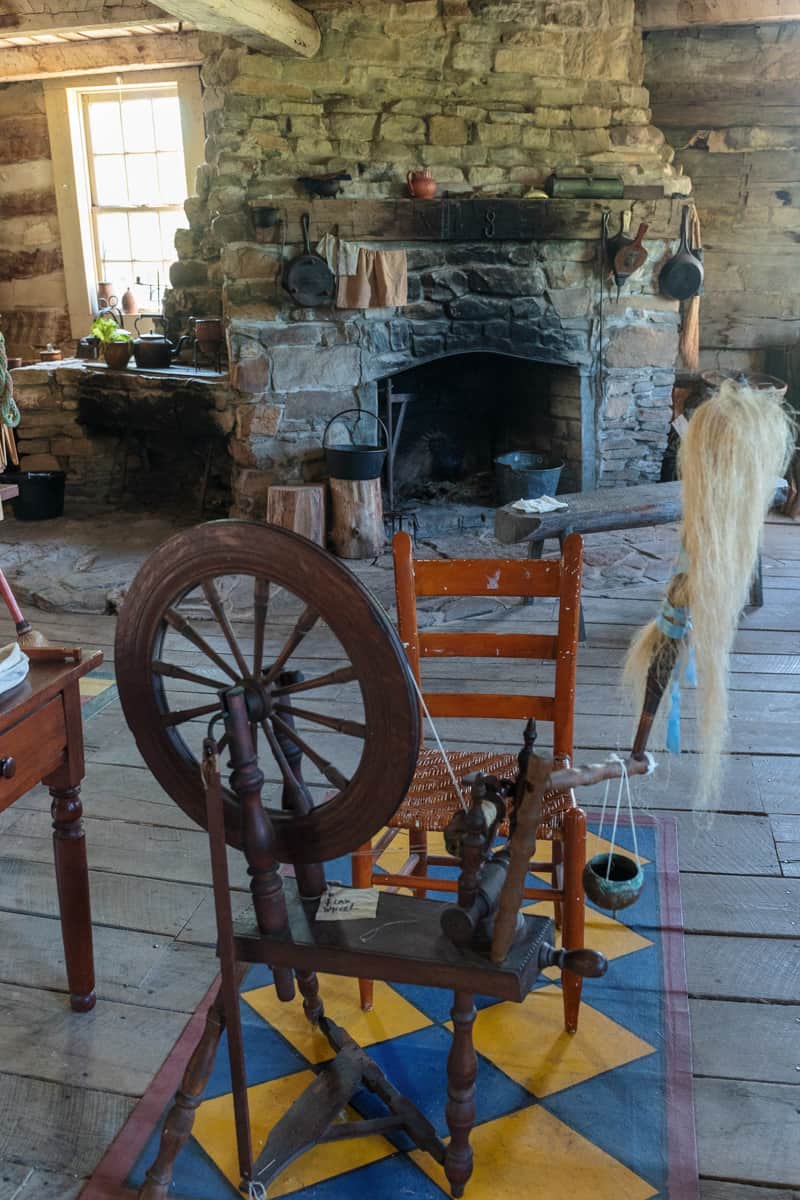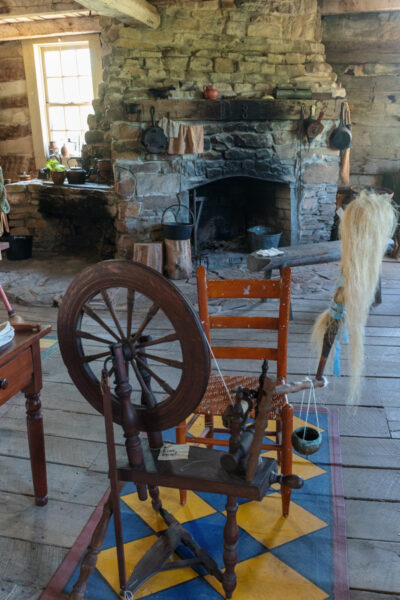 While you can explore in whatever order you would like, it is recommended that you tour the site in a counterclockwise direction as this will help you to see the buildings more or less in chronological order. You'll also notice that the first half of the tour is mostly houses while the second half is mostly shops and industrial spaces.
In each building, you'll find a QR code on the wall that you can scan with your phone to get more information about what you are seeing. This offers a lot of great information about each structure and is a great addition to the site since it's not reasonable to have costumed interpreters inside every building.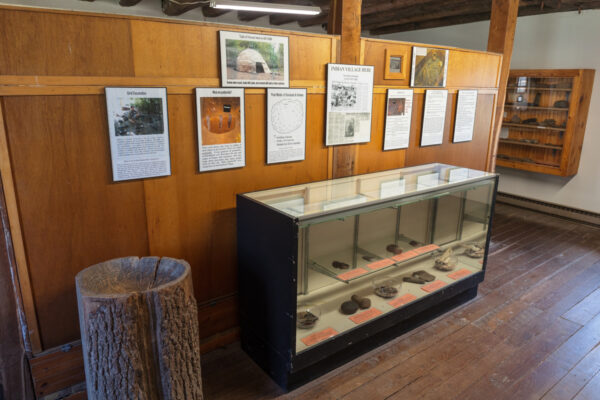 You'll also notice that some of the buildings are set up more like museums than homes or businesses. These cover aspects such as the Whiskey Rebellion and local Native Americans.
In fact, the land where Old Bedford Village stands was one of the easternmost villages used by the Monongahela tribe. Known as the Bedford Village Archeological Site, it has provided a great glimpse into what life was like for Native Americans in the hundreds of years prior to European settlement in the area.
While what remains of the Native American village isn't visible to the public, the museum, which is located inside of the Shoop House, offers some artifacts and a model of the village.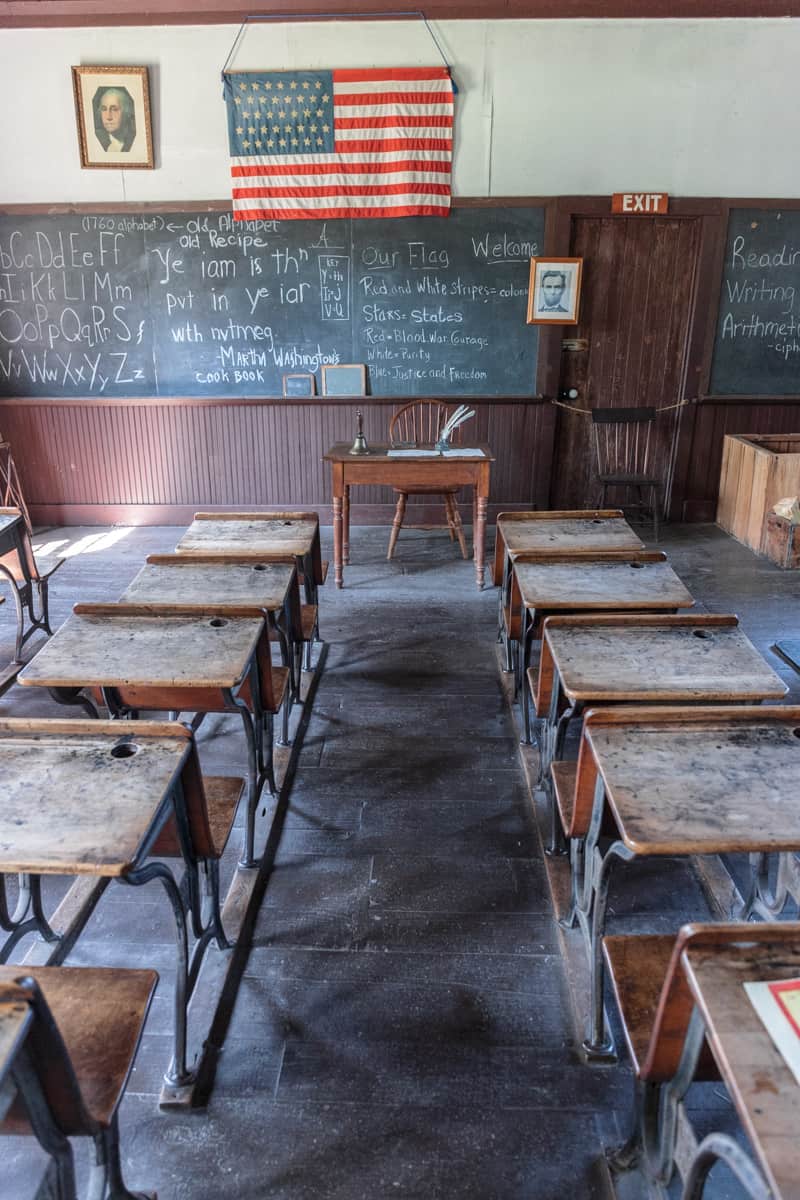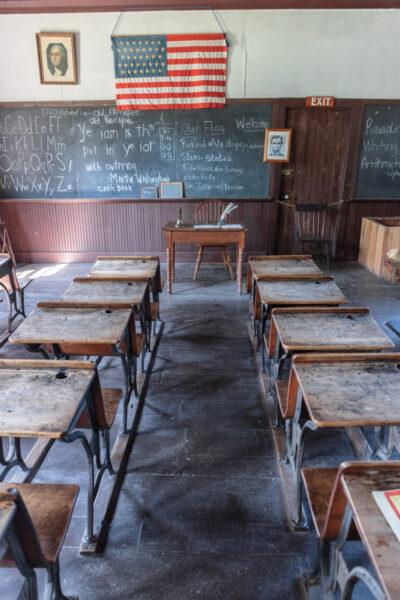 I also really enjoyed the two schoolhouses on the property.
The Kniseley School is a red single-room schoolhouse that was in use from 1869-1923. It has been set up like it's still in active use, and both adults and children will enjoy seeing what school was like over 100 years ago.
The Eight-Square School was in use from 1851-1932 and might be the most unique schoolhouse I've ever seen. This one-room school is shaped like an octagon and features desks in a circle around the center. This design, while rarely utilized, helped to both seat more students and provide better heating and cooling when needed.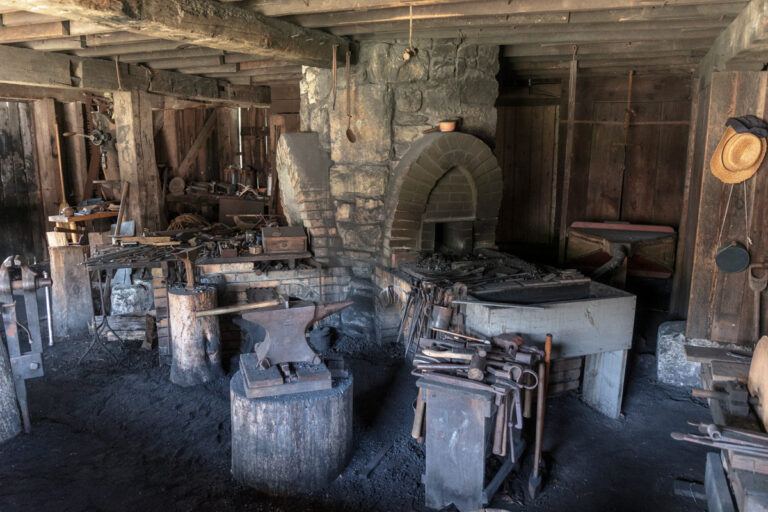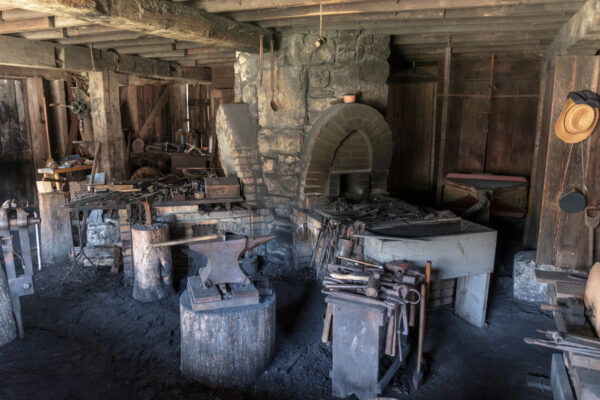 Other buildings of interest include artisan shops like a blacksmith shop, a weaver, a doctor's office, and a basket shop. In some of these, you'll likely see skilled artisans making products in the same way they would have been made two hundred years ago.
Of all the shops, my favorite on the day of my visit was Fisher's Pottery Shop.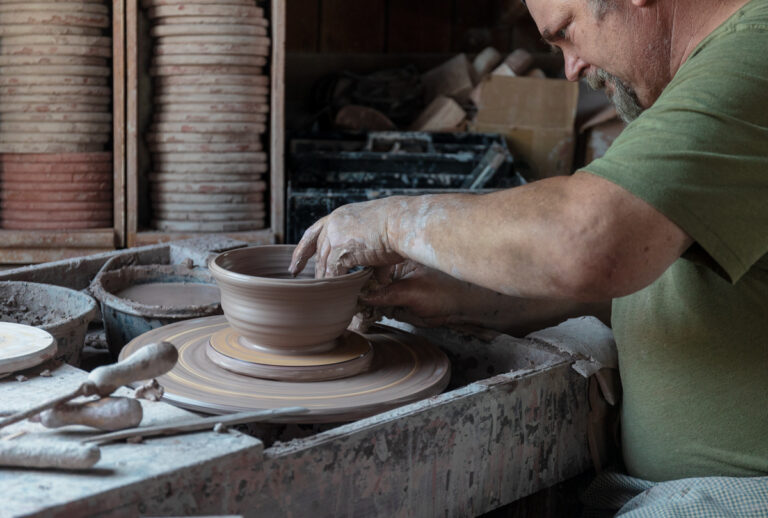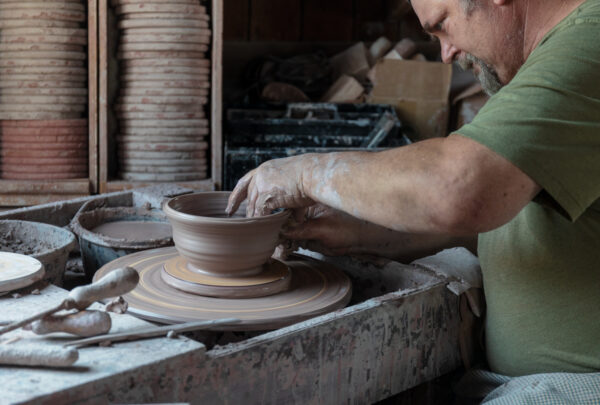 While the shop itself isn't overly historic, having been constructed from several other buildings, what I especially enjoyed was seeing the artisan in the shop crafting some excellent pottery using traditional methods. If you love his work, you can actually buy some during your visit.
Of course, with more than 40 structures on site, these are only a handful of the unique structures at Old Bedford Village, and others include a small farm, a general store, a beautiful church, and much more. No matter what aspect of 19th-century life you are most interested in, there are probably a few buildings that you will enjoy.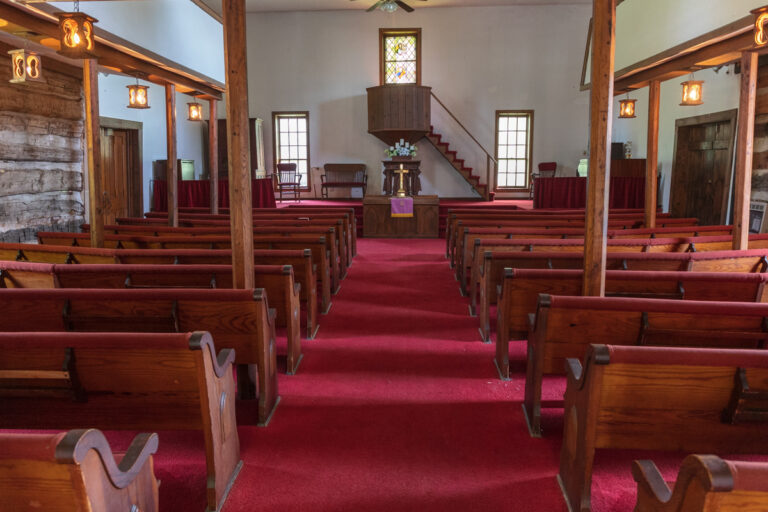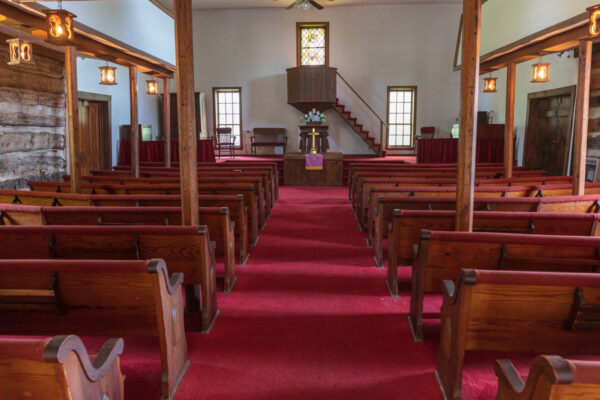 Overall, Old Bedford Village is quite an interesting spot to explore when traveling in the Allegheny Mountains. While some of the structures aren't overly historic, most are, and even those that aren't do a good job showing what life was like in Bedford County in the 19th century.
This is also a great compliment to a visit to the nearby Fort Bedford Museum, which covers much of the same era, but in a different way, meaning that visiting both is a great way to spend a day in the area.
So, if you are looking for a neat historical spot to visit, this is definitely a great spot to check out.
Looking for more places to visit nearby? Check out Gravity Hill, the best things to do in Altoona, and the Abandoned PA Turnpike.
---
Old Bedford Village
Hours: Thursday-Sunday: 9a-5p
Open Memorial Day Weekend – October 31

Cost: Adults: $10, Children: $5

Website: OldBedfordVillage.com

Address: 220 Sawblade Road
Bedford, PA 15522
See map below for other area attractions.
---