Disclosure: This article may contain affiliate links. We will make a small commission from these links if you order something at no additional cost to you.
It's the holiday season, which means you are probably searching for the perfect gift for the Pennsylvania travel lover in your life. Well, good news! I've got you covered with some great gifts from Pennsylvania that are sure to delight those of all ages.
From fun puzzles to jewelry, clothing, and books, there's a gift for anyone who loves Pennsylvania on the list below.
Even better, by purchasing the products on this list, you are helping me to keep bringing you even more great spots to visit in Pennsylvania!
Pennsylvania Puzzles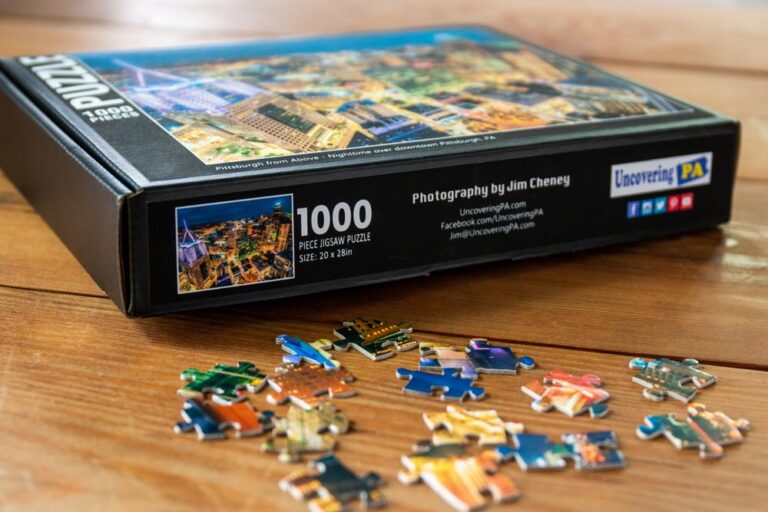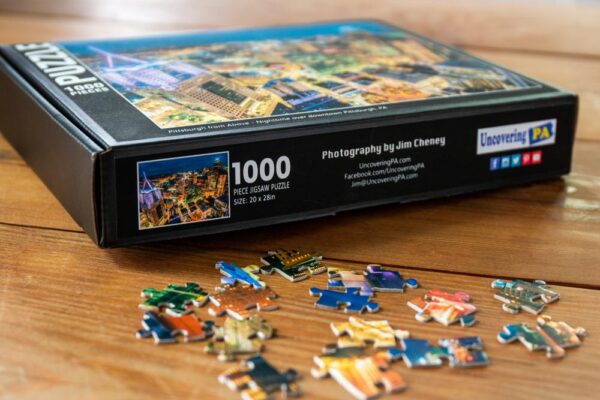 Looking for a fun winter activity to give as a gift? I've taken four of my favorite photos of Pennsylvania and turned them into 1,000-piece jigsaw puzzles.
Featuring unique Pennsylvania scenes like downtown Pittsburgh and Philly, covered bridges, waterfalls, and more, these puzzles are sure to challenge and delight any puzzle lover.
Even better, they are a great way to enjoy the beauty of Pennsylvania while at home this winter.
"Waterfalls of Pennsylvania" Book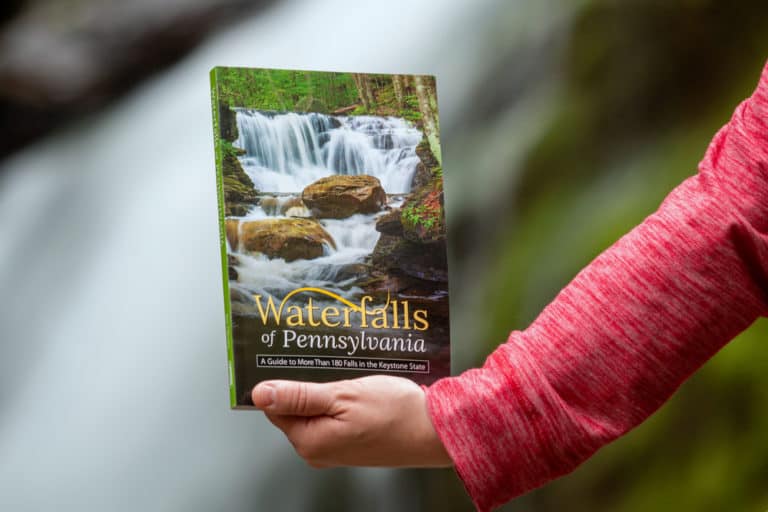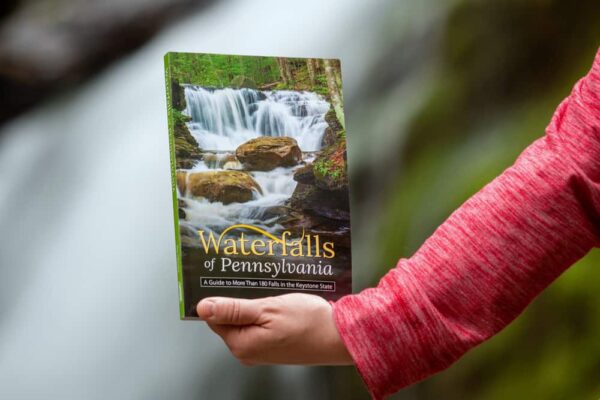 Know someone who loves waterfalls? In May 2020, I published the most complete book of Pennsylvania waterfalls on the market.
"Waterfalls of Pennsylvania" covers more than 180 different waterfalls in every corner of the state. I've personally visited each, so the directions are based on my first-hand experience, just like the information on this site.
Even better, each waterfall includes a full-color image, directions, and some of my personal tips for visiting.
You can get signed copies of the book directly from me, or pick up copies on Amazon, Bookshop.org, or just about anywhere books are sold.
Photos of Pennsylvania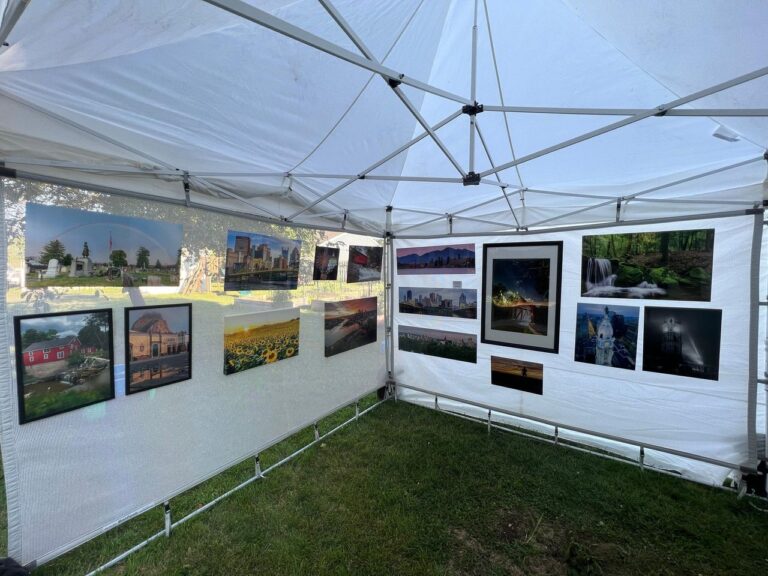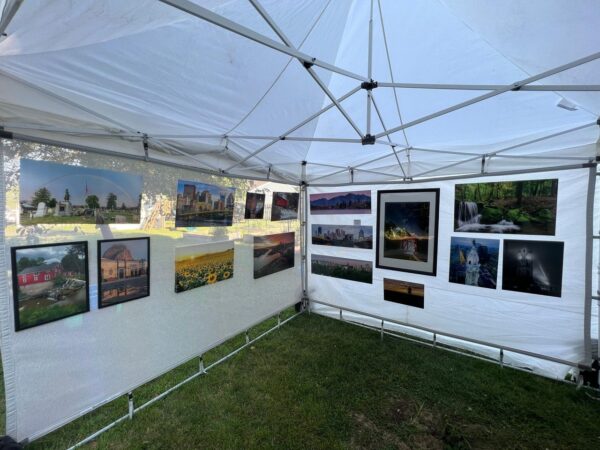 Enjoy PA throughout the year with photos of PA. Whether you are buying them for yourself or as a gift, photos of the state are always great to buy this time of year.
Over the last year, I've begun selling my photos on my site, and you can browse some of my favorite images in my store. However, almost any photo that you see on this site or on my social media channels can be purchased (Just send me a message if you want to buy something else).
Pennsylvania Hiking Guides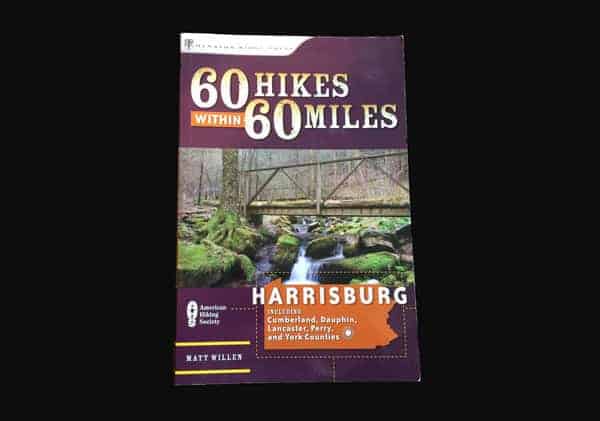 If you need a gift for someone who loves hiking, there are many other great Pennsylvania hiking books.
The 60 Hikes within 60 Miles series is fantastic for anyone who loves hiking in PA. The books are offered for a variety of Pennsylvania destinations and feature hikes of all lengths and difficulty levels that are within a short distance of different cities in the state.
Currently available books include 60 Hikes within 60 Miles of … Philadelphia, Pittsburgh, and Harrisburg.
A few more of my personal favorites that I personally recommend are "Hiking the Endless Mountains" by Jeff Mitchell and "The Pine Creek Rail Trail Guidebook" by Linda Stager. Of course, there are dozens of great Pennsylvania guidebooks that can help you uncover the hidden secrets of PA.
Pennsylvania Shirts

Give the gift that lets your friends and family show their Pennsylvania pride: a Pennsylvania t-shirt.
I've personally designed more than two dozen different t-shirts that highlight aspects of Pennsylvania. From shirts featuring the skylines of Philly and Pittsburgh to funny slogans and even some very niche designs, there's a shirt for anyone who loves Pennsylvania.
Even better, many of the images on the shirts were taken directly from photographs, so you are sure to get an accurate image of places throughout the state.
Purple Lizard Maps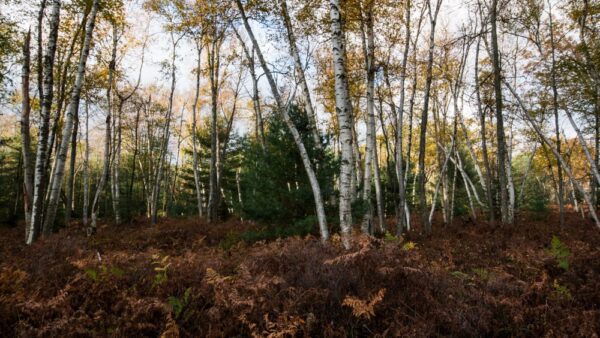 If you want to get out and explore off-the-beaten-path in Pennsylvania, Purple Lizard Maps are a great choice. Featuring hiking information for areas not often well mapped by others, Purple Lizard Maps makes it easy to explore some of Pennsylvania's little-hiked state forests and natural areas.
I used Purple Lizard Maps recently to hike in the Quehanna Wild Area and found the map to be a great resource.
You can buy their maps on their website.
Pennsylvania Travel Map from Conquest Maps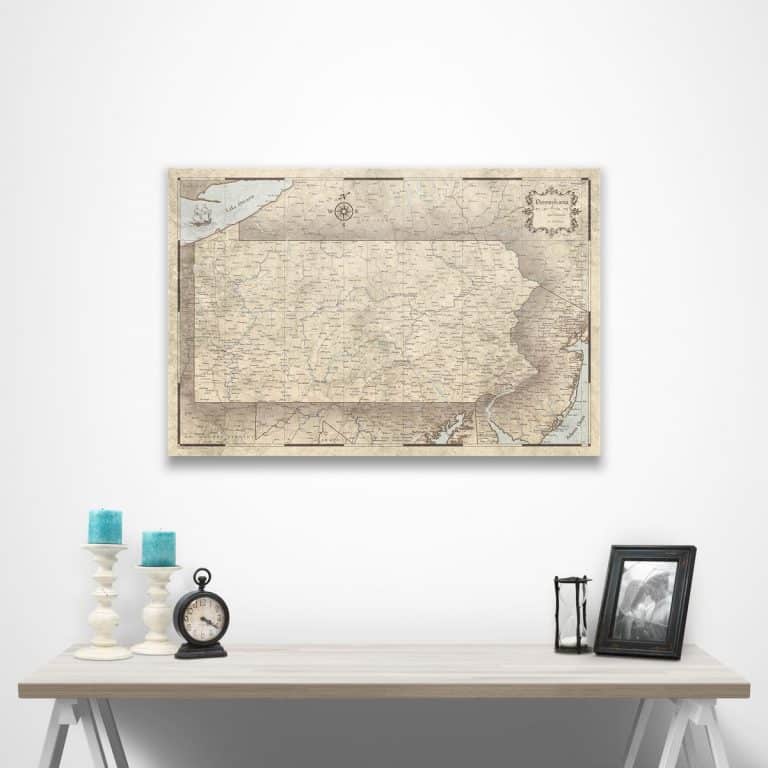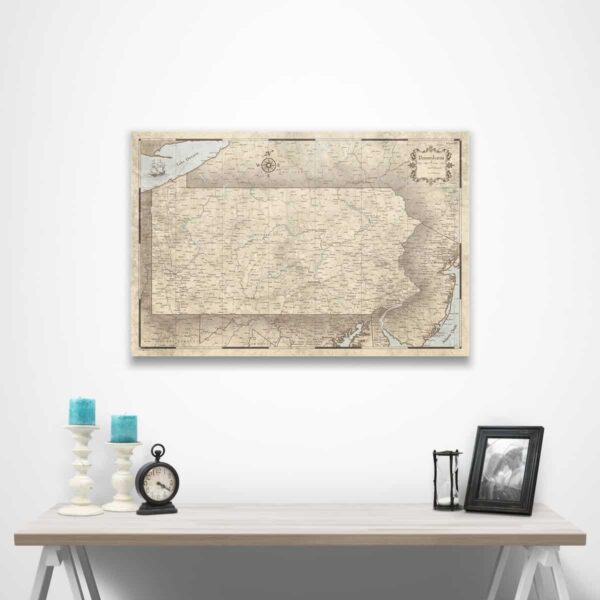 If you or someone you know wants to show everyone how much they've traveled around Pennsylvania, the Pennsylvania map from Conquest Maps is the perfect gift.
This push-pin map features a large map of PA and comes with plenty of pushpins to mark each place in the state you've been to. This is a perfect way to remember your past trips or to plan new ones.
Find out more on their website.
Good Night, Pennsylvania (or Philly and Pittsburgh)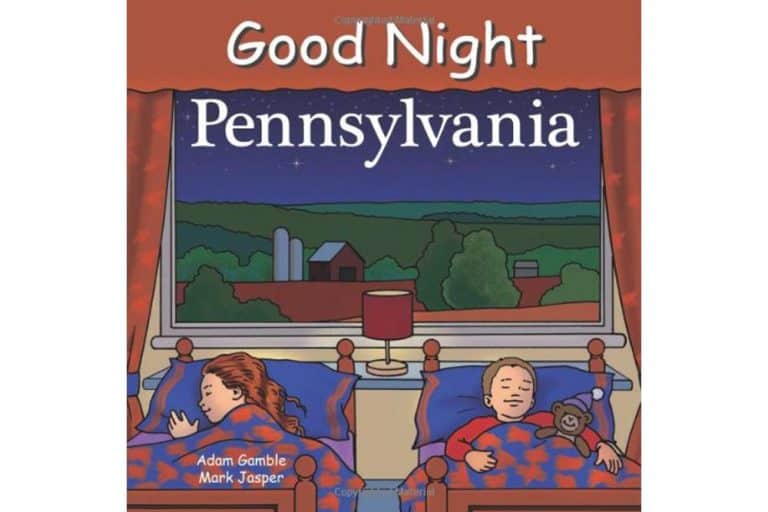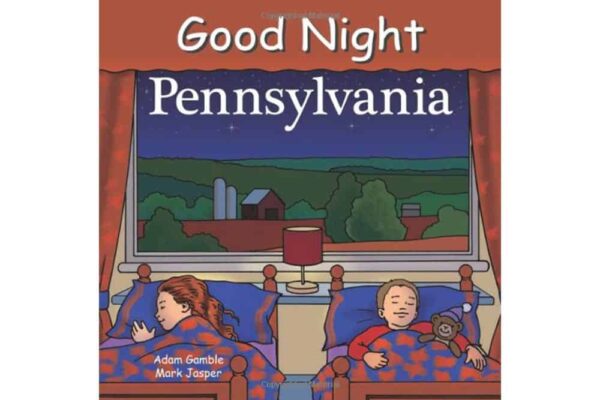 Pass on your love of Pennsylvania to the child on your holiday shopping list with Good Night, Pennsylvania.
This children's book walks children through some of the most iconic places in the state. Get your copy on Amazon. Also available: Good Night, Philadelphia; and Good Night, Pittsburgh.
Pennsylvania State Parks Passport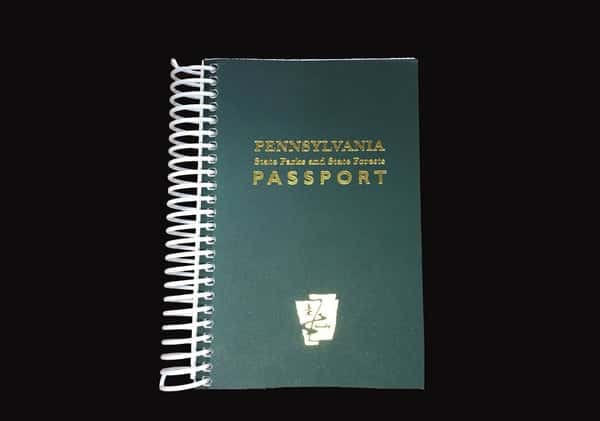 Love visiting Pennsylvania's great state parks? Check out the Pennsylvania State Parks Passport.
This passport gives you the chance to track each of your visits to these beautiful destinations and help support the Pennsylvania Parks and Forests Foundation at the same time. I enjoy tracking the parks that I visit, and I'm sure you or someone on your list will as well.
Pennsylvania Beer Cap Map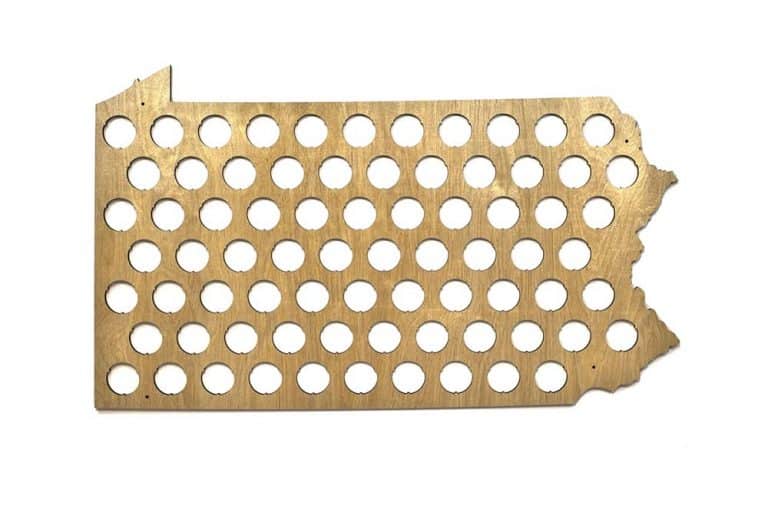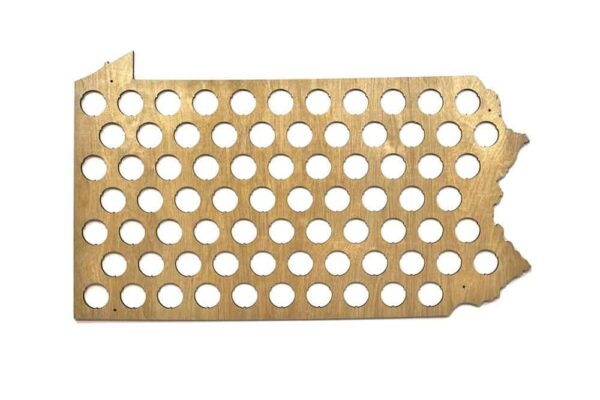 Know someone who loves Pennsylvania beer? Get them this great Pennsylvania Beer Cap Map.
Designed in the shape of Pennsylvania, this great gift has room for 75 beer caps. It's perfect for showing off all of your favorite PA breweries.
A Getaway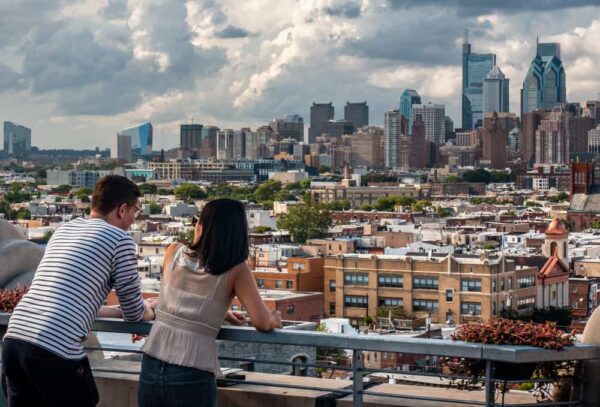 With everything that's been going on this year, I know that I'm definitely going to need several getaways in 2022. Why not surprise your friends and family with a getaway in Pennsylvania for them to enjoy?
Take a peek at my guides to the best weekend getaways in Pennsylvania and PA's most unique Airbnbs to help you start planning your trip.
Then book a place to stay on sites like Vrbo, Booking.com, or PAInns.com, all of which feature many great spots to stay throughout Pennsylvania.