Disclosure: This article may contain affiliate links. We will make a small commission from these links if you order something at no additional cost to you.
During my travels through the state, I've visited many incredible Pennsylvania breweries.
Over the last two decades, the craft industry here has exploded, and there are now more than 300 craft breweries in PA. Even more interesting, Pennsylvania produces more craft beer than any other state in the country (This is because Yuengling is, for some reason, considered the largest craft brewery, and the second largest, Sam Adams, makes most of their beer in PA).
However, even despite these caveats, there are a ton of great Pennsylvania breweries that are worth visiting. Here are a few of my personal favorites from around the state.
Troegs Independent Brewing in Hershey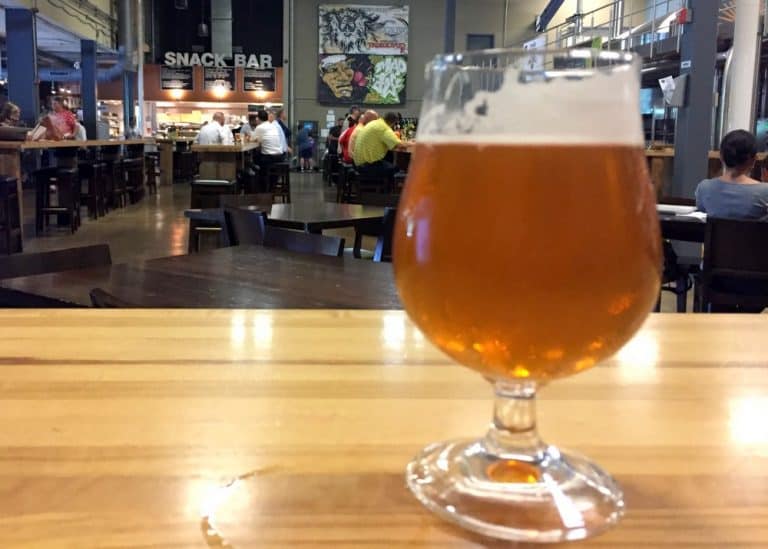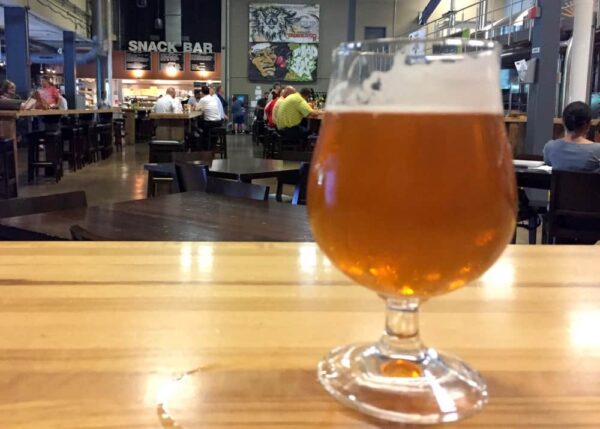 There is no PA brewery that I've visited more often than Troegs Independent Brewing in Hershey. That's because they not only have incredible beer, but I also only live about 20 minutes away from their brewery.
Troegs was founded in 1996 in Harrisburg and moved to Hershey in 2011. Today, they are one of the largest craft breweries in the country and one of the best breweries near Harrisburg.
Troegs produces a wide variety of beers and features a large number of year-round and seasonal beers. They also regularly experiment with small-batch beers, many of which you can only get at their Hershey Brewery.
Victory Brewing Company in Chester County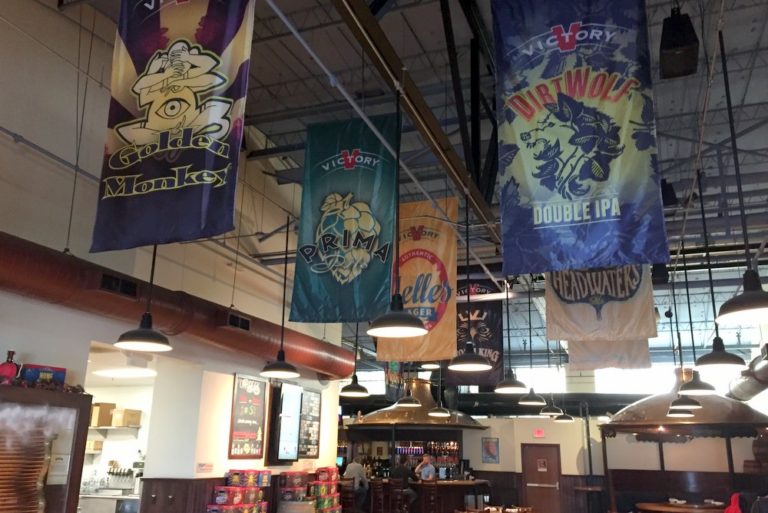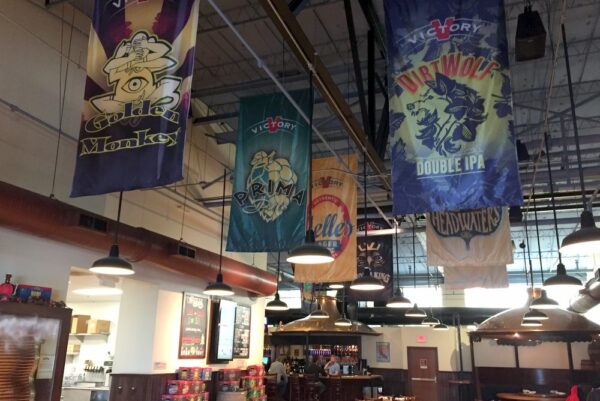 If you discount Yuengling, Victory Brewing Company is the largest crafter brewery based in Pennsylvania.
Like Troegs, Victory was founded in 1996 and has quickly expanded since opening. Today, they own three brewpubs in southeastern PA (Downingtown, Kennett Square, and Parkesburg). They also are featured at the Pittsburgh tasting room of their sister-brewery, Southern Tier Brewing.
Victory is best known for their hoppy beers such as HopDevil IPA and DirtWolf Double IPA, though they have a full range of beers, including the popular FestBier.
Brew Gentlemen in Braddock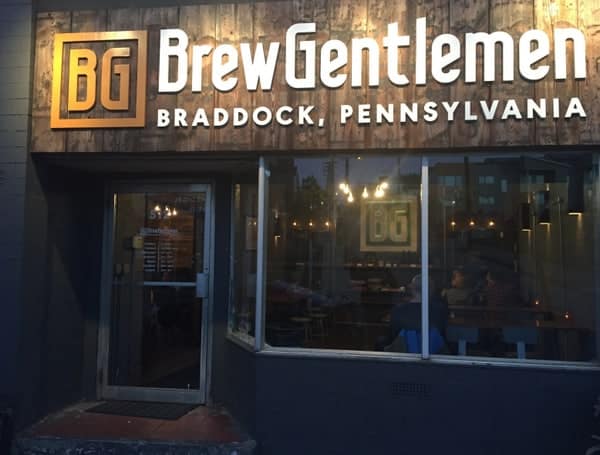 I've visited many incredible Pittsburgh-area breweries, but few, if any, are as good as Brew Gentlemen.
Located in Braddock, just outside the city limits and near the historic Carrie Furnace, Brew Gentlemen has been part of the resurgence of this community. Their small tasting room is very well designed and is a great spot to try their very tasty beers.
Brew Gentlemen is best known for their hop-forward beers, but they also offer enough variety that even my friends that don't love IPAs always enjoy visiting.
Neshaminy Creek Brewing Co in Croydon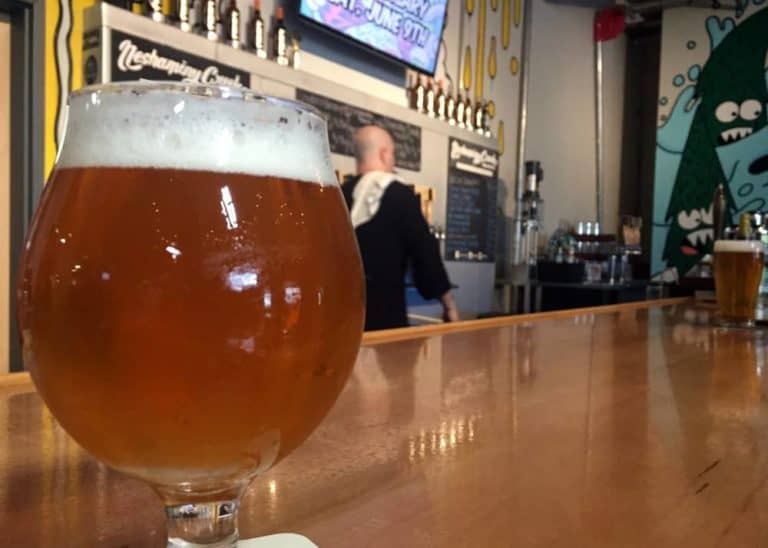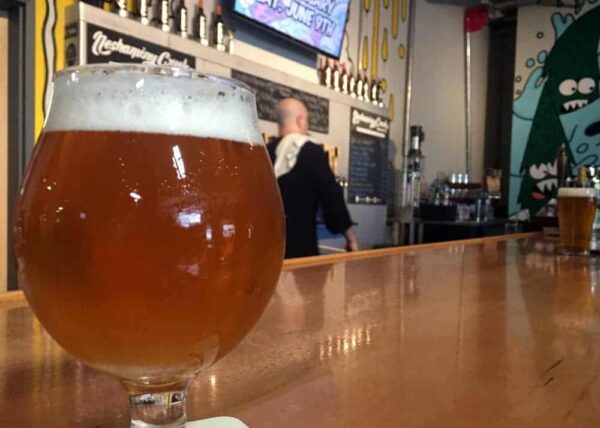 Neshaminy Creek Brewing is one of the best breweries in Bucks County, PA.
Opened in 2012, Neshaminy Creek is located in southeastern PA just north of Philadelphia. They feature seven year-round beers along with a selection of seasonal beers throughout the year.
Neshaminy Creek Brewing is known primarily for their IPAs, with their Country Line IPA being one of my favorite flagship IPAs in Pennsylvania. However, their Russian imperial stout, pumpkin beer, and tripel are all quite tasty as well.
Pizza Boy Brewing in Enola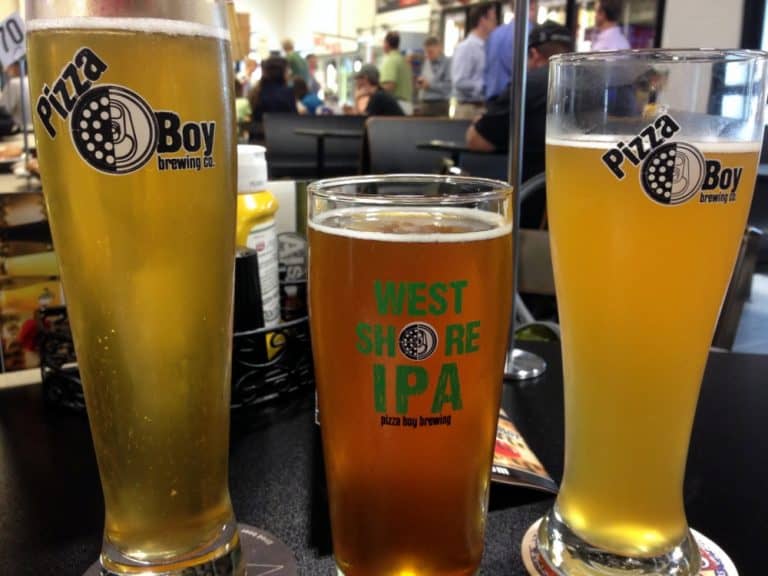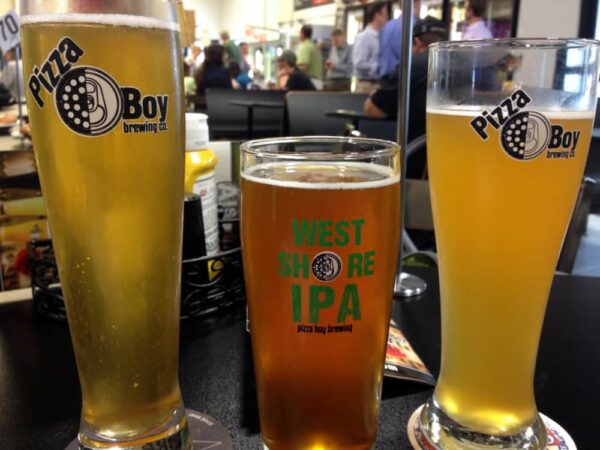 Pizza Boy Brewing is located just across the Susquehanna River from Harrisburg and is one of the best and most popular breweries in the area.
Pizza Boy grew out of a local pizza shop, Al's of Hampden, and while their tasting room might lack a bit of ambiance, they make up for it with one of PA's best beer selections (as well as some great pizza).
At any given time, Pizza Boy usually has at least 15 of their own beers on draft. Uniquely, they also feature one of the best selections of craft beers in PA and have upwards of 100 total beers on draft at any given time.
The only real negative of Pizza Boy is that they are one of the very few breweries in Pennsylvania that doesn't offer flights or samples of their own beers, which means you have to get a full-pour of your chosen beer.
Weyerbacher Brewing Company in Easton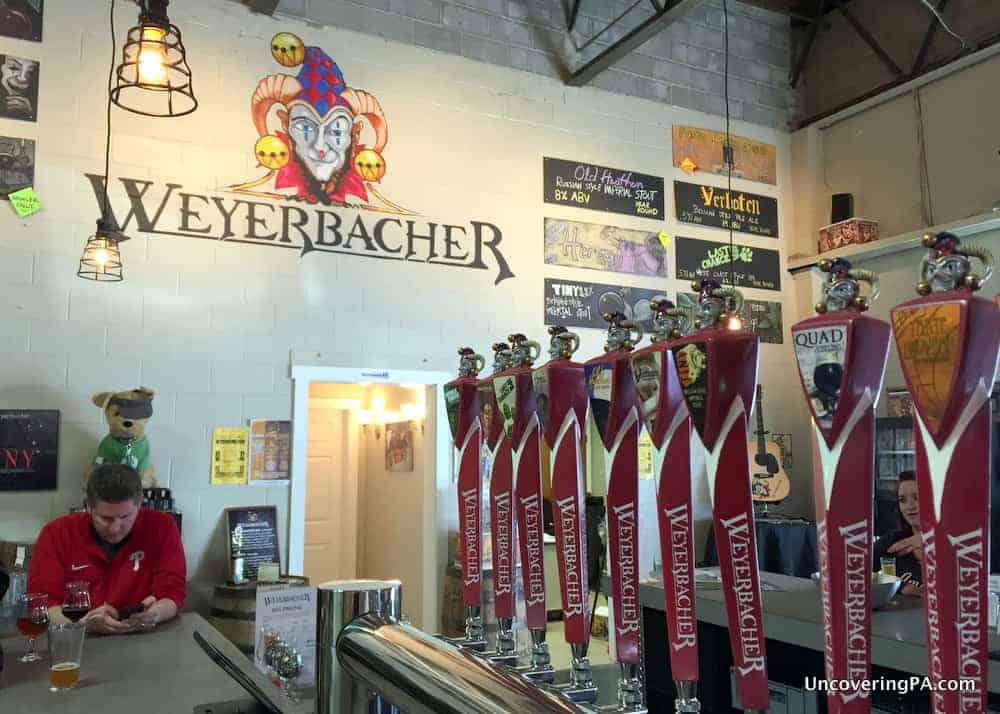 Located in Easton, Weyerbacher Brewing Company is a fantastic brewery and one of the best Lehigh Valley breweries.
Weyerbacher opened in 1995 making them one of the oldest craft breweries in PA. They are known for their big flavorful beers, and they definitely pack a huge punch. Probably their most well-known beer is Merry Monks, though their Sunday Morning Stout and Insanity Barleywine also get rave reviews.
Their tasting room on the outskirts of Easton serves up their most popular beers as well as some options that are impossible or hard to find outside of the space.
Ever Grain Brewing Company in Camp Hill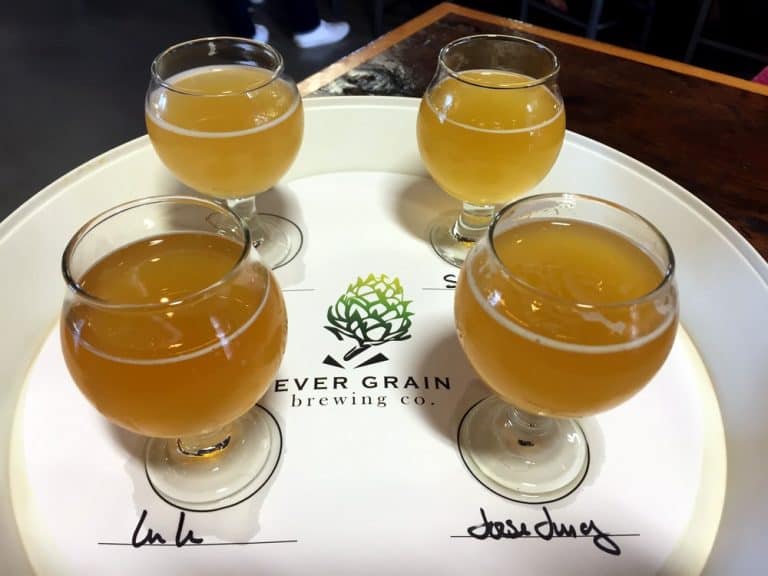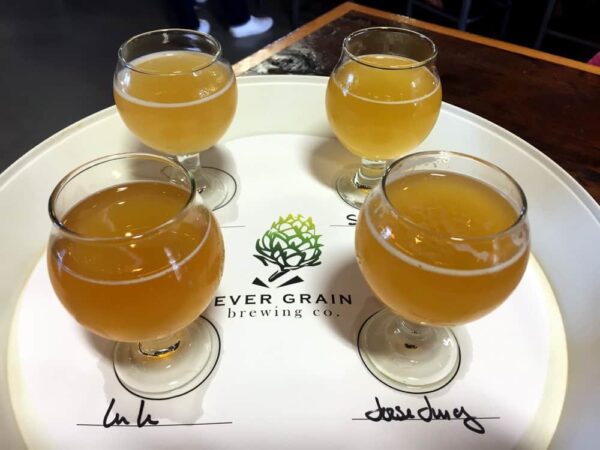 Ever Grain Brewing Company is another one of my favorite Harrisburg-area breweries. Located just south of the city in an old car dealership building, this brewery serves up some of the tastiest and most inventive beers in PA.
Ever Grain first opened in 2016 and became first known for their incredible IPAs. In fact, they still put out some of PA's best and most unique IPAs and double IPAs (their Joose Juicy IPA is one of my favorite flagship IPAs from any brewery).
However, they have also done a great job expanding into other styles such as fruited sours and hard seltzers.
Voodoo Brewery in Meadville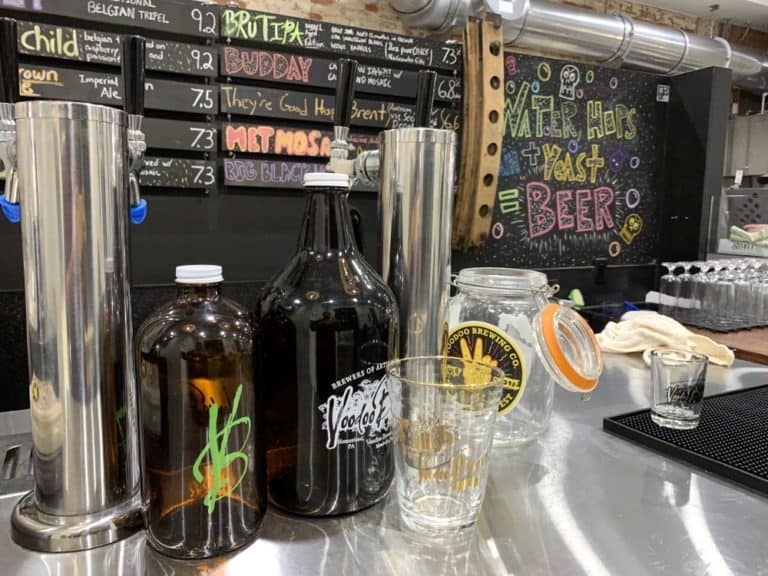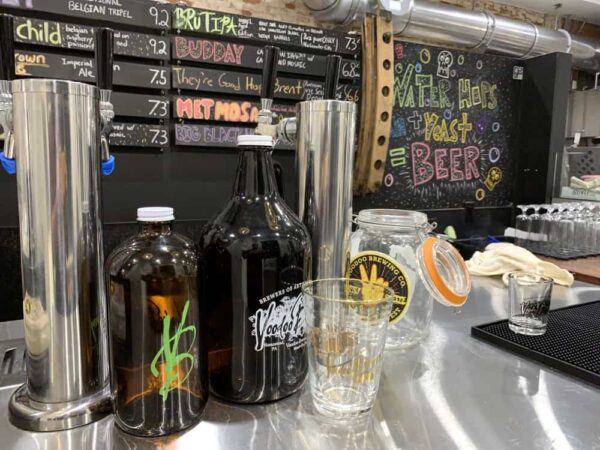 While Voodoo Brewery might not be the largest of Pennsylvania's breweries, it definitely is one of the most widespread, running five taprooms in four different PA cities (plus one in Cleveland and, soon, in Las Vegas).
Their flagship location is in Meadville in northwestern PA, but they also run taprooms in Pittsburgh, Erie, State College, and Philadelphia.
Voodoo offers some of the boldest and most full-flavored beers I've had anywhere in Pennsylvania, and I know that whatever beer I get from them won't be lacking in flavor. They also have a seasonal beer, Blossoming Down Under, which is one of my favorite beers of all time.
Rusty Rail Brewing Company in Mifflinburg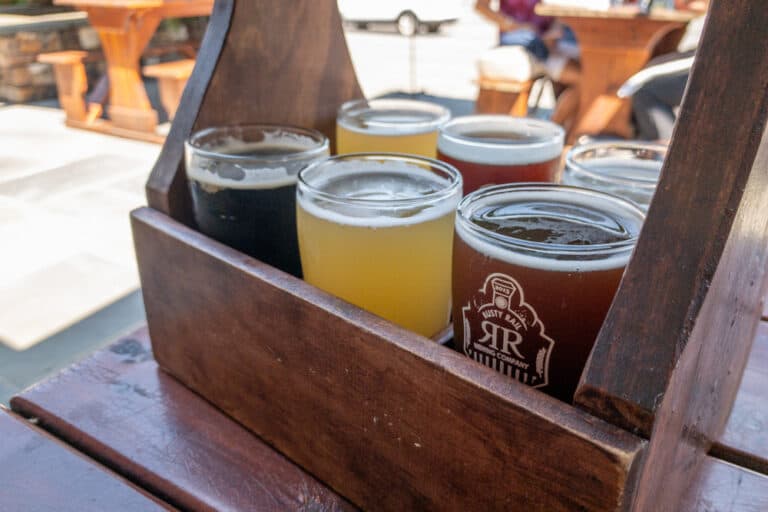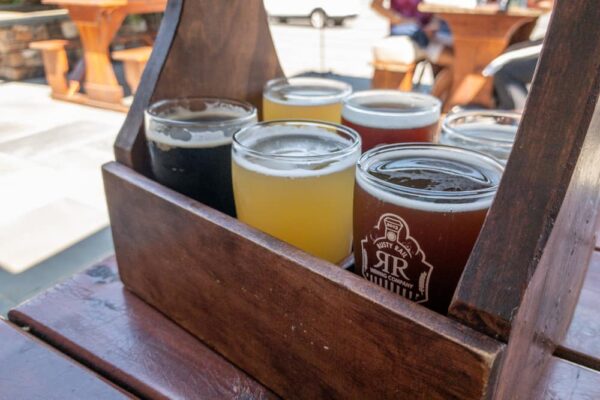 Located in Mifflinburg, Rusty Rail Brewing Company advertises itself as the largest brewpub in Pennsylvania. They are housed in a very large brick building that has seen the manufacturing of everything from car bodies to pool tables and kitchen cabinets.
Rusty Rail typically has around a dozen beers on draft spanning the range of styles. While most of the offerings tend to be fairly standard, they always have a few unique brews. For example, when I visited, they had an IPA with coffee and a hefeweizen brewed with peanut butter.
Given the expansive nature of this spot, outside of their popular Christmas market weekend, you'll never have to worry about the space being too busy to visit.
Olde Bedford Brewing in Bedford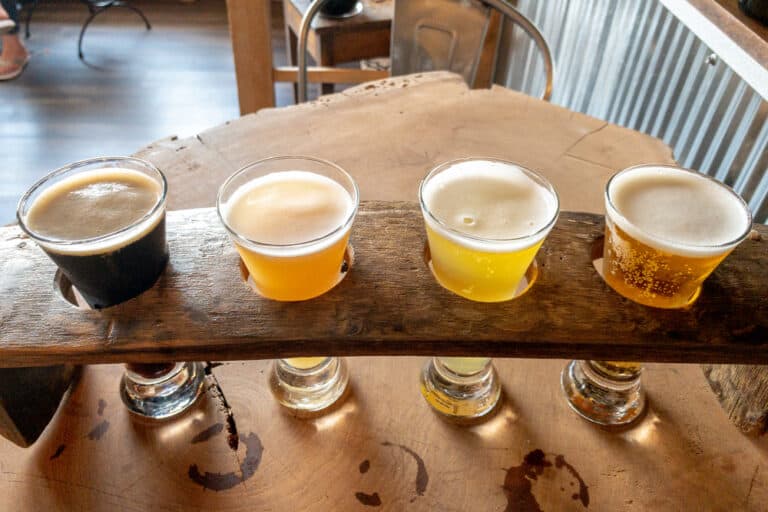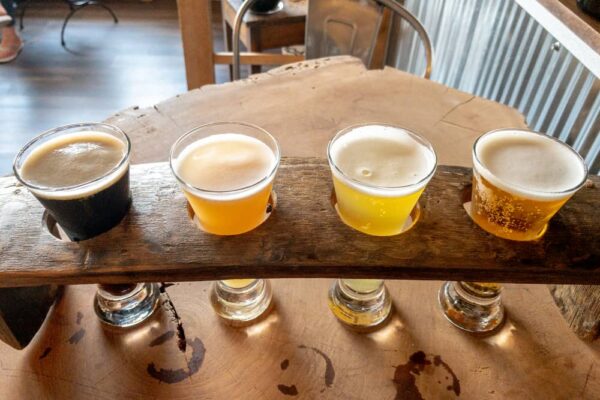 Olde Bedford Brewing is located inside a Bedford, PA bicycle shop. This brewery opened to the public in early 2018 and has since opened a second location near Raystown Lake.
Compared to many small-town breweries I've visited, I was pleasantly surprised by the quality of the beer at Olde Bedford. During my visit, they had 10 different beers on draft, as well as their home-made rootbeer.
While each of the four beers I sampled was good, the standout was the Jungle Love Coco Espresso Porter, which had a great combination of chocolate and coffee taste.
Chatty Monks Brewing Co in Reading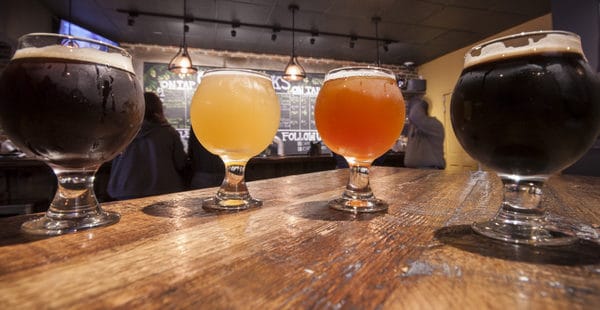 Open in 2013, West Reading's Chatty Monks Brewing Company is a great place to stop if you're exploring Berks County, PA.
Despite the name, Chatty Monks doesn't just do Belgian-inspired beers. In fact, they have a really nice range of beers including a delicious milkshake IPA that features a rotating fruit flavor.
This is also a great spot to eat, and their fish and chips is one of the best I've had in PA.
Susquehanna Brewing Company in Pittston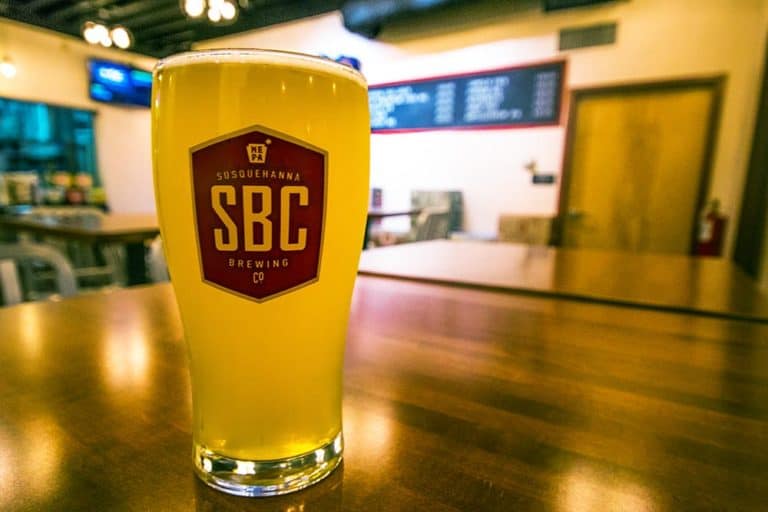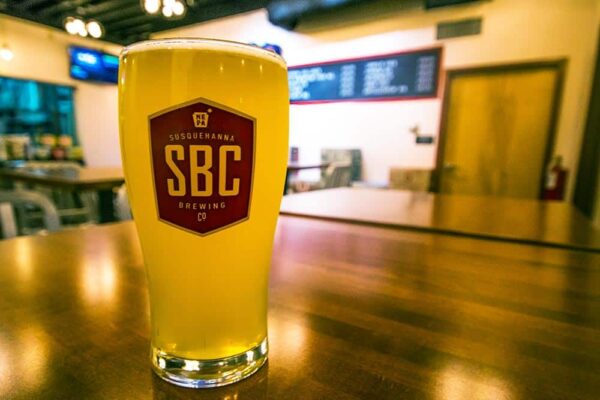 Susquehanna Brewing Company is located in Luzerne County, PA, and is run by a family with six generations of brewing tradition (though this brewery has only been open since 2012).
SBC, as it's often called, features a handful of flagship beers and some popular seasonal and experimental offerings. They are probably best known for their award-winning shandies that are perfect for summertime drinking.
Their taproom is located in the corner of their large warehouse and while it's in an industrial building, it's actually a nice cozy place to settle in for a drink or two.
Dancing Gnome Brewery in Pittsburgh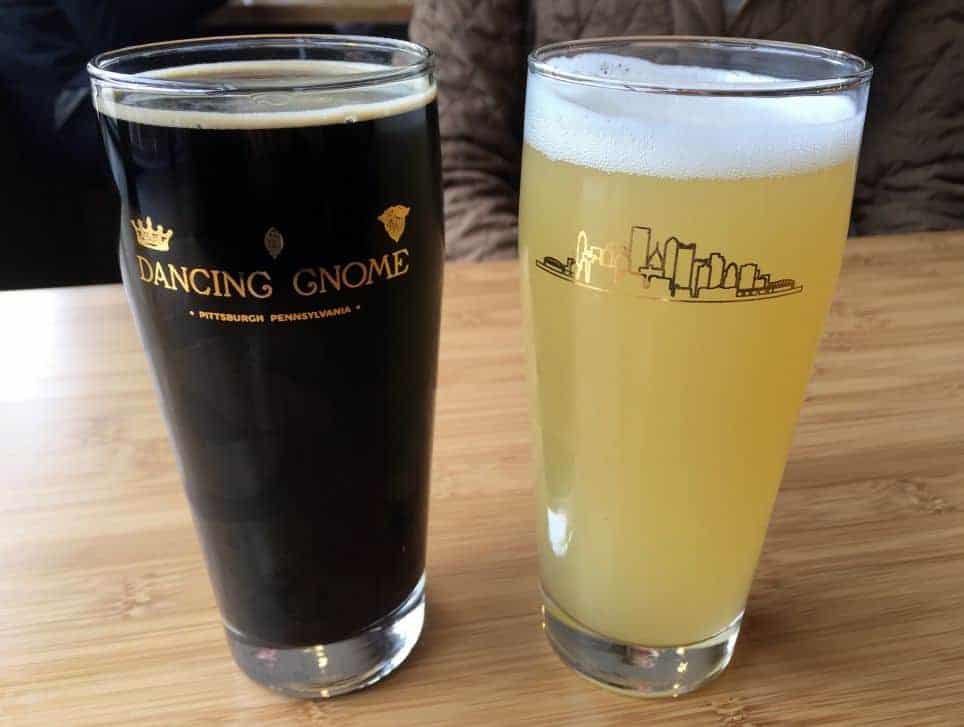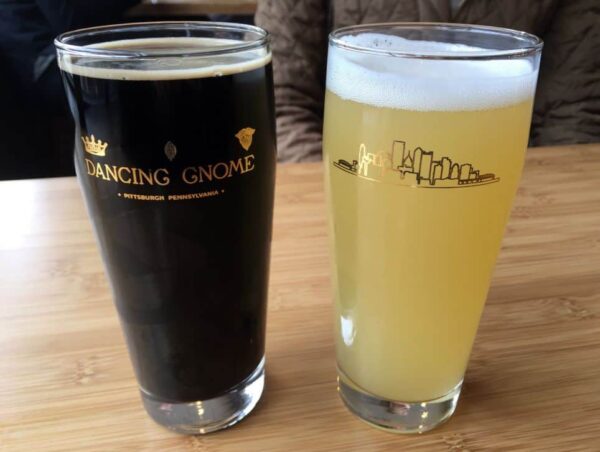 Without question, Dancing Gnome Brewery is one of my favorite craft breweries in Pittsburgh.
Dancing Gnome is known for its hop-forward beers and, but does a great job balancing flavors so that even those that don't love hoppy beers can find something they love here, while those that love hops will be in heaven.
Their brewery in downtown Sharpsburg, just outside the Pittsburgh-city limits, is a cozy place to settle in for a few great beers. While they don't offer flights here, they do offer half-pours, so you can more easily sample at least two beers during your visit.
Selin's Grove Brewing in Selinsgrove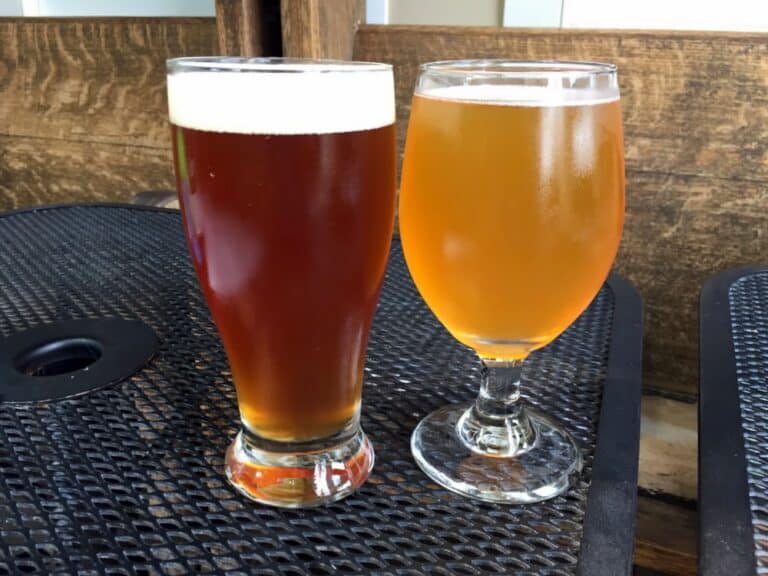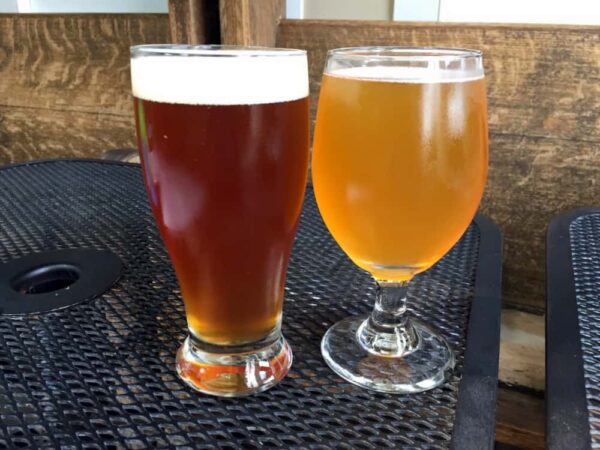 Housed in a two-hundred-year-old building that was constructed by a former governor of Pennsylvania, Selin's Grove Brewing offers some of the tastiest brews in Central Pennsylvania.
Open in 1996 by two former employees of New Belgium Brewing, Selin's Grove Brewing might be small, but that's not because of the incredible quality of their beer. In fact, if you love fruited beers, Belgian-inspired beers, and sour beers, you'll absolutely love the offerings at Selin's Grove Brewing.
That being said, they do offer a bit of something for everyone, and I've quite enjoyed all of the beers I've had a chance to try here.
Yards Brewing Company in Philadelphia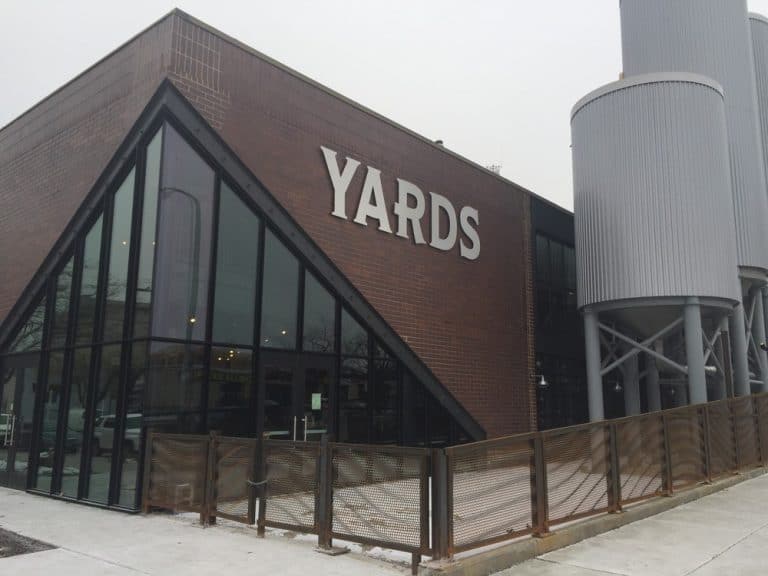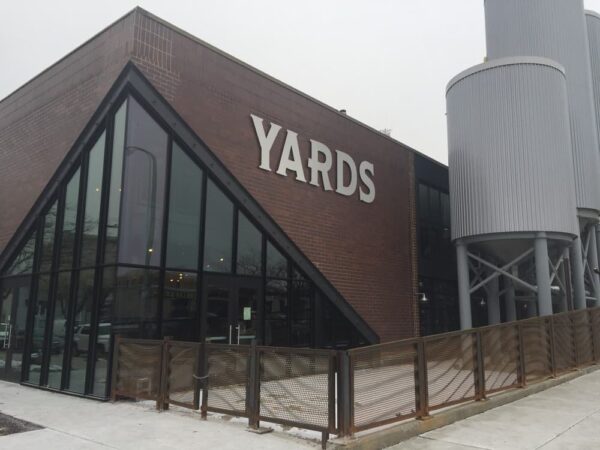 Yards Brewing Company is one of the oldest and largest breweries in Philadelphia.
Over the years, they have moved several times within the city and now occupy a large brewery and taproom along Spring Garden Street with a ton of indoor and outdoor seating.
Yards is probably best known for their Ales of the Revolution series. For these beers, they have taken recipes brewed by several Founding Fathers and reproduced them for a 21st-century audience. This combination of history and modern techniques creates some really delicious beers that fit perfectly into this historic city.
Of course, for those that prefer newer styles such as sours and IPAs, Yards also has you covered.
Church Brew Works in Pittsburgh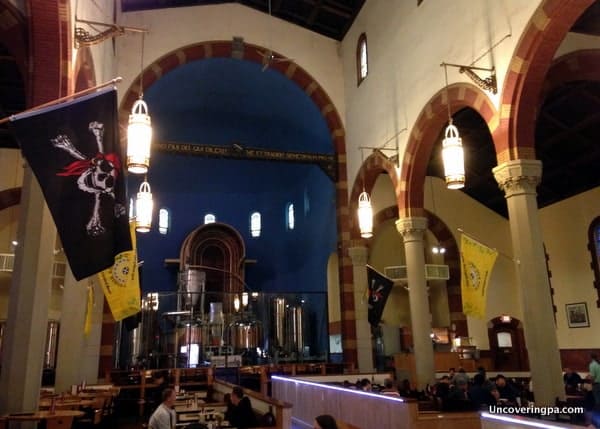 There is probably no brewery in PA that has a more unique setting than Pittsburgh's Church Brew Works. That's because this brewery is located within a once-abandoned Catholic church that was built in 1902.
While the setting makes this spot worthy of inclusion on its own, Church Brew Works also features some tasty craft beers. Their best beer is probably their Pious Monk Dunkel, which has won many awards, including a gold medal at the 2019 Great American Beer Festival, but they also many other tasty brews.
Mellow Mink Brewing in Mechanicsburg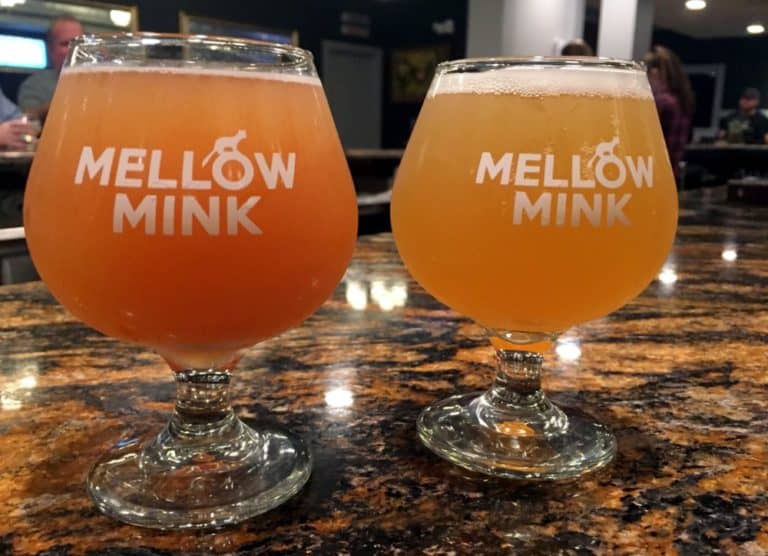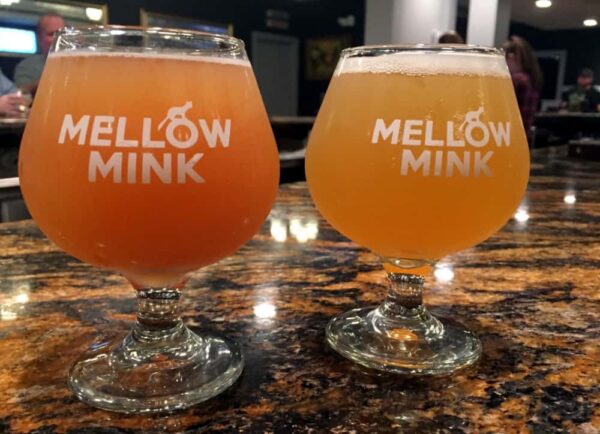 Mellow Mink Brewing opened in 2018 and is one of the best places for fruit and sour beers in the Harrisburg area.
Mellow Mink's taproom is located in the middle of a shopping center which is rather unusual among PA breweries. They are known for their incredible sour beers which are already among the best in the state.
They also produce some incredibly delicious IPAs and stouts, so you definitely won't be missing out if you don't love sour beers.
New Trail Brewing Company in Williamsport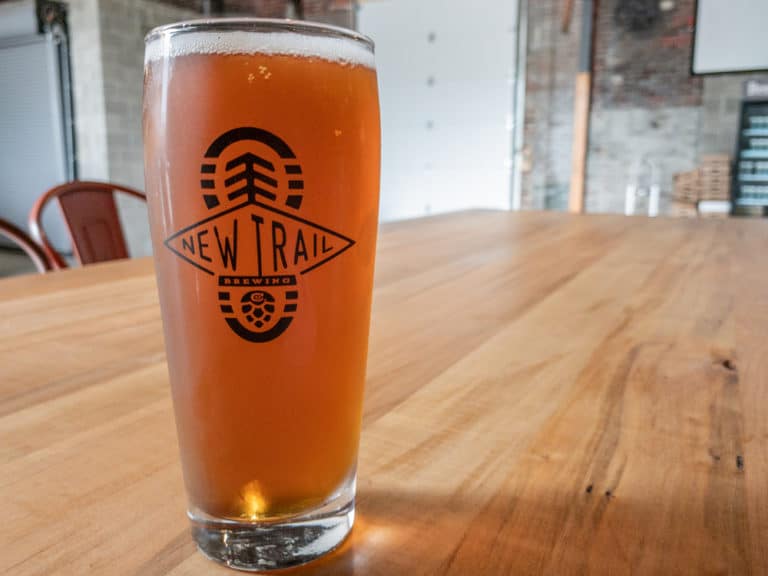 New Trail Brewing is located on the outskirts of downtown Williamsport in a large warehouse.
Opened in early 2018, New Trail has quickly made a name for itself with its impressive beers, especially in the hazy IPA and double IPA category. That being said, they do also have some impressive pilsners and even featured some bourbon barrel-aged beers.
One of my favorite aspects of this brewery is their beer naming, which often pulls from local places and hiking trails in central and eastern Pennsylvania.
Erie Brewing Company in Erie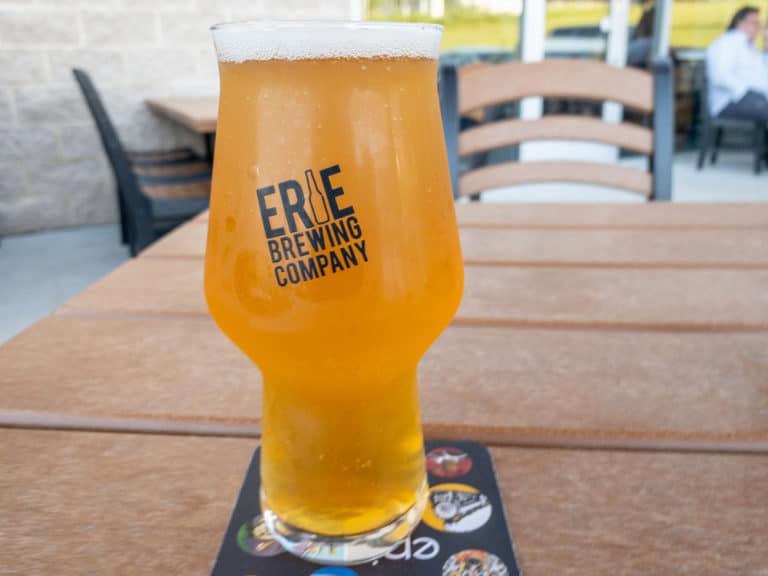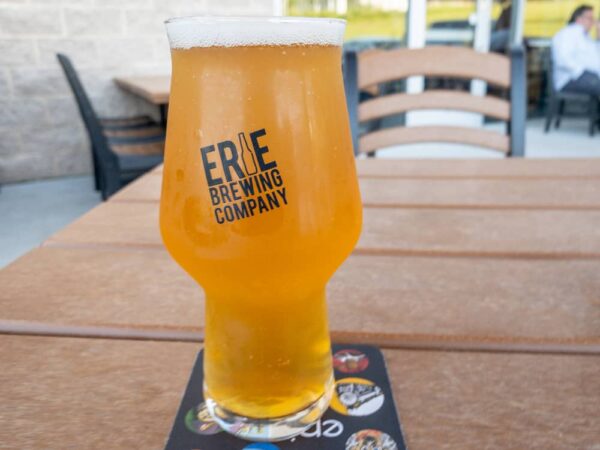 There are many tasty breweries in Erie, PA, but without a doubt, one of the best is Erie Brewing Company.
Erie Brewing Company first opened in 1994 and now runs a large taproom just outside of downtown Erie. Their beers to be a bit less experimental than some breweries, but they do offer a lot of great options for lovers of tasty beer.
Their most popular beers included Derailed Ale (a black cherry cream ale), Misery Bay IPA, and Railbender Scottish Style Ale.
Spring House Brewing Company in Lancaster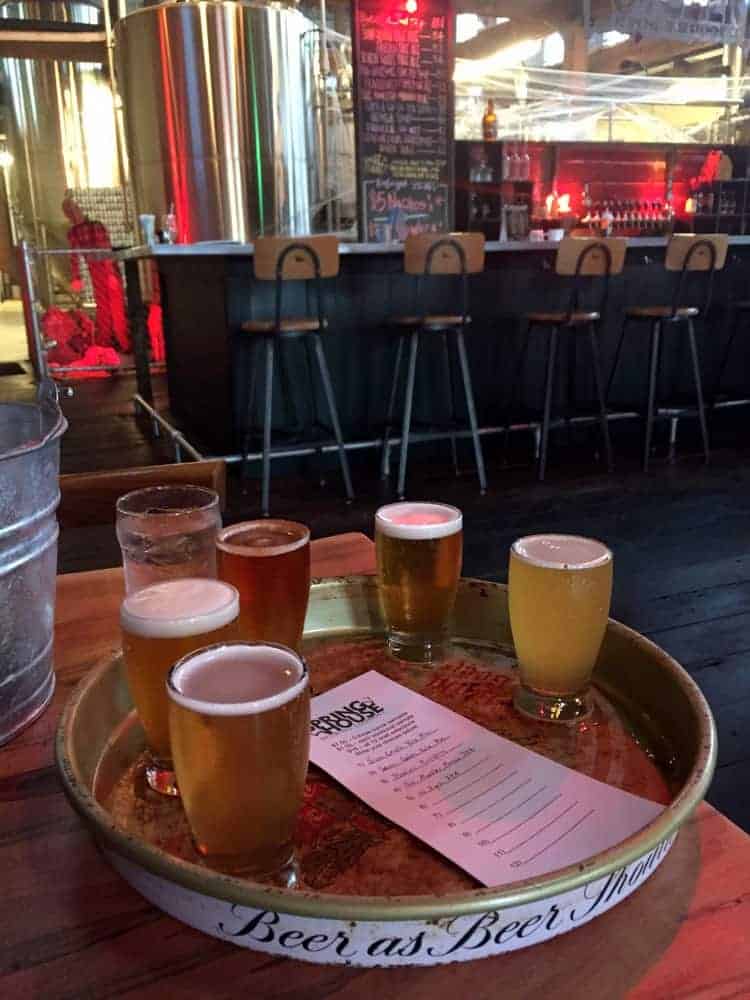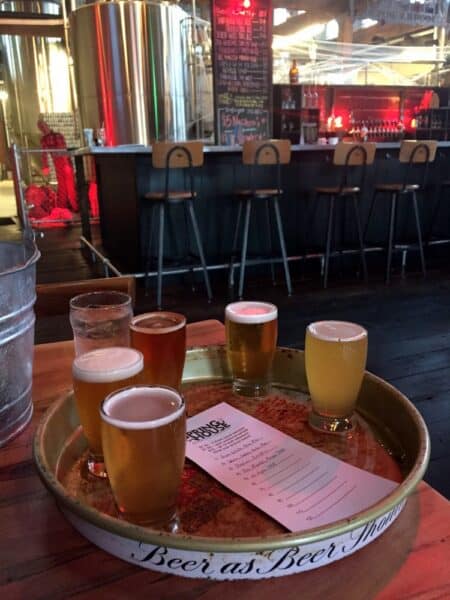 Spring House Brewing Company is one of many great breweries in Lancaster. In fact, they have two different locations just a few miles from each other: a small taproom in downtown Lancaster and a larger taproom just south of the city. They also have a third location in Lititz.
Spring House is best known for their hazy IPAs, including their year-round beer, The Astounding She-Monster, a mango hazy IPA. They also have a year-round chocolate peanut butter stout which is quite good.
Of course, they round these beers out with a selection of limited-edition and seasonal beers that you can get in their taprooms.
Strange Roots Experimental Ales in Pittsburgh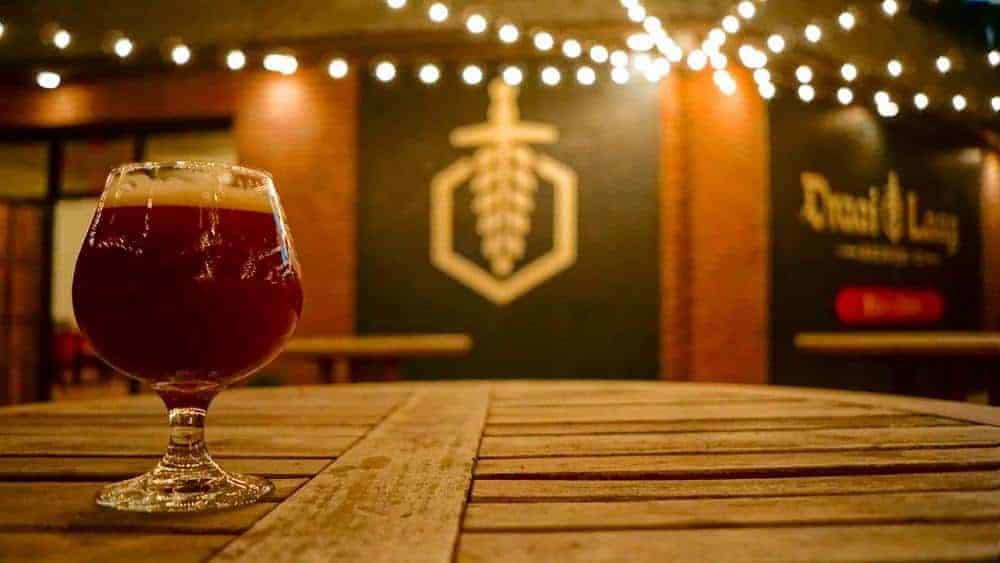 Strange Roots Experimental Ales might be home to the most inventive and best tasting sour beers and farmhouse ales in Pennsylvania.
Formally known as Draai Laag, Strange Roots has two locations in Pittsburgh: Millvale and Gibsonia. At each of these spots, you can try their unique creations. While their beer might not be for everyone, they have mastered the art of brewing some of the most interesting beers in the state.
The beers here are always changing, but you can be sure you'll find something unique at Strange Roots.
Winding Path Brewing Co in Dallastown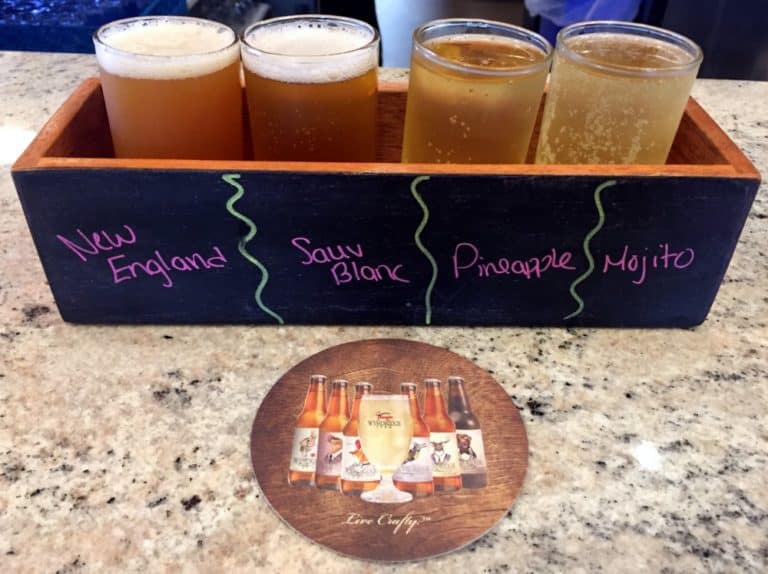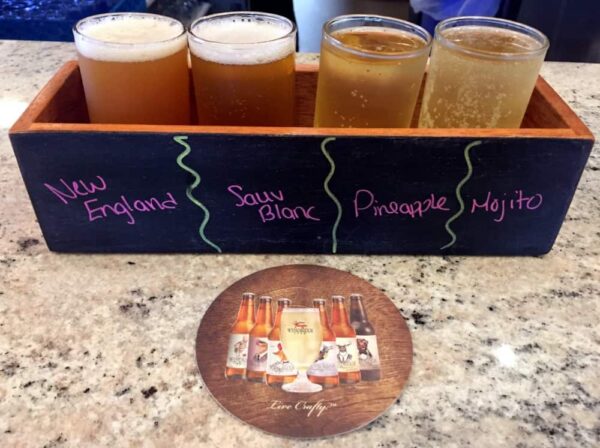 Located in southern York County, Winding Path Brewing Co is part of Wyndridge Farm. And, while they are a bit in the countryside, this is a place that's definitely worth the drive to visit.
This great spot features a delicious brewery, great hard ciders, and even a popular restaurant and wedding venue on the property.
While they might be better known for their ciders, which you can also try here, Winding Path makes some great beers. Their beers here definitely swing to the inventive side and they aren't afraid to go big on the fruit or other additives in their beers.
Two Rivers Brewing in Easton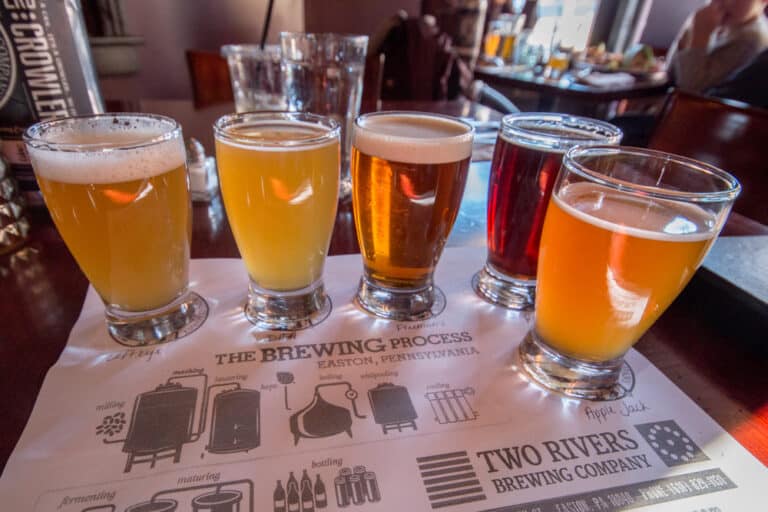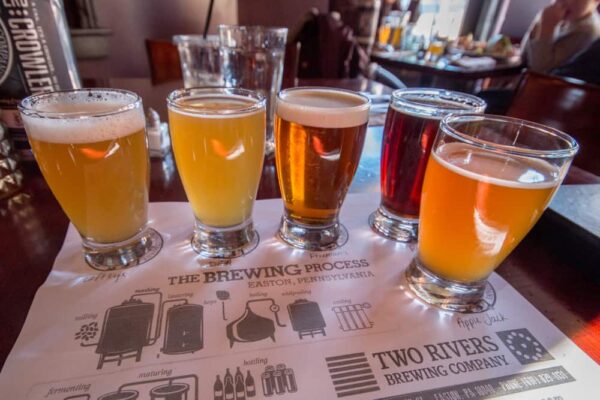 While Weyerbacher gets most of the attention in Easton, Two Rivers Brewing is another fantastic option to try when visiting.
Two Rivers Brewing is located inside an old hotel near the downtown area of the city. They also have a taproom in Quakertown, PA.
They are well known for their hoppy beers, such as Colonel Left Eye IPA, but they have also won some major awards for other styles. In fact, their Six Fingers Sam Saison won a gold medal at the Great American Beer Festival and their Bangor Slate Baltic Porter won a gold medal at the World Beer Cup.
Rotunda Brew Pub in Hershey and Annville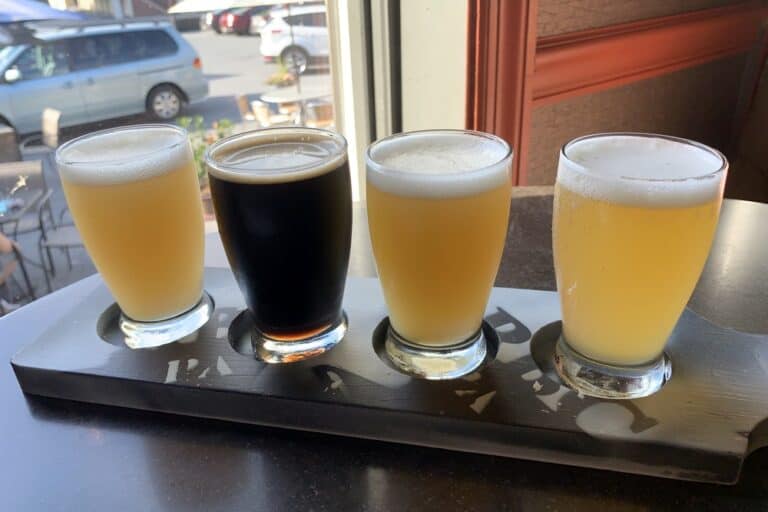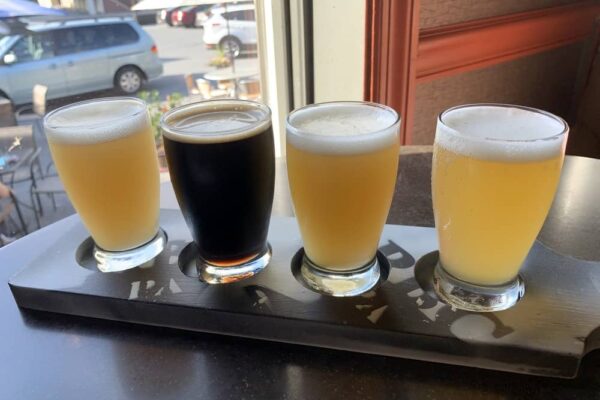 Rotunda Brew Pub opened in 2014 and has locations in Hershey and Annville.
They offer a wide variety of very delicious and full-flavored beers. They are probably best known for their sWheat Tart and Snow Cone series, both of which are fruit-heavy beers with sour notes. However, even if you don't like sours, these are still excellent beers.
Rotunda also features other incredibly delicious and inventive beers, mostly in the stout and IPA styles.
Sly Fox Brewing Company in Pottstown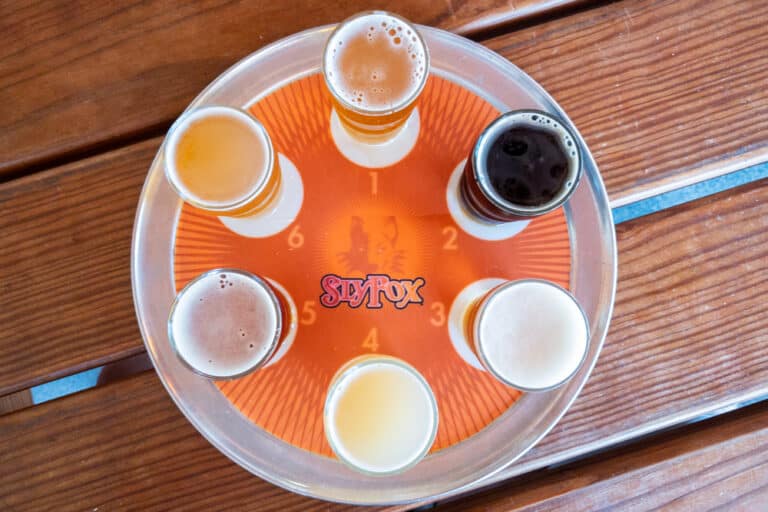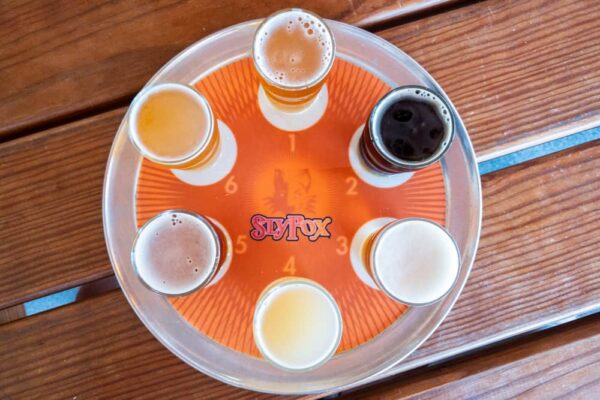 Sly Fox Brewing is located in the Philadelphia suburb of Pottstown, though they do also have taprooms in Phoenixville, Wyomissing, Malvern, and Pittsburgh.
Sly Fox first opened in 1995 and has gained popularity over the years for its great IPAs. They have also won many awards over the years at competitions like the Great American Beer Festival.
Each of Slyfox's locations offers a taproom and the chance to try both their regular releases as well as unique seasonal and limited beers.
Reclamation Brewing Company in Butler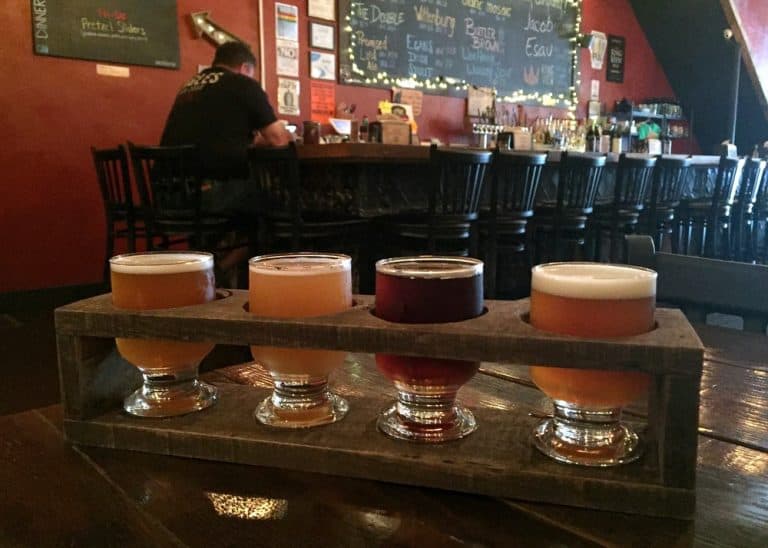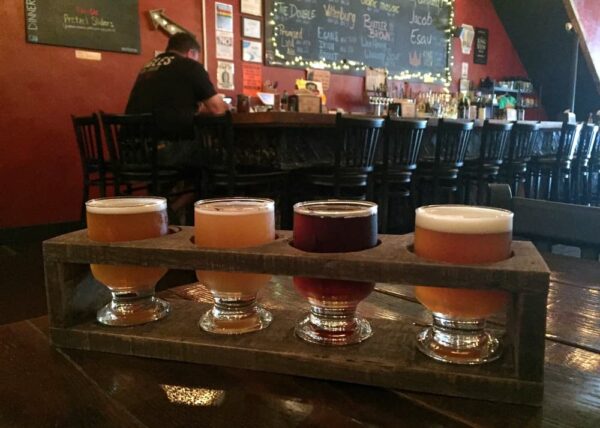 Reclamation Brewing Company is one of several great breweries in downtown Butler, Pennsylvania.
Their small brewpub is located in the heart of the city and is a great place to try their delicious beers. While their slogan "We're not beer snobs, we just think beer shouldn't be crap" might lead you to believe that they only produce average beers, they actually produce some of the best brews you'll find in northwestern PA.
I had a chance to try four different beers at Reclamation and was incredibly impressed with all of them. What I especially loved was the inventiveness of the beers here that led them to taste, in a good way, unlike many of the other beers I've found at Pennsylvania breweries.
**Note: Reclamation is currently closed but is looking to open at a new location in the future**
Fermentery Form in Philadelphia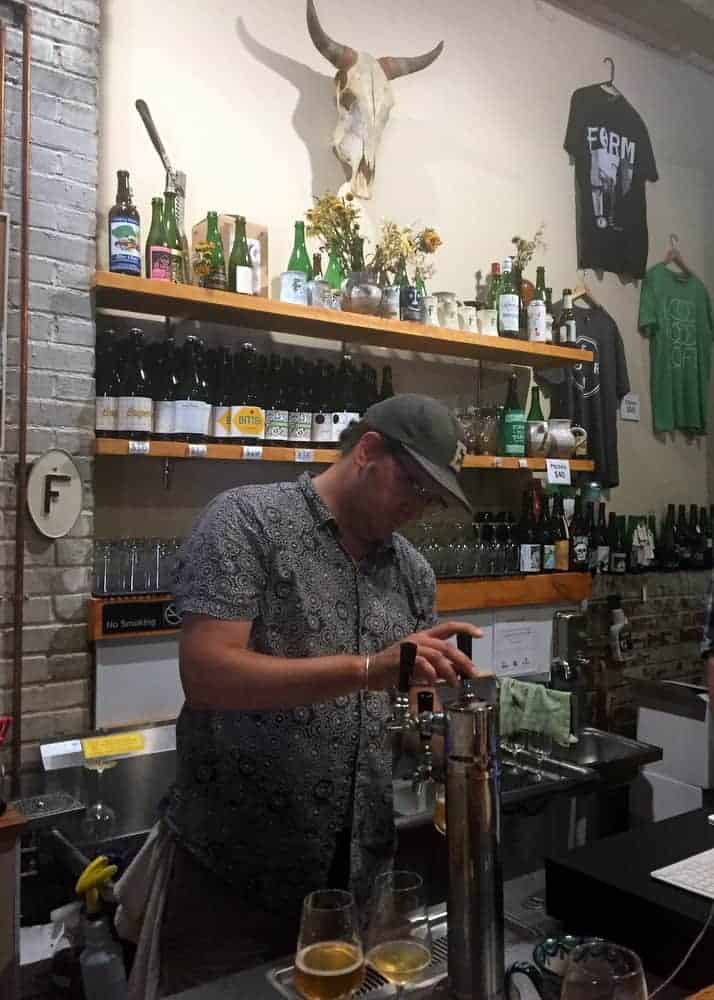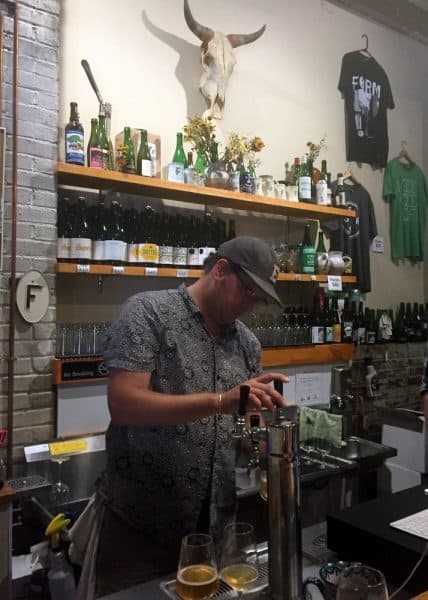 Fermentery Form in Philadelphia might be one of the least known breweries in PA. However, if you love sour beers, you'll definitely want to seek out this spot.
Located behind an unmarked door in a back alley, Fermentery Form doesn't actually brew their own beer. Instead, they purchase wort from other breweries and create incredible beers through their flavoring and aging process.
This creates some of the most unique sour beers you'll ever come across.
Black Monk Brewery in Erie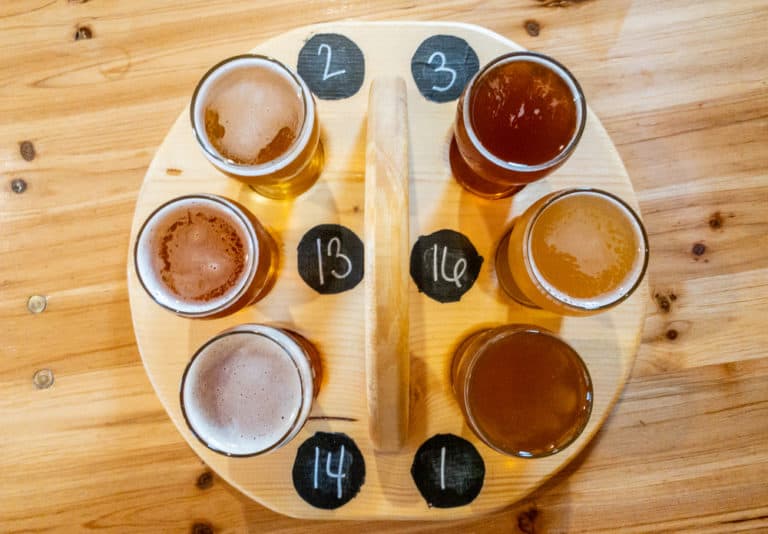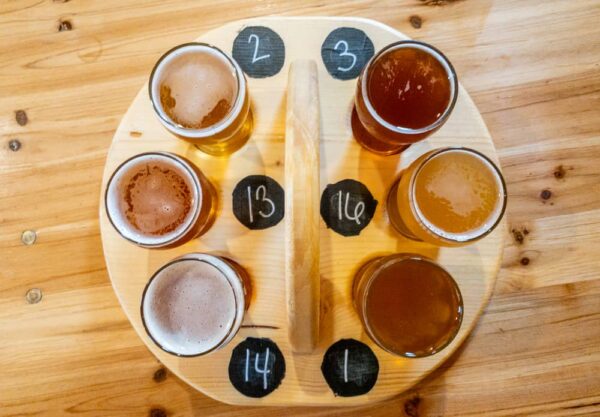 Black Monk Brewery is located west of downtown Erie and features some of Western PA's most delicious Belgian-inspired beers.
Black Monk features a huge selection of beers. In fact, when I visited, they had 17 different beers on draft. While they span all the styles of beer, they focus on Belgian beers. That being said, they also have some very delicious IPAs.
If you love strong and full-flavored beers, this is a spot you won't want to miss when visiting northwestern PA.
Stony Run Brew House in York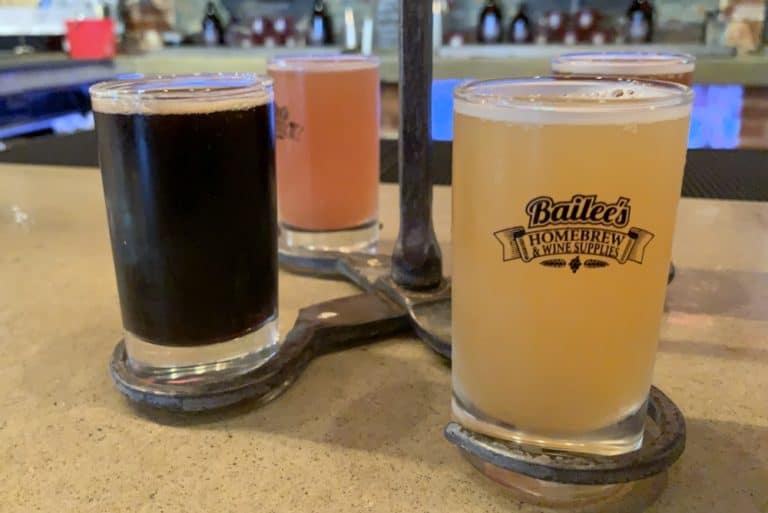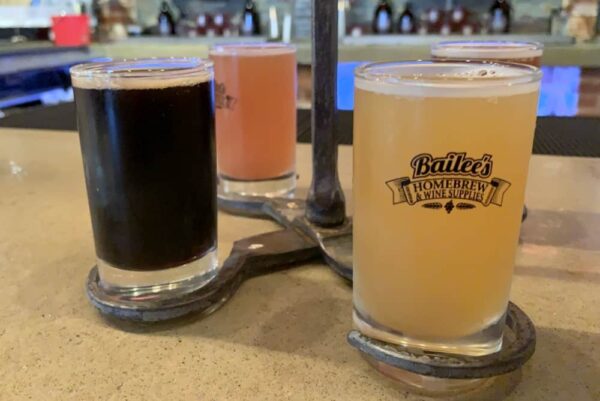 Stony Run Brew House is another of my favorite breweries in York, PA.
During my visit, Stony Run had 16 different beers on tap, assuring that there's a bit of something for every beer lover to enjoy. What I especially loved about this spot was that they had some really creative and out-of-the-box beers that were incredibly delicious.
These included a creme brulee stout, several fruity milkshake IPAs, and a strawberry colada cream ale, all of which were incredibly delicious.
Evil Genius Beer Company in Philadelphia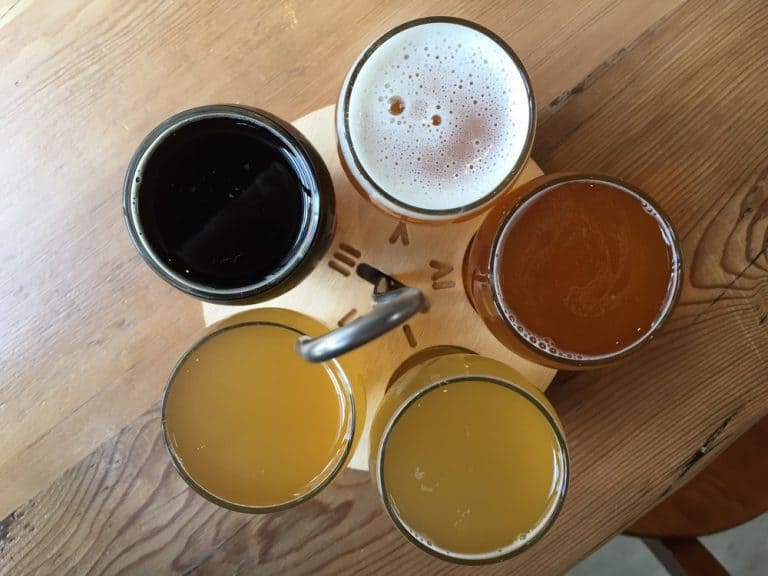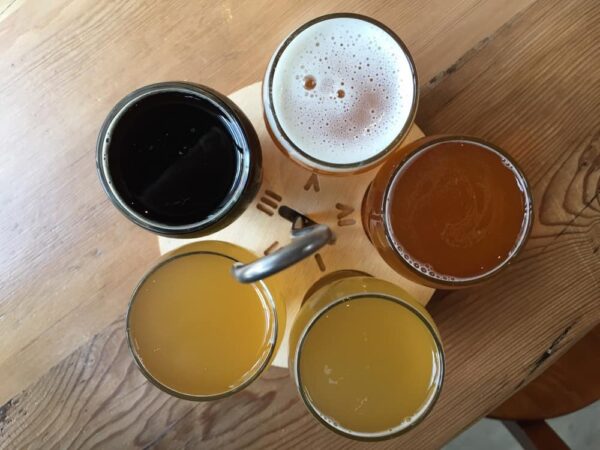 While I love the beers at Evil Genius Beer Company, I must admit that what I love most about them is the humorous and unusual names they give their beers. I mean, where else can you order beers with names like Purple Monkey Dishwasher, #Adulting, and Stacy's Mom?
Of course, just because a beer has a great name, that doesn't mean that it tastes good. Fortunately, Evil Genius is also one of the best breweries in Pennsylvania.
While they probably have more IPAs than any other style, Evil Genius definitely has beers in nearly every possible style, including some very unique options. Even better, you can get some special beers at their taproom that you won't find in stores.
Do you have any favorite Pennsylvania breweries that we didn't include on this list? Let us know in the comments below.
Looking for more great things to do in PA? Check out our Pennsylvania bucket list, explore our favorite Pennsylvania waterfalls, our favorite breweries near State College, and see the most beautiful covered bridges in PA.