Disclosure: This article may contain affiliate links. We will make a small commission from these links if you order something at no additional cost to you.
If you are looking for fun weekend getaways in PA, you've come to the right spot. I've spent more than 300 days crisscrossing Pennsylvania and looking for the best places to visit throughout the state.
Using this knowledge, I've put together 19 different Pennsylvania getaways below that cover every corner of this great state. They are organized by weekend getaways in PA for history buffs, families, couples, outdoor lovers, sports fans, and those looking for off-the-beaten-path destinations.
So, no matter what your interest, there is sure to be a weekend trip in Pennsylvania below that you'll enjoy.
Weekend Getaways in PA for History Buffs
If you love history, there are many great spots to visit in Pennsylvania. The three Pennsylvania getaway suggestions below offer a great glimpse into how PA has impacted the country and the world.
Philadelphia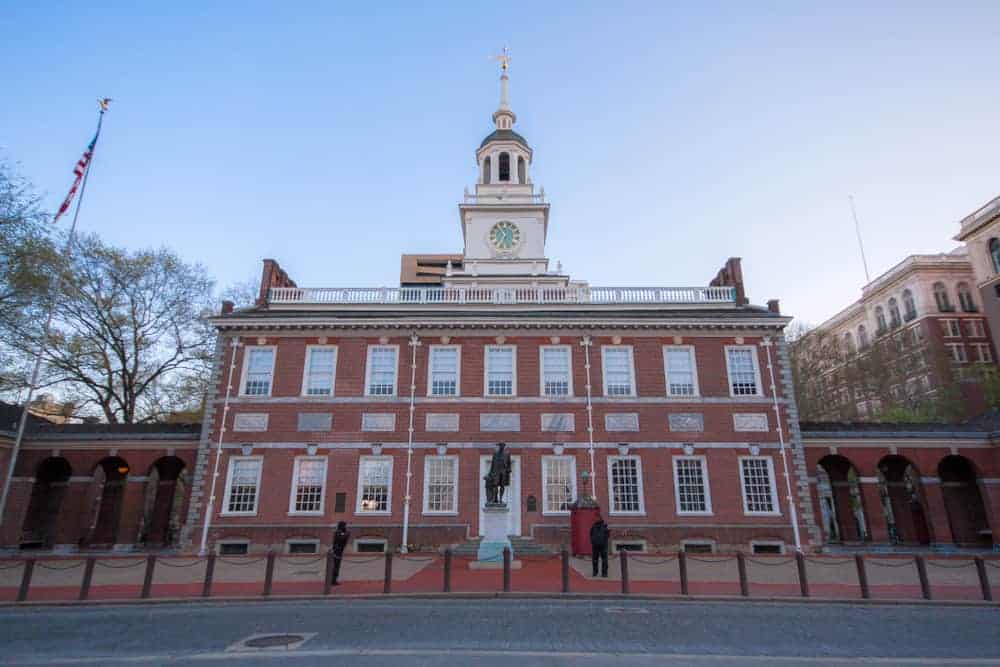 Where to Go: There might be no better weekend getaway in Pennsylvania for history buffs than Philadelphia. Home to the birthplace of America, visitors can tour Independence Hall, see the Liberty Bell, and the Museum of the American Revolution.
Beyond these sites, other historical spots worth exploring include the Penn Museum, the Philadelphia Museum of Art, the Mütter Museum, and Fort Mifflin.
Where to Eat: Reading Terminal Market is a historic market house that is home to some of the best food in Philly. There are many great places to get a cheesesteak in Philadelphia, some within walking or an easy ride from the historic core of the city.
Where to Stay: Located adjacent to Independence Hall, the Hotel Monaco is not only located steps from the city's most historic spots but is located inside a historic building built in 1907. Another great choice is the Loews Hotel, which is located in the first European-style skyscraper built in the United States and features amazing views of the skyline. There are also some great Airbnbs in Philadelphia.
Gettysburg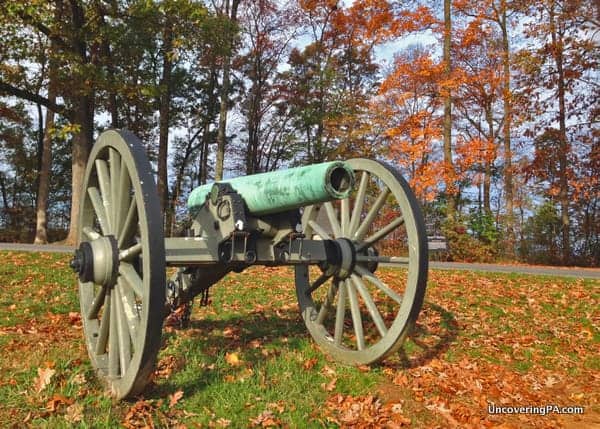 Where to Go: Those wanting to learn more about the Civil War won't want to miss Gettysburg. The Gettysburg National Military Park preserves this hallowed ground, and visitors can take guided or self-guided tours to learn more about this turning point of American History.
Other spots worth exploring in the area during your getaway include the Gettysburg Museum of the Civil War, the Seminary Ridge Museum, Civil War Tails, and the Eisenhower Homestead.
Of course, there are also many other ways to spend a weekend in Gettysburg if history isn't your thing.
Where to Eat: The historic Dobbin House was built in 1776 and was part of the Battle of Gettysburg. Today, the house is home to a fantastic restaurant that offers a great selection of both period fare and modern dishes. It's even said that the house is haunted by spirits from the battle.
Where to Stay: There are several bed and breakfasts in and around downtown Gettysburg that provide historic charm. However, one of my favorite places to stay is the Federal Pointe Inn, which was once a school before becoming a luxurious boutique hotel.
Altoona
Where to Go: If you love railroading history, you'll definitely want to plan a Pennsylvania getaway to Altoona. In the city, visitors can tour the Railroaders Memorial Museum which offers a fantastic look into the history of the Pennsylvania Railroad and the workers and families that it brought to the region.
Just outside of the city, spots like the Horseshoe Curve, Gallitzin Tunnels, and Allegheny Portage Railroad provide more context into the region's history.
Beyond trains, don't miss other historic spots like Fort Roberdeau and Baker Mansion, just a few of the many great things to do in Altoona.
Where to Eat: Tom and Joe's Restaurant has been serving food for reasonable prices since 1933 and offers a great throwback to a time when the railroad ruled Altoona. A bit south of Altoona, the US Hotel Tavern in Hollidaysburg once served diners riding the canal and serves great food.
Where to Stay: There are several historic bed and breakfasts in the Altoona area including the Allegheny Street Bed and Breakfast and Bell Mansion Bed and Breakfast. If you'd rather stay in a hotel, there is a great selection of chain hotels in the area.
Weekend Getaways in PA for Families
If you are looking for the perfect weekend getaway to take with the whole family, there are many great spots around Pennsylvania. Here are three of my favorite spots that the kids will enjoy as much as the parents.
Hershey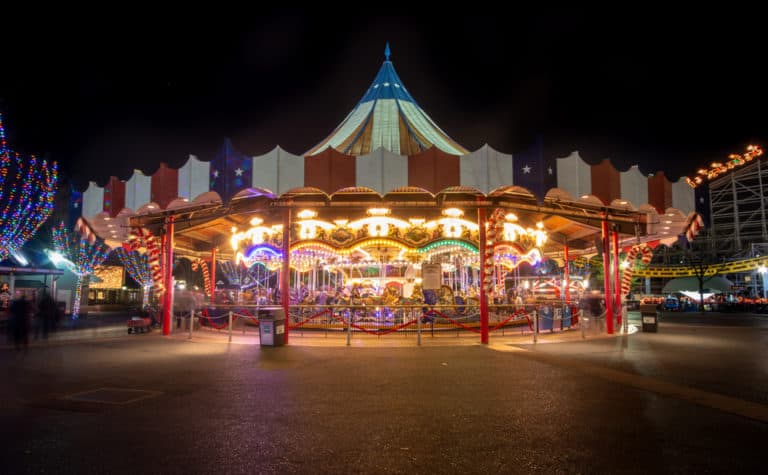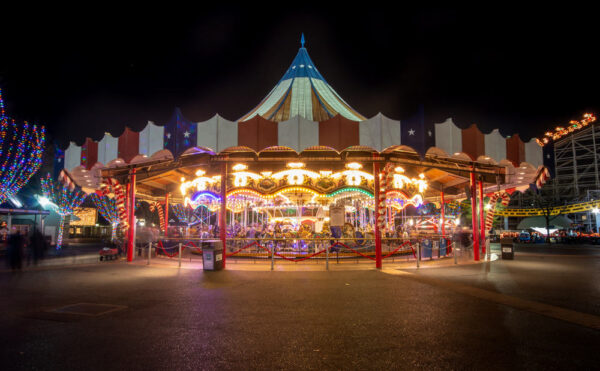 Where to Go: Often called the Sweetest Place on Earth, there are many great things to do in Hershey. Probably the most popular and well known is Hersheypark. This amusement park features many great rides including roller coasters and a fun waterpark.
Adjacent to Hersheypark is Hershey's Chocolate World, which offers many fun attractions for the whole family. Other great family spots in the area include Indian Echo Caverns, Hershey Gardens, and the AACA Museum.
Where to Eat: Hershey's Chocolate World features several eateries, and while the food is average, the desserts are decadent and sure to be a hit with the whole family. Troegs Brewery is not only one of the state's best breweries but also features fantastic food. The brewery features an ambiance that's perfect for families and has a nice kid's menu and craft sodas for sale.
Where to Stay: Hershey Lodge is a great property that is perfect for the whole family. The rooms here are quite comfortable and it has a relaxed atmosphere and shuttle access to the park. Those looking for a higher-end hotel for the family will likely enjoy the Hotel Hershey.
Erie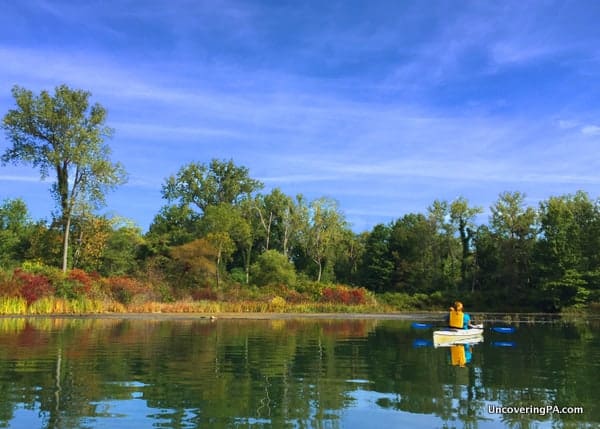 Where to Go: Located in the northwestern corner of the state, Erie is the perfect destination for a family getaway in PA. A large part of this is Presque Isle State Park. This park is located on Lake Erie and features 12 fantastic beaches with both sand and surf (but no salt water or sharks).
In addition to great beaches, Erie is also home to Waldameer Park, a pay-as-you-go amusement park, a minor league baseball team, and the Erie Children's Museum.
Where to Eat: Located next to the entrance to Presque Isle, Sara's is an Erie institution, and serves up casual food in a fun, retro environment. Other favorites include Hooks Catfish Kitchen and the many great breweries in Erie that serve delicious food.
Where to Stay: The Sheraton Erie Bayfront Hotel offers both great amenities and stunning views of the bay. You can even stay in and catch the sunsets from your room. Those looking for something more unique and an inexpensive weekend getaway in PA can camp directly on the beach at Sara's Campground.
Lehigh Valley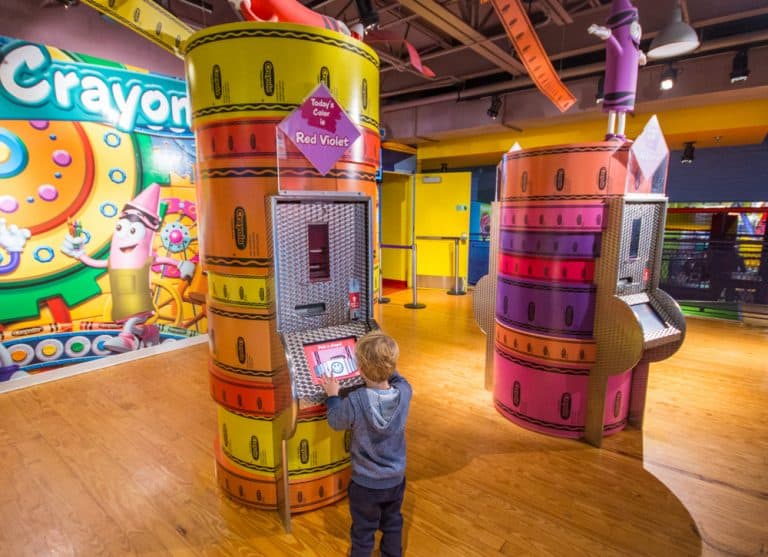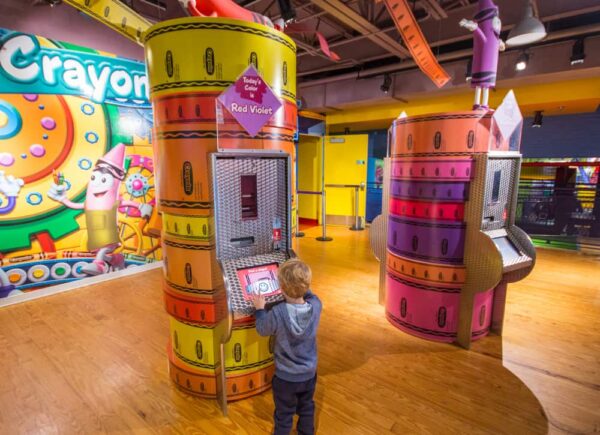 Where to Go: The Lehigh Valley is home to three cities and is perfect for a family getaway in Pennsylvania. Dorney Park in Allentown features many great rides and a fun waterpark.
Moving to the east, the Crayola Experience in Easton offers the chance for budding artists to have fun in a world centered around these popular crayons. Also in Easton, the National Canal Museum offers canal boat rides and interactive elements for kids.
During the holiday season, the region comes to life with highlights such as the Winter Light Spectacular and the Lehigh and Keystone Valley Model Railroad Museum.
Where to Eat: After a long day of traveling the Lehigh Valley with kids, you'll probably want an easy and relaxing dinner. Fortunately, the Lehigh Valley is home to several great hot dog spots include Yocco's and Blondies (which is also known for their awesome cupcakes).
Where to Stay: The best hotel in the region is the Hotel Bethlehem in downtown Bethlehem. This hotel is not only very comfortable but also centrally located near many of the mentioned sites. Located a bit further out is Bear Creek Mountain Resort which features skiing, a great pool, and many other amenities perfect for families.
The Leigh Valley also makes for a great day trip from Philly.
Romantic Getaways in PA for Couples
If you'd rather take a trip with your significant other, there are many romantic getaways in PA for couples. Whether you are looking for a luxurious weekend or something a bit more relaxed, there are many fantastic spots to choose from.
Nemacolin Woodlands Resort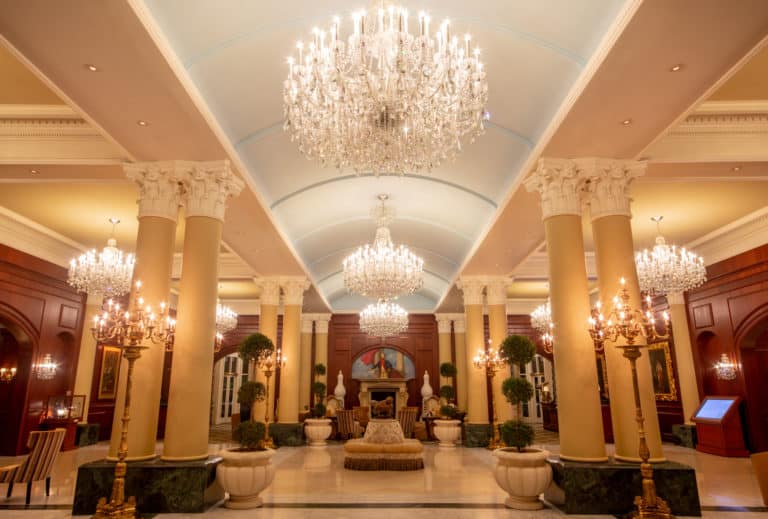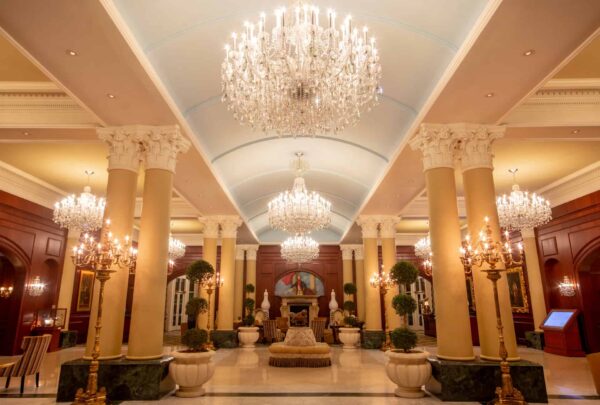 Where to Go: Nemacolin Woodlands Resort is located in southwestern Pennsylvania and is one of the most luxurious places to stay in Pennsylvania. In addition to relaxing, there are many great things to do on the resort's property including a spa, golf course, swimming pool, and a great art collection.
Couples looking for a bit more excitement can go clay shooting, have a 4-wheel drive adventure, hit up the casino, or go dogsledding (only in the winter, of course).
Where to Eat: Nemacolin features many great restaurants. It is home to Lautrec, one of only 30 restaurants in the world to have both the Forbes Five-Star and AAA Five Diamond designation for at least 10 years. If you're looking for something a bit more laid back, the resort is also home to a sports bar and a diner.
Where to Stay: Nemacolin features many places to stay from standard, but luxurious hotel rooms up to your own villa. Chateau Lafayette is a popular choice and features well-appointed rooms that are perfect for a romantic getaway in PA.
Lancaster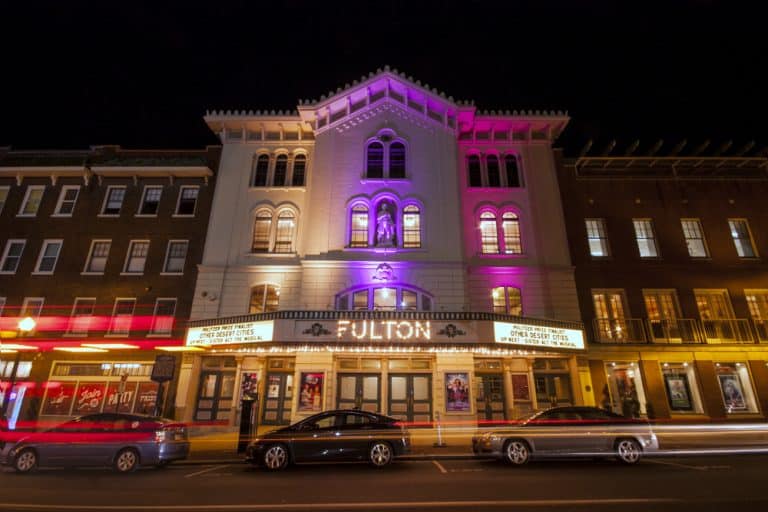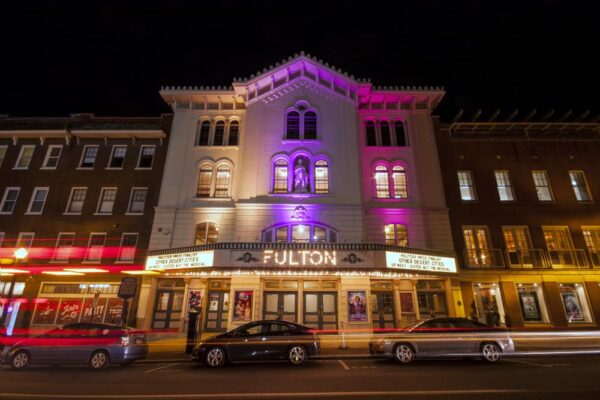 Where to Go: Whether you want to explore Amish culture or relax in a small town with big city vibes, Lancaster is a fun getaway for couples. Downtown Lancaster features many great art galleries and coffee shops to relax at, and there are several museums and historical sites to visit in the area.
Outside the city, you can visit Amish shops in Intercourse, take a tour of the area's covered bridges, or go for a peaceful stroll along the Susquehanna River.
Where to Eat: Lancaster features a great restaurant scene ranging from inexpensive eateries to breweries and several high-end spots. Those looking for a romantic meal will enjoy the Belvedere Inn and Ma(i)son. Other great options include Cork & Cap and Cabalar.
Where to Stay: The Lancaster Arts Hotel and Cork Factory Hotel are both located in the city and housed in renovated factories. They retain historic charm while adding great modern amenities. There are also many bed and breakfasts in the county, such as King's Cottage.
New Hope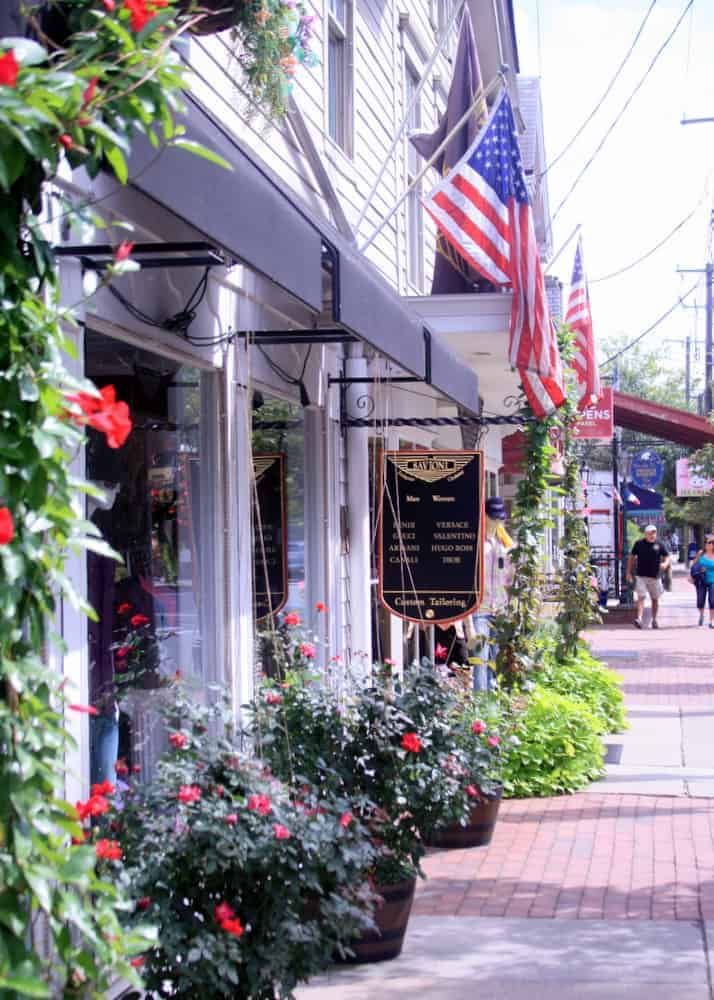 Where to Go: New Hope in Bucks County is one of the most charming small towns in Pennsylvania. Located along the Delaware River, this town is a popular weekend getaway spot in Pennsylvania for both those from Philadelphia and New York. However, it still retains its charm even on busy weekends and is perfect for a romantic couples getaway in PA.
New Hope is filled with great shops and quaint spots to sit and relax the day away, and in the evening, catch a show at the historic Bucks County Playhouse. New Hope is also a short drive from the amazing Mercer Mile in Doylestown, another town that is a great spot to explore.
Where to Eat: New Hope is filled with small eateries and you can't go wrong with any of them. Standouts include The Salt House and Cafe Blue Moose. Further afield, Caleb's American Kitchen in Lahaska and Maxwell's on Main in Doylestown are winners.
Where to Stay: Located 10 minutes south of New Hope, Pineapple Hill Inn Bed and Breakfast feels much further removed from it all and is very comfortable. Plus, their breakfasts are fantastic. If you'd rather stay in New Hope, Logan Inn gets great reviews.
Weekend Getaways in PA for Outdoor Lovers
If you love the outdoors, there are many fantastic weekend getaways in PA to keep you busy. All of these trips are perfect for the entire family, couples, or even solo retreats. Whether you love towering waterfalls, peaceful vistas, or adrenaline-pumping action, there's something for you below.
Endless Mountains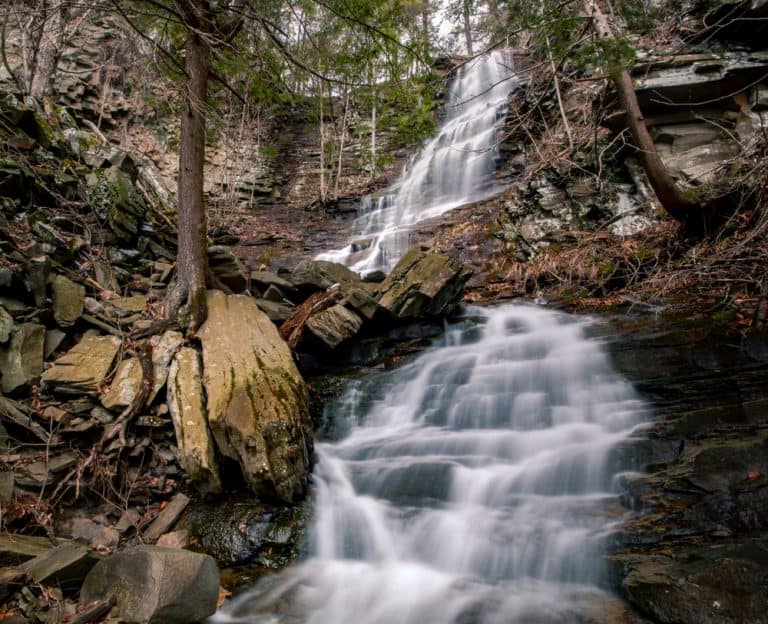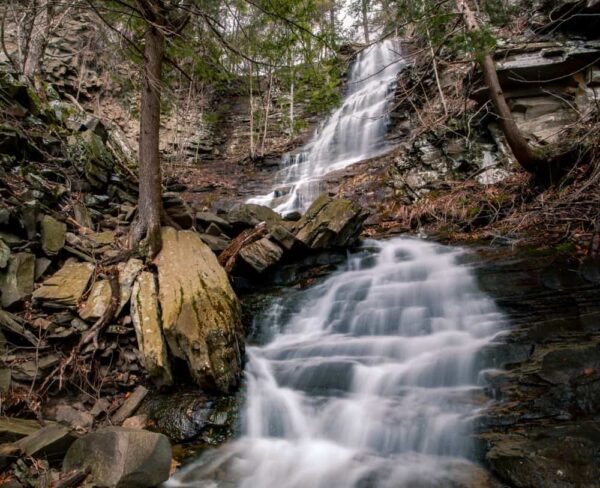 Where to Go: Located in northeastern Pennsylvania, the Endless Mountains are an outdoor lovers dream come true. The highlight of any visit to the region is Ricketts Glen State Park's Falls Trail. This trail features 21 waterfalls, with the tallest being 94 feet tall. Next door, State Game Lands 13 is home to just as many waterfalls, but without the trails, infrastructure, and crowds. If you want an adventure, this is where to head.
Also worth exploring is Worlds End State Park and Loyalsock State Forest. These connected parcels of land feature waterfalls, vistas, and the 60-mile Loyalsock Trail.
Where to Eat: Forksville General Store near Worlds End State Park is one of my favorite places to eat in PA, and they feature one of the best cheesesteaks around. Near Ricketts Glen, the Rickets Glen Hotel and Mountain Steak both feature delicious food.
Where to Stay: If you want to fully embrace the outdoors there are great campgrounds at Ricketts Glen State Park and Worlds End State Park. If you'd rather stay indoors, Hotel Harrington and Twin Spruce Tourist Home, both in Dushore, are great options.
Delaware Water Gap National Recreation Area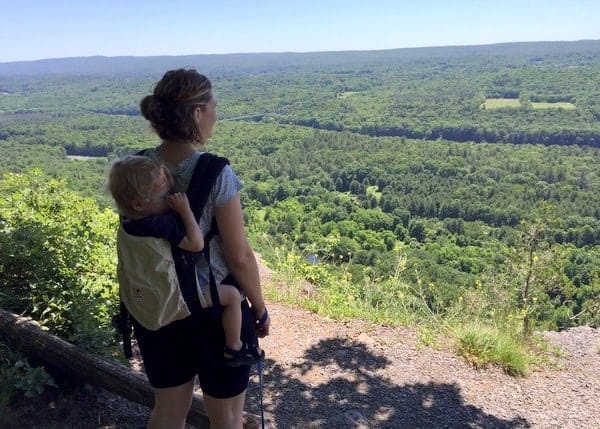 Where to Go: The Delaware Water Gap National Recreation Area is the closest thing PA has to a National Park, and it's a fantastic destination for a Poconos weekend getaway. The area is home to the tallest waterfalls in Pennsylvania, Raymondskill Falls and Dingmans Falls, as well as the popular Bushkill Falls.
Aside from the many waterfalls, the Appalachian Trail cuts through this area and there are great views to be had along the Cliff Park Trail System. If you want to learn more about our conservation history, tour Grey Towers in Milford, the home of influential conservator Gifford Pinchot.
Where to Eat: Dining options are non-existent within the Delaware Water Gap, but fortunately, there are great places to eat in both Stroudsburg to the south and Milford to the north. In Milford, try the Water Wheel Cafe, Carini Cucina and Pizzeria, and the Dairy Bar. In Stroudsburg, Flood's and The Cure Cafe get high praise.
Where to Stay: Like dining options, accommodation options are located primarily in Milford and Stroudsburg. In Milford, Harrington House is a cozy bed and breakfast that is a great place to relax. If you'd rather try out one of the famous Pocono resorts, Pocono Palace is a fine choice. There are also many Airbnbs nearby.
Ohiopyle State Park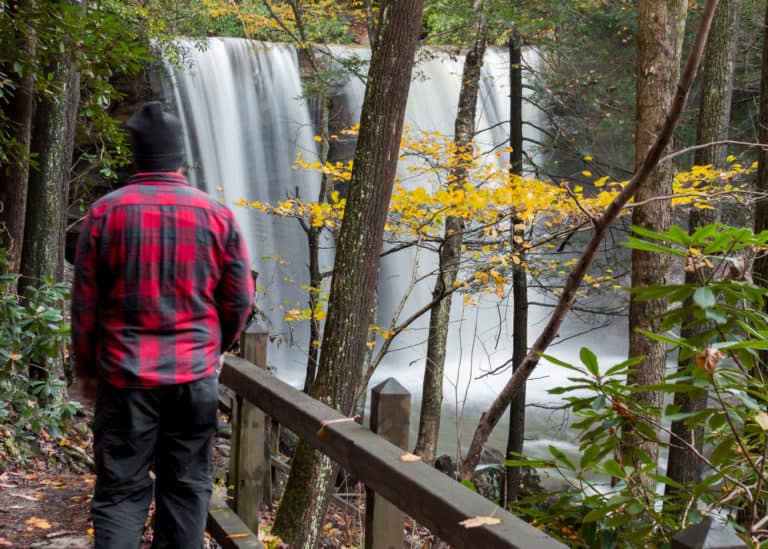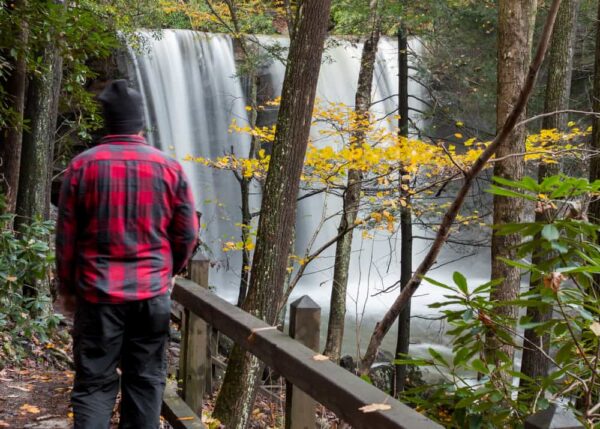 Where to Go: Southwestern PA's Ohiopyle State Park is a fantastic weekend destination for any outdoor lover. The park features easy-to-reach waterfalls, long-distance hiking trails, and beautiful vistas. Adrenaline junkies can also go white water rafting at one of the most popular spots east of the Mississippi.
If you find yourself in Ohiopyle on a rainy day, nearby Laurel Caverns offers the chance to explore the beauty of nature while staying dry.
Where to Eat: Ohiopyle State Park surrounds the small, but charming town of Ohiopyle. While options can be limited, especially outside of peak weekends, there are several great restaurants in Ohiopyle. In fact, to be honest, I haven't had anything bad to eat there despite trying most of the dining options. Highlights for me include the Falls Market, Ohiopyle Bakery and Sandwich Shoppe, and the Falls City Pub.
Where to Stay: Despite its popularity as an outdoor destination, accommodations are a bit slim in Ohiopyle, though there are some nice Airbnbs nearby. The town features the basic, but clean Yough Plaza Motel, and the park is home to a nice campground. A short drive away, there are nice places to stay including Nemacolin Woodlands Resort and The Summit Inn.
Pennsylvania Grand Canyon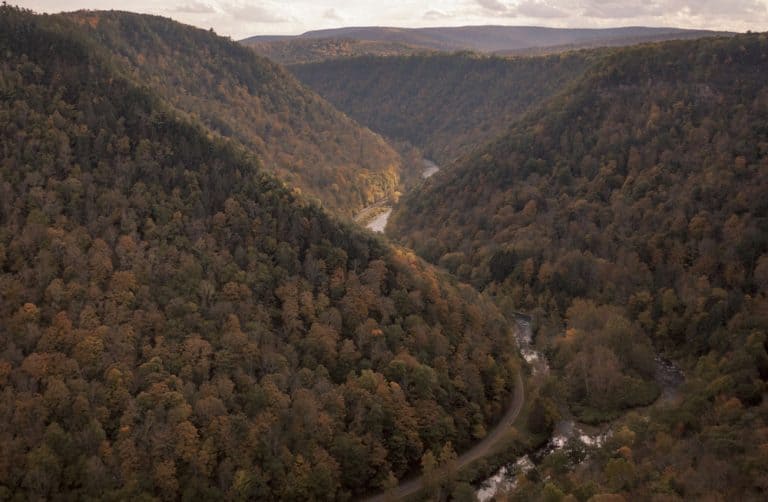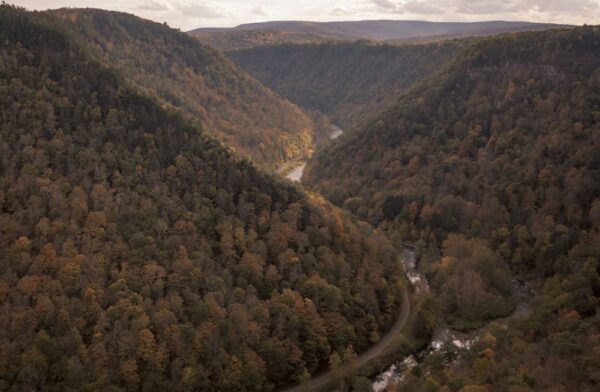 Where to Go: Known officially as the Pine Creek Gorge, the Pennsylvania Grand Canyon is one of the Natural Wonders of PA, and is one of the state's best destinations. The canyon can be enjoyed from one of two state parks on opposite rims, both of which feature hiking trails, great views, and waterfalls.
Those looking for long excursions can bike the 65-mile Pine Creek Rail Trail or hike the 30-mile West Rim Trail. Further away, stargazing at Cherry Springs State Park is worth the drive.
Where to Eat: Since there aren't any dining options at the PA Grand Canyon, you'll likely find yourself driving into nearby Wellsboro to eat. Great spots here include the Wellsboro Diner, Native Bagel, and Frog Hut.
Where to Stay: Aside from the campgrounds at Leonard Harrison and Colton Point State Parks, most of the places to stay are in Wellsboro. During my visits to the area, I've stayed at both the Penn Wells Hotel and the Canyon Motel and very much enjoyed the comfort of both.
Weekend Getaways in PA for Sports Fans
Pittsburgh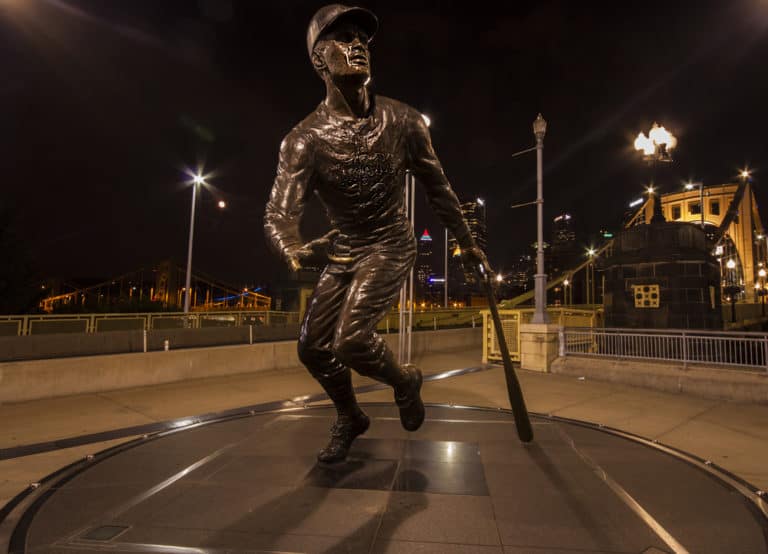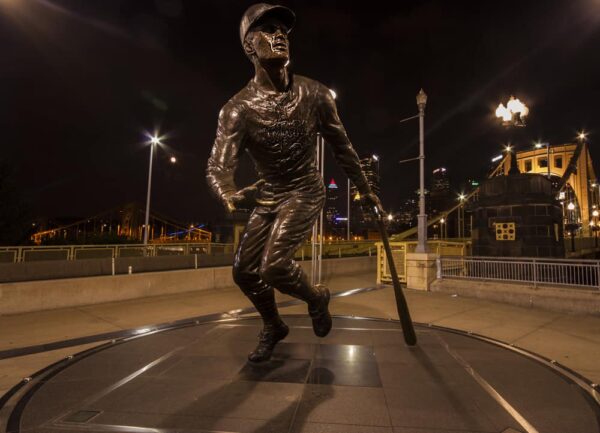 Where to Go: Without a doubt, Pittsburgh is one of the best cities for sports fans in the entire country. With three top-level professional teams (the Steelers, Pirates, and Penguins), along with the Pittsburgh Riverhounds soccer team and several Division-1 universities, you'll almost always have exciting activities to experience in the city.
Other than seeing games, sports fans can also visit the Western Pennsylvania Sports Museum, the Roberto Clemente Museum, tour PNC Park, or visit the graves of many great Baseball Hall of Famers.
Where to Eat: Primanti's is Pittsburgh's most famous eatery and offer a great feel and artifacts for sports fans to enjoy. Near the stadium complex, Stage AE opens with live entertainment and food during Steelers games. While in town, don't miss the tasty Roethlis"burger" at Peppi's sandwich shop.
Where to Stay: If you are planning to see a Pirates or Steelers game, the Residence Inn and Hyatt Place are within a short walk of both stadiums. On Steelers game days, you can ride the Gateway Clipper to the stadium from near the Sheraton at Station Square. For Penguins fans, the Cambria Hotel provides easy access to the games.
If you are visiting Pittsburgh for the first time, here are my suggestions for how to spend a great weekend in Pittsburgh.
Williamsport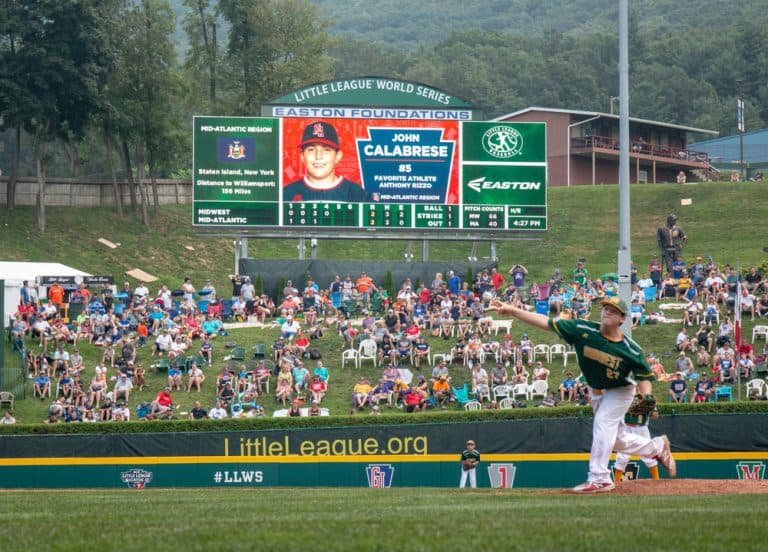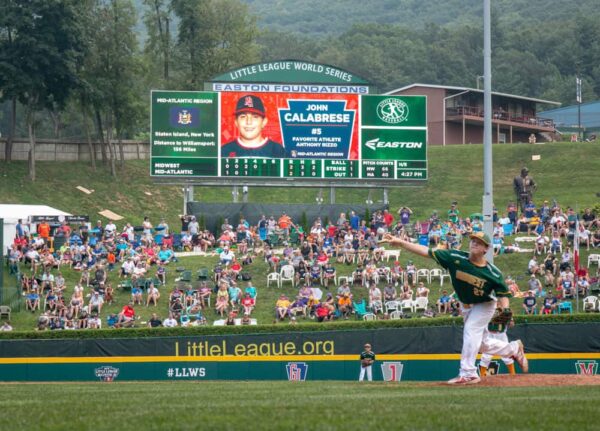 Where to Go: Williamsport, Pennsylvania, is the birthplace of Little League baseball and makes a perfect weekend getaway in PA for sports fans, especially during the Little League World Series in mid-August.
In addition to this amazing event, sports fans visiting any time of the year can tour the World of Little League Museum and see the fields where the first of the league's games were held. Williamsport is also home to Bowman Field, the second oldest minor league baseball stadium in the country, and the home of Single-A Williamsport Crosscutters.
Where to Eat: Located in downtown Williamsport, Bullfrog Brewery offers up both delicious food and tasty beers. If you're visiting during the Little League World Series, the food at the stadium is both inexpensive and surprisingly good.
Where to Stay: The Genetti Hotel in Williamsport is a historic hotel that gets rave reviews from guests. City Hall Grand Hotel is another great property, and they even have a Little League room for those that really want to dive into Williamsport's sports history during their Pennsylvania getaway.
State College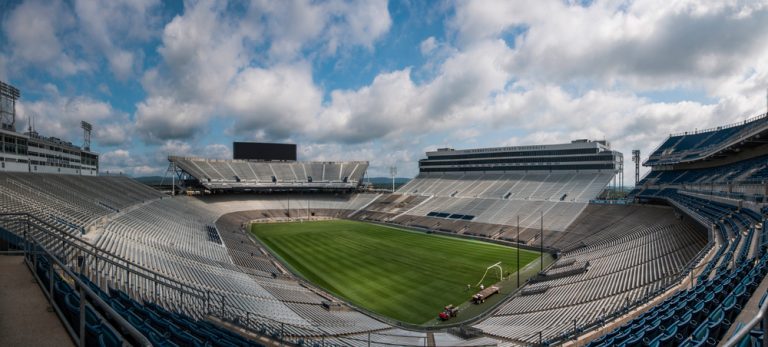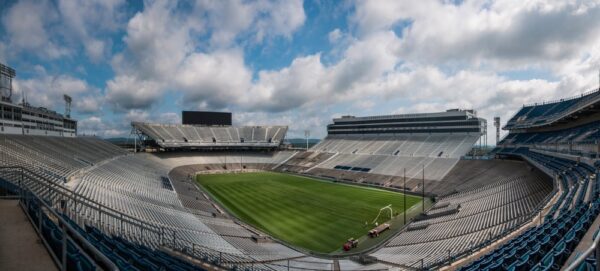 Where to Go: State College is one of the state's most popular destinations for sports fans primarily because of Penn State football. However, that's not the only reason to visit the area. Penn State competes in 31 total varsity sports, with their basketball and hockey teams being particularly popular.
Beyond collegiate sports games, the All-Sports Museum inside Beaver Stadium is worth visiting as it offers a fascinating look back at the university's athletic tradition, even if you aren't a fan of the school's teams. State College is also home to the State College Spikes, the Single-A affiliate of the St. Louis Cardinals.
Where to Eat: Both Otto's Pub and Brewery and Robin Hood Brewing offer delicious food, great craft beers, and the chance to watch Penn State sports on TV. The Penn State Creamery is also a must while visiting the area for their amazing ice cream.
Where to Stay: The Nittany Lion Inn is located on the Penn State Campus and offers a fantastic place to stay in this historic hotel. The Carnegie Inn and Spa is a located a short drive from downtown but offers a relaxing place to stay during your weekend getaway.
Off-the-Beaten-Path Getaways in PA
Pennsylvania is filled with well-known destinations, but there are also many off-the-beaten-path spots that are worthy of exploring during a weekend trip. Here are a few of my top picks for something a bit different.
Raystown Lake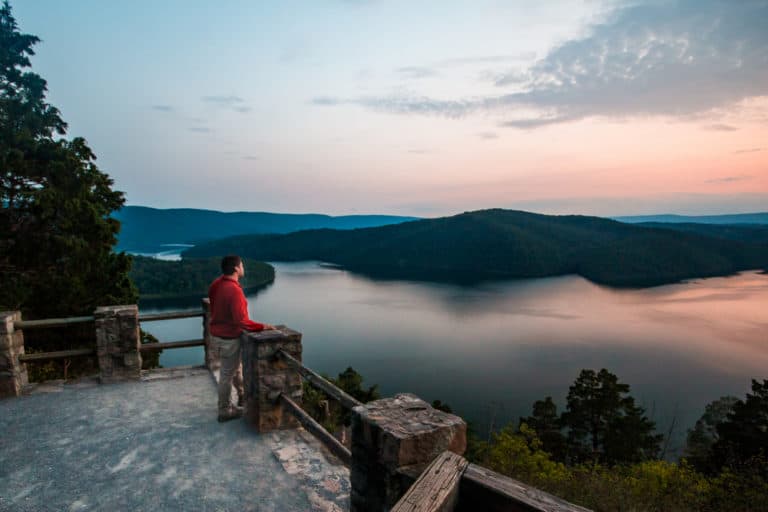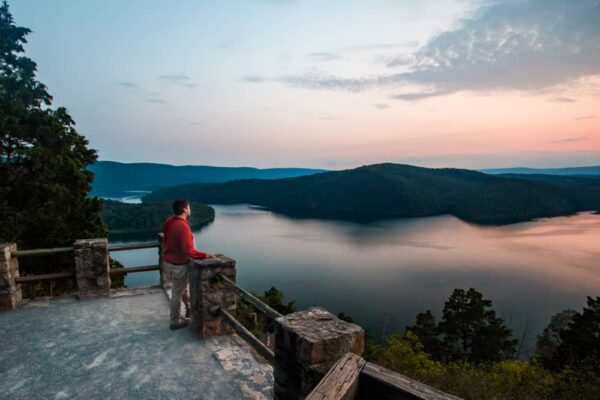 Where to Go: Raystown Lake is the largest lake entirely within Pennsylvania and offers many unique experiences for those looking for a fun weekend getaway in PA. In addition to boating and fishing, both of which are very popular at the lake, visitors can check out the amazing views from Hawn's Overlook, ride the Allegrippis Mountain Biking Trails, or go for a hike in Trough Creek State Park.
Nearby, Lincoln Caverns and the Swigart Museum are great spots near downtown Huntingdon. Further afield, the Rockhill Trolley Museum, the Isett Heritage Museum, and the Proud Mary Showboat are worthwhile stops as well.
Where to Eat: Huntingdon is full of great spots to eat. Top's Diner to the east of town is a popular local choice and offers good food at good prices. Standing Stone Coffee Company not only offers fantastic house-roasted coffee but also has tasty food.
Where to Stay: If you want to stay right on the lake, Lake Raystown Resort offers a variety of accommodation options including cabins, a hotel, and campsites. If you'd rather stay in Huntingdon, Fairfield Inn and Suites and the Inn at Solvang are quite comfortable.
Meadville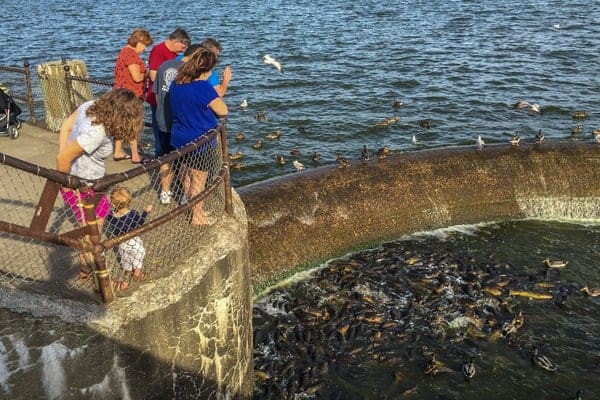 Where to Go: Located in northwestern PA, there are many great ways to spend a weekend in Meadville. The Baldwin-Reynolds House Museum offers a fantastic overview of what life was like in the region during the 19th century. The PennDOT Road Sign Sculpture Garden is a great example of local art and how to reuse trash to make something unique.
Further afield, Pymatuning State Park features several unique features. Near Titusville, the Drake Well Museum showcases the first commercial oil well in the world.
Where to Eat: Meadville is home to one of Pennsylvania's best breweries: Voodoo brewing. The brewery also has fantastic food for those looking for a bite to eat. Another local institution is Eddie's Footlong. They operate two locations in town and have been a go-to place to eat for more than 70 years.
Where to Stay: The Hotel Conneaut is located to the west of Meadville and is a historic property on the edge of Conneaut Lake and adjacent to the amusement park. If you'd rather stay in town, the Mayor Lord's House Bed and Breakfast and the Holiday Inn Express get great reviews.
Susquehanna Region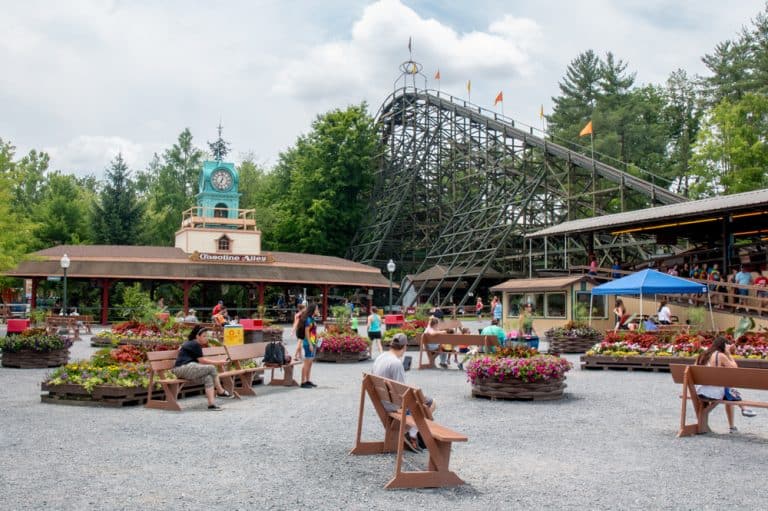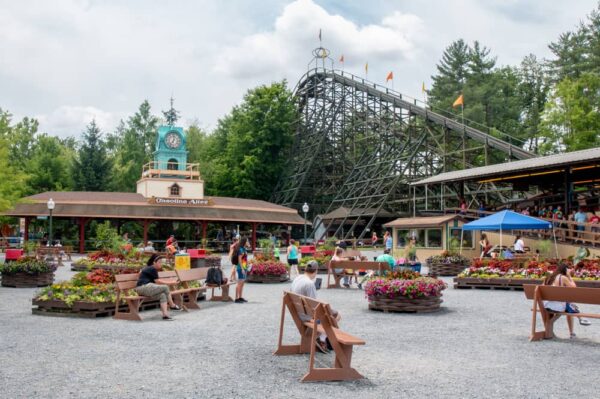 Where to Go: The Susquehanna Region comprises 11 counties in central Pennsylvania, and there is enough to keep you busy on several weekend trips. However, since there isn't one specific destination, I've put them all together into one.
The area is known for its many covered bridges, including both the oldest covered bridge in PA and the longest in the state. Families love Knoebel's Amusement Park, while adventure seekers check out nearby Centralia and beer drinkers love touring Yuengling's brewery. Those looking for a relaxing getaway can head to Big Valley to see their Amish community.
Where to Eat: In such a large region, there are many different spots worth eating at. A few of my favorites include Selin's Grove Brewing, Old Forge Brewing Company, and Rusty Rail Brewing Company, all three of which offer delicious food. Knoebels' has also won many awards for having some of the best amusement park food in the country.
Where to Stay: The Inn at Turkey Hill, the Selinsgrove Inn, and the Partridge House Bed and Breakfast all get rave reviews. There is also a great campground at Knoebels' Amusement Park.
Do you have a favorite weekend getaway in PA? Let us know in the comments below.