Disclosure: This article may contain affiliate links. We will make a small commission from these links if you order something at no additional cost to you.
When I'm traveling around the state, I always love finding unique places to stay on sites like Vrbo and Airbnb. Pennsylvania, believe it or not, is home to a lot of very interesting places to stay, many of which can be booked on these popular sites.
While I haven't stayed at most of the places listed here, I've only picked spots that I would be excited to stay at. At the time of writing, all of them have excellent reviews, great photos, and descriptions, and look like very fun spots to stay in while exploring PA.
So, whether you want to stay in a treehouse with a slide, a bridge over a creek, or on a boat, there's a bit of something for every adventurous traveler on this list of the coolest cabins, tents, Vrbos, and Airbnbs in Pennsylvania.
(Photo at the top of the article used courtesy of Airbnb.)
Treehouse with a Hot Tub near Ohiopyle State Park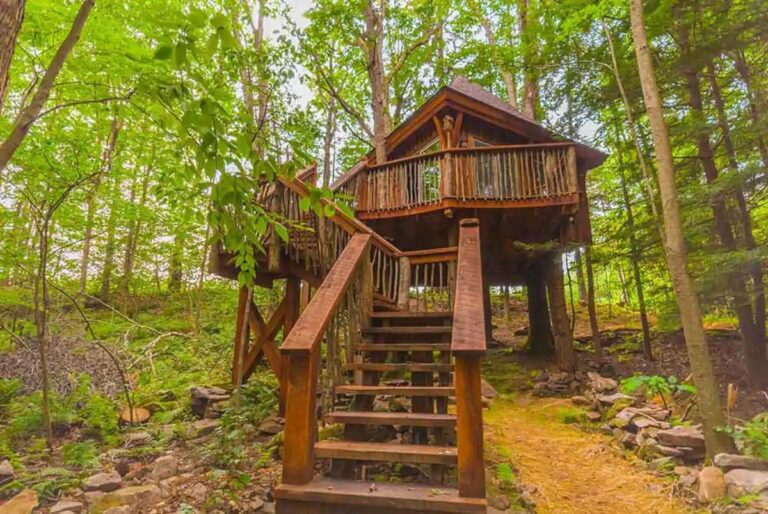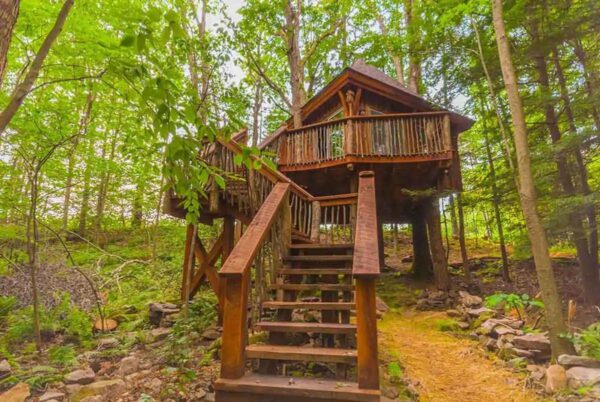 Located in southwestern PA near Ohiopyle State Park is this incredible treehouse. Not surprisingly, it's one of our favorite cabins in the Laurel Highlands.
Made of local lumber, this raised cabin is nestled in a beautiful woodland and has an amazing staircase leading up to it. Inside the treehouse, you'll find a cozy space with all the amenities you need.
Outside, there is a nice deck on the upper level and, below the main cabin, a hot tub, which is perfect for soaking your muscles after a long day of hiking.
Note that this property has a two-night minimum stay.
Check Pricing and Availability Now!
Haines Shoe House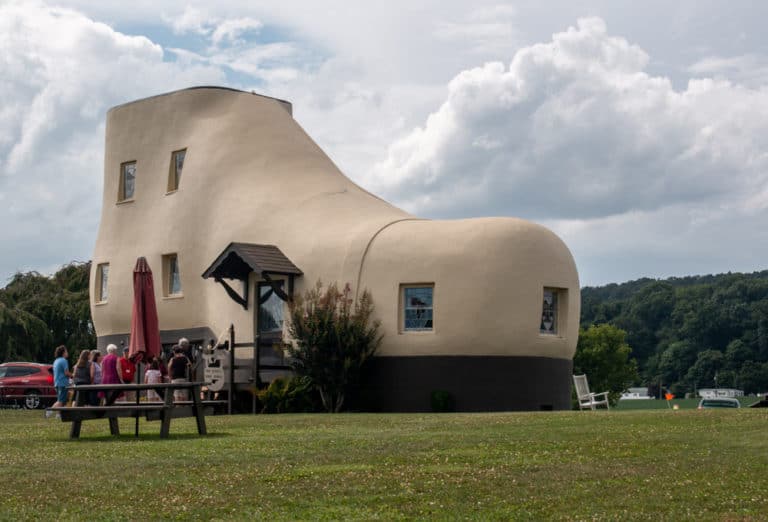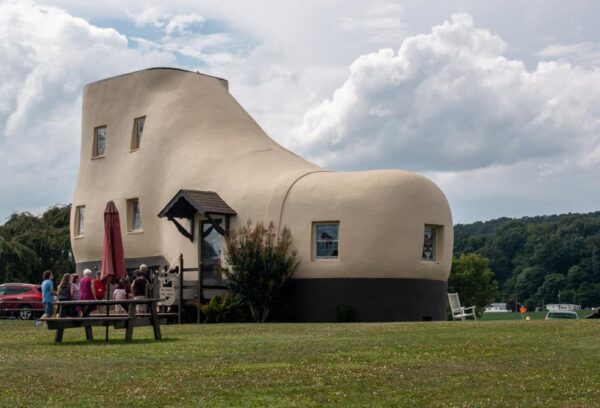 The Haines Shoe House has long been one of PA's most unique homes, and it is now open for visitors to once again spend the night inside this very unique property in York, Pennsylvania.
This structure was originally built in 1949 to advertise a local shoe business. Despite its name, it never served as a home. Instead, its first use was as a retreat for couples wanting to get away for a bit. However, in more recent decades, the Shoe House has more often been open for tours and as a popular ice cream stand.
Now, however, it is once again open for overnight guests, who will have access to this incredibly unique and historic property, which features all of the comforts of home and three bedrooms.
Check Pricing and Availability Here!
Octagonal Lakehouse near Scranton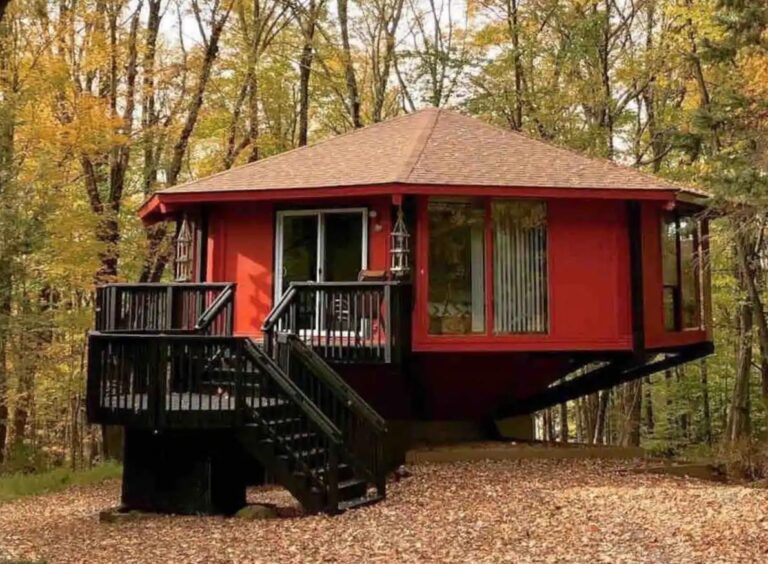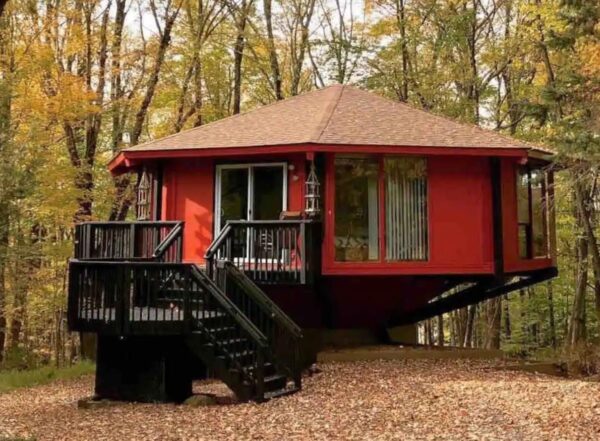 Located on Roaming Woods Lake in the Poconos, only a short distance east of Scranton, you'll find this incredible octagonal lakehouse.
The house sits in a resort community near Roaring Woods Lake, which features great fishing, boating, and even a small beach and swimming area.
Inside, the home to nicely decorated with a very retro style and features many great amenities. Outside, there is a nice deck overlooking the beautiful woods that surround the house.
Note that this property has a three-night minimum stay.
Check Pricing and Availability Now!
Bohemian Cabin near State College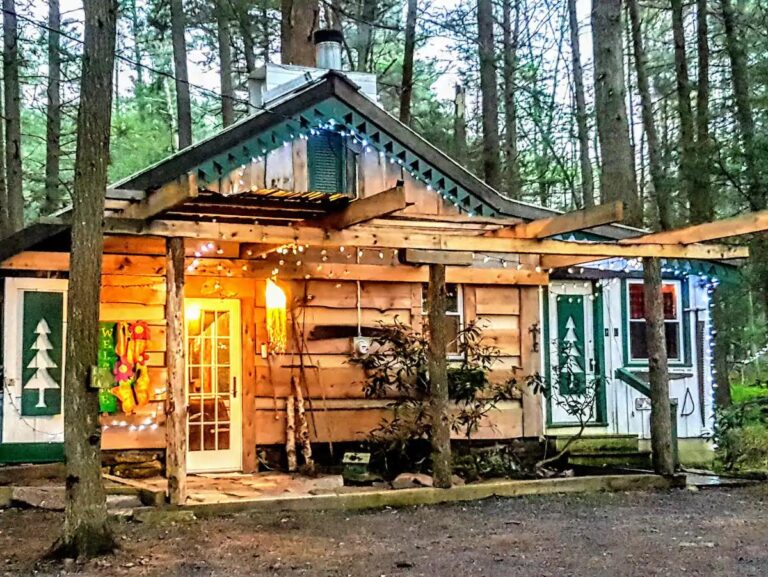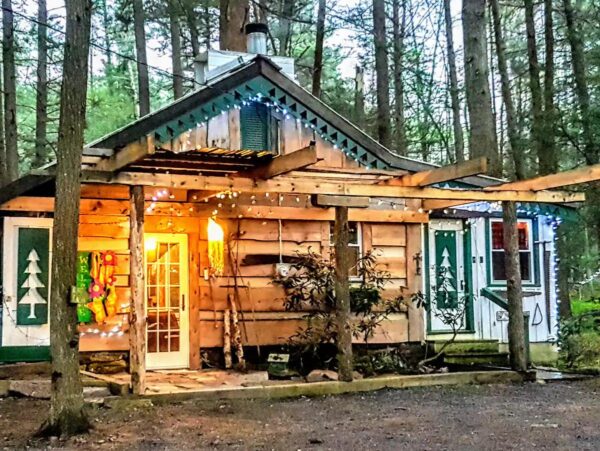 If you love eclectic things, you'll definitely love this Bohemian cabin in Centre County near Woodward Cave.
Located adjacent to a beautiful creek, this cabin is filled with unique and upcycled touches. Outside, enjoy the wrought iron swing, firepit, grill, and neat seating areas.
While this cabin is a bit rough around the edges, it has more than enough charm to make up for it.
Note that this cabin requires a two-night minimum stay.
Check Pricing and Availability Now!
Campsite Near a Waterfall near Jim Thorpe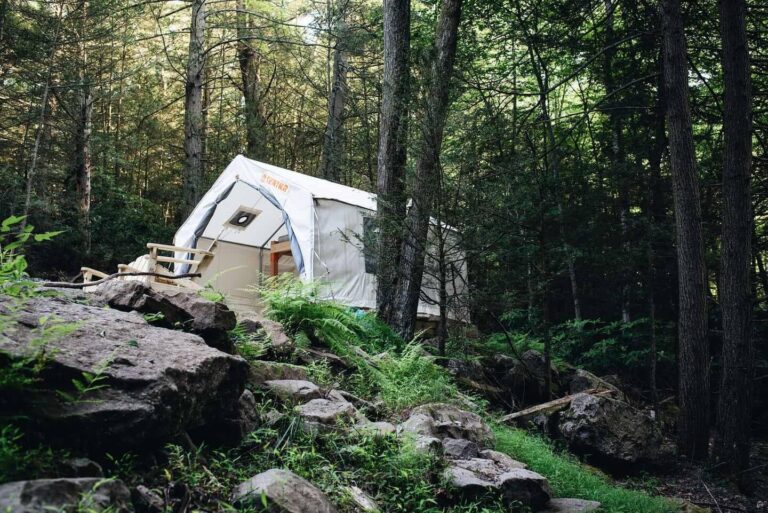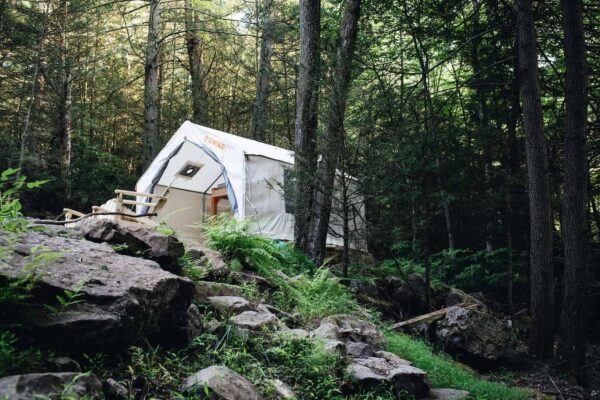 If you love waterfalls, there are few better Airbnbs in Pennsylvania than this glamping tent near a private waterfall.
Set in the middle of a 400-acre private forest, this tent features a large bunk bed, Adirondack chairs, a picnic table, and a fire pit. It is perched close to a small but beautiful waterfall.
If that's not enough, there are several miles of hiking trails on the property and at least one very unique bridge. Even better, the tent is located only a short drive from Jim Thorpe and Hickory Run State Park, two of my favorite spots in Pennsylvania.
Check Pricing and Availability Now!
Buffalo Bill's House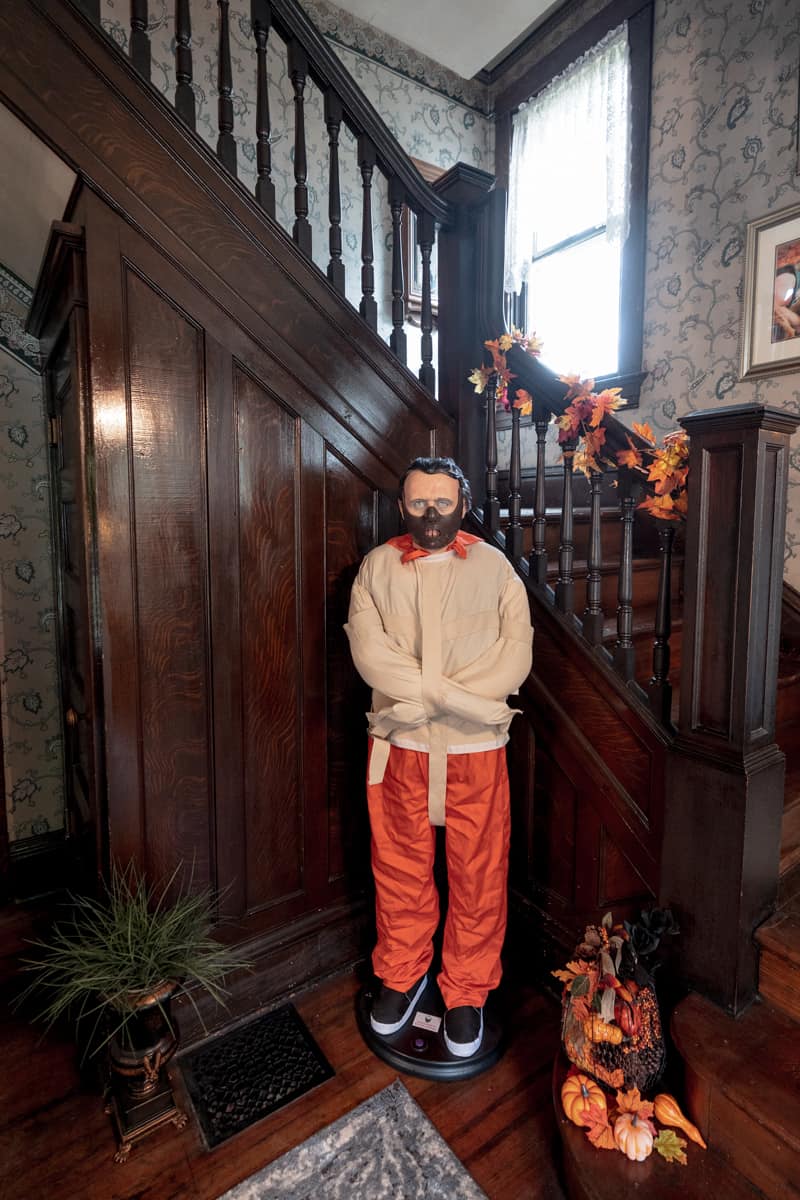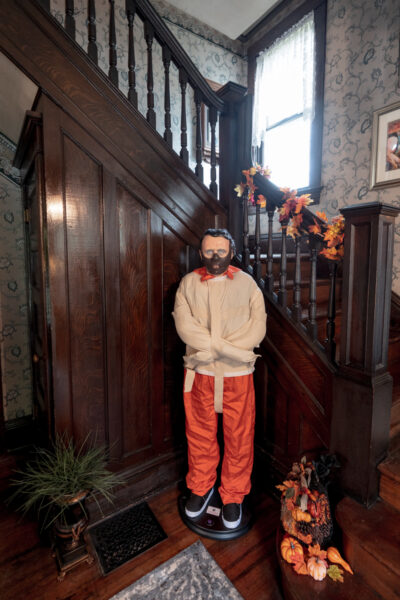 If you love the movie, "The Silence of the Lambs," then you'll definitely want to book a stay at Buffalo Bill's House.
Located just outside the southwestern PA community of Perryopolis, this is the actual home in which both interior and exterior scenes were filmed for the movie as the home of the antagonist, Buffalo Bill.
The home has been beautifully recreated, including several sets in the basement where you can act out your favorite scenes from the film. Upstairs, there are four bedrooms and a fantastic game room.
Check Pricing and Availability Here.
Lake Erie Waterfront Cottage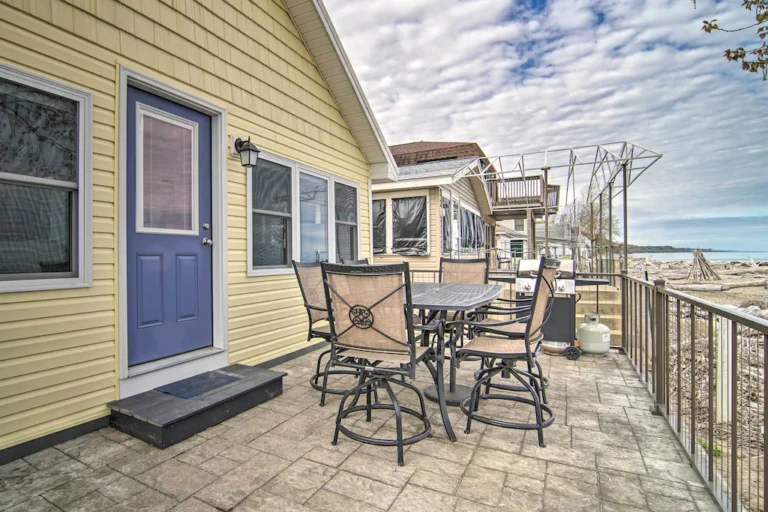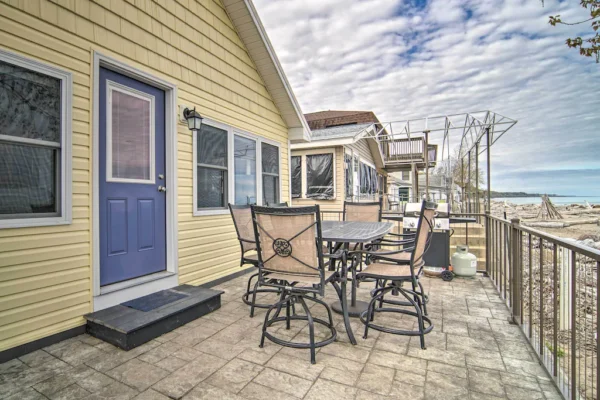 Enjoy the beauty of Lake Erie directly from your backyard at this amazing cottage in Erie, PA.
Located steps from the water and a short drive from popular spots like Presque Isle State Park and Waldameer Amusement Park, this cottage is a great home away from home when enjoying northwestern PA.
This home has three bedrooms, an updated kitchen, and a fantastic deck overlooking the lake.
Check Pricing and Availability Here!
Treehouse with a Slide near Huntingdon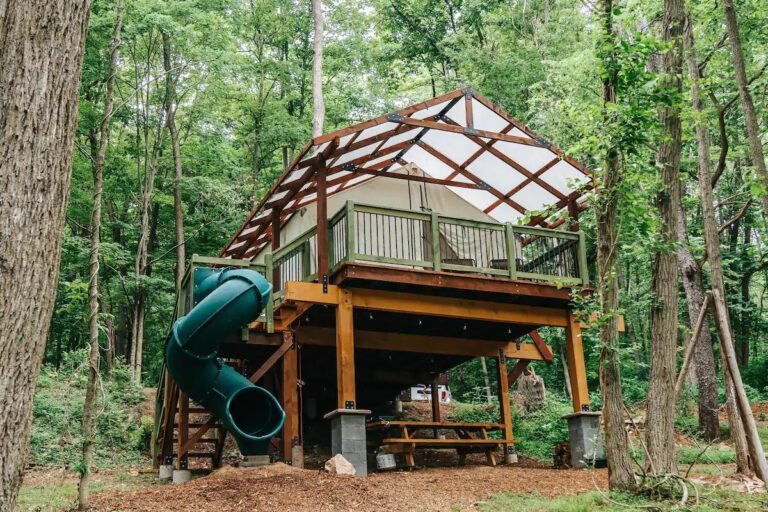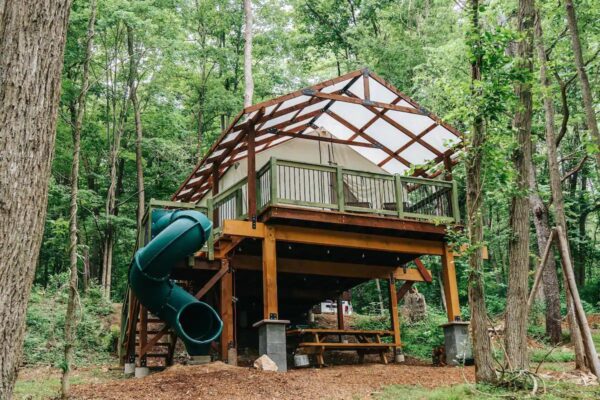 There are many great spots to go glamping in Pennsylvania, but, as far as I know, this is the only one that lets you leave your treehouse by slide!
New in 2020, this elevated tent features a nice and cozy design that's perfect for a relaxing visit to the woods. However, the highlight of this spot has to be the spiral slide that you can use during your stay. While a short walk is required to reach a bathroom, this spot does have a covered porch, picnic table, and firepit for guests to use. **Updates in 2022 list private bathrooms available at each site!**
This spot is located a short drive from Huntingdon, PA, and is great for exploring Raystown Lake and the Big Valley Amish community.
Check Pricing and Availablity Now!
Covered Bridge Cabin in Lawrence County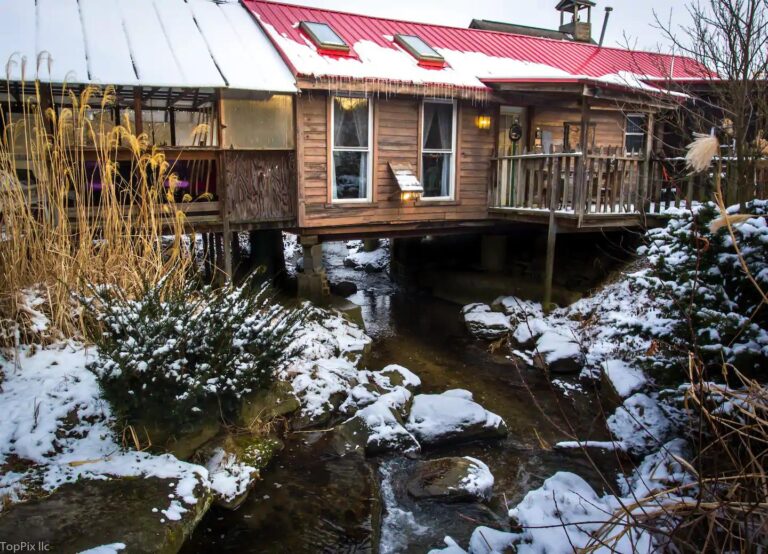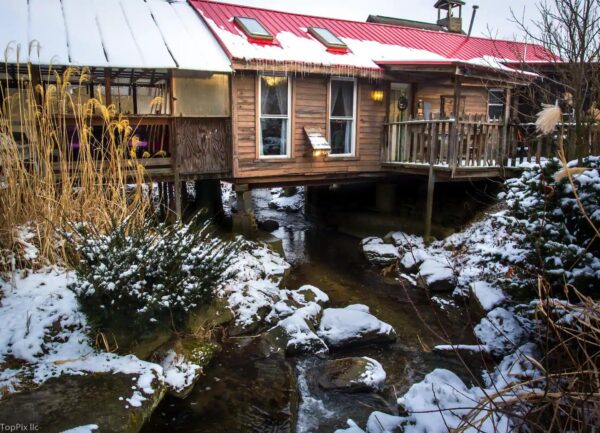 Located in western PA near New Castle and Grove City, this Airbnb is inside a converted covered bridge that spans a small creek. That's right, this Airbnb in Pennsylvania is located directly over a body of water!
This cabin is described as being rustic, so it's not for everyone, though it does feature a full slate of amenities, including a great deck overlooking the stream and a half-mile nature trail directly adjacent to the property. There's even a six-foot working waterwheel nearby.
Check Pricing and Availability Now!
Houseboat in Old City Philadelphia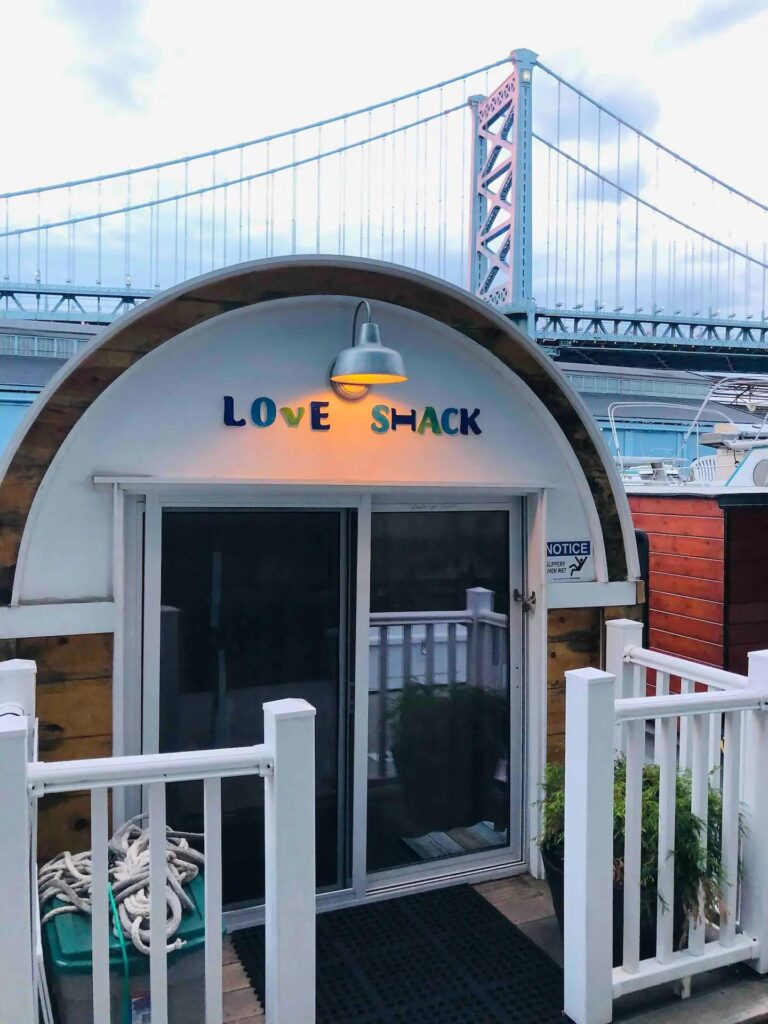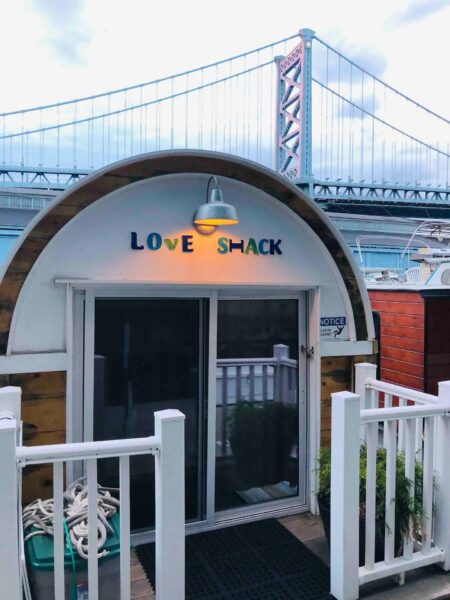 There are a lot of great hotel rooms in Philadelphia, but if you are looking for something very different, why not stay in a houseboat on the Delaware River, one of my favorite Airbnbs in Philly.
Located under the Benjamin Franklin Bridge, this custom-built floating cabin is known as the Love Shack because of its metal roof. Inside, you'll find nearly every amenity that you could need, though the bathroom is located a short walk away at the marina. There's even a small deck so that you can enjoy the outdoors on the water.
Check Pricing and Availability Now!
Streamside Cabin near Cherry Springs State Park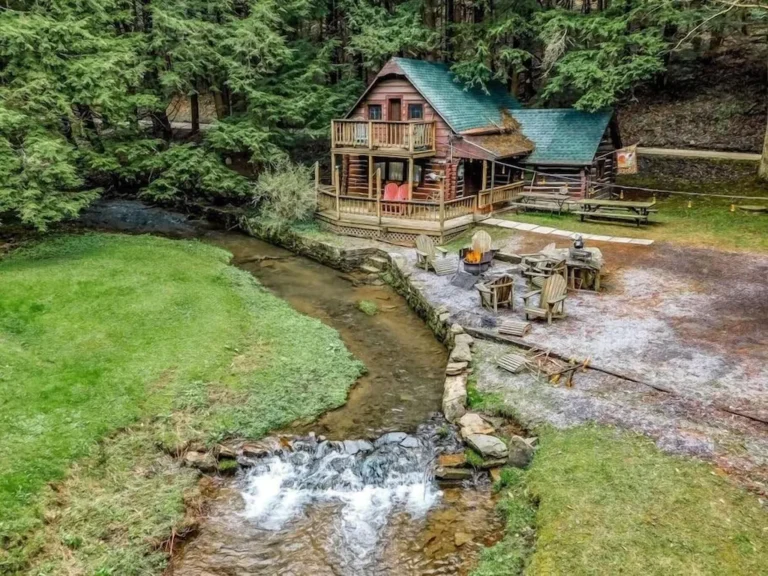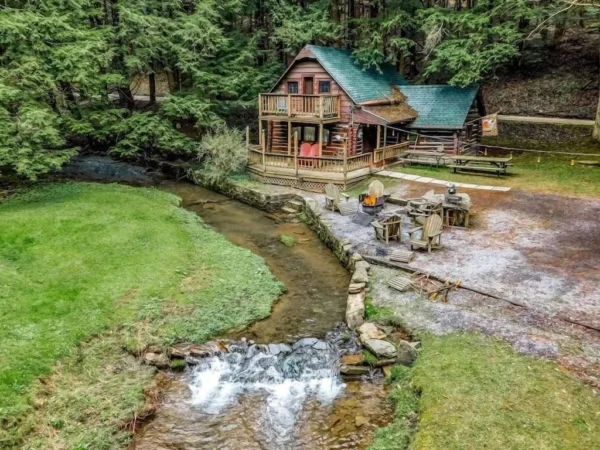 There is no spot in PA with darker skies than Cherry Springs State Park, and this nearby cabin is a great place to enjoy the beauty of the night sky.
This cabin is located along a beautiful creek, which you are sure to enjoy from the two large decks and the beautiful fire pit.
Of course, if you must be inside, this cabin also features many modern amenities including TV, internet, and a full kitchen.
Check Pricing and Availability Now!
Scandanavian Cabin near Huntingdon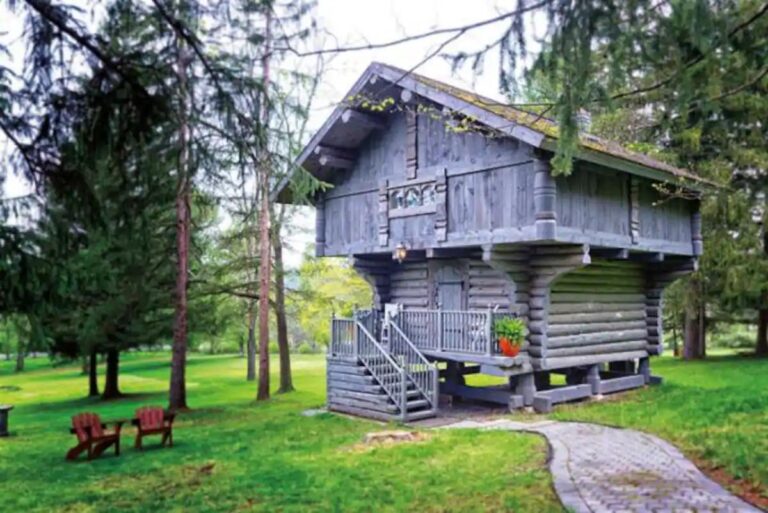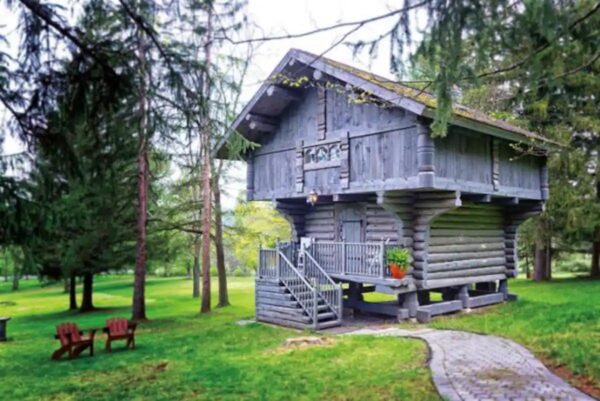 There is probably no more unique treehouse in Pennsylvania than this Scandanavian-inspired treehouse.
Designed as an authentic Norwegian Stabbur, this property will have you visiting Europe without leaving Pennsylvania. This cabin is made entirely of wood and features many cozy amenities, including a sauna. On the 80-acre property, you can enjoy several miles of hiking trails, a stream, and a ton of natural beauty.
Note that this property requires a two-night minimum stay.
Check Pricing and Availability Now!
Dome House in Pittsburgh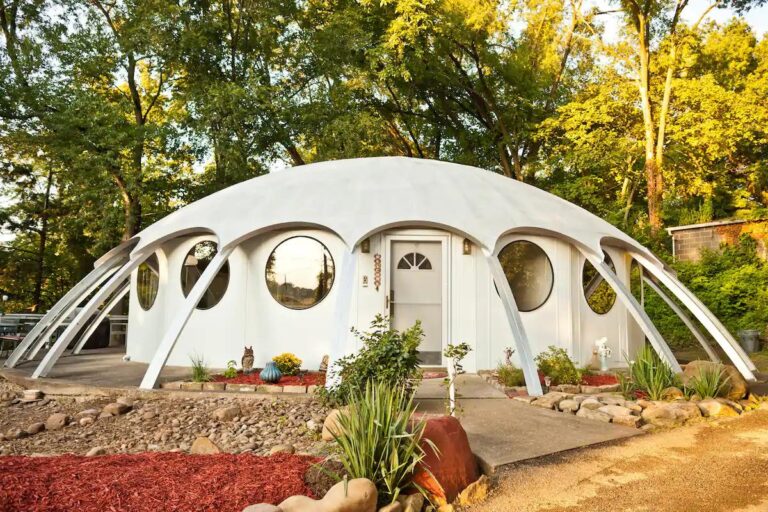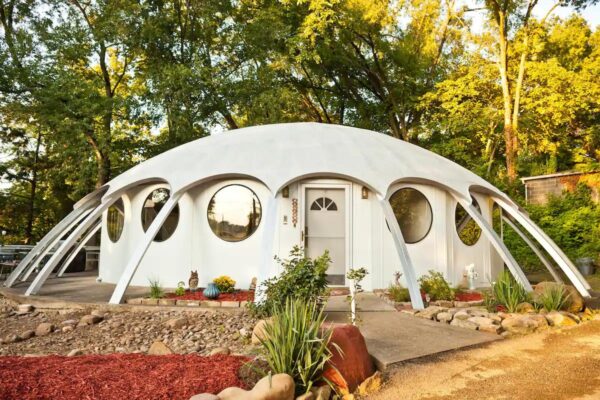 Looking for somewhere unique to stay in Pittsburgh? This Yuca-Dome is a great choice.
The first of only 26 Yuca-Domes ever made, this home can withstand a 250-mile-per-hour wind (not that you have to worry about that in Pittsburgh).
This historic property includes one bedroom (though the listing states that two normally-locked bedrooms may be available for an additional cost). The home has a unique design that includes round windows.
Note that this property has a seven-night minimum stay.
Check Pricing and Availability Now!
Aaron Burr's Post-Duel Bedroom in New Hope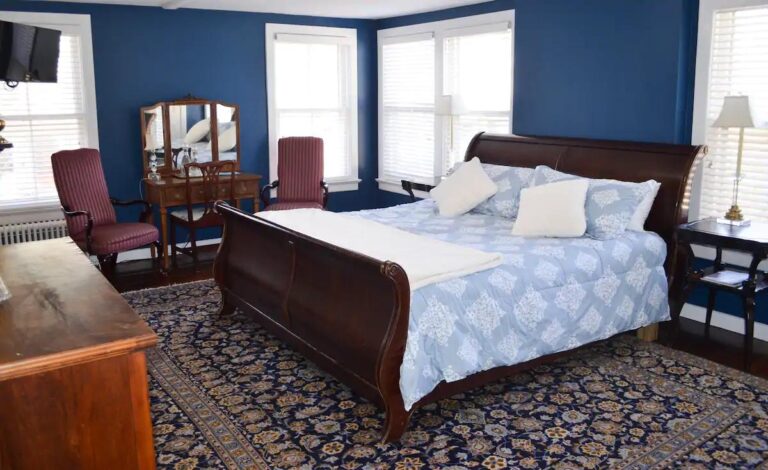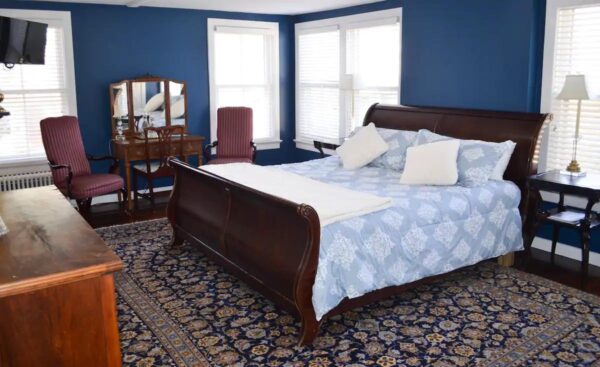 After the famous duel between Alexander Hamilton and Aaron Burr, Burr fled New York for a friend's home in New Hope, Pennsylvania. Today, that home is now open as the Aaron Burr House Bed and Breakfast. You can find the B&B's rooms on Airbnb.
While there are a total of seven rooms in the house, it is said that Burr stayed in the Federalist Room during his time at the property in 1804. No matter which room you stay in, however, you might see or feel the ghost of Aaron Burr, which is said to reside at the home.
The room itself is well appointed and features a beautiful and classic style that wouldn't have looked out of place in 1804.
Note that breakfast is an additional fee above the room rate.
Check Pricing and Availability Now!
Woodland Cabin near Worlds End State Park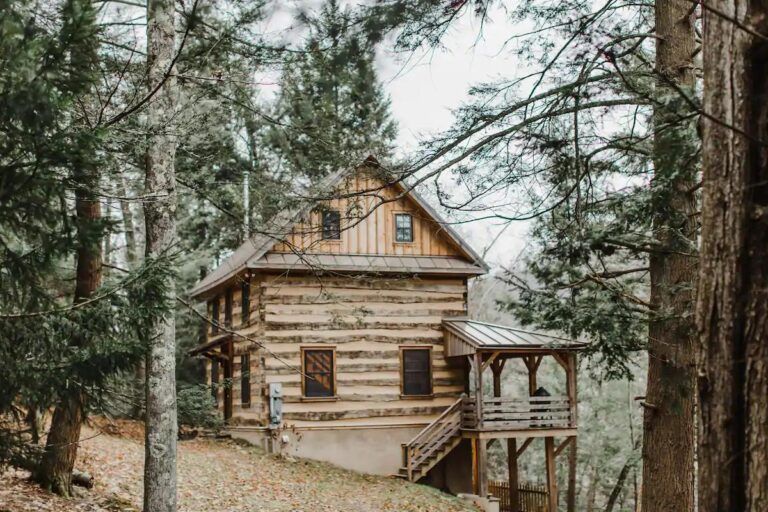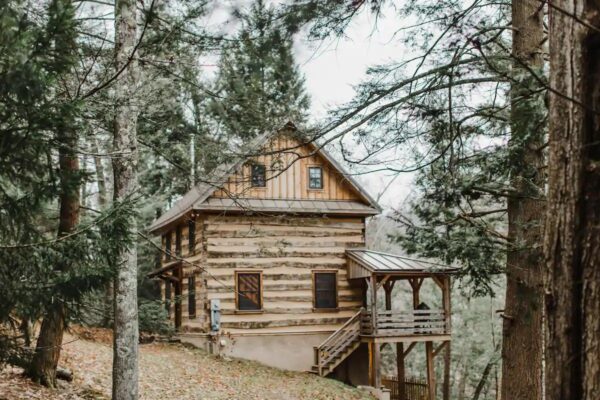 If you are looking to explore Williamsport or the many great spots in PA's Endless Mountains like Worlds End State Park and Ricketts Glen State Park, this woodland cabin is a perfect choice.
This 19th-century cabin has been lovingly restored and sits on the banks of the Loyalsock Creek, a popular stream for both its beauty and great fishing.
Inside, the cabin features four bedrooms and many nice touches and modern elements. Outside, there's a great back porch overlooking the creek, a grill, and a firepit.
Note that this cabin has a three-night minimum stay.
Check Pricing and Availability Now!
House with Great Views of Pittsburgh's Skyline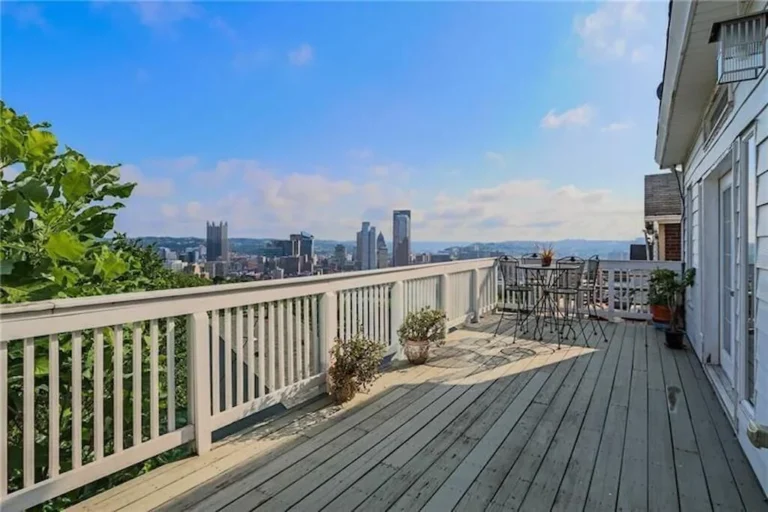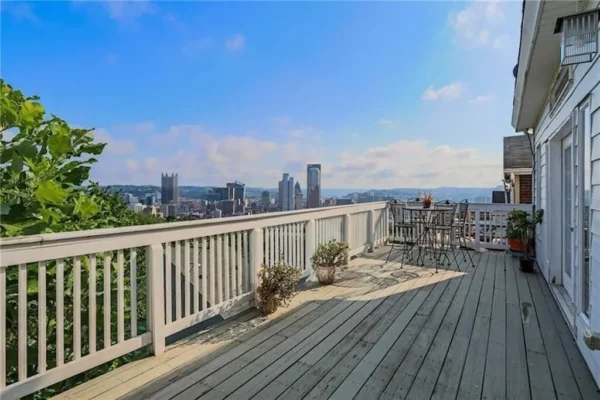 Pittsburgh is a city with many incredible views, but if you are looking to stay somewhere with a great view, this Vrbo in Pittsburgh is the perfect choice.
This three-bed, two-bath home is located on Mount Washington and features an awe-inspiring view over the city and the Monongahela River. This view can be enjoyed from inside the home or from the incredible top-floor deck.
There are several other outdoor spaces, including one that is perfect for outdoor games.
Check Pricing and Availability Now!
Treehouse in the Poconos near the Delaware River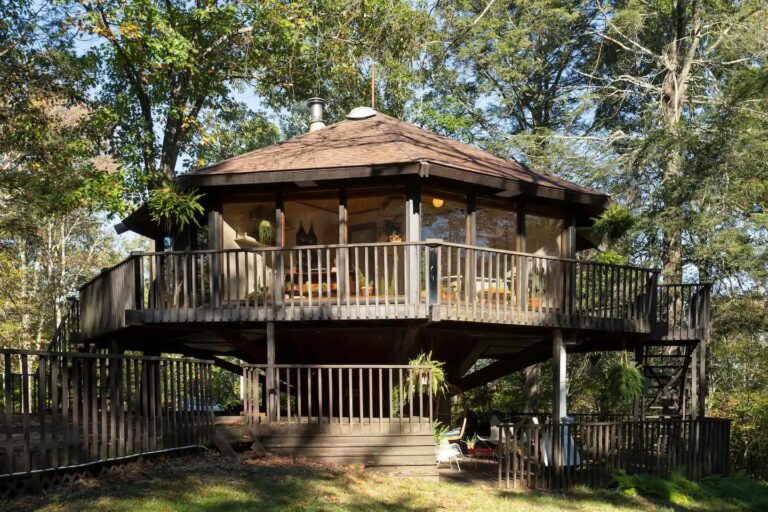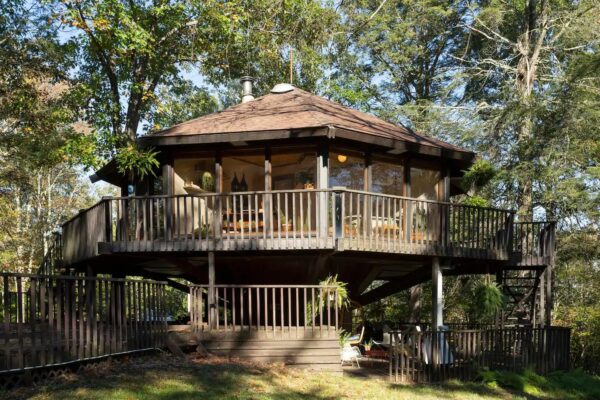 If you've always wanted to spend the night in a treehouse, this Airbnb in the Poconos is a great choice.
Located near Narrowsburg, New York, but on the Pennsylvania side of the river, this elevated cabin looks quaint from the outside but is incredibly well designed on the side. Browsing through the photos of this light-filled cabin and its oversized windows will make you feel like you are already there.
Even better, the treehouse features a clawfoot tub and a large deck with a hammock, all on nine private acres of land. It's a great jumping-off point for exploring both the Poconos and the Catskills of New York.
This property has a two-night minimum stay.
Check Pricing and Availability Now!
Tiny House on a Farm near Shippensburg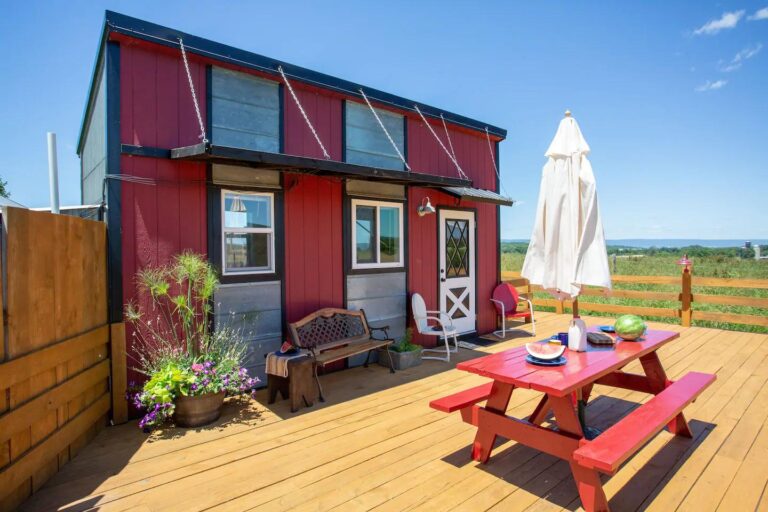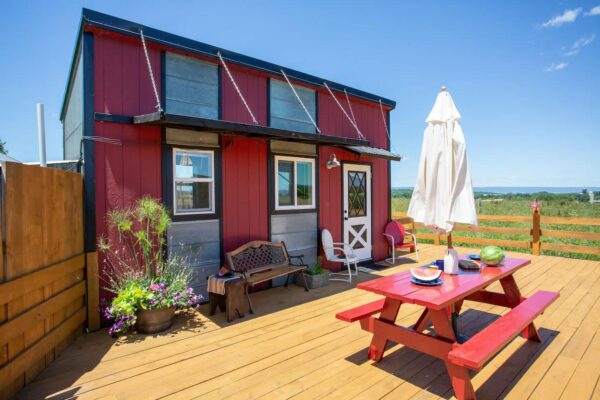 Always wanted to experience a tiny house? This Airbnb near Shippensburg is a great choice.
Located on an organic dairy farm just east of Interstate 81 in south-central PA, this charming home provides everything you need, but in a super tiny package. Fortunately, however, there is a large outdoor deck with a nice table and grill to ensure you don't run out of room.
This spot makes a great location for checking out Michaux State Forest, the Appalachian Trail, Harrisburg, and Gettsyburg.
Check Pricing and Availability Now!
Mid-Century Modern Home over a Creek near Reading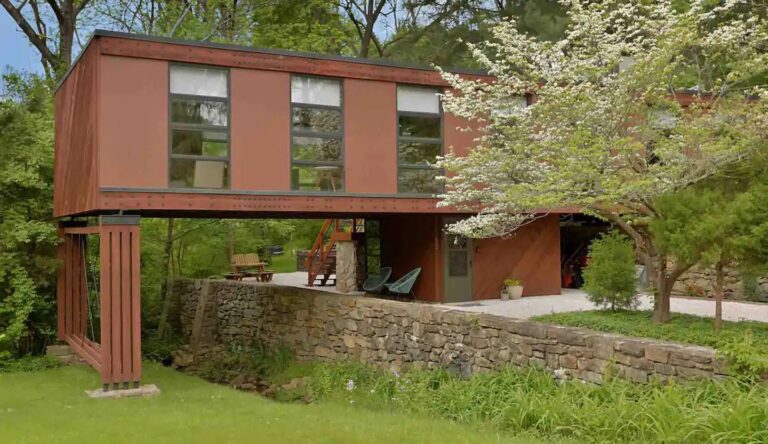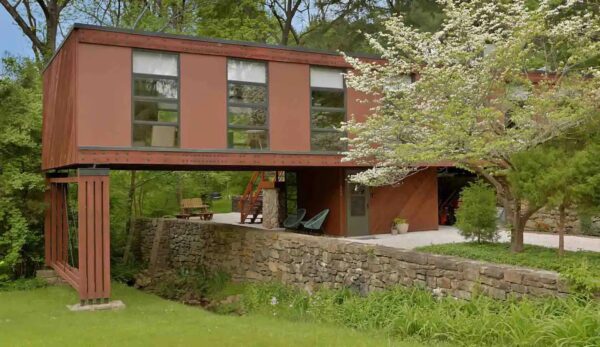 If you love Mid-Century Modern design, you won't want to miss this incredible Airbnb near Reading, PA.
This unique home is perched directly over a small stream and features an impeccable design that is sure to wow every visitor. In fact, the design of this home looks like something straight out of a magazine.
Outside the home, you'll find a hot tub, which is a perfect spot to relax in the evenings.
Check Pricing and Availability Now!
Big Al's Pocono Creek House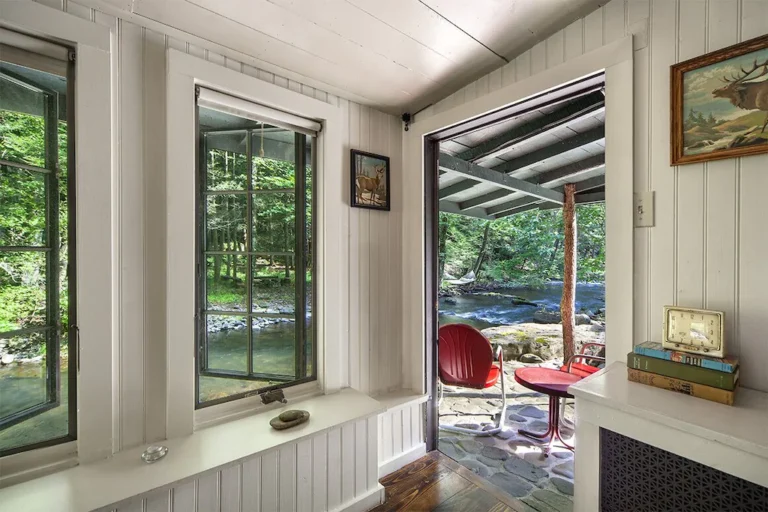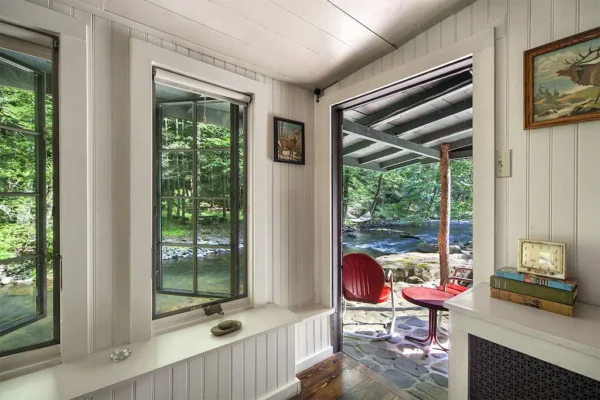 Whether you love fishing, the sound of rushing water, or just relaxing, this cabin along a creek in the Poconos is for you.
This cabin looks just like the perfect log cabin out of your dreams but with all the modern amenities you could want (including wifi and a TV) while allowing you to enjoy views of the creek through the large windows and a fireplace.
However, it's the outside here that really shines. Step outside and go fishing right from your patio, enjoy the outdoor hot tub, or just relax on the porch.
Check Pricing and Availability Now!
Historic Yurt in Ohiopyle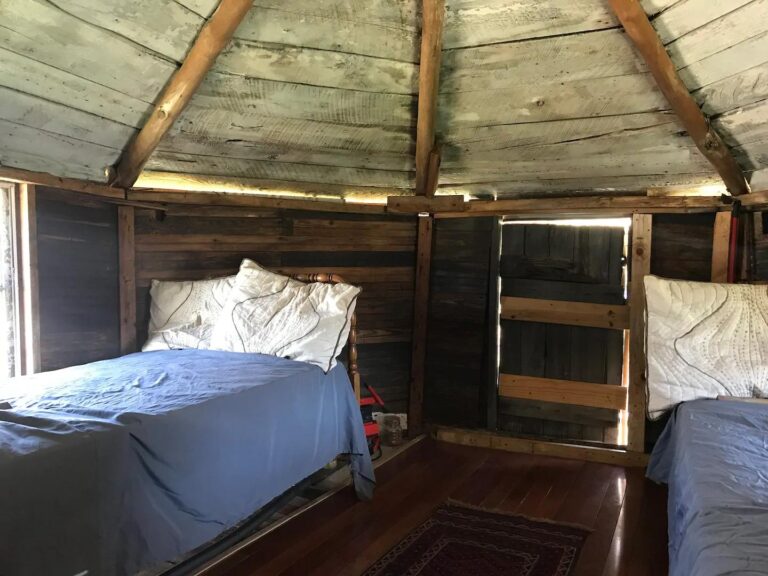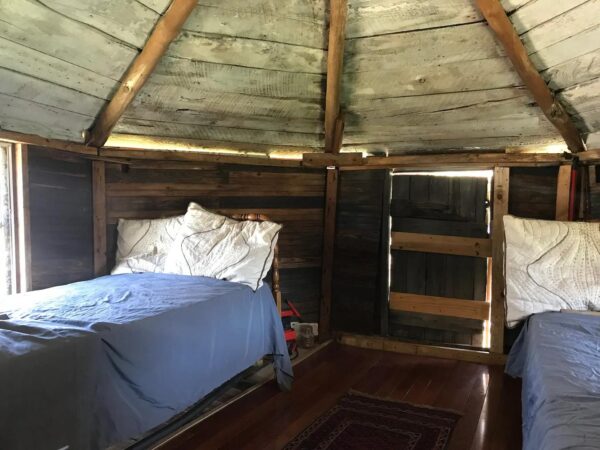 Yurts are popping up at campgrounds and Airbnbs in PA. However, this yurt in southwestern Pennsylvania is one of the few historic yurts you can stay in.
Built in 1918, this historic yurt is located in the heart of Ohiopyle, one of the most charming tiny towns in PA and gives you quick access to the many incredible things to do in and around Ohiopyle State Park.
This spot is definitely rustic and isn't for every traveler. However, for those that appreciate cozy and rustic accommodations, but still want quick access to hiking trails and restaurants, this is a perfect choice. There's even a wood stove to keep you warm on chilly nights and a firepit outside.
Check Pricing and Availability Now!
Farm Cottage in Bethlehem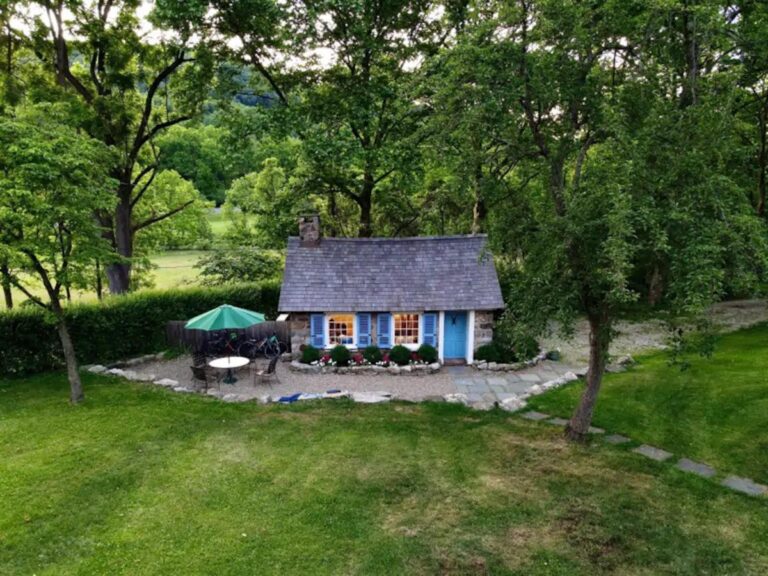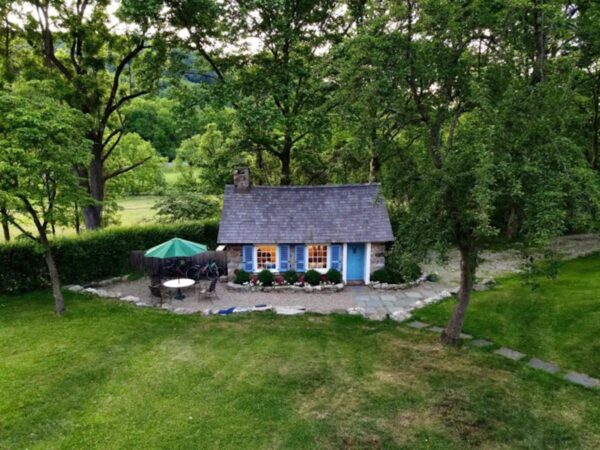 Looking for a romantic Airbnb in Pennsylvania? This 18th-century stone cottage is a great choice.
Located just outside of the charming city of Bethlehem, PA, which is known for its rich history and great Christmas celebrations, this one-room cottage is a fantastic place to stay. It has been recently renovated to provide all the necessary modern comforts and many little touches that make this a popular rental.
There's even access to a swimming pool adjacent to the cottage.
Check Pricing and Availability Now!
Historic Houseboat near Pittsburgh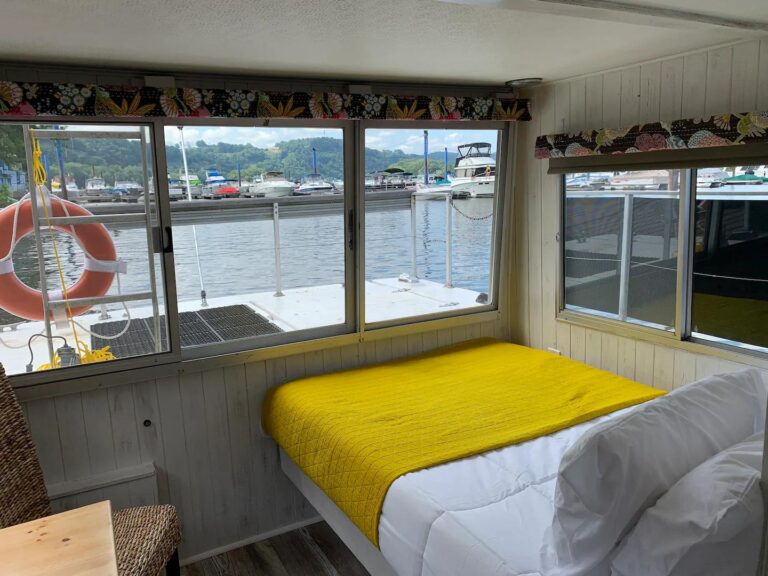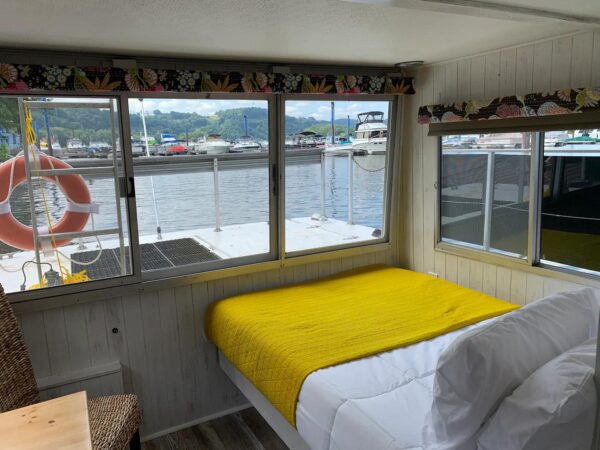 Located along the shores of the Allegheny River just north of Pittsburgh, this 1972 houseboat is a unique spot to stay when visiting the city.
The interior of this boat is small, but it's been well-designed and features a kitchen and a bathroom within the confines of the boat. At the top of the boat, spread out on the deck to watch the sunset. The boat even comes with a free kayak rental!
Note that this property requires a two-night minimum stay.
Check Pricing and Availability Now!
Renovated Church in Philly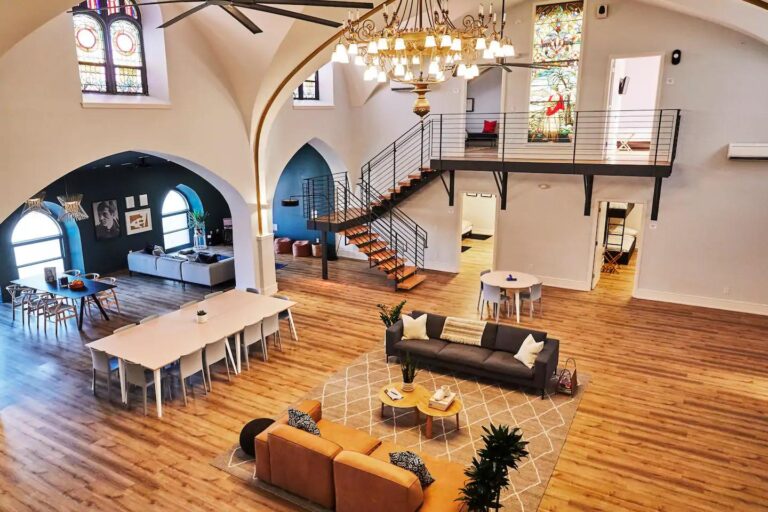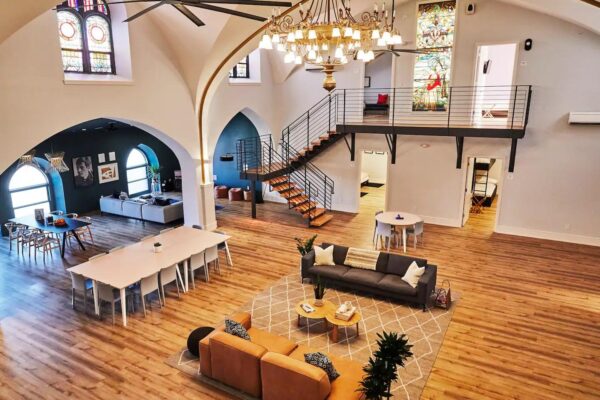 If you're looking for a unique property in Philadelphia to share with a whole group of people, this renovated church is a great choice.
This historic church is located south of Center City near Rittenhouse Square and is set up like a boutique hotel with eight rooms around a central living and dining space. It can easily fit your entire group. Each bedroom in this property features its own bathroom and nicely appointed bedding.
Note that this property has a two-night minimum stay.
Check Pricing and Availability Now!
Teepee near the Quehanna Wild Area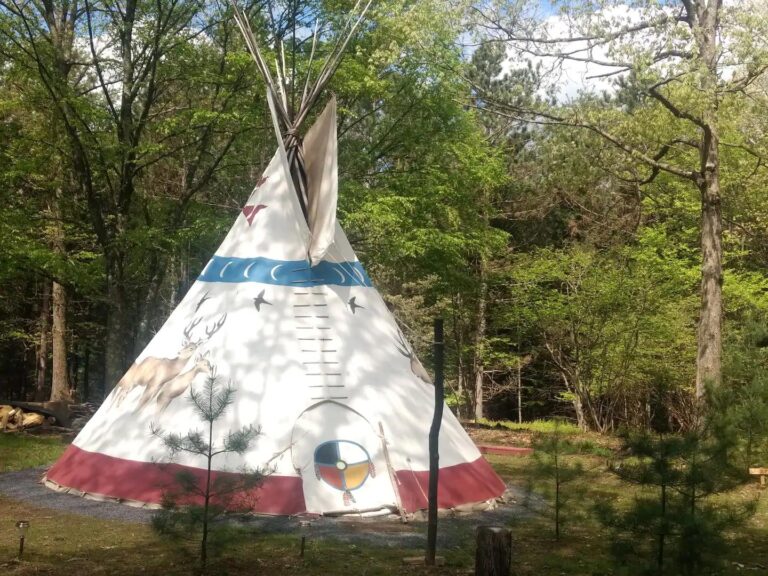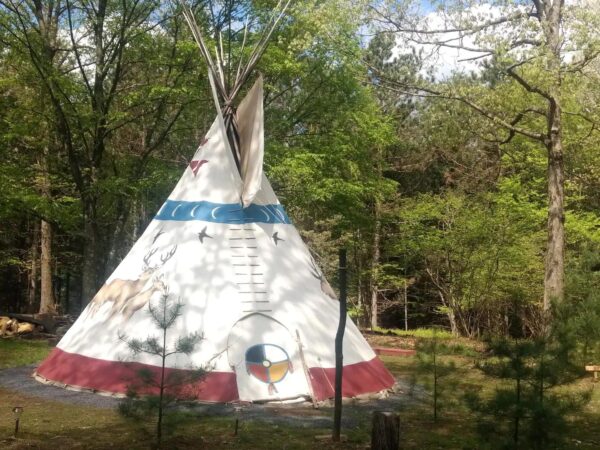 Located near the Quehanna Wild Area, this fun teepee is a neat spot to stay when exploring this remote part of the state.
The inside of the teepee is sparse but nicely laid out with four beds and a small kitchen area. There is also a fire pit within the teepee for warmth.
Outside, you'll find another firepit, Adirondack chairs, a private bathhouse, and a hammock.
Check Pricing and Availability Now!
Private Lakehouse near Cambridge Springs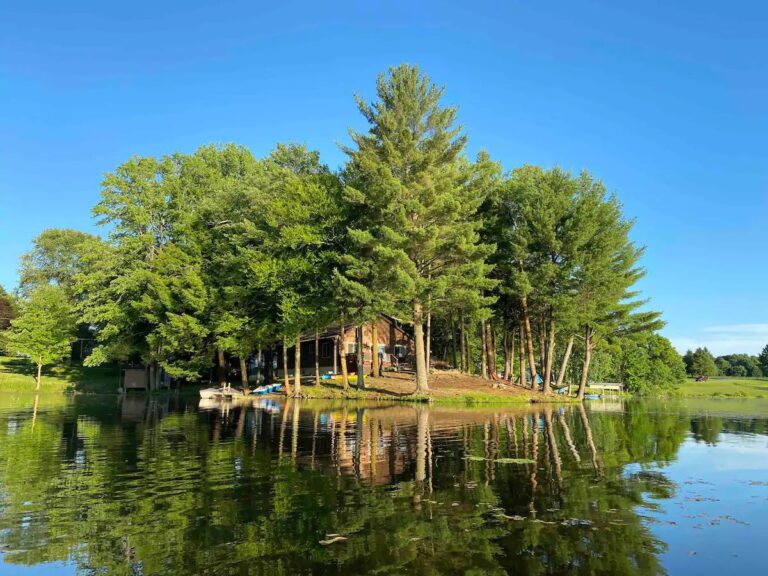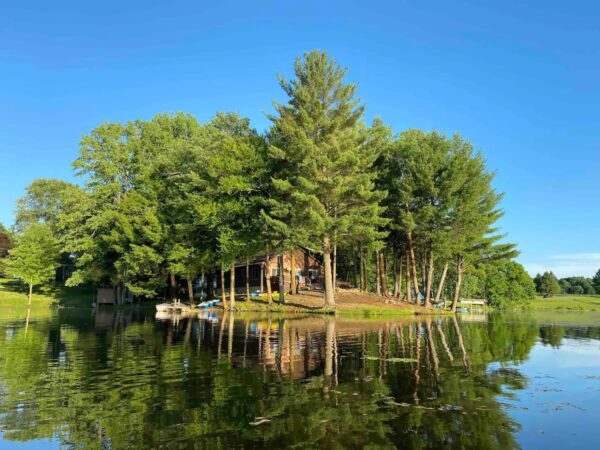 Located on a peninsula on a private lake in northwestern PA, this cabin is in a very beautiful and relaxing spot. In fact, it's surrounded on three sides by water.
This large home features a well-appointed interior, including a game room with toys for kids of all ages. The star of the show, however, is the exterior, which features a great dining area, deck, fire pit, and dock.
This house is also close to a ski resort for wintertime adventures.
Check Pricing and Availablity Now!
Historic Barn in the Philadelphia Suburbs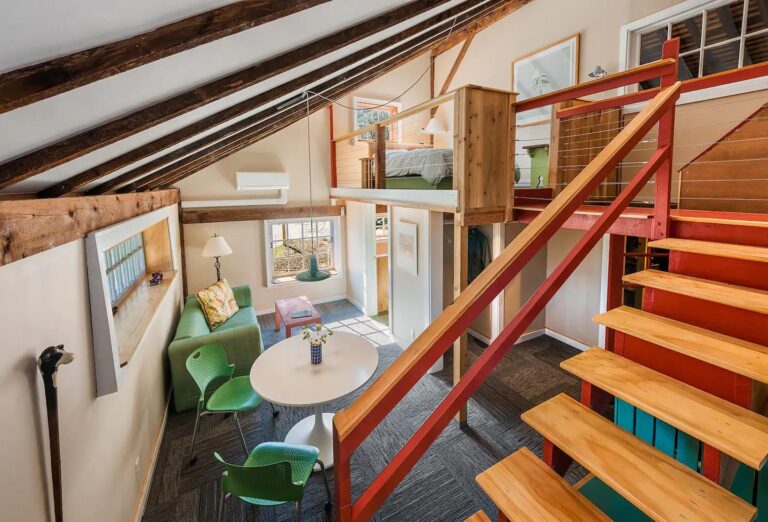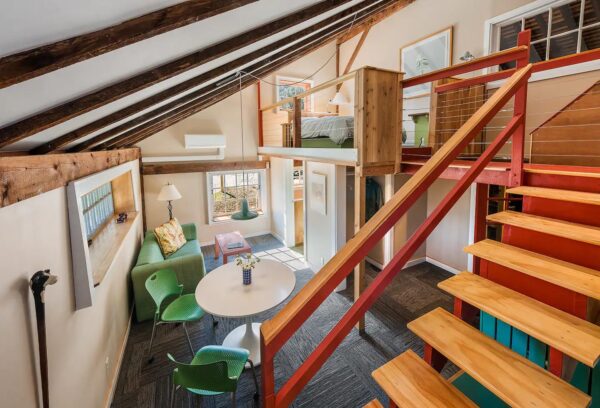 Want to stay in a tranquil rural setting but within reach of downtown Philly? This historic barn is a great choice.
Located in Bryn Mawr, only a 35-40 minute drive from the city and near train lines directly into Center City Philadelphia, this spot feels away from it all while being close to the many amazing things to do in Philadelphia and its suburbs.
This PA vacation rental is located in the loft of a historic dairy barn. Inside, this light-filled space features all the amenities you could want and a lot of great little touches.
Check Pricing and Availability Now!
Have you ever stayed in one of these Airbnbs in Pennsylvania or do you have a favorite one to share? Let us know in the comments below.
Looking for even more places to stay in Pennsylvania? Check out the campground at Ricketts Glen State Park, the incredible Loews Hotel in Philly, and the Wyndham Hotels in Pittsburgh.