Disclosure: This article may contain affiliate links. We will make a small commission from these links if you order something at no additional cost to you.
If you've been reading this site for a while, you can probably tell that I'm a big fan of museums. After all, I've already written up my fair share of history, science, and culture museums in Pennsylvania. However, if I'm being honest, I'm usually not a big fan of art museums. So, it was with a bit of trepidation that I decided to check out the Philadelphia Museum of Art.
Walking up the famous Rocky Steps towards the museum's grand entrance, I was a bit unsure of what to expect. Sure, I'd heard that the Philadelphia Museum of Art was one of the best in the nation, but would it be interesting enough to overcome my general apathy towards art museums?
I started my visit to the museum in the section dedicated to European art from the second half of the 19th century. As I walked through the section, I began to notice something rather unexpected: I knew many of the names listed on the wall. In front of me were works by famous painters I'd heard of all my life, such as Monet, Renoir, and Van Gogh among others.
Having visited other art museums in the past, I'd seen works by these artists before, but it's still quite impressive to see them right in front of you, hanging in their incredibly ugly frames (Why do famous, old paintings always hang in such ugly frames?).
As I continued to look around, I was surprised to discover that I was actually enjoying myself. The guy who doesn't like art museums was actually enjoying himself.
I started to feel like I was in the art museum scene from "Ferris Bueller's Day Off". I had had a wonderful time exploring the city, playing hooky from the real world all day. At the end of the day, I found myself at the art museum, studying priceless works of art in a reflective, but still somewhat ironic way. Anyway, I digress…
I continued my now epic visit to the Philadelphia Museum of Art by walking through the Modern and Contemporary Art section.
Walking through the section, looking at the many works of Picasso and others, I came to a realization: Modern art proves that there is a fine line between art and crap. After all, if I take the time to appreciate each piece, I can understand the artistic merit. However, if I just give it a quick glance, I might think it had been done by my five-year old niece.
Honestly though, while most of the pieces offered a level of quality apparent with a bit of thought, there were a few pieces tucked away in the back of the museum that were head-scratchingly odd. Maybe they sell those rooms of the museum to the highest bidder regardless of artistic ability?
Venturing to the second floor, I spent some time checking out some slightly older European art. Most of this art seemed to revolve around very large religious paintings (maybe they were all giants?) and portraits of a lot of ugly, rich people (scratch that: ugly, rich giants).
There was, however, a fantastic bust and painting of Benjamin Franklin to be found in this section, which I really enjoyed looking at.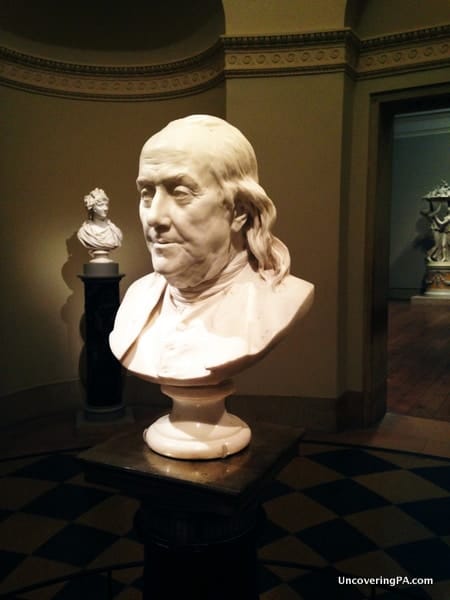 Moving further back in history, I came to a section of art from the Middle Ages. This section seemed more history museum than art museum, so it was quite up my alley.
Ancient religious paintings filled up most of the rooms, but there were also a few oddities that I hadn't expected to come across. For example, one room was set up with pieces from several medieval monasteries and another section was filled with some pretty awesome medieval armor and weapons (the art of war?).
The last section I visited was dedicated to Asian art. Having lived and traveled in Asia for 2.5 years, Asian culture has a special place in my heart. Walking through the Asian wing of the museum, I had a great time soaking up the culture of the different countries.
One thing I found interesting is that, while most of the European collection in the museum was dedicated to paintings, most of the Asian section was filled with pottery and sculptures. This "everyday art" gives you a great introduction to Asian cultures from India to China. I definitely recommend this section for anyone unfamiliar with Asian cultures.
All irreverence aside, I was surprised by how much I enjoyed visiting the Philadelphia Museum of Art. Having been to several of the most famous art museums in the world, I definitely think the museum's collection is well worth a visit, whether you like art museums or not.
Want to visit more Philadelphia Museums? Check out the Barnes Museum, the Rodin Museum, and the Magic Gardens.
Note: My visit to the Philadelphia Museum of Art was hosted by Visit Philly. However, the opinions expressed in the article are my own and were not subject to review.
---
Philadelphia Museum of Art
Hours: Saturday-Monday, Thursdays: 10am-5pm
Fridays: 10am-8:45pm

Cost: Adults: $25, Children (18 & under): Free

Website: PhilaMuseum.org

Address: 2600 Benjamin Franklin Pkwy
Philadelphia, PA 19130
See map for other area attractions.
---