Disclosure: This article may contain affiliate links. We will make a small commission from these links if you order something at no additional cost to you.
Located along the West Branch of the Susquehanna River, Lock Haven has a history similar to many other river towns in Pennsylvania. Prosperity came to this area thanks to lumber, iron ore, and the railroad. However, as these industries began to decline, another industry created a boom in the city: airplane manufacturing.
The Piper Aircraft Corporation moved to Lock Haven in 1937 after their plant in Bradford, PA, burned down. The aircraft manufacturing plant occupied a former silk mill on the outskirts of town. Company owner William T. Piper was often called the Henry Ford of airplanes because of his desire to make planes that had a low price and were easy to fly.
Piper would go on to open other plants around the country, but they kept three major manufacturing plants and their headquarters in Lock Haven until 1984. To honor the legacy of the Piper Aircraft Corporation in Lock Haven, the Piper Aviation Museum was opened in 1996.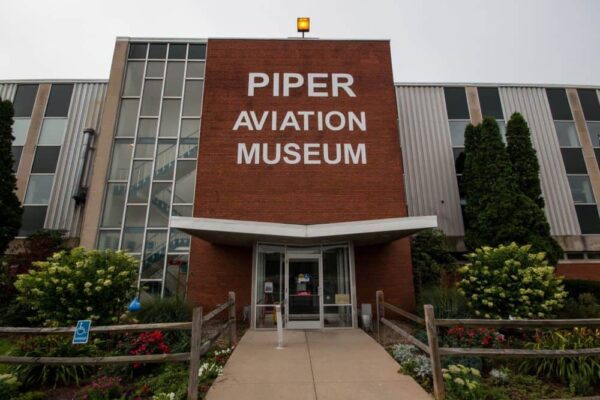 The Piper Aviation Museum is located inside the company's former engineering and development building. Having visited many airplane museums in Pennsylvania that focused on military aircraft, I was excited to see this museum's collection of airplanes designed for private use.
The Piper Aviation Museum consists of three parts: a museum, a research library, and a hangar filled with aircraft. Visits start on the second floor in the gift shop and museum.
The museum features a great collection of historic photos and information about the plant and the people that worked there and managed the company. Depending on your interest level in the company's history, you could spend a few minutes in the museum or many hours.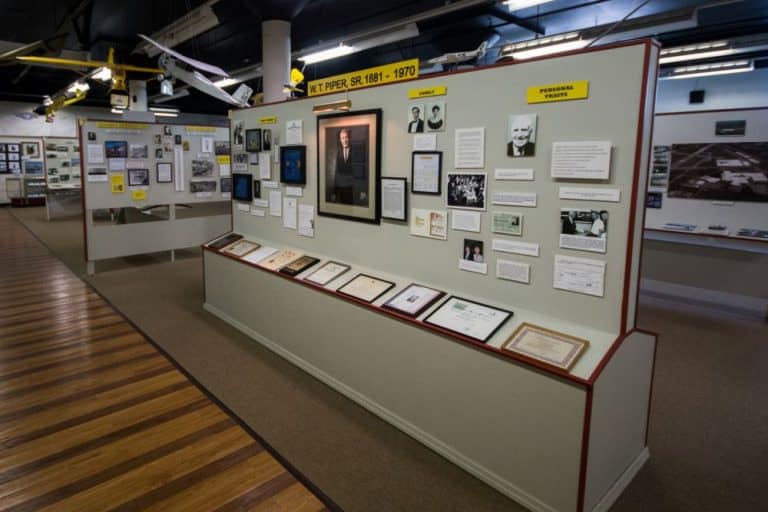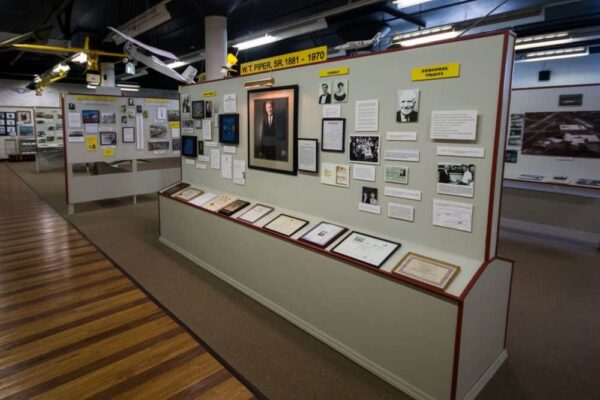 I really appreciated how the museum was laid out with a lot of open space and easy-to-read panels. It made getting an overview of the information easy, while still providing a lot of depth for those that wanted to really delve into it.
While the museum displays were nice, the highlight of my visit was seeing the vintage Piper airplanes on display.
There are a total of 10 planes currently displayed on the hangar floor. These include Piper's popular J-2, J-3, and J-4 series planes. There is also a Grasshopper, which was a World War II-era observation plane.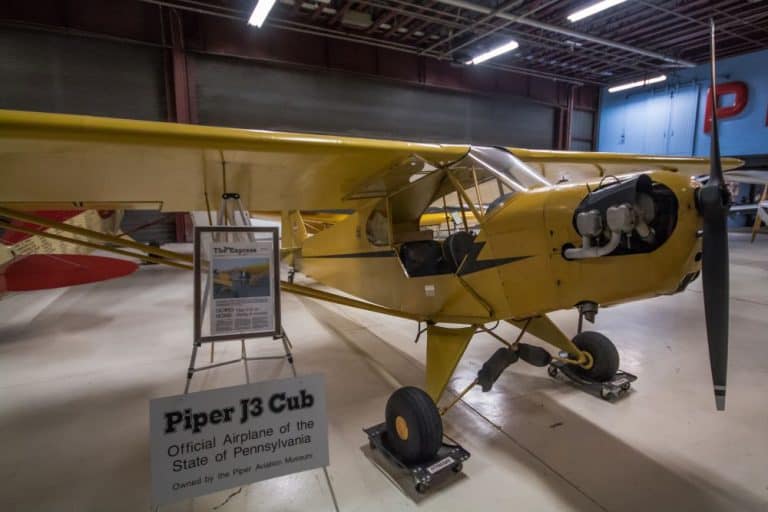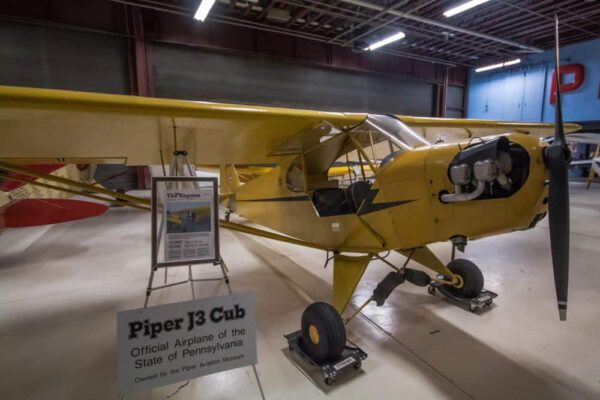 They also had several prototype planes on display that can't be seen anywhere else, including fiberglass plane and a pressurized Piper. These planes were especially interesting because it gave a great look into the failures of this otherwise successful company. Many of these planes were born on this very floor as this space was used primarily for experimental aircraft when Piper was in Lock Haven.
Overall, I really enjoyed my visit to the Piper Aviation Museum in Lock Haven. While I've visited many other antique airplane museums in PA, this one was unique for featuring one brand of airplane and showcasing them in one of the company's manufacturing facilities.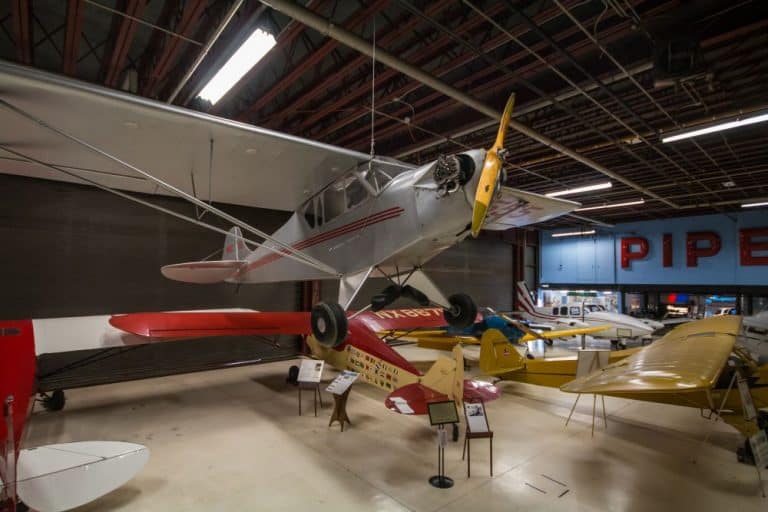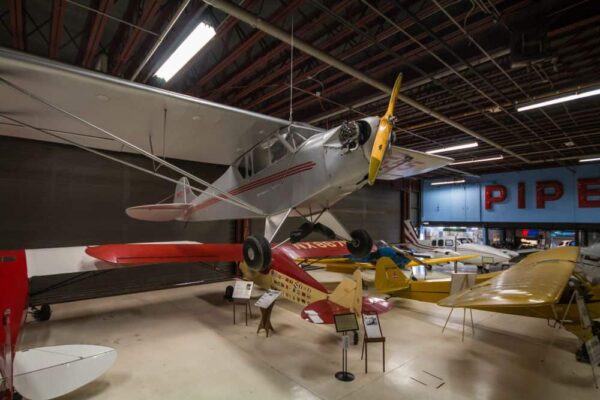 If you love antique airplanes, you definitely won't want to miss this Clinton County treasure. I know I can't wait to go back again and have a crack at their training simulator (Only $5 with advance reservation).
Note: My visit to the Piper Aviation Museum was hosted by the museum. However, the opinions expressed are my own.
Looking for more places to visit nearby? Check out Hyner View State Park, Logan Mills Covered Bridge, the Tiadaghton Elm, and Rosecrans Falls.
---
Piper Aviation Museum
Hours: Wednesday-Friday: 9am-4pm

Saturday: 10am-4pm; Sunday: 12pm-4pm

Cost: Adults: $10, Children: $5

Website: PiperMuseum.com

Address: 1 Piper Way
Lock Haven, PA 17745
See map below for other area attractions.
---