Disclosure: This article may contain affiliate links. We will make a small commission from these links if you order something at no additional cost to you.
Clinton County, Pennsylvania, is home to many beautiful sites as well as many historic ones. However, covered bridge lovers won't want to miss Logan Mills Covered Bridge in Logan Township.
Logan Mills Covered Bridge is the last historic bridge that is still standing in the county.
Built in 1874 by an unknown builder, Logan Mills Covered Bridge was, as so many other covered bridges in the state are, named after a local mill. The Logan Mill is actually still standing along the banks of Fishing Creek, the same body of water that the bridge crosses.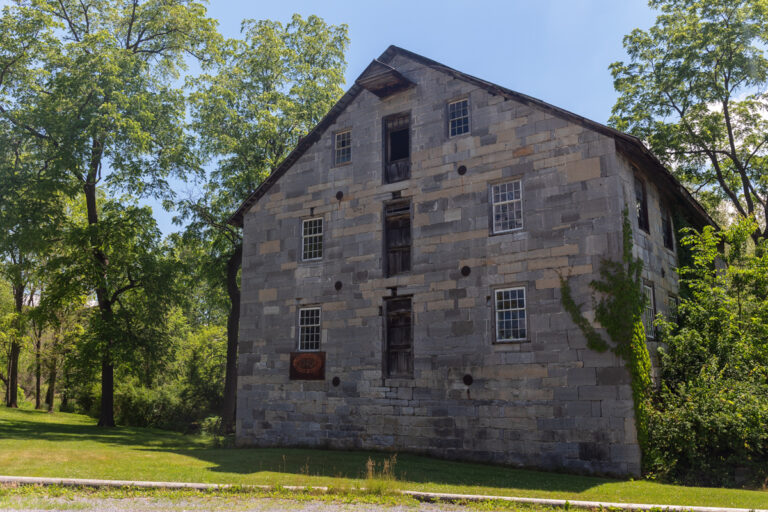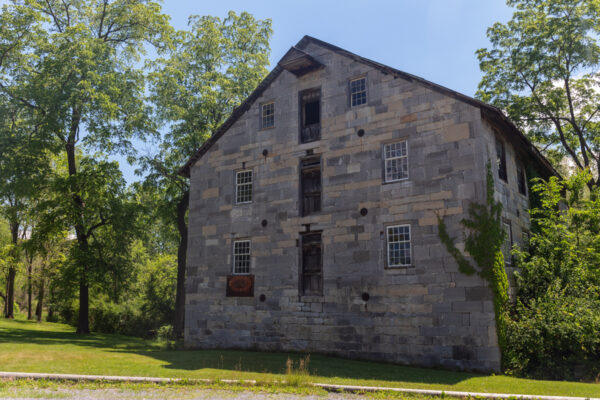 The bridge is located in Sugar Valley, a valley named for the many sugar maples that once filled the valley. It is near the villages of Logan Mills and Bonneville, just off Route 880, the main roadway through that part of the valley.
Logan Mills Covered Bridge was completely refurbished a few years ago and is in excellent condition. The 64-foot-long bridge is built in Queen post truss, making the interior a bit differently designed than most covered bridges in PA.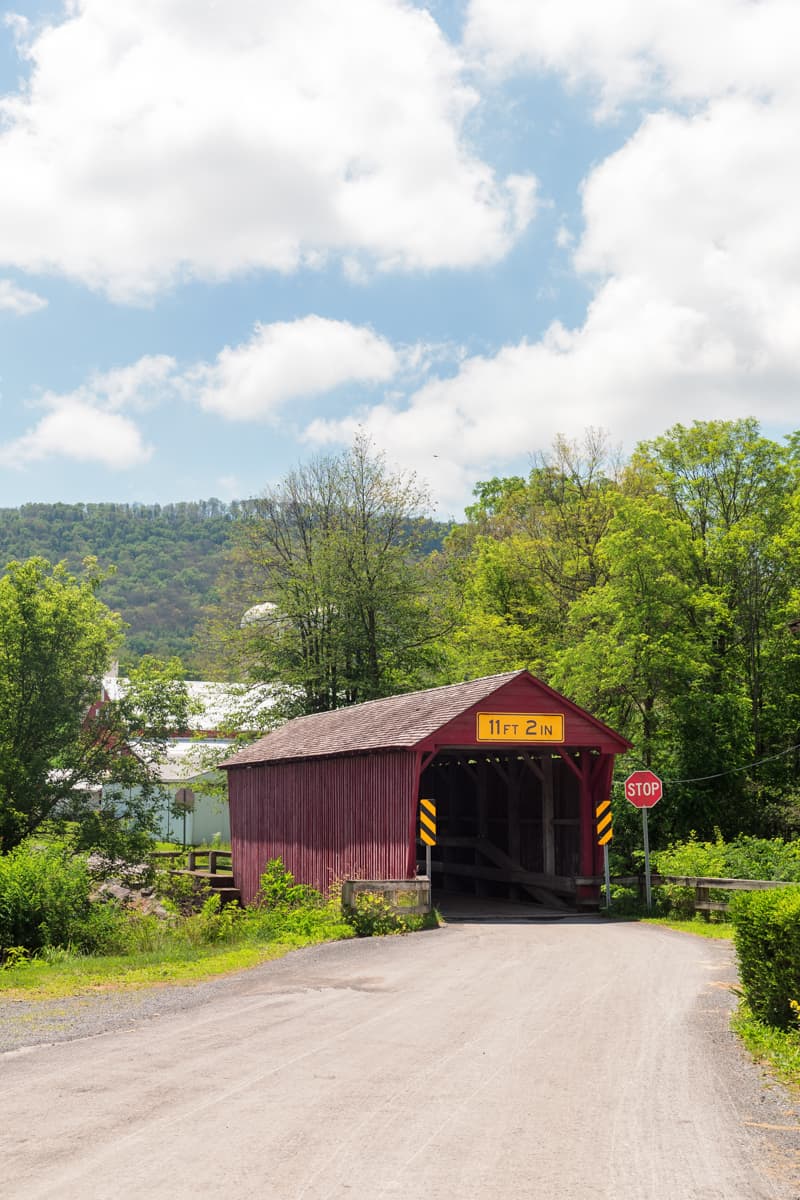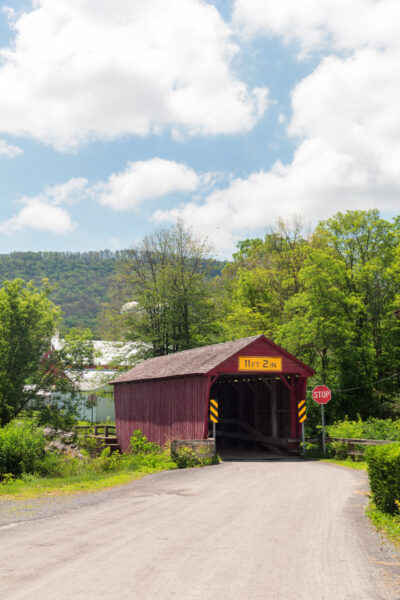 While it might be a bit out of the way for most visitors, there's no denying that a visit to Logan Mills Covered Bridge is worthwhile for anyone that loves these historic structures.
How to Get to Logan Mills Covered Bridge
Logan Mills Covered Bridge is located just a half mile off of Route 880, a few miles from Interstate 80 in Clinton County, Pennsylvania. It is located at the following coordinates: 41.005771, -77.386017.
Parking at the bridge is fairly straightforward as there is a large pull-off area as you come to the bridge from Route 880. There is room here for a few cars. Make sure you park in a way that isn't blocking the road for cars that are using the bridge.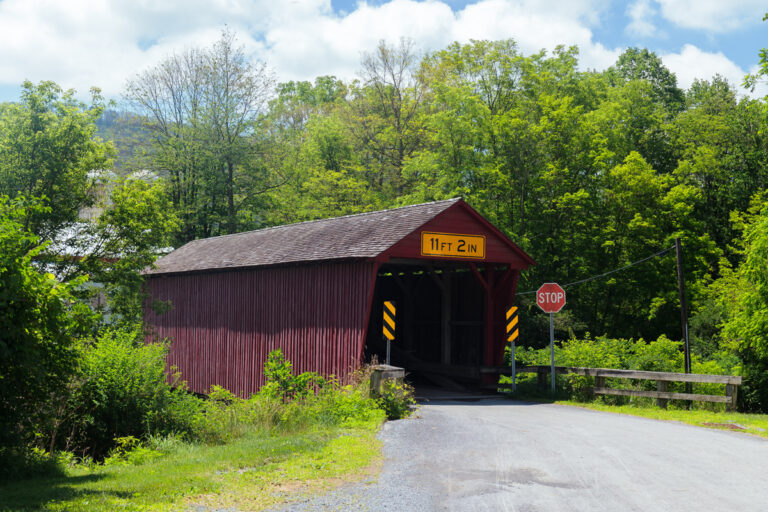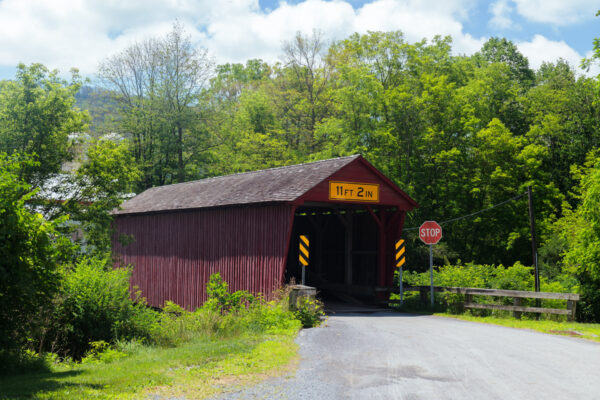 While in a very picturesque setting, the bridge is surrounded by woods and private farmland, making it a bit difficult to photograph, but it is still a very beautiful bridge to visit.
If you find yourself in the area and are looking for something else to check out, the double waterfalls of Rosecrans and McElhattan are located nearby and are definitely worth the short hike to see.
Looking for more places to visit nearby? Check out Hyner View State Park, the Piper Aviation Museum, and Penn's Cave.
[Click here for information on how to use the coordinates in this article to find your destination.]
See map below for other area attractions.